Fashion
Stylishly Shielded: The 2024 Guide to Umbrella Outfits for Every Occasion
As the new year approaches, the world of fashion takes a whimsical turn with the introduction of the umbrella outfit 2024 trend. The fusion of practicality and style makes a splash in the U.S. as women from 25 to 55 rediscover the joy of dressing up for the rainy days. This article explores the latest women umbrella outfit trends that encapsulate the aesthetic appeal of the season, integrating fashion and functionality to keep you stylish and dry, whether under the summer sun or amid the rain showers.
Radiant in Rain: The Spectrum Umbrella Ensemble
Imagine stepping out on a drizzly day, armed with a kaleidoscope of colors above your head. The first outfit in our series features a vibrant, multi-colored umbrella paired with a yellow double-breasted coat that adds a dash of sunshine to the gloomiest days. A faux fur pink scarf adds a soft touch to the ensemble, while the pastel blue boots maintain a cheerful harmony. This look isn't just about making a statement; it's about embracing the season with a bold, cute optimism.

Striped Serenity: Chic Shelter
Stripes and pink coalesce in the second outfit, portraying a vintage charm with a modern twist. This women umbrella outfit showcases a candy-striped umbrella, a nod to the timeless Burberry pattern, complemented by a light pink trench coat. The ensemble is accessorized with a boater hat and round sunglasses, exuding a summer-ready vibe that's both aesthetic and fashion-forward. It's a testament to how classic elements can be reimagined for the contemporary wardrobe.

The Bold and the Beautiful: Vividly Red
Next, we delve into a red-hot ensemble that seamlessly blends aesthetic flair with utilitarian grace. The umbrella outfit 2024 is incomplete without the boldness of red. Our third outfit features a stunning red dress paired with a matching parasol, accented with a playful bear bag and yellow heels. This outfit isn't just an ensemble; it's a fashion statement that says, "I'm here, and I'm fearless," perfect for the woman who's not afraid to stand out.

Monochrome Moods: The Urban Chic
In a homage to the city's concrete backdrop, the fourth outfit embraces a monochrome palette. A black and white printed dress and a striking yellow umbrella offer a stark yet sophisticated contrast. It's an urbanite's dream that speaks to the power of black and white in creating a look that's as compelling as the skyscrapers that tower above. The yellow accents, mimicking the city's ubiquitous taxis, add a pop of color that resonates with the vibrant city life.

Under the Cobalt Canopy: Denim Days
Closing our series is a celebration of the ever-versatile denim, twinned with a blue umbrella that mirrors the clear summer sky after the rain. It's an outfit that combines the casual cool of denim with the understated elegance of a white fur-trimmed jacket. This look epitomizes the aesthetic blend of comfort and cute charm, offering a stylish yet relaxed option for the fashion-savvy hairdresser or the weekend fashionista.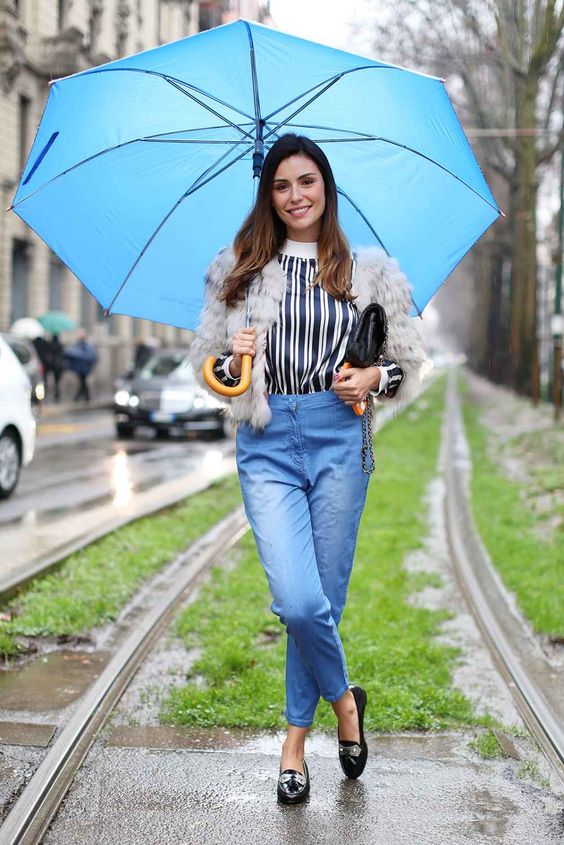 Effortlessly Elegant: The Sleek Grey Statement
Stepping out in the rain has never looked more sophisticated. Enveloped in a sleek grey ensemble, this outfit whispers vintage elegance with a modern cut. The tailored blazer and matching trousers are the epitome of urban chic, enhanced by the subtle complement of a classic black umbrella. It's a testament to the timeless appeal of monochromes, proving that rain or shine, a well-cut suit is always in vogue.

Leopard Print and Sunshine
Brighten any dreary day with a bold print and a splash of color. This aesthetic outfit combines a classic leopard print coat with yellow rain boots and a matching yellow umbrella. It's a cute, playful look that doesn't compromise on style or comfort, proving that a rainy day is just another opportunity to showcase your fashion sensibility.

Vintage Flair: Under My Lace Umbrella
Take a step back in time with this vintage-inspired look. A lace-trimmed umbrella paired with a trench coat cinched at the waist creates a silhouette that's both classic and current. The red beret and matching lip color add a romantic touch, ideal for that fashion-forward woman who appreciates a touch of nostalgia in her modern wardrobe.

Color-Coordinated Companions: Strolling in Harmony
There's something utterly charming about coordinated outfits, and this image captures that charm perfectly. The yellow and red umbrellas complement the raincoats and boots of two friends strolling across the Brooklyn Bridge. This scene is more than just an outfit; it's about the connection and joy shared between friends, a cute and aesthetic moment frozen in time.

Raindrop Patterns: Playful in Puddles
Lastly, we have a fashion statement that plays with the very essence of rain—the raindrop. A clear umbrella dotted with black raindrops mirrors the playful patterned ensemble underneath. Paired with a neutral-toned suit and white boots, this outfit exemplifies how fashion can be both fun and functional, suitable for the stylish woman ready to conquer the city streets, no matter the weather.
Timeless Chic: The Houndstooth and Camel Combo
The houndstooth dress under a flowing camel trench coat is the epitome of vintage sophistication. Paired with a transparent umbrella, this look is a testament to timeless style that transcends seasons. It's a perfect umbrella outfit 2024 for the woman who appreciates classic patterns with a modern twist.

Polka Dots and Pastels: A Whimsical Ensemble
Infuse your rainy day with a dose of whimsy in this delightful combination of polka dots and pastel purple. The cute, playful umbrella sets a lighthearted tone, while the structured blazer adds a touch of professionalism. This outfit embraces the idea that fashion can be fun, even under the cloudiest skies.

Spring Showers: Blooming with Style
Celebrate the essence of spring with this floral-inspired outfit. The clear umbrella acts as a window to the soulful pattern of the dresses, while the green and peach tones embody the season's freshness. It's an ensemble that's both cute and aesthetic, perfect for the fashion-forward woman ready to welcome the sun after the rain.

Bridal Bliss: Elegance Under the Veil
This image captures a bride's serene beauty on her special day, shielded from the elements by a lace-trimmed transparent umbrella. This picture is a testament to love and fashion intertwining, showing how an umbrella can become an accessory as significant as the dress itself.

Casual Conversations: The Joy of Yellow
The yellow raincoat paired with a clear umbrella offers a cheerful shield against the drizzle. This look is for the woman who brings sunshine to the overcast streets, making a simple phone call an occasion to showcase her vibrant personality.

Red Accents: A Striking Silhouette
A red umbrella adds a dramatic flair to the muted tones of a winter outfit. The combination of soft textures and sleek leather presents a bold, yet balanced, approach to dressing up for the cooler months.

Eastern Elegance: The Modern Take on Tradition
In a beautiful homage to the Chinese influence on fashion, this outfit features a modernized traditional dress under a pink umbrella. The contemporary styling speaks to a global appreciation of culture and couture, a perfect fit for the umbrella outfit 2024 trend.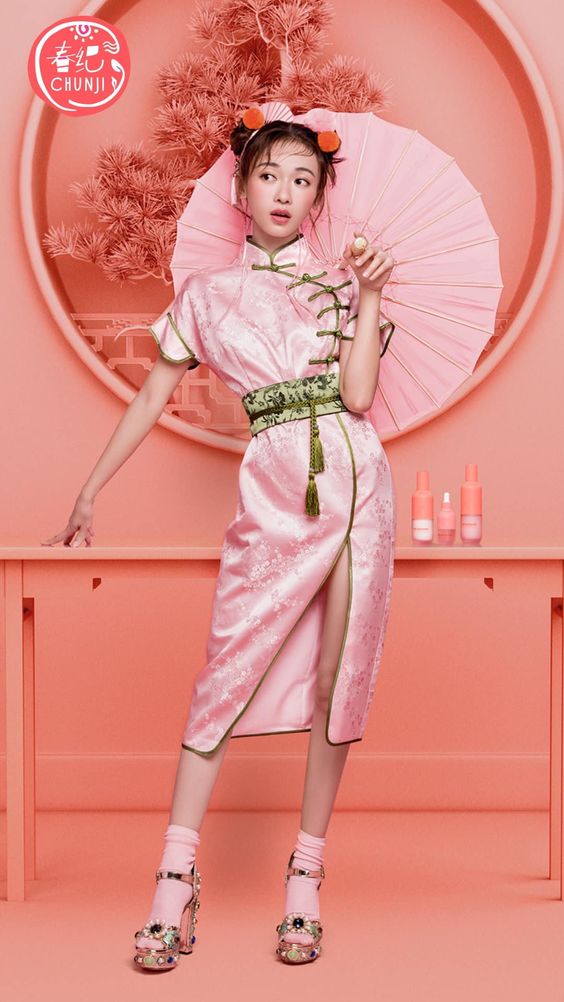 Each of these looks invites us to consider how an umbrella can be more than just a practical item; it's a statement piece, an extension of our wardrobe, and a reflection of our mood. Share with us which of these umbrella ensembles speaks to you and how you would make it your own. Your style insights are as valuable as a ray of sunshine on a cloudy day!
Save Pin