Fashion
Summer Women Tattoo Ideas – 23 Inspirations
In recent years, tattoos have become increasingly popular as a form of self-expression and art. With summer approaching, many women are seeking unique and meaningful tattoo ideas to adorn their bodies. A summer tattoo can be a great way to showcase your personality, celebrate the season, or commemorate a special moment. In this article, we present 23 captivating summer women tattoo ideas, each with a description to inspire your body art choices. Let's dive into the world of summer tattoos and find the perfect design to enhance your beauty.
Idea 1: Sunflower Blooms
Symbolizing joy, positivity, and warmth, sunflowers are a popular choice for summer tattoos. Capture the essence of the season with a vibrant sunflower design inked on your skin. Whether it's a small and delicate sunflower on your wrist or a larger bouquet of sunflowers on your back, this tattoo will radiate sunshine wherever you go.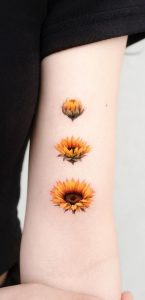 Idea 2: Beachy Waves
Embrace your love for the ocean and summer vibes with a beachy waves tattoo. This design features graceful waves that evoke a sense of calmness and adventure. Whether you opt for a minimalist wave outline or a more intricate wave pattern, this tattoo will remind you of the soothing power of the sea.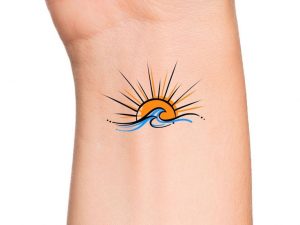 Idea 3: Tropical Palm Trees
Transport yourself to a tropical paradise with a palm tree tattoo. The tall and swaying palm trees represent relaxation, tranquility, and the allure of exotic destinations. Whether you choose a single palm tree or a whole palm tree silhouette with a sunset backdrop, this tattoo will bring a touch of the tropics to your skin.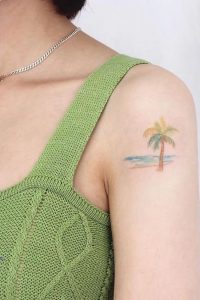 Idea 4: Delicate Seashells
Celebrate the beauty of the beach with a delicate seashell tattoo. Seashells are intricately designed and come in various shapes and sizes, making them a perfect choice for a detailed and feminine tattoo. Choose a seashell design that resonates with you, whether it's a conch shell, scallop shell, or a collection of different shells.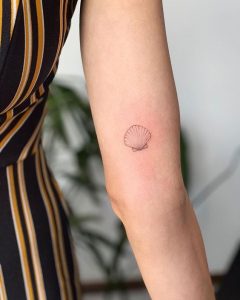 Idea 5: Colorful Butterfly
Butterflies symbolize transformation, freedom, and the beauty of nature. A colorful butterfly tattoo can add a whimsical and vibrant touch to your summer look. Opt for a realistic butterfly design or let your imagination soar with a watercolor or abstract butterfly tattoo.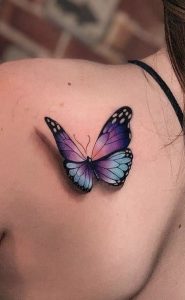 Idea 6: Dreamy Moon Phases
The moon and its phases have long been associated with femininity, intuition, and cycles of life. A moon phases tattoo can represent the ever-changing nature of existence and the power of embracing the different stages of life. From a crescent moon to a full moon, this tattoo can be customized to reflect your personal journey.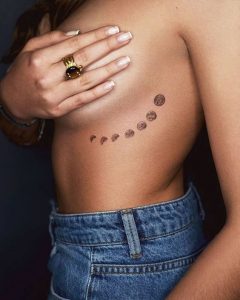 Idea 7: Fresh Fruit Delight
Summer is synonymous with an abundance of delicious fruits. Capture the refreshing spirit of the season with a fruit-themed tattoo. Whether it's a juicy watermelon slice, a bunch of ripe strawberries, or a tropical pineapple, a fruit tattoo will showcase your love for the vibrant colors and flavors of summer.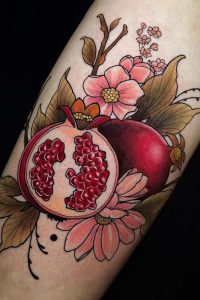 Idea 8: Ethereal Mermaid
Tap into your inner enchantress with a mermaid tattoo. Mermaids symbolize beauty, mystery, and the allure of the ocean. Choose a mermaid design that resonates with you, whether it's a whimsical and colorful mermaid swimming among the waves or a minimalist silhouette capturing the essence of these mythical creatures.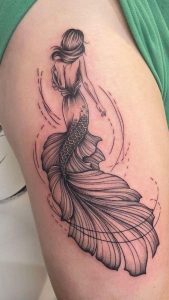 Idea 9: Dainty Wildflowers
Celebrate the beauty of nature with a dainty wildflower tattoo. These delicate and intricate flowers represent freedom, resilience, and the ephemeral nature of life. From tiny blooms to a bouquet of wildflowers, this tattoo will add a touch of natural elegance to your skin.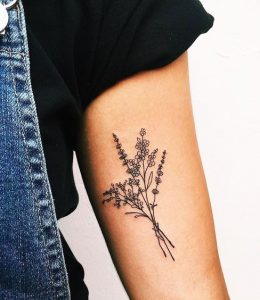 Idea 10: Feather Grace
Feathers symbolize freedom, spirituality, and the power of flight. A feather tattoo can be a reminder to embrace your inner strength and follow your dreams. Whether you choose a single feather or a collection of feathers in vibrant colors or delicate black ink, this tattoo will add a sense of grace and ethereality to your summer look.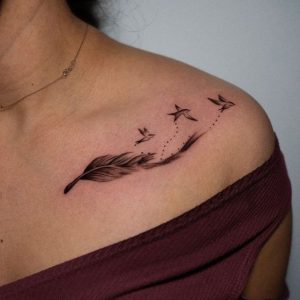 Idea 11: Serene Lotus Blossom
Lotus flowers are deeply rooted in spiritual and cultural symbolism, representing purity, enlightenment, and rebirth. A lotus blossom tattoo can serve as a reminder to stay grounded and embrace personal growth. Choose a lotus design with intricate details and vibrant colors or opt for a minimalist and elegant outline.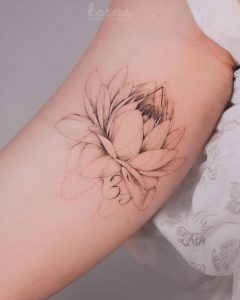 Idea 12: Whimsical Fireflies
Capture the magic of summer nights with a whimsical firefly tattoo. Fireflies represent beauty, hope, and the wonder of nature. Whether you choose a realistic firefly design or a more imaginative and stylized representation, this tattoo will add a touch of enchantment to your skin.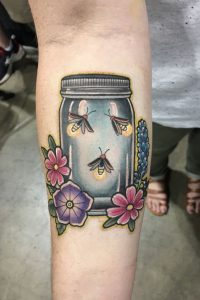 Idea 13: Wanderlust Compass
For the adventurous souls, a compass tattoo can be a symbol of wanderlust and the desire to explore new horizons. The compass represents guidance, direction, and the pursuit of one's true path. Whether you opt for a classic compass design or incorporate elements like maps or coordinates, this tattoo will inspire your inner traveler.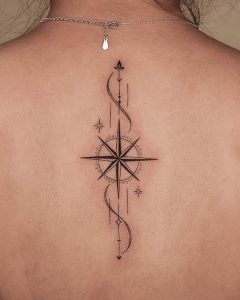 Idea 14: Delicate Feathered Arrow
Feathered arrows symbolize focus, determination, and the pursuit of goals. A feathered arrow tattoo can serve as a reminder to stay on track and strive for success. Choose a delicate and minimalist design that combines the grace of a feather with the precision of an arrow.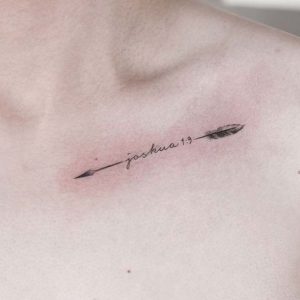 Idea 15: Inspiring Quotes
Words have the power to inspire and uplift. A tattoo featuring an inspiring quote can serve as a constant reminder of your values, aspirations, or a mantra that resonates with you. Choose a font style and placement that reflects the quote's essence and complements your body's curves.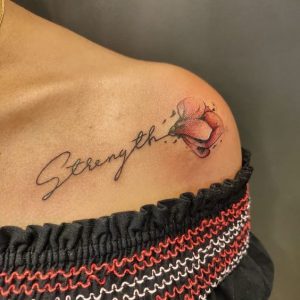 Idea 16: Vibrant Hummingbird
The hummingbird is a symbol of joy, resilience, and the ability to find happiness in the smallest moments. A vibrant hummingbird tattoo can add a burst of color and positivity to your summer look. Whether you prefer a realistic hummingbird design or a more stylized and artistic interpretation, this tattoo will capture the essence of these energetic creatures.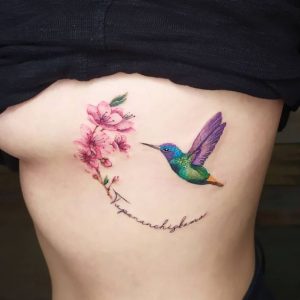 Idea 17: Ocean Waves and Anchor
Combine the power of the sea with the stability of an anchor in a tattoo that represents strength, stability, and the ability to navigate life's challenges. A design featuring ocean waves intertwined with an anchor can serve as a reminder to stay grounded and resilient in the face of adversity.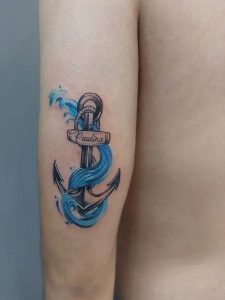 Idea 18: Beautiful Henna-Inspired Patterns
Henna-inspired patterns are intricate and captivating, often drawing inspiration from traditional Indian and Middle Eastern art. A henna-inspired tattoo can be a temporary option for summer, allowing you to experiment with different designs and placements. From delicate hand motifs to elaborate mandalas, these temporary tattoos will add a touch of cultural richness and artistic flair to your skin.
Idea 19: Charming Sun and Moon
The sun and moon represent opposing yet complementary forces in nature. A tattoo featuring the sun and moon together can symbolize balance, harmony, and the duality of life. Choose a design that showcases the radiant energy of the sun and the tranquil beauty of the moon, intertwining them in a visually captivating way.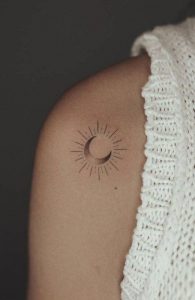 Idea 20: Playful Watercolor Splash
Watercolor tattoos are known for their vibrant colors, soft edges, and artistic flair. A watercolor splash tattoo can evoke a sense of playfulness and creativity. Whether you opt for a small watercolor splash or a larger design incorporating multiple colors and elements, this tattoo will showcase your unique personality and love for artistic expression.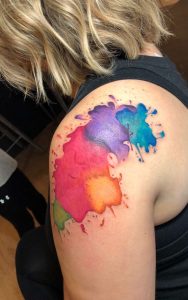 Idea 21: Music Notes and Symbols
If music holds a special place in your heart, consider a tattoo featuring music notes or symbols. From treble clefs to musical staffs, these tattoos can represent your passion for music and the way it resonates with your soul. Choose a design that speaks to your musical preferences or opt for a personalized arrangement of notes that holds sentimental value.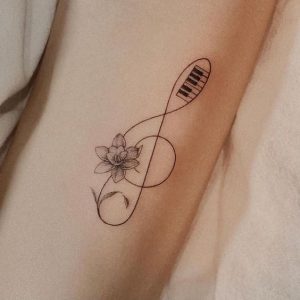 Idea 22: Geometric Delights
Geometric tattoos are known for their clean lines, symmetrical shapes, and modern aesthetic. A geometric tattoo can be customized to reflect your style and preferences. Whether it's a minimalist geometric pattern, an intricate mandala, or a combination of geometric elements, this tattoo will showcase your appreciation for precise design and artistic symmetry.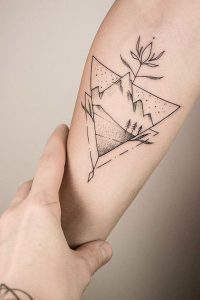 Idea 23: Nature-Inspired Sleeve
For a more extensive and visually captivating tattoo, consider a nature-inspired sleeve. This design can feature a combination of summer elements such as flowers, leaves, animals, and landscapes. Collaborate with a skilled tattoo artist to create a customized sleeve that represents your connection with nature and captures the essence of summer.