Fashion
Sundresses 2023: 17 Ideas for Effortlessly Chic Summer Style
Are you ready to embrace the carefree vibes of summer and elevate your style? Look no further than sundresses! These versatile and comfortable garments are a staple in every fashion-conscious individual's wardrobe during the warmer months. With endless options available, you can find the perfect sundress to suit your personal taste and make a fashion statement. In this article, we will explore 17 fabulous sundress ideas that will help you achieve an effortlessly chic look all summer long.
1. Floral Sundress
Nothing says summer like a beautiful floral sundress. Choose from delicate daisies, vibrant roses, or exotic tropical prints. A floral sundress exudes femininity and adds a touch of romance to your look. Pair it with strappy sandals and a wide-brimmed hat for a charming garden party outfit or dress it up with heels for a romantic date night.
Sunflower Power
For a cheerful and playful vibe, opt for a sunflower print sundress. The sunny yellow hues will brighten up any day and make you feel like you're walking through a field of sunflowers. This print is perfect for picnics, outdoor gatherings, or casual outings with friends.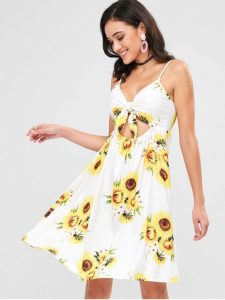 Tropical Paradise
Transport yourself to a tropical paradise with a sundress adorned with lush palm leaves, vibrant hibiscus flowers, or colorful toucans. This print is ideal for beach vacations or poolside lounging. Complete the look with a straw hat, oversized sunglasses, and a refreshing tropical drink in hand.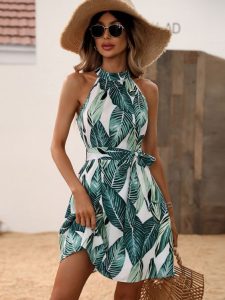 Vintage Charm
Embrace a timeless and elegant look with a vintage-inspired floral sundress. Look for delicate pastel prints, dainty lace details, and feminine silhouettes reminiscent of the bygone eras. This style is perfect for garden parties, afternoon tea, or any occasion where you want to exude grace and sophistication.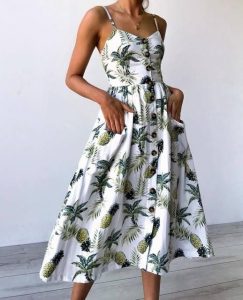 2. Effortless Elegance: Classic Maxi Sundresses
Maxi sundresses are a must-have for those seeking a touch of effortless elegance. These ankle-grazing dresses offer comfort and versatility while exuding an air of sophistication. Whether you're strolling along the beach or attending a summer wedding, a maxi sundress will make you feel like a goddess.
Boho Chic
Channel your inner bohemian spirit with a boho chic maxi sundress. Look for flowing fabrics, intricate patterns, and relaxed silhouettes. Add some statement jewelry, such as layered necklaces or beaded bracelets, to complete the bohemian look. This style is perfect for music festivals, outdoor concerts, or casual gatherings with friends.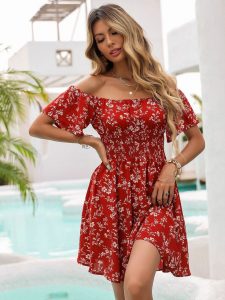 Beachy Vibes
When you're heading to the beach or planning a seaside vacation, a beachy maxi sundress is a must-pack item. Opt for lightweight fabrics like linen or cotton in soothing colors like white, sky blue, or sandy beige. These dresses effortlessly capture the essence of beachside relaxation and are perfect for strolling along the shore or enjoying a seaside lunch.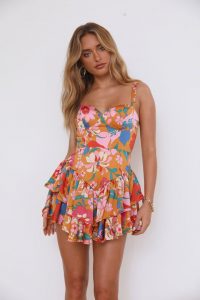 Evening Glamour
Don't let the heat of summer deter you from looking glamorous at evening events. Choose a maxi sundress in a luxurious fabric like silk or satin and opt for rich jewel tones or classic black. Add some sparkling accessories, such as statement earrings or a clutch, and you'll be ready to turn heads at summer soirees or formal occasions.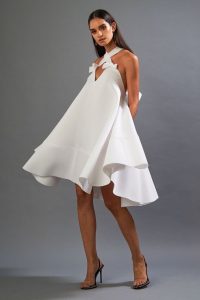 3. Playful Prints: Express Your Personality
Sundresses offer an excellent canvas to express your personality through playful prints. Whether you're into stripes and polka dots, animal prints, or abstract art, there's a sundress print that will perfectly reflect your individual style.
Stripes and Polka Dots
For a timeless and versatile look, opt for a sundress featuring classic stripes or playful polka dots. These prints never go out of style and can be easily dressed up or down. Stripes give a nautical vibe, perfect for a day at the beach, while polka dots add a touch of whimsy to your outfit.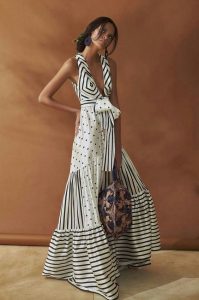 Animal Prints
Make a bold fashion statement with an animal print sundress. Whether you prefer leopard, zebra, or snake prints, these patterns add a touch of fierceness to your look. Keep the rest of your outfit minimal and let the print shine. Animal print sundresses are perfect for a night out on the town or when you want to show off your wild side.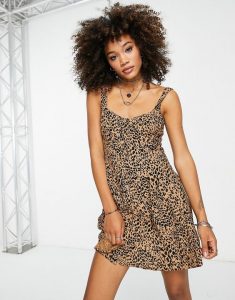 Abstract Art
If you're a fan of modern and artistic aesthetics, an abstract art print sundress is the way to go. These dresses feature bold and vibrant patterns that are sure to make a statement. Embrace the artistic vibe by pairing the dress with minimal accessories and let the print take center stage.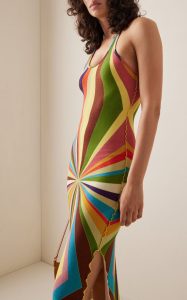 4. Casual Cool: Everyday Sundresses
Sundresses aren't just for special occasions; they can also be your go-to choice for everyday style. With their effortless comfort and relaxed vibes, these dresses are perfect for running errands, meeting friends for brunch, or simply enjoying a leisurely day.
Denim Delight
For a casual and laid-back look, opt for a denim sundress. Whether it's a classic denim overall dress or a button-down denim dress, this wardrobe staple can be dressed up or down depending on the occasion. Pair it with sneakers or sandals for a relaxed daytime outfit or dress it up with wedges or ankle boots for a trendy and edgy ensemble.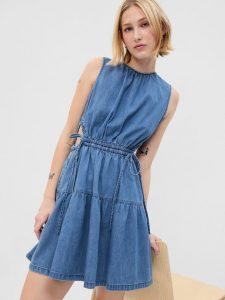 T-Shirt Dresses
When comfort is key, nothing beats a t-shirt sundress. These dresses offer a relaxed fit and are typically made from soft and breathable fabrics like cotton or jersey. They are perfect for a casual day out or for lounging around the house. Style them with sneakers and a denim jacket for a sporty look or dress them up with statement accessories for a touch of chicness.
Chambray Chic
Chambray sundresses offer a lightweight and breezy alternative to denim. The soft and breathable chambray fabric is perfect for hot summer days. Opt for a button-down chambray dress for a casual and effortless look. Pair it with sandals and a wide-brimmed hat for a chic and comfortable outfit.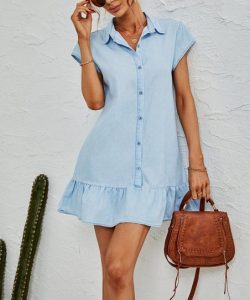 5. Glamorous Getaways: Resort-style Sundresses
Planning a vacation or dreaming of a glamorous getaway? Resort-style sundresses are here to elevate your vacation wardrobe and make you feel like a tropical goddess.
Tropical Escape
Escape to a tropical paradise with a sundress featuring vibrant and exotic prints. Think palm leaves, hibiscus flowers, or tropical fruits. These dresses evoke a sense of relaxation and vacation vibes. Pair them with strappy sandals or wedges and don't forget your oversized sunglasses for the ultimate resort-style look.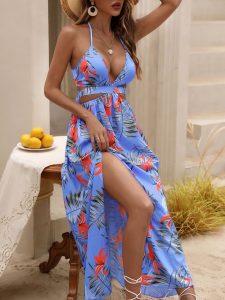 Off-the-Shoulder Glam
For a touch of elegance and romance, opt for an off-the-shoulder sundress. This style highlights your collarbones and shoulders while adding a hint of allure. Whether you choose a flowy maxi or a flirty mini, an off-the-shoulder sundress is perfect for romantic dinners by the beach or sunset cocktails.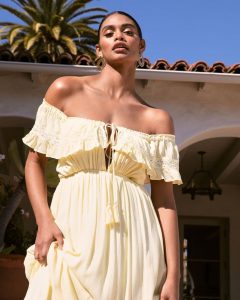 Ruffled Romance
Add a touch of femininity and playfulness with a ruffled sundress. Ruffles create movement and texture, adding a romantic flair to your outfit. Whether you prefer delicate and subtle ruffles or bold and voluminous ones, this style is perfect for embracing your inner romantic spirit.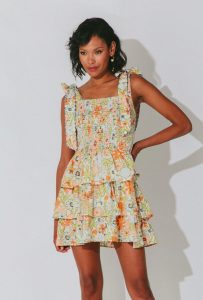 6. Styling Tips for Sundresses
To make the most out of your sundress and create a truly captivating look, here are some styling tips to keep in mind:
Accessories Matter
Elevate your sundress by accessorizing thoughtfully. Add a statement belt to cinch your waist and define your silhouette. Layer delicate necklaces or stack bracelets for a touch of boho chic. Don't forget to incorporate a stylish handbag or clutch to complete your ensemble.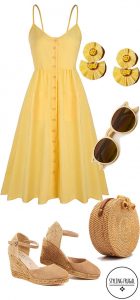 Footwear Fun
Choose footwear that complements the style of your sundress. Opt for strappy sandals or espadrilles for a casual and beachy look. Wedges or block heels add height and sophistication to maxi sundresses. Sneakers bring a sporty and trendy vibe to t-shirt dresses. Experiment with different shoe styles to find the perfect match.