Hairstyle
15 Flattering Hairstyle Ideas for Women Over 40 with Bangs
Bangs can be a fantastic way to refresh your look and add a youthful touch, especially for women over 40. With a wide range of options, bangs can complement various face shapes and hair textures, enhancing your features and boosting your confidence. In this article, we present 15 flattering hairstyle ideas for women over 40 with bangs, designed to inspire and celebrate your individual style.
1. Long Layered Hair with Side-Swept Bangs:
Frame your face with soft side-swept bangs that blend seamlessly into long layers, creating a sophisticated and balanced look.

2. Textured Bob with Blunt Bangs:
Opt for a textured bob haircut with blunt bangs for a chic and contemporary appearance that exudes confidence.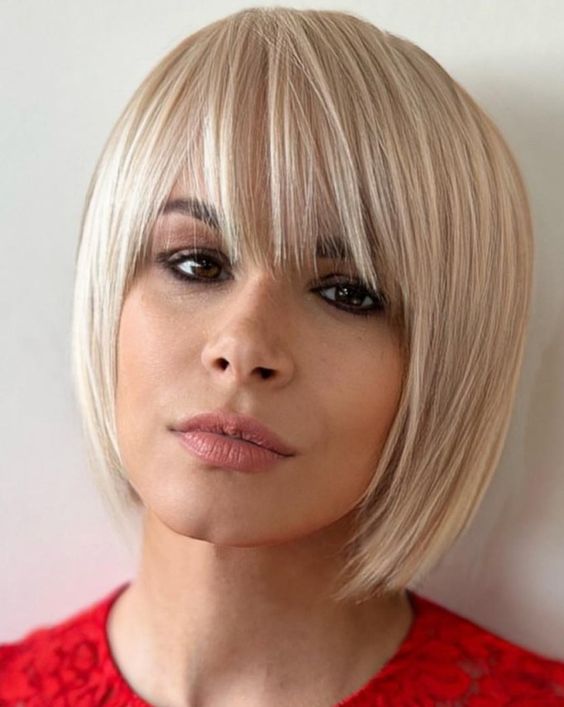 3. Curly Hair with Wispy Bangs:
Pair your curly hair with wispy bangs that add a playful and youthful flair to your overall style.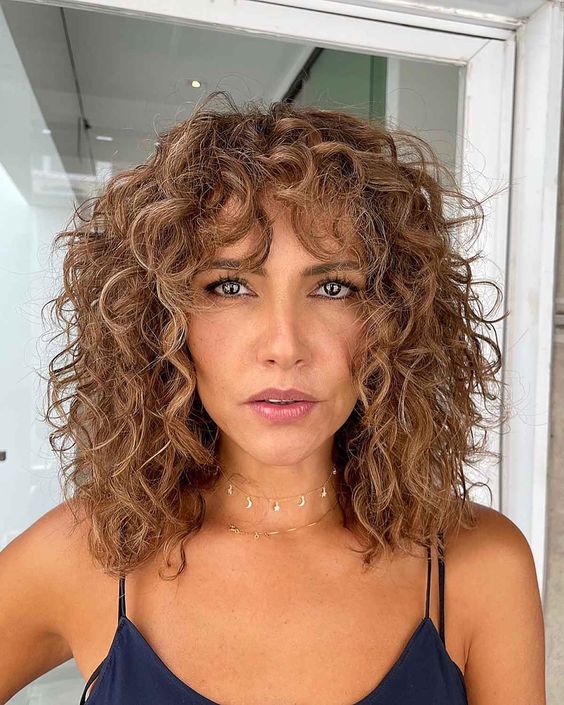 4. Pixie Cut with Short Bangs:
Embrace a bold pixie cut with short bangs for a modern and edgy statement that showcases your fearless attitude.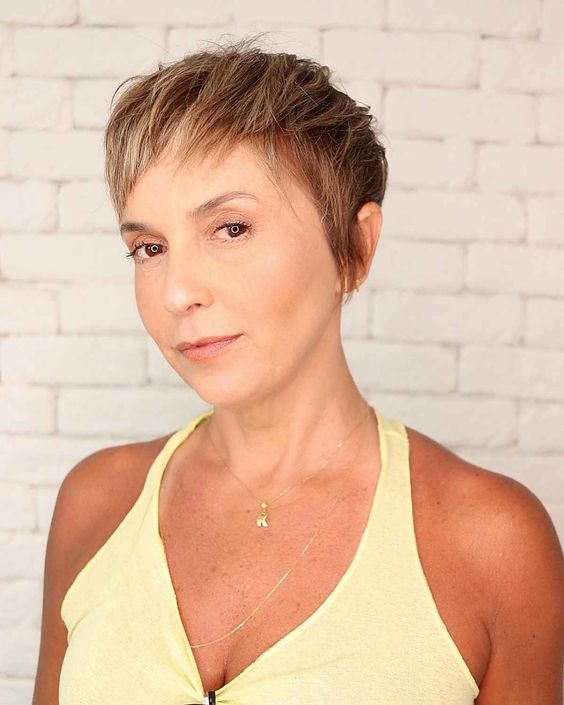 5. Medium-Length Hair with Curtain Bangs:
Choose curtain bangs that frame your face delicately and complement your medium-length hair with effortless charm.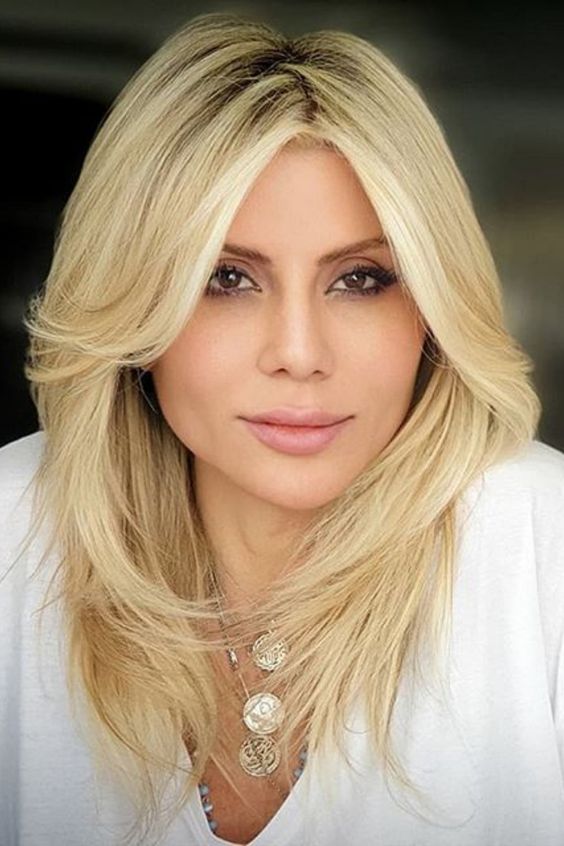 6. Layered Shag with Textured Bangs:
Combine a layered shag haircut with textured bangs for a carefree and stylish appearance with a touch of bohemian flair.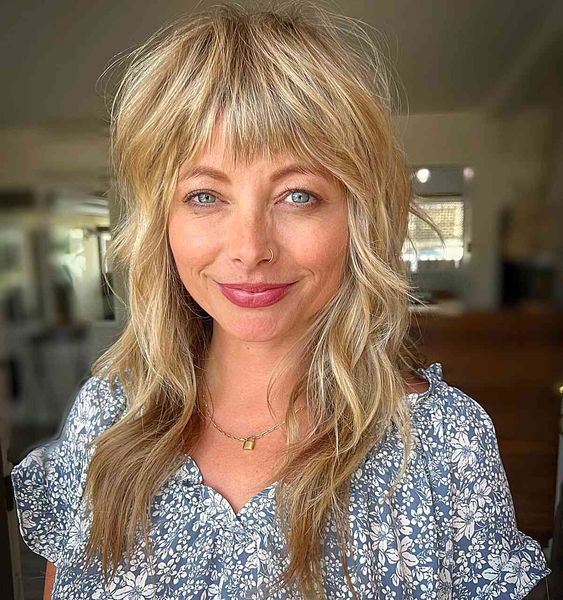 7. Sleek Bob with Angular Bangs:
Opt for a sleek bob hairstyle with angular bangs that add structure and elegance to your overall look.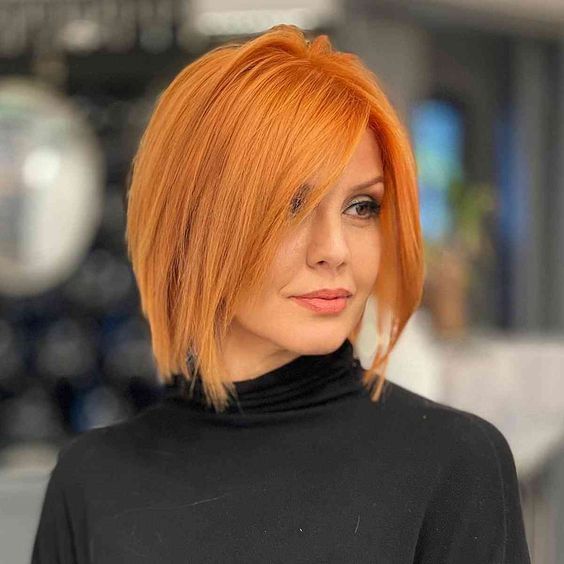 8. Wavy Lob with Choppy Bangs:
Pair a wavy lob (long bob) with choppy bangs for a relaxed and trendy hairstyle that radiates confidence.
9. Side-Parted Bangs with Updo:
Style your side-parted bangs into a chic updo, allowing your facial features to take center stage.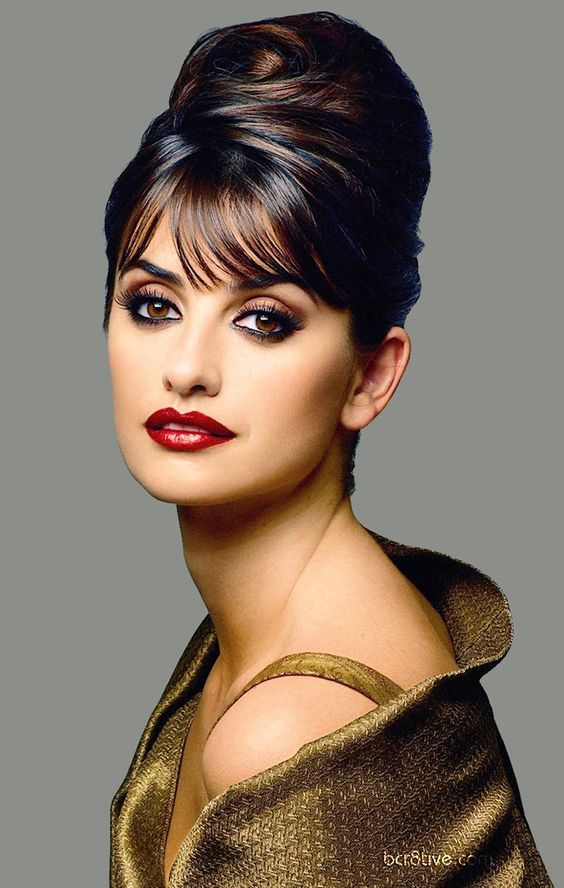 10. Classic Blunt Bangs with Long Hair:
Choose classic blunt bangs that create a bold and statement-making contrast with your long flowing locks.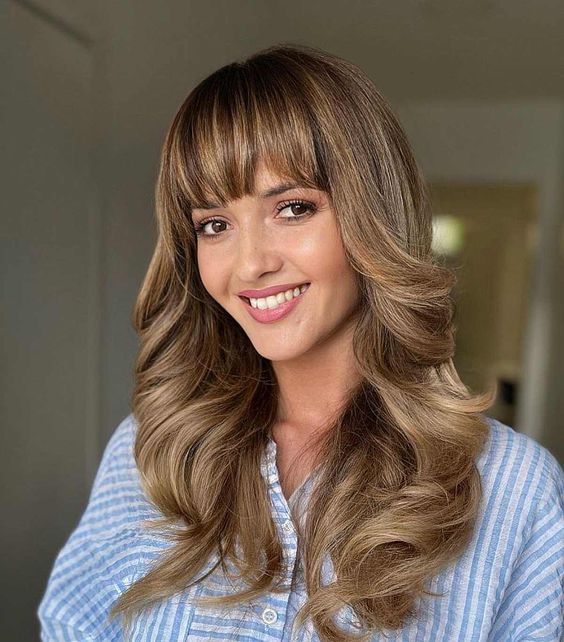 11. Layered Pixie Cut with Wispy Bangs:
Opt for a layered pixie cut with wispy bangs that exudes charm and adds texture to your overall appearance.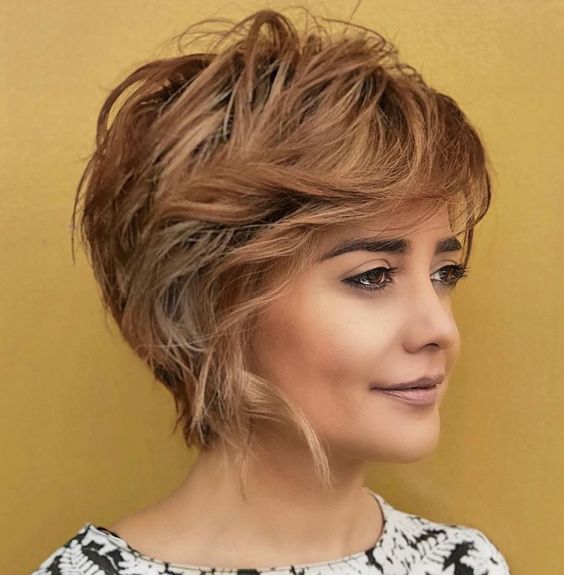 12. High Ponytail with Bangs:
Gather your hair into a sleek high ponytail and let your bangs frame your face with a touch of sophistication.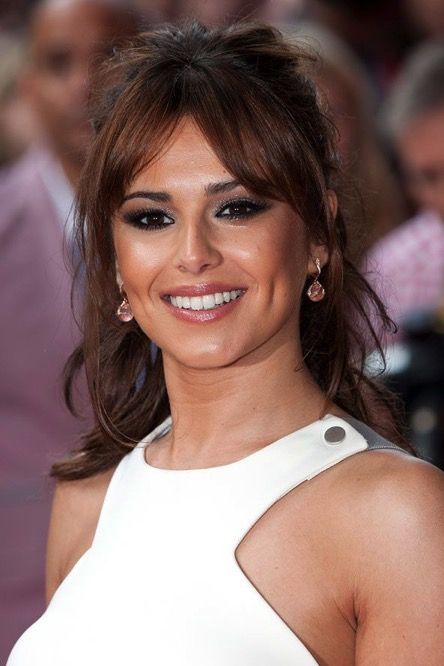 13. Textured Waves with Feathered Bangs:
Pair textured waves with feathered bangs for a carefree and youthful hairstyle that enhances your natural beauty.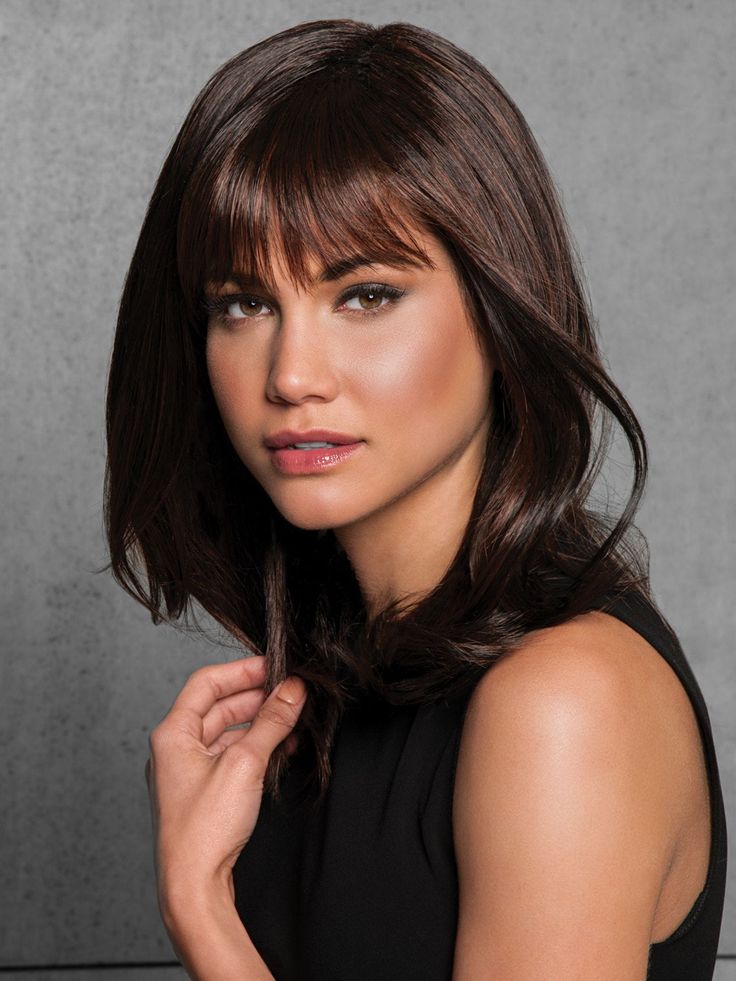 14. Braided Crown with Bangs:
Create a braided crown with your bangs blending seamlessly, achieving a regal and elegant look.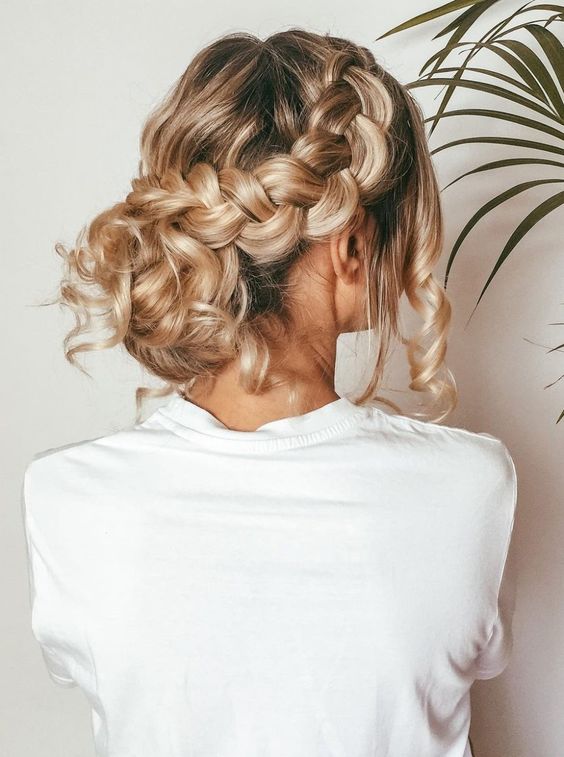 15. Messy Bun with Face-Framing Bangs:
Style your bangs to frame your face as you gather the rest of your hair into a relaxed messy bun, achieving a chic and effortless appearance.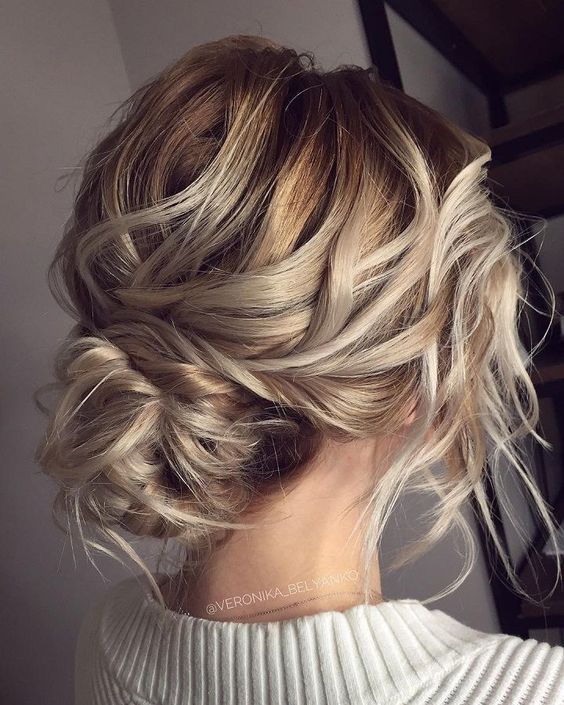 Save Pin