Hairstyle
15 Unique Brown Hair Ideas for Summer 2023
Are you ready to refresh your look this summer? Brown hair is a versatile choice that suits various skin tones and can be customized to match your personal style. Whether you're looking for a subtle change or a bold transformation, we've curated 15 original brown hair ideas for summer 2023. From warm caramel highlights to vibrant pastel accents, these trends will elevate your summer look and make heads turn. Let's dive into the exciting world of brown hair inspiration!
Brown Hair with Caramel Highlights
Enhance your brown hair with caramel highlights to add dimension and a sun-kissed glow. This technique involves strategically placing warm caramel tones throughout your hair, creating a beautiful contrast. The result is a vibrant and natural-looking hairstyle that complements your summer glow.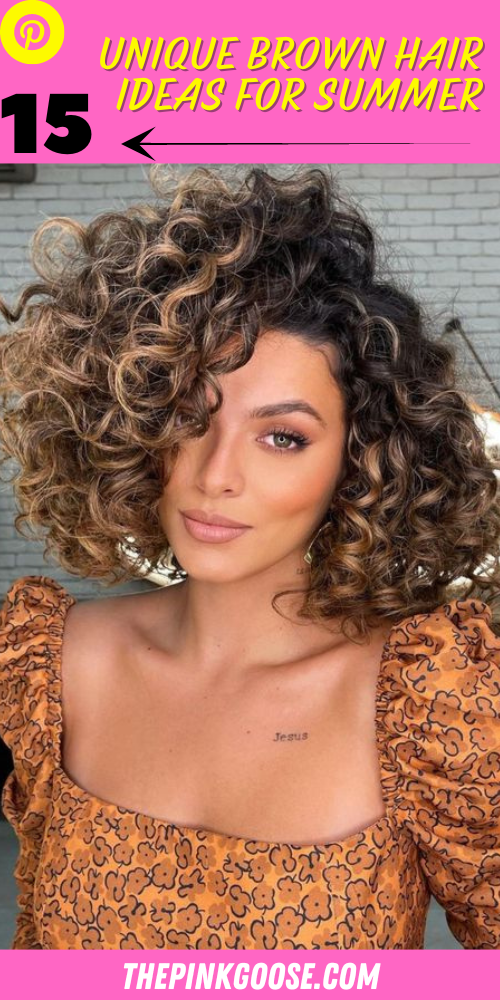 Idea 2: Chocolate Brown Balayage
Opt for a deliciously rich chocolate brown balayage this summer. Balayage is a technique that involves hand-painting highlights onto the hair, creating a seamless and low-maintenance look. The chocolate tones add warmth and depth, giving your hair a luscious and luxurious appearance.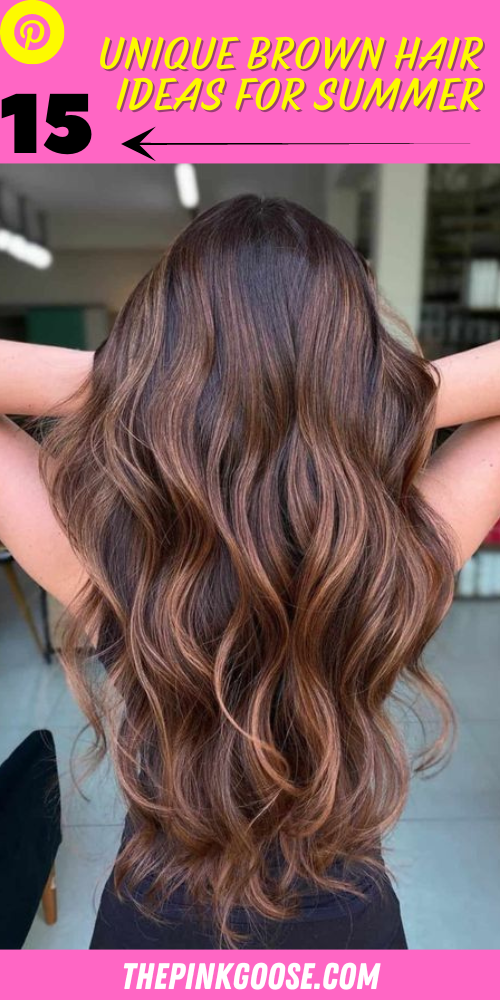 Idea 3: Honey Brown Ombre
For a soft and summery look, try a honey brown ombre. This style blends dark roots with lighter, honey-colored ends, creating a gradual transition of color. The result is a sun-kissed effect that beautifully complements your summer outfits.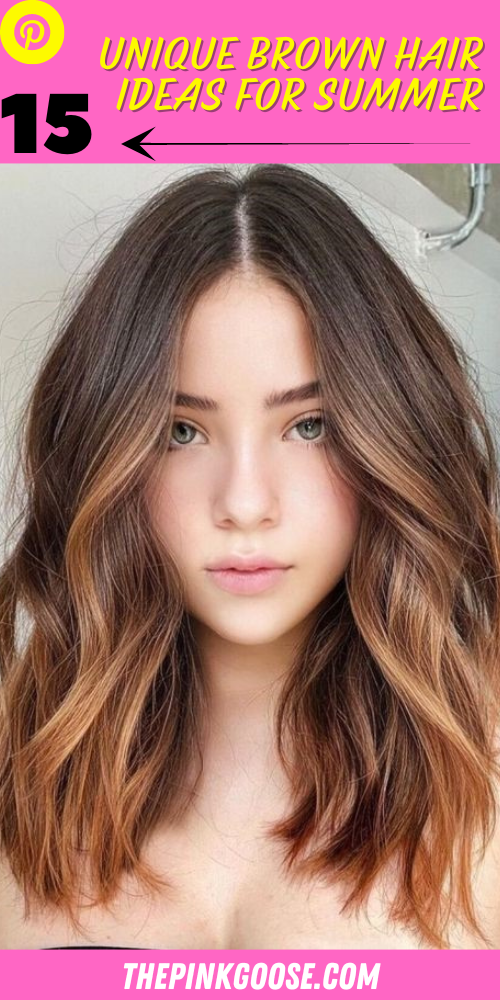 Chestnut Brown with Face-Framing Highlights
Bring attention to your best features by adding face-framing highlights to your chestnut brown hair. These highlights are strategically placed around your face, brightening your complexion and adding depth to your hairstyle. It's a subtle yet impactful way to elevate your summer look.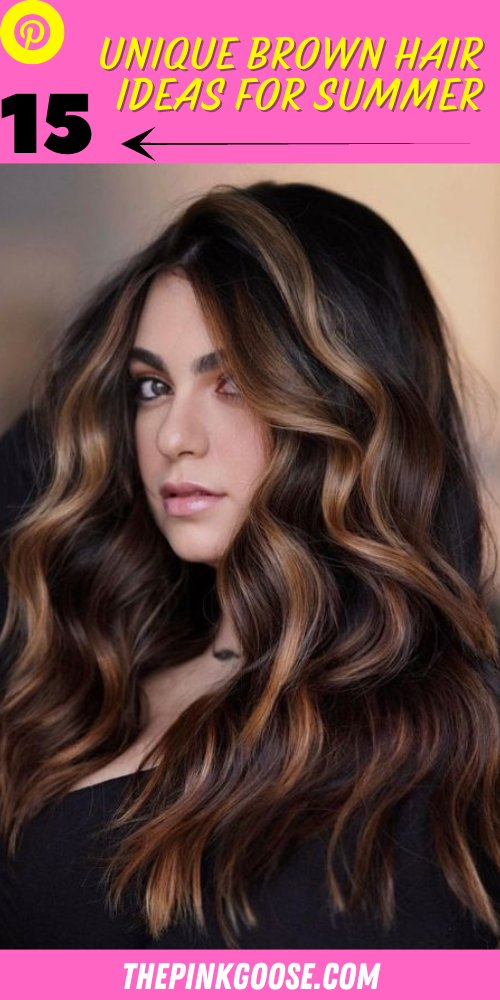 Bronde Hair with Soft Waves
Combine blonde and brown tones for a trendy "bronde" look. This hybrid shade offers the best of both worlds, creating a natural and effortless style. Pair it with soft waves for a beachy vibe that perfectly captures the essence of summer.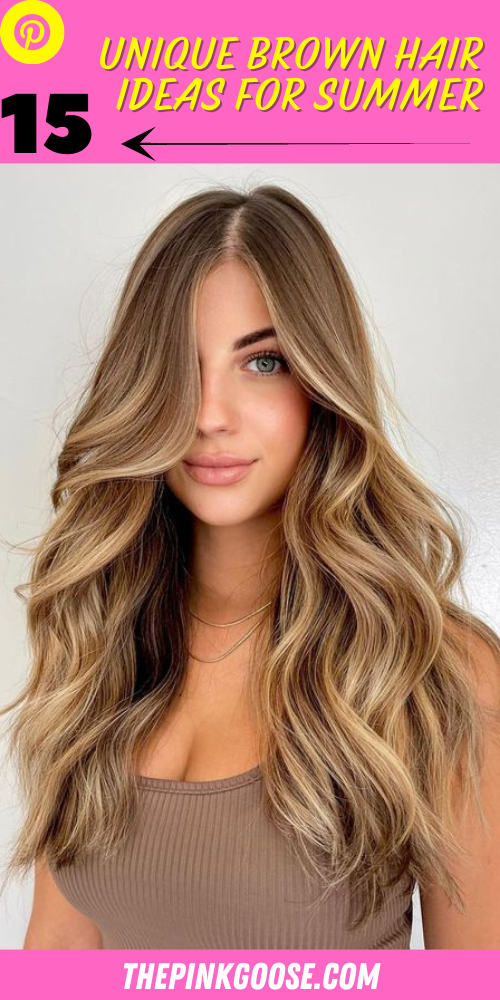 Dark Brown with Subtle Red Undertones
Add a touch of warmth to your dark brown hair by incorporating subtle red undertones. These hints of red create a vibrant and eye-catching effect, especially when they catch the sunlight. It's a striking choice that will make your summer days even brighter.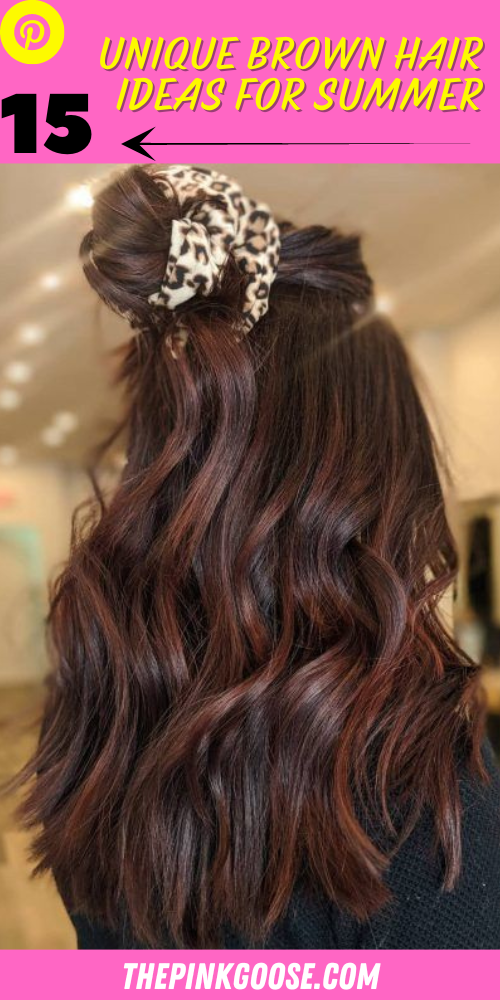 Light Brown with Babylights
Babylights are delicate highlights that mimic the natural hair color of children. By adding light brown babylights to your hair, you can achieve a youthful and sun-kissed appearance. This technique adds dimension and a touch of brightness, making it a perfect choice for the summer season.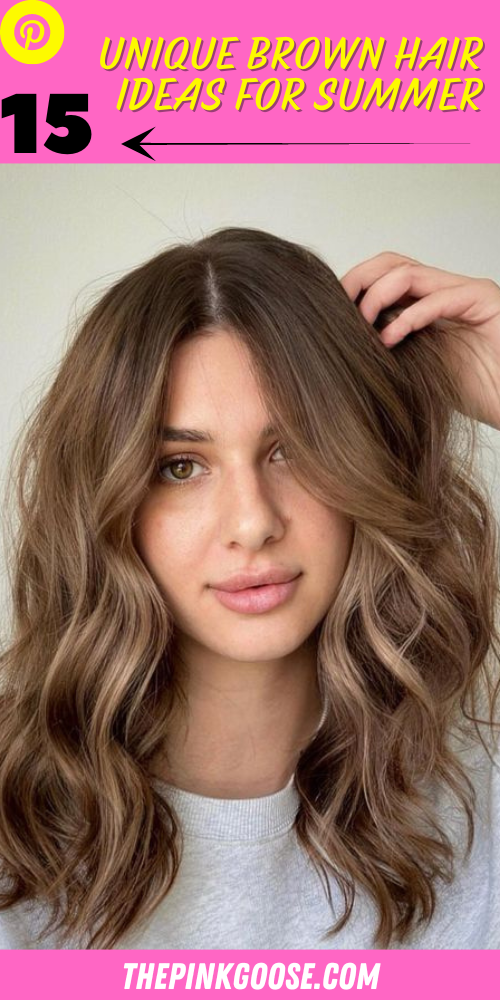 Ash Brown with Platinum Tips
For a trendy and edgy look, consider ash brown hair with platinum tips. This combination of cool-toned ash brown and striking platinum creates a captivating contrast. It's a bold choice that will turn heads wherever you go.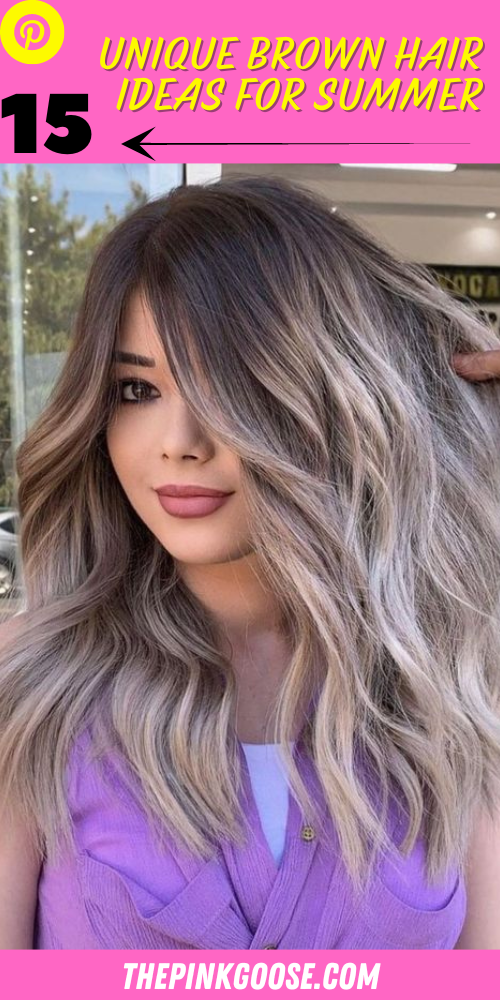 Brown Hair with Pastel Accents
Infuse some fun and creativity into your brown hair with pastel accents. Experiment with shades like lavender, pink, or blue to create a unique and eye-catching style. These pastel hues add a touch of whimsy and playfulness to your summer look.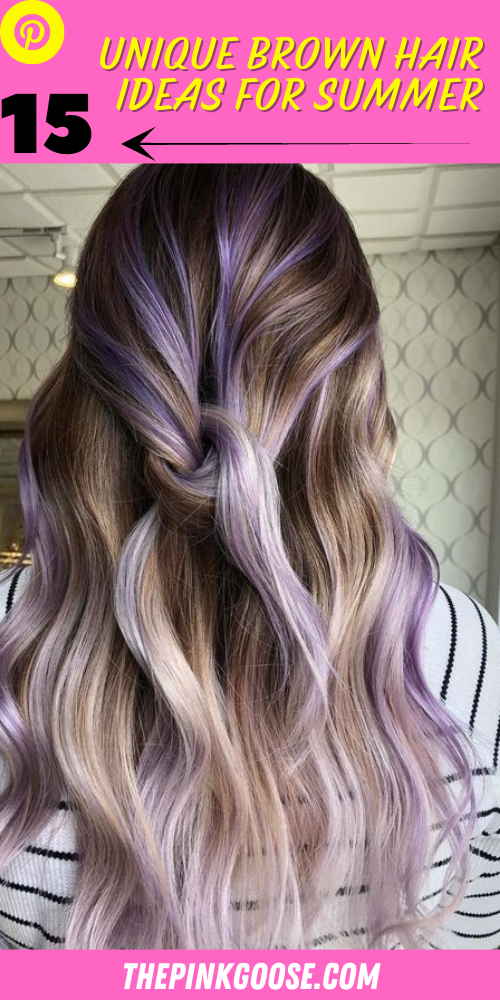 Espresso Brown with Copper Tones
Take your brown hair to the next level by incorporating rich copper tones. Espresso brown hair with copper highlights creates a luxurious and vibrant style. The warm copper tones beautifully complement the summer sun, making your hair shine like never before.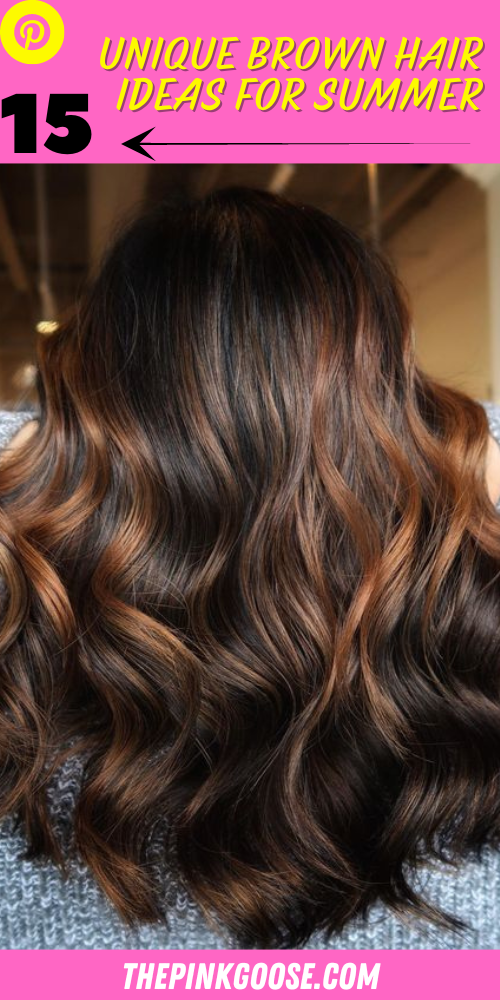 Brown Hair with Balayage and Bangs
Combine the elegance of balayage with the chicness of bangs for a sophisticated summer hairstyle. Balayage highlights add dimension to your brown hair, while bangs frame your face and add a touch of mystery. It's a winning combination that will make you feel confident and stylish.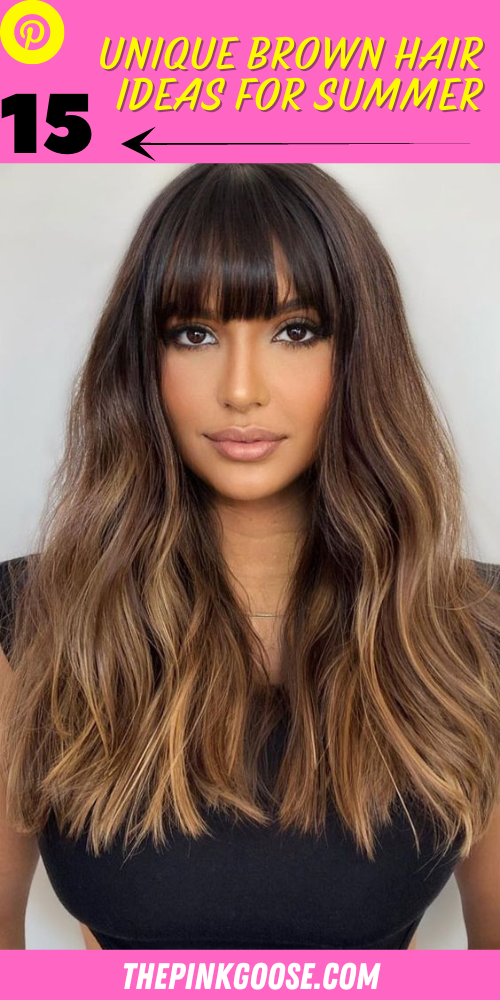 Golden Brown with Beachy Texture
Capture the essence of summer with golden brown hair and beachy texture. This look embraces effortless waves and a sun-kissed glow. The golden brown hue adds warmth and radiance, giving you a beach-ready appearance wherever you go.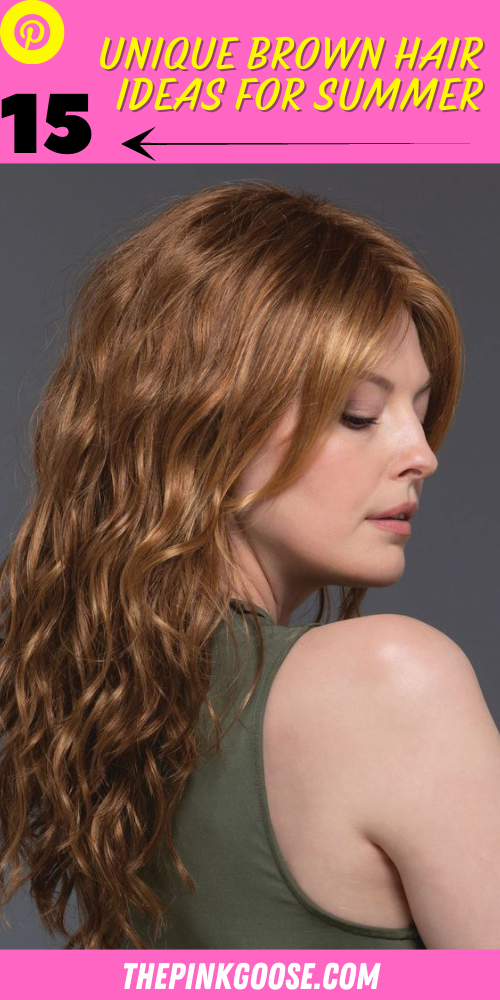 Chocolate Brown with Burgundy Highlights
Add a touch of drama to your brown hair with burgundy highlights. The deep burgundy tones create a striking contrast against chocolate brown hair, making a bold statement. It's a perfect choice for those who want to stand out and make a lasting impression.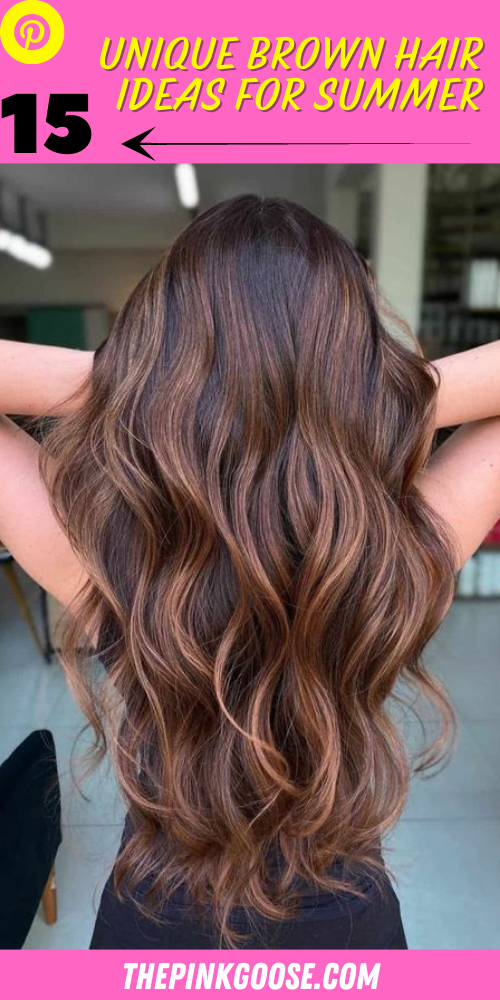 Brown Hair with Lavender Streaks
For a unique and whimsical look, incorporate lavender streaks into your brown hair. This unexpected combination adds a pop of color and an element of surprise to your style. Embrace your adventurous side and rock this playful look during the summer months.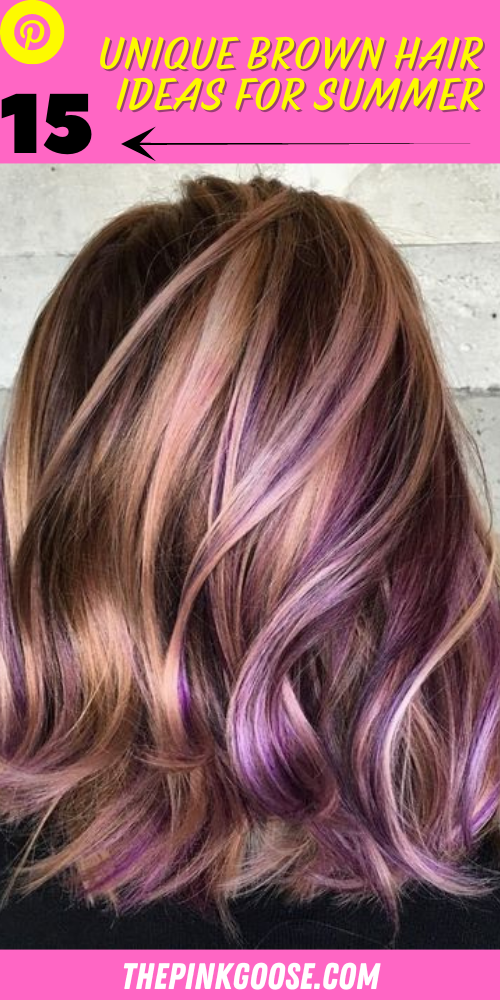 Brown Hair with Rose Gold Ends
Get ready to shine with rose gold ends on your brown hair. This combination exudes femininity and elegance, creating a glamorous and on-trend style. The rose gold ends catch the light beautifully, ensuring you'll be the center of attention wherever you go.