Lob haircuts, also known as long bobs, have become increasingly popular in recent years. With their versatility and flattering length, lobs offer a stylish alternative to shorter pixie cuts or longer locks. Whether you prefer a sleek and polished look or a more textured and relaxed style, there are numerous lob haircut ideas to suit your taste. In this article, we will explore 19 unique lob haircut ideas, each accompanied by a description to help you choose the perfect style for your next haircut.
Idea 1: Classic Straight Lob
The classic straight lob is a timeless choice that suits various face shapes and hair textures. It features a shoulder-length cut with blunt ends, offering a sleek and polished appearance. This hairstyle works well for those who prefer a simple yet sophisticated look.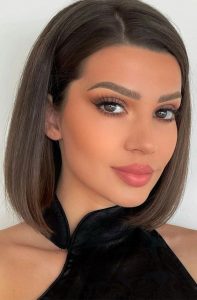 Idea 2: Layered Lob with Side Swept Bangs
For added dimension and movement, consider a layered lob with side-swept bangs. The layers add texture and volume, while the bangs frame the face beautifully. This style is ideal for those with medium to thick hair.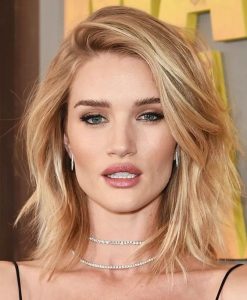 Idea 3: Textured Lob with Beachy Waves
Create a carefree and effortless look with a textured lob styled in beachy waves. This hairstyle exudes a relaxed and casual vibe, perfect for a day at the beach or a summer outing. Use a curling wand to achieve loose waves and spritz with sea salt spray for added texture.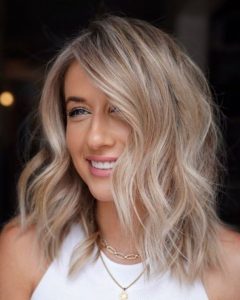 Idea 4: Blunt Lob with Highlights
Add depth and dimension to your lob haircut with highlights. Opt for a blunt cut with subtle highlights that complement your natural hair color. This style adds visual interest and enhances the overall look of your haircut.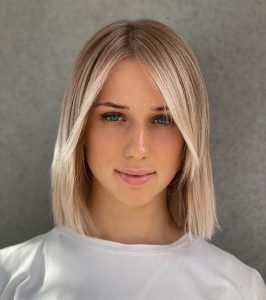 Idea 5: Angled Lob with Long Front Layers
An angled lob with long front layers is a trendy choice that creates a bold and edgy look. The longer layers in the front frame the face, while the angled cut adds a touch of sophistication. This hairstyle is particularly flattering for those with angular face shapes.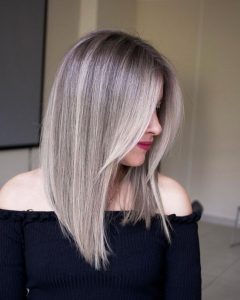 Idea 6: Wavy Lob with Balayage
For a more dramatic and eye-catching style, try a wavy lob with balayage highlights. Balayage creates a soft, natural-looking blend of colors, and when paired with loose waves, it adds movement and dimension to your haircut. This look is perfect for those who want a sun-kissed and beachy vibe.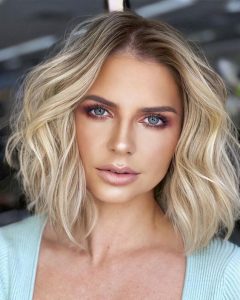 Idea 7: Messy Lob with Choppy Ends
Embrace a tousled and effortless look with a messy lob featuring choppy ends. This hairstyle is all about embracing texture and creating an undone appearance. Apply texturizing spray to achieve the desired messy effect and tousle your hair with your fingers.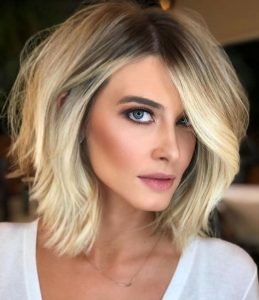 Idea 8: Curly Lob with Deep Side Part
If you have naturally curly hair, a curly lob with a deep side part can be a stunning choice. This hairstyle showcases your curls while maintaining a chic and sophisticated look. Use a wide-tooth comb or your fingers to define and shape your curls, and let them cascade around your face.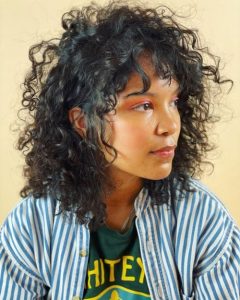 Idea 9: Sleek Lob with Middle Part
For a sleek and polished look, opt for a lob with a middle part. This style is elegant and versatile, suitable for various occasions. Use a flat iron to straighten your hair and finish with a shine-enhancing serum for a glossy and sophisticated finish.
Idea 10: Bob-Lob Hybrid
If you can't decide between a bob and a lob, why not try a bob-lob hybrid? This style features a length that falls somewhere between a traditional bob and a lob. It offers a fresh and contemporary look that is both stylish and easy to maintain.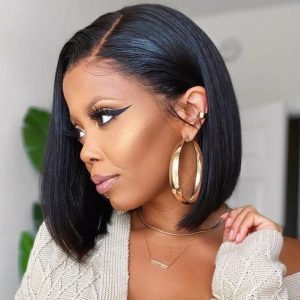 Idea 11: Asymmetrical Lob
For those who crave a more daring and unconventional style, an asymmetrical lob is a perfect choice. This haircut features an uneven length, with one side longer than the other. It adds an element of edginess and individuality to your overall look.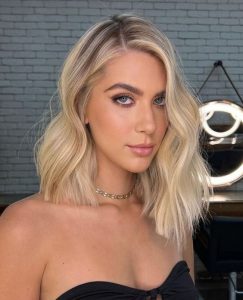 Idea 12: Shaggy Lob with Curtain Bangs
Get a retro-inspired look with a shaggy lob paired with curtain bangs. This hairstyle creates a cool and effortless vibe with its layers and textured ends. Curtain bangs, which part in the middle and frame the face, add a touch of vintage charm.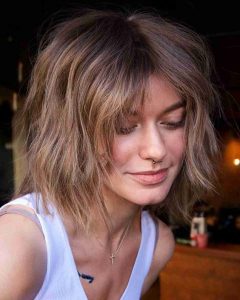 Idea 13: Textured Lob with Fringe
Add a playful and youthful touch to your lob haircut with a textured lob and a fringe. The texture adds movement and volume, while the fringe frames the face and accentuates your features. This style is ideal for those who want a fresh and modern look.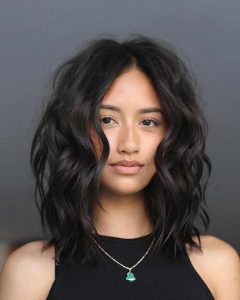 Idea 14: Layered Lob with Face-Framing Highlights
To draw attention to your facial features, consider a layered lob with face-framing highlights. The layers add volume and movement, while the highlights frame your face beautifully. This style is particularly flattering for those with round or oval face shapes.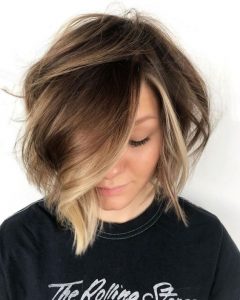 Idea 15: Retro-Inspired Lob with Curls
Channel your inner vintage goddess with a retro-inspired lob featuring curls. This hairstyle is reminiscent of the glamorous Hollywood era and adds a touch of elegance to your overall look. Use hot rollers or a curling iron to create vintage-inspired curls.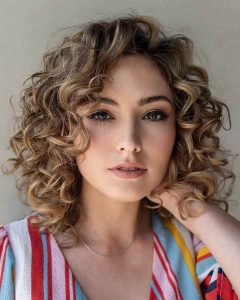 Idea 16: Voluminous Lob with Root Lift
For added volume and lift, go for a voluminous lob with root lift. This hairstyle creates a full-bodied look that exudes confidence and glamour. Use a volumizing mousse or spray and blow-dry your hair with a round brush to achieve the desired volume.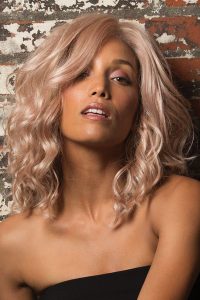 Idea 17: Sleek Lob with Blunt Ends
If you prefer a clean and polished look, a sleek lob with blunt ends is an excellent choice. This hairstyle offers a sleek and sophisticated appearance that is both timeless and versatile. Use a straightening iron and finish with a smoothing serum for a sleek finish.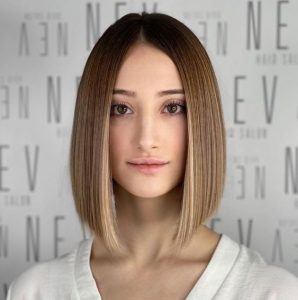 Idea 18: Choppy Lob with Color Melt
Add a touch of edginess to your lob haircut with a choppy lob and a color melt technique. The choppy layers create texture and movement, while the color melt seamlessly blends different shades for a multidimensional look. This style is perfect for those who want to make a bold statement.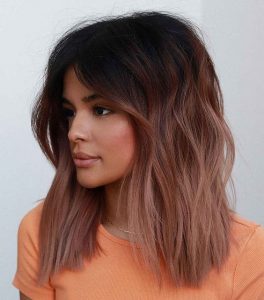 Idea 19: Braided Lob Updo
For a special occasion or a more intricate hairstyle, try a braided lob updo. This look combines the elegance of a lob with the intricacy of braids, creating a sophisticated and romantic updo. Braided lob updos are perfect for weddings, proms, or any formal event.