Hairstyle
Bob Haircuts 2024: A Look into Future Trends
The bob has been a classic hairstyle for women for over a century, embodying a range of styles from chic and sharp to soft and wavy. As we look towards 2024, the bob haircut continues to evolve, incorporating modern twists that make this timeless cut fresh and exciting. Below, we explore some of the potential trends in bob haircuts for the year 2024 through a series of images.
The Classic Bob with a Modern Italian Twist
The quintessential bob haircut retains its popularity into 2024 but with an Italian flair that adds sophistication. This image showcases a woman with a medium length bob that softly frames her face. The straight lines and slight undercut provide a neat silhouette, while the texture adds a modern edge. The classic nature of this cut is complemented by a contemporary Italian elegance, resulting in a look that is both timeless and of-the-moment.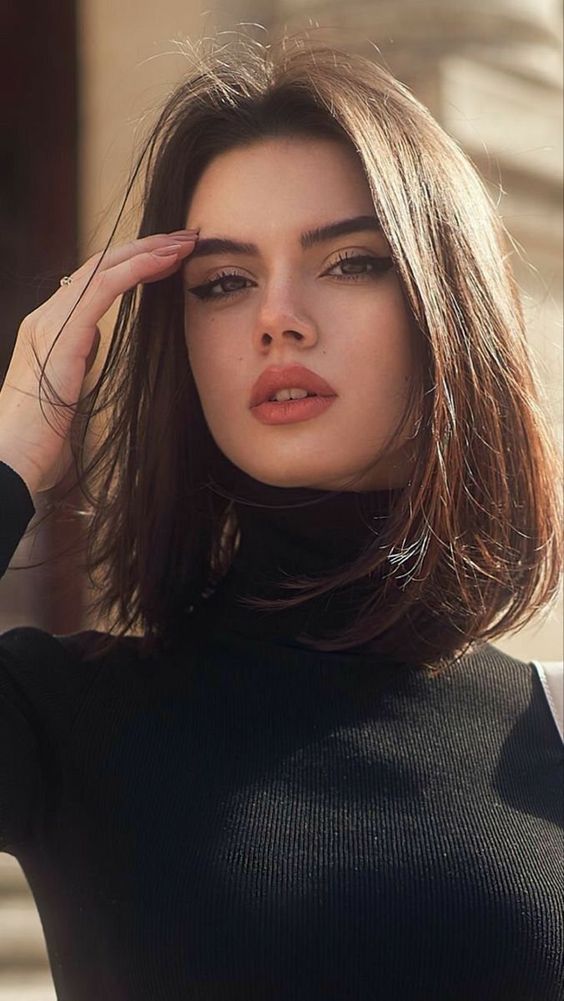 The Edgy Short Pixie Bob
Short haircuts, like the pixie bob, continue to be a bold statement in 2024. The photo shows a woman with a very short, layered cut that merges the pixie and bob styles into a choppy and edgy look. This trend leans towards a more rebellious, yet cute take on the classic bob, giving it a youthful and spirited vibe. It's a testament to the versatility of the bob that it can be adapted even to pixie-like proportions.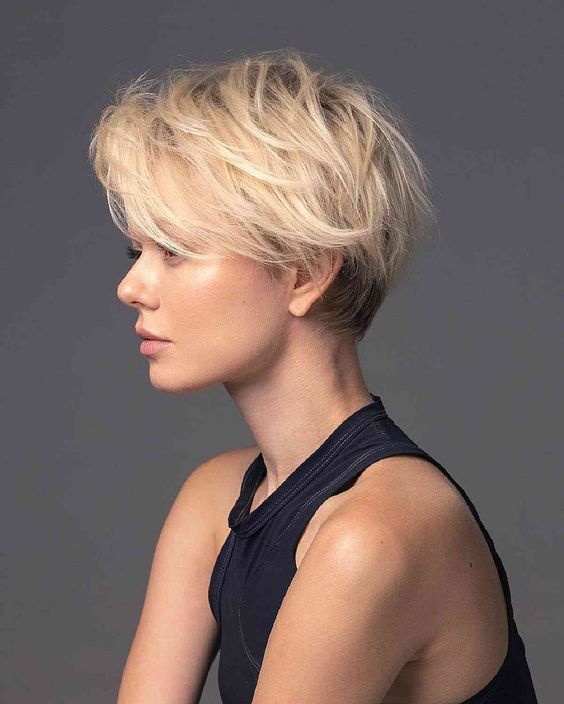 The Retro Wavy Bob: A Nod to the 90s
Wavy hair brings a playful, carefree air to the 2024 bob. This style in the photo is a throwback to the 90s, featuring a medium length bob with pronounced waves that offer movement and a relaxed feel. The texture is key here, as it provides a sense of volume and dynamism, making it perfect for women with fine hair looking to add some oomph to their locks.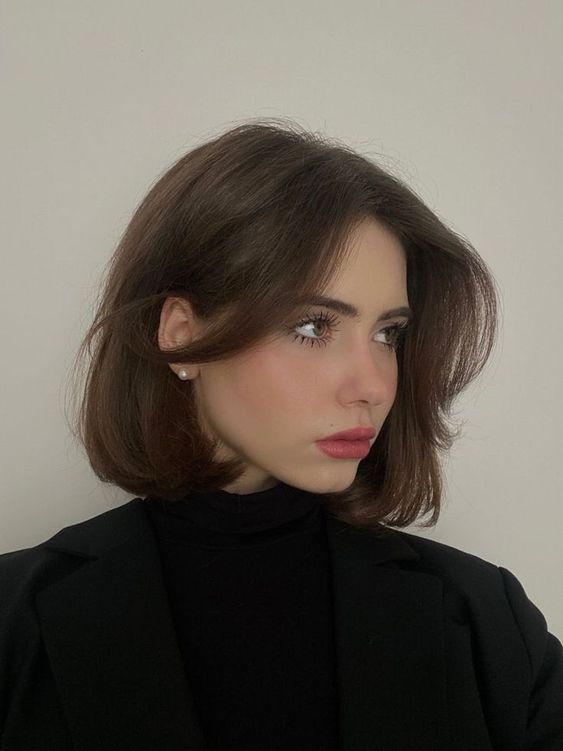 The Sleek and Straight Micro Bob
Moving into 2024, the micro bob becomes a stunning option for those favoring straight and sleek hair. The image captures a straight, chin-length bob that offers a minimalist yet bold statement. It's an angled cut that's sharp and precise, exuding confidence and a sense of modern fashion-forwardness. This style works particularly well for those with straight hair textures, as it highlights the clean lines and symmetry of the cut.
A Modern Take on Textured Bobs
The image showcases a woman with a medium-length bob, highlighting a textured look that screams 2024. This bob haircut is a perfect blend of elegance and playfulness, with wavy strands that add volume and movement. The side-parting is soft, allowing for face-framing waves that accentuate the eyes and cheekbones. It's a cute style that proves bobs can be as detailed and layered as any long hair style, providing a fresh angle on the classic bob.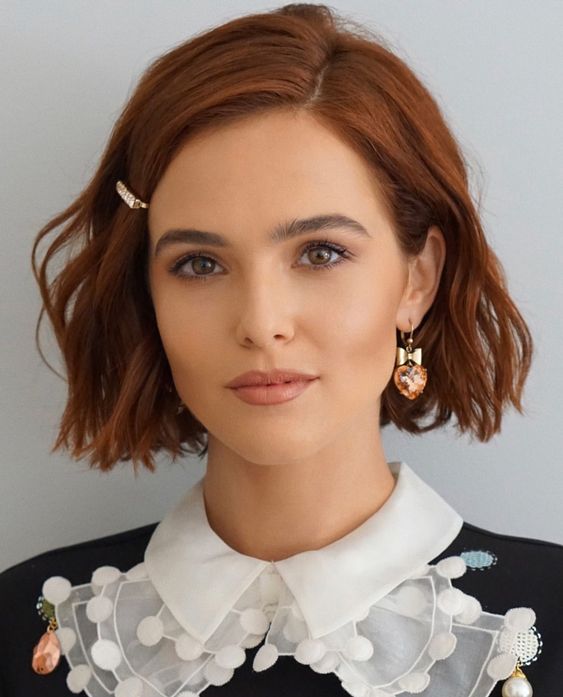 Sleek and Straight: A 2024 Bob Revamp
Here we have a straight hair bob, embodying a sleek and modern aesthetic. This straight cut is uniform in length, promoting a minimalist charm that's predicted to be a significant trend in 2024. The absence of layers gives it a clean and polished look, perfect for the Italian fashion scene. The bluntness of the cut reflects a short but powerful statement, suitable for fine hair and making a bold, straightforward trend statement.
Retro-Modern Fusion: The 90s Bob Reinterpreted
This image captures a short layered bob with a nod to the 90s. The rich, auburn color combined with a bold red lip gives it a vintage feel, while the cut itself remains modern and fresh. The length sits just above the shoulders, a medium take on the bob, with layers that provide shape and structure. It's an angled bob that brings a touch of sophistication, making it one of the trends to watch for 2024.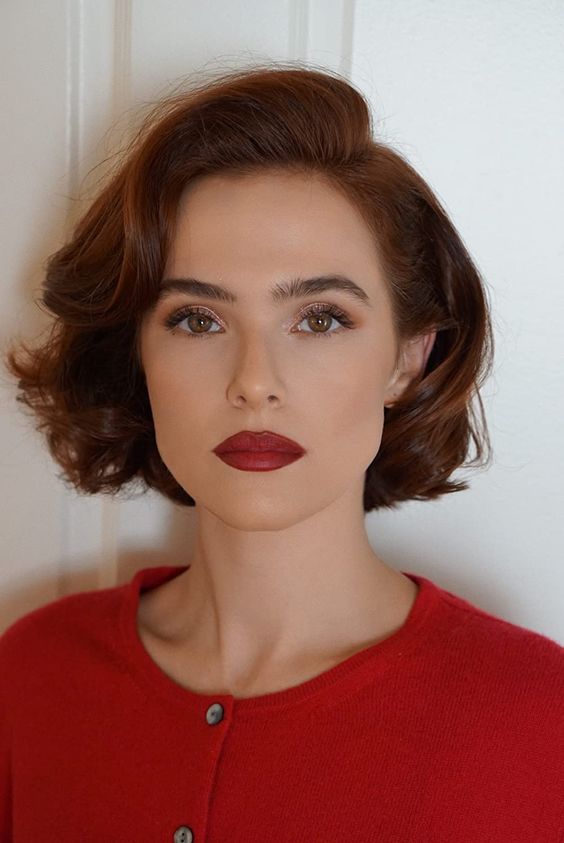 The Effortlessly Chic Wavy Bob
Featured in this photo is a wavy bob—a testament to the bob's versatility. The cut is styled with soft, textured waves, creating an effortlessly chic look that's bound to be all the rage in 2024. It's a medium length style that bridges the gap between short hair and long hair, making it a versatile option for those looking to experiment with length. The highlights and lowlights add depth, illustrating a layered technique that enhances the wavy texture.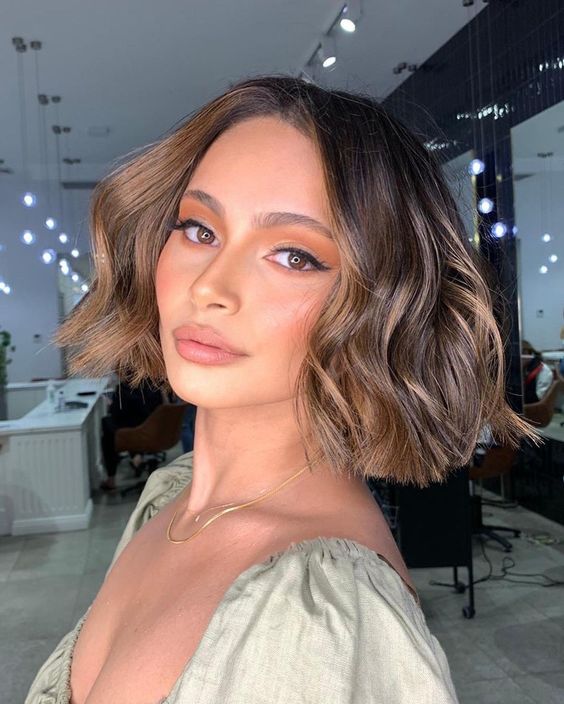 Sleek and Straight Bob with a Modern Edge
As we explore bob haircuts 2024, we're starting with a style that exudes a seamless blend of elegance and edginess. This sleek and straight bob features a flawless, angled cut that enhances the jawline and gives off a polished modern vibe. The straight hair falls just around the chin, making it a perfect medium length that is both practical and chic.
For those with fine hair, this straight bob offers an illusion of thickness, especially when coupled with a side part that adds volume to the top. The rich, chocolate brown hair color is timeless, and the subtle highlights elevate the look with a sun-kissed warmth. To achieve this straight hair unstyled look, use a flat iron to smooth out the strands and a light hold spray to maintain the shape without sacrificing natural movement. It's ideal for a round face and can transition effortlessly from a day at the office to a night out on the town.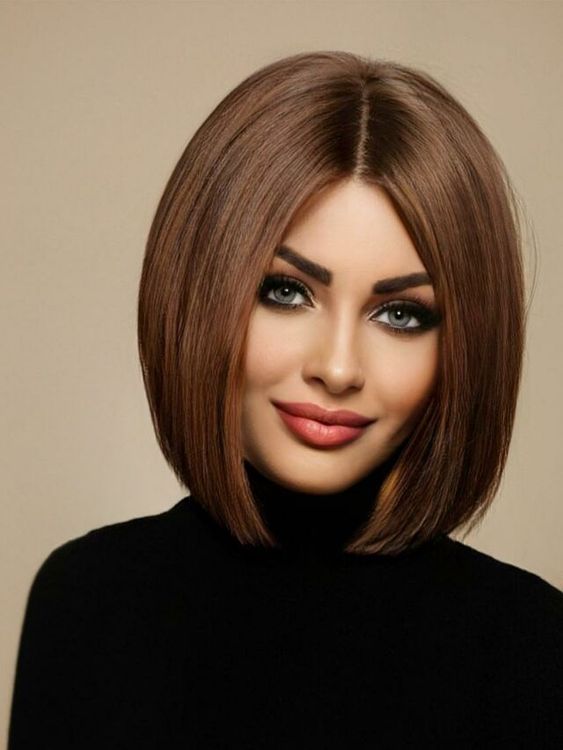 Wavy Bob with a Carefree Flair
This medium length bob presents a delightful juxtaposition with its wavy hair and unstyled, natural appeal. The relaxed waves add a carefree flair that resonates with a beachy aesthetic, perfect for the woman who wants to embrace a modern but easygoing hairstyle.
The bob haircut sits at shoulder length, providing enough versatility for various styling options. If you have thick hair, the waves can be enhanced with a curling iron or a sea-salt spray for that perfect wavy texture. For women with fine hair, this style adds much-needed volume. The honey-blonde hue with darker roots contributes to the dynamic look of this haircut, adding depth and dimension. To keep it looking effortless, scrunch your locks with a bit of mousse and let them air-dry.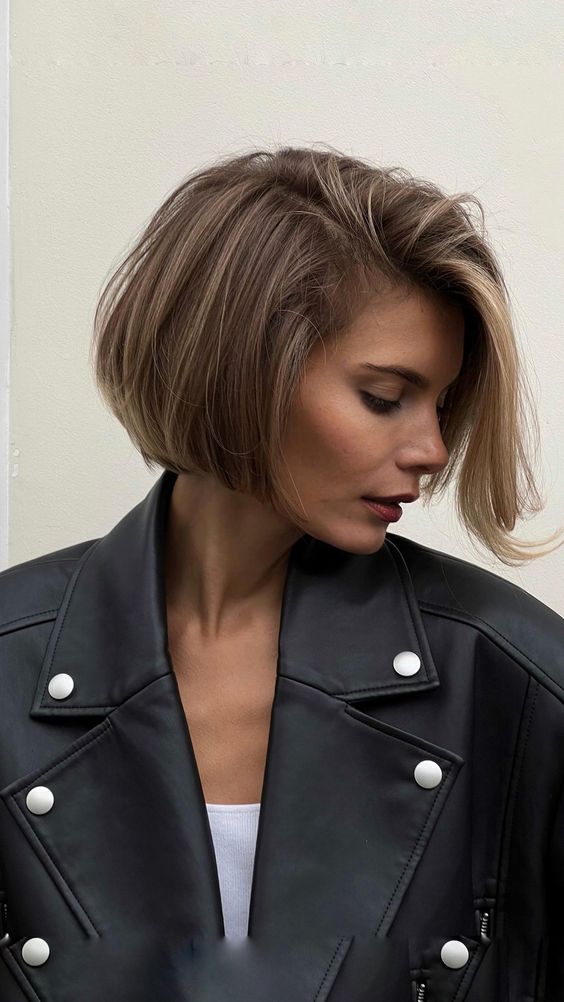 Chic Micro Bob with Texture and Contrast
Here we have a stunning example of a micro bob that captures a 2024 trend with finesse. This very short haircut goes beyond the classic bob and enters the realm of the pixie-bob hybrid. The addition of textured layers gives it a choppy look that's both cute and rebellious.
The short hair with wispy bangs provides a beautiful frame for the face, making it a great choice for women with fine hair looking to add an illusion of volume. The platinum blonde shade is bold and makes a statement, while the darker roots add a modern touch to the overall style. It's a fearless look that pairs well with an equally bold outfit, embodying the aesthetic of the 90s with a contemporary twist. When styling, use a texturizing spray or pomade to accentuate the layers and achieve that undone yet put-together style.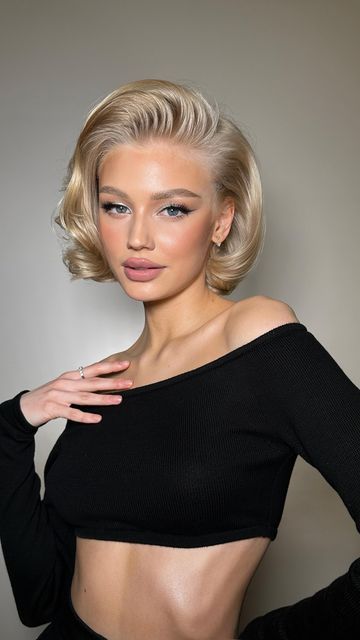 Effortless and Trendy Wavy Lob
Transitioning to a longer version of the bob, we have the wavy lob, which stands as a testament to the timeless nature of bob haircuts. This medium-length cut is the epitome of a relaxed and trendy hairstyle suitable for 2024. The waves are soft, adding a textured appearance that brings life to the straight hair.
This style is particularly flattering for women with a round face as the length elongates the appearance, and the side part adds an angular dynamic to the soft waves. The brunette tones with lighter highlights suggest a modern yet low-maintenance look that's very much in demand. It's a versatile cut that can look unstyled and casual or can be dressed up with a smoothing serum and a round brush blowout for a more polished appearance.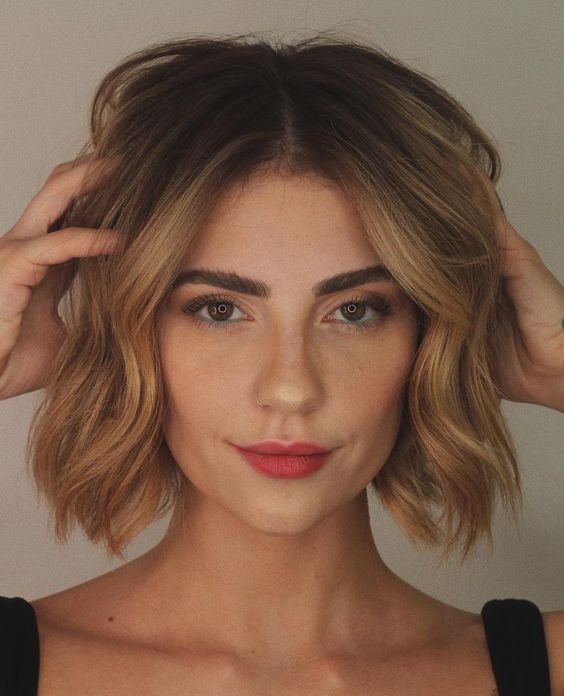 The Reimagined Classic Bob
This classic bob has been redefined with a contemporary edge for 2024. A straight cut that grazes the jawline showcases the precision and elegance of a timeless style. The hair's rich, honey-blonde hue complements the clean lines, while a subtle undercut at the nape adds a hidden layer of edginess. A blunt, straight fringe skims the eyebrows, framing the face and adding a touch of 90s nostalgia.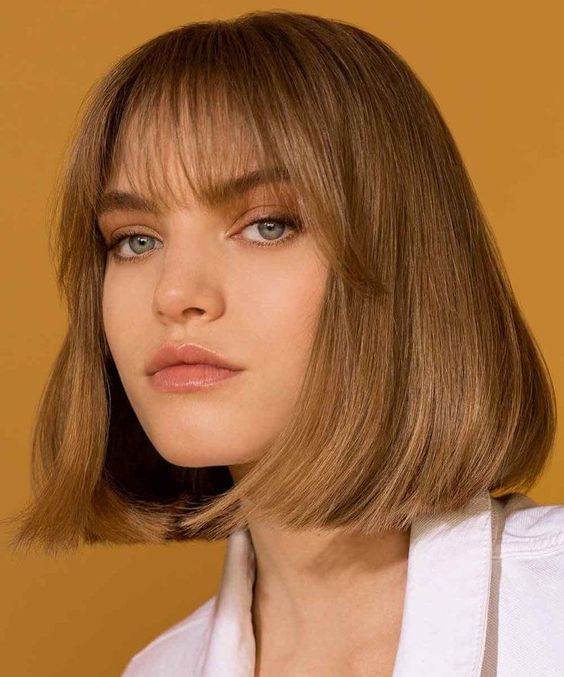 The Soft Wavy Bob
Wavy textures are taking the bob to new heights in 2024. This photo captures a medium-length bob with soft, flowing waves that give the style movement and a textured appearance. The sun-kissed balayage technique adds depth and dimension, while a few choppy layers create volume, making it one of the best options for fine hair. This bob's playful bounce and light layering make it a versatile choice for women looking to combine ease with sophistication.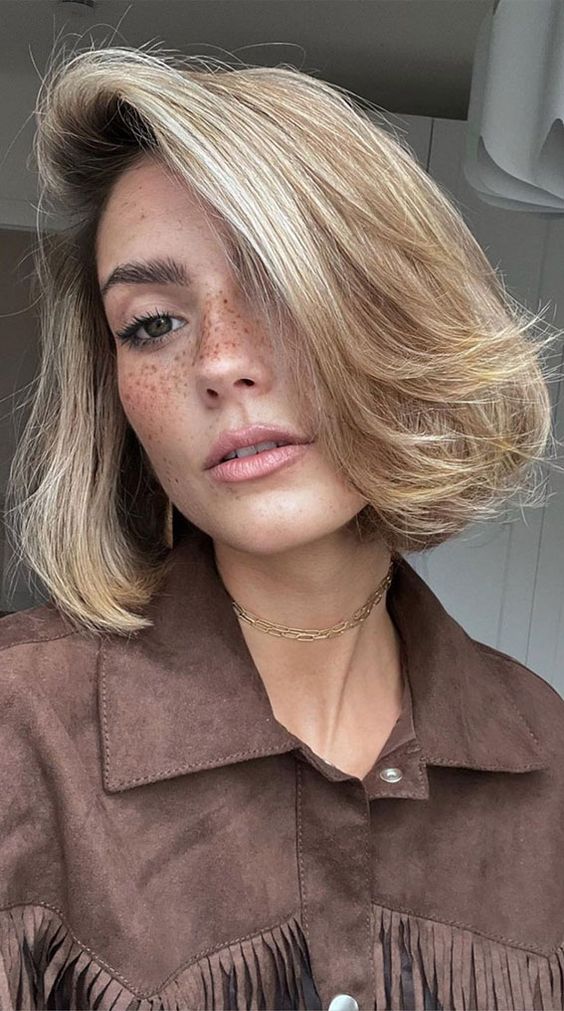 The Bold Micro Bob
Daring and dramatic, the micro bob presents a very short version of the bob that's perfect for those wanting to make a statement in 2024. This photo shows a sleek, angled cut that sharply contrasts with the model's dark hair color. The precision cut around the face accentuates her features, while the short layers provide a subtle textured feel. It's a bold reimagining of the Italian bob, with a modern and chic attitude.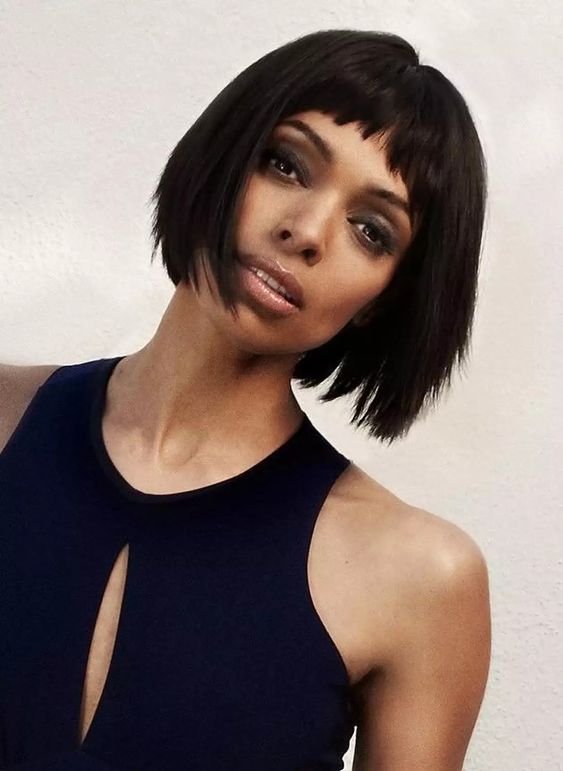 The Curly Bob With Bangs
Curly hair gets a fresh take with this bob haircut for 2024. The image reveals a chin-length bob, amped up with springy curls and full bangs that soften the look. The modern take on this bob includes textured layers that enhance the curls' natural volume and bounce, offering a cute yet edgy aesthetic. It's a short haircut that doesn't skimp on personality and stands out as a trend-setting look for the year.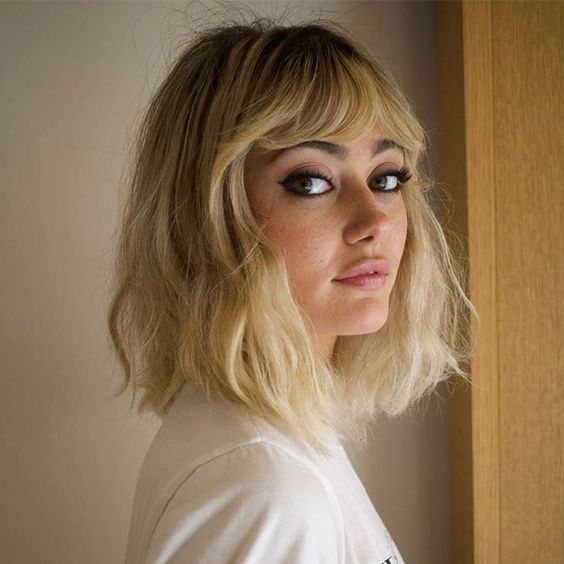 The Wavy Bob: Beachy Textures Meet Urban Chic
Imagine the effortless charm of wavy hair with the polish of urban chic. This medium length bob with its cascading waves and subtle balayage highlights is as versatile as it is enchanting. Suited for the woman on-the-go, it's a hairstyle that transitions seamlessly from a professional setting to a casual day out. The waves add a playful touch to the straight hair, making it cute yet sophisticated.
Styling Tip: Use a sea-salt spray to enhance the natural texture of your wavy hair. For a smooth transition to an evening look, part your hair to the side, tucking one side behind your ear for an asymmetrical allure.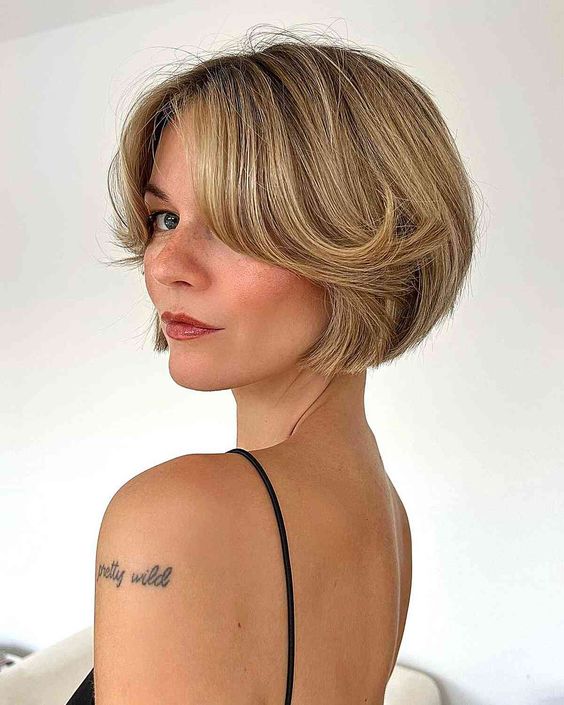 Save Pin