Hairstyle
Color Revolution: Embracing the Vibrant Hair Color Trends of 2024
The world of hairdressing is ever-evolving, with new trends blossoming each season, shaping the aesthetic of the time. For the fashion-forward woman aged 25 to 55, staying abreast of the latest hair color trends for 2024 is not just about style – it's a form of self-expression. This year, we see a vivid palette of colors and styles, from the bold and vibrant to the subtly chic. Let's dive into the most captivating hair color trends that will dominate the coming year.
Fiery Red with Precision Cut
Ignite your look with a blazing red that's set to be one of the hottest hair color trends for 2024. Perfect for women who want to stand out, this vibrant hue is paired with a sleek, straight cut that falls just above the shoulder. The sharp fringe adds a contemporary edge, making it a perfect match for the fall winter 2024 season. It's a bold choice for women over 40 looking to rejuvenate their style with a color that's both warm and electrifying.

Multidimensional Blonde Bob
Embrace the new era of blonde with this multidimensional bob. The interplay of light and dark blonde shades creates a depth that elevates the classic bob. It's a trend that resonates with the Korean wave of subtle yet impactful style changes. Whether styled straight or with a hint of wave, this cut is versatile, perfect for a medium length that flatters every face shape.

Pastel Pink Edge
This year's palette includes pastels with an edge, and this pastel pink is no exception. It's a trending highlight for short hair – a statement of modern femininity. It's an aesthetic that pairs well with curly hair or worn as a straight hair unstyled look for an effortless vibe. This style is especially flattering for a round face, adding softness and a pop of color.

Stark Contrast Pixie
The stark contrast pixie cut is a stunning representation of 2024's boldness. With white blonde hair meeting vibrant pink tips, it's a style that's both audacious and aesthetic, reminiscent of 90s pop icons. It's a perfect choice for short hair with bangs, offering a playful yet edgy look for those who dare to defy the norms.

Avant-Garde Green
The avant-garde green bob is the epitome of hair color trends for 2024. This style is a celebration of individuality, featuring hues of olive and lime, perfect for those with a thick hair texture. It's a medium with bangs cut that's both edgy and elegant, a nod to the bold Korean hair trends that have taken the world by storm.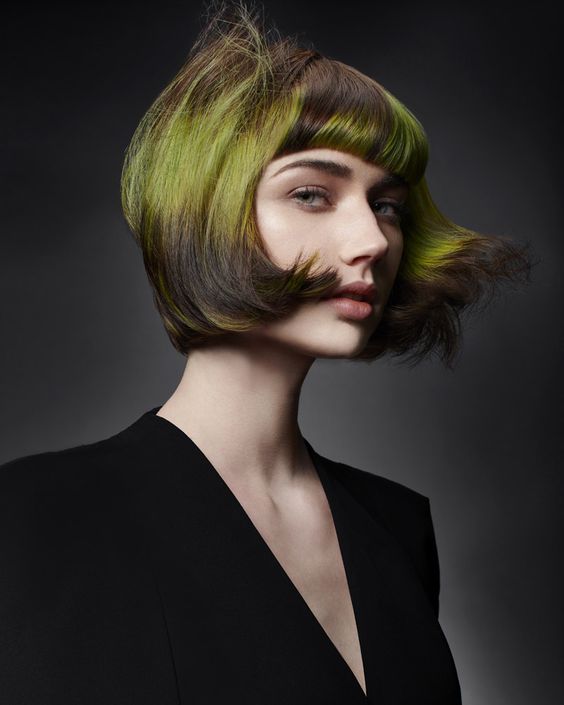 Sunkissed Brunette Waves
The brunette hair color trend is taking a sunny turn in 2024, with soft, sunkissed highlights adding warmth and dimension. This look is perfect for long hair, cascading in gentle waves that embody the free spirit of the fall season. It's a versatile style that works beautifully for women of all ages, adding a touch of youthfulness to those for women over 40. This shoulder length style with subtle highlights is the epitome of effortless styling.

Bold Bicolor Bob
Defy convention with a bold bicolor bob that's sure to turn heads. This dramatic look features a sharp side part with contrasting colors – deep black and platinum blonde. Ideal for the woman who loves to make a statement, this short hair straight style is a modern take on the classic bob, adding an element of surprise with its striking color contrast. It's a trend that's both Korean influenced and universally appealing.

Midnight Blue Bob
Dive into the depths of color with a midnight blue bob that's as mysterious as the night sky. This short cut with a straight-across bangs is a nod to the Korean beauty trends that have taken the fashion world by storm. The deep blue hues add an unexpected pop of color to black hair, making it a sophisticated choice for those looking to add a touch of drama to their look without overwhelming it.

Icy Blue Long Locks
Embrace the coolness of 2024 with icy blue long hair straight that's as enigmatic as it is stunning. This color whispers winter magic and pairs beautifully with long hair with bangs. The sleek, straight texture emphasizes the ethereal quality of the hue, making it a fantastic choice for those who want to embody the aesthetic of the winter season. It's a style that's both daring and delicate, perfect for making a statement.

Dynamic Ginger Shag
The red hair trend is getting a dynamic twist with this ginger shag. This short hair curly style is full of movement and texture, perfect for those with a lively personality. It's a playful yet chic look that can be easily styled at home, making it a go-to for a casual yet trendy aesthetic. The fiery red shade is a warm addition to the fall winter 2024 collection, perfect for adding vibrancy to any ensemble.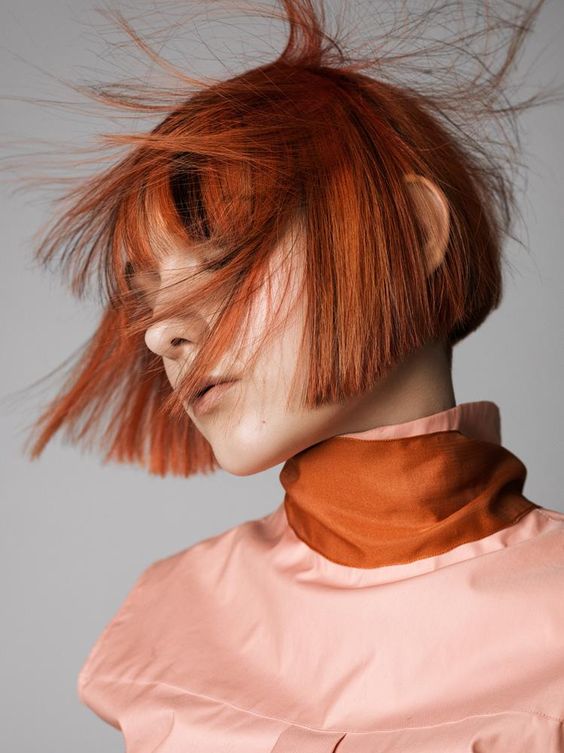 Whimsical Blue Wisps
The whimsy of blue takes a sophisticated turn with soft baby blue hues intricately woven into a sleek bob. This short hair with bangs style is as airy as a spring morning, ideal for those who prefer a subtle yet enchanting color palette. It's a breath of fresh air in the realm of hair color trends 2024, offering a dreamy escape from the mundane.

Sunset Strands
As the sun sets on 2024, it leaves behind a cascade of orange and pink hues, beautifully blending into a shoulder-grazing bob. This style is a literal interpretation of the sky's natural beauty, making it a trending highlight for medium length hair. It's a Diy dream for the experimental at heart, proving that hair is indeed the ultimate canvas for personal expression.

Platinum Pageboy Precision
Reflecting the coolness of platinum, this pageboy cut is the epitome of straight hair perfection. The uniform length and precision styling make it a sleek choice for those with a penchant for aesthetic and minimalist beauty. It's a short yet powerful statement, ideal for the modern woman who values clean lines and timeless elegance.

Chartreuse Charm
Chartreuse makes a charming statement in 2024, especially when paired with a short, straight hair with bangs style. It's a vibrant yet soft color that can add a pop to any look, perfect for women who wish to inject some playful personality into their style. It's a color that can easily transition from a casual daytime to an edgy nighttime look.

Colorful Crop
Ending the list with a bold statement, this colorful crop is a playful mix of red, purple, and brown tones. It's a short hair wavy look that exudes confidence and creativity. This style is a testament to the versatility of short hair, proving that even the shortest of cuts can be transformed into a vibrant work of art.

Lavender Dream
Immerse into the dreamlike aura of lavender with subtle touches of pastel blue. This pixie cut, with its playful waves, embodies the spirit of modernity and free expression. It's a look that says short hair doesn't have to be mundane but can be a canvas for vibrant and trending highlights.

Earthy Rainbow
The earthy rainbow trend is a delightful twist to the Korean-inspired hair color craze. It blends warm autumnal tones with cool blue tips, creating a unique look that's perfect for the fall season. It's a medium length style that showcases how brunette hair can be the perfect backdrop for a splash of creativity.

Platinum Blonde Bob
The platinum blonde bob is a timeless trend that continues to reign. This short, straight hair look with rounded edges and full bangs offers a chic simplicity that can transition from day to night effortlessly. It's a testament to the classic beauty of blonde hair and the elegance of a well-crafted cut.

Pink Blush Bob
As we approach 2024, a new trend takes center stage: the pink blush bob. This short hair with bangs look is a harmonious blend of rosy hues and soft blonde undertones, creating a warm, inviting color that's perfect for any season. It's a Korean beauty staple that's making its way to the western trends, perfect for adding a touch of femininity to your style.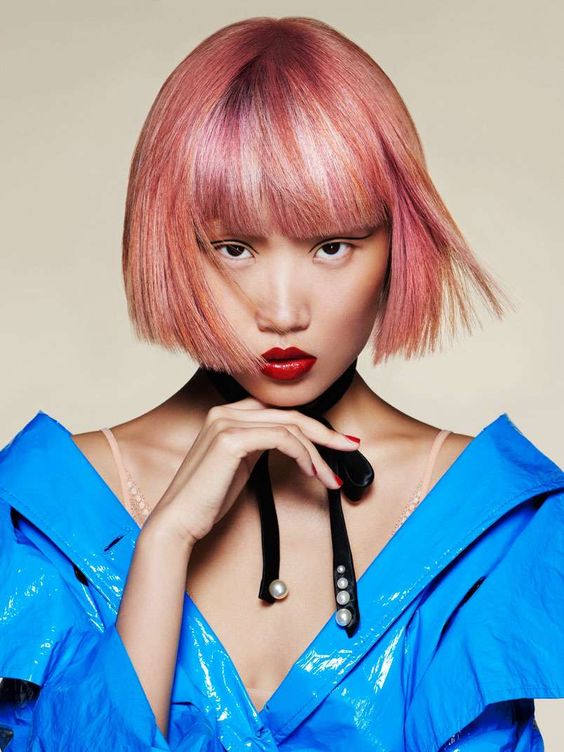 Save Pin