Hairstyle
Cornrows Braids Hairstyles 2024: A Blend of Tradition and Trend
As we step into 2024, the timeless appeal of cornrows continues to flourish with innovative twists and styles. This article will explore the mesmerizing world of cornrows braids hairstyles, reflecting on their cultural significance while embracing contemporary trends. From intricate patterns to simple and chic designs, we'll delve into an array of cornrows tailored for various preferences and occasions.
The Elegant Simplicity of Straight Back Cornrows
Straight back cornrows offer a simple yet sophisticated look that never goes out of style. This hairstyle, featuring small, evenly spaced braids that lay flat against the scalp, creates a sleek, uncluttered appearance suitable for both short hair and long hair. It's a versatile choice that can be easily styled for a professional setting or adorned with accessories for a more festive look. The straight lines complement a round face by elongating the profile, making it a flattering option for many.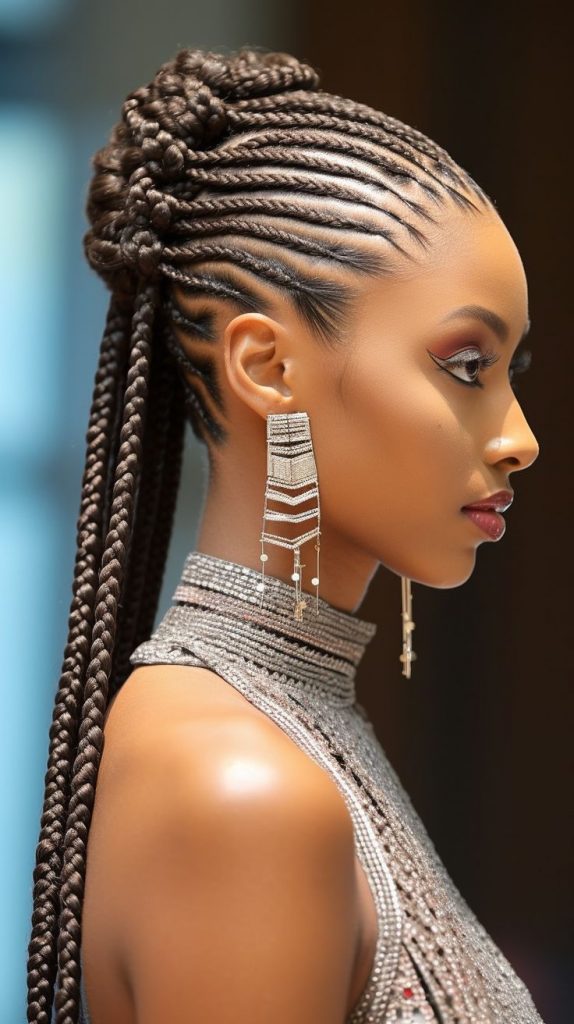 The Fusion of Tradition and Modernity: Mixed Cornrows with Highlights
Celebrating the fusion of cultures, this hairstyle incorporates the traditional Fulani patterns with modern mixed braids and highlights. The zigzag paths interwoven with straight hair reflect a bold and artistic expression. This style not only honors the roots of cornrows but also embraces the aesthetic trends of 2024, making it a statement piece for those who dare to stand out. This style is particularly flattering for those with medium to long hair, and the addition of highlights can accentuate the intricate braiding.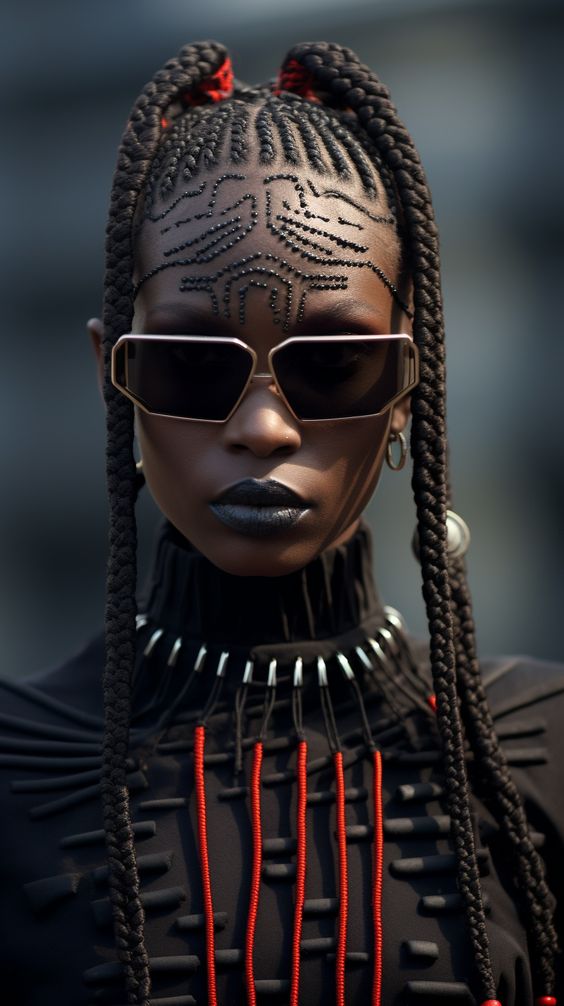 The Versatility of Half-Up, Half-Down Cornrows
A cute and playful take on cornrows is the half-up, half-down style, where braids are fashioned into a top knot while the rest cascade freely, perfect for long hair with bangs or without. This hairstyle is ideal for women who want to keep their hair away from their face while showcasing the curly or wavy hair texture. The style's versatility allows for it to be both a casual day look and an elegant evening hairstyle, easily styled with various accessories.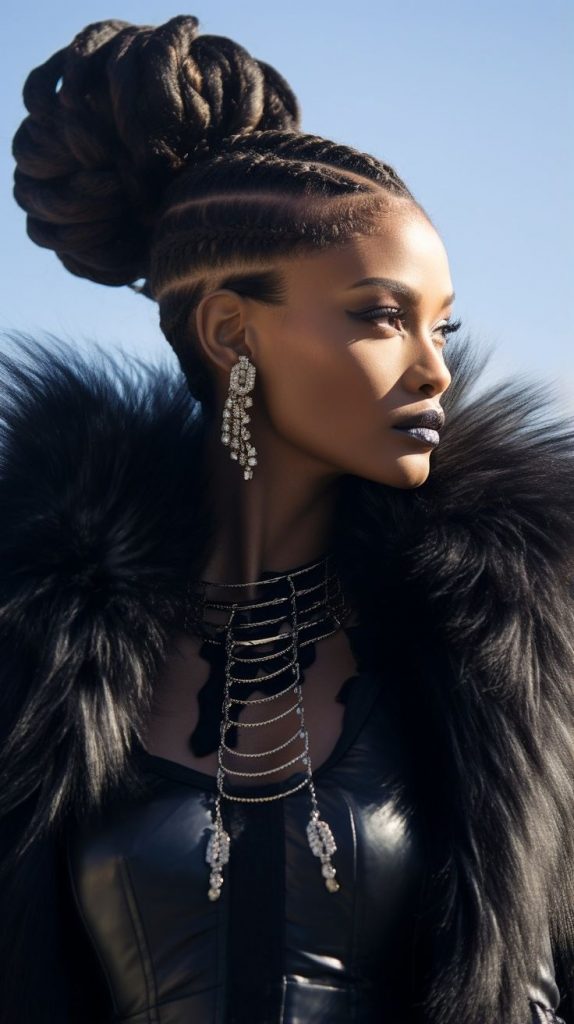 Cornrows for Kids: Adorable and Manageable
Cornrows are a fantastic hairstyle for kids, as they are not only cute but also practical. This style features small, neatly braided cornrows that can be adorned with beads or bows for an added charm. It's a durable style that can withstand the playful nature of children, making it a popular choice for young girls. Not to mention, it's a fantastic way to manage curly hair or fine hair, keeping it neat and tangle-free.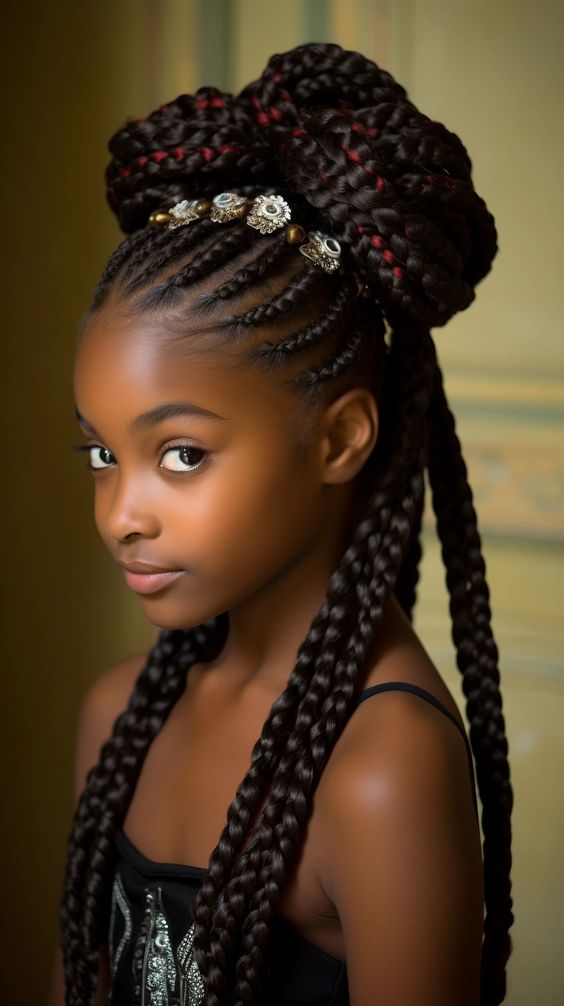 The Chic Edge of Side-Parted Cornrows
A side part adds a contemporary edge to the classic cornrow style. It can flatter a round face by creating asymmetry and drawing attention to the eyes. This style works exceptionally well with medium-length or long hair straight textures. It's a testament to the adaptability of cornrows, as they can be tailored to personal preferences while maintaining their essence. The side-parted cornrows can be left unstyled for a natural look or embellished with jewelry for a more sophisticated flair.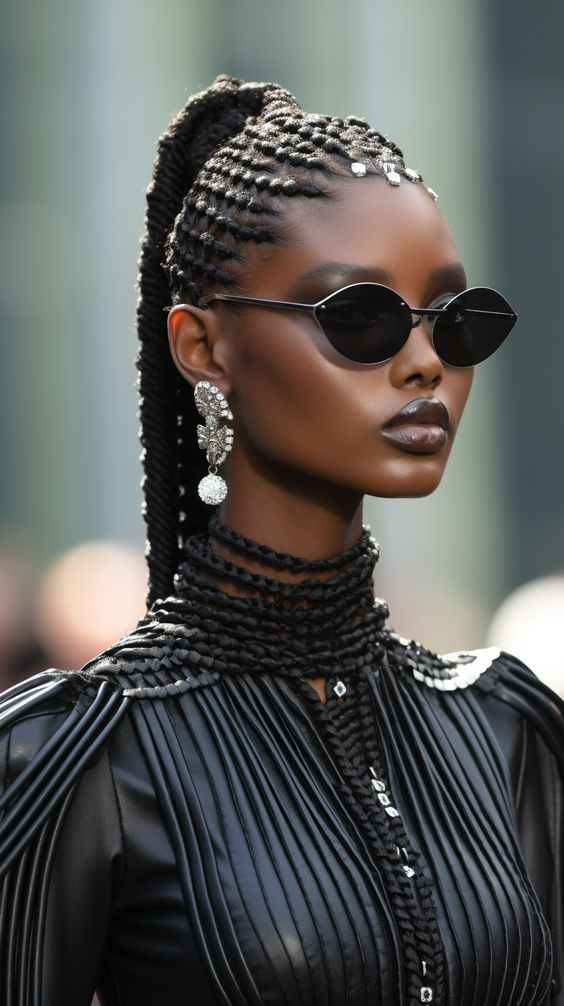 The Sculptural Elegance of High Top Cornrows
Elevating the classic style to new heights, these high top cornrows exude a sculptural elegance that is both bold and stylish. The zigzag partings give a dynamic contrast to the smoothness of the perfectly braided cornrows that lead up to the impressive bun atop the head. This hairstyle marries traditional techniques with 2024 sensibilities, offering a look that's at once futuristic and rooted in cultural richness. It's a style that can command attention in any setting and speaks to the confidence of the wearer.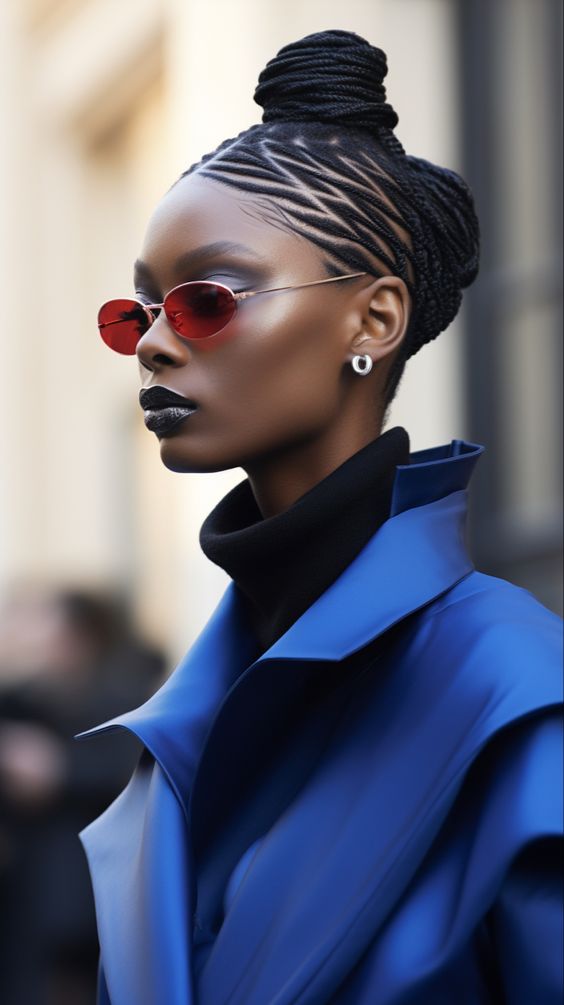 Intricate Detailing: The Embossed Cornrows
Here we see a breathtaking iteration of cornrows where the braids create an embossed effect on the scalp. This hairstyle is not just a fashion statement but a work of art. The invisible cornrows create a raised pattern, evoking a sense of luxury and depth. Suitable for medium to long hair, this hairstyle is particularly striking on black hair, where the contrast between the scalp and the braids is most pronounced, showcasing the meticulous skill involved.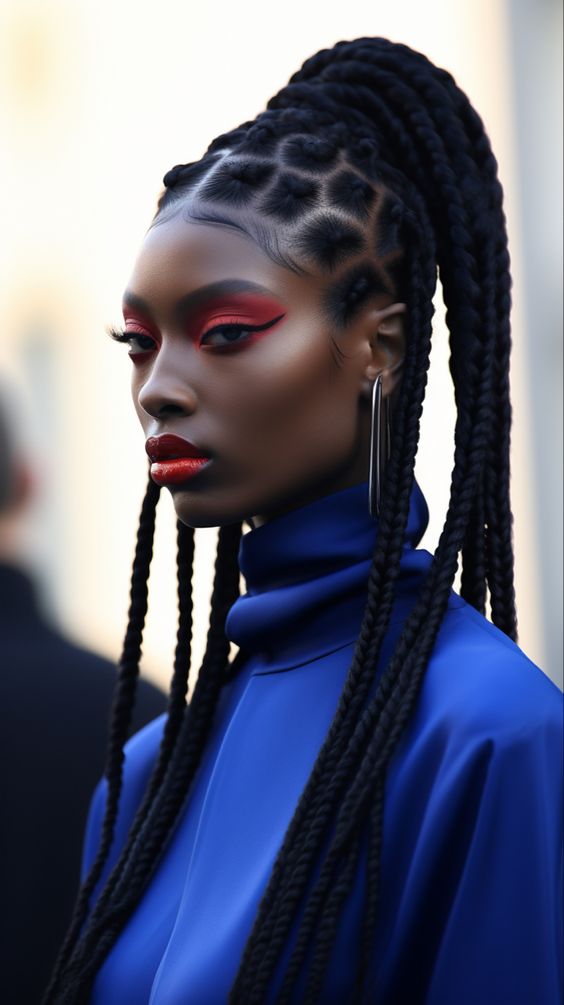 The Radiant Charm of Beaded Cornrows
This beaded cornrow style is a delightful expression of youthful vibrancy and charm. Ideal for kids or those looking for a playful yet cute touch to their look, the golden beads add a shimmering accent to the small, neatly crafted braids. This look is not only stunning but also practical, as it keeps hair well-organized and embellished for any occasion. It's a versatile style that can be worn with both casual and formal attire, highlighting the wearer's features beautifully.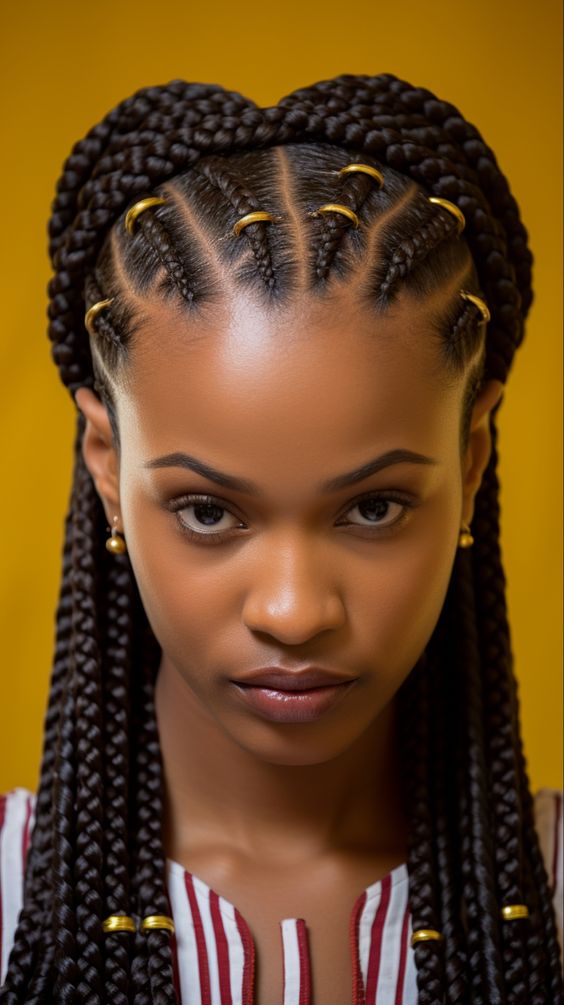 The Sophistication of Cornrows with Pearls
Cornrows paired with pearls bring an unexpected twist of sophistication to a traditional style. The small braids intricately woven and dotted with pearls suggest a blend of grace and strength. This look is perfect for a wedding or a high-fashion event, where traditional hairstyles meet the luxury of fine embellishments. It's a testament to the versatility of cornrows, able to adapt and elevate to the heights of haute couture.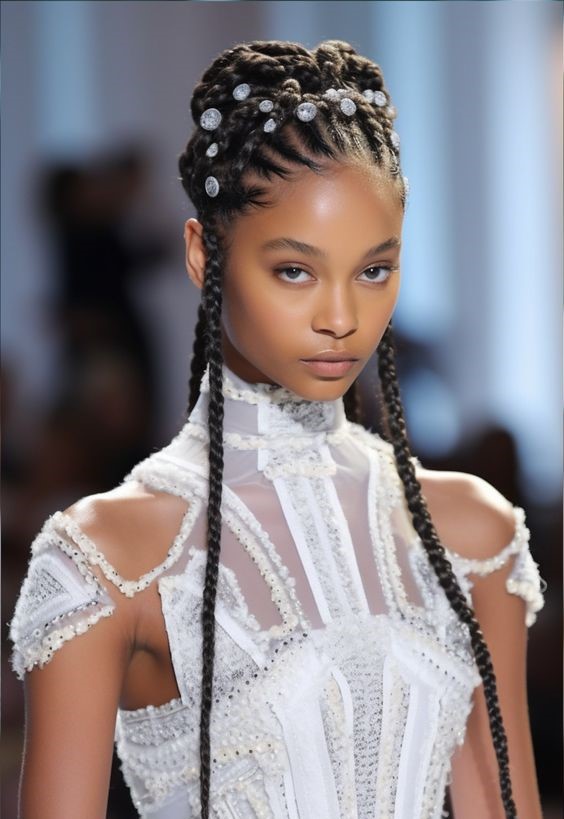 The Contemporary Cool of Side-Swept Cornrows
The side-swept cornrows present a contemporary cool aesthetic, perfect for the modern woman. This style features a deep side part that sweeps the cornrows across the head, creating a layered look that is both aesthetic and functional. The look is completed with a touch of whimsy, courtesy of the star-shaped decals adorning the face. It's a hairstyle that could be seen on the streets of a trendy city or within the pages of a cutting-edge fashion magazine, ideal for those with a bold, artistic sense of style.