Hairstyle
Embrace the New Wave of Chic: Ombre Hair Color Inspirations for 2024
As we sail into 2024, ombre hair color continues to reign supreme in the world of hair fashion, offering a versatile and stylish choice for women who want to add depth and dimension to their locks. From subtle brown transitions to bold pink statements, ombre hair is a celebration of individuality and style. Let's explore the most captivating ombre hair color 2024 ideas that promise to be at the forefront of this year's hairdressing trends.
Elegant Fusion of Pink and Purple for Long, Wavy Locks
Embracing the softness and playfulness of pastel tones, this ombre style transitions from a natural root color into a dreamy blend of pink and purple, perfect for long hair. The colors melt seamlessly into each other, creating a whimsical effect that's both bold and wearable. Styling this look is a breeze, whether you opt for loose, wavy hair or a chic updo. This color combination can add a touch of magic to any outfit, whether it's a casual day out or a sophisticated evening event.

Sunset Hues for a Bold, Straight Look
For those with a fiery personality, this ombre hair color mimics the vibrant hues of a sunset, with a gradient from yellow to deep red. This look is a statement piece for straight hair and can be a conversation starter at any event. It's a bold choice for black hair, adding a radiant warmth that's hard to miss. When styling, a straight hair unstyled approach lets the colors shine, while a side part can add a touch of elegance.

Blue and Pink Ombre for an Edgy, Curly Hairstyle
Dive into the deep end of hair color with this bold blue and pink ombre, a perfect choice for those with curly hair looking to make a splash. The roots start with a deep blue, fading into a playful pink that's both edgy and feminine. This style is fantastic for those who embrace their natural curls, as the color adds dimension and depth to every twist and twirl. It's an ideal match for a curly, long hair straight look or a fun short hair curly style, offering endless versatility.

Rose Gold Elegance for Medium, Wavy Hair
The rose gold trend continues to enchant, proving to be a timeless choice for medium length hair. This ombre hair color with wavy hair creates a soft, romantic vibe that's perfect for an everyday look or a special occasion. The warm pink tones are flattering for all skin tones and work beautifully with a medium with bangs cut or a layered look that adds movement and texture.

Lemon to Slate Transition for an Unconventional Short Style
Embrace a touch of the unconventional with a lemon to slate ombre hair color transition. This look is daring yet surprisingly adaptable, working wonderfully for short hair with bangs or a sleek bob. The yellow highlights bring a pop of color to the face, while the cool undertones of the slate provide a modern twist, making it a striking choice for short hair tutorial enthusiasts looking to make a statement.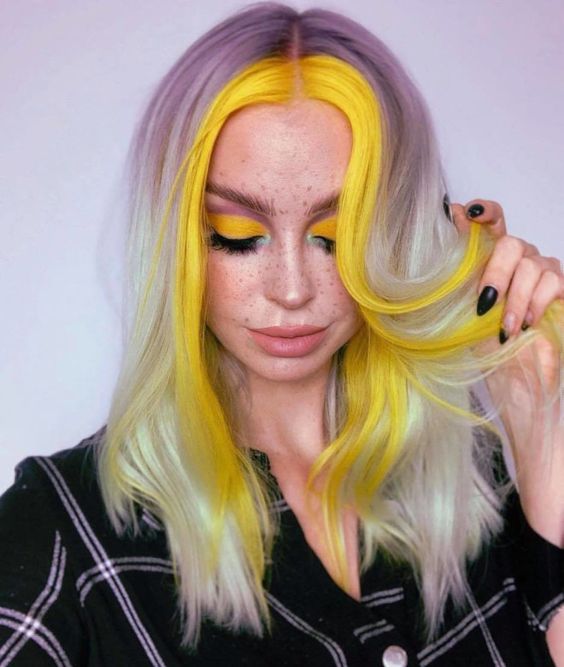 Cotton Candy Delight for Shoulder-Length Hair
This shoulder-length cut is a delightful mix of orange, pink, and yellow, reminiscent of cotton candy. The pink transitions smoothly into a vibrant orange, creating a lively and playful ombre effect that's perfect for medium length hair. It exudes a youthful spirit and is ideal for those looking to add a burst of color to their everyday style. To maintain this look, consider a tutorial at home for touch-ups and styling tips.

Vibrant Green Edges for a Chic Bob Cut
Green is not just for the avant-garde anymore; it has found its way into mainstream hair fashion, especially for those with short hair. The electric green tips of this chic bob cut are bold yet surprisingly versatile, offering a touch of edginess without overwhelming. It's a fantastic choice for women with a round face or those who prefer a short hair straight style.

Neon Glow for a Blunt Bob
Nothing says bold and beautiful like a neon glow. This blunt bob features an ombre transition from hot pink to yellow, ending in a vivid green. It's an audacious choice for those with straight hair and a daring fashion sense. This style is perfect for making a statement in the professional world or on a night out, and it's a prime example of a short hair tutorial that's sure to turn heads.

Lavender Waves for a Dreamy Aesthetic
Soft lavender hues give this long, wavy hairstyle an ethereal quality. The gentle transition from a darker root to lighter ends is perfect for those with fine hair who are seeking dimension without the damage of full hair coloring. This purple ombre is versatile and can be styled to match both an aesthetic look and a more traditional, elegant outfit.

Mauve Mermaid for a Sophisticated Ombre
The mauve mermaid ombre look is perfect for brunettes looking to spice up their color without going too bold. This style features light brown to pink ombre, ideal for medium with bangs or long hair with bangs. It's a sophisticated take on the ombre trend that works beautifully with various styling options, from straight to wavy hair.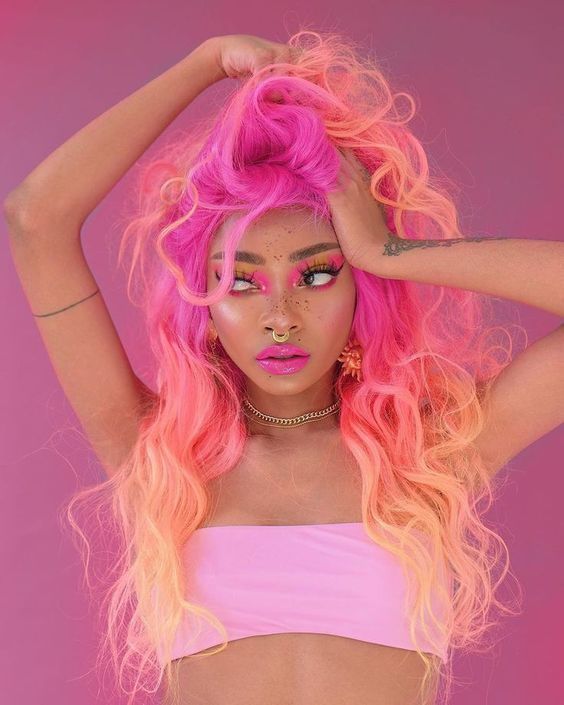 Soft Peach to Fiery Red for a Warm Glow
Embrace the warm glow of sunset tones with this soft peach to fiery red ombre. Ideal for medium length hair, this color palette adds a romantic and warm aura, perfect for women with a penchant for subtlety with a twist. It's a versatile style that can be dressed up or down, fitting effortlessly into a casual or sophisticated wardrobe.

Fuchsia and Lilac Dream for Medium Hair
This fuchsia and lilac ombre breathes life into medium hair, blending the playful with the chic. It's a trendy choice for those who love a pop of color but prefer a more muted palette. This look can complement a variety of skin tones and is perfect for adding a bit of fantasy to everyday life. It pairs beautifully with both curly hair and straight hair styles, making it as versatile as it is stunning.

Candy Apple Red for an Edgy Yet Feminine Style
Candy apple red meets soft pink in this ombre combination that's both edgy and feminine. The style is perfect for those with a bold sense of style and a love for vibrant colors. Whether you have a round face or an oval one, this hair color can frame it perfectly, especially when styled with wavy hair or with bangs.

Sunrise Hues for an Effortlessly Cool Vibe
The soft gradient of yellow to pink mimics a sunrise, making this ombre perfect for those who prefer a subtler approach to bold colors. This style is great for long hair and adds an effortlessly cool vibe to any look. It's especially flattering for those with a layered haircut as it highlights the texture and movement of the hair.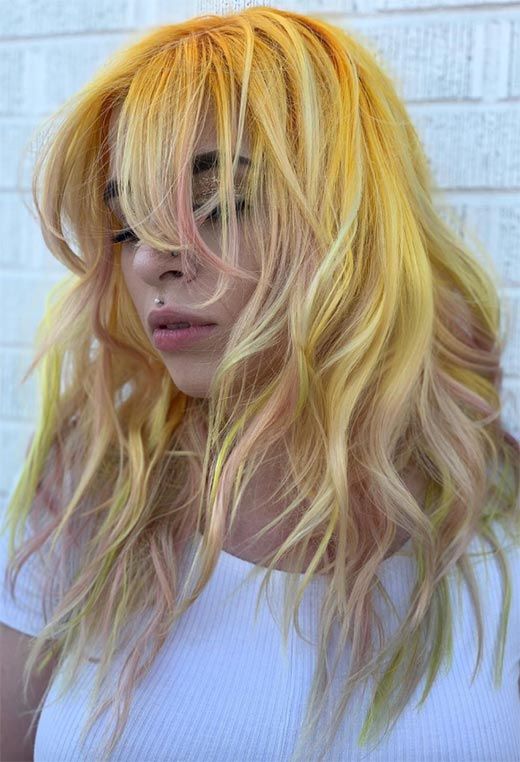 Ombre hair color is a vibrant and dynamic way to express personal style. The looks we've explored offer a glimpse into the potential for transformation and creativity that ombre brings to the table. Whether you're drawn to the soft allure of pastel waves or the striking impact of sunset hues, there's an ombre style out there for you. We invite your thoughts and comments on these styles and encourage you to share your own ombre experiences. What will your ombre look like in 2024? Join the conversation and let us know!
Save Pin