Hairstyle
Embracing Elegance: Trendsetting Haircuts for Women Over 50 in 2024
Embracing the beauty of age means evolving with grace and confidence, and your hairstyle plays a pivotal role in showcasing your vibrant spirit. For women over 50, choosing the right haircut can uplift not just your strands but also your overall presence. The year 2024 brings with it a multitude of haircuts that blend classic elegance with modern flair, offering something exquisite for every woman. Whether you are looking to rejuvenate your look with a short pixie, add some sophistication with a layered bob, or keep it versatile with medium length styles, there is an abundance of chic options to explore. In this article, we will delve into some of the most inspiring haircuts for women over 50 in 2024, guided by the visual allure of the carefully curated photographs that speak volumes about each style.
Classic Bob with a Modern Twist
The timeless bob haircut has been reimagined for 2024, combining sleek sophistication with a touch of contemporary zest. The woman in the photograph wears her silver hair in a clean-cut bob that falls gracefully just above her shoulders. The haircut is straight with a slight inward curl at the ends, giving it a polished finish. What makes this bob particularly modern is the side part, which provides volume and a hint of playfulness. This style works beautifully for those with straight hair and can be easily styled at home with a round brush and a blow dryer for that salon-fresh look daily.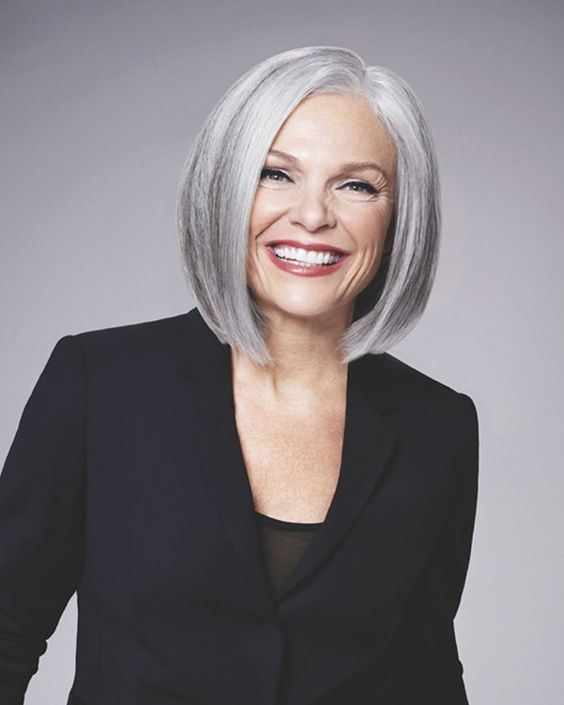 Effortlessly Chic Short Style
This short hair look exudes a sassy yet classy charm that is perfect for the woman who enjoys a minimalist approach to hair styling. The model in the image flaunts a chic short haircut with a side-swept fringe that softly frames her face. The silver and black hair adds a dimension of depth and edge, while the short layers create a voluminous silhouette. This cut is not just stylish but also remarkably easy to maintain, making it an ideal choice for the busy woman on the go. A dab of texturizing product is all it takes to keep this look fresh and vibrant all day long.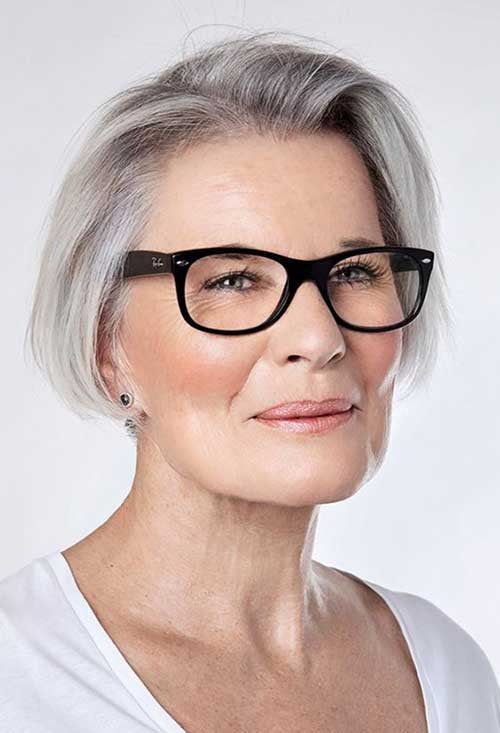 Sophisticated Layered Elegance
Here we see a layered masterpiece, a testament to the elegance that layered hair brings to the table. This medium layered cut with light waves offers movement and a youthful allure. The woman's grey hair showcases a variety of tones, from deep charcoal to silvery highlights, which work together to accentuate the texture and layers. It's a perfect representation of how with bangs medium lengths can add softness and style to one's appearance. The layers give volume to the hair, making it a flattering choice for all face shapes, including those with a round face.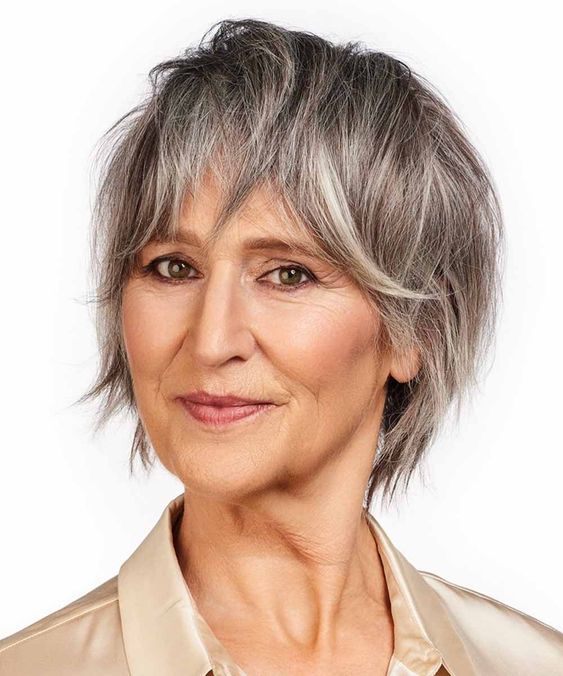 Modern Pixie with Personality
The short pixie cut here is the epitome of a short and sassy hairstyle that resonates with confidence and spirited energy. The model's blonde hair is cut in a playful yet sophisticated manner, with longer layers at the top to add height and dimension. The sides and back are neatly trimmed to enhance the boldness of the look. Glasses with a modern design complement the style, proving that short hair can be incredibly versatile and fashion-forward. This look can be styled in a myriad of ways, whether straight or with a bit of wavy texture for a more relaxed vibe.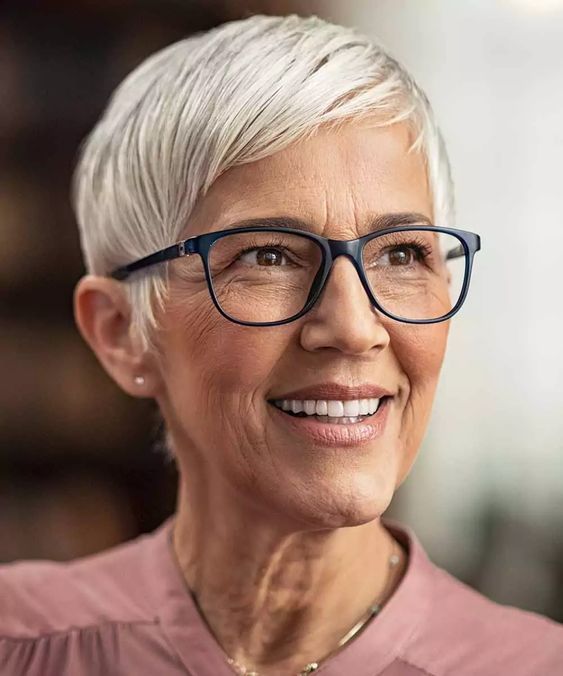 Embracing Silver Sophistication: The Long Bob
The long bob, often referred to as the "Lob," is a timeless haircut that exudes elegance and confidence, making it a perfect choice for women over 50 in 2024. In the first image, we see a woman sporting a graceful long bob with her silver hair. This haircut falls just above the shoulders and is styled straight with a slight inward curve at the ends, giving a polished and sophisticated look. The sleek side parting enhances the facial features, while the bone-straight texture showcases the haircut's precision. This long bob works wonderfully with the natural grey, proving that embracing your silver locks can be both classy and stylish.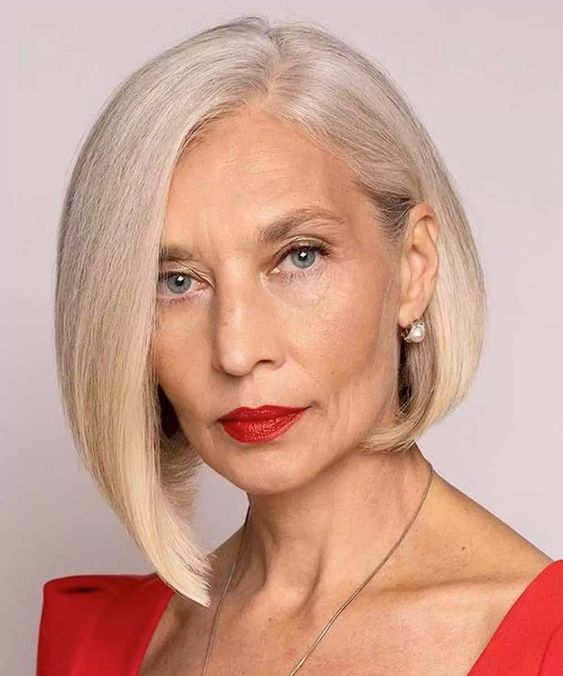 The Graceful Grayscale: Short and Sassy Stacked Bob
Next, we encounter a stacked bob, a variant that introduces volume and texture to the timeless bob style. The second image presents a woman with a beautifully crafted short stacked bob. It's short at the back with graduated layers that create a fuller, rounded shape at the crown, cascading into longer, face-framing strands at the front. This haircut is a blend of sophistication and playfulness, offering a sassy vibe that empowers and rejuvenates. The salt-and-pepper hair color adds depth and dimension, making this stacked bob a stellar choice for women looking for a haircut that is both manageable and edgy.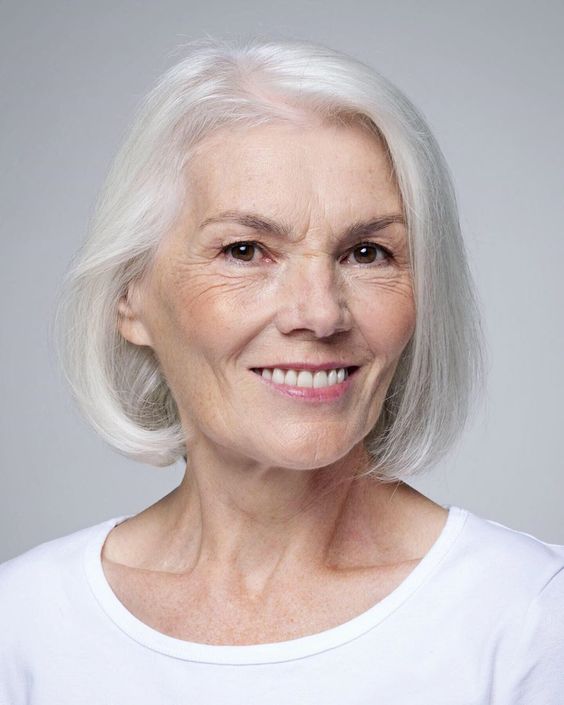 Classic Turns Contemporary: Chic Short Cut with Volume
The third image showcases a woman with a short haircut that redefines the classic style for the modern woman over 50. This chic short cut has ample volume on top, achieved through subtle layering, which adds a contemporary twist to the classic style. The pure white hair color enhances the fresh and airy feel of the cut, while the soft, swept-back styling adds a touch of elegance. This haircut is an excellent choice for those seeking a look that balances maintenance with a fresh, easy-going aesthetic. The short layered approach makes for a rejuvenating look that's both very short and immensely flattering.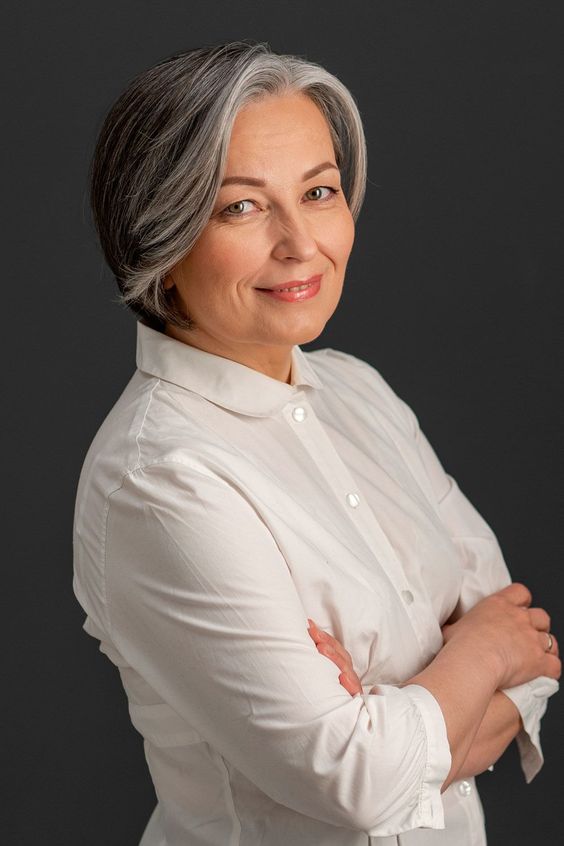 Silver Waves: Medium Layered with a Modern Twist
In the fourth image, the subject has chosen a medium layered haircut that gracefully acknowledges the natural texture of her hair. The gentle layers create movement, allowing the silver waves to flow freely, presenting a look that is effortlessly stylish. The layers start at chin length and cascade down, giving volume and body to the hair. This haircut is incredibly versatile, suited for a variety of styling options, from with bangs to swept-back elegance. It's a testament to how a long layered style can bring out the best in hair that is transitioning into silver, offering a dynamic and youthful appearance.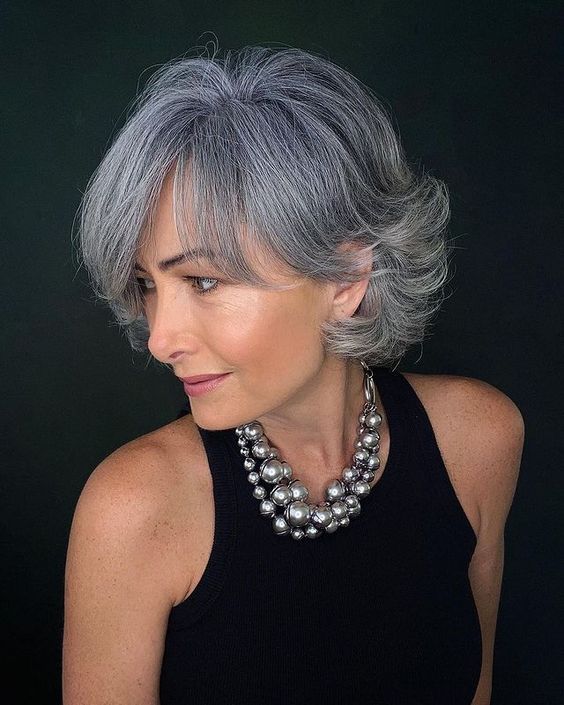 Chic Short Bob
The chic short bob is a timeless style that continues to make waves into 2024. The first image showcases a classic yet modern variation of the short bob, tailored impeccably to frame the face with grace. The bob stops just above the shoulders, offering a refreshing and youthful edge that is both manageable and fashionable. The subtle inward curve at the ends accentuates the cheekbones, while the side parting adds volume to the crown, giving it a classy and refined look.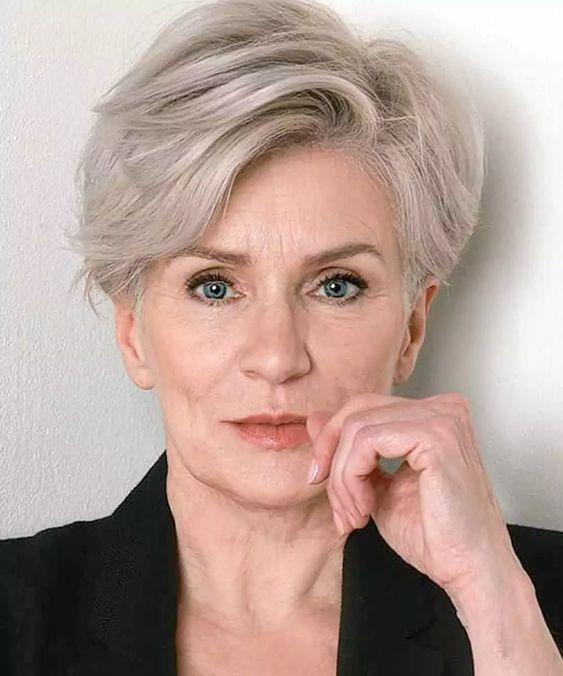 Stacked Bob With Character
Next, we see a stacked bob that offers a voluminous back with shorter layers, adding a sassy dimension to the haircut. The front view presents a neat, chin-length cut, while the back reveals artfully stacked layers that provide fullness and an easy-to-maintain shape. This variant of the short stacked bob proves to be a bold statement for those who wish to balance sophistication with a hint of boldness.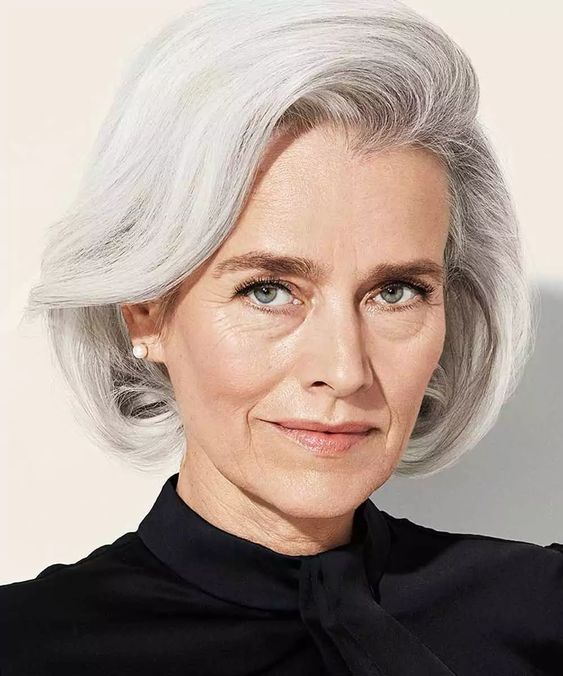 Modern Layered Cut
Moving on to a more textured look, this layered bob combines the ease of short hair with the versatility of longer strands. The layers are skillfully cut to create a dynamic, airy feel, making it an excellent choice for those with finer hair seeking volume. The sweep of the front layers can gracefully transition to with bangs medium lengths or be styled away from the face for a more open and inviting appearance.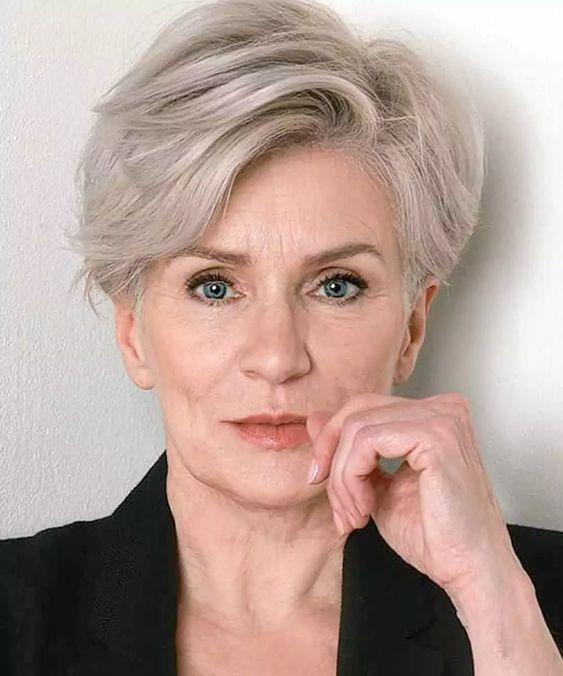 Edgy and Elegant Short Cut
For those who dare to be bold, the short edgy haircut in our fourth image is a masterpiece of modern hair artistry. With its sharply defined angles and spiked layers, this style is a testament to the adventurous spirit that knows no age. The back is cut very short, almost resembling a short pixie, while the top layers are left longer for a dramatic contrast. This very short yet edgy style can be customized with different textures to suit any personality.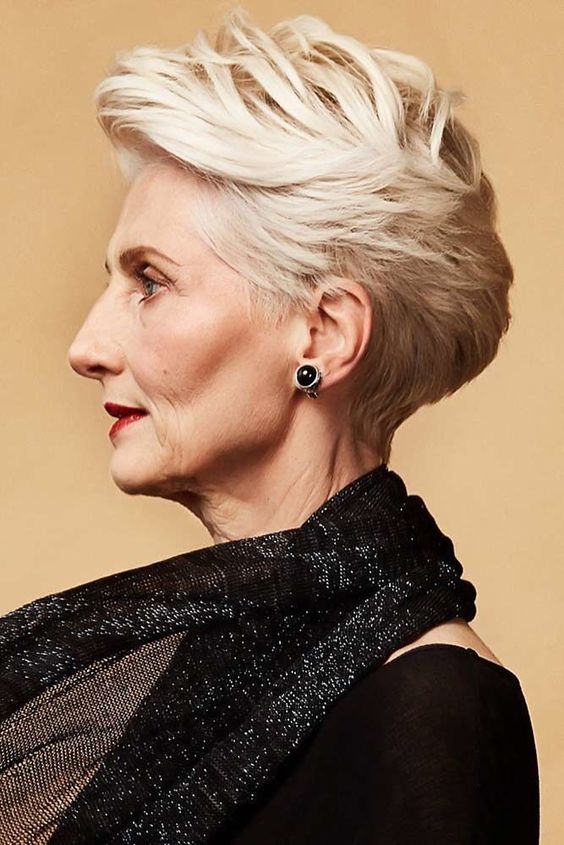 The Sophisticated Short Bob
The short bob has been reinvented once again, proving its everlasting appeal. In this image, we see a woman who carries the short bob with such class, it's instantly clear why this cut remains a favorite. It perfectly frames her face with a side part, giving a lift to the facial features, while the blonde highlights add a youthful glow. The haircut is stylish yet manageable, making it a fantastic choice for those who desire an easy short style that maintains a chic short presence.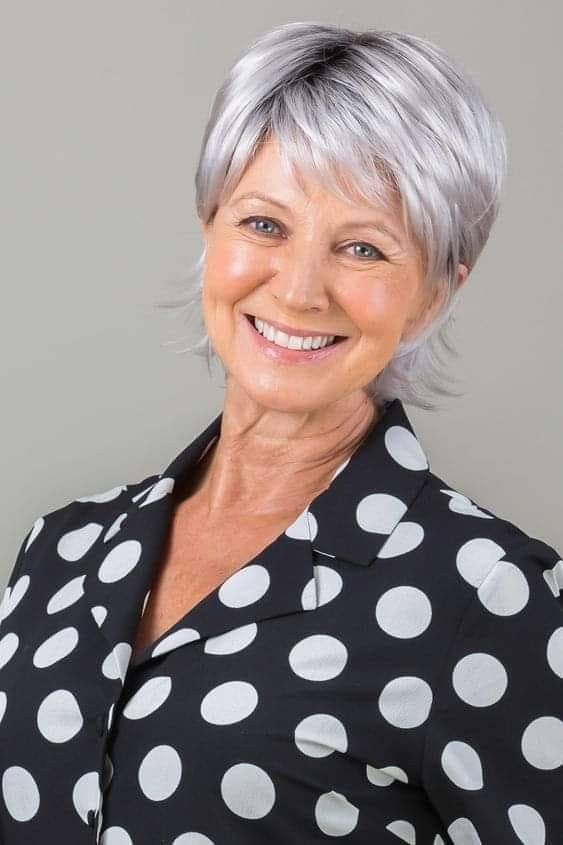 The Elegant Stacked Bob
Behold the stacked bob, a haircut that truly understands the assignment when it comes to delivering volume and depth. Here, we see a woman whose hair is masterfully cut into a stacked bob, with layers that graduate smoothly down the back – the quintessence of a short stacked bob. This style is perfect for adding dimension to fine hair and for those looking for a sassy touch to their look without much fuss.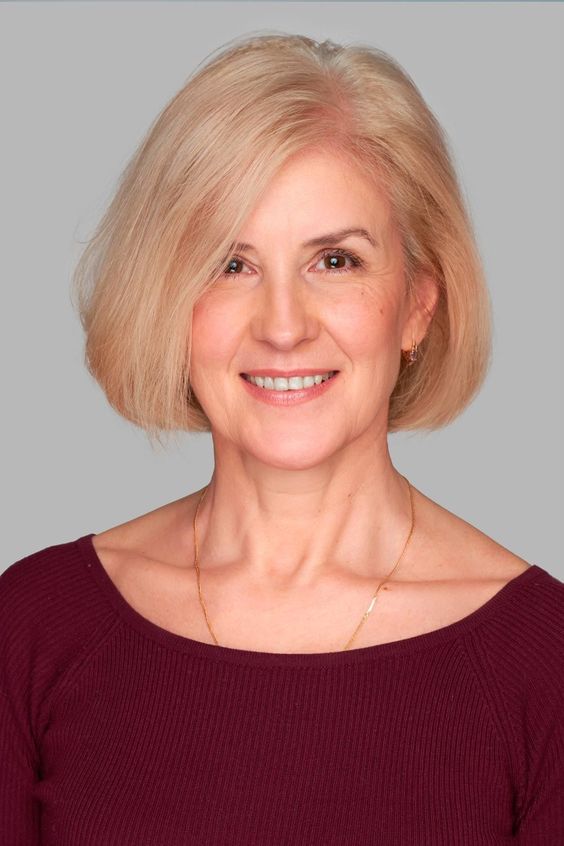 The Long-Layered Look
Longer hair has a story to tell, and for women over 50, the long layered haircut is like a book that gets more interesting with every turn of the page. The woman in the photo exudes a serene confidence with her long hair straight flowing gracefully down her shoulders. The layers give her hair movement and the subtle long layers promise a versatile styling palette from long hair with bangs to elegantly straight hair unstyled.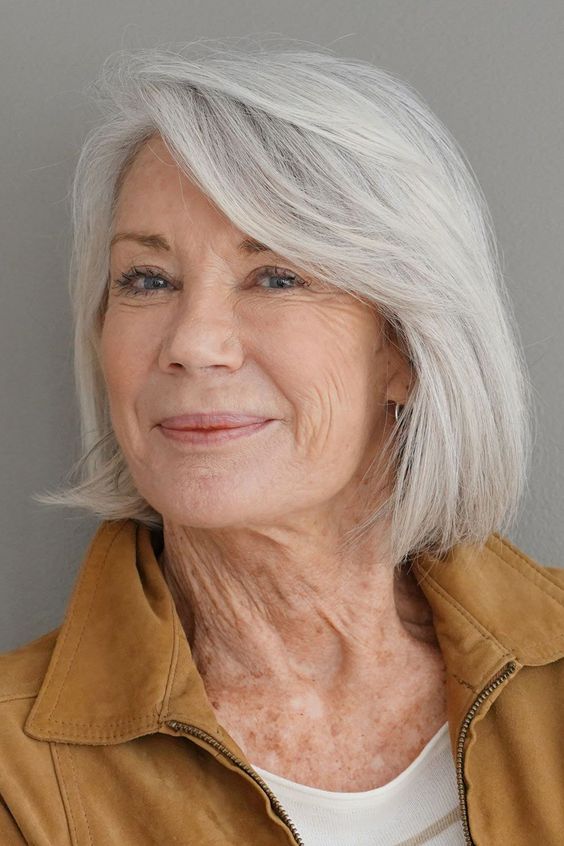 Save Pin