Hairstyle
Embracing the Spectrum: A Guide to the Trendiest Brown Hair Colors for 2024
Brown hair colors 2024 are more than just a trend; they're a statement of personality and style. Whether you're a hairdressing enthusiast or a fashion-forward individual, this article delves into the rich spectrum of brown hair colors that can enhance your look. Let's explore these hues that promise to be at the forefront of 2024's hair color trends.
Luscious Chocolate Waves
Embracing the rich chocolate hue, these voluminous waves cascade down with a glossy sheen, evoking the depth and warmth of a freshly brewed espresso. The long hair softly frames the face, making it an ideal choice for those with a round face. It's perfect for women looking for a natural yet sophisticated color that adds a touch of aesthetic charm to their look.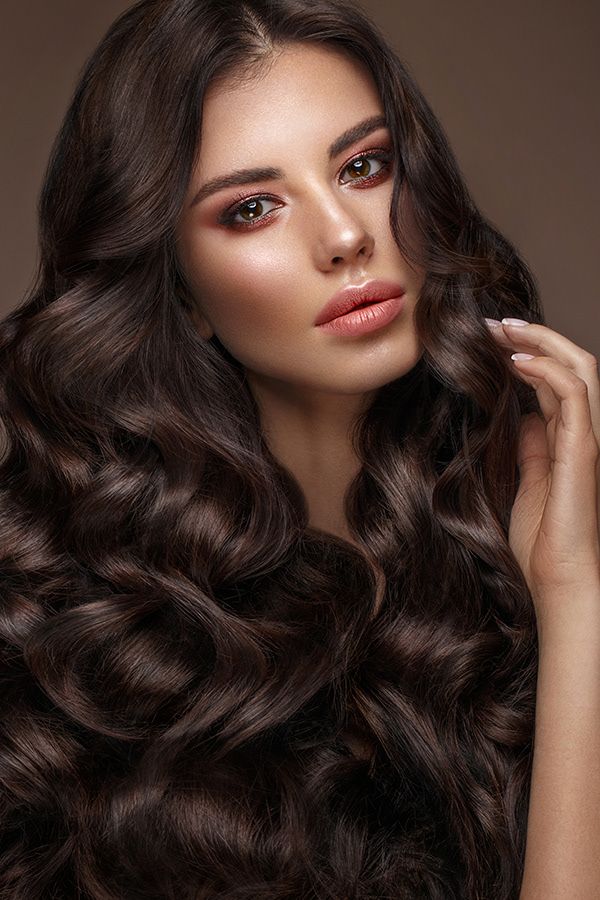 Sophisticated Ash Blend
The light ash brown transitions effortlessly into a cool, subdued tone, offering a contemporary twist on the classic brunette. This style screams medium length perfection, adding a layered dimension that's versatile for both straight and wavy hair. It's a subtle nod to the 90s flair, ideal for the woman who appreciates a hairstyle with a vintage yet modern vibe.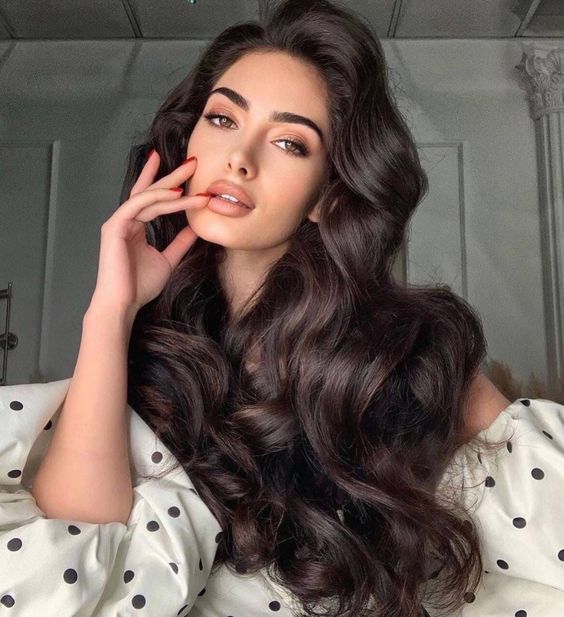 Mushroom Brown Elegance
Here we see the dark mushroom color come to life with a medium cut that is all about softness and texture. The mushroom shade is a unique blend of brown and gray tones, making it a great fit for those who dare to be different while keeping it stylish with a side part. This shade is a match for fine hair, giving the illusion of thickness and volume.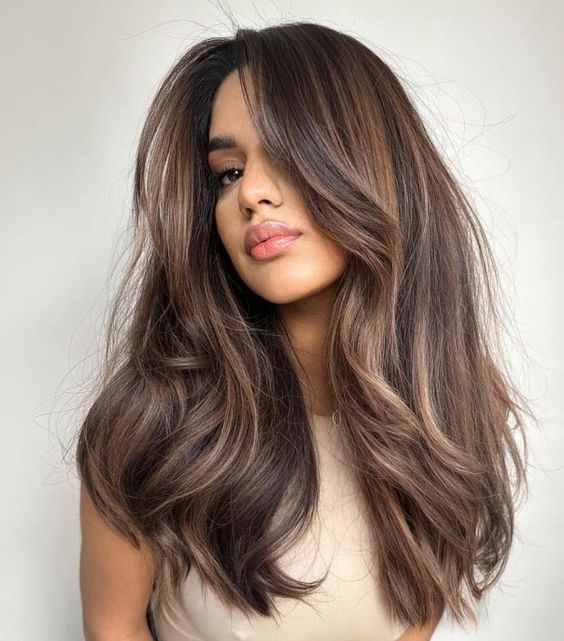 Cinnamon Swirl Delight
Cinnamon brown is not just for lattes; it's a hair color that combines red and brown hair tones to create a warm, spicy look. The shoulder length cut with curly hair adds playfulness and movement, making it a fabulous choice for the adventurous spirit. It's a rich dark color that brings out a sun-kissed complexion and is perfect for adding a pop of color without going too bold.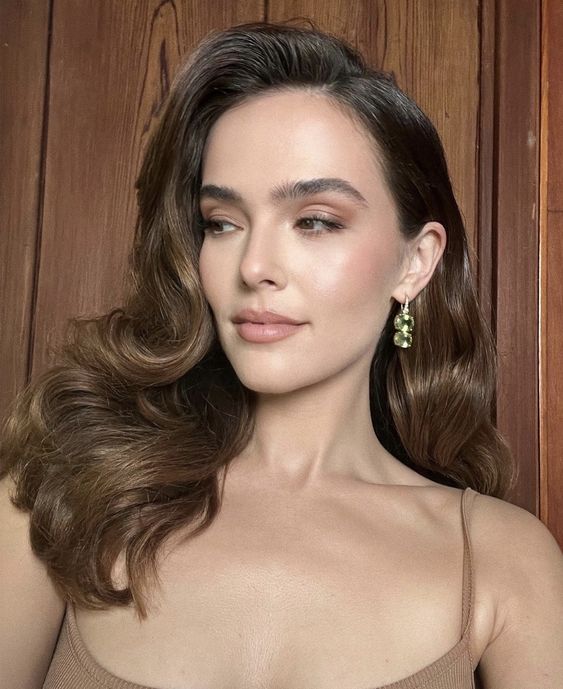 Golden Brunette Flow
Golden highlights threaded through brown hair give this style a radiant, sunlit quality. The long, layered cut allows for movement, making the golden strands catch the light beautifully. This hair color works wonders for those with a warm skin tone, offering a medium to long hair style that's both flattering and timeless.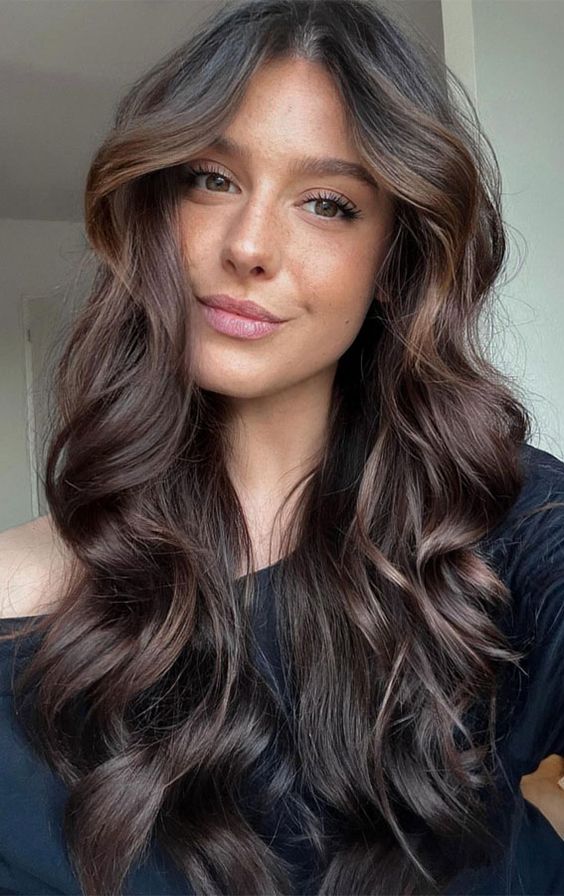 Milk Chocolate Sophistication
The milk chocolate shade in this photo is a perfect blend of rich chocolate with a hint of light creaminess, giving it a luxurious and dynamic look. The smooth transition from deeper roots to lighter ends exemplifies a medium with bangs style that's both chic and timeless. This hair color is especially flattering for those with a medium skin tone, looking for a subtle yet impactful change.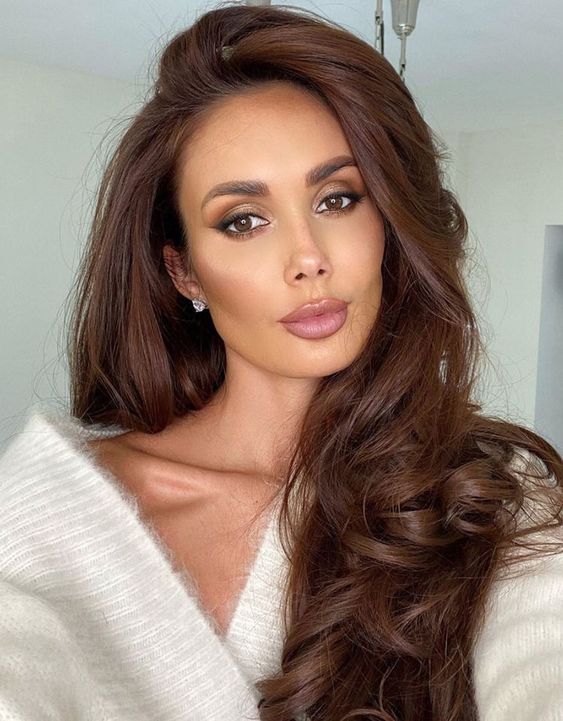 Dark Ash Textured Tresses
The dark ash brown here is a testament to the cool and edgy side of brown hair colors in 2024. It's a color that beautifully meshes with a medium length and straight hair, providing a stylish yet unstyled appearance. This versatile shade is a favorite among women who prefer a low-maintenance but sophisticated hair color that works with any outfit.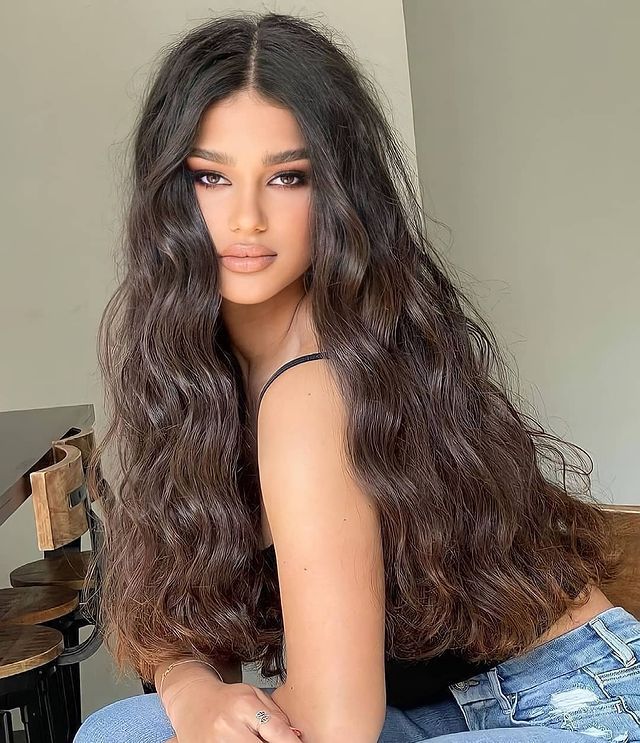 Rich Chestnut Charm
This photograph captures the essence of a rich chestnut hue, radiating warmth and depth. The medium length hair with curly ends showcases a bouncy, lively personality, perfect for those with a zest for life. This shade is particularly flattering for those with thick hair, adding dimension and movement to the style.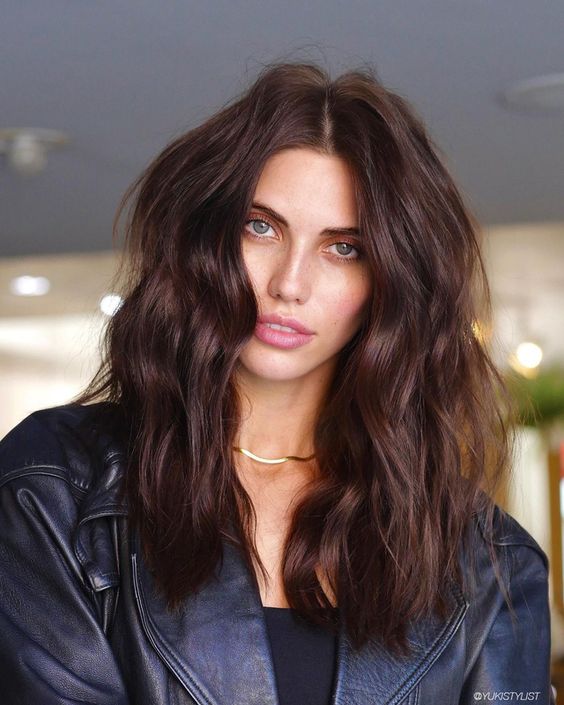 Reddish Brown Radiance
A stunning example of red hair with a brown base, this color is like a fine wine – deep, rich, and full of character. The medium length hair with curly hair exudes an energetic vibe, suitable for anyone looking to add a splash of vibrancy to their look. It's a great choice for adding warmth to the complexion and pairs beautifully with a minimalistic and modern wardrobe.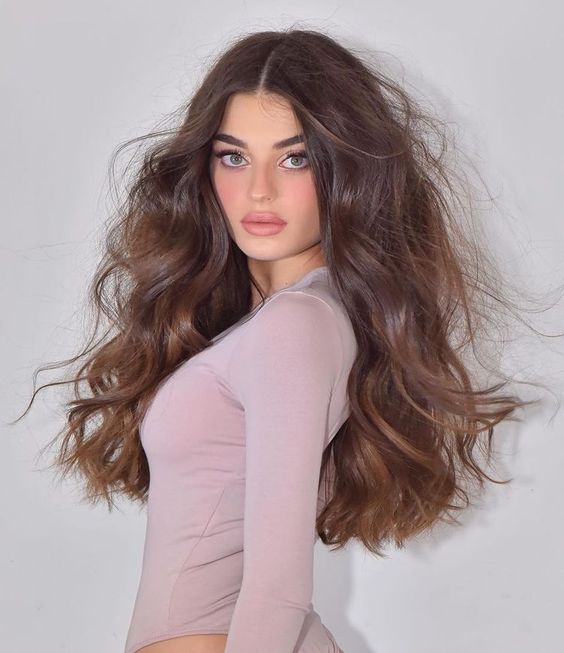 Effortless Medium Wavy
The effortless charm of medium brown hair with wavy hair is undeniable in this image. It's the quintessential 2024 look – carefree, with a hint of blonde that provides a soft, sun-kissed effect. This style is ideal for the woman on the go, needing a hairdo that's both beautiful and easy to maintain, perfect for both a day at the office and a night out on the town.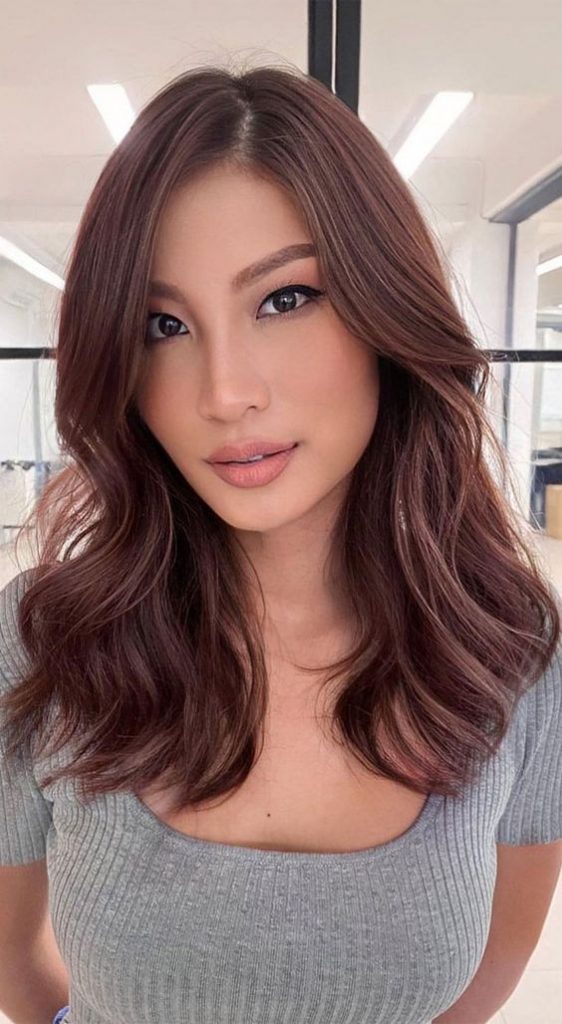 Glamorous Light Chocolate Waves
The light chocolate waves in this image are a symphony of rich chocolate and golden undertones, offering a glamorous look that's both classy and timeless. The long hair with a side part is reminiscent of old Hollywood, perfect for those with a flair for the dramatic and an appreciation for aesthetic styles.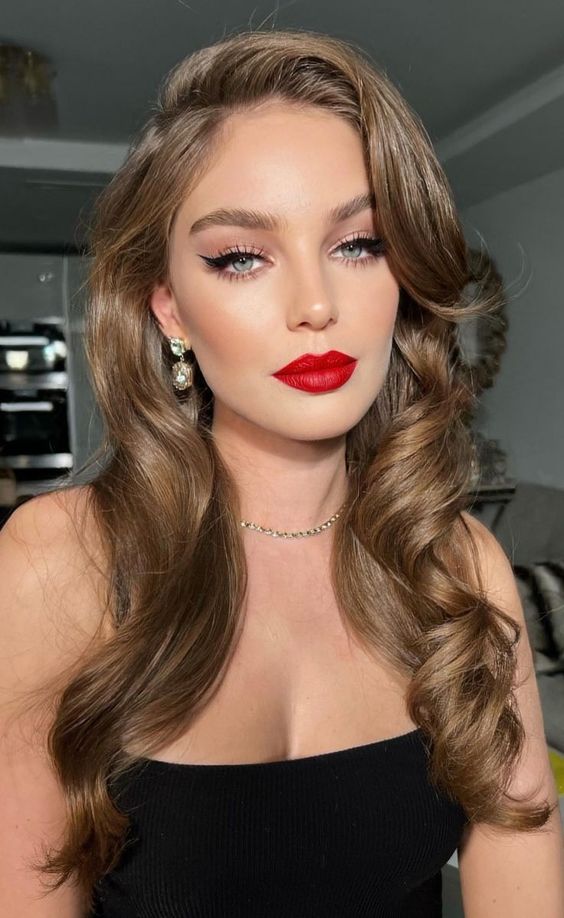 Deep Brunette Allure
The dark brunette in this photo is enchanting with its nearly black hair depth, providing a mysterious and alluring appeal. The long hair straight style exudes elegance and is versatile enough for both a straight hair unstyled look and a more polished straight hair with bangs.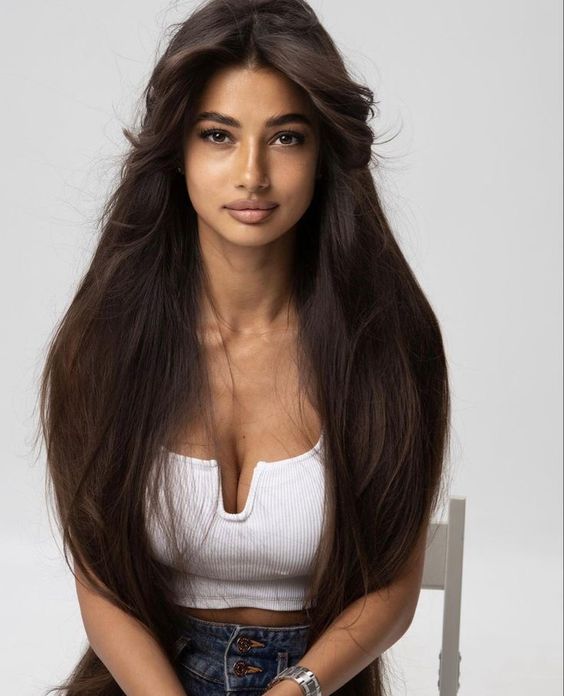 Honeyed Brunette Flow
Here we have a medium brunette with honeyed highlights that create a natural yet sophisticated look. The long hair cascades in soft waves, perfect for the woman who embodies grace and natural beauty. This shade is ideal for adding a touch of warmth to your style.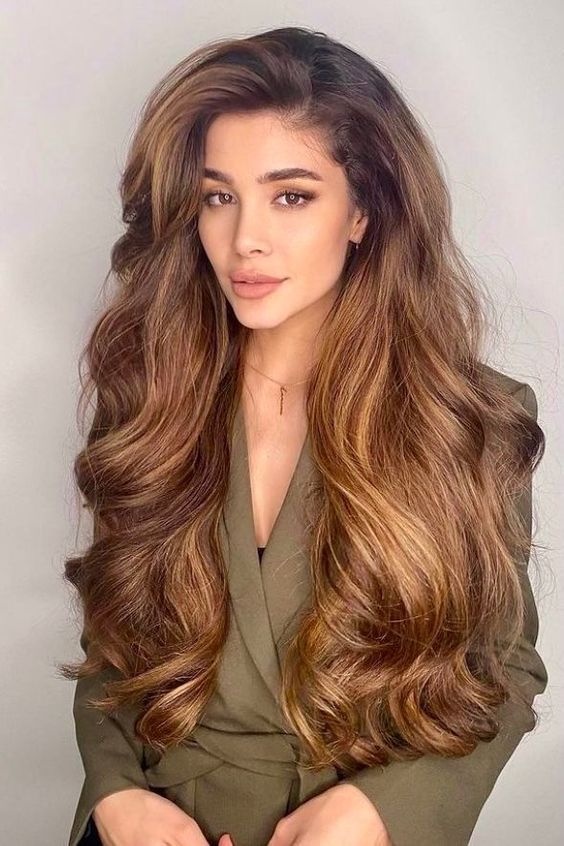 Light Brown and Blonde Elegance
This photo showcases a stunning blend of light brown and blonde shades, giving a multi-dimensional and medium length style that's perfect for 2024. The waves add volume and body, making it a great choice for those with fine hair looking to add some thickness.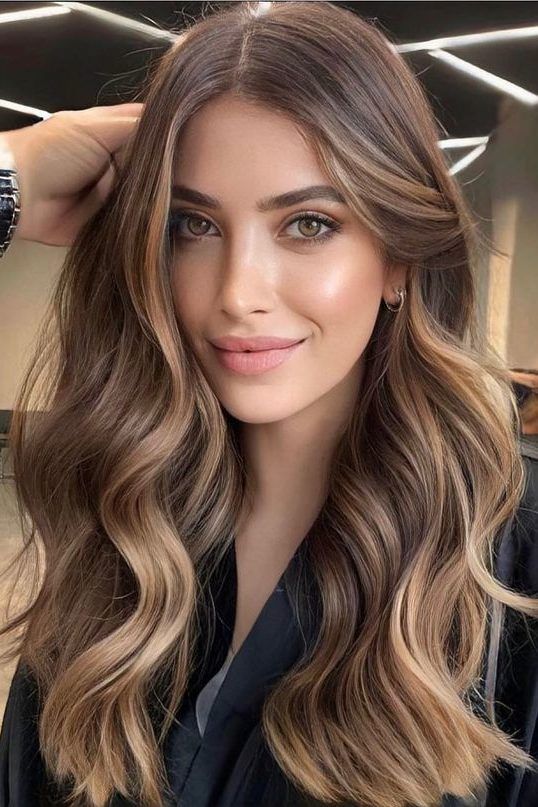 Sleek Golden Brown
The golden brown hair color in this image is sleek and radiant, with a smooth and shiny finish that's sleek and polished. The long hair straight style is the epitome of sophistication, ideal for the modern woman who prefers a clean and stylish look.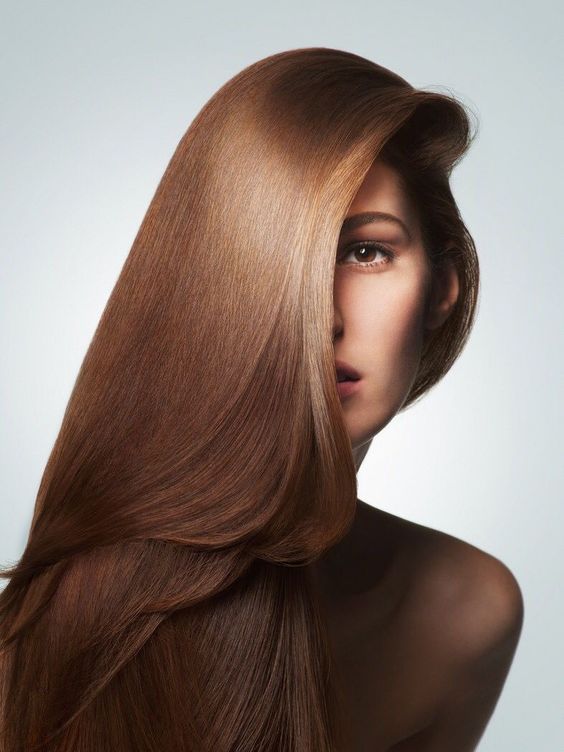 Dynamic Blonde and Brown Contrast
Capturing the contrast of blonde and brown, this medium length style is playful and dynamic. The wavy hair texture adds a carefree vibe, perfect for those who love a hairstyle that's as spirited as they are.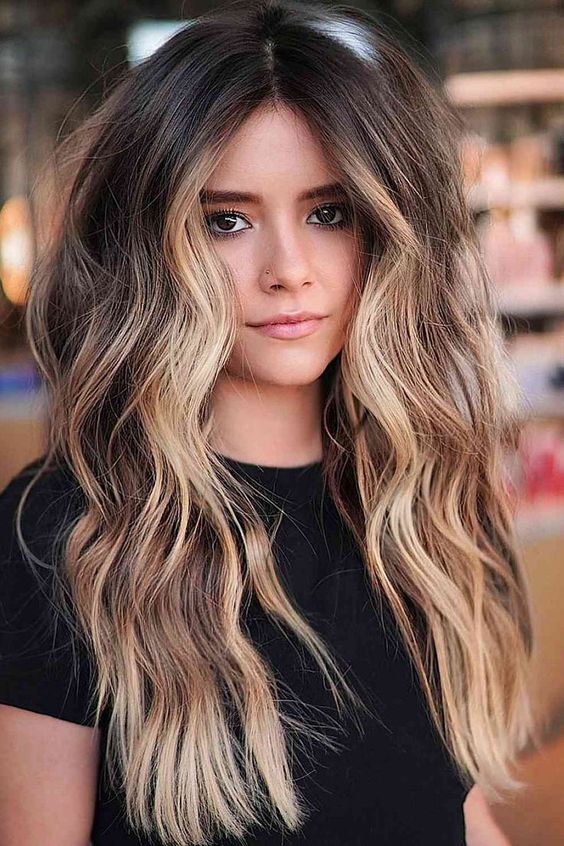 Chestnut Brown with Wispy Bangs
The chestnut brown hair in this photo is soft and rich, with a medium cut that is given an edge with wispy bangs. This color and style combination is flattering for all face shapes, offering a fresh and youthful look.