Hairstyle
Summer Hairstyles 2023: 17 Ideas for Black Women
Are you ready to rock the summer with stylish and trendy hairstyles? Black women have a wide range of options when it comes to summer hairstyles, from protective styles to vibrant colors and chic updos. In this article, we will explore 17 original summer hairstyle ideas specifically curated for black women in 2023. Each idea will be accompanied by a description, providing you with inspiration and guidance for your next stunning look. So, let's dive in and discover the hottest summer hairstyles for black women in 2023!
Box Braids with Colored Highlights
Box braids are a classic protective style that never goes out of fashion. For a modern twist, add colored highlights to your box braids. Choose vibrant hues like electric blue, fiery red, or pastel pink to make a bold statement. The colored highlights will add a playful and trendy touch to your hairstyle, perfect for summer vibes.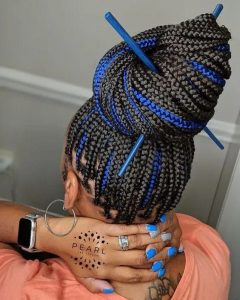 Faux Locs with Beads and Shells
Faux locs offer a versatile and low-maintenance option for summer. Enhance your faux locs by incorporating beads and shells into the style. Choose wooden or metallic beads in various sizes and shapes, and mix them with seashells to create a beachy and bohemian look. These accessories will elevate your hairstyle and make it truly unique.
Passion Twists with Ombre Effect
Passion twists have gained popularity in recent years, and they are perfect for summer. Add a touch of drama to your passion twists by opting for an ombre effect. Start with a dark color at the roots and gradually transition to a lighter shade towards the ends. The ombre effect will add depth and dimension to your hairstyle, giving it a trendy and eye-catching appeal.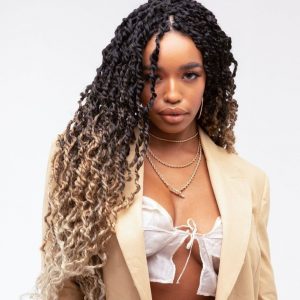 Cornrows with Geometric Patterns
Cornrows are a classic and versatile hairstyle for black women. Take your cornrows to the next level by incorporating geometric patterns into the design. Think triangles, squares, or even intricate zigzag patterns. These geometric elements will add a modern and artistic touch to your cornrows, making them a true summer statement.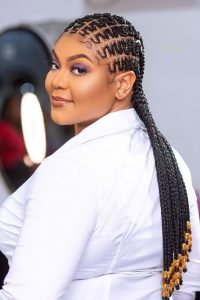 Wash and Go with Defined Curls
If you have natural curls, embrace them with a wash and go hairstyle. Apply a leave-in conditioner and a curl-defining gel to enhance your curls' definition. Allow your hair to air dry or use a diffuser on low heat. The wash and go style is effortless, allowing you to enjoy the summer without spending hours on your hair.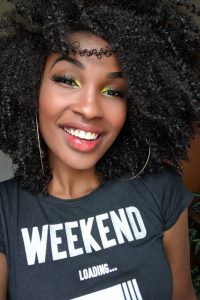 Twist-Outs with Floral Accessories
Twist-outs are a popular choice for black women with natural hair. Add a touch of femininity and elegance to your twist-out by adorning it with floral accessories. Place small artificial flowers strategically throughout your hair, creating a whimsical and romantic look. This hairstyle is perfect for garden parties or outdoor summer events.
Bantu Knots with a Pop of Color
Bantu knots are a versatile and stylish option for summer. Take your Bantu knots to the next level by incorporating a pop of color. Choose a vibrant shade that complements your skin tone and apply it to the tips of your knots. The pop of color will add a playful and trendy twist to your hairstyle.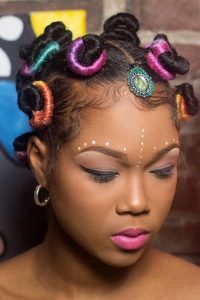 Frohawk with Shaved Sides
For a bold and edgy look, try a frohawk with shaved sides. Create a central section of voluminous curls or a fro, while shaving the sides of your head. This style combines the elegance of an updo with the fierceness of shaved sides, creating a striking and confident summer look.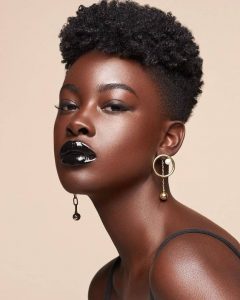 Pixie Cut with Undercut
Short hair can be just as versatile and stylish as long hair. Opt for a pixie cut with an undercut for a chic and edgy summer hairstyle. Keep the top section longer and style it in various ways, such as slicked back or tousled for a more relaxed look. The undercut adds a touch of uniqueness and keeps the style cool and comfortable for hot summer days.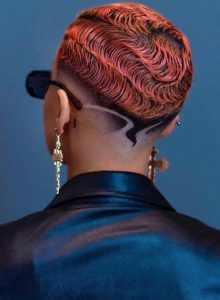 Tapered Afro with Design
A tapered afro is a modern and stylish choice for black women with short hair. Add a personal touch by incorporating a design into the sides or the back of your afro. You can choose a geometric pattern, a floral design, or even a symbol that holds a special meaning to you. This hairstyle allows you to showcase your creativity and individuality.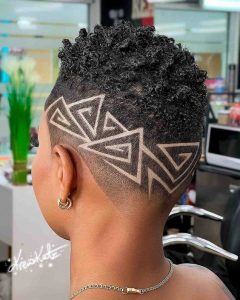 Mohawk with Bold Patterns
A Mohawk is a daring and bold hairstyle that exudes confidence. Take your Mohawk to the next level by incorporating bold patterns into the shaved sides. Think zigzags, chevron shapes, or even tribal-inspired designs. The patterns will add an extra element of uniqueness and make your Mohawk stand out in a crowd.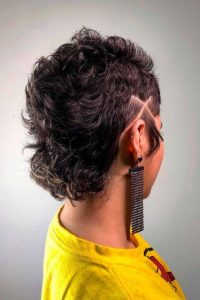 Braided Bob with Highlights
For a stylish and low-maintenance summer hairstyle, try a braided bob. Opt for medium-sized box braids or Senegalese twists that fall just above your shoulders. Add highlights in a contrasting color to create dimension and depth. The braided bob is a chic and versatile style that can be dressed up or down for any occasion.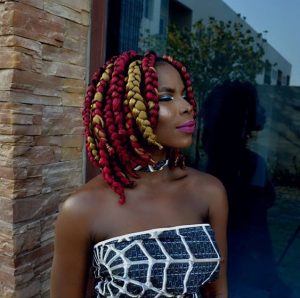 Pastel Colored Senegalese Twists
Make a statement with pastel-colored Senegalese twists. Choose soft and muted shades like lavender, mint green, or baby blue for a dreamy and ethereal look. The pastel colors will add a touch of whimsy and playfulness to your hairstyle, perfect for the sunny days of summer.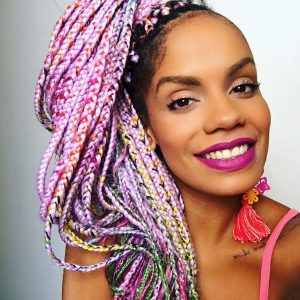 Rainbow Dreads with Metallic Accents
If you're feeling adventurous, why not go for rainbow dreads? Incorporate various colors of the rainbow into your dreadlocks, creating a vibrant and eye-catching hairstyle. To add a touch of glamour, accessorize your dreads with metallic accents, such as golden beads or silver cuffs. This hairstyle is a true expression of individuality and creativity.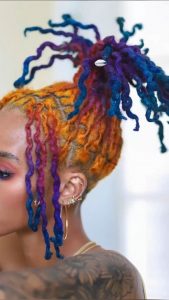 Ombre Afro with Vibrant Hues
An ombre afro is a trendy and stylish choice for black women. Choose vibrant and bold hues, such as electric blue, fiery red, or neon pink, for a head-turning look. The ombre effect will add dimension to your afro, making it a standout summer hairstyle that embraces the spirit of the season.
Blonde Faux Hawk with Undercut
For a fierce and daring summer hairstyle, try a blonde faux hawk with an undercut. Bleach your hair to a blonde shade and style the center section into a voluminous faux hawk. The undercut adds an element of edginess, creating a bold and confident look that is sure to turn heads.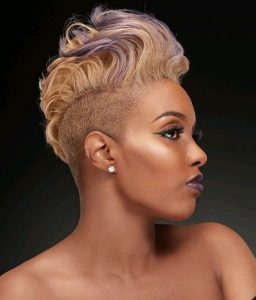 Trendy Updo with Scarf Wrap
Create a trendy and elegant summer updo by incorporating a scarf wrap into your hairstyle. Start by styling your hair into a high bun or a sleek ponytail. Then, take a colorful and vibrant scarf and wrap it around the base of the updo, allowing the ends to flow gracefully. This hairstyle not only adds a pop of color but also protects your hair from the summer heat, making it a fashionable and practical choice.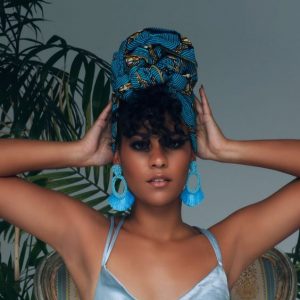 Mermaid-Inspired Braids with Sea Shells
Channel your inner mermaid with braids adorned with sea shells. Begin by getting long braids, such as waist-length or even longer, using Kanekalon hair extensions in a color that resembles the hues of the ocean, like deep blue or turquoise. Then, attach small seashells to the braids, securing them with elastic bands or hair jewelry. This whimsical and enchanting hairstyle is perfect for beach vacations or summer festivals, allowing you to embrace the beauty of the sea.