MakeUP
Popular Makeup Colors for Summer 2023: 21 Ideas
Vibrant Coral Lips: Embrace the warmth and energy of summer with vibrant coral lips that exude confidence and radiance. Whether it's a bold and saturated coral shade or a softer coral-pink, this color instantly adds a touch of playfulness and youthfulness to your overall look. Pair it with minimal eye makeup to let your lips take center stage or create a fun contrast with a subtle, neutral eye look.
Golden Goddess Eyes
Illuminate your eyes with mesmerizing golden shades that capture the essence of a sun-kissed glow. Opt for metallic gold eyeshadows or shimmery bronze tones to create depth and dimension. These warm and luminous hues enhance any eye color and add a touch of luxury to your summer makeup. Complete the look with volumizing mascara and a sweep of bronzer for a truly goddess-worthy appearance.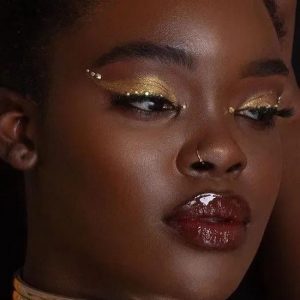 Pastel Pink Cheeks
Achieve a soft and romantic summer look by dusting your cheeks with delicate pastel pink blush. These light, airy shades create a fresh and youthful flush, giving your complexion a natural and healthy glow. Whether you prefer a matte or subtly shimmery finish, pastel pink blush effortlessly complements any skin tone and adds a touch of innocence to your overall makeup.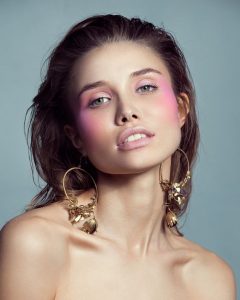 Aqua Blue Liner
Make a bold statement with an eye-catching aqua blue eyeliner. Perfect for summer, this vibrant shade instantly brightens up your eyes and adds a refreshing pop of color. Apply it along your upper lash line or experiment with a playful winged liner for a fun and flirty look. Pair it with neutral eyeshadows to create a striking contrast or go all out by incorporating other tropical-inspired hues into your eye makeup.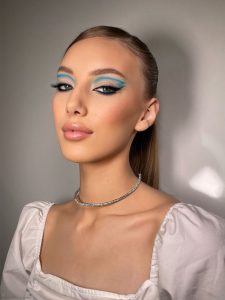 Nude Glow
Embrace the effortless beauty of a nude makeup look that gives you a natural, sun-kissed glow. Choose a foundation that matches your skin tone perfectly and opt for neutral eyeshadows with subtle shimmer. Use a soft nude blush to add warmth to your cheeks and finish with a nude lip color that enhances your natural lip shade. This minimalistic approach celebrates your individual beauty while keeping your skin fresh and luminous.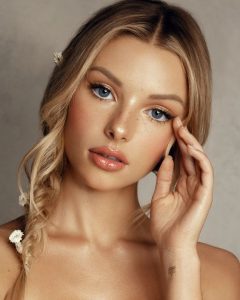 Neon Pink Lips
Go bold and electrify your summer look with neon pink lips that demand attention. These vibrant and eye-catching shades are the epitome of confidence and make a strong fashion-forward statement. Whether you prefer a matte or glossy finish, neon pink lips instantly elevate any makeup look, adding a burst of color and attitude. Keep the rest of your makeup understated to let your lips take the spotlight.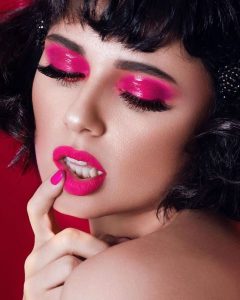 Tropical Green Eyes
Dive into the lushness of summer with tropical green eyeshadows that evoke a sense of exotic beauty. From vibrant emerald to tropical palm green, these shades bring a sense of adventure and mystery to your eye makeup. Experiment with different green tones, ranging from shimmering metallics to matte finishes, to create eye-catching looks. Pair them with warm browns or golden accents to complete the tropical vibe.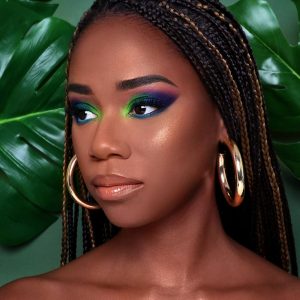 Berry Stained Lips
Embrace the richness and seduction of summer berries with deep and captivating lip colors. Shades like raspberry, cranberry, or deep plum exude confidence and femininity. Opt for a lip stain or long-lasting liquid lipstick for a bold and long-wearing effect. Whether you prefer a glossy or matte finish, berry-stained lips make a statement and add a touch of allure to your summer makeup look.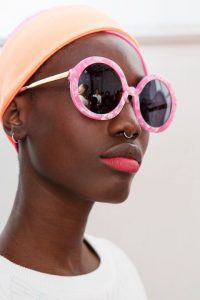 Lavender Dreams
Create a dreamy and ethereal look with soft lavender eyeshadow. This delicate and serene color brings a sense of tranquility and romance to your eyes. Whether you prefer a sheer wash of lavender or a more intense purple hue, this shade beautifully complements a variety of eye colors. Enhance the enchanting effect with a hint of shimmer and complete the look with fluttery lashes and a subtle pink lip.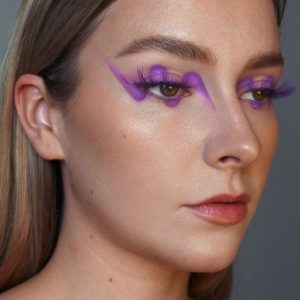 Metallic Silver Eyes
Make a statement with mesmerizing metallic silver eyeshadow that adds a futuristic and edgy touch to your summer makeup. This cool-toned shade instantly elevates your eye look, creating a high-impact and dramatic effect. Experiment with different finishes, such as foiled or glittery, to achieve the desired level of intensity. Pair it with a nude lip color to balance the overall look and let your eyes shine.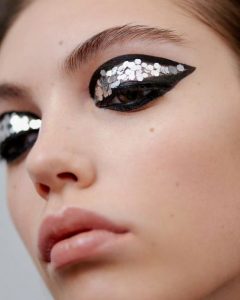 Bold Purple Lips
Channel your inner confidence with bold purple lips that exude strength and individuality. From deep plum to vibrant violet, purple lip colors make a striking statement and command attention. Opt for a creamy or matte formula, depending on your preference, and pair it with minimal eye makeup to let your lips be the focal point. This daring and unconventional choice adds a touch of mystery and empowers you to embrace your uniqueness.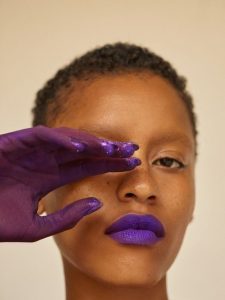 Peachy Bronze Glow
Achieve a warm and sun-kissed complexion with a peachy bronze glow. This radiant combination adds a healthy and luminous effect to your skin, capturing the essence of summer. Use a bronzer with warm undertones to contour and add dimension to your face, and complement it with a peachy blush that mimics a natural flush. Complete the look with a golden highlighter to enhance your features and achieve a sunlit glow.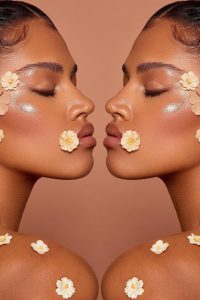 Turquoise Waterline
Make your eyes pop with a vibrant turquoise eyeliner applied along the waterline. This unexpected and eye-catching pop of color instantly brightens your eyes and creates a playful and tropical look. Pair it with neutral eyeshadows to create a striking contrast or incorporate other blue and green tones for a cohesive and captivating eye makeup. This summer-ready color adds a touch of whimsy and enhances your overall makeup look.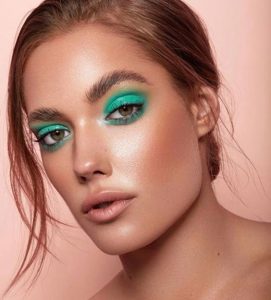 Mauve Smoky Eyes
Add depth and allure to your gaze with smoky eyes in soft mauve tones. This modern twist on the classic smoky eye creates a sultry and sophisticated look. Blend different shades of mauve, from light lilac to deep plum, to create a gradient effect that enhances your eye shape. Pair it with a nude or dusty rose lip color to maintain balance and let your eyes take center stage. Mauve smoky eyes are perfect for both daytime and evening occasions, adding a touch of mystery and elegance to your summer makeup.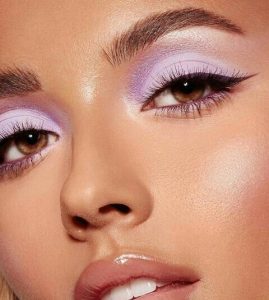 Golden Bronze Contour
Define your features and achieve a sun-kissed glow with a golden bronze contour. Use a matte bronzer that is one to two shades darker than your skin tone to sculpt and shape your face. Focus on the hollows of your cheeks, temples, and jawline to create dimension and a sunlit effect. The golden undertones in the bronzer add warmth and radiance, enhancing your complexion and giving you a natural-looking summer tan.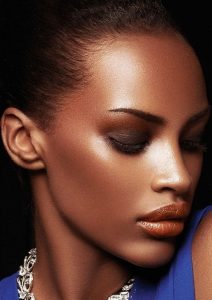 Pop of Lime Green
Make a bold statement by incorporating a pop of lime green into your eye makeup. Apply a vibrant lime green eyeshadow to the inner corners of your eyes or along the lower lash line for a fresh and playful look. This unexpected burst of color instantly adds a sense of fun and liveliness to your makeup. Pair it with neutral shades to create a striking contrast or experiment with complementary colors like turquoise or yellow for a vibrant and cohesive eye look.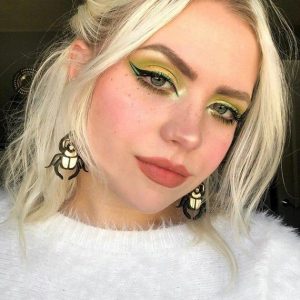 Watermelon Lips
Delightful and refreshing, watermelon-inspired lip colors bring a playful touch to your summer makeup. Opt for shades that range from soft and juicy pinks to deeper and more vibrant watermelon hues. These lip colors instantly brighten up your face and give a youthful, fruity vibe. Choose a moisturizing formula with a hint of shine to mimic the juiciness of a watermelon slice. Pair it with minimal eye makeup and rosy cheeks for a fresh and summery look.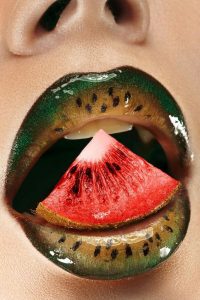 Warm Earthy Tones
Embrace the beauty of nature with warm earthy tones for your summer makeup. Think shades like terracotta, burnt orange, and deep browns. These colors create a warm and inviting look that complements sun-kissed skin. Use them on your eyes for a subtle smoky effect or as transition shades in your eyeshadow look. Incorporate earthy tones into your blush and lip colors for a cohesive and natural appearance. These warm hues evoke a sense of comfort and harmony with the surroundings.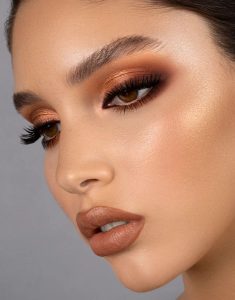 Electric Blue Winged Liner
Make a bold statement with electric blue winged liner that adds a vibrant and edgy touch to your eye makeup. This pop of intense blue along the upper lash line creates a striking contrast and instantly draws attention to your eyes. Pair it with neutral eyeshadows to let the liner stand out or go for a monochromatic look by incorporating other blue hues. Electric blue winged liner is a fun and daring choice that captures the spirit of summer and adds a unique twist to your makeup.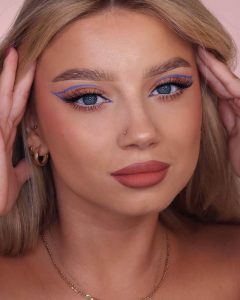 Peachy Coral Look
Create a fresh and harmonious makeup look with a peachy coral theme. Use various shades of peach and coral on your eyes, cheeks, and lips for a cohesive and summery appearance. Opt for a soft peach eyeshadow, a coral blush, and a creamy coral lip color to create a seamless blend of warm, sun-kissed hues. This approach adds a touch of sophistication and radiance to your overall makeup look, enhancing your natural beauty.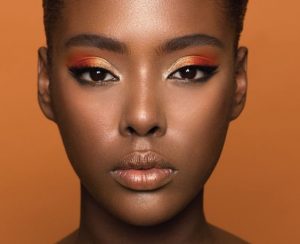 Sunny Yellow Eyeshadow
Embrace the sunny vibes of summer with a vibrant yellow eyeshadow. This bold and cheerful color instantly brightens your eyes, creating a playful and energetic look. Opt for a highly pigmented matte or shimmery yellow shade and apply it to the lid for a pop of sunshine. Complement the yellow eyeshadow with neutral tones in the crease to create a balanced and eye-catching summer eye makeup look.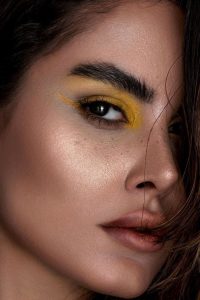 Coral-Infused Highlighter
Achieve a radiant summer glow with a coral-infused highlighter. This unique twist on a classic highlighter adds a warm and luminous touch to your complexion. The coral undertones complement a range of skin tones, creating a natural-looking flush of color that mimics the sun-kissed glow. Apply the highlighter to the high points of your face, such as the cheekbones, bridge of the nose, and cupid's bow, for a dewy and ethereal look.