Nails
15 Captivating Fall Nail Extension Ideas for 2023
As the leaves change colors and the weather cools down, it's time to update your nail game with stunning fall nail extensions. Fall 2023 brings forth a variety of trends that will elevate your style and reflect the essence of the season. From warm hues to intricate designs, these nail extension ideas will inspire you to embrace the beauty of autumn. Let's explore 15 captivating fall nail extension ideas for 2023.
Rustic Pumpkin Elegance
Embrace the iconic symbol of fall by adorning your nails with intricate pumpkin designs. Combine rustic oranges and deep browns to capture the essence of the season. These elegant pumpkin nail extensions will add a touch of charm to any outfit.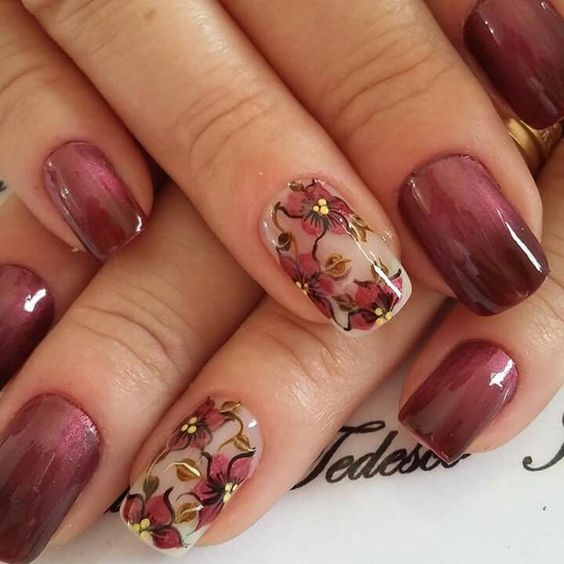 Moody Marble Magic
Marble nails are here to stay, but for fall 2023, go for a moody twist. Opt for deep shades of burgundy, forest green, and midnight blue to create an edgy and sophisticated look. The swirls of color will evoke the feeling of autumnal fog and mist.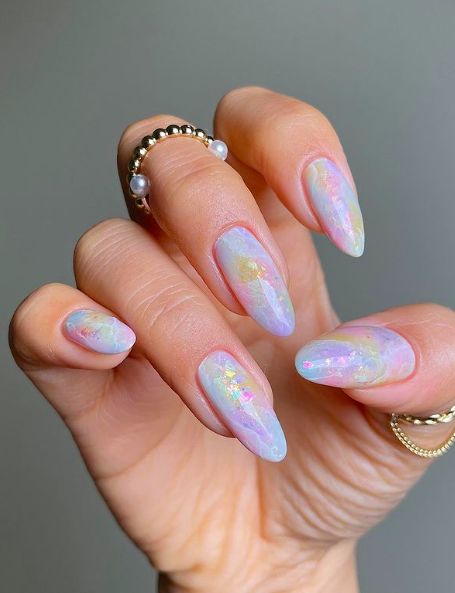 Gilded Leaves
Incorporate the beauty of falling leaves onto your nails with this golden-inspired nail extension idea. Apply a rich burgundy or emerald green base and delicately adorn it with gold leaf accents. These nails will add an air of opulence to your fall ensemble.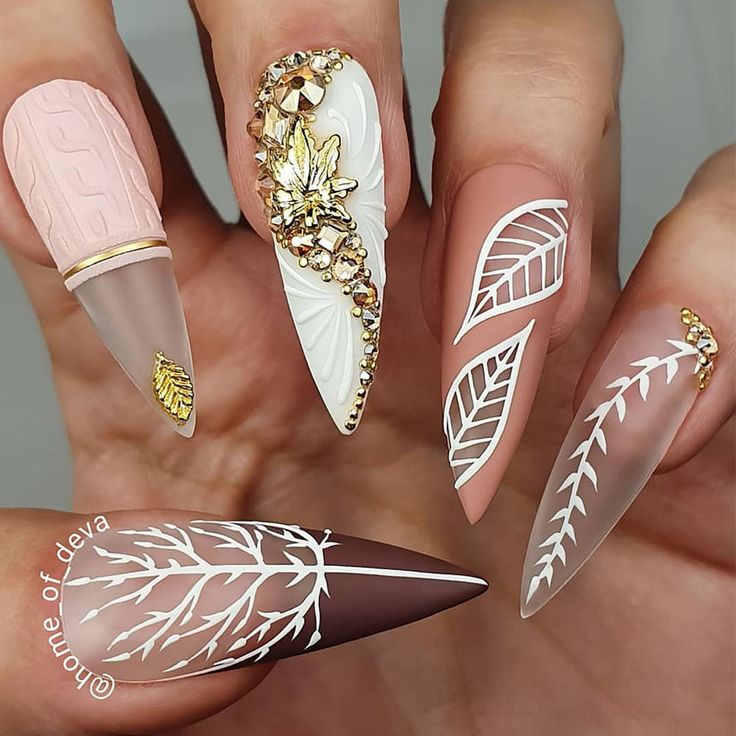 Sweater Weather Coziness
Get cozy this fall with a nail extension design inspired by your favorite knit sweaters. Mimic the patterns and textures of cable knits, plaids, and argyle to bring warmth to your fingertips. Choose autumnal shades like mustard yellow, burnt orange, and deep red for an extra touch of seasonal charm.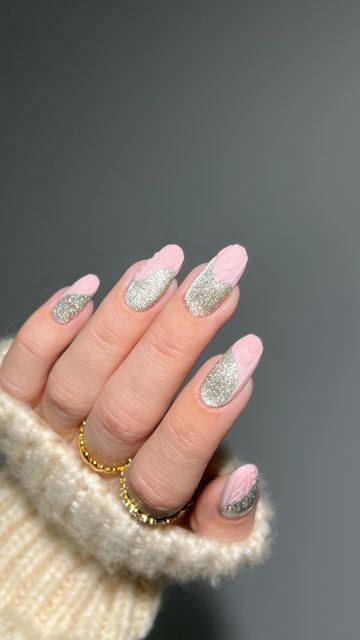 Autumnal Ombré
Create a gradient effect on your nails using fall-inspired hues. Transition from a rich caramel shade at the base to a deep burgundy or forest green at the tips. This ombré design adds a subtle yet stunning autumn touch to your manicure.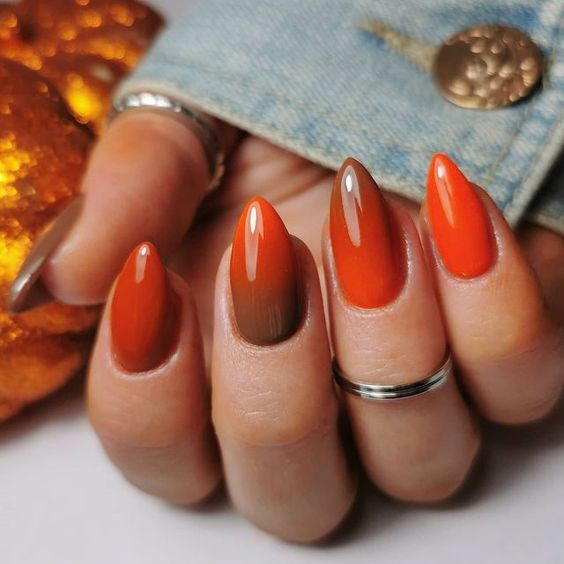 Holographic Harvest
Elevate your fall nail extensions with a holographic twist. Apply a holographic top coat over a dark base color like plum or navy blue. The holographic effect will add dimension and sparkle, reminiscent of a starry night sky.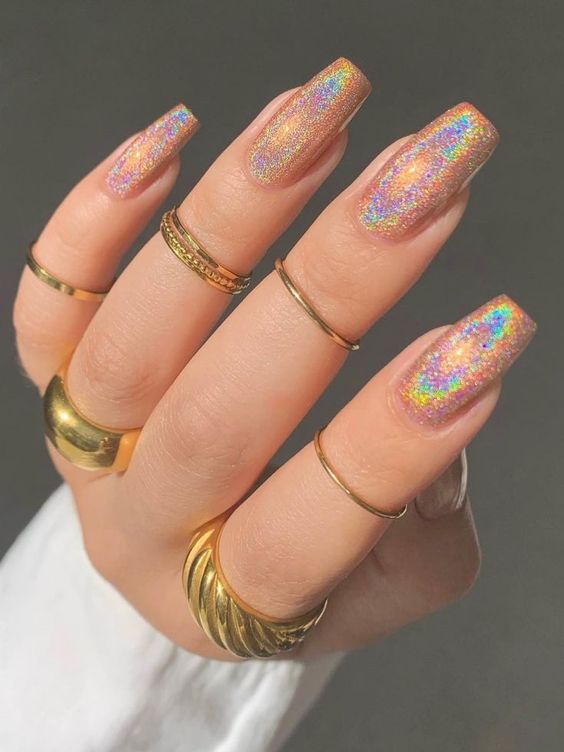 Elegant Jewel Tones
Embrace the luxurious side of fall with jewel-toned nail extensions. Opt for deep sapphire blues, emerald greens, and amethyst purples. These rich, opulent shades will make a bold statement and complement your fall wardrobe effortlessly.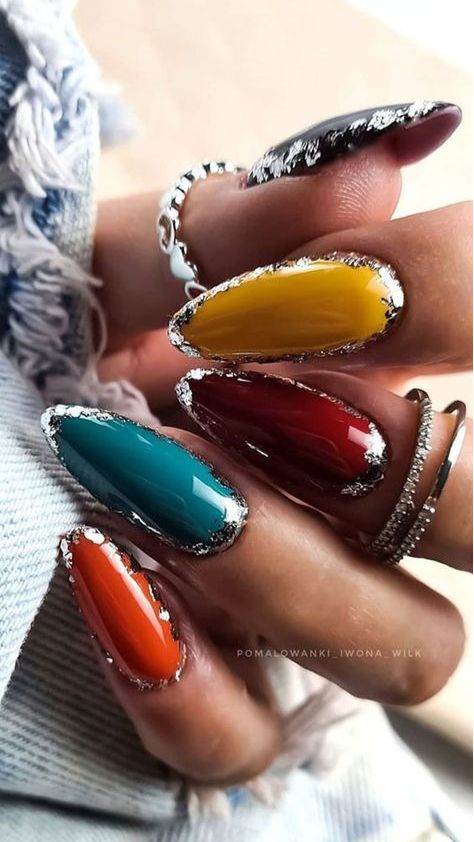 Harvest Moon Glitter
Capture the enchantment of the harvest moon on your nails with this glittery design. Start with a dark blue or black base and add gold or silver glitter accents to represent the shimmering moonlight. These celestial-inspired nails will make you feel magical all season long.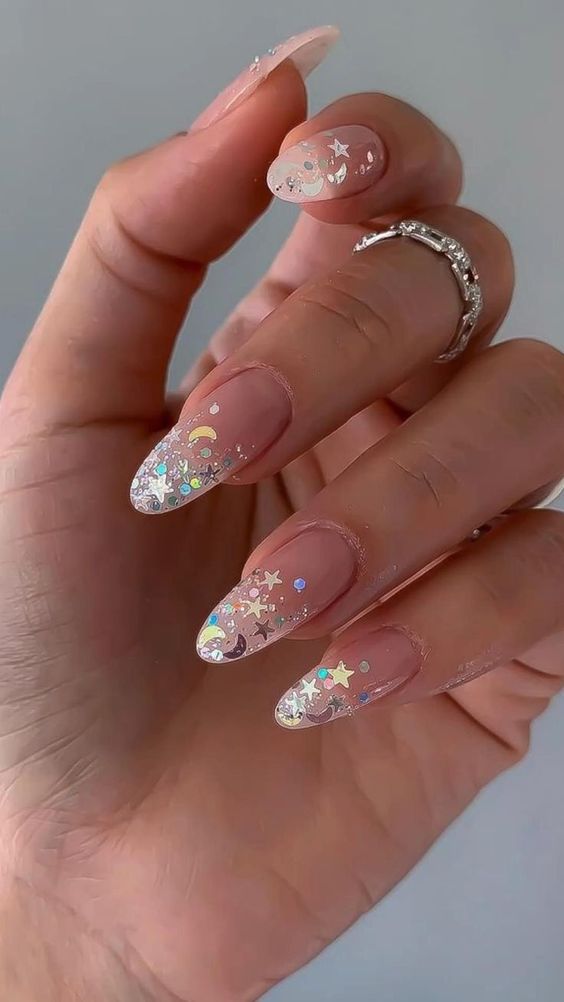 Maple Leaf Delight
Celebrate the beauty of changing foliage with nail extensions featuring delicate maple leaves. Choose a warm neutral base color and embellish it with intricately painted maple leaf designs. These nails will evoke a sense of autumnal serenity.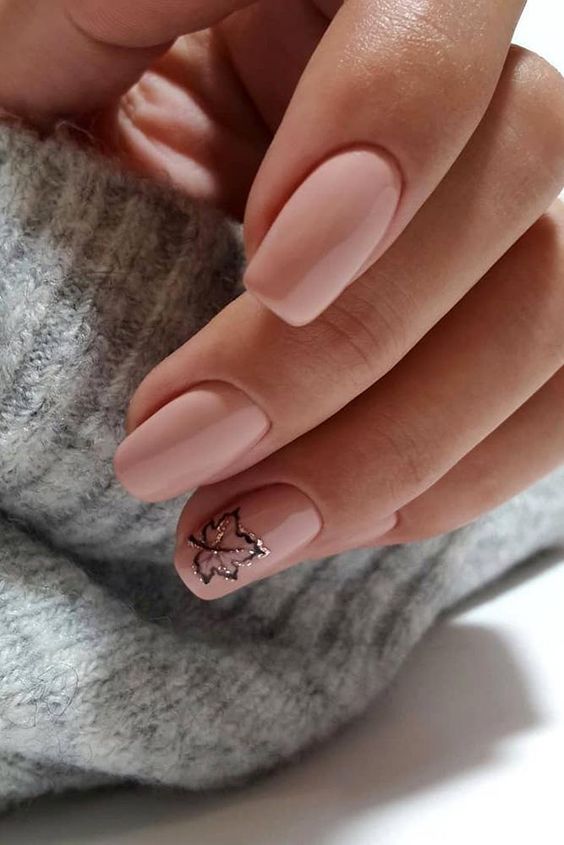 Moody Floral Romance
For a romantic and mysterious vibe, opt for moody floral designs on your nail extensions. Combine deep plum or wine-colored bases with hand-painted roses, dahlias, or peonies in shades of burgundy, purple, and black. These nails will add an alluring touch to your fall look.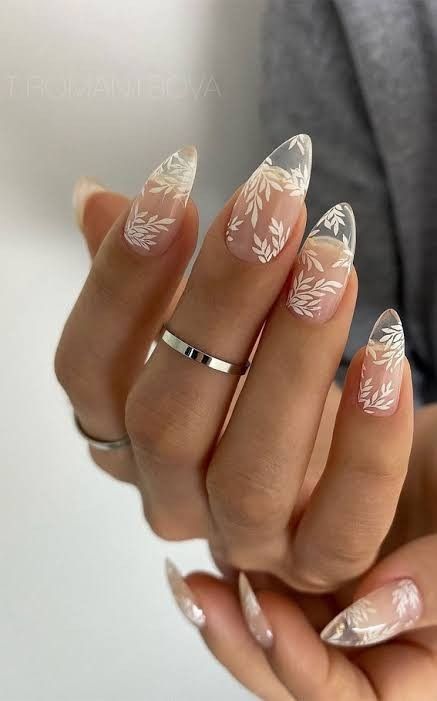 Earthy Textured Accents
Incorporate earthy textures onto your nails with this trendy fall nail extension idea. Apply matte polish in warm neutrals like taupe or camel, then add textured accents using nail powders or embellishments. These nails will bring a tactile element to your manicure.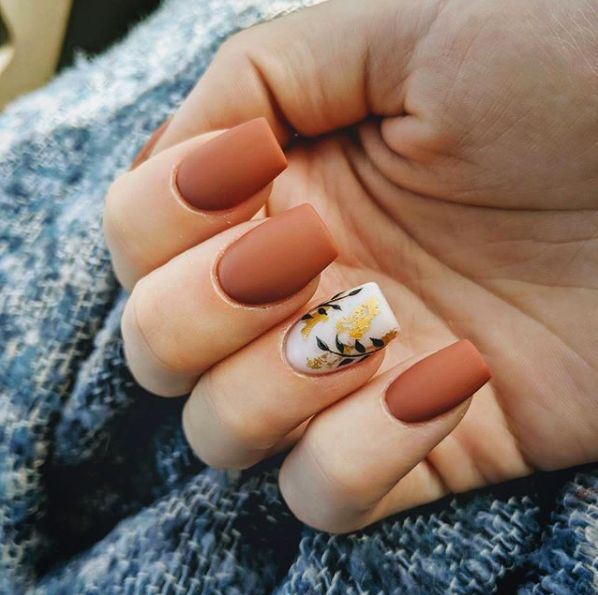 Autumn Harvest French Tips
Give the classic French tip a fall twist by using seasonal colors. Swap out the traditional white tip for shades like burnt orange, olive green, or mustard yellow. This subtle modification will infuse a touch of autumn into your everyday look.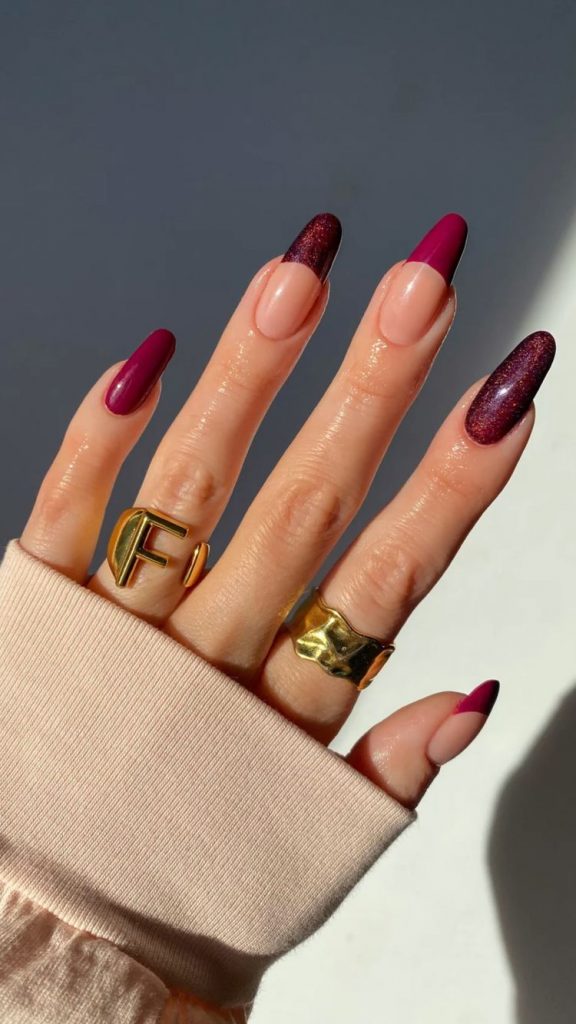 Geometric Fall Fusion
Combine geometric shapes with fall-inspired hues for a modern and eye-catching manicure. Use warm shades like terracotta, mustard, and rust to create geometric patterns such as squares, triangles, or chevron designs. These nails offer a contemporary take on fall aesthetics.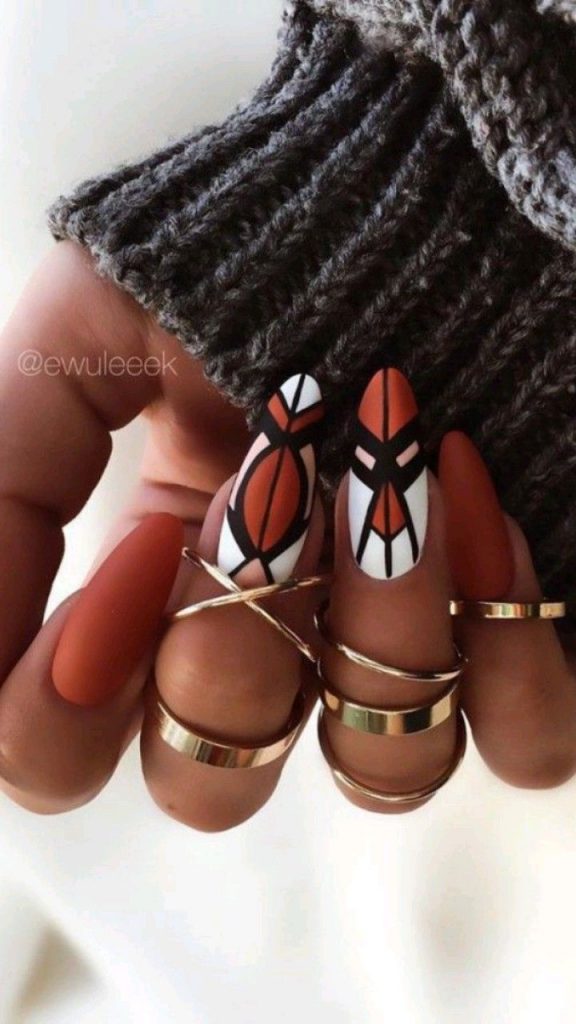 Edgy Matte Black
For those who prefer a bold and edgy look, go for matte black nail extensions. The dark and mysterious vibe complements the autumn season perfectly. Experiment with accent nails by adding metallic details or small studs for an extra touch of attitude.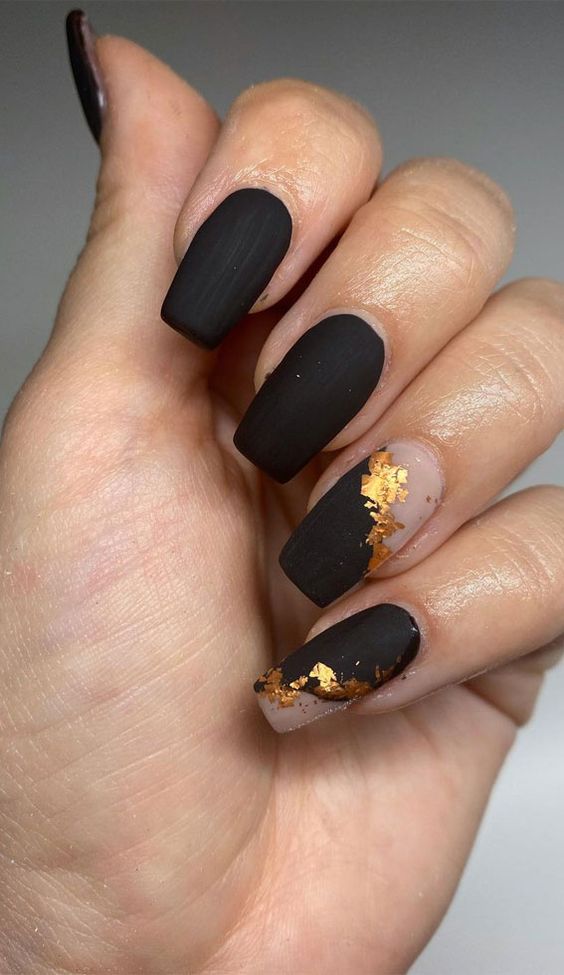 Harvest-inspired Stained Glass
Create a mesmerizing effect on your nails with a stained glass design inspired by autumn. Use translucent nail gels in rich fall colors like deep red, burnt orange, and golden yellow. These nail extensions will create a striking visual impact and elevate your style.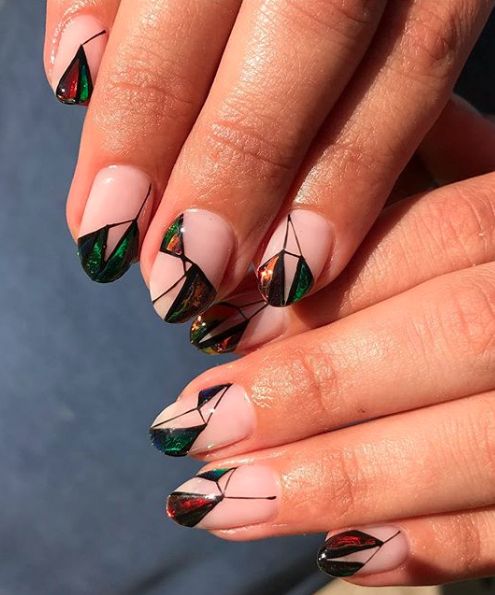 Save Pin