Nails
17 Chic and Stylish Brown Acrylic Nail Ideas
Brown acrylic nails offer a versatile and sophisticated canvas for expressing your creativity and personal style. From warm caramel tones to rich chocolate shades, brown nails can be adorned with various designs and accents to elevate your manicure game. In this article, we present 17 chic and stylish brown acrylic nail ideas that will inspire your next nail art adventure.
1. Classic Brown Coffin Nails:
Opt for a classic coffin shape in a deep brown shade, achieving a timeless and elegant look.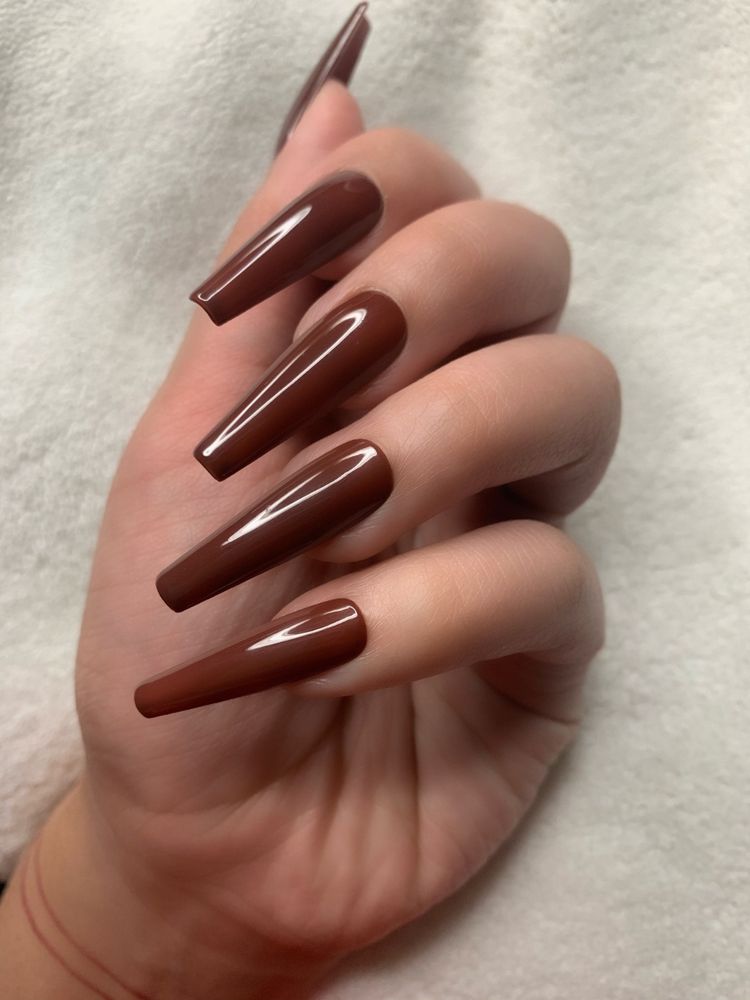 2. Brown Ombre Nails:
Blend different shades of brown into a seamless ombre design, adding depth and dimension to your nails.
3. Geometric Accents:
Incorporate geometric patterns and lines with metallic accents for a modern and edgy nail art design.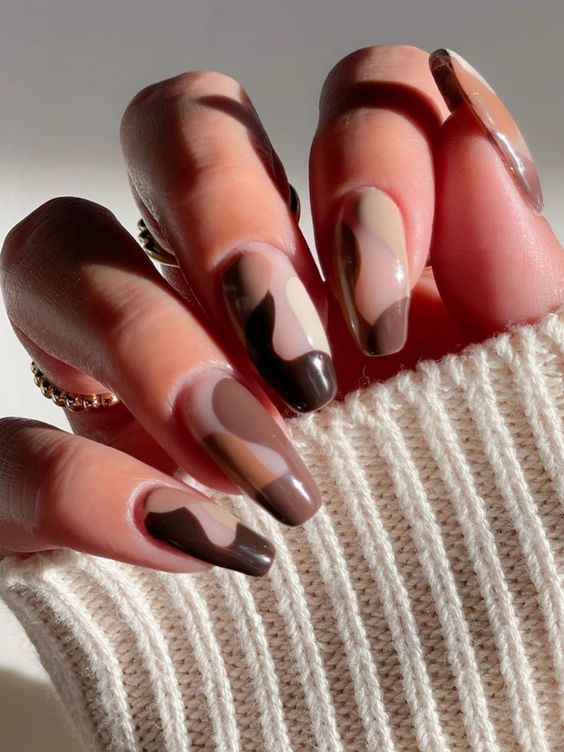 4. Brown Marble Nails:
Create a marble effect using varying shades of brown, adding a touch of luxury and sophistication.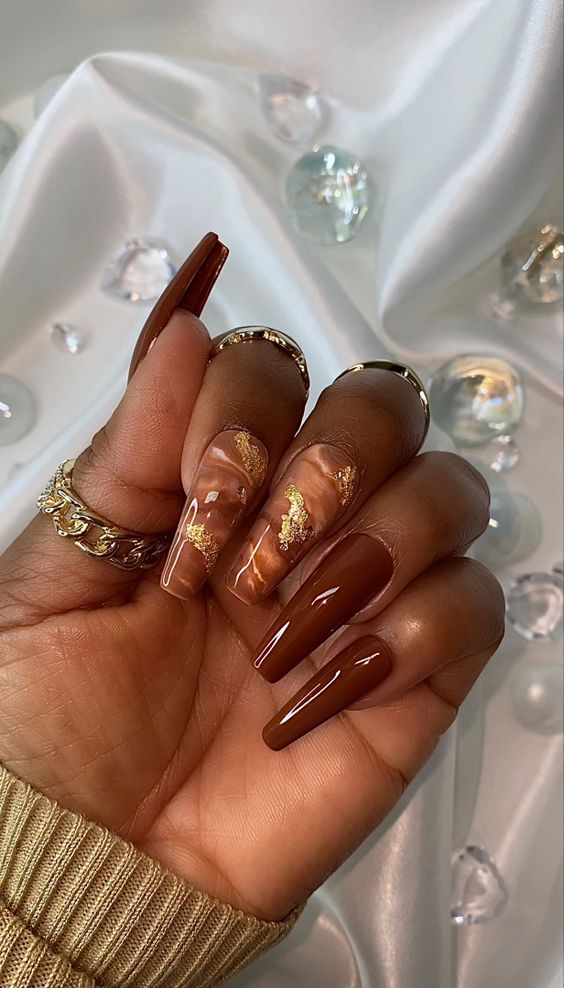 5. Matte Brown Nails with Gold Details:
Choose a matte brown finish and embellish with delicate gold details, creating a refined and opulent look.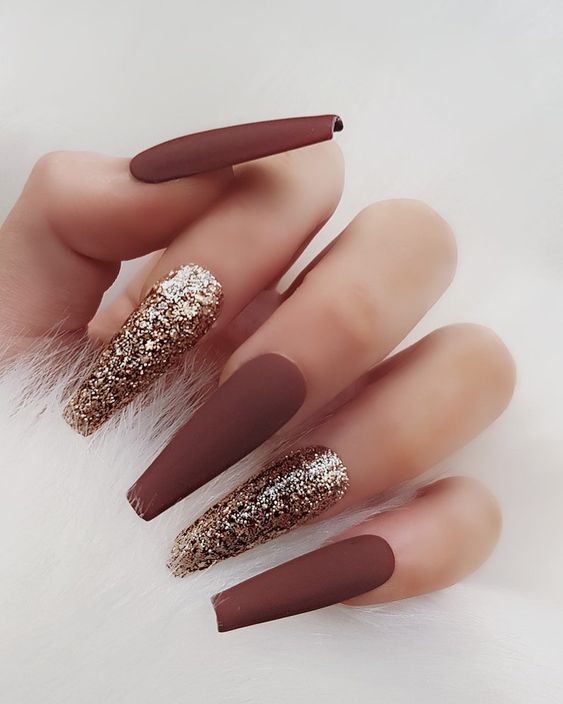 6. Animal Print Accents:
Add animal print accents, such as leopard spots or snakeskin patterns, to your brown acrylic nails for a bold and trendy statement.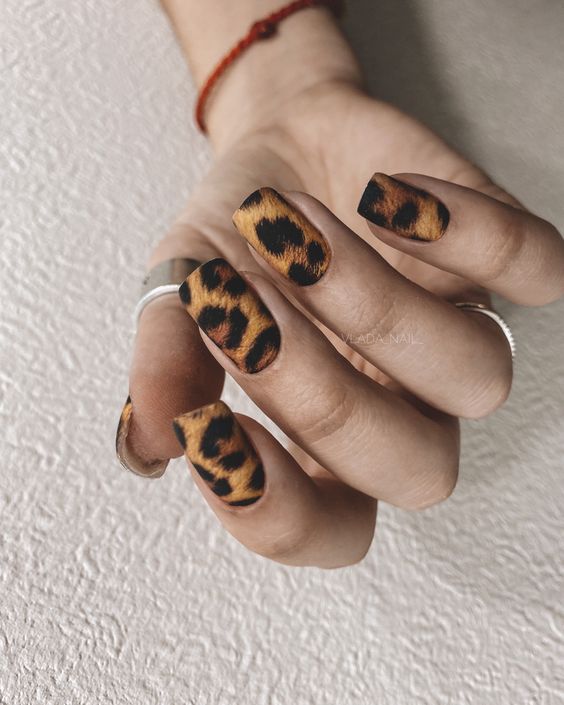 7. Brown and Nude French Tips:
Put a twist on the classic French manicure by combining brown and nude shades for a subtle yet stylish contrast.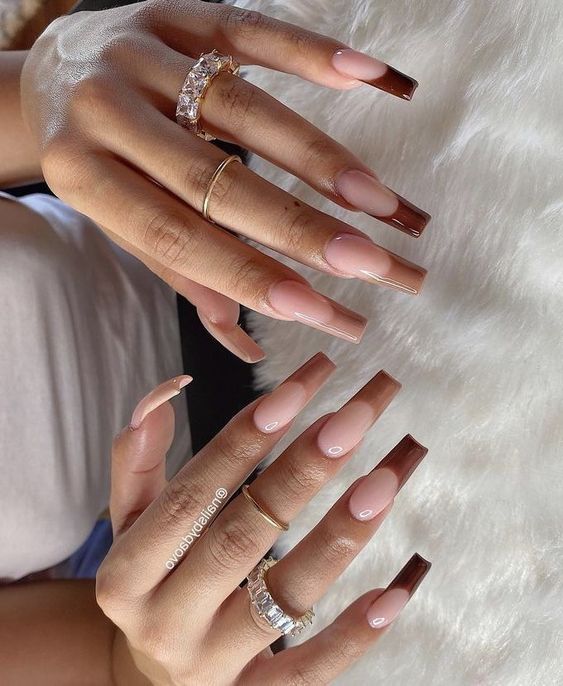 8. Brown Glitter Nails:
Incorporate brown glitter accents for a dazzling and eye-catching manicure that sparkles with sophistication.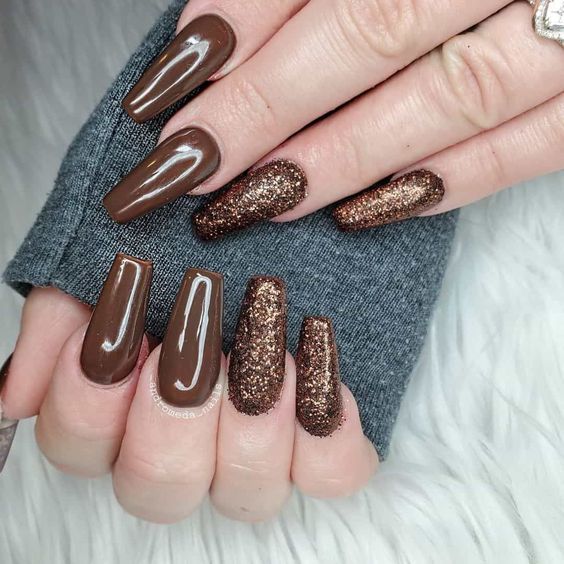 9. Floral Embellishments:
Adorn your brown acrylic nails with intricate floral designs for a feminine and charming nail art look.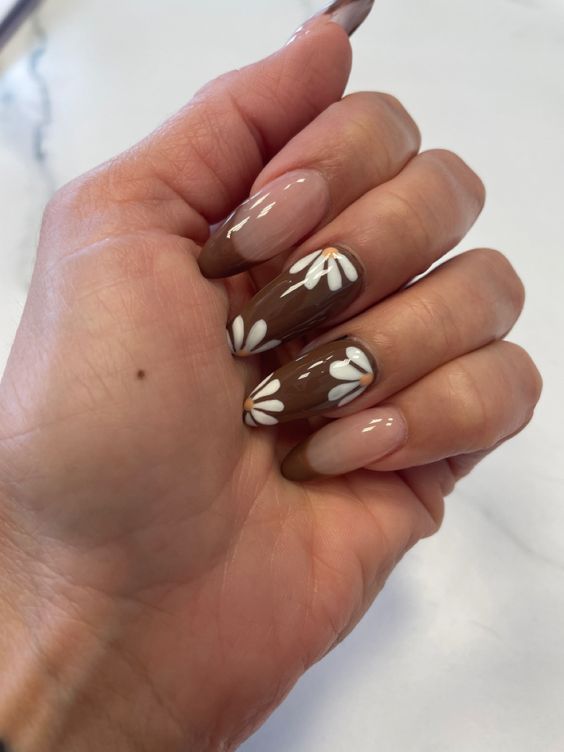 10. Negative Space Brown Nails:
Create negative space designs by leaving portions of your nails bare, allowing the natural nail color to blend seamlessly with the brown acrylic.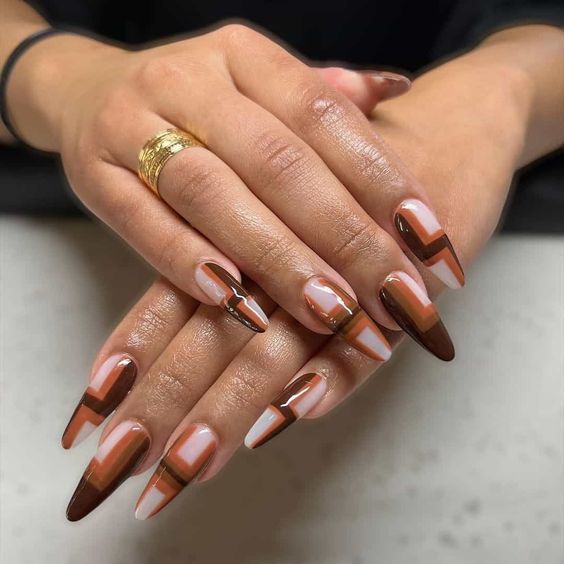 11. Brown and Gold Foil Accents:
Combine brown with gold foil accents in various patterns, achieving a luxurious and glamorous nail art design.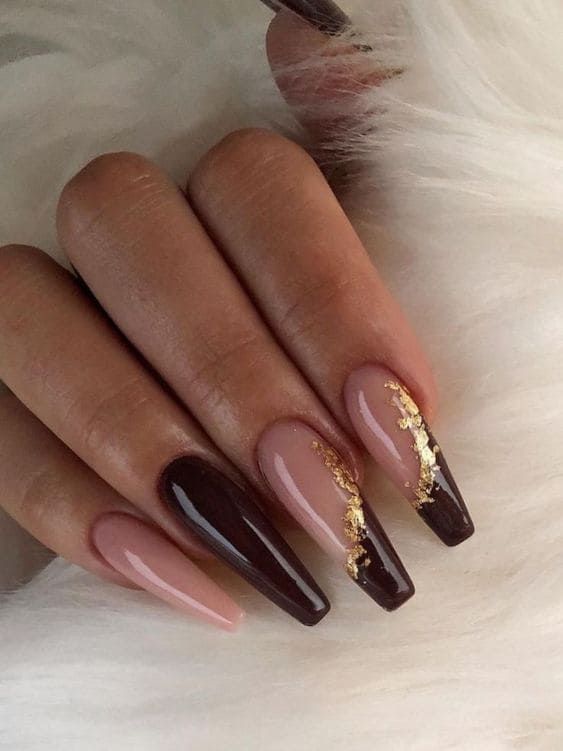 12. Textured Brown Nails:
Add texture to your nails with techniques like studded accents, 3D embellishments, or raised patterns for a unique and tactile effect.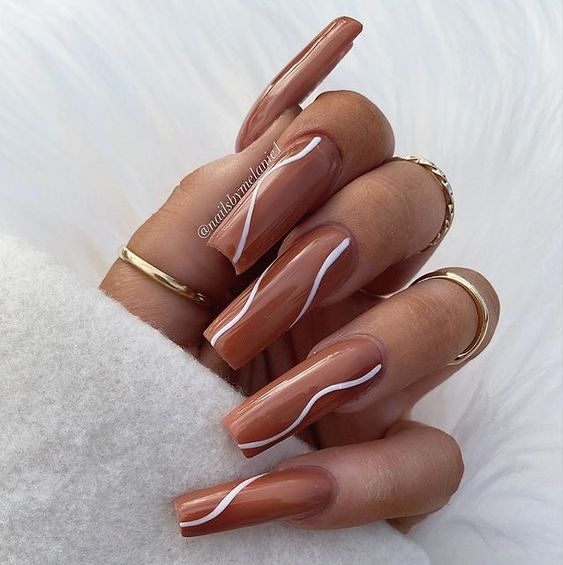 13. Tribal-Inspired Brown Nails:
Incorporate tribal or ethnic-inspired designs in brown tones for a culturally rich and artistic nail art look.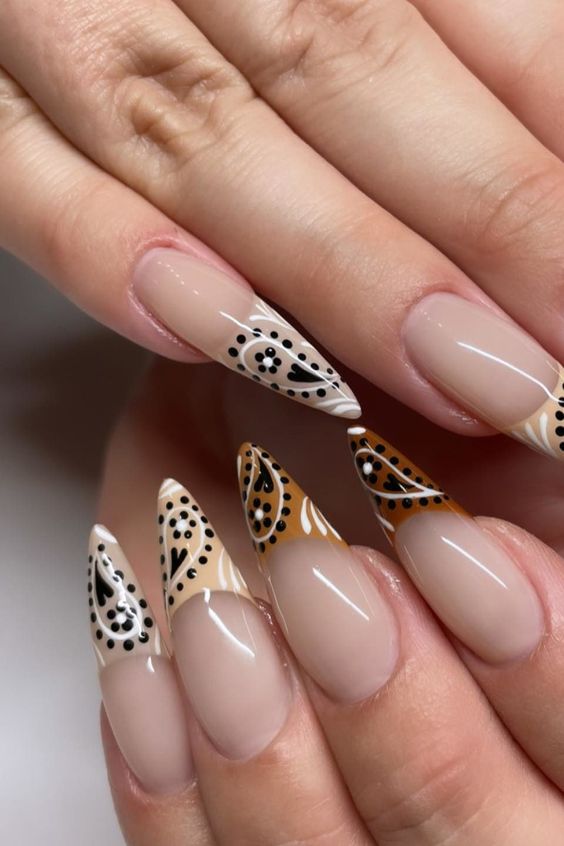 14. Brown Gradient Nails:
Create a gradient effect by blending different shades of brown, achieving a soft and harmonious transition.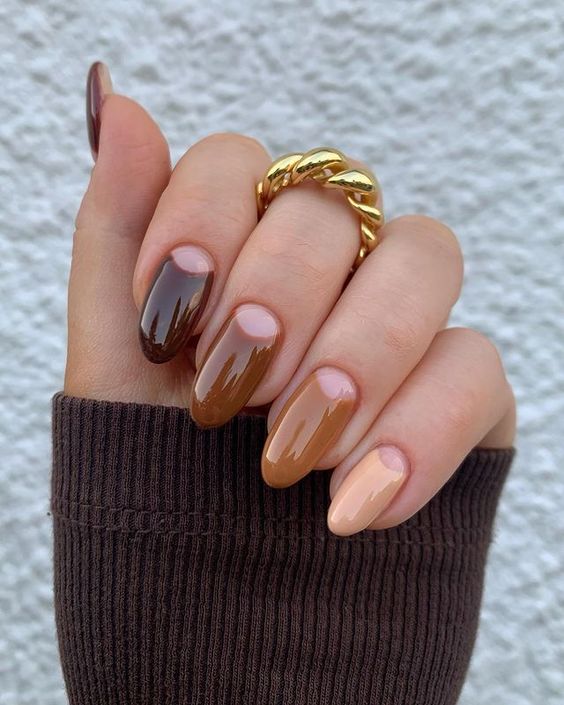 15. Holographic Brown Nails:
Choose holographic accents or nail polish in a holographic brown shade for a futuristic and mesmerizing nail art design.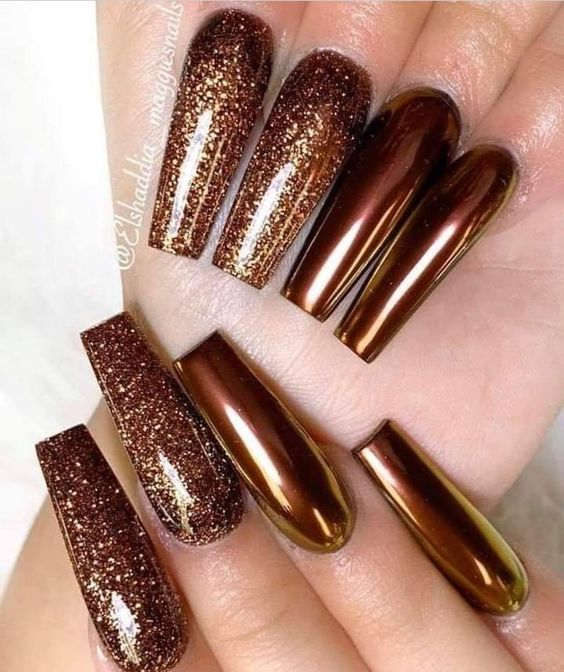 16. Brown Nails with Rhinestone Accents:
Embellish your brown acrylic nails with rhinestones or gemstones for a touch of glamour and elegance.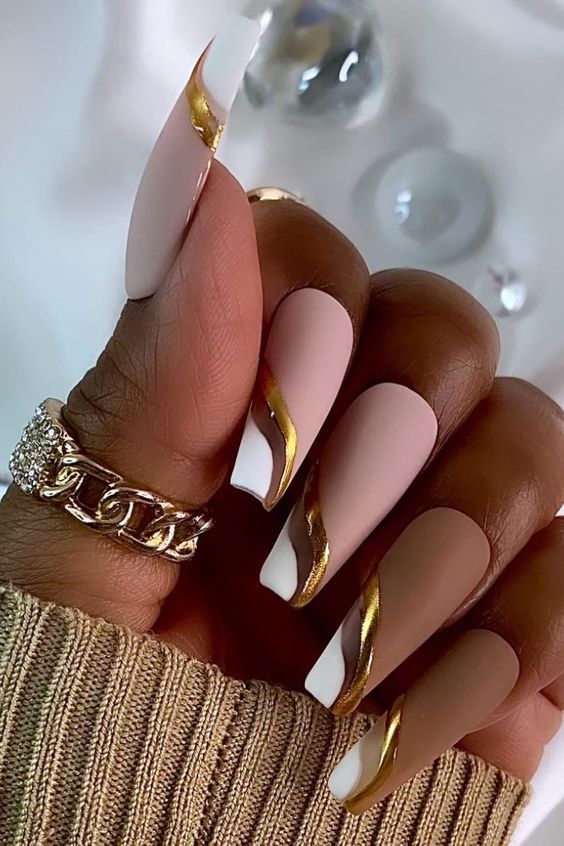 17. Whimsical Brown Nail Art:
Let your creativity run wild with whimsical designs, such as abstract shapes, doodles, or playful characters, to add a fun and unique element to your brown acrylic nails.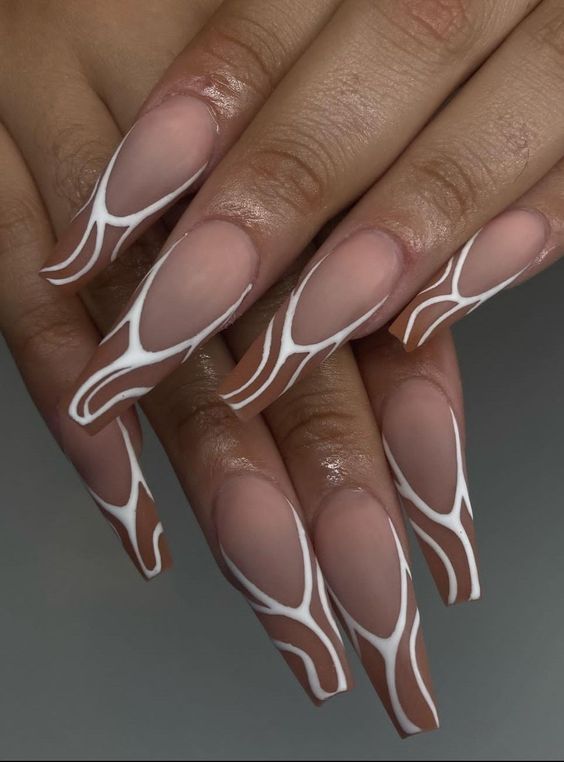 Save Pin