Nails
17 Glamorous Rhinestone Fall Nail Ideas for 2023
Rhinestone nail art adds a touch of glamour and elegance to any manicure, making it the perfect choice for fall 2023. From subtle accents to dazzling designs, rhinestones can elevate your nails and bring a luxurious flair to your overall look. Let's explore 17 glamorous rhinestone fall nail ideas that will make your fingertips shine.
Jewel-Encrusted Accent
Create a stunning focal point by applying a cluster of rhinestones to one nail as an accent. Choose jewel-toned rhinestones like emerald green, sapphire blue, or amethyst purple to capture the essence of fall.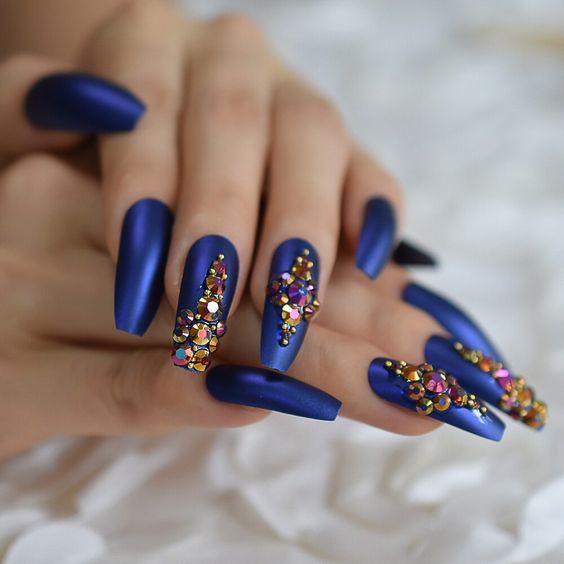 Golden Leaves
Adorn your nails with delicate gold leaf-shaped rhinestones to celebrate the changing foliage of autumn. Apply them strategically on a neutral or dark-colored base to create an elegant and eye-catching design.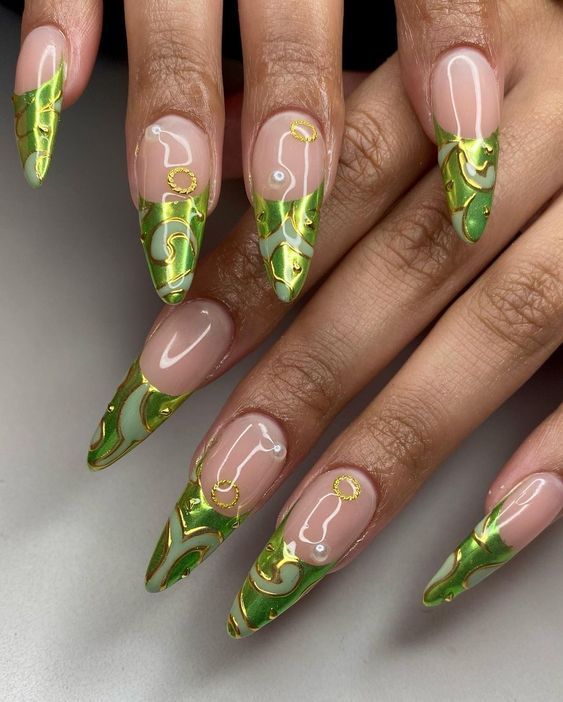 Sparkling Pumpkin Patch
Embrace the spirit of fall with a playful pumpkin patch design featuring rhinestones. Use orange and green rhinestones to create the shapes of pumpkins and leaves, adding a touch of whimsy and sparkle to your nails.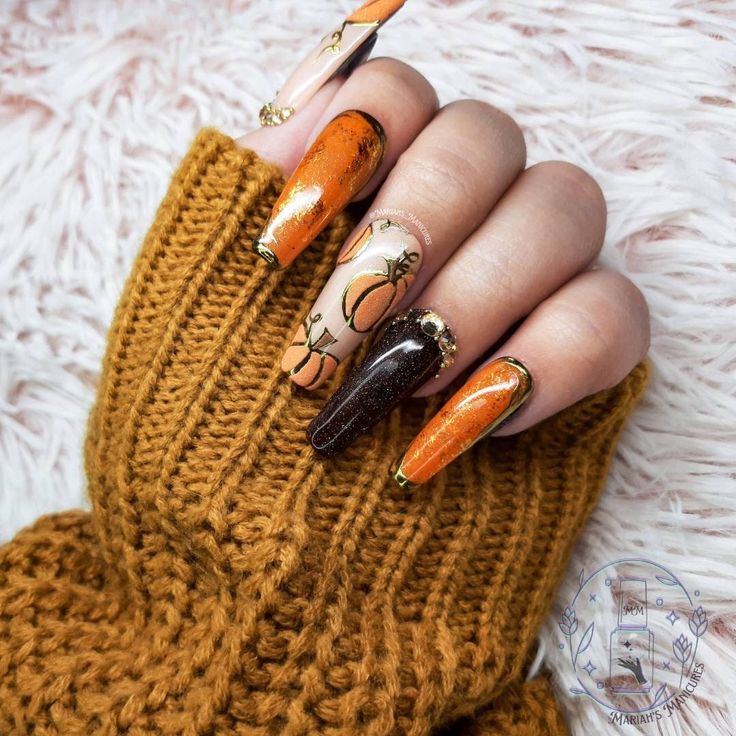 Glittering Acorns
Add a touch of woodland charm to your nails with rhinestone-accented acorn designs. Use brown rhinestones to create the acorn shape, and incorporate gold or bronze rhinestones for the caps. These nails will bring a warm and cozy feel to your manicure.
Crystalized Plaid
Elevate the classic plaid pattern by adding rhinestones to create a luxurious twist. Choose a base color in a fall shade like burgundy or forest green and apply rhinestones along the lines of the plaid pattern for a dazzling effect.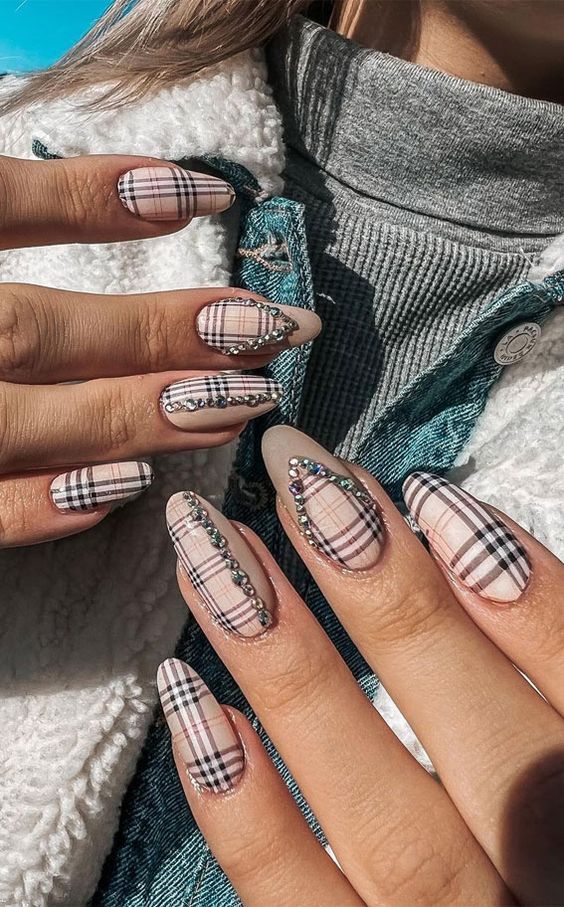 Rhinestone Raindrops
Capture the moodiness of fall showers with a raindrop-inspired rhinestone design. Apply small clear rhinestones along the nail bed, gradually increasing in size as they reach the tip. These nails will create a mesmerizing illusion of falling rain.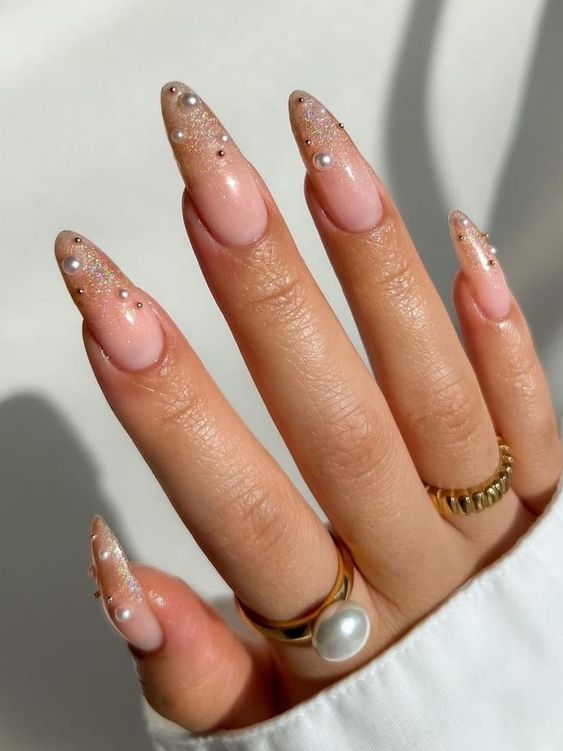 Opulent Ombre
Combine the elegance of ombre with the sparkle of rhinestones. Create a gradient effect using rhinestones in shades that transition from a lighter to a darker color. This glamorous look will add depth and dimension to your manicure.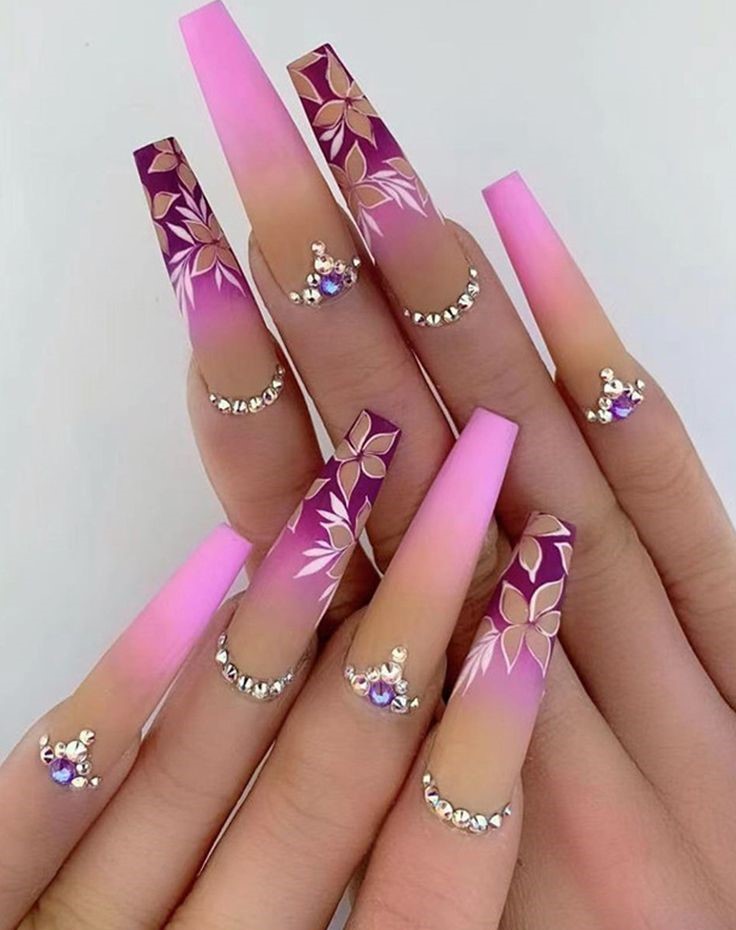 Crystalized Fall Foliage
Emulate the beauty of autumn foliage by using rhinestones in various shades of orange, red, and yellow. Arrange them in the shape of leaves on a dark base color to create a dazzling and intricate design.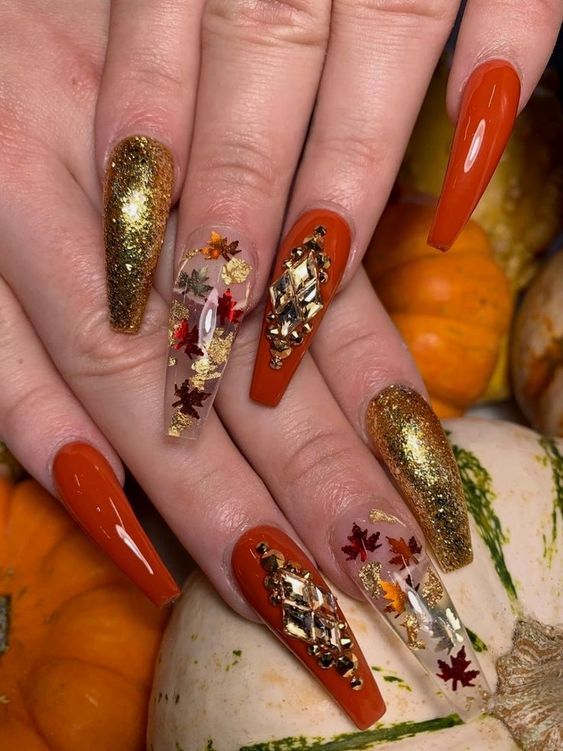 Glittering Sweater Knit
Inspired by cozy fall sweaters, create a rhinestone design that mimics the texture and patterns of cable knits. Choose a neutral base color and strategically place rhinestones to resemble the stitches and intricacies of knitted fabric.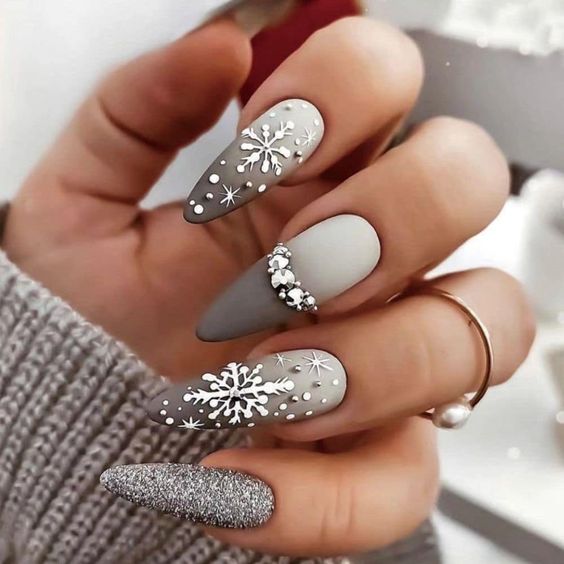 Dazzling Harvest Moon
Create a celestial-inspired design by incorporating rhinestones to represent a radiant harvest moon. Place larger rhinestones in the shape of a crescent moon and smaller rhinestones to represent the stars. These nails will add a touch of magic to your fall look.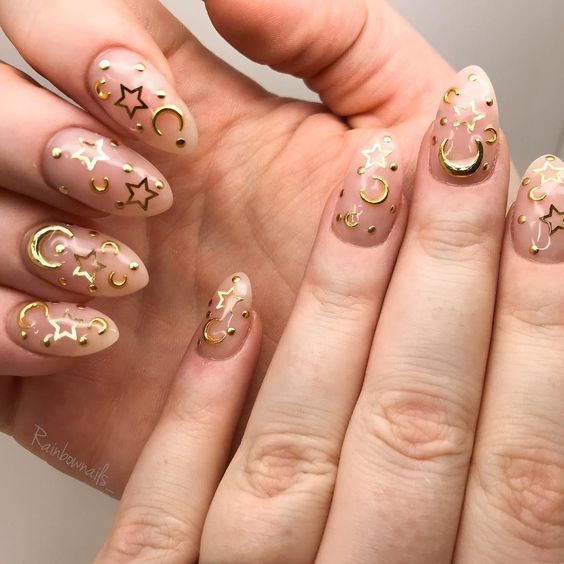 Gilded Plumes
Channel the elegance of peacock feathers with a gilded plume rhinestone design. Use a dark base color and arrange rhinestones in shades of blue, green, and gold to create the iridescent effect of peacock feathers.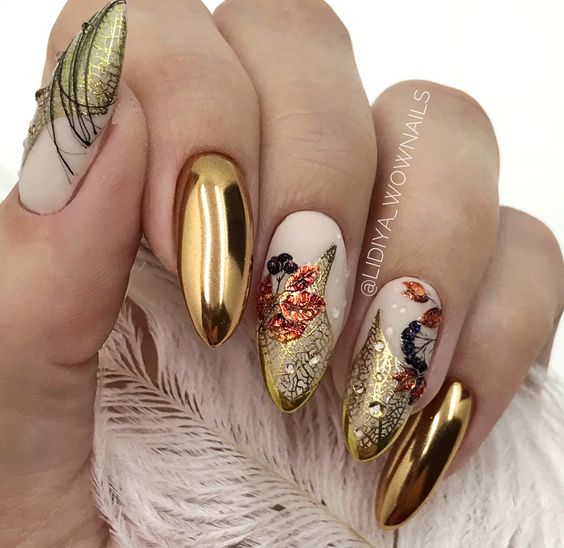 Sparkling Spiderwebs
Embrace the Halloween spirit with a rhinestone spiderweb design. Create a spiderweb pattern using black rhinestones on a clear or light-colored base for a subtle yet captivating look.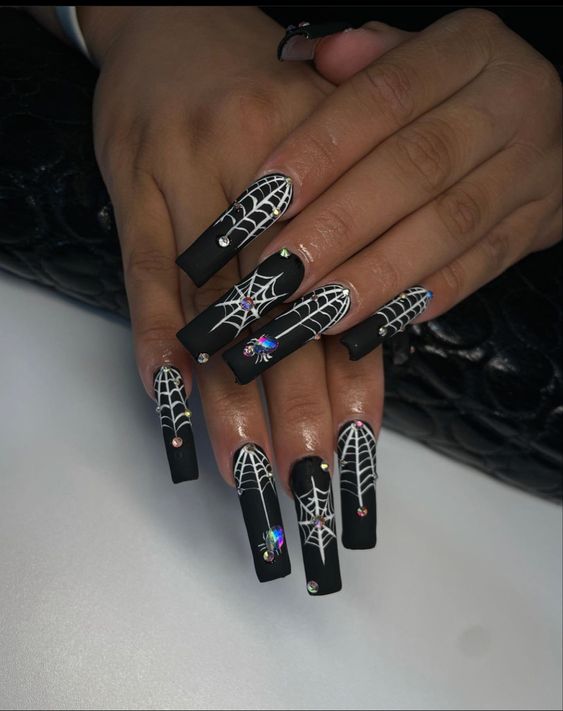 Glittering Fall Flowers
Celebrate the beauty of fall blooms with rhinestone-adorned floral designs. Use rhinestones in various colors like burgundy, orange, and deep purple to create intricate flower shapes on a contrasting base color.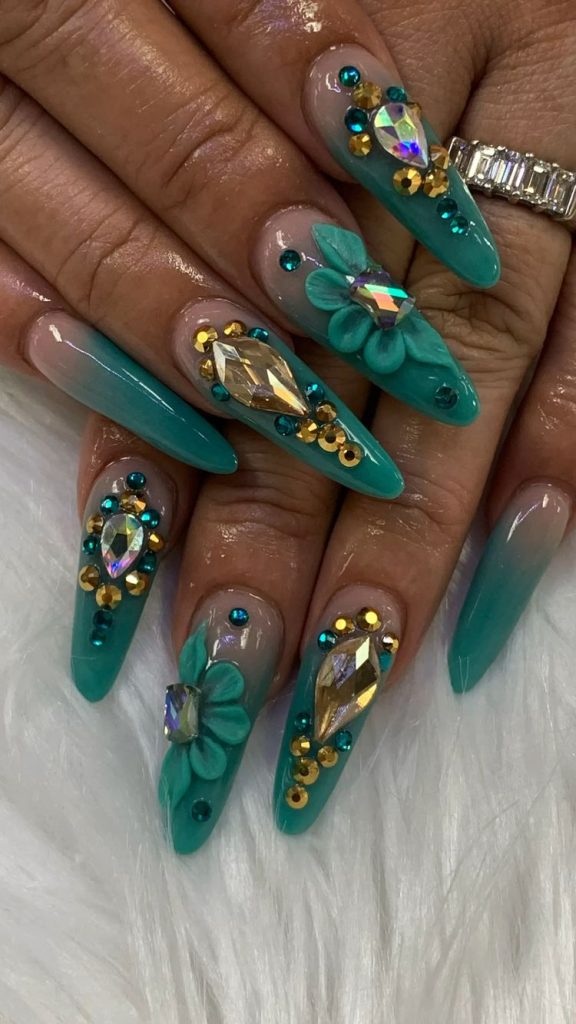 Shimmering Leaf Veins
Create a delicate and intricate design by placing rhinestones along the veins of painted leaf shapes. Choose autumnal shades like red, orange, or gold for the leaves to complement the sparkling effect.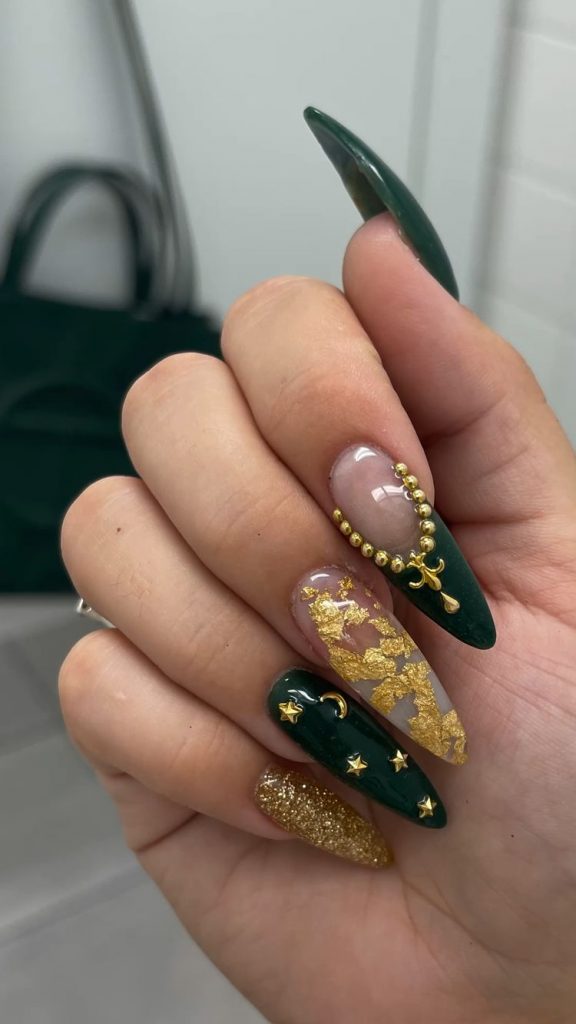 Crystalized Animal Prints
Add a touch of exotic elegance to your nails with rhinestone-accented animal prints. Use rhinestones to outline the patterns of leopard spots, zebra stripes, or snakeskin, and pair them with fall-inspired colors for a unique and glamorous look.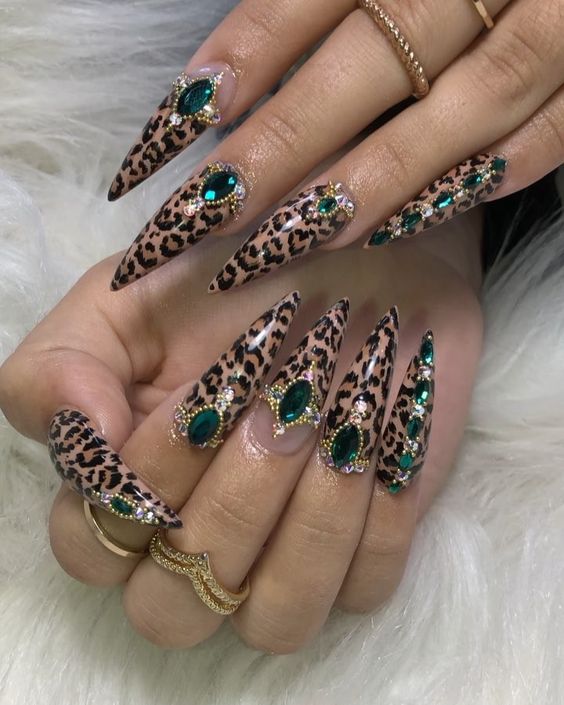 Rhinestone Paisley Patterns
Incorporate the intricate paisley motif into your fall nail design with rhinestones. Create paisley shapes using clear or colored rhinestones on a neutral or dark base color for a sophisticated and opulent look.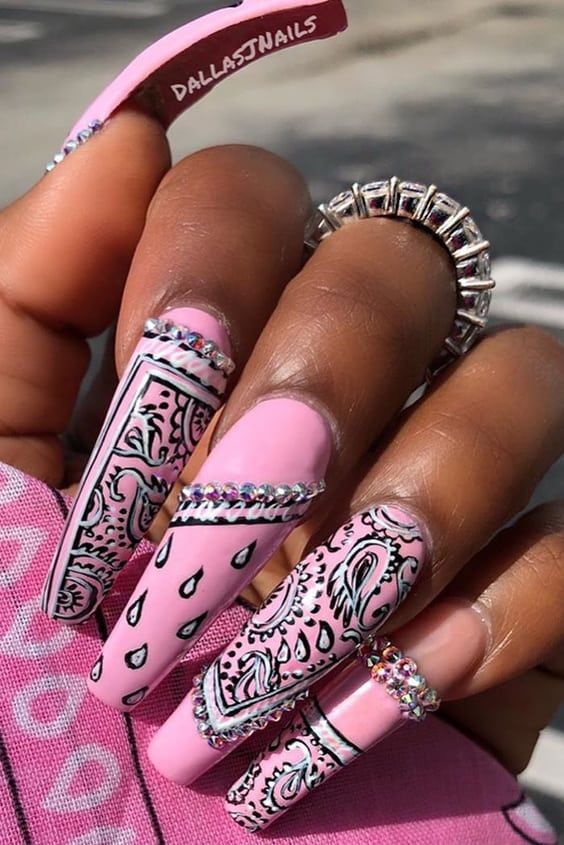 Geometric Rhinestone Elegance
Create a modern and edgy design by incorporating geometric shapes and rhinestones. Use rhinestones to outline or fill in geometric patterns like squares, triangles, or chevrons for a chic and glamorous effect.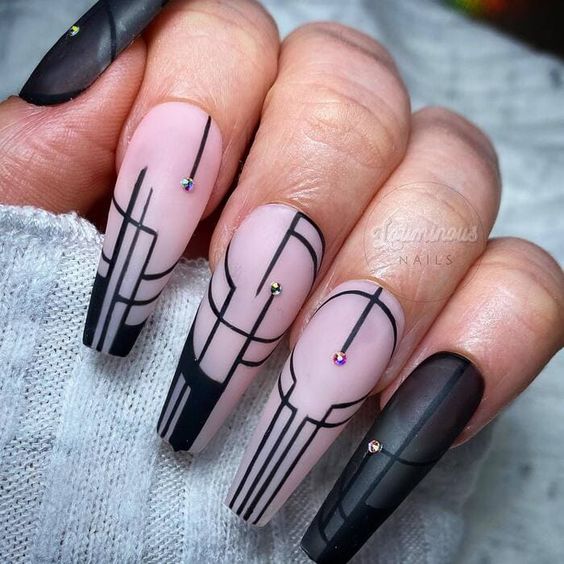 Save Pin