Nails
17 Gorgeous Fall Acrylic Nail Ideas for 2023
As the autumn season approaches, it's time to embrace the beauty of fall with stunning acrylic nails. From warm earthy tones to captivating designs inspired by nature, we've curated 17 original fall acrylic nail ideas that will make your hands the center of attention. Each idea is accompanied by a description to help you envision the final result. Get ready to showcase your style and creativity with these trendy nail designs for fall 2023.
Rustic Leafy Elegance
Capture the essence of fall with this elegant acrylic nail design featuring delicate leaf patterns in warm autumn hues. The intricate details and the play of colors on a neutral base will add a touch of sophistication to your look.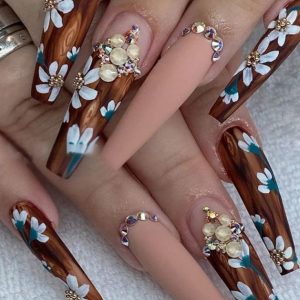 Moody Maroon Magic
Dare to go dark with this moody maroon manicure. The deep, rich shade of maroon evokes a sense of mystery, while the glossy finish adds a luxurious touch. This look is perfect for those who want to make a statement.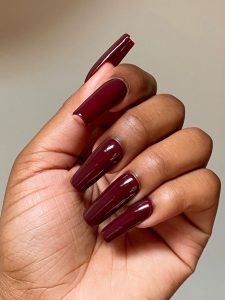 Golden Glamour
Add a touch of opulence to your nails with this golden glam design. The combination of a metallic gold base and sparkling accents creates a dazzling effect reminiscent of falling leaves bathed in sunlight.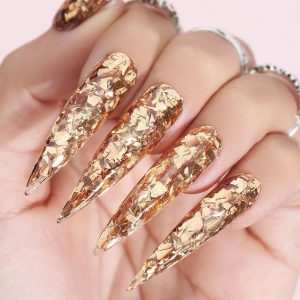 Pumpkin Spice Delight
Embrace the iconic flavors of fall with this pumpkin spice-inspired acrylic nail design. The warm orange hues combined with subtle hints of brown and gold evoke the cozy and comforting feeling of autumn.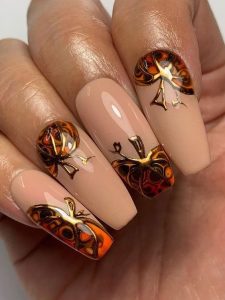 Earthy Terracotta Twist
Step into fall with a modern twist on a classic color. This earthy terracotta manicure brings warmth and a touch of bohemian charm to your fingertips. The matte finish adds an extra level of sophistication.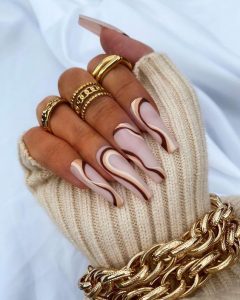 Moody Florals
Floral patterns are not just for spring! Embrace the dark side of blossoms with moody florals on your acrylic nails. Deep purples, burgundies, and navy blues create a captivating contrast against a black or dark base.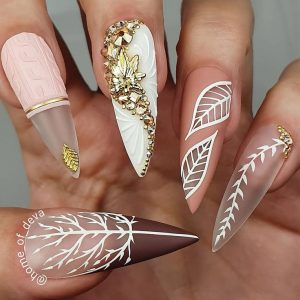 Cozy Sweater Weather
Nothing says fall like cozy sweaters, and now you can wear them on your nails too! This textured acrylic nail design mimics the warmth and comfort of your favorite knitwear, with intricate patterns and autumnal colors.
Falling Leaves
Celebrate the changing seasons with a mesmerizing falling leaves design. The combination of warm reds, oranges, and yellows on a neutral background captures the essence of autumn, bringing a touch of nature to your nails.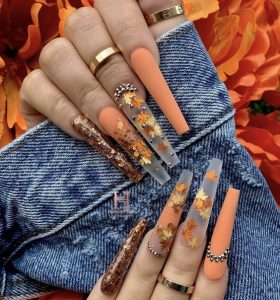 Abstract Geometric
For those looking for a modern and artistic twist, opt for abstract geometric designs. Play with different fall-inspired shapes, lines, and color combinations to create a unique and eye-catching look.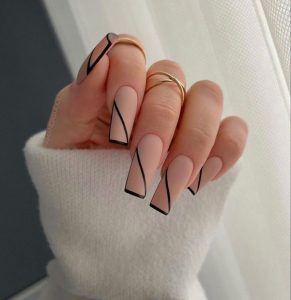 Harvest Moon Magic
Channel the mystical energy of the harvest moon with this celestial-inspired acrylic nail design. Deep blues and shimmering silver accents will transport you to a starlit night sky, adding a touch of magic to your manicure.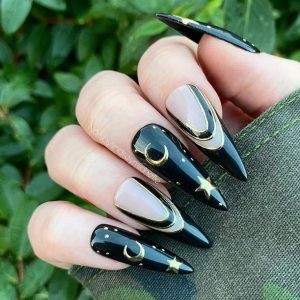 Metallic Fall Foliage
Create a metallic masterpiece on your nails with this fall foliage-inspired design. Combining shades of copper, bronze, and gold, this eye-catching look captures the beauty of leaves in their final moments before winter.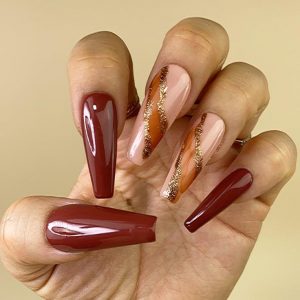 Sophisticated Plaid
Plaid patterns are a timeless symbol of fall fashion. Embrace this classic design on your acrylic nails with a sophisticated twist. Incorporate rich autumn colors like burgundy, mustard yellow, and deep green for a chic and polished look.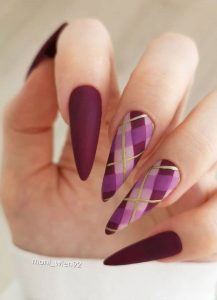 Harvest Hues Ombre
Transition from summer to fall with a stunning ombre effect on your nails. Blend warm sunset hues like burnt orange, deep red, and golden yellow for a gradient that reflects the changing colors of the season.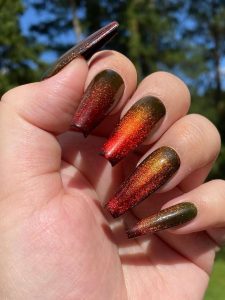 Fall Harvest Still Life
Bring a piece of art to your fingertips with a fall harvest still life design. Incorporate elements like pumpkins, apples, leaves, and cornucopias for a detailed and visually striking manicure that pays homage to the bounties of autumn.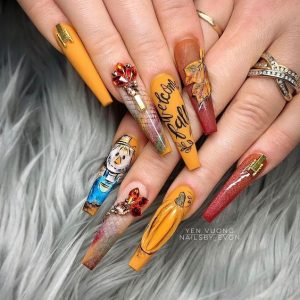 Edgy Matte Black
For those who prefer a bold and edgy look, opt for a sleek matte black manicure. The dark and mysterious vibes of black polish are perfect for fall, adding an element of drama and sophistication to your nails.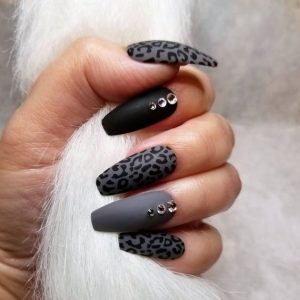 Whimsical Woodland Creatures
Let your imagination run wild with whimsical woodland creature designs on your acrylic nails. Think cute foxes, owls, hedgehogs, and mushrooms in fall colors, creating an enchanting and playful manicure.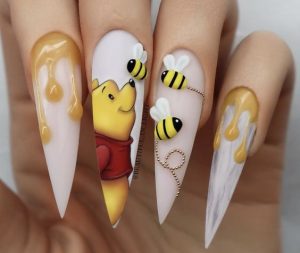 Halloween Haunt
Embrace the spooky season with a Halloween-themed acrylic nail design. Incorporate traditional symbols like bats, spiders, pumpkins, and cobwebs for a festive and fun manicure that captures the spirit of Halloween.