Nails
17 Trendy Short Acrylic Summer Nail Ideas for 2023
Summer is the perfect time to showcase your style and embrace vibrant and playful nail designs. Short acrylic nails provide versatility and practicality while still allowing you to experiment with various colors, patterns, and textures. In this article, we present 17 trendy short acrylic summer nail ideas for 2023 that will elevate your nail game and add a touch of glamour to your summer look.
1. Vibrant Neon Shades
Embrace the summer vibes with vibrant neon shades that scream fun in the sun. Opt for fluorescent pinks, electric yellows, and bold oranges to add a burst of energy to your nails. These eye-catching colors will make your short acrylic nails stand out and create a playful and youthful look.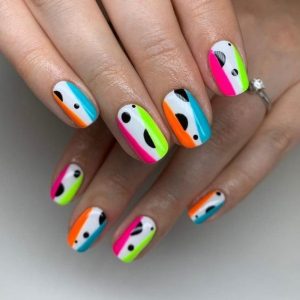 2. Pastel Perfection
If you prefer a more subtle and delicate look, pastel shades are the way to go. Soft lavender, baby blue, and mint green are popular choices for short acrylic summer nails. These soothing hues exude femininity and elegance, making them ideal for any occasion.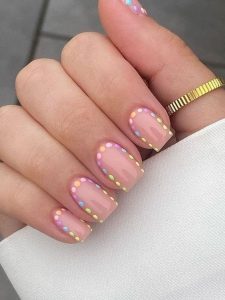 3. Playful Fruit-Inspired Designs
Inject some fruity freshness into your manicure by incorporating playful fruit-inspired designs. From watermelons and pineapples to lemons and strawberries, there are endless possibilities to showcase your love for summer fruits on your short acrylic nails. These designs will add a touch of whimsy and make your nails look irresistibly cute.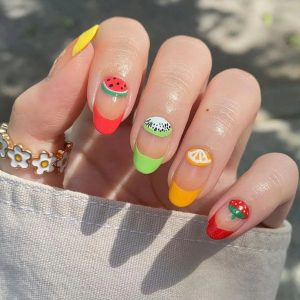 4. Chic Geometric Patterns
For those who prefer a more modern and edgy look, chic geometric patterns are a fantastic choice. Experiment with clean lines, triangles, squares, and negative space to create an abstract masterpiece on your short acrylic nails. Opt for vibrant colors or monochromatic schemes to suit your personal style.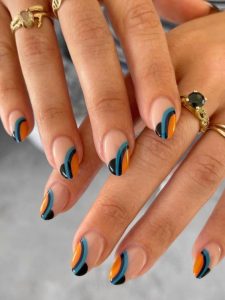 5. Tropical Paradise
Transport yourself to a tropical paradise with nail designs inspired by exotic destinations. Think palm trees, flamingos, hibiscus flowers, and vibrant sunsets. These designs will instantly make you feel like you're on vacation and bring a touch of paradise to your fingertips.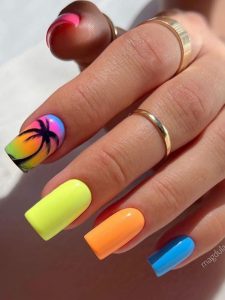 6. Nautical Vibes
Channel the spirit of the sea with nautical-inspired nail designs. Navy blues, crisp whites, and hints of red can create a classic nautical look. Incorporate anchor motifs, stripes, and sailor knots for a chic and timeless design that is perfect for summer.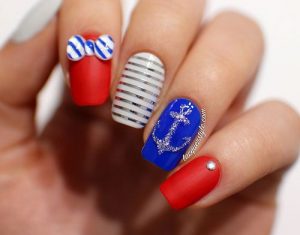 7. Floral Delights
Floral nail designs are a perennial favorite for summer, and short acrylic nails offer the perfect canvas to showcase these delicate blooms. Choose dainty flowers, tropical blooms, or bold sunflowers to add a touch of femininity and grace to your manicure. Floral designs are versatile and can be customized to match any color scheme or personal preference.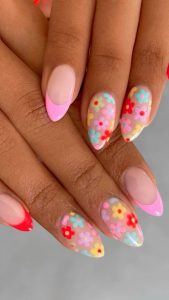 8. Glitter Glam
For those who love a touch of sparkle, glitter is your best friend. Add some glittery goodness to your short acrylic summer nails for a glamorous and attention-grabbing look. Whether you opt for an accent nail or an all-over glitter extravaganza, you're sure to turn heads with this dazzling choice.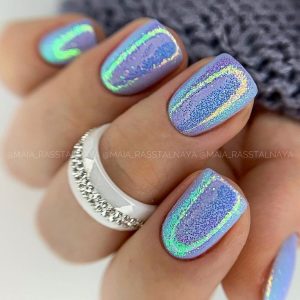 9. Color Block Coolness
Color blocking is a trendy technique that involves using contrasting colors in bold blocks to create a striking visual effect. Apply different shades to individual nails or create geometric patterns with vibrant colors. Color block designs are modern, fresh, and perfect for those who want to make a bold statement with their short acrylic summer nails.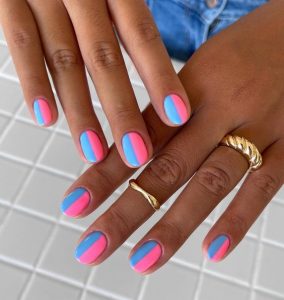 10. Ombre Beauty
Ombre nails continue to be a popular choice, and they are particularly suited for short acrylic summer nails. Blend two or more colors seamlessly from light to dark or vice versa for a gradient effect. Choose colors that complement each other and create a harmonious transition for an effortlessly chic and stylish look.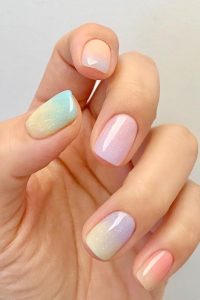 11. Metallic Marvels
Add a touch of luxury and sophistication to your short acrylic summer nails with metallic shades. Metallic silvers, golds, and rose golds can elevate any design and give it a glamorous twist. Whether you opt for a full metallic look or incorporate it as an accent, your nails will shine bright and make a statement.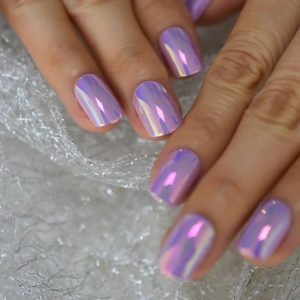 12. Minimalist Elegance
Sometimes less is more, and minimalist nail designs can be just as striking as intricate ones. Opt for clean lines, negative space, and understated elegance. Choose a neutral color palette or stick to monochromatic shades to achieve a minimalist look that is effortlessly chic and sophisticated.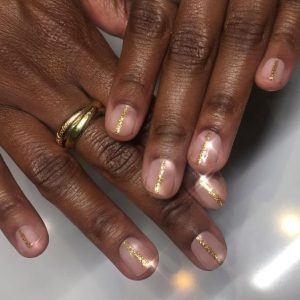 13. Abstract Art
Let your creativity flow with abstract nail designs that are unique and expressive. Experiment with bold brushstrokes, asymmetrical shapes, and unexpected color combinations. Abstract designs allow you to showcase your individuality and create a one-of-a-kind manicure that is sure to grab attention.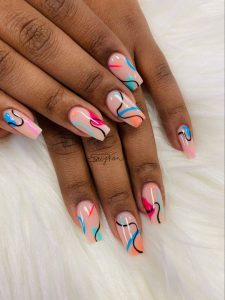 14. French Twist
Put a summer twist on the classic French manicure with colorful tips and unexpected variations. Opt for vibrant shades like coral, turquoise, or even neon colors for the tips. You can also experiment with different nail shapes and lengths to add a modern twist to this timeless look.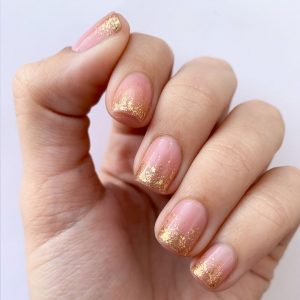 15. Marble Magic
Marble nails are an elegant and sophisticated choice that adds a touch of luxury to your short acrylic summer nails. Use soft, swirling patterns in neutral shades to achieve a marble effect. This design is versatile and works well with any outfit or occasion, making it a timeless option.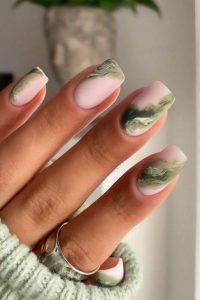 16. Rainbow Delight
Embrace the colors of the rainbow and create a cheerful and vibrant look with a rainbow-inspired design. Apply different shades of the rainbow to each nail or create a gradient effect from one nail to another. This playful and joyful design is perfect for embracing the summer spirit.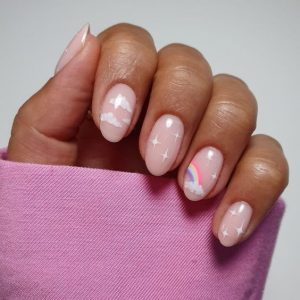 17. Bold Animal Prints
Animal prints never go out of style, and they can be a bold and fierce choice for short acrylic summer nails. Opt for leopard spots, zebra stripes, or even snake skin patterns to add a touch of wildness to your manicure. Animal prints are versatile and can be customized to suit your personal style and preferences.