Nails
Nail Extensions Designs 2024: A Blend of Aesthetic Charm and Trendy Flair
The world of nail art is ever-evolving, with innovative designs that not only reflect personal style but also embody the aesthetic and fashion trends of the time. As we look ahead to 2024, nail extensions have taken a step further in creativity and elegance. Let's dive into some of the latest nail extensions designs that are expected to be big in 2024, each one a unique expression of artistry and fashion.
Cute and Animated: Embracing Pop Culture on Your Fingertips
In 2024, the line between fashion and pop culture continues to blur, with nail art embracing the playful and cute side of design. The image showcases a whimsical collection of nail extensions that seem to draw inspiration from animated characters, each nail telling a different story. The thumb sports a cherry design dripping with a pop-art feel, while the index finger features a flamingo, artfully blending shades of pink and green with a pop of black. The middle finger flaunts a bumblebee motif, a nod to the cute and vibrant side of nature, followed by a design on the ring finger that suggests a cartoonish interpretation of an apple with a hidden worm. The aesthetic journey ends with a fiery design on the little finger, infusing a sense of movement and energy into the collection.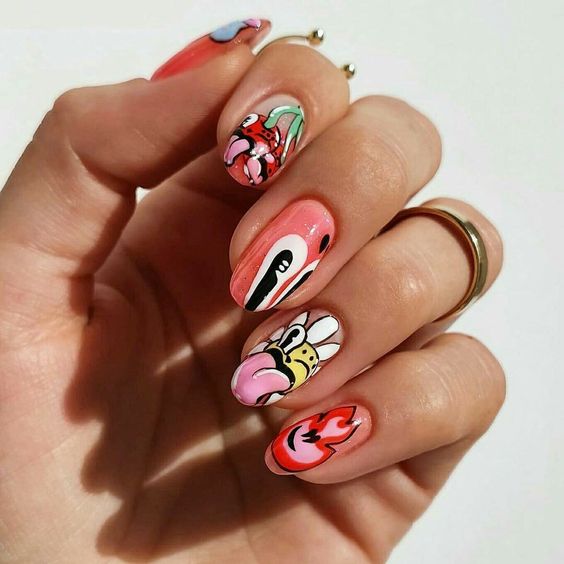 Sophistication in Monochrome: Timeless Black and White Elegance
File: 2.jpg Classy and timeless, black and white designs remain a staple in the fashion industry, and nail art is no exception. This design offers a modern twist on the French manicure, with white extensions providing a canvas for artistic expressions in black. Gold accents and lines give these nails a luxurious touch, making them perfect for wedding bridal attire or a sophisticated evening out. Each nail features a different pattern, ranging from geometric precision to abstract artistry, proving that simple designs can make a bold statement.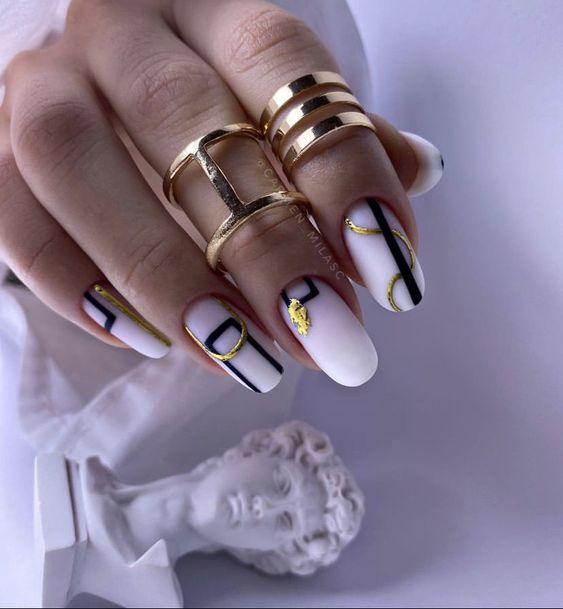 Wild and Bold: A Safari of Textures and Patterns
Get ready to unleash your wild side with these nail extensions that scream boldness and freedom. Vibrant patterns of animal prints, from tiger stripes to leopard spots, are rendered in various colors against a glossy backdrop. Each nail is a standalone masterpiece, yet together they create a cohesive story of confidence and style. Such a design would make for an excellent conversation starter at any event, reflecting a trendy and aesthetic choice for those who dare to stand out.
The Calming Allure of Pastel Patterns
Soft hues and gentle patterns come together to form a nail extensions designs 2024 collection that exudes tranquility and grace. Here, we see a harmonious blend of pastel blues, lavenders, and a touch of nude color that bring a breath of fresh air to the nail art scene. Each nail showcases a unique pattern, from delicate herringbones to serene waves, all wrapped in a matte finish that speaks volumes of sophistication. This set of nail extensions could be the perfect accessory for a bridal gown or a casual brunch with friends.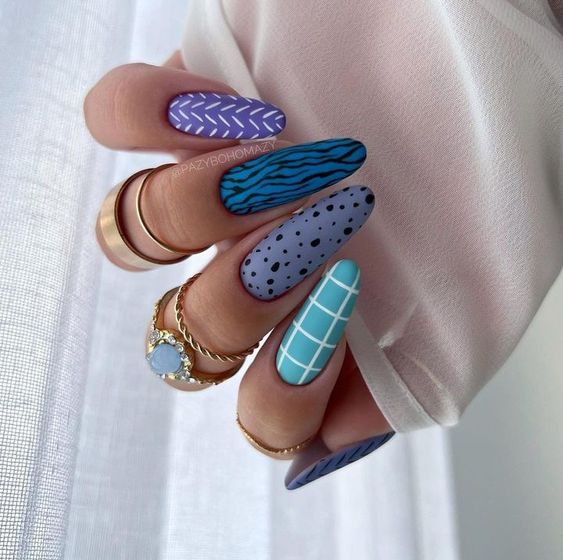 The Modern Twist on French Manicure
Gone are the days of the traditional white-tip French manicure. Enter 2024, and we see a sophisticated twist with this nude color square and pastel pink design. The French aesthetic takes a daring leap with elongated square nails, tipped with a delicate pastel pink and hugged by a bold golden band that screams classy and trendy. For the bride looking for a design for wedding that marries traditional elegance with modern flair, this design whispers vows of style and uniqueness.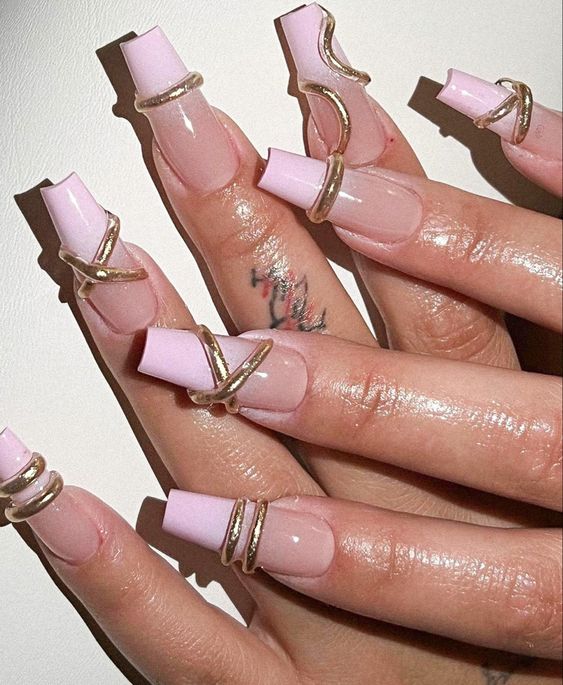 The Elegant Affair
For the minimalist at heart, these almond-shaped nails present a canvas of nude color blending seamlessly into a dark colour tip, reminiscent of the timeless smokey eye effect, but for your nails. The glossy gel finish and the singular silver band add a touch of luxury without overdoing it, perfect for a simple yet sophisticated wedding or an upscale event. These extensions cater to the woman seeking designs simple in nature but profound in impact.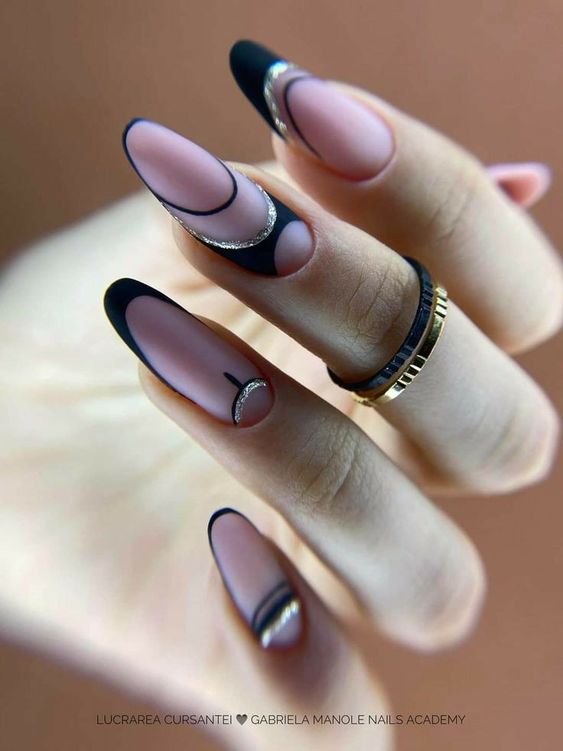 Vibrant Patterns for Every Season
Summer arrives early with these lively designs summer, boasting stiletto nails that serve as a bold statement of personality and preference. Adorned with geometric patterns in hues of pink, white, and blue, they encapsulate an aesthetic vibe that's both cute and trendy. These designs, while ideal for a sunny beach wedding, could also add a pop of color to a monochromatic outfit, perfectly suiting those who carry a piece of summer with them all year round.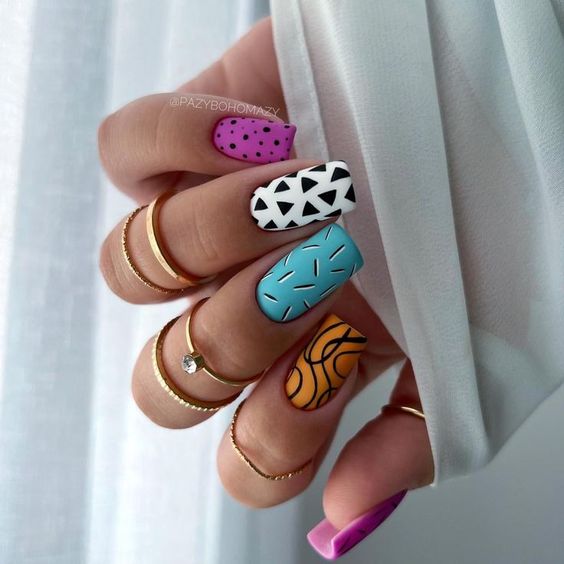 The Subtle Charm of Autumn
Reflecting the earthy tones of autumn, these coffin-shaped nail extensions designs 2024 offer a palette of warm browns, accented with hints of white design and golden strokes, exuding a natural yet classy feel. Ideal for the woman who favors nude color but isn't afraid to dip her fingers into the bold realm of designs with stones, these nails provide an understated elegance perfect for a variety of occasions, from a professional meeting to a sophisticated evening event.
Green Geometric Elegance
Starting with a design that captures the essence of trendy and aesthetic preferences, this nail extension features a vibrant green matte finish on most nails, while others display a white base with pastel green abstract shapes. These gel extensions represent a blend of boldness and playfulness, perfect for those seeking a cute yet sophisticated look. The geometric patterns paired with solid colors make for a versatile style, fit for a casual outing or a classy event.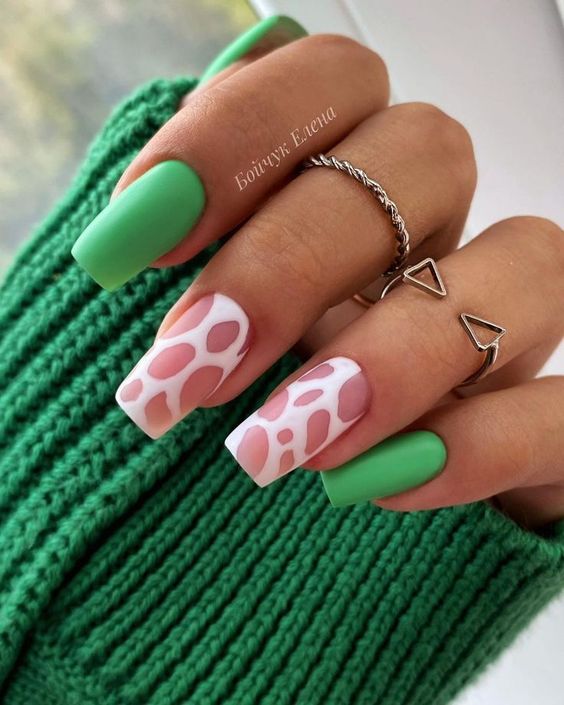 Nude with a Twist
For those who adore a nude color but want to keep it far from plain, this design elevates the classic nude color square nail. With a soft gel base, the nails exhibit an exquisite transition from a nude base to transparent tips. A touch of gold foil adds a luxurious element, making it an excellent design for wedding events or for anyone looking to add a dash of opulence to their everyday style. This simple yet intricate design could also be ideal for a bridal look, offering a subtle yet striking enhancement to the wedding day ensemble.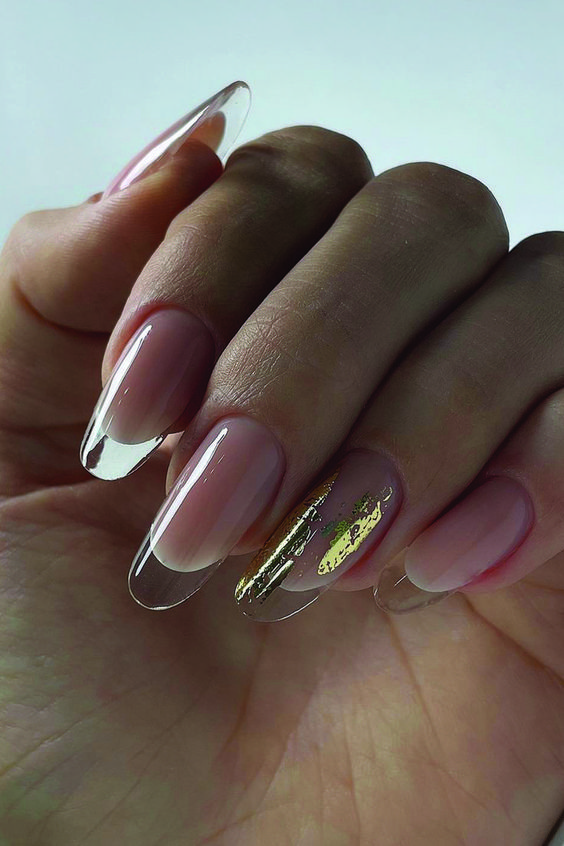 Wild and Free
Unleash your wild side with these fun and bold nail extensions featuring animal prints. A soft pink base sets a gentle tone while hand-painted tigers and cheetahs add a wild touch, making it an excellent conversation starter. This design is a true testament to the artistry possible with acrylic nails, offering a look that's both cute and fierce. These extensions could be perfect for someone looking to showcase their love for nature and animals in a creative and aesthetic way.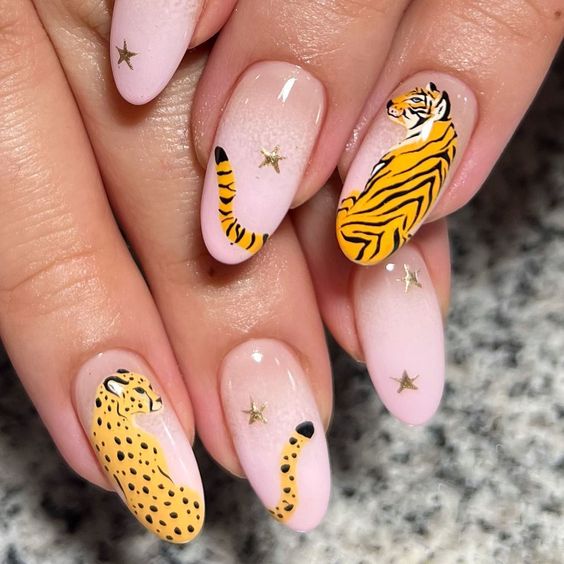 Abstract Artistry
Abstract art takes a turn on nail extensions with this stunning design. Black lines create abstract floral patterns filled with shimmering gold accents on a translucent nude background. This sophisticated style would be right at home in a gallery but is instead gracing the hands of those with a love for contemporary art. It's a classy choice for anyone looking to wear a piece of art on their fingertips.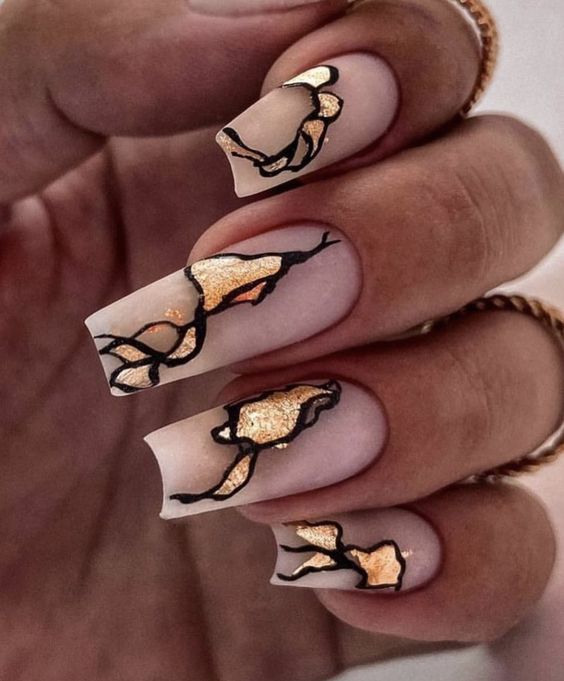 Abstract Red and Nude Whimsy
This design effortlessly blends the nude color with bold strokes of red. The nail extensions play with negative space, creating a simple yet captivating effect. The abstract pattern is not just trendy but carries a classy aesthetic that makes it perfect for a wedding bridal look or a sophisticated evening event.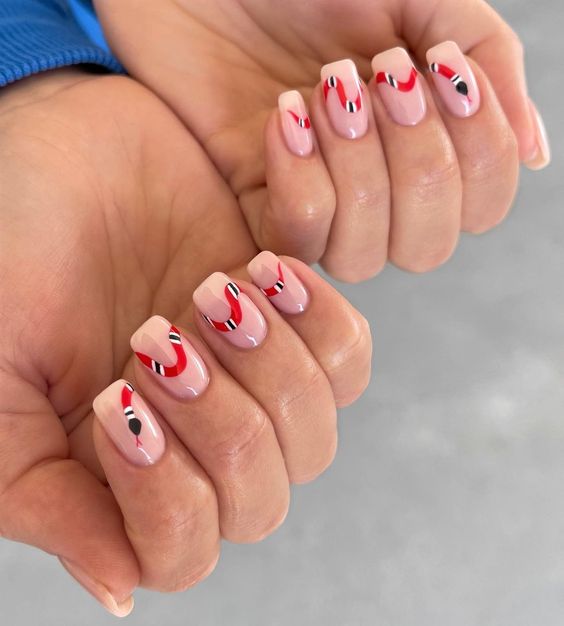 Psychedelic Swirls
Diving into the more playful side of 2024's trends, these nail extensions feature a riot of colors, swirling in a psychedelic pattern. The gel nails are a canvas for the latest in creative expression, complete with dots and waves in pink, orange, and white. Adding some cute with stones embellishments could easily transition them for a wedding or fun summer party.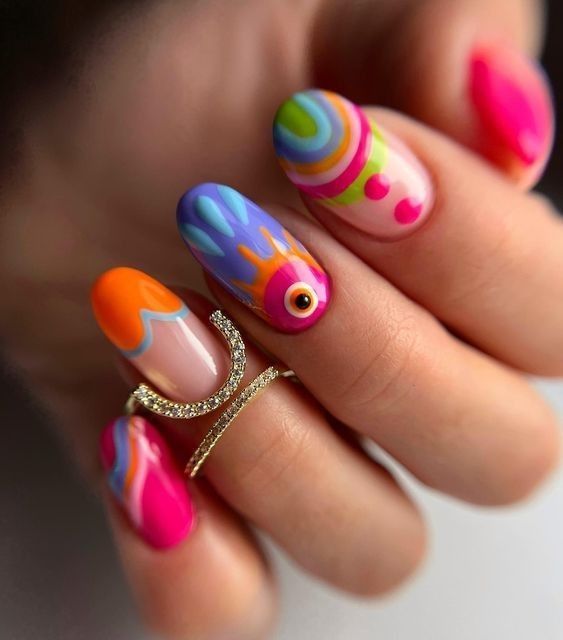 Serene Green and Femme Fatale
Embodying the dark colour trend with a touch of serenity, these nail extensions showcase a deep green paired with an artistic rendition of a femme fatale. The design is aesthetic and speaks volumes of the nail extensions designs 2024 focus on storytelling. It's a bold choice that's both acrylic and gel compatible, highlighting nude color square shapes and intricate portraiture.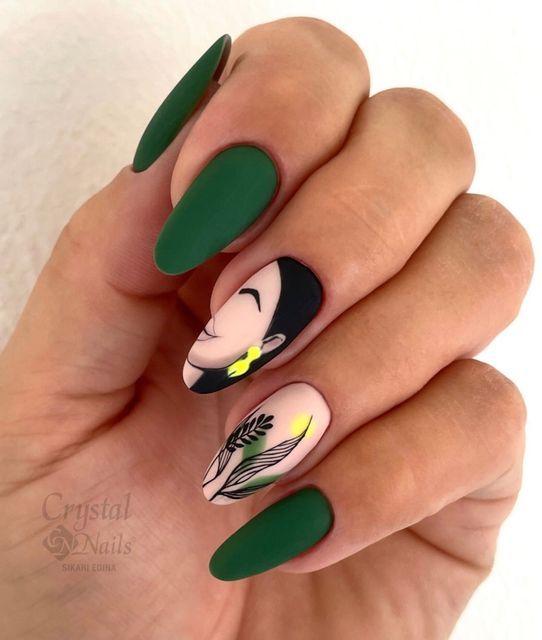 Classic Red with a Modern Twist
Nothing beats the timeless beauty of French nails, but 2024 gives it a twist. The white color base tipped with gleaming red is not only classy but also trendy. It's a design that proves simple can still stand out, making it a perfect choice for both short and long nail extensions and is suitable for a wedding bridal ensemble or even daily wear.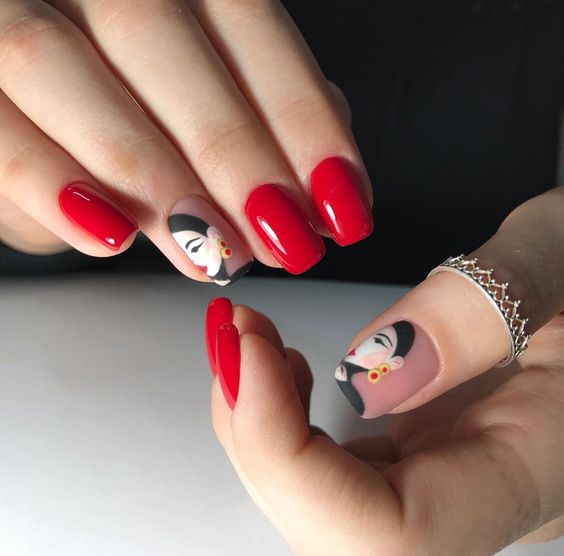 Artistic Expression
Next in our gallery of 2024's nail designs is a vibrant celebration of color and artistry. This aesthetic masterpiece boasts an almond shape that's become a beloved choice for its feminine and elongated appearance. The base of dark colour teal sets a trendy stage for the whimsical florals and eye motifs that adorn these gel extensions. Not just cute, but true pieces of art, these nails could be the conversation starter at any summer event or a bold accessory to a monochromatic outfit. The intricate details and color play are an ode to personal flair, making it an ideal selection for those who lean towards designs aesthetic.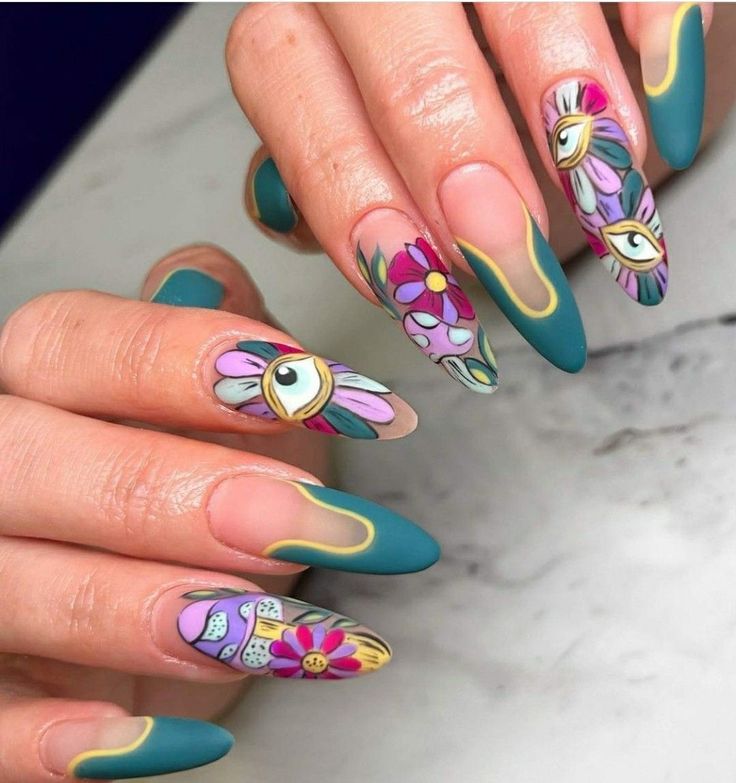 Save Pin