Nails
Summer Acrylic Nails Orange: 17 Ideas
Are you ready to embrace the vibrant colors of summer? Look no further than orange acrylic nails! Orange is a stunning and lively color that perfectly captures the essence of this sunny season. In this article, we'll explore 17 amazing ideas for summer acrylic nails in orange, each accompanied by a detailed description to inspire your next nail art adventure. Get ready to turn heads with these eye-catching designs!
Idea 1: Citrus Burst
Kick-start your summer with a burst of citrus-inspired nails. Picture a vibrant orange base adorned with cute lemon and lime accents. The combination of bright colors will add a refreshing and zesty touch to your look. It's like carrying a slice of summer wherever you go.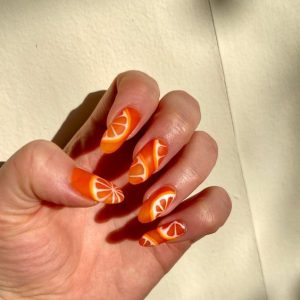 Idea 2: Sunset Gradient
Capture the breathtaking beauty of a summer sunset on your nails. Create a gradient effect using various shades of orange, transitioning from a warm golden hue to a fiery tangerine. Add a touch of gold glitter to represent the shimmering sun sinking below the horizon.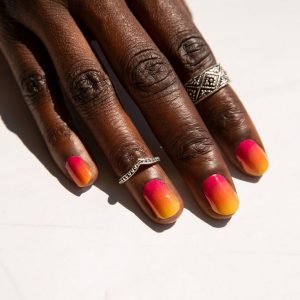 Idea 3: Tropical Paradise
Transport yourself to a tropical paradise with these exotic orange acrylic nails. Paint a lush palm tree on one accent nail and complement it with vibrant floral patterns on the others. The combination of orange and green will evoke feelings of relaxation and tranquility.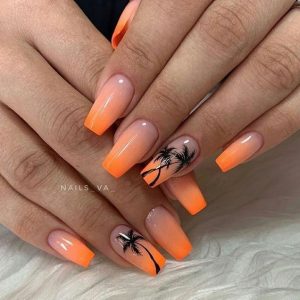 Idea 4: Fruity Delight
Embrace the fruity vibes of summer with this delightful nail art idea. Paint yournails in a juicy orange shade and adorn them with adorable fruit accents like watermelons, pineapples, and oranges. This playful design will instantly put a smile on your face and brighten up any summer day.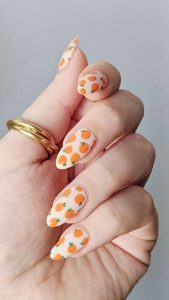 Idea 5: Neon Orange Pop
Make a bold statement with neon orange acrylic nails. This vibrant and attention-grabbing color will ensure your nails stand out from the crowd. Add some geometric patterns or abstract designs in contrasting colors to create a modern and edgy look.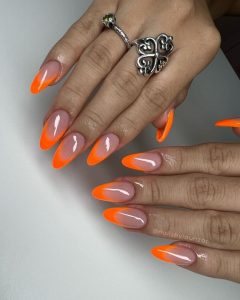 Idea 6: Nautical Chic
Channel the breezy and sophisticated vibe of nautical fashion with these stylish orange acrylic nails. Paint your nails in a crisp white shade and add pops of orange through stripes, anchors, or cute sailor motifs. This classic combination will give your nails a chic and timeless appeal.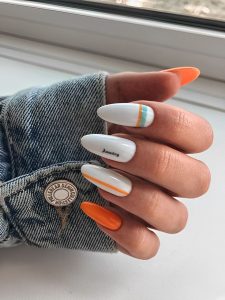 Idea 7: Tropical Sunset Palm
Capture the essence of a tropical sunset with a palm tree silhouette against a stunning orange background. This minimalist yet striking design will transport you to a beachside paradise every time you look at your nails. Perfect for those longing for a getaway.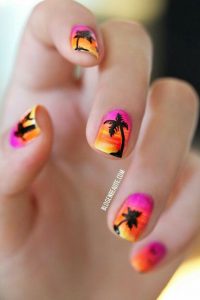 Idea 8: Floral Fiesta
Celebrate the beauty of summer blooms with floral-themed orange acrylic nails. Paint delicate flowers, such as hibiscus or daisies, on a vibrant orange base. The intricate details and vibrant colors will add a touch of femininity and elegance to your overall look.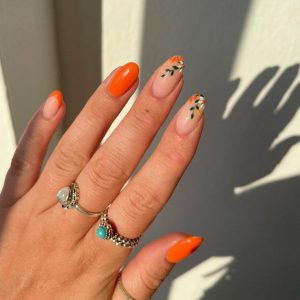 Idea 9: Juicy Ombré
Create a mouthwatering ombré effect with shades of orange ranging from light peach to deep coral. This gradient design mimics the transition of colors in a ripe and juicy fruit. Add a glossy top coat to enhance the lusciousness of the look.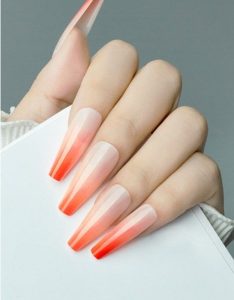 Idea 10: Glitter Glam
Add some sparkle to your summer with glittery orange acrylic nails. Apply a dazzling orange glitter polish or create an accent nail with glittery designs. The shimmering effect will catch the sunlight and make your nails twinkle like precious gemstones.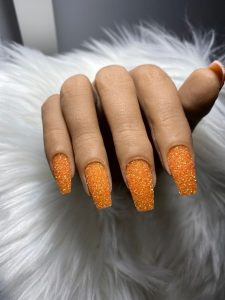 Idea 11: Tropical Getaway
Escape to a tropical paradise without leaving your fingertips. Paint your nails in a vibrant orange shade and accentuate them with tropical elements like palm leaves, coconuts, and exotic birds. This design will make you feel like you're on a permanent vacation.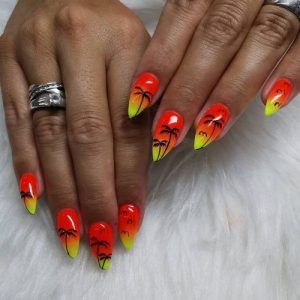 Idea 12: Bold and Geometric
Make a statement with bold geometric designs on your orange acrylic nails. Experiment with triangles, chevron patterns, or intricate shapes in contrasting colors. This edgy and modern look is perfect for those who like to push the boundaries of nail art.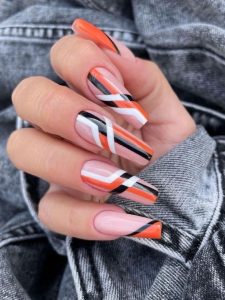 Idea 13: Orange Blossoms
Embrace the beauty of nature with delicate orange blossoms on your nails. Paint intricate floral patterns using shades of orange and white. This design exudes elegance and femininity, making it an ideal choice for special occasions or romantic summer evenings.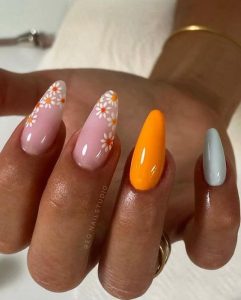 Idea 14: Citrus French Tips
Put a refreshing twist on the classic French manicure with citrus-inspired tips. Paint your nails in a soft peach shade and add a pop of orange on the tips. Complete the look with cute lemon or orange slices near the cuticles for a playful and summery vibe.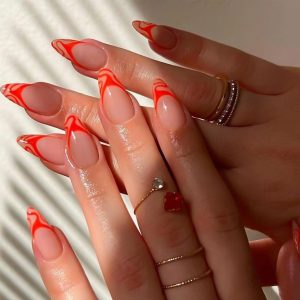 Idea 15: Tribal Vibes
Infuse your nails with tribal-inspired patterns and vibrant orange hues. Experiment with geometric shapes, tribal prints, or Aztec motifs in bold orange shades. This design will add an element of cultural richness and uniqueness to your summer look.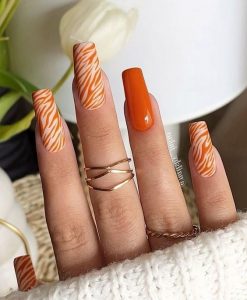 Idea 16: Tropical Fruit Basket
Create a tropical fruit basket on your nails by painting various fruits in shades of orange. Think of oranges, mangoes, papayas, and peaches. This fun and fruity design will remind you of sunny picnics and tropical flavors.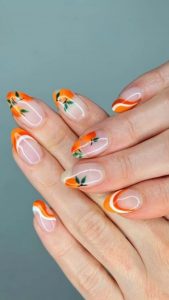 Idea 17: Mermaid Scales
Embrace your inner mermaid with shimmering orange mermaid-scale nails. Apply a base coat in a bright orange shade and add scales using iridescent or metallic nail foils. This enchanting design will make you feel like you're swimming in the depths of the ocean.