Nails
Summer Acrylic Nails 2023: Short 17 Ideas
Summertime is here, and it's the perfect season to embrace vibrant and playful nail designs. If you're looking for trendy and eye-catching nail art ideas, then look no further! In this article, we will explore 17 short summer acrylic nail designs that will elevate your style and make you stand out in the crowd. From bold and bright colors to tropical vibes and minimalistic designs, we have curated a list of inspiring options that you can try this summer. So, let's dive into the world of summer acrylic nails and get ready to showcase your creativity!
Popsicle Party
Celebrate the joy of summer with nails inspired by colorful popsicles. Paint each nail in a different pastel shade, resembling different flavors. Add small details like drips or sprinkles for a fun and whimsical look.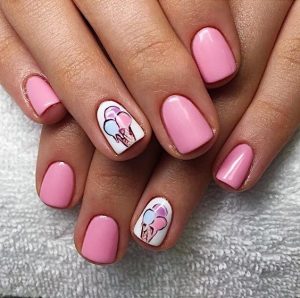 Sunflower Blooms
Embrace the sunny vibes of summer with sunflower-inspired nails. Paint your nails in a sunny yellow shade and add intricate sunflower designs. These nails will bring warmth and happiness to your overall look.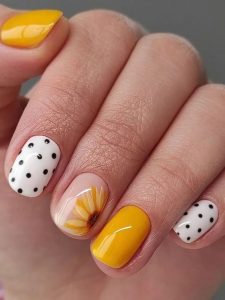 Ocean Waves
Capture the serenity of the ocean on your short acrylic nails. Use shades of blue and white to create a wave-like effect. Add seashells or tiny starfish accents for a beachy touch. These nails will make you feel calm and relaxed wherever you go.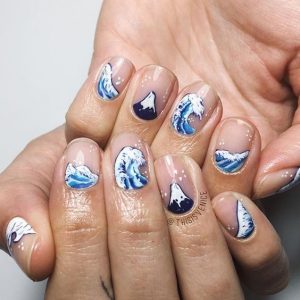 Butterfly Garden
Embrace the beauty of butterflies with delicate and colorful nail art. Paint your nails in soft pastel shades and add butterfly designs using different colors. These nails will bring a sense of enchantment and grace to your summer style.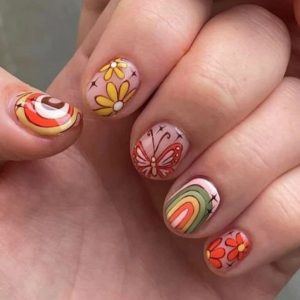 Tropical Fruit Slices
Bring the exotic flavors of tropical fruits to your nails. Paint each nail in vibrant shades representing fruits like watermelon, kiwi, or mango. Add slices or patterns of these fruits for a juicy and refreshing look.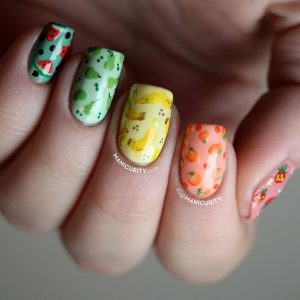 Floral French Tips
Give a twist to the classic French manicure by adding floral patterns to the tips of your nails. Choose delicate flowers like cherry blossoms or daisies and paint them on the tips. These nails are the perfect combination of elegance and summer vibes.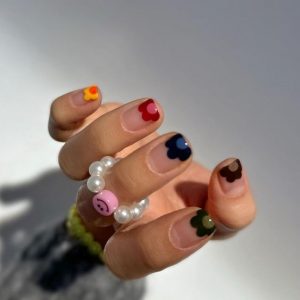 Tie-Dye Delight
Embrace the retro tie-dye trend with short acrylic nails. Use a variety of bright colors and create swirls and patterns reminiscent of tie-dye clothing. These nails will bring a groovy and nostalgic feel to your summer style.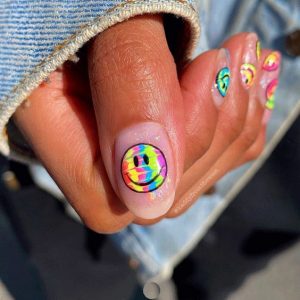 Glitter Glam
Add a touch of sparkle to your summer nails with glitter accents. Choose a base color and apply a layer of glitter on top for a dazzling effect. These nails will make you shine and stand out in any summer event or party.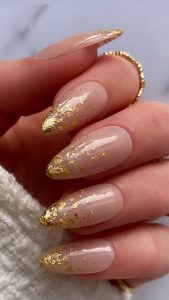 Tropical Paradise
Embrace the vibrant colors of summer with short acrylic nails in shades of turquoise, coral, and yellow. Add palm tree and hibiscus flower designs for a tropical twist. These nails will transport you to a sunny beach paradise.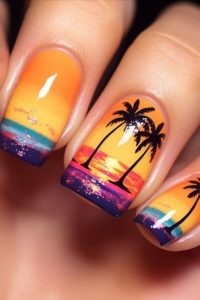 Fruit Fiesta
Celebrate the season with fruity nail art. Choose a different fruit for each nail, such as watermelon, pineapple, or strawberries. The bright colors and playful designs will add a refreshing touch to your summer look.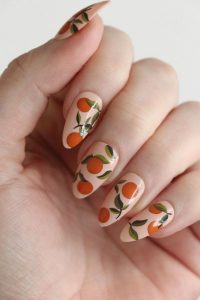 Beach Vibes
Capture the essence of a sandy beach with a mix of neutral and blue shades. Add seashell and starfish accents to bring a touch of the ocean to your nails. These nails will complement any beachy outfit.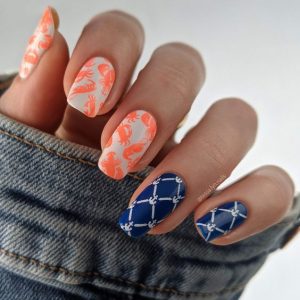 Sunset Ombre
Create a sunset-inspired ombre effect on your short acrylic nails. Blend warm shades of orange, pink, and purple for a breathtaking gradient. It's like having a sunset on your fingertips wherever you go.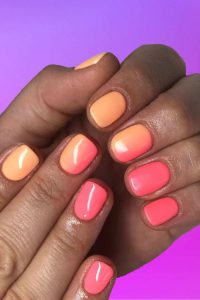 Pastel Dreams
Opt for soft pastel hues like mint green, lavender, and baby pink. These delicate colors are perfect for a dreamy summer look. Add some glitter or floral accents for an extra touch of sweetness.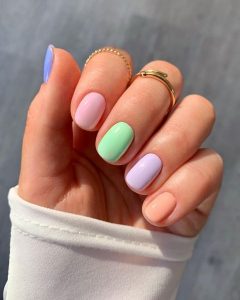 Nautical Chic
Sail away with nautical-themed nails. Paint alternating nails in navy blue and white, and add cute anchor or sailboat designs. These nails will give your summer outfits a touch of maritime charm.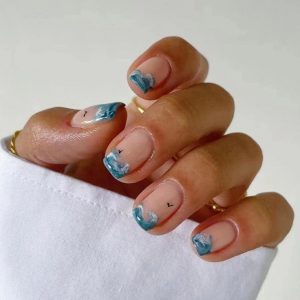 Neon Pop
Stand out from the crowd with neon colors. Go for bold shades like electric blue, fluorescent pink, or lime green. These vibrant nails will make a statement wherever you go, perfect for those who love to embrace the summer energy.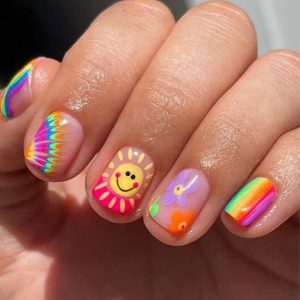 Ice Cream Delight
Channel your inner sweet tooth with ice cream-inspired nails. Paint each nail a different pastel color, reminiscent of different flavors. Add cute ice cream cone designs or sprinkle patterns for a fun and delicious look.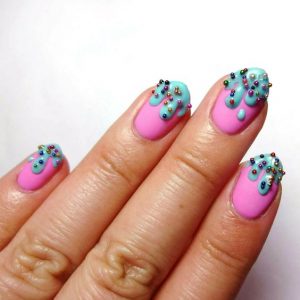 Floral Garden
Bring the beauty of a summer garden to your nails with intricate floral designs. Choose a mix of bright and pastel colors, and let your nails bloom with daisies, roses, or sunflowers. These nails will add a touch of elegance to any summer outfit.