Fashion
Maxi Dress Magic: Embracing the 2024 Trends for Timeless Elegance and Bold Statements
The allure of the maxi dress never fades, and as we step into 2024, the timeless piece continues to reinvent itself, offering new silhouettes, textures, and colors that cater to the modern woman. From casual gatherings to upscale events, the maxi dress outfit remains a versatile and stylish choice.
Floral Elegance in Motion
The Floral Elegance in Motion dress is a stunning ode to the spring gardens that inspire it. This dress features a deep V-neckline, which gracefully transitions into a fitted bodice and flows into a sheer, floor-length skirt adorned with vibrant pink floral appliqués. The bold pattern breathes life into the floral maxi dress trend of 2024, creating a statement piece that marries boldness with femininity. The long, billowing sleeves add a touch of drama, perfect for a garden party or a sophisticated evening out. Pair this dress with minimalistic gold jewelry to let the bold pattern shine, and consider a strappy sandal to complete the look.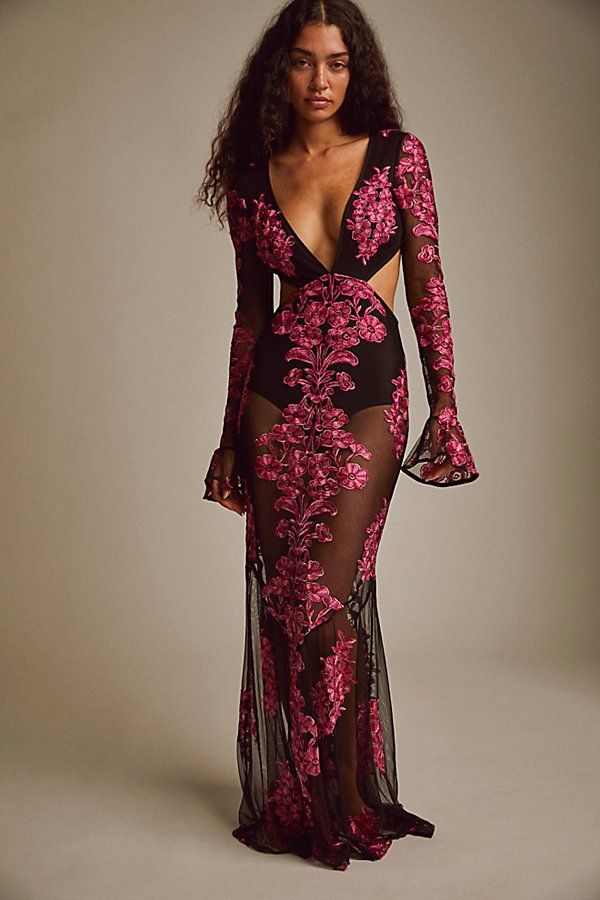 Sleek Sophistication
Embracing the minimalist trend, the Sleek Sophistication dress showcases a long, black, bodycon silhouette that defines maxi dress outfit 2024. This dress, with its high neckline and long sleeves, is the epitome of understated elegance. Its sleek form is complemented by a subtle flared hem, adding just a touch of playfulness. This versatile piece is ideal for the woman who champions a black long sleeve look that transitions effortlessly from day to night. Accessorize with a statement clutch and bold earrings to add a dash of personality to this classic ensemble.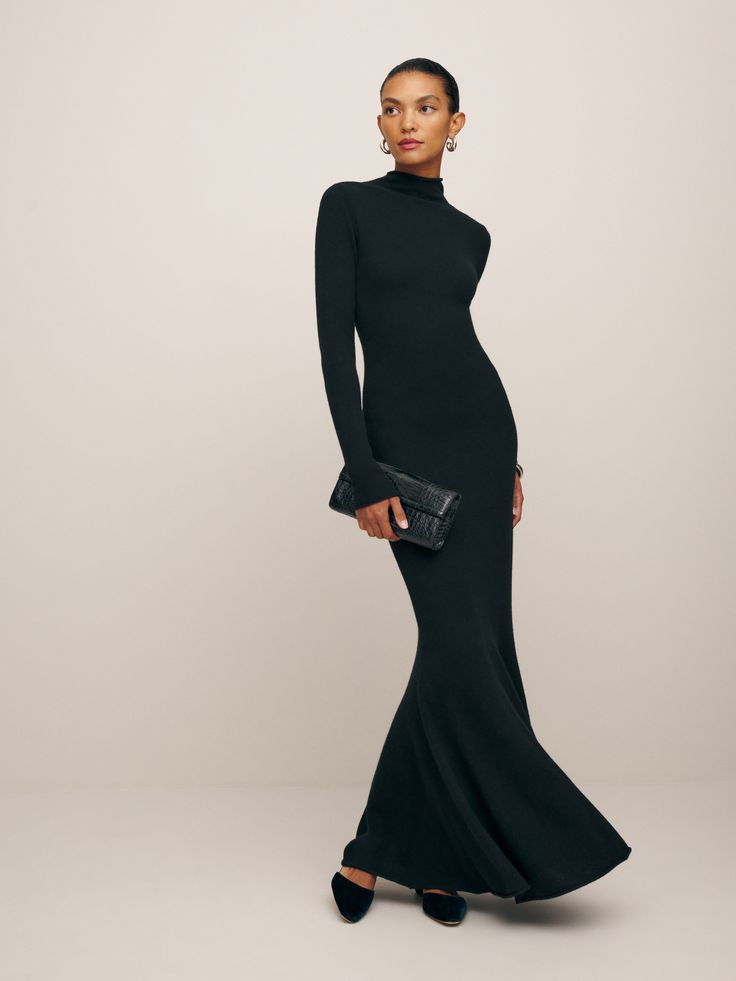 Glimmering Glamour
The Glimmering Glamour dress is a captivating piece that perfectly exemplifies the bold and bright trend that's taking 2024 by storm. Its shimmering yellow fabric cut in a long sleeve design features a daring side cut-out, tied together with a knotted detail that accentuates the waist. This maxi dress is a celebration of confidence and is best paired with neutral-toned accessories to keep the focus on the dress's radiant color and unique design.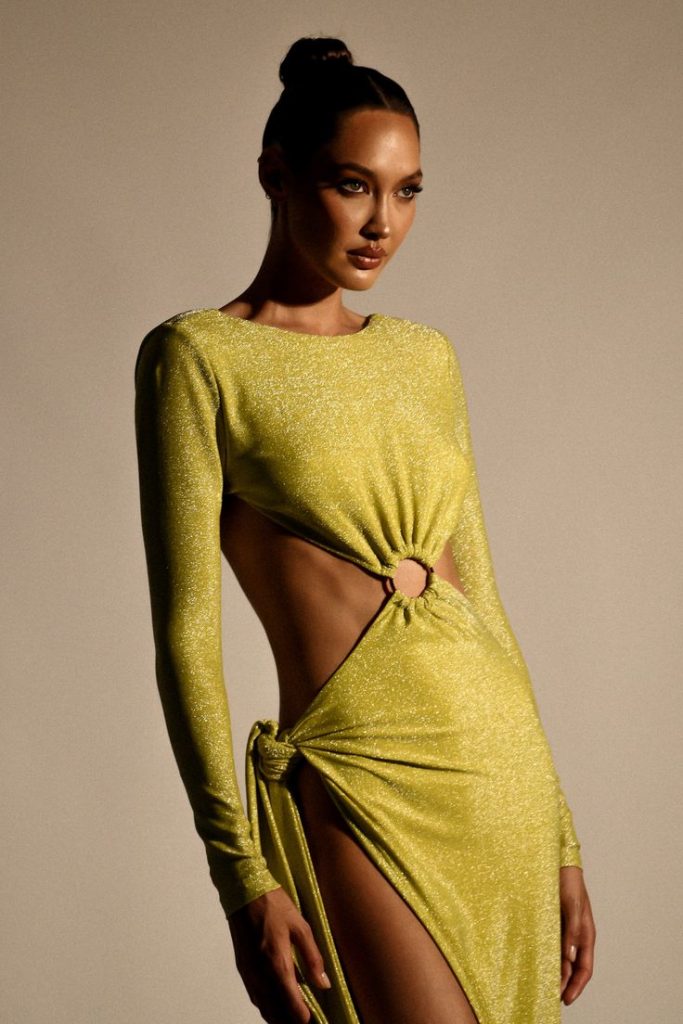 Radiant in Rhinestones
Unveiling a fresh perspective on the maxi dress outfit 2024, the Radiant in Rhinestones dress is a true spectacle of glamour and sophistication. The single-shoulder strap and daring cut-out accentuate the torso with tasteful allure, while the wraparound detail adds a modern twist. Drenched in a vibrant pink hue, the dress is meticulously encrusted with rhinestones, catching the light with every movement. This ensemble is a dream for upscale events, where making a grand entrance is key. Pair with understated silver jewelry and high heels to elevate the ensemble further.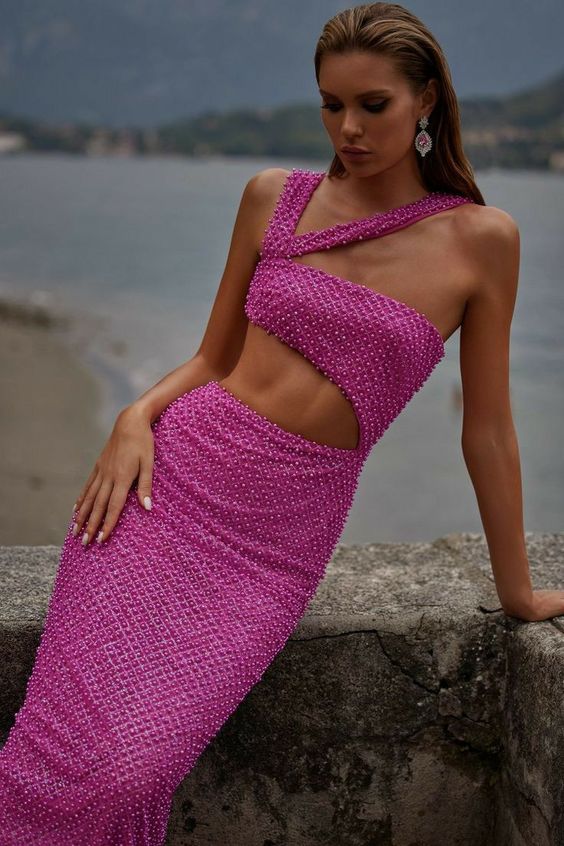 Artistic Drapery
The Artistic Drapery dresses break away from conventional designs, introducing a fluid and flowy silhouette to the maxi dress outfit 2024 lineup. These dresses feature a breathtaking watercolor print that flows like a canvas of abstract art. The free-flowing form exudes a casual yet bold statement, perfect for those who appreciate the fusion of art and fashion. The off-shoulder style on one and the elegant drape on the other offer a look that's both cute and commanding. Accessorizing with chunky jewelry and a sleek updo will complement the artistic flair of these dresses.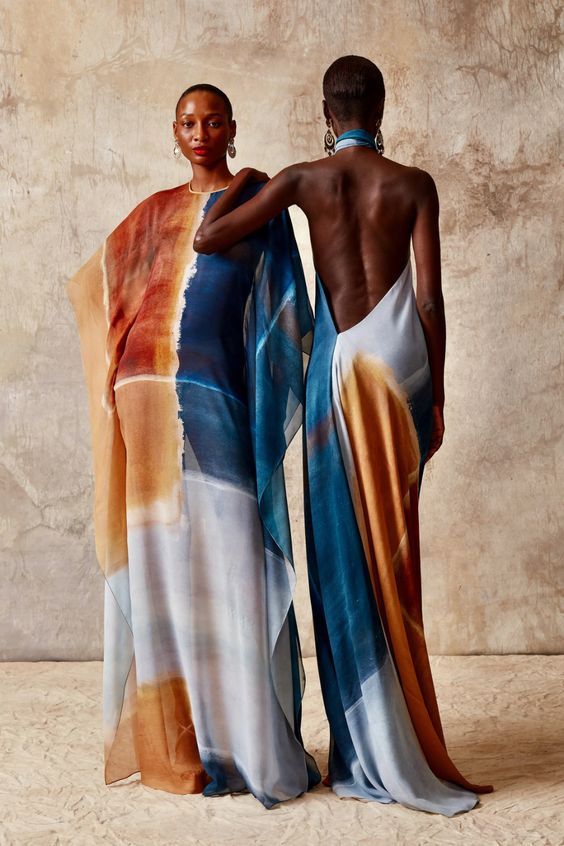 Contemporary Contrast
The Contemporary Contrast dress is a testament to the bold evolution of the maxi dress outfit 2024. This white and blue knit dress marries comfort with high fashion, featuring a long body-hugging silhouette with striking blue accents that trace the sides and arms. This dress is an ideal choice for the professional woman who moves seamlessly between the boardroom and social events. The high neck and long sleeves offer a sophisticated air, while the form-fitting knit fabric ensures a flattering fit for a plus size figure as well. Style this dress with knee-high boots and minimalist accessories for a sharp, modern look.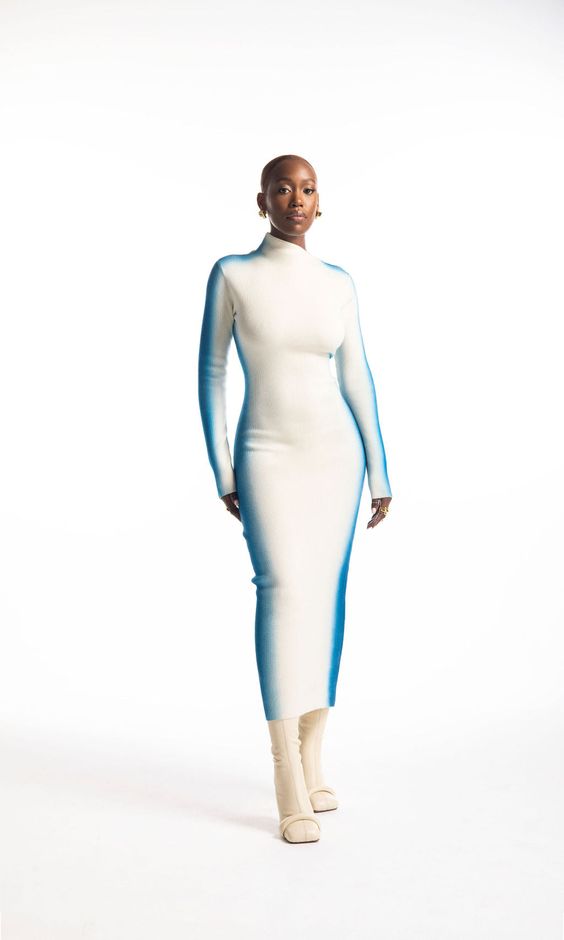 Botanical Chic
The Botanical Chic ensemble redefines floral maxi dresses for 2024, embracing a vivid botanical print in rich greens and pinks against a striking silhouette. On the left, the dress features a full-length sleeve and a clean, round neck, offering a canvas that's both long and luxuriously smooth. On the right, a halter-neck dress cinched at the waist with a twist reveals a high sense of style and comfort, perfect for a casual yet chic outing. These dresses are an embodiment of spring's renewal, ideal for a day-to-evening transition. Accentuate with layered necklaces or a bold cuff to highlight the flowy nature of these designs.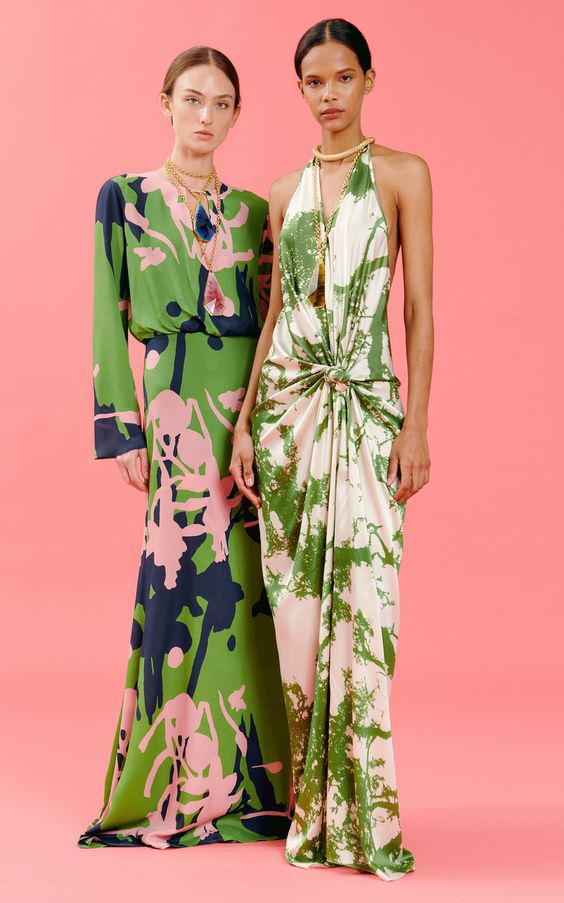 Sunset Serenity
Sunset Serenity is a long maxi dress that seems to capture the colors of a fading sunset. With a satin-like finish, this dress boasts a gradient of warm tones from a serene sky blue to a deep sunset orange. The voluminous sleeves add a touch of drama, creating a beautiful contrast with the slim silhouette. This dress is a perfect blend of sophistication and ease, suitable for a wedding, a gala, or an exclusive beachfront event. Its effortless elegance is best paired with simple, elegant flats and a clutch to maintain the casual yet refined vibe.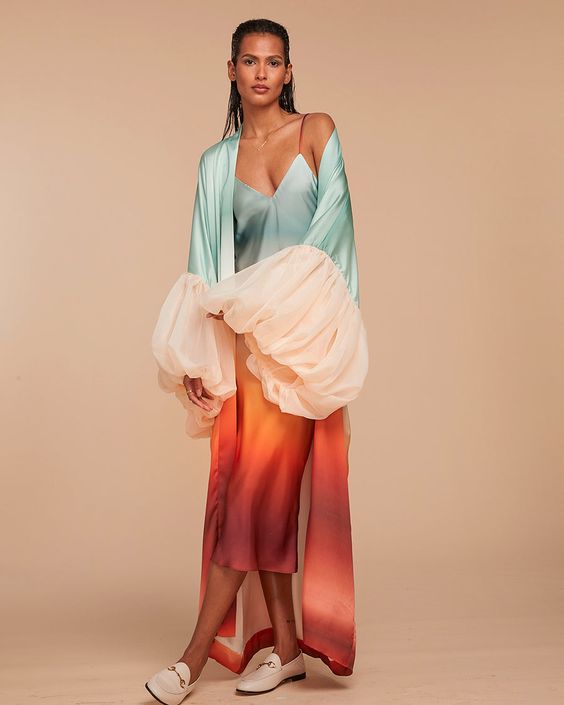 Structured Elegance
Structured Elegance introduces an architectural twist to the maxi dress outfit 2024. This silver pleated creation presents a one-shoulder neckline that transitions into a fluid, asymmetrical hem, offering a glimpse of leg that's both tasteful and tantalizing. This dress is a modern take on black-tie elegance, ideal for the woman who loves to make a statement with her bodycon silhouettes. Accessorize with metallic heels and minimalist jewelry to keep the focus on the dress's intricate pleats and impeccable structure.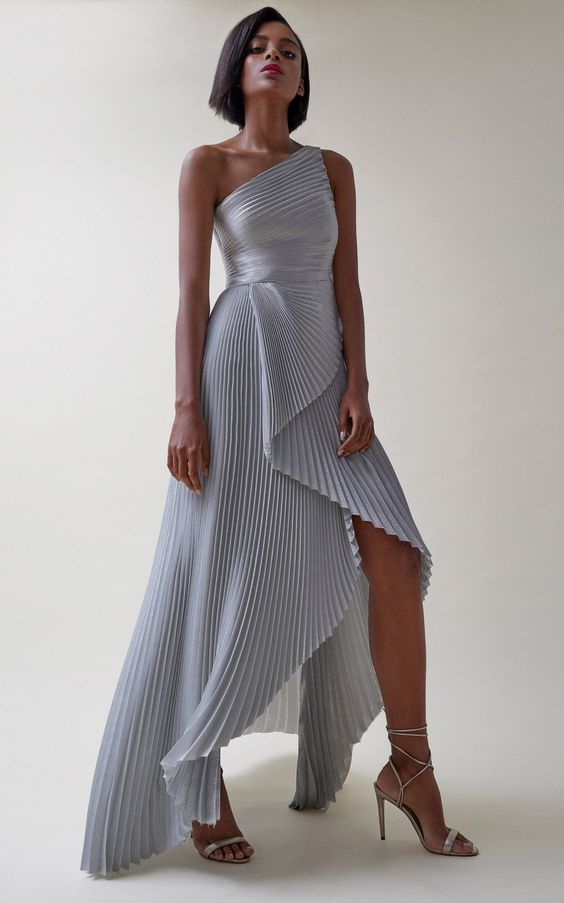 Sage Sophistication
With a plunge neckline and dramatic balloon sleeves, the Sage Sophistication maxi dress is an exemplar of 2024's luxe casual style. Crafted in a smooth silk-like fabric, it features a high slit that provides both allure and ease of movement. The soft sage color brings a sense of calm elegance, making it an impeccable choice for a range of occasions, from brunch to an informal wedding. Accent this look with delicate strappy sandals and minimalist jewelry to maintain the dress's serene and sophisticated vibe.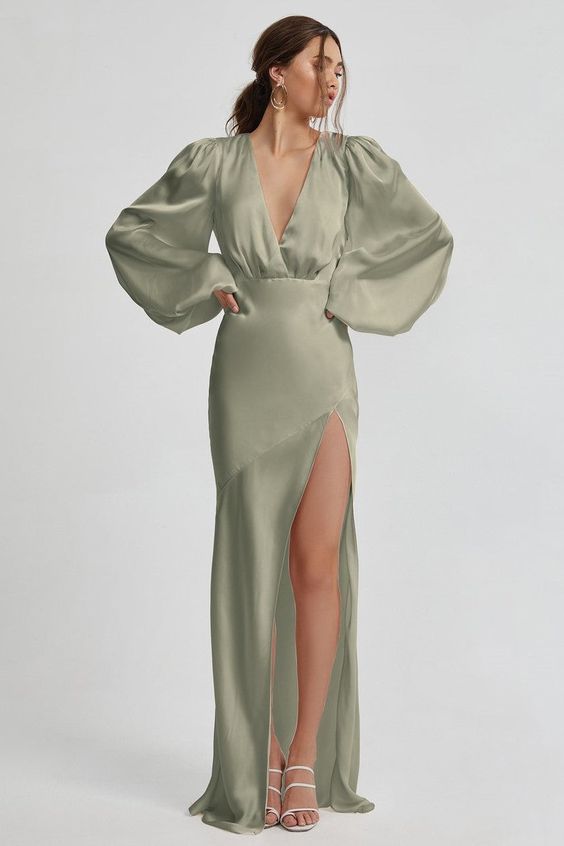 Vibrant Simplicity
The Vibrant Simplicity dress captures the essence of summer with its bright, bold pink gradient. This flowy, strapless maxi dress is the epitome of effortless style, perfect for the woman who loves to stand out with minimal effort. Its loose, gathered fabric at the bodice cascades into a sea of color, creating a stunning silhouette that's both cute and comfortable. It's a casual go-to for picnics, beach days, or just lounging in style. Pair with oversized sunglasses and a wide-brim hat to channel those sunny day vibes.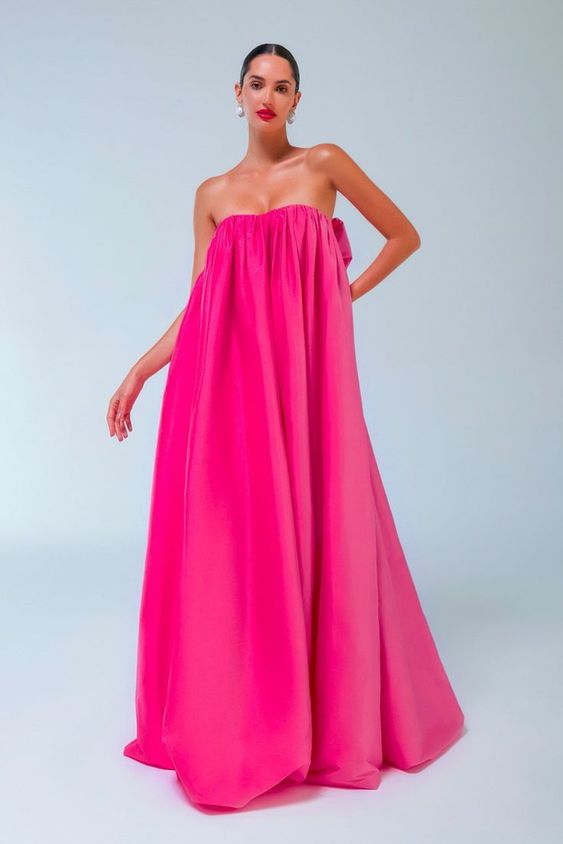 Sunset Romance
The Sunset Romance dress is a stunning blend of warm tones, reminiscent of a dreamy sunset. This bodycon maxi dress features a strapless design that hugs every curve, flaring into a gentle mermaid silhouette at the bottom. The intricate ruching detail adds texture and depth, making it a standout piece for a special occasion. Whether it's a wedding, a cocktail party, or an elegant dinner, this dress pairs beautifully with gold accessories and a bold lip color for a look that's both romantic and powerful.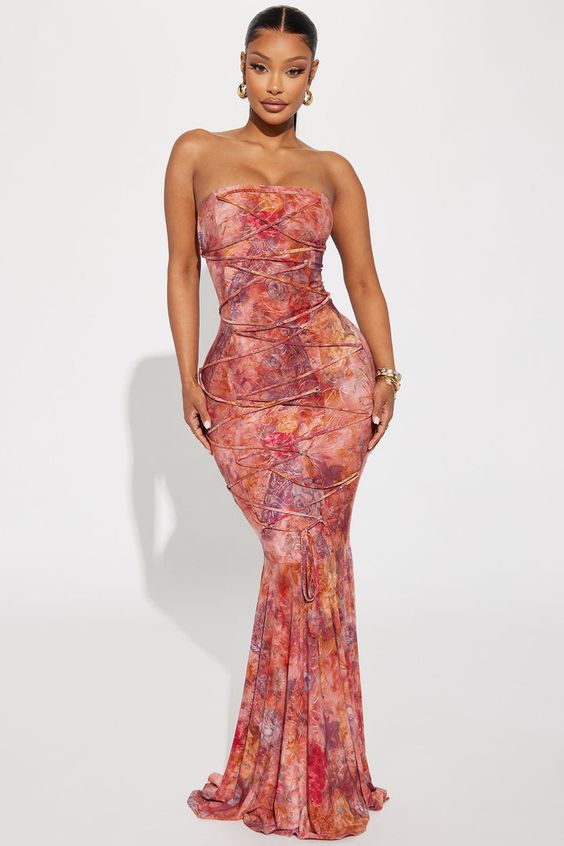 Bohemian Rhapsody
The Bohemian Rhapsody dress brings a vibrant pink splash to the maxi dress outfit 2024 collection. With a deep V-neck and flowing sleeves, it exudes a free-spirited elegance that's hard to miss. The sweeping hemline and bold color make it perfect for those who want to make a casual yet striking statement. This dress, paired with a wide-brimmed hat and woven accessories, speaks to the boho-chic enthusiast ready for a seaside stroll or an outdoor festival.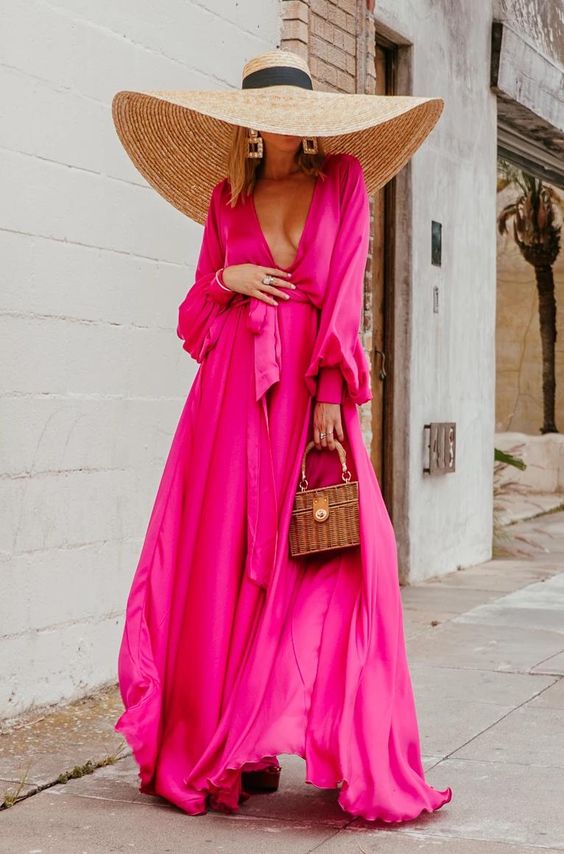 Modern Monochrome
Modern Monochrome presents a sleek white bodycon maxi dress with a unique asymmetrical cut-out design that adds a contemporary edge to the long sleeve category. The dress's figure-skimming silhouette and subtle yet sexy peek-a-boo detail make it a sophisticated choice for evening events or cocktail parties. To style this look, pair with transparent heels and statement jewelry to complement its modern appeal.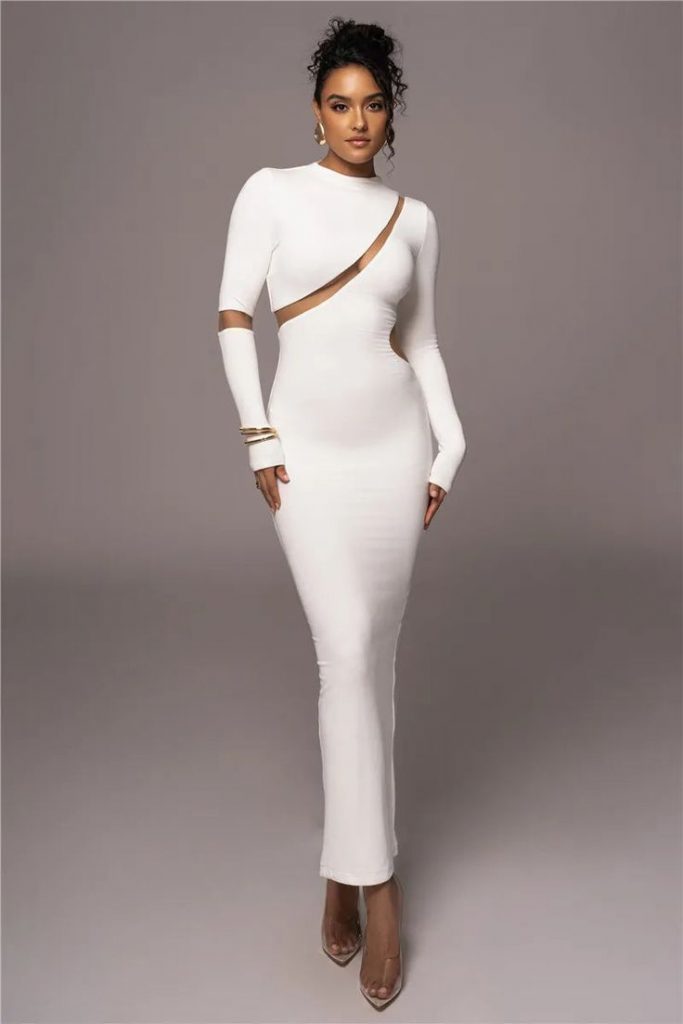 Golden Wave
The Golden Wave dress features an understated yet captivating pattern reminiscent of sandy shores and ocean waves, making it a subtle nod to nature's beauty. The tank-style top and snug fit cater to a more relaxed, yet put-together plus size friendly look within the maxi dress outfit 2024 trend. Accessorizing with chunky bangles and earth-toned sandals can enhance the natural, organic feel of this dress, ideal for a day out in the city or an evening summer party.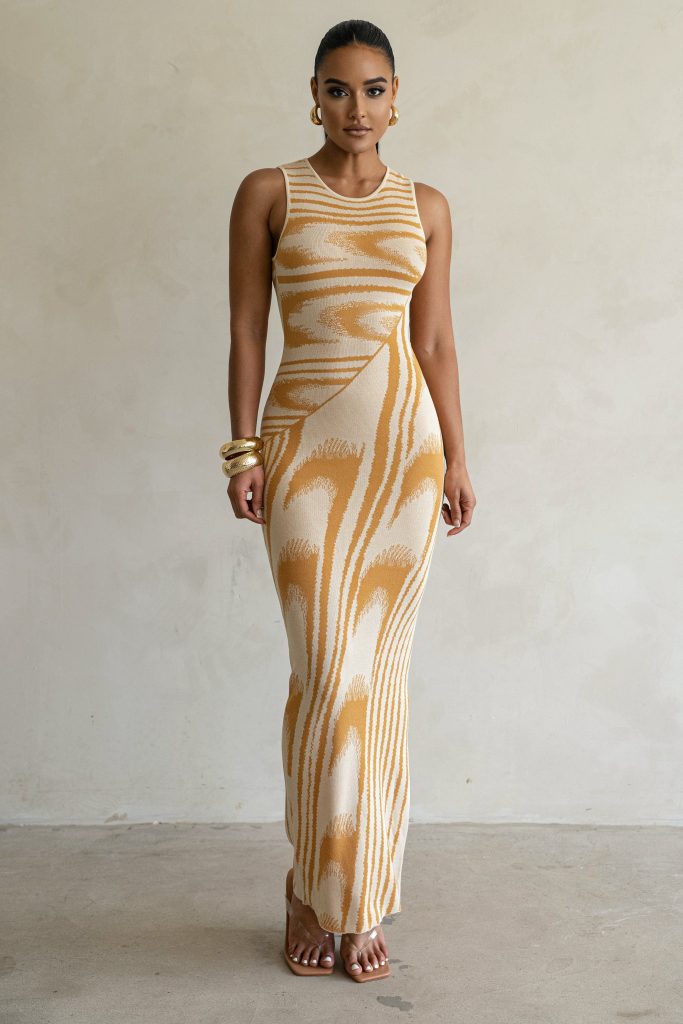 Save Pin