Fashion
Reinventing Denim: The Jeans Outfit 2024 Lookbook for the Modern Woman
As we step into the new year, the timeless appeal of denim continues to capture the hearts of fashion enthusiasts. With the rise of sustainable fashion and the return of vintage styles, jeans outfits in 2024 are embracing the classics with a twist.
The Bold and Blue Structured Vest Ensemble
When sophistication meets denim, the result is a stunning ensemble that speaks volumes about power dressing in 2024. This outfit features a tailored, sleeveless denim vest with pronounced lapels, paired masterfully with wide leg trousers. The bold blue hue stands out, making it a statement piece for any wardrobe. For a day at the office or a chic evening event, this look is versatile and striking. Pair it with a black belt and pointed-toe pumps to accentuate the flare of the pants, ensuring a silhouette that's both edgy and elegant.

The Pinstriped Denim Perfection
Pinstripes have never looked so avant-garde until woven into a denim masterpiece. This straight leg set echoes the vintage vibes of the past while staying ultra-modern. The blue jacket and matching pants set, lined with thin white stripes, offers a fresh take on the classic denim look. The cropped jacket can be buttoned up for a more polished appearance or left open to showcase a simple white tee underneath. Accessorize with a black bag and white heels for a seamless transition from winter to spring.

The Light and Breezy Summe
2024 Denim Trends: Flare, Straight, & Vintage Jeans for Women
r Suit
Summer demands comfort without compromising on style, and this outfit is the epitome of light blue leisure. The ensemble consists of a short-sleeved denim jacket and matching shorts, ideal for those warmer months or a winter getaway to a sun-soaked locale. The relaxed fit ensures a laid-back vibe, while the playful length keeps it youthful and fun. This look is perfect for a weekend brunch or a casual outing. Enhance the outfit with an oversized bag and sandals for a look that's effortlessly chic.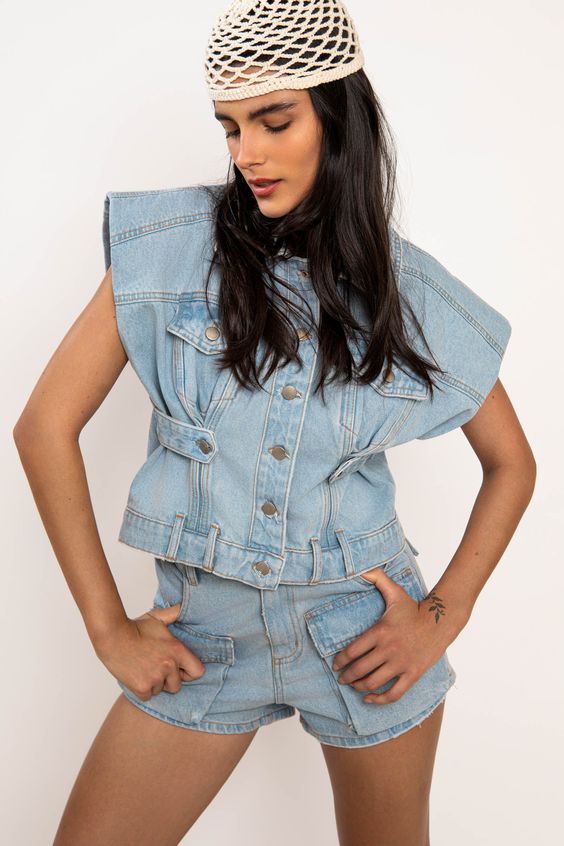 Feathered Flair: The Art of Statement Denim
In a daring departure from the conventional, 2024 sees the rise of feather-trimmed denim. This striking ensemble pairs a relaxed-fit light blue denim shirt with lavish feather details on the waistband and along the flared trousers' seams, creating a vintage yet oversized look that's both whimsical and fashionable. The flare of the jeans is accentuated by the feathers, adding movement and a touch of luxury. To style this outfit, keep accessories minimal; let the feathers be the focal point. Black ankle boots will add an edge, perfect for a standout moment at any event.

The Quilted Denim Duo: A Match of Elegance and Comfort
Quilted textures bring a new dimension to denim in 2024. This sophisticated set features a structured wide-sleeved jacket and a matching A-line skirt, both adorned with a quilted pattern that exudes a subtle vintage elegance. The dark blue tone, paired with golden-button details, elevates the outfit, making it suitable for both office and evening wear. Style this with a simple blouse and chunky heels for a look that blends comfort with high fashion.

Embellished Denim: A Sprinkle of Glamour
Embellishments on denim are redefining casual luxury. This light blue jean, sprinkled with delicate crystal flowers, contrasts beautifully with the raw simplicity of denim. Paired with a white crop top, this straight leg jean offers a relaxed yet chic aesthetic that carries from day to night. Accessorize with a statement bag to complement the sparkle of the embellishments and complete the look with strappy sandals for a summer soiree or sleek sneakers for a daytime affair.

Classic Meets Contemporary: Cropped Jacket and Flare Jeans
Channeling the classic blue denim look with a modern crop, this outfit features a stylish cropped jacket paired with flare jeans that offer a nod to the 70s while remaining firmly rooted in 2024. The jacket's raw hemline adds an edge to the look, perfect for women who like to mix timeless style with current trends. The wide leg silhouette of the jeans complements the cropped top, ideal for a balanced outfit. Style this set with a statement black clutch and heeled boots to exude confidence and chicness.

Avant-Garde Denim: A Study in Asymmetry
Denim takes an avant-garde turn with this bold, asymmetric jacket paired with a form-fitting skirt. The unconventional cut of the jacket makes it a statement piece, showcasing a vintage wash while playing with straight and wide lines. Styled with a simple top, this outfit is a testament to the innovative spirit of jeans outfit 2024, pushing boundaries and defying expectations. The skirt's tailored fit balances the voluminous top, and paired with minimalist sandals, it creates an intriguing silhouette that's sure to turn heads.

Metallic Denim Fusion: Edgy Meets Elegance
The juxtaposition of traditional denim with a metallic finish brings a new edge to jeans outfits in 2024. This ensemble pairs a classic denim jacket with a straight leg metallic skirt, blending textures and colors for a look that is both edgy and elegant. The skirt's shimmer adds a touch of glamour, perfect for women who love to stand out. Complete this outfit with statement earrings and simple heels to highlight the modernity of the metallic while honoring the denim's rugged roots.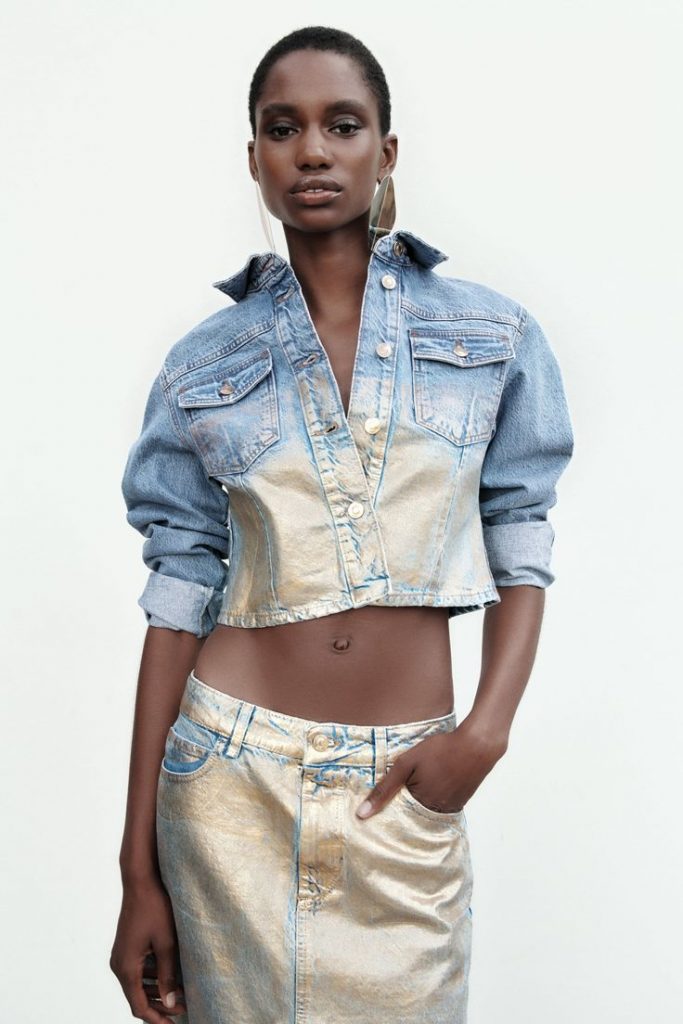 Tailored Sophistication: The Modern Denim Suit
This light blue denim set redefines business casual with its sharp tailoring and modern design. The cropped jacket features a unique zip closure, providing a sleek silhouette that complements the high-waisted straight leg trousers. It's a harmonious blend of professional and casual, ideal for the woman who moves seamlessly between business meetings and social gatherings. Style it with a slim belt and pointed-toe heels for a look that says both trendsetter and trailblazer.

Layered Denim Drama: Bold Textures and Oversized Silhouettes
2024's jeans outfit includes this layered look that offers a dramatic take on denim. An oversized coat with intricate embroidery details drapes elegantly over a structured corset-top and wide leg trousers. The ensemble plays with proportions and textures, making a bold statement. Pair this outfit with a simple chain necklace and understated heels to let the denim do all the talking. It's perfect for those who dare to defy the norms and make an entrance.

Playful Cutouts and Embellished Accents
Taking a playful approach, this outfit features a denim jacket with heart-shaped cutouts and straight leg jeans adorned with sparkling embellishments. The light blue denim is both whimsical and stylish, offering a fresh take on casual wear. Pair this unique set with a vibrant bag and statement shoes to add a pop of color and personality to your look. It's a perfect example of how jeans outfits in 2024 are all about expressing individuality and having fun with fashion.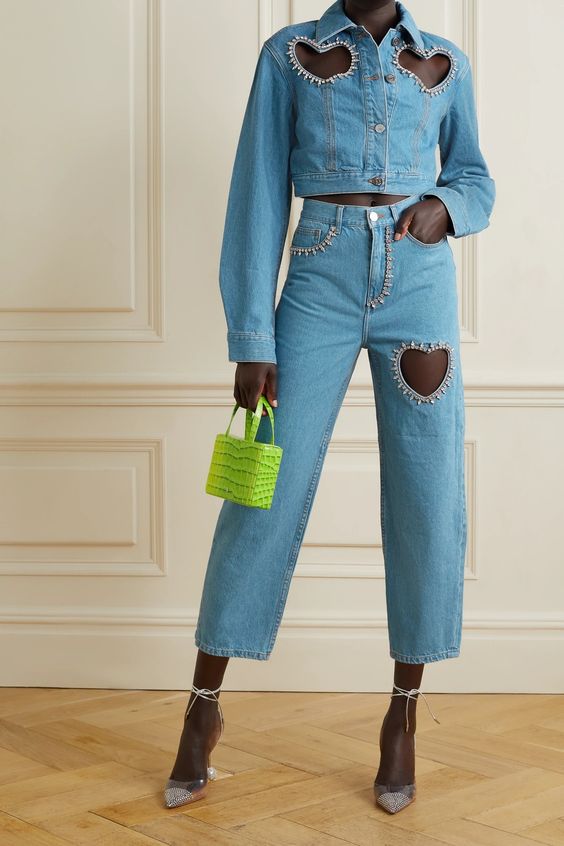 Casual Elegance: Quilted Shorts and a Classic Denim Shirt
A testament to the versatility of denim, this outfit combines a relaxed light blue shirt with chic quilted shorts. The ensemble strikes a balance between comfort and style, making it perfect for a day out in the city or a casual brunch with friends. The quilted pattern on the shorts adds texture and a touch of luxury to the otherwise simple look. Pair with oversized sunglasses and minimalist jewelry to elevate the outfit while maintaining its laidback appeal.

Denim on Denim: The Belted Jacket and Flare Combo
Embracing the denim-on-denim trend, this look features a dark blue belted jacket paired with matching flare jeans. The cinched waist of the jacket accentuates the silhouette, providing a flattering fit that complements the wide leg jeans. This cohesive outfit is both functional and fashionable, ideal for the contemporary woman who enjoys a unified aesthetic. Accessorize with subtle heels and a statement bag to add a personal touch to this classic denim ensemble.

Oversized and Understated: The New Denim Jacket
The oversized denim jacket reemerges as a staple in jeans outfit 2024, offering both warmth and style. Paired with straight jeans, the look is understated yet impactful, suitable for a range of occasions. The loose fit provides a contemporary edge to the outfit, perfect for layering over a simple tee or a dress. Complete the look with sleek heels or ankle boots to add a feminine touch to the otherwise androgynous silhouette.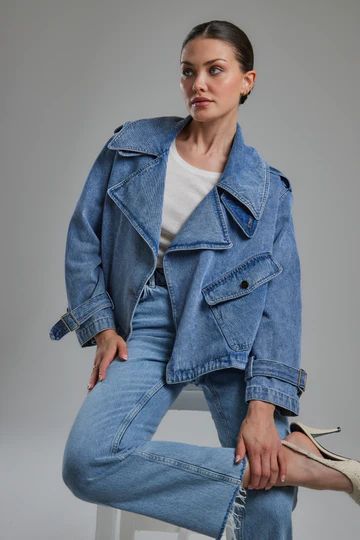 Save Pin