Fashion
Celebrating Curves: The 2024 Plus Size Outfit Guide
The fashion landscape is an ever-evolving canvas that paints the portrait of time, culture, and personal expression. As we embrace the year 2024, the style zeitgeist celebrates inclusivity and the beauty of curves with plus size outfits that are as diverse as they are captivating. This article is an ode to the bold and the beautiful, the curvy fashionistas who are redefining the norms and proudly flaunting their style. From elegant ensembles to casual chic, and from breezy summer attires to cozy winter warmers, let's take a stylish journey through the best plus size outfits for 2024.
Bold and Beautiful in Abstract Prints
Embrace the boldness of abstract with a stunning jumpsuit adorned with fluid shapes and a vibrant color palette. This piece is a testament to big women fashion that speaks volumes without saying a word. The relaxed fit ensures comfort without compromising on style, perfect for a casual day out or an artsy event. Pair it with classic white sneakers to add a youthful charm, fitting for the Y2K revival trend.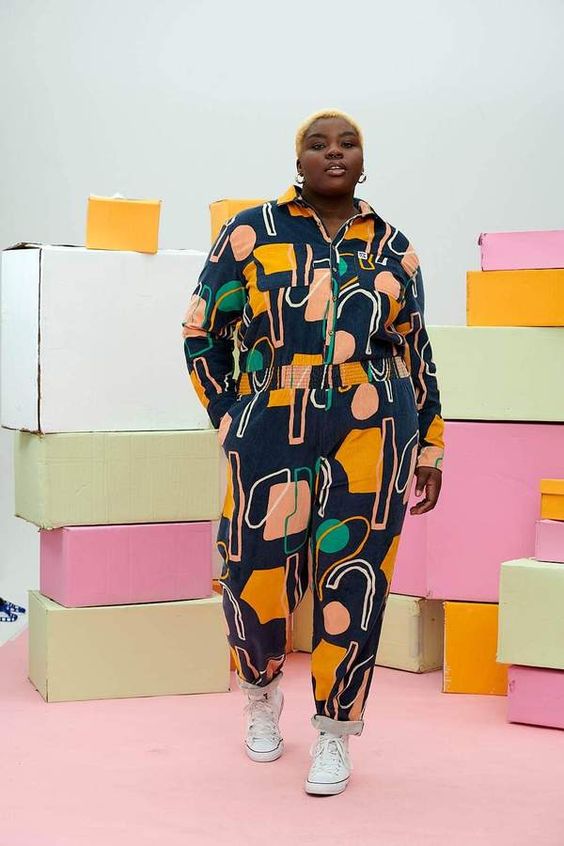 Understated Elegance
Elegance doesn't shout; it whispers in tones of beige and subtle sophistication. This outfit features a tailored shirt dress, cinched at the waist to highlight curves with grace. Ideal for a business casual setting or a high tea, this ensemble is a nod to the old money aesthetic, where less is indeed more. Elevate it with strappy heels and oversized sunglasses for that Hollywood glamor.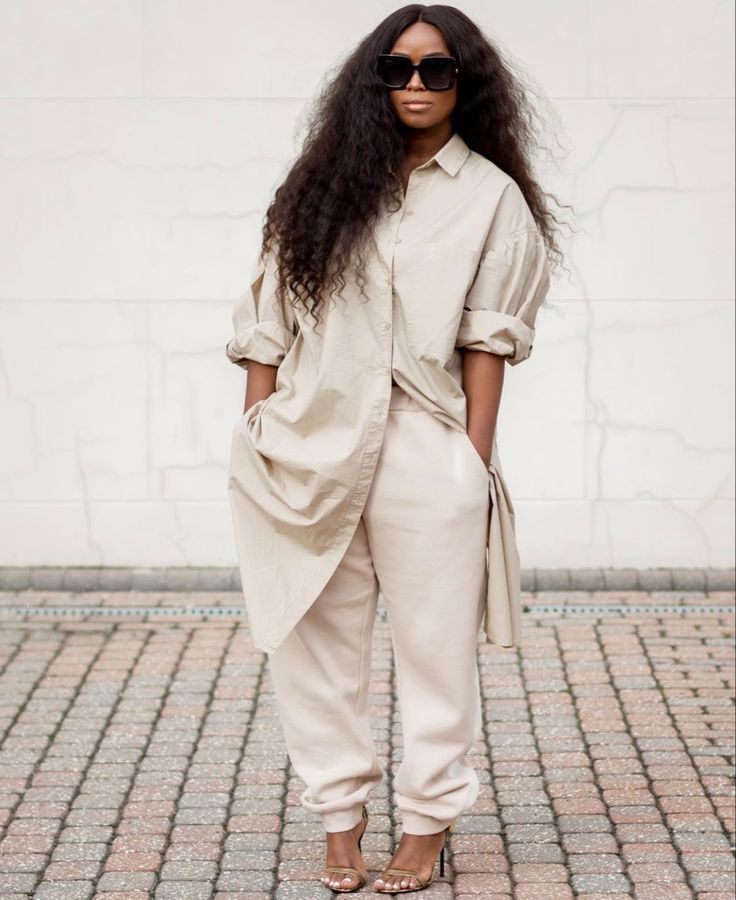 Color Block Charm
Step into the world of color blocks and geometric bliss. This outfit pairs a flowing midi skirt with a structured top, creating a balance that is both trendy and timeless. The ensemble channels autumn 2024 vibes, perfect for those crisp, golden afternoons. Style it with ankle boots and a statement jacket to transition seamlessly from day to night.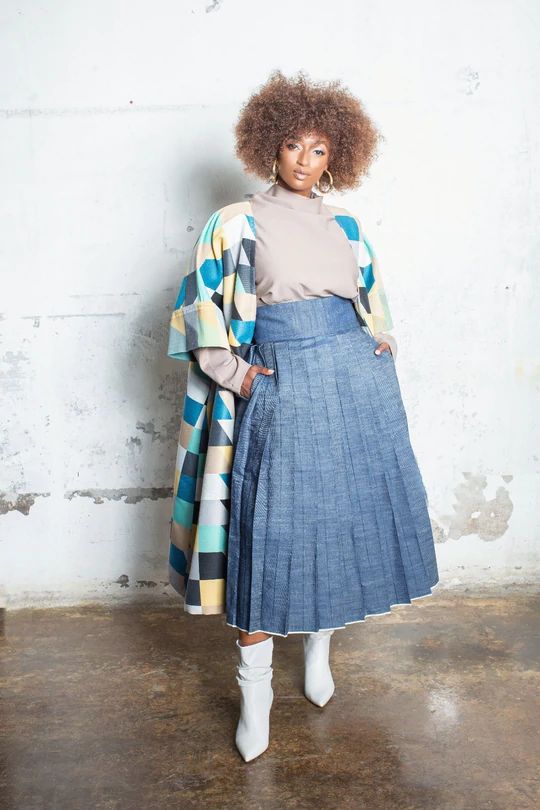 Coral Sophistication
Nothing says 2024 casual like a coordinated set in a refreshing coral hue. The tailored lines and flared pants resonate with a smart casual aesthetic suitable for the modern woman. Whether it's for a prom pantsuit alternative or a chic business meeting, this outfit is a versatile charmer. Accessorize with a patterned clutch and minimalistic jewelry to keep it chic and sophisticated.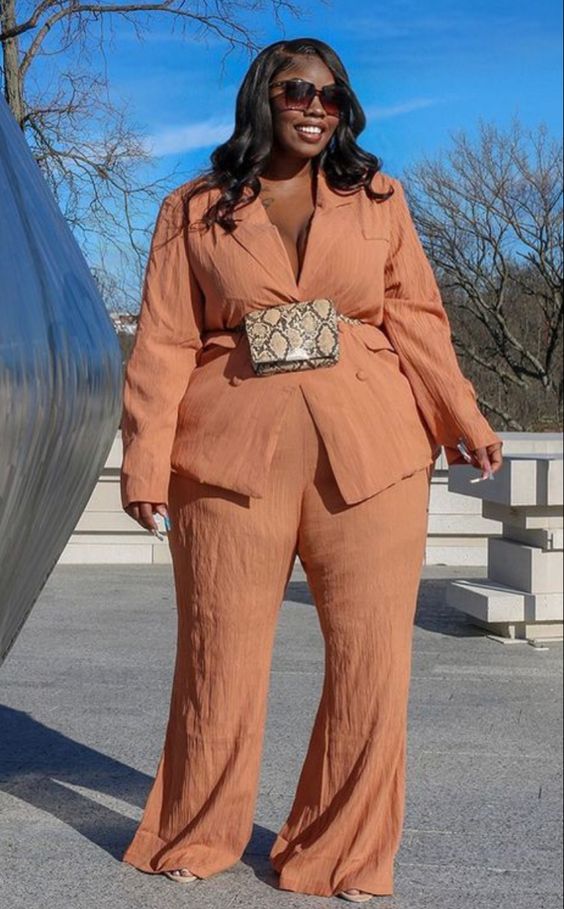 Chic and Sporty
Who says sporty can't be stylish? This look combines athleisure with upscale fashion, pairing a sports bra with high-waisted pants and a luxurious coat. It's a sartorial blend that caters to women plus size outfits who want to keep it cute casual yet fashionable. The ensemble works perfectly with white pumps, and a sleek handbag, making it ideal for a day out in the city or a casual brunch.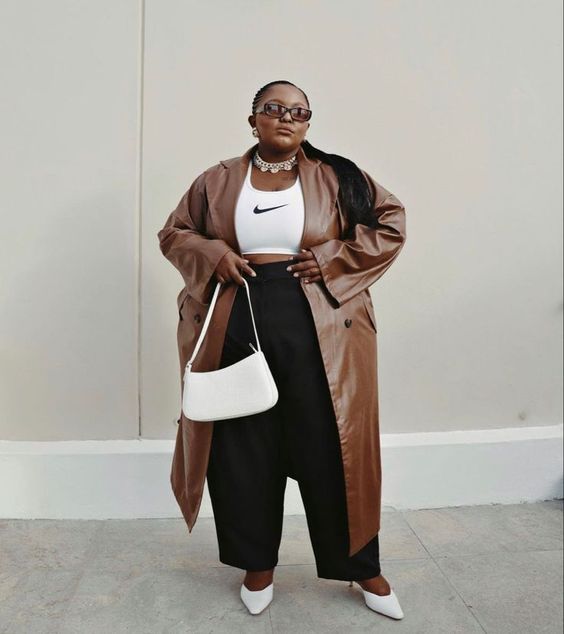 Power Dressing with a Pastel Touch
Power dressing gets a soft yet impactful makeover with this pastel blue pantsuit. This outfit is a breath of fresh air in the business casual wardrobe, perfect for the professional woman who appreciates subtlety in her power moves. The blazer's structured design paired with straight-leg pants offers a flattering silhouette for the 2xl to 4xl range. Styled with minimalist heels, it's a testament to elegant and moda xxl.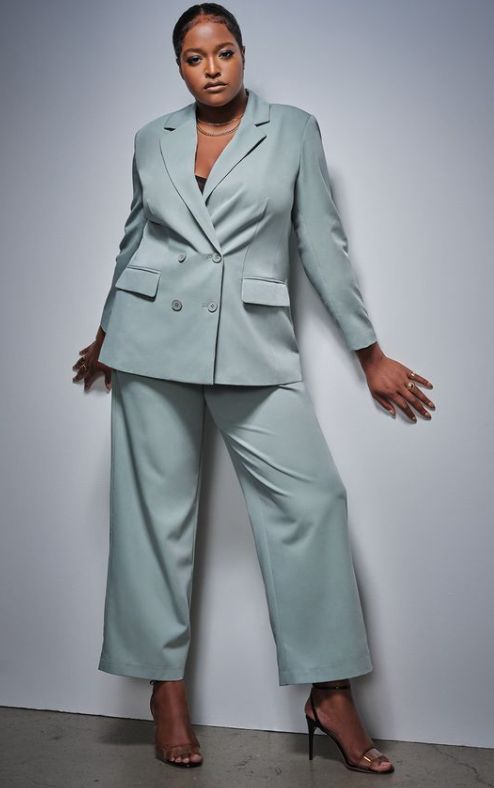 Bohemian Rhapsody in Silk
The bohemian spirit is alive and well in 2024. This ensemble features a silk scarf top, exuding a sense of freedom and casual flair. Paired with a structured white blazer and shorts, it's an outfit that marries old world charm with contemporary style, making it a fantastic choice for a summer casual outing or a beach wear for the day. The look can be accessorized with large hoop earrings to enhance the Y2K nostalgia.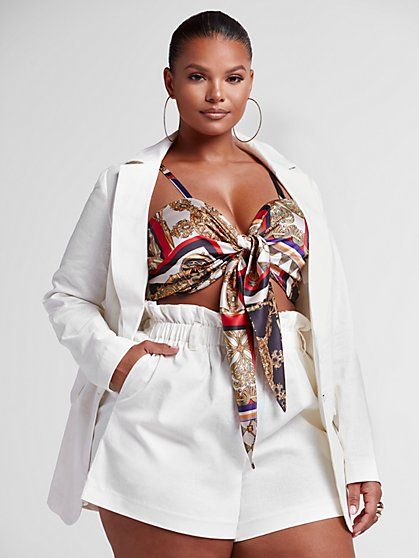 Summer Whites with a Monochromatic Edge
Here's a monochromatic moment that speaks volumes in its simplicity. The all-white ensemble with a strapless top and high-waisted pants is a fresh take on summer curvy fashionista trends. It's perfect for those balmy evenings, offering a canvas to play with accessories like a statement purse or bold lipstick. This look is about embracing ideas casual with confidence and a touch of smart casual elegance.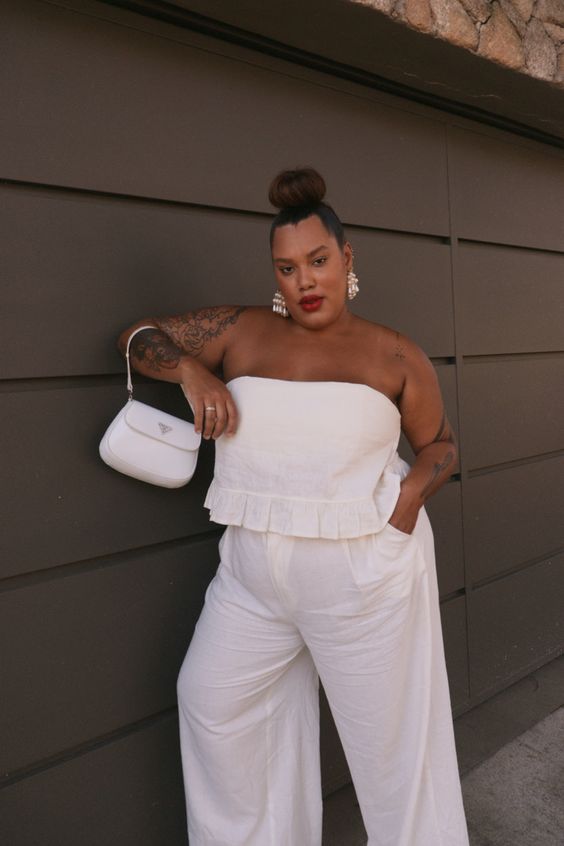 Vibrant in Verdant Green
Dive into the lushness of green with an outfit that stands out in both color and cut. This green set accentuates the figure with a cinched waist and flowy pants, capturing the essence of 2024 casual with a dash of luxury. It's an outfit that can go from a business lunch to a cocktail attire for an evening event. The addition of a gold chain belt and a petite handbag elevates the entire look, making it a cute yet smart casual choice.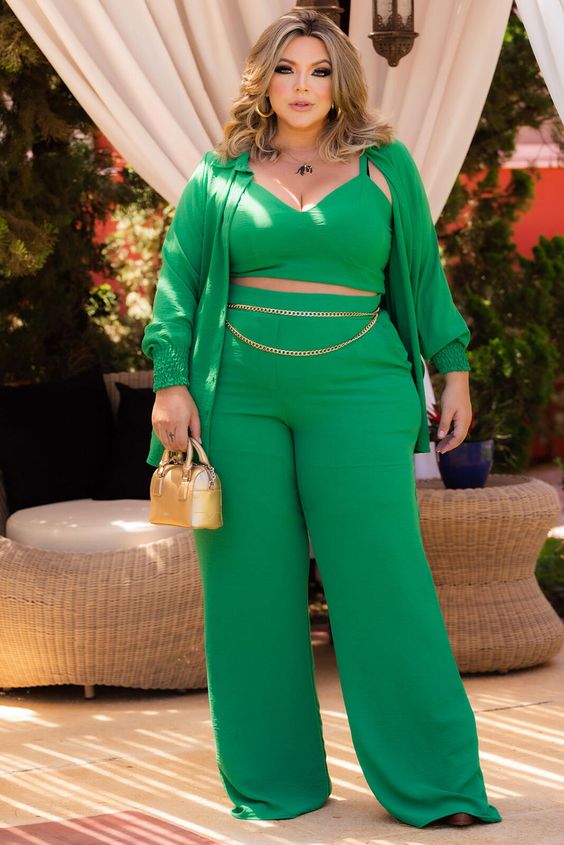 Earthy Tones for a Refined Aesthetic
Earthy tones bring a grounded feel to this stylishly composed outfit. The combination of a turtleneck and tailored pants with a complementary blazer is a nod to the old money aesthetic. It's perfect for the older, grown woman who loves autumn 2024 fashion. This outfit could be the new uniform for business meetings or gallery openings, where casual sophistication is key.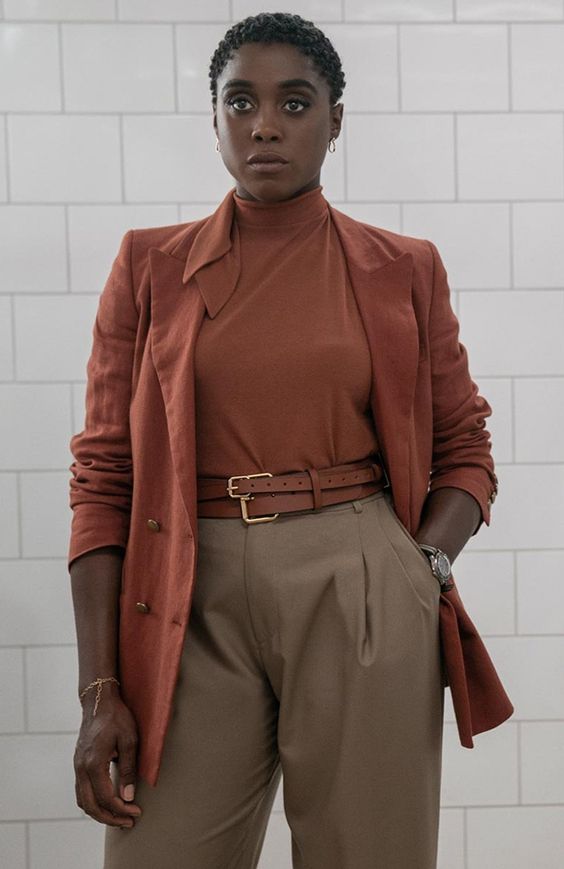 Pop of Pink Perfection
Think pink with this oversized button-down that redefines cute casual. This top isn't just comfortable; it's a statement. Paired with light denim, it's a nod to casual outings with a dash of playfulness. Perfect for a day out or a casual home party, it's a piece that resonates with the Y2K vibe and is versatile enough to be dressed up with heels or down with sneakers.
Striped Sophistication
Stripes never go out of style, and this blazer is proof of that timeless appeal. Paired with a leather mini skirt, it screams business casual with an edge. It's an outfit that works for the autumn 2024 season and transitions well into evening drinks. It's smart casual and sophisticated, offering endless possibilities for big women fashion.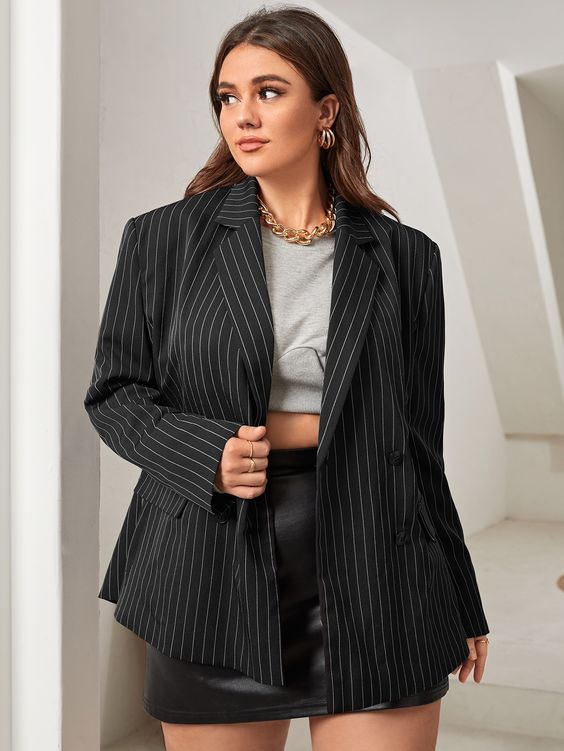 Monochrome Elegance
Monochrome is a trend that keeps on giving, and this outfit is a chic representation of elegant simplicity. The all-white ensemble is refreshing, perfect for those sunny yet autumn days. Paired with a wide-brimmed hat and loafers, it's a look that's polished and poised for any casual or upscale event. This is old money aesthetic meets modern moda xxl.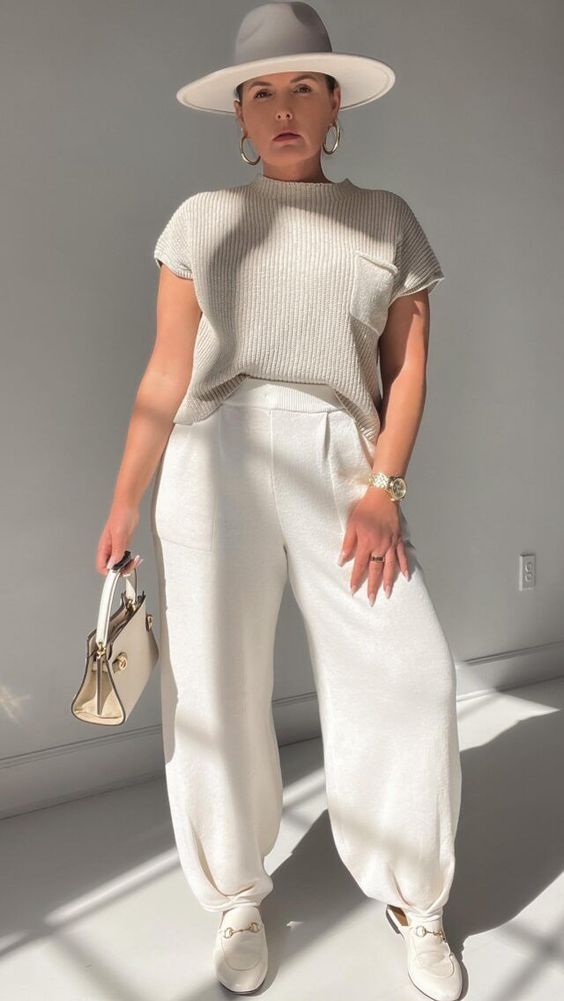 Bold in Block Colors
Color blocking is a fun way to play with fashion, and this ensemble makes a bold statement. The green blazer and pants set is offset by a vibrant yellow clutch, making it a perfect business casual outfit with a twist. It's also ideal for those who love to stand out in a smart casual setting, proving that big women fashion can be as bright and bold as the personality wearing it.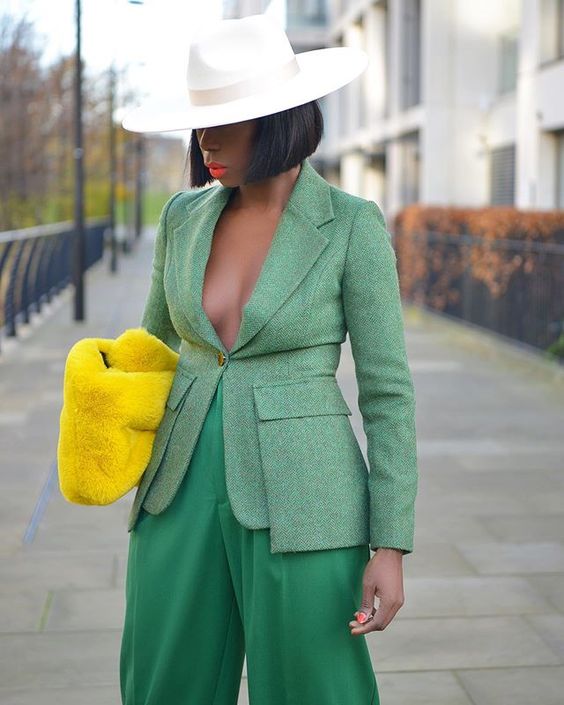 Vibrant Contrast
Vibrant colors are a celebration of life and style. This purple blouse paired with green pants offers a lively contrast that's sure to turn heads. Whether it's for an office look or a business lunch, this outfit brings a pop of color to the plus size outfits 2024 scene. It's casual, it's cute, and it's all about embracing color confidently.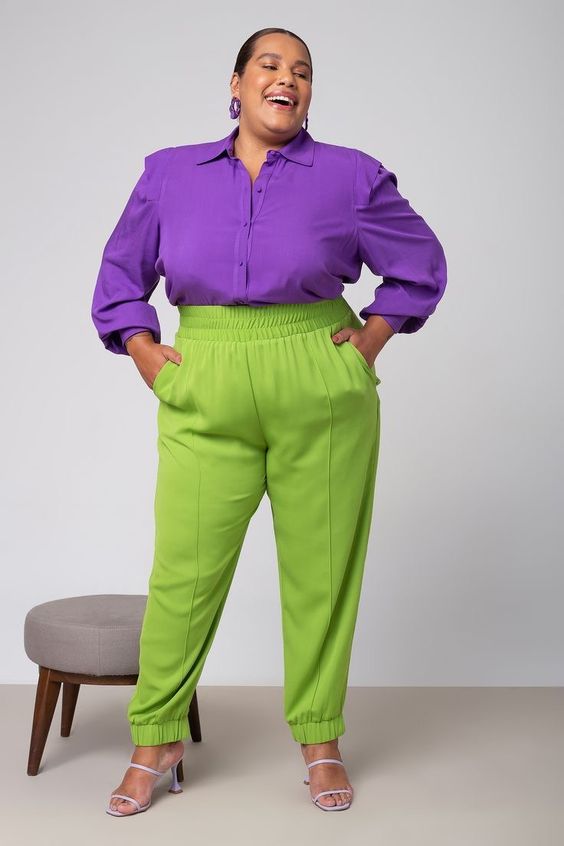 Sky Blue Boldness
This sky blue blazer is a breath of fresh air, providing a pop of color to any outfit. When paired with chocolate brown trousers, it becomes a smart casual ensemble that's perfect for transitioning from a business meeting to an evening out. This outfit showcases the versatility of plus size outfits, blending elegance with a touch of playfulness.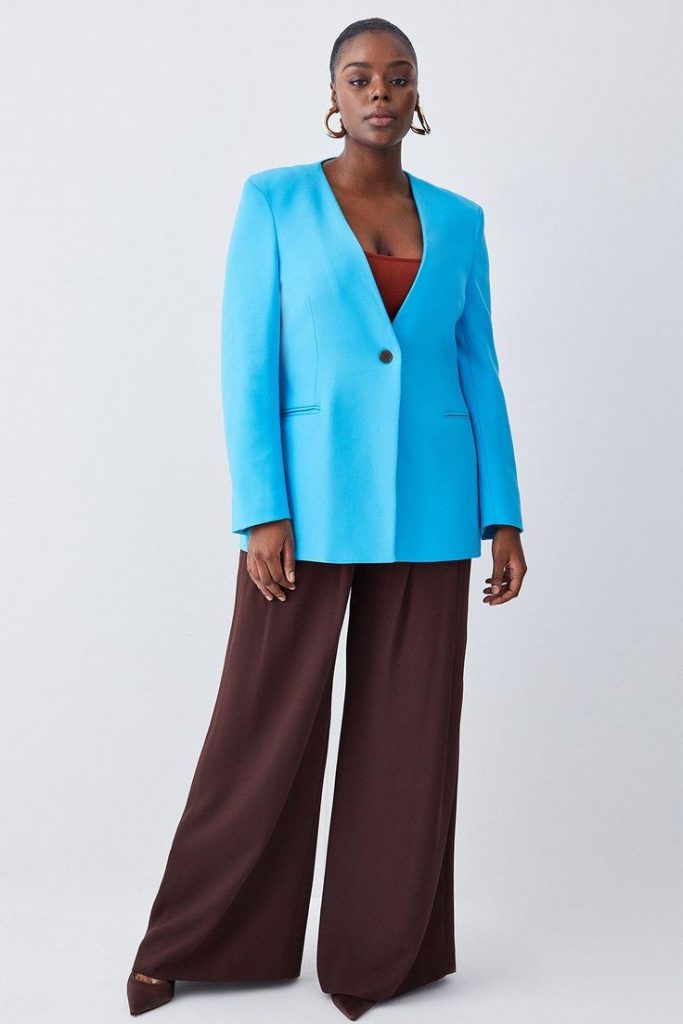 Layered Stripes
Layering is an art, and this outfit is a masterpiece. The striped vest over a crisp white shirt paired with flowing black trousers is a look that's both trendy and timeless. It's an outfit that speaks to the 2024 casual trend, perfect for a business casual environment or a casual weekend affair. This look encapsulates the aesthetic of comfort meets style, making it a staple for the fashionista.
Save Pin