Fashion
Striding in Style: Embracing the Bold and Comfortable Sneaker Trends of 2024
As we step into the vibrant year of 2024, the streets become a canvas, and the paint? Sneakers. The sneaker culture has evolved, blending seamlessly with high fashion, everyday casuals, and everything in between. This article peels back the layers of sneakers fashion 2024, showcasing how versatile and essential sneakers have become for women's outfits. From the power-lunching executive in skyscraper heels to the brunch-loving fashionista in comfy flats, sneakers are the new go-to. Let's lace up and walk through the standout sneaker styles of 2024, each paired with outfits that define women's street styles.
Neon Statement – The Lime Green Ensemble
The neon hues aren't just for the rave scene anymore. In this snapshot, we capture a woman owning the lime green trend from head to toe. This power suit pairs brilliantly with crisp white sneakers, fusing women's outfits casual ease with boss-lady vibes. Whether she's strutting down 5th Avenue or turning heads at a startup pitch, this outfit screams confidence. And those sneakers? They're not just cool shoes; they're a declaration that comfort need not sacrifice style.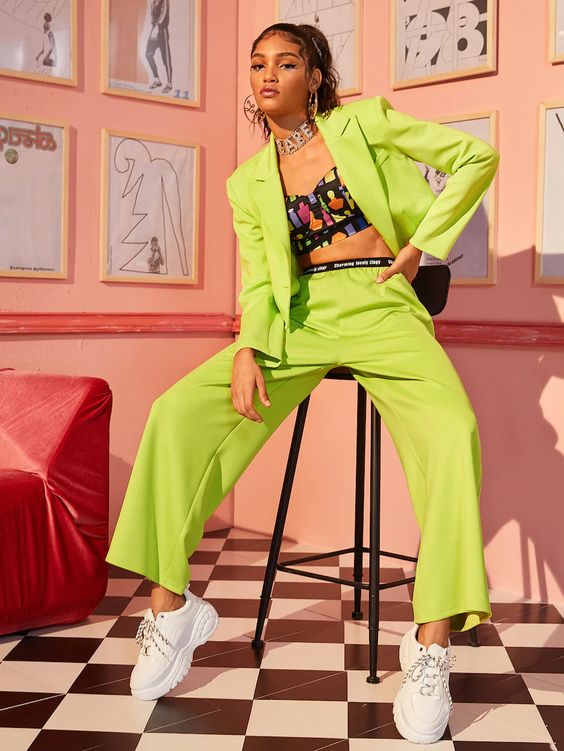 Denim Days – A Nostalgic Casual Twist
Denim never goes out of style, and in 2024, it's taking a stroll down memory lane with a modern twist. Here we see a woman in a vintage oversized denim shirt dress, complementing her look with 90s shoes – a pair of revamped classic high-tops. Her white handbag adds a chic touch to the laid-back vibe, making this ensemble perfect for a casual day out or a chill date night outfit. It's a nod to the timeless, reminding us that some styles are eternal.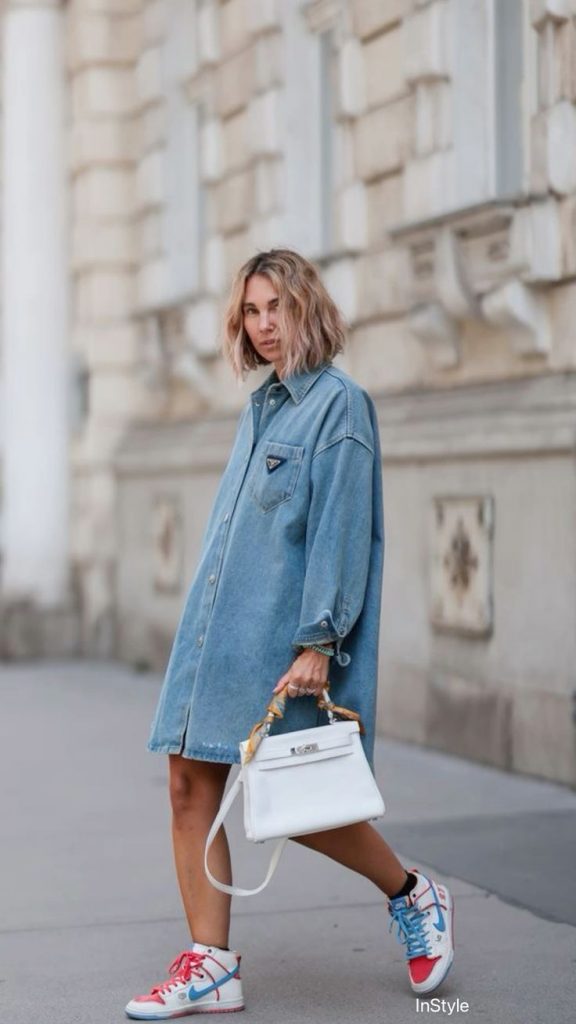 Pastel Perfection – The Soft Power Suit
Pastels have claimed their place in the boardroom with this casual blazer outfit. Paired with soft pink Converse, this suit softens the corporate look without downplaying the authority. It's a balance between delicate and assertive, ideal for the woman who's climbing the ladder and smashing glass ceilings. This look is 2024 women's answer to traditional workwear – a blend of women's street styles and boardroom bravado.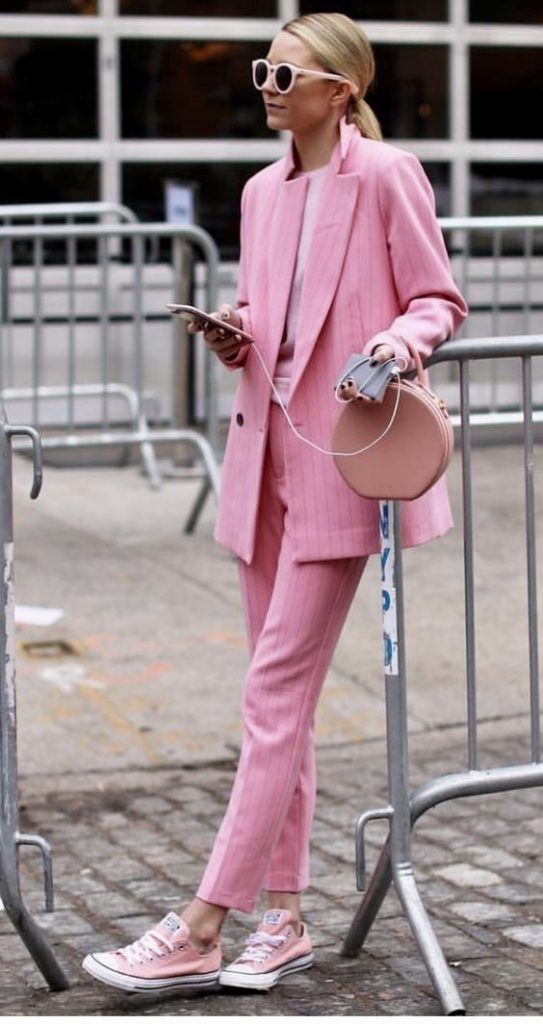 Monochrome Chic – The White Sneaker Classic
If there's one thing that's consistent in the fashion evolution, it's the monochrome trend. This snapshot showcases a minimalistic white flare dress, a timeless piece for those hot summer days. The sneakers? White, clean, and classic – because sometimes, simplicity makes the loudest statement. Whether she's off to the museum or a seaside café, this outfit is the epitome of women's casual – effortless, stylish, and always on point.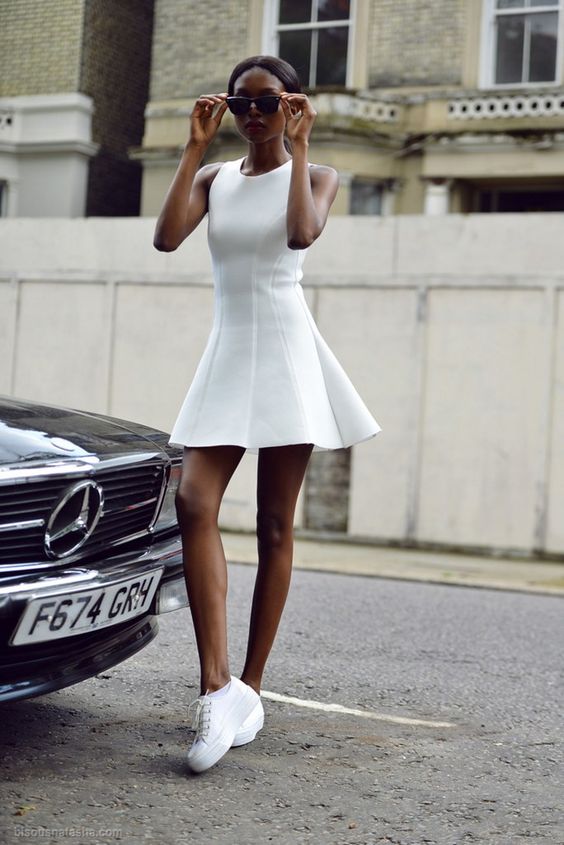 Bold and Pink – Urban Streetwear with a Twist
The urban jungle meets bold femininity in this streetwear ensemble. The hot pink jumpsuit, worn with a pair of trendy chunky sneakers, breaks all the traditional fashion rules – and triumphs. It's for the woman who writes her own story, one stride at a time. This outfit doesn't just follow the 2024 trends; it sets them. It's for the daring, the bold, and the playful. It's not just an outfit; it's an attitude.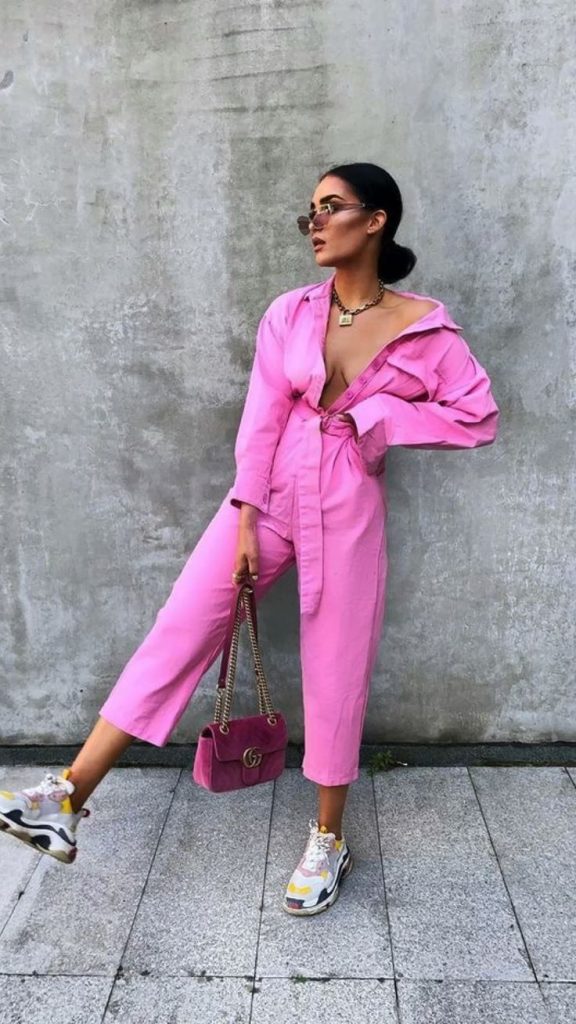 Summer Knit – The Casual Pink Sneaker Look
Strolling through the sunny avenues of 2024, we spot a woman in a comfortable summer knit dress, perfectly in tune with her casual shoes – a pair of playful red and white sneakers. This look embodies the essence of women's outfits summer, where comfort meets chic, and a large straw tote bag adds just the right touch of vacation vibes. It's the quintessential look for a woman enjoying a day out in the city, embodying casual summer freedom.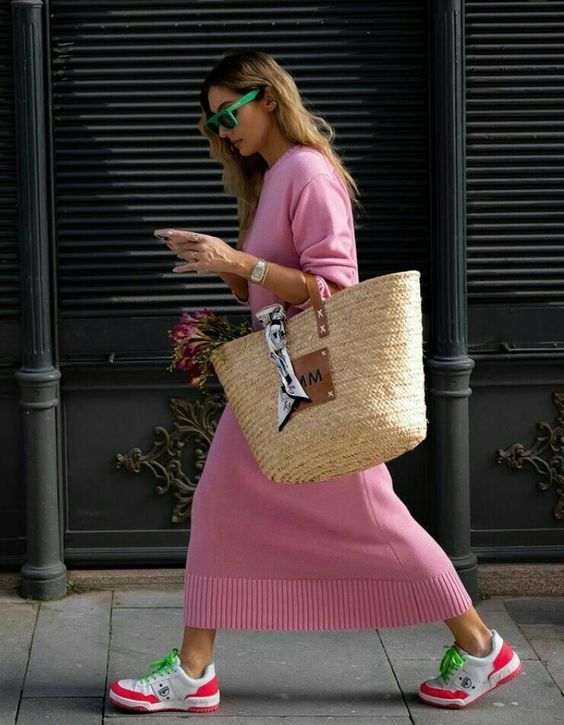 Tailored Elegance – Sneakers with a Suit
Gone are the days when suits were synonymous with formal shoes. Here, we capture a woman pairing her soft rose suit with classic black and white sneakers, exemplifying women's street styles. It's a powerful statement that marries women's nike with tailored finesse, perfect for a creative professional whose day doesn't end at the office. This look is reshaping 2024 women's workwear – it's bold, it's comfortable, it's fashion-forward.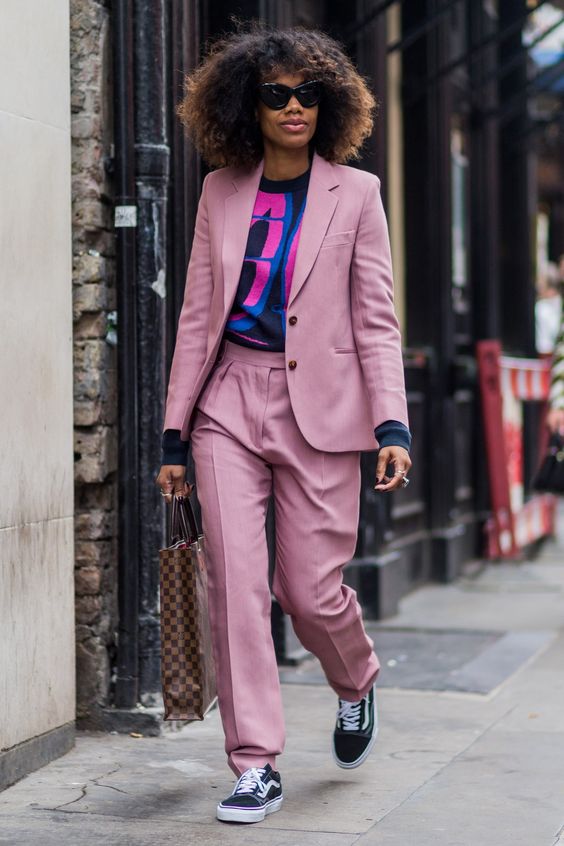 Chic and Sporty – The Dress and Sneaker Combo
This image showcases a look that's taking over 2024 women's fashion – a sleek, collar dress paired with chunky sport shoes. It's a blend that speaks volumes about the 2024 trends, where the lines between sporty and chic are beautifully blurred. This outfit is versatile, ideal for a quick business lunch or a relaxed evening with friends, proving that sport shoes can indeed be part of an elegant ensemble.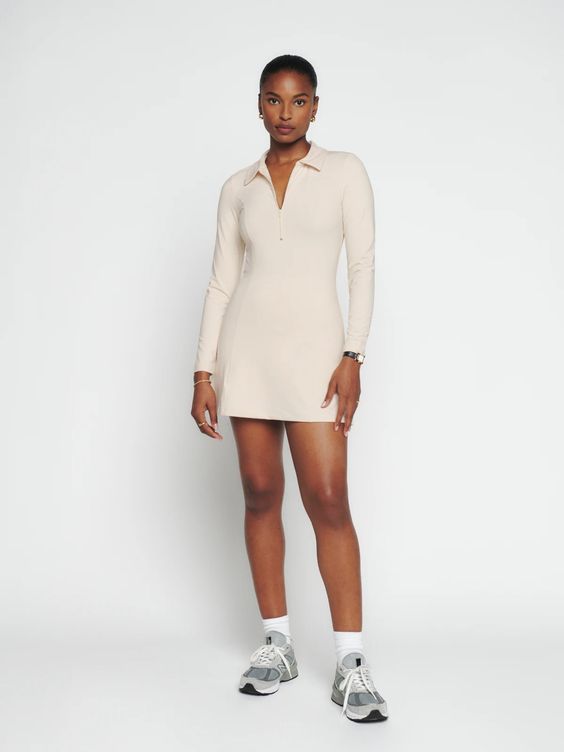 Minimalist Approach – The Neutral Palette
Sneakers fashion isn't always about standing out; sometimes, it's about blending in – effortlessly. Here we see a woman donning a minimalist button-down dress, accompanied by casual shoes in a soft neutral tone. It's a testament to the women's casual trend in 2024, where less is more. This outfit is a canvas for personal expression, be it through jewelry, a scarf, or the confident stride with which she walks.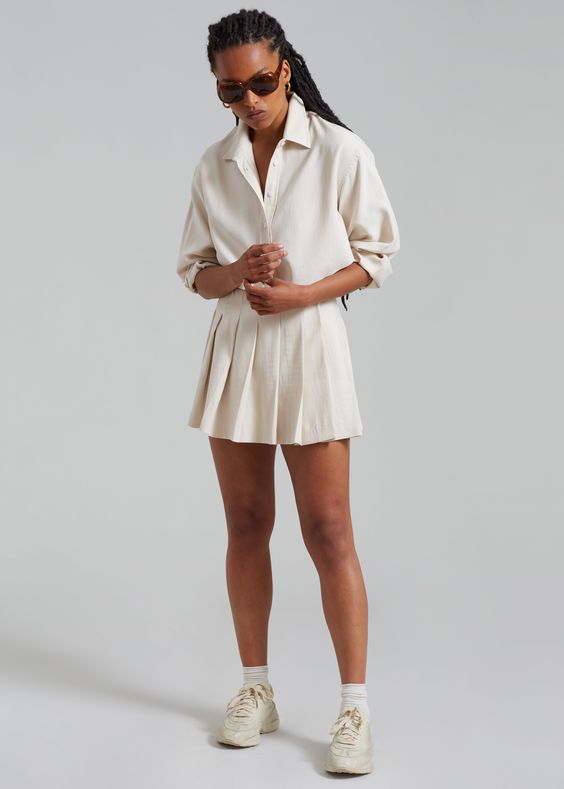 Power Play – Sneakers with a Citrus Twist
As the line between casual wear and power dressing continues to fade, we see a woman making a statement in a citrus-hued suit complemented by white sneakers. This look redefines the power suit for 2024 women, integrating the playful side of sneakers fashion into a traditionally formal ensemble. It's perfect for the woman who commands attention, not just with her ideas but with her innovative style.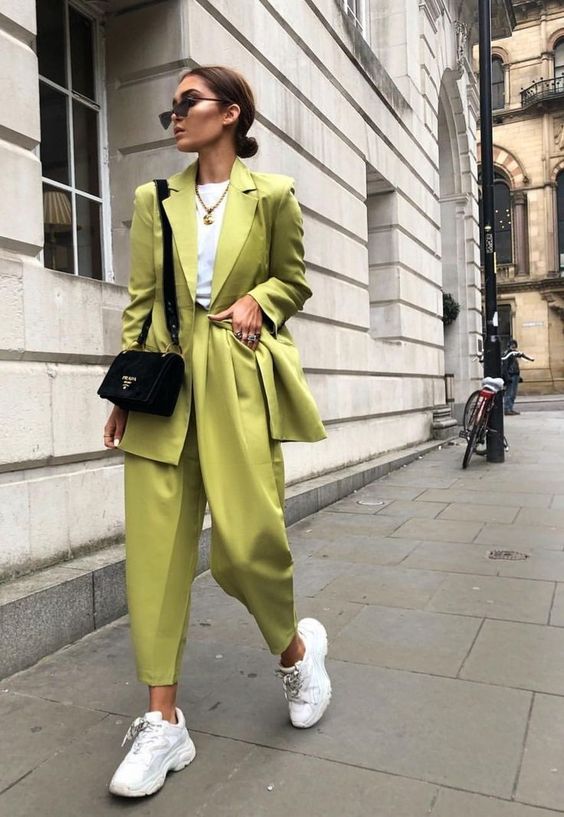 City Sophisticate – The Metallic Sneaker
Metropolitan chic meets comfort in this picture, where we see a woman combining the unlikely pair of a heavy knit and a pleated skirt with metallic sneakers. This ensemble is the very essence of women's outfits casual, proving that sneakers can indeed elevate a look. The metallic sheen adds a futuristic touch, aligning with the must have shoes for 2024.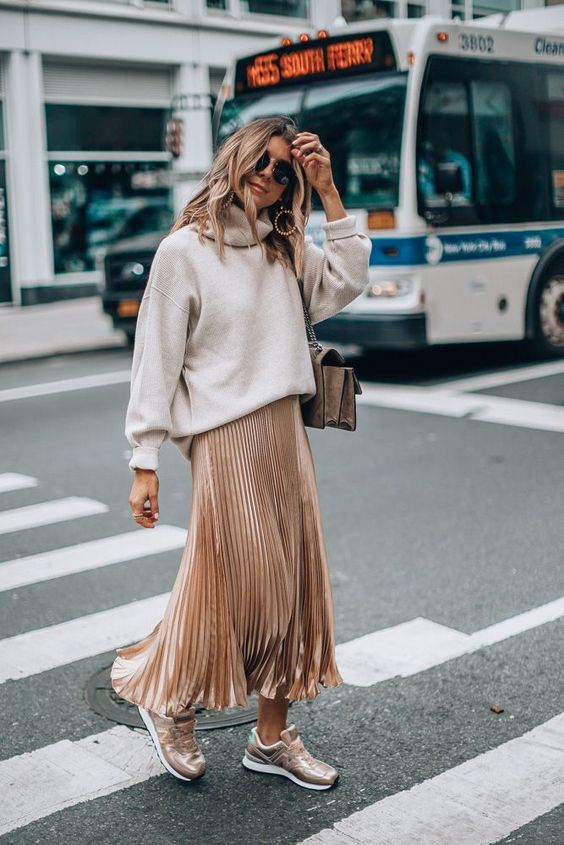 Elegant Casual – The Satin and Sneaker Mix
Here's a woman who has mastered the art of casual elegance, effortlessly pairing a satin top and skirt with classic white sneakers. It's a blend that champions women's casual attire while injecting a dose of chic, perfect for a brunch or an art gallery visit. This outfit is an ode to the versatility of sneakers and the ease they bring to women's outfits summer.
Casual Workwear – A New Take on Office Attire
Sneakers in the workspace are no longer a taboo but a trend. We capture a woman donning a modern work outfit that breaks the mold with casual shoes for a touch of women's street styles. The combo of a wide-leg trouser with a splash of orange and white sneakers is a testament to the evolving definition of workwear in 2024.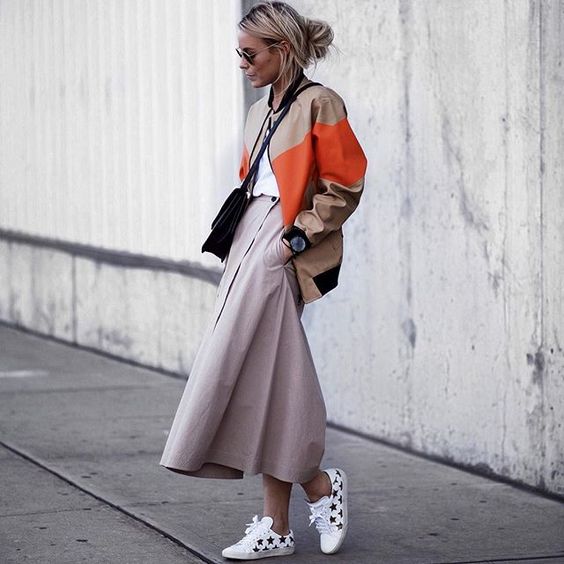 Minimalist Elegance – The Sneaker and Shift Dress Combination
This image is simplicity at its finest: a classic shift dress paired with subtle sneakers. It's a clean, minimalist approach that's becoming a staple in women's outfits casual. Ideal for those seeking a sleek, no-fuss look while on the move, this pairing is a nod to the growing casual trend in 2024 women's fashion.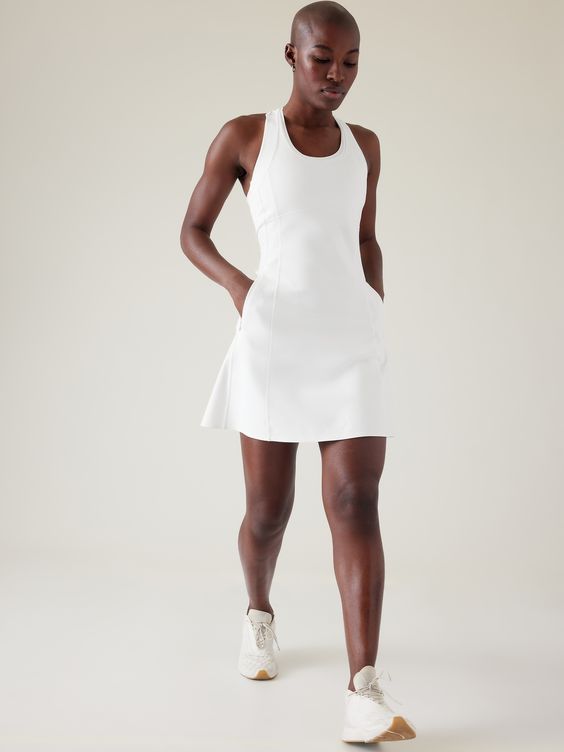 Vibrant and Vivid – The Statement Suit and Sneaker
The boldness of 2024 is captured in this vibrant yellow suit paired with chunky white sneakers, proving that office attire doesn't have to be dull. This look is a celebration of the modern woman's desire to be both comfortable and fashionable, making it a trendy shoes for 2024 must-have.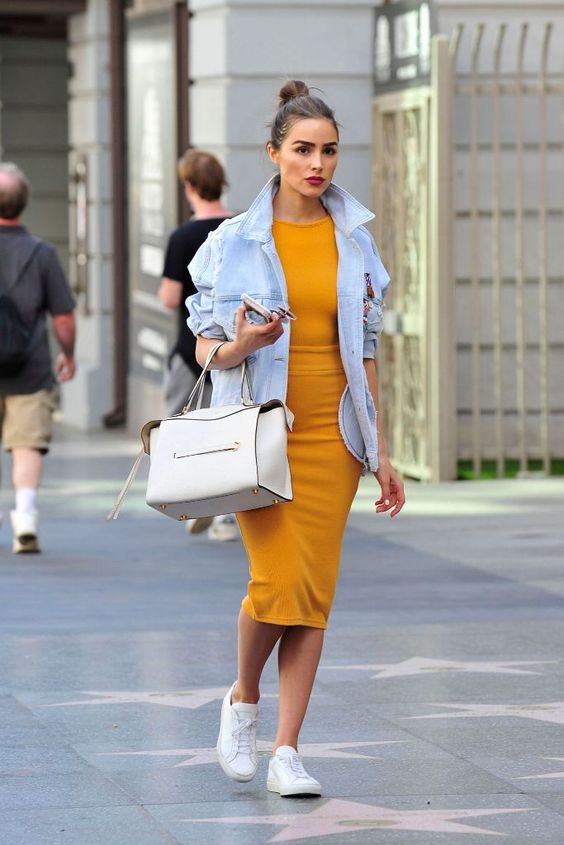 Chic Streetwear – The Power of Pink
Pastel power suits and sneakers? Absolutely. This picture showcases the trendsetting nature of 2024 women, combining a pastel suit with sporty sneakers for a look that's both powerful and playful. It's a style that's reshaping the landscape of women's street styles.
Bold Skirts and Classic Sneakers – A Retro Revival
Lastly, this image pays homage to the classic white tee and red skirt combo, refreshed with white sneakers for a look that's both retro and contemporary. It's a timeless fashion statement, now made versatile with sneakers, fitting perfectly into the women's outfits summer trend.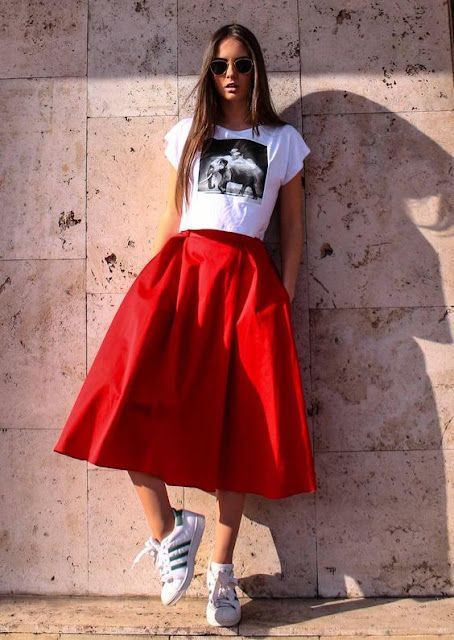 Save Pin