Fashion
Bow-Tied Elegance: Embracing the Chic and Versatile Bow Outfit Trend of 2024
In the ever-evolving landscape of fashion, the bow has made a remarkable comeback, becoming a quintessential element in the wardrobes of style-savvy women. The year 2024 has seen this motif transform outfits from mere ensembles to statements of aesthetic beauty and individuality. This article dives into the bow outfit trend of 2024, offering a detailed look at how bows add flair to various attire, serving as focal points or subtle nods to femininity.
Elegant Black Bow Dress – The Quintessence of Class
Imagine attending a cocktail party where the dress code screams 'chic yet effortless'. Here, the bow outfit of 2024 truly shines through an elegant black dress. This piece is a symphony of style, featuring a delicate, voluminous bow at the chest, drawing attention to the neck and adding structure to the bodice. The black color palette is timeless, allowing for versatility in accessorizing – pair it with black heels for a classic look, or add a pop of color with vibrant blue or pink stilettos. This dress isn't just a garment; it's a canvas for women to express their style narrative.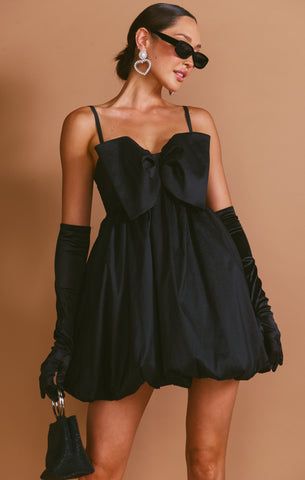 Sophisticated Satin – A Modern Twist on Bows
For a woman who balances the boardroom with social soirées, incorporating bows into her wardrobe becomes an art. The bow outfit of 2024 takes a high-fashion turn with a satin top that commands attention. The black and pink satin asymmetry introduces a modern edge, while the oversized bow serves as a bold centerpiece. This outfit is for the woman who isn't afraid to stand out and prefers her fashion with a side of audaciousness. Styling it with tailored trousers and black heels creates a powerful image, perfect for a woman making her mark in the world.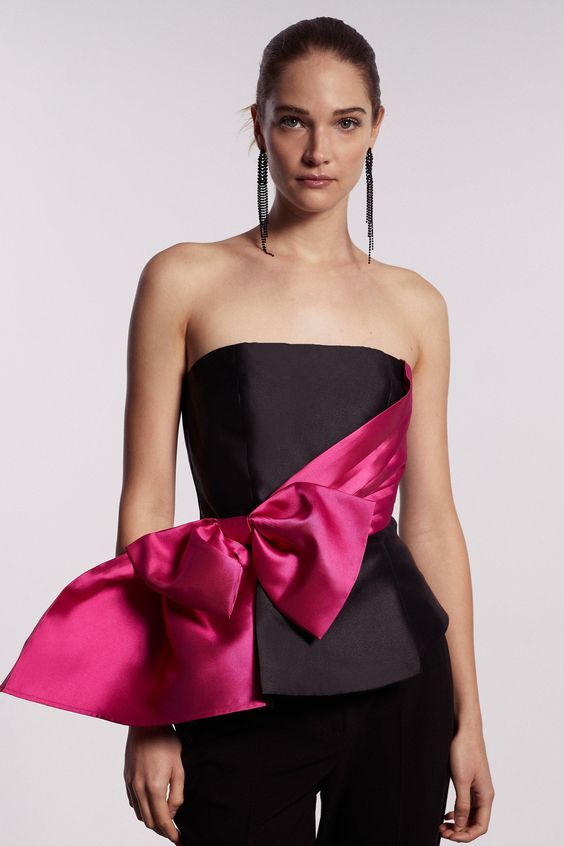 Sheer Elegance – Bows and Translucent Fabrics
Picture a weekend brunch where the dress code is 'effortlessly fashionable.' Enter the bow outfit of 2024, featuring sheer fabrics tied together with a charming bow at the waist. This look is about balancing transparency with sophistication, perfect for the woman who loves to blend casual ease with a touch of class. The grey hue is a soft alternative to white or black, making it an ideal choice for daytime events. A pair of Uggs with a legged pant can add a quirky twist, or choose black heels with a pointed toe to elevate the outfit for more formal occasions.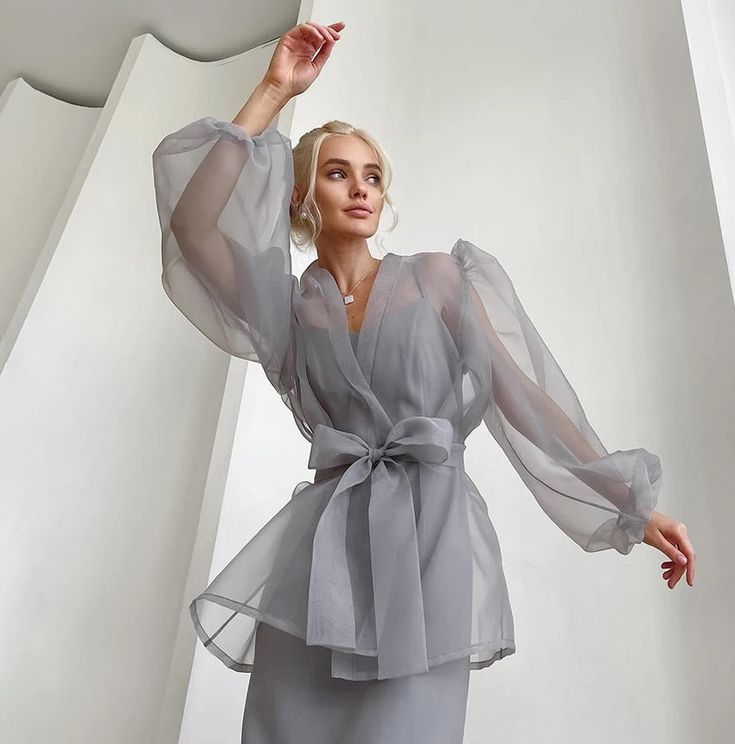 Bold Pink Bow Blouse – The Statement Piece
For those evenings when you want to make a memorable entrance, a bold pink bow blouse does just the trick. This 2024 bow outfit piece with its oversized bow offers a dramatic yet elegant feel, perfect for the woman with a flair for the dramatic. It's a conversation starter, an outfit that says you're here to make an impact. Pair it with sleek black pants to let the blouse take center stage, or go for a monochromatic look with pink trousers to turn heads.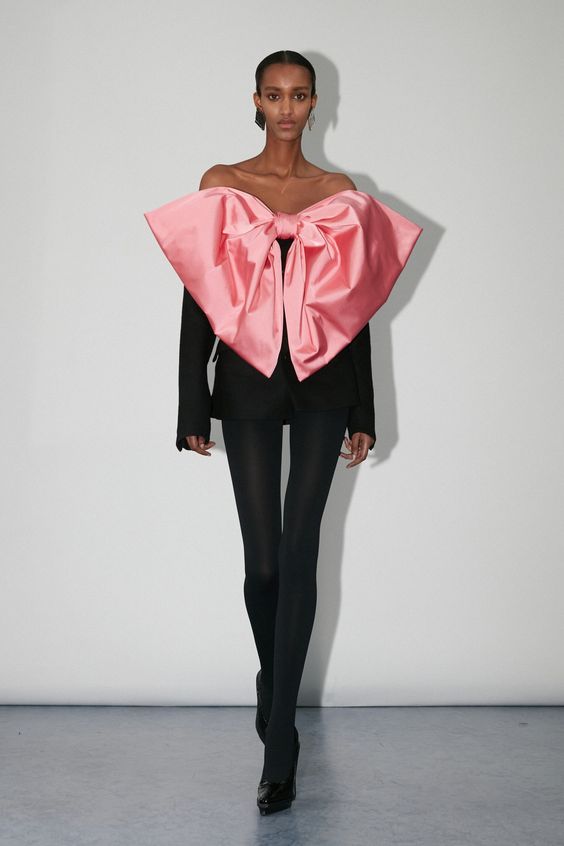 Classic White Gown – Timeless Bow Accents
Weddings, galas, or any affair where the dress code is 'unabashedly elegant', this bow outfit of 2024 is the pièce de résistance. A classic white gown with a tasteful bow accent on the shoulder exudes grace and poise. This outfit is for the woman who adores tradition but insists on a modern touch. The flow of the gown suggests a casual elegance, while the bow adds a touch of the contemporary. This dress pairs beautifully with hair styled in an Olivia Rodrigo inspired updo or left flowing with black hair or white hair.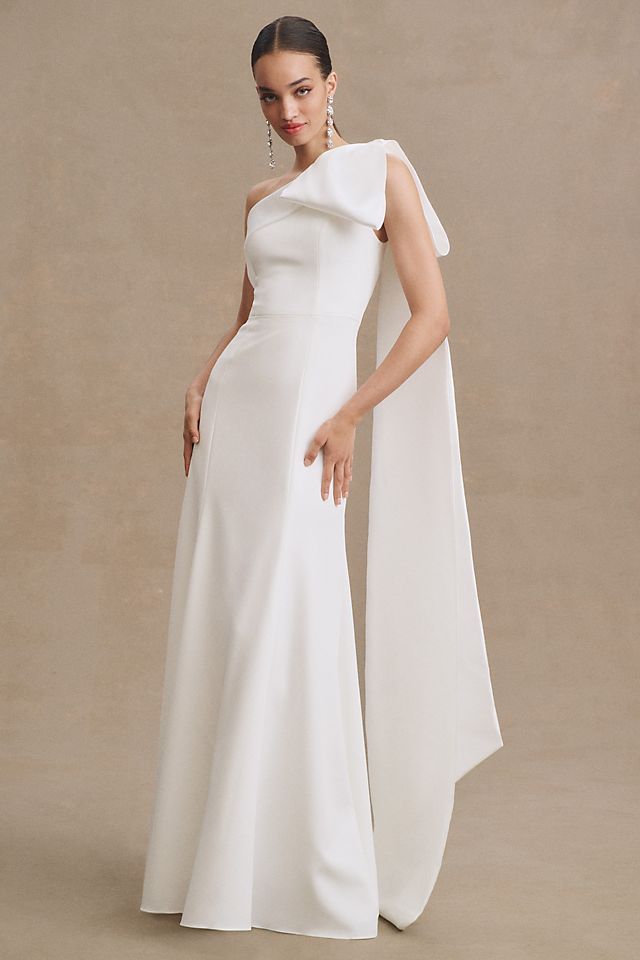 Playful Pink Bow Dress – A Flirtatious Spin on Sophistication
The "bow outfit 2024" makes a captivating turn with this playful pink dress, a blend of femininity and modern design. This piece captivates with a large, eye-catching bow on the bodice, creating a sense of balance and proportion. Ideal for a summer garden party or a chic daytime event, this cute dress is a nod to the aesthetic appeal of bows, providing a striking silhouette that complements the neck and shoulders. Style it with nude heels to let the dress be the star of the show, or add black heels with a subtle design for an evening transformation.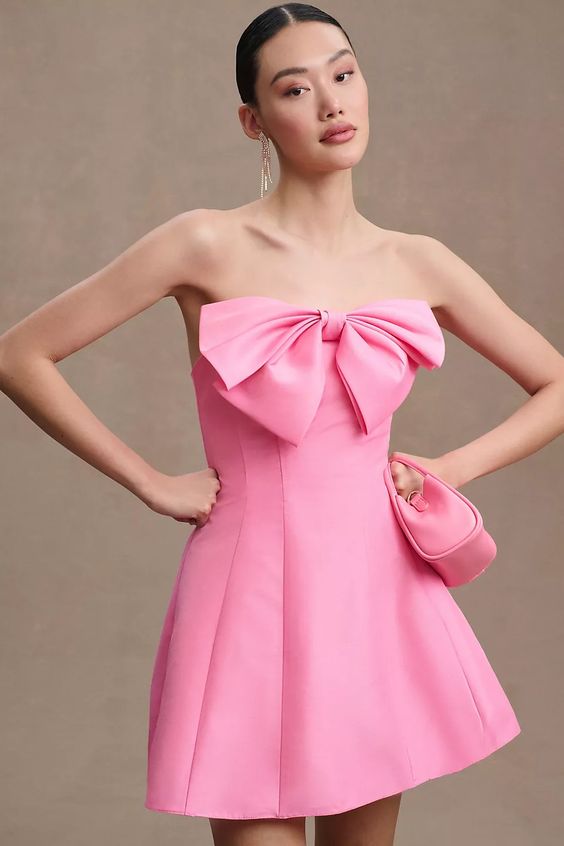 Monochromatic Elegance – Where Bows Meet Haute Couture
In the 2024 bow outfit trend, monochromatic elegance reigns supreme. This stunning attire showcases a sophisticated bow cascading along the shoulder, offering a dramatic flair to the sleek white jumpsuit beneath. It's a perfect ensemble for those who covet a minimalist yet bold style. This outfit is a celebration of classy and casual sophistication, ideal for women who prefer their fashion statements to be both understated and compelling. Pair it with black strappy heels for a balanced, chic look.
Back Bow Elegance – The Allure of Subtlety
The bow outfit of 2024 takes an enchanting twist with this black dress that features a graceful bow on the back, adorned with pearls. This outfit whispers luxury and exudes a timeless classy vibe, ideal for exclusive evening events. The subtlety of the bow allows for a graceful reveal, perfect for women who appreciate the allure of understated drama. Style this dress with pearl earrings and black heels with intricate details to complete the elegant ensemble.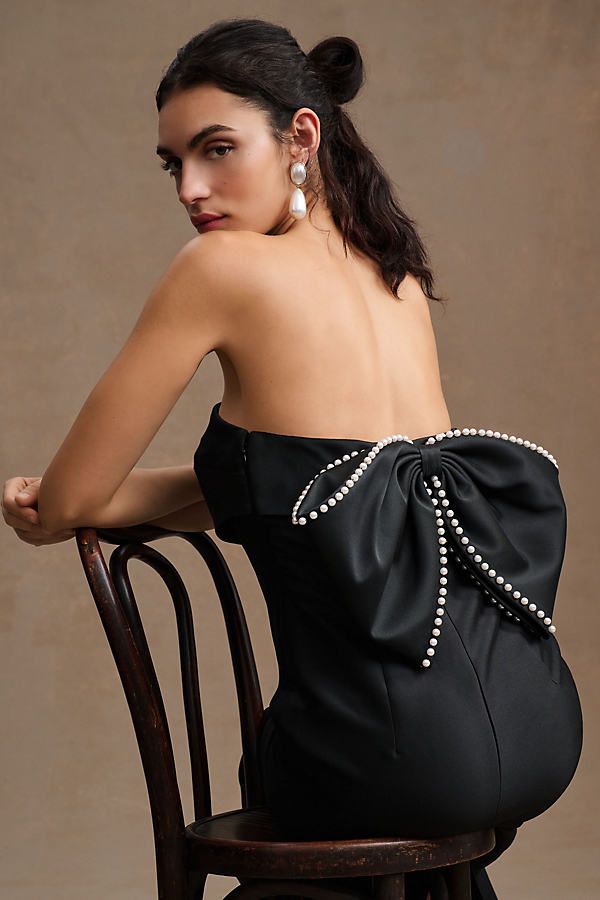 Contemporary Bow Blouse – Redefining Workwear
For the working woman who desires to infuse personality into her professional wardrobe, the bow outfit of 2024 brings this crisp white blouse with a bold bow. It's a contemporary take on the classic tie shirt, offering an aesthetic blend of casual and professional. This blouse pairs beautifully with high-waisted trousers, making it a versatile piece for both in-office days and post-work engagements. To add an extra touch of chic, consider pairing with black heels or a statement watch.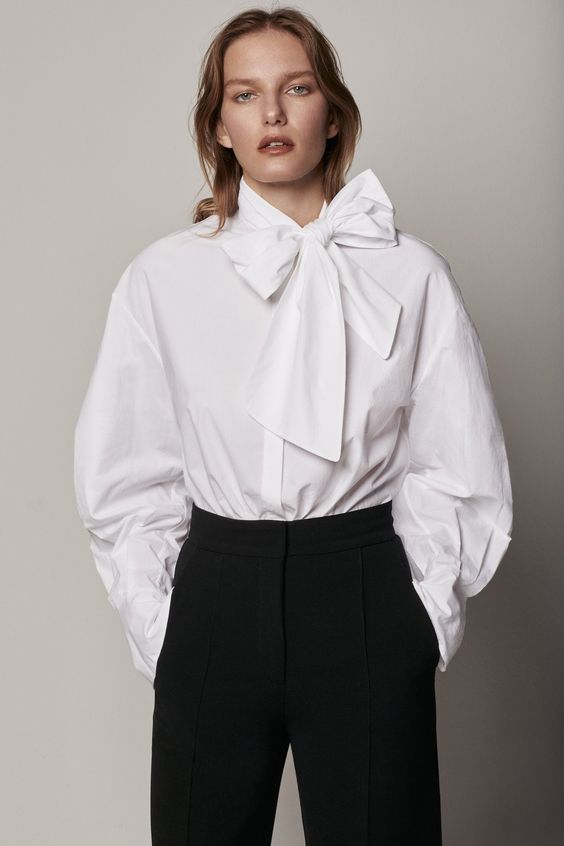 Avant-Garde Bow Accent – The Future of Evening Wear
Lastly, the bow outfit of 2024 wouldn't be complete without an avant-garde piece that challenges traditional evening wear conventions. This white dress with its ethereal bow sleeves is a vision of innovation and style. It's a perfect choice for the woman who walks the line between casual comfort and high-fashion aesthetic. The bows act as a dramatic, sculptural element, adding an artistic flair to the minimalist design. This outfit pairs exquisitely with minimalist black heels, letting the unique bow detail command the spotlight.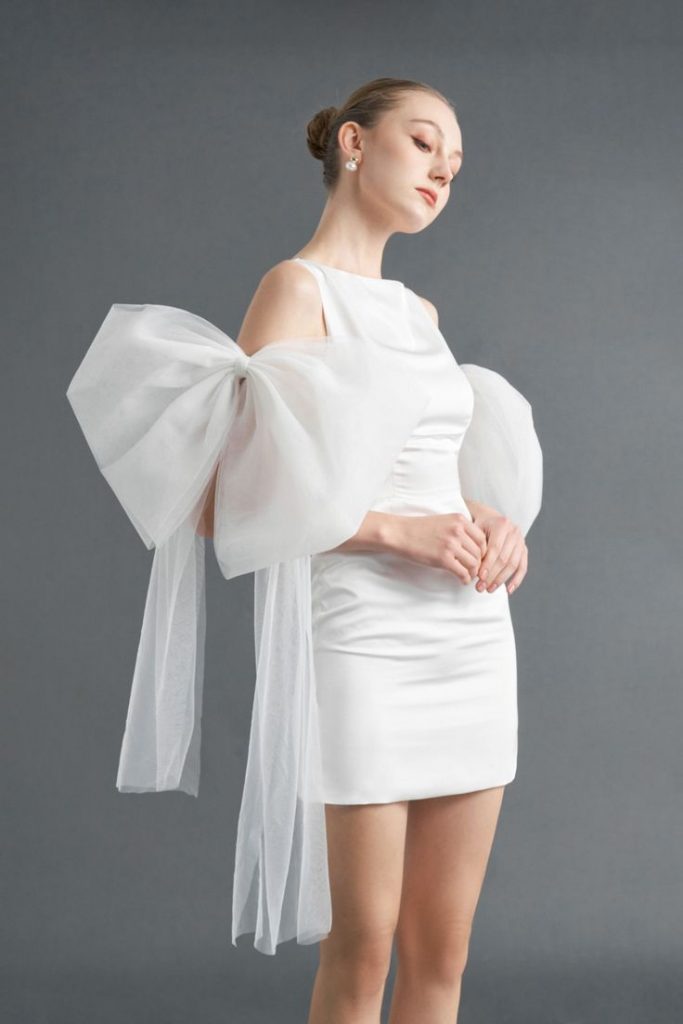 Sheer Poise – The Ethereal Bow Blouse
This white bow blouse is a testament to ethereal elegance within the "bow outfit 2024" collection. It's a manifestation of grace with its oversized, flowy bow tying at the front, creating an aura of sheer poise. The translucence of the sleeves adds an airy, delicate touch to the ensemble, perfect for those who carry an air of mystery and sophistication. Tucked into a pencil skirt or worn loose over tailored trousers, this blouse is versatile for both a casual business lunch or a high-profile meeting, symbolizing a modern woman's dynamic role in today's world.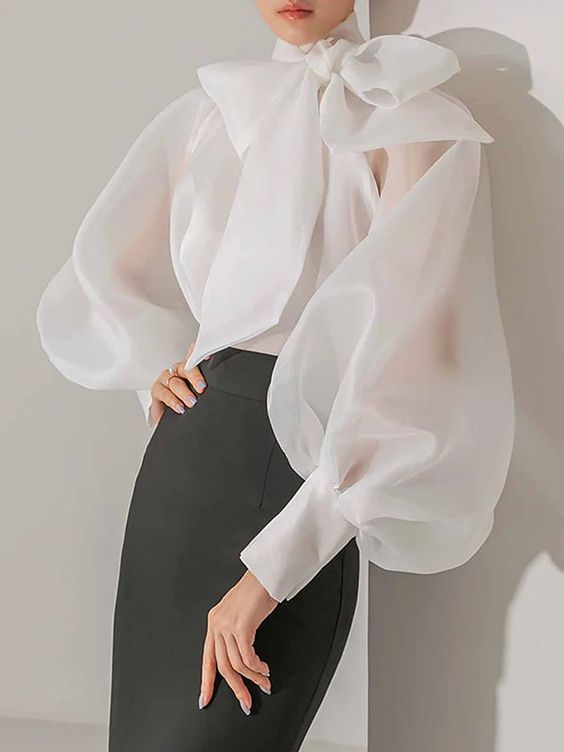 Tulle and Satin – A Balletic Interpretation
Envision a dress inspired by the romanticism of ballet – the bow outfit of 2024 presents this pink tulle creation adorned with a satin bow. The voluminous skirt paired with the structured bodice tie creates a balletic interpretation of contemporary fashion. This cute and flirty dress is a dreamy option for a date night or a fancy tea party. It plays with the contrast of textures, combining the softness of tulle with the sheen of satin, encouraging women to embrace their femininity with a touch of playful charm.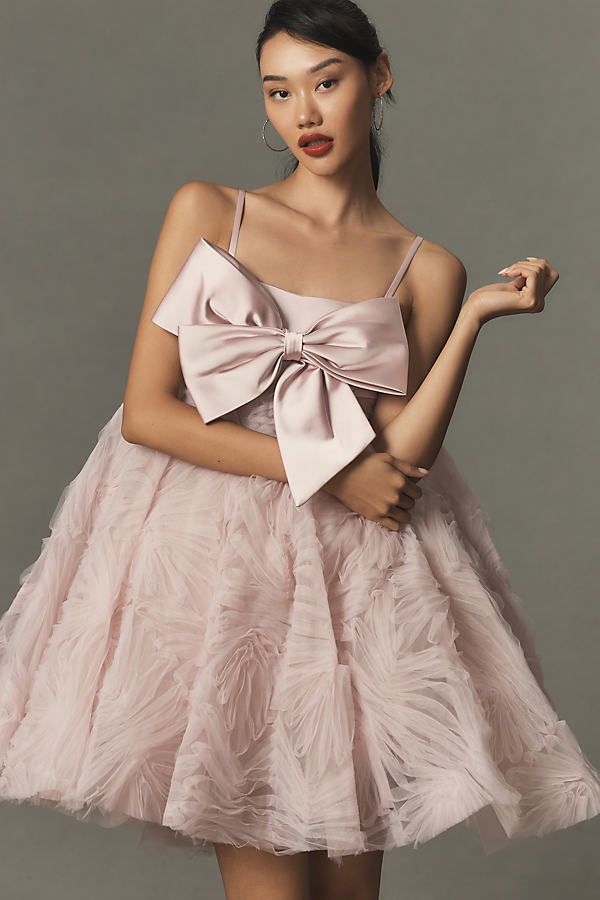 Lime Green Boldness – A Vivid Statement
Dive into the vibrancy of color with this lime green skirt, a bold statement piece in the bow outfit trend of 2024. The skirt's dramatic bow is not just an accessory but the focal point, demanding attention and exuding confidence. This outfit is for the daring, for women who aren't afraid to stand out and showcase their individuality. Paired with a simple crop top, it strikes a balance between casual and dramatic, suitable for an art gallery opening or a creative brainstorming session.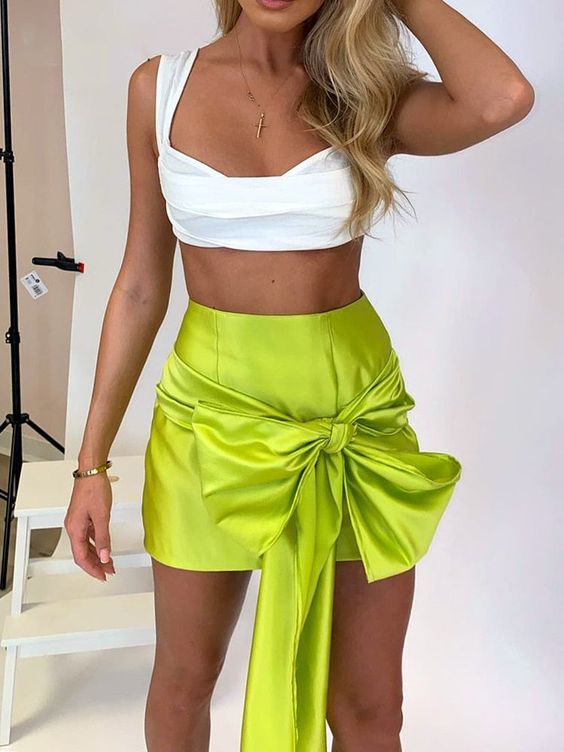 Back Bow Charm – A Siren's Red
The bow outfit of 2024 wouldn't be complete without a touch of siren red. This dress with a bow tie at the back exudes confidence and allure. The simplicity of the front view leads to a dramatic reveal at the back, making it a perfect dress for a night out on the town. The bow's long tails add a sense of movement and grace, ideal for women who carry with them an air of mystery and passion. Style it with sleek heels and minimalist jewelry to let the bow's charm take center stage.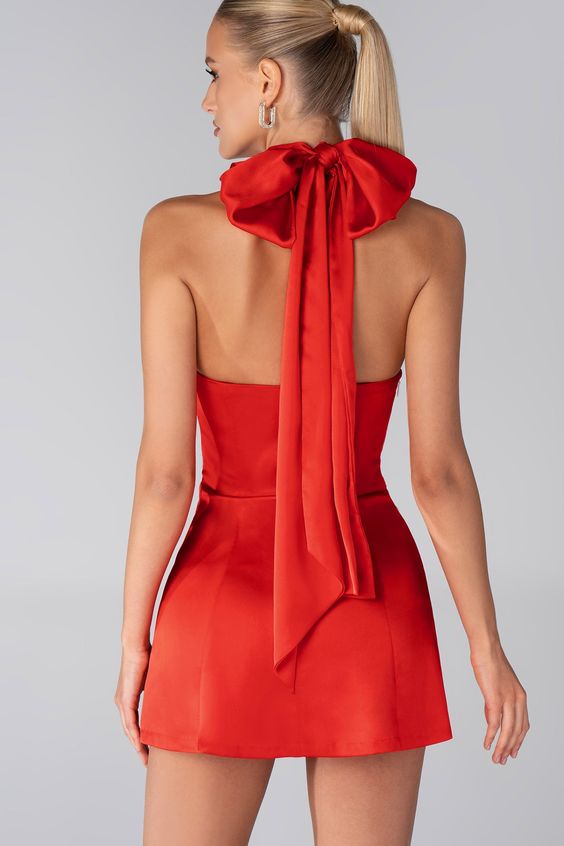 Lavender Love – A Whimsical Wrap
Wrapping up the bow outfit 2024 collection is this whimsical lavender set that gives off a youthful and enchanting vibe. The back bow tie of the skirt adds a playful twist to the traditional two-piece ensemble. This outfit is a love letter to the casual yet stylish brunch dates with friends or a day out in the city. It's a nod to the pastel trend, encouraging women to explore lighter shades with bold silhouettes. Paired with laced gloves or delicate sandals, it transforms into a statement of soft power and cute aesthetics.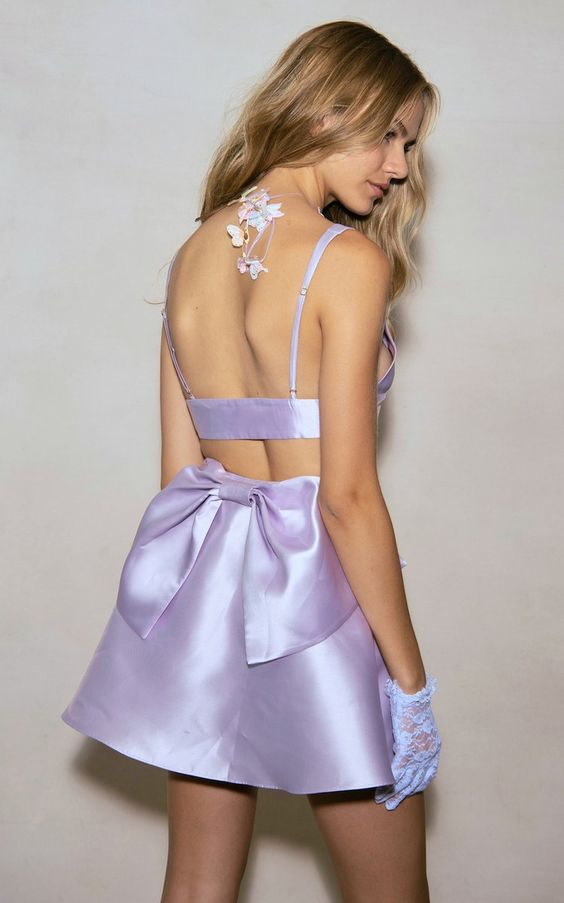 Sleek and Bold – The New Little Black Dress
The bow outfit of 2024 reimagines the classic little black dress with a bold twist. This figure-hugging piece exudes a sleek and modern appeal, with an off-the-shoulder cut that transitions into long, dramatic bow-tied sleeves. The starkness of the black fabric makes it a versatile canvas for accessories—think a glittering clutch or statement belt to cinch the waist. It's a celebration of the timeless black aesthetic, with a contemporary edge that makes it perfect for a classy evening event.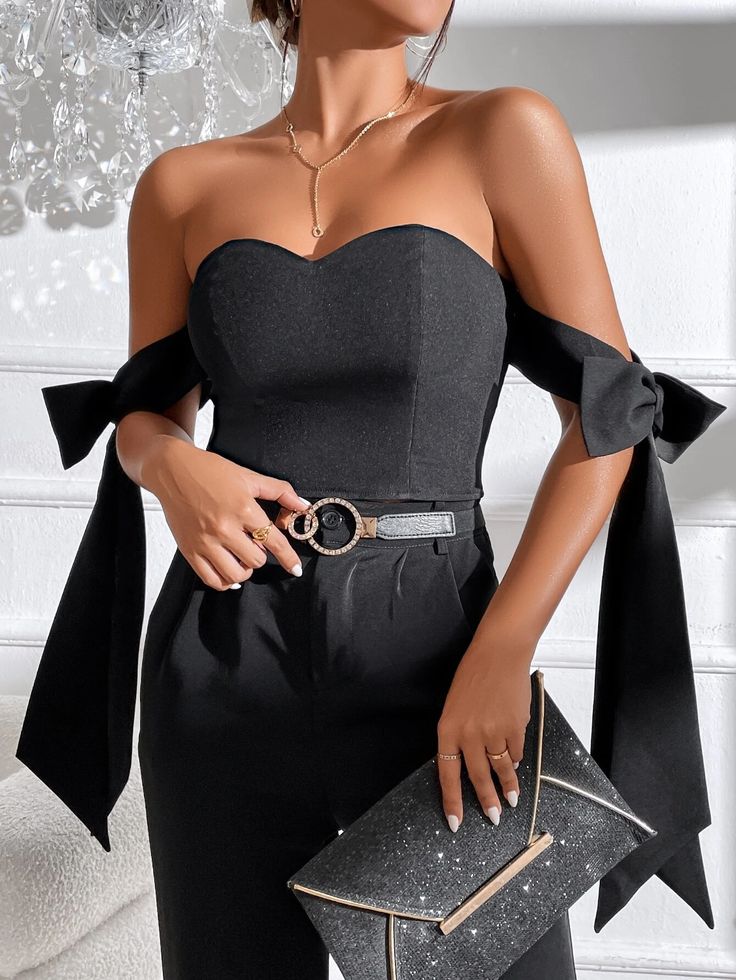 Vibrant Pink – A Fusion of Boldness and Femininity
Drenching the bow outfit trend in vibrancy, this pink dress is a fusion of boldness and femininity. The oversized bow serves as a striking focal point, symbolizing the blend of softness and power. The dress's short hemline adds a playful touch, suitable for those upbeat spring or summer occasions. It's a piece that doesn't shy away from making a statement, inviting women to embrace their boldness while playing up their cute and casual side.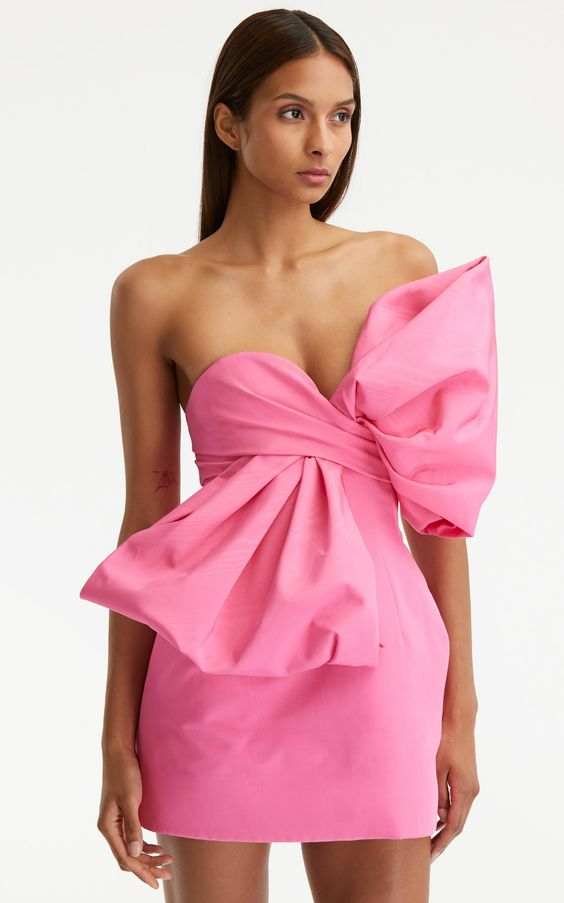 Contemporary Chic – Crop Top Elegance
In the bow outfit 2024 collection, contemporary chic takes center stage with this innovative crop top, pairing the softness of pink with the stark contrast of black trousers. The bow, tied at the chest, creates a sense of symmetry and style, embodying a fresh, youthful energy. It's an expression of casual sophistication, ideal for the woman who juggles a multifaceted life with flair and confidence. Whether it's paired with high-waisted jeans for a day out or tailored pants for a night on the town, it's a testament to versatile fashion.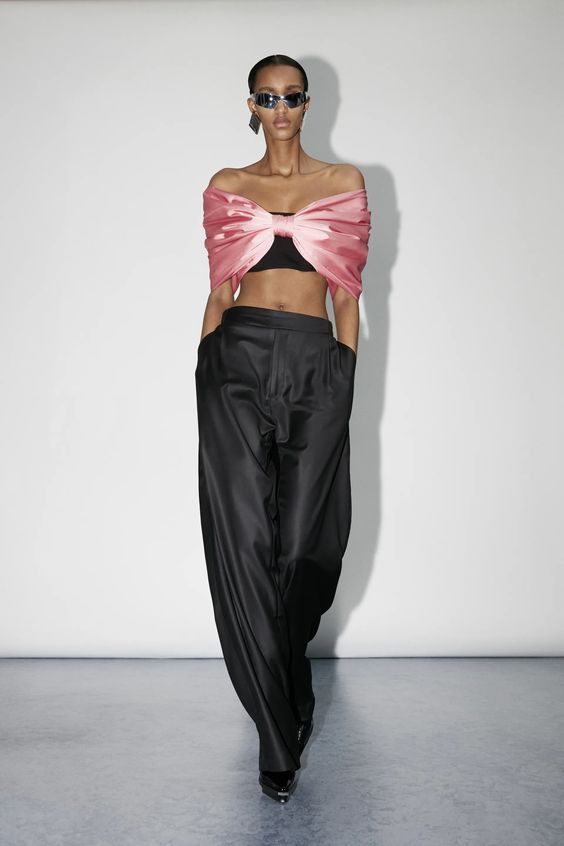 Statement Blazer – Redefining Power Dressing
Power dressing gets a vivid makeover with this statement pink blazer, complete with a bow that commands attention. The strong shoulders and cinched waist highlight a silhouette of empowerment, while the bow adds a twist of unconventional charm. This outfit is a nod to the classy women who redefine the rules of the boardroom or the cocktail party, merging power with playful sophistication. Paired with heels and sparkling accessories, this blazer becomes the armor of the modern woman—bold, unapologetic, and stylish.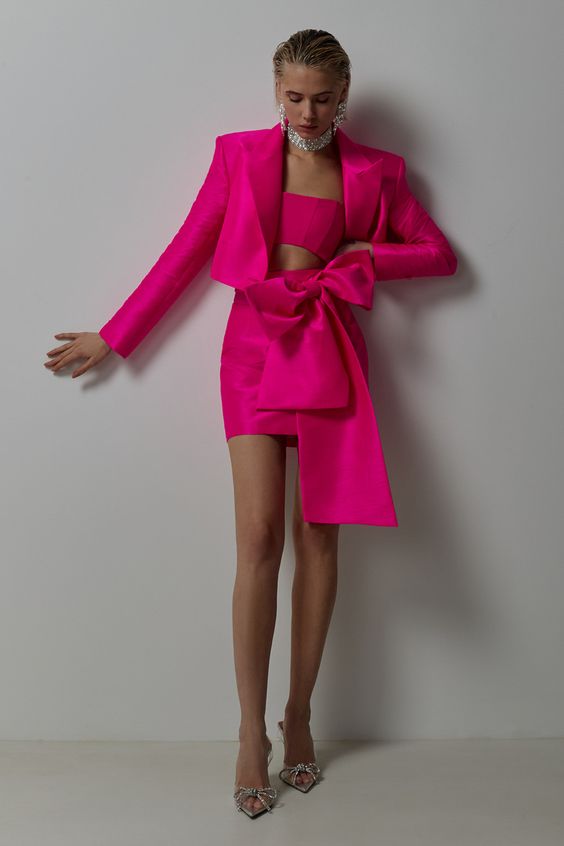 Save Pin