Fashion
Vacation Outfit 2023: 21 Ideas
When planning your vacation outfits, it's important to consider the specific activities and locations you'll be visiting. From beach vacations to city sightseeing, outdoor adventures to resort retreats, each destination requires a different approach to dressing. By curating a well-thought-out vacation wardrobe, you can easily transition from day to night and feel confident in any setting.
Beach Vacation Outfits
For a beach vacation, opt for lightweight and breathable fabrics that keep you cool under the sun. Consider a flowy maxi dress paired with a wide-brimmed hat and oversized sunglasses for a glamorous beach look. Alternatively, mix and match vibrant bikinis or one-piece swimsuits with cover-ups, sarongs, or linen pants for effortless beach-to-bar style.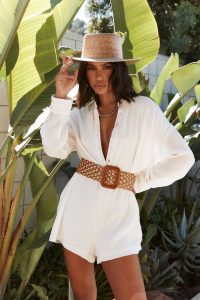 City Sightseeing Outfits
When exploring a vibrant city, comfort is key without sacrificing style. Choose a pair of comfortable yet chic sneakers or sandals and pair them with lightweight trousers or a midi skirt. Opt for breathable tops or blouses and accessorize with a crossbody bag and a stylish sun hat. Layering with a lightweight jacket or cardigan is also advisable for unpredictable weather.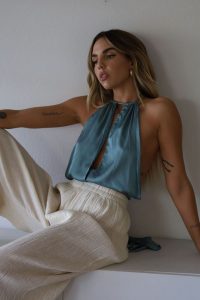 Outdoor Adventure Outfits
If you're embarking on outdoor adventures such as hiking, biking, or exploring nature, prioritize functionality and practicality. Opt for moisture-wicking and quick-drying activewear, including leggings or shorts, paired with a comfortable T-shirt or tank top. Don't forget a wide-brimmed hat, sunglasses, and sturdy footwear like hiking boots or athletic sneakers.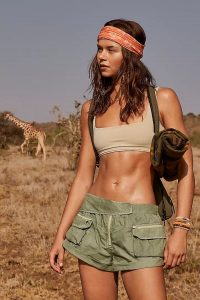 Resort or Cruise Outfits
For a luxurious resort or cruise vacation, embrace a refined yet relaxed style. Pack breezy sundresses, flowy jumpsuits, or linen pants paired with chic tops. Accessorize with statement jewelry, a stylish straw tote, and elegant sandals or wedges. Don't forget a lightweight cardigan or shawl for cooler evenings.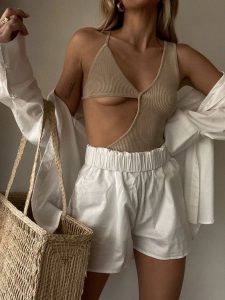 Tropical Destination Outfits
If you're jetting off to a tropical destination, embrace vibrant colors and bold patterns. Pack lightweight and breathable dresses, skirts, or shorts in cheerful prints like florals, palm leaves, or tropical fruits. Combine them with comfortable sandals, statement earrings, and a straw or woven bag to complete your tropical-inspired look.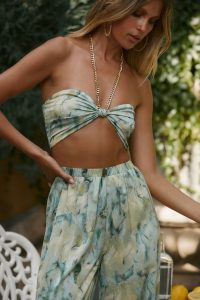 Cultural Exploration Outfits
When immersing yourself in different cultures, it's important to respect local customs while expressing your personal style. Opt for modest yet stylish outfits such as maxi skirts or dresses paired with lightweight blouses or tunics. Add a touch of local flair with traditional accessories or handcrafted jewelry, and choose comfortable footwear for long walks and exploring.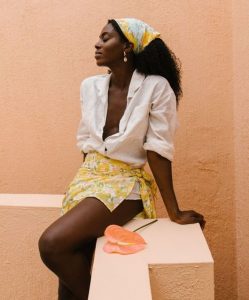 Casual and Comfortable Outfits
Vacation is a time to relax, so don't forget to pack comfortable and casual outfits. Opt for breezy sundresses, loose-fitting tops, or rompers in soft fabrics like cotton or linen. Pair them with comfortable sandals or slip-on shoes, and complete the look with a straw hat and a crossbody bag for a laid-back yet fashionable ensemble.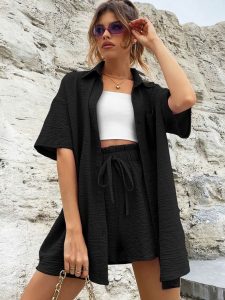 Dressy Evening Looks
For evenings out or special occasions, elevate your vacation outfits with dressy ensembles. Pack a versatile little black dress that can be accessorized differently for multiple occasions. Alternatively, opt for a chic jumpsuit or a flowy maxi dress in a bold color or elegant print. Complete the look with statement jewelry, a clutch or evening bag, and strappy heels.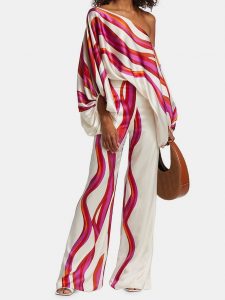 Accessories and Footwear
Accessories and footwear can make or break an outfit, so choose them wisely. Pack versatile pieces such as a wide-brimmed hat, sunglasses, a lightweight scarf, and a statement belt. Opt for comfortable yet stylish footwear like sandals, espadrilles, or versatile flats that can be dressed up or down. Don't forget a small crossbody bag or tote for everyday essentials.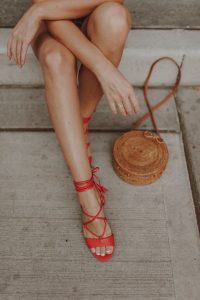 Casual Beach Cover-Up
For a relaxed and effortless beach look, consider a casual beach cover-up. Opt for a lightweight, flowy kaftan or a beach tunic in a sheer fabric. Choose a vibrant color or a playful print to add some personality to your outfit. Pair it with a wide-brimmed straw hat, oversized sunglasses, and comfortable flip-flops. This easy-breezy ensemble is perfect for lounging on the beach or taking a leisurely stroll along the shoreline.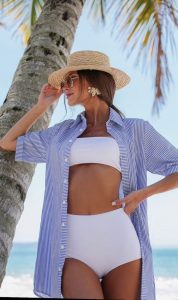 Bohemian Vibes
Embrace a bohemian-inspired look for your vacation outfits. Choose flowy maxi dresses or skirts in earthy tones like mustard yellow, olive green, or burnt orange. Pair them with loose-fitting blouses or crochet tops. Add some boho accessories such as layered necklaces, stacked bracelets, and floppy hats for a free-spirited and effortless style.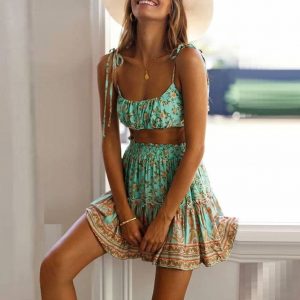 Sporty Chic
Combine comfort and style with a sporty chic outfit. Opt for athleisure-inspired pieces like leggings or jogger pants paired with a trendy graphic tee or a cropped hoodie. Complete the look with a pair of stylish sneakers, a baseball cap, and a backpack. This outfit is perfect for exploring the city or engaging in outdoor activities.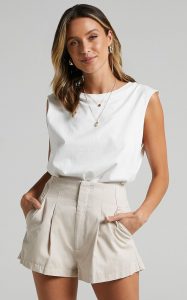 Nautical Elegance
Capture the essence of the sea with a nautical-themed outfit. Choose navy blue and white striped tops or dresses and pair them with red accents like a belt or a handbag. Complete the look with boat shoes or espadrilles and a straw hat. This classic and timeless style is perfect for coastal vacations or cruises.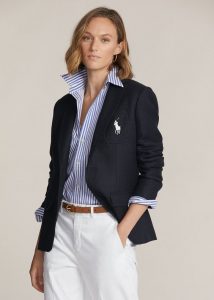 Vintage Glam
Channel your inner retro diva with a vintage-inspired vacation outfit. Opt for a high-waisted A-line skirt paired with a fitted blouse or a polka dot dress. Accessorize with cat-eye sunglasses, a vintage-style handbag, and classic pumps or Mary Jane shoes. This glamorous and sophisticated look will make you stand out in any setting.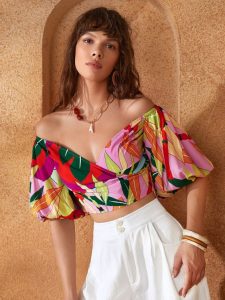 Safari Adventure
If you're going on a safari or exploring wildlife, dress the part with a safari-inspired outfit. Choose khaki or olive green cargo pants or shorts paired with a lightweight safari-style shirt. Add a wide-brimmed hat, a pair of sturdy boots or sandals, and a utility-style backpack. This practical and adventurous look is both fashionable and functional.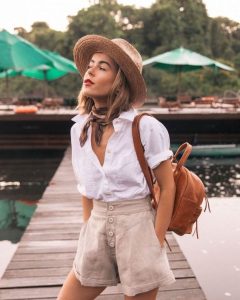 Romantic Sundresses
For a dreamy and romantic vacation look, pack a selection of sundresses in soft pastel colors or floral prints. Choose flowy and feminine silhouettes like off-the-shoulder or wrap dresses. Pair them with delicate sandals or wedges and accessorize with dainty jewelry and a straw clutch. This ethereal and charming style is perfect for strolling along picturesque streets or enjoying a candlelit dinner.
Edgy Street Style
Make a fashion statement with an edgy street style outfit. Combine leather or faux leather leggings with an oversized band t-shirt or a graphic print top. Layer with a denim or leather jacket and complete the look with ankle boots or chunky sneakers. Add some statement accessories like a studded belt or a choker necklace for an effortlessly cool vibe.
Boho Beach Vibes
Create a boho beach look by combining flowing maxi skirts or dresses with a crochet bikini top or a fringed halter top. Layer with a lightweight kimono or a crochet cardigan for added bohemian flair. Complete the look with barefoot sandals or beaded anklets and oversized sunglasses. This relaxed and whimsical style is perfect for beach vacations or music festivals.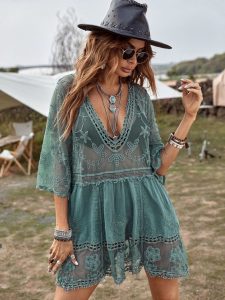 Monochrome Magic
Achieve a sleek and sophisticated look with a monochrome outfit. Choose a single color and dress head to toe in different shades and textures. For example, opt for all-white or all-black attire. Experiment with different fabrics like linen, silk, or lace to add visual interest. Complete the monochromatic look with statement accessories or a contrasting belt for a modern and elegant appearance.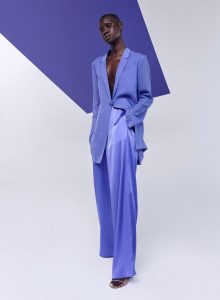 Resort Chic
For a luxurious resort getaway, go for a resort chic outfit. Choose a flowy wide-leg jumpsuit in a vibrant color like coral or turquoise. Pair it with metallic or embellished sandals and accessorize with statement earrings and a straw clutch. This glamorous and effortless style is perfect for lounging by the pool or enjoying a fancy dinner at the resort.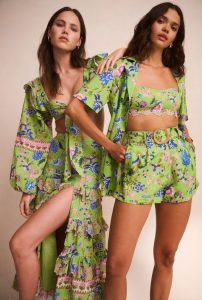 Tropical Print Paradise
Transport yourself to a tropical paradise with a vibrant and fun tropical print outfit. Choose a dress, romper, or jumpsuit featuring bold and colorful floral or palm leaf patterns. Pair it with strappy sandals or wedges in a complementary color. Complete the look with oversized sunglasses and a straw tote bag. This cheerful and lively outfit is perfect for embracing the tropical vibes of your vacation destination.