Nails
Summer Nails Oval Shape: 19 Ideas
Summer is the perfect season to showcase your personal style through stunning nail designs. Oval-shaped nails, known for their elegant and feminine look, are an excellent choice for summer manicures. Whether you prefer bold and vibrant colors or delicate and intricate patterns, we have gathered 19 captivating ideas to inspire your next oval-shaped summer nails. Get ready to make a statement and let your nails shine under the sun!
1. Radiant Sunshine
Embrace the sunny vibes of summer with a vibrant yellow shade on your oval-shaped nails. This cheerful color exudes positivity and adds a pop of brightness to any outfit. To elevate the look, consider adding a touch of glitter or a subtle gradient effect for a dazzling summer manicure.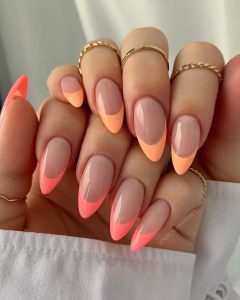 2. Pretty in Pink
Pink nails are a timeless choice that never goes out of style. Opt for a soft pastel pink shade on your oval-shaped nails for a feminine and sophisticated look. You can also experiment with different shades of pink or add floral accents to create a delicate and romantic nail design.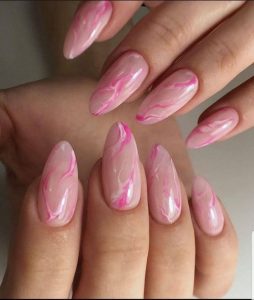 3. Coral Crush
Coral is a popular summer color that exudes warmth and tropical vibes. Choose a vibrant coral shade for your oval-shaped nails to create a bold and eye-catching manicure. To add an extra touch of elegance, consider incorporating a gold foil accent or a subtle ombré effect.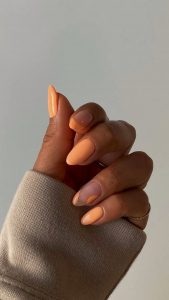 4. Oceanic Blue
Capture the essence of the ocean with stunning blue nails. From vibrant turquoise to deep navy, blue shades offer a refreshing and cool look for the summer season. Experiment with different finishes like matte or metallic to add dimension and intrigue to your oval-shaped nails.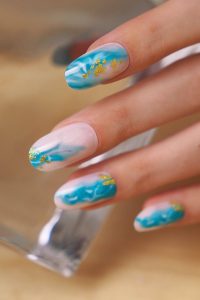 5. Tropical Paradise
Transport yourself to a tropical paradise with exotic nail designs inspired by lush palm trees, vibrant flowers, and colorful fruits. Choose a neutral base color for your oval-shaped nails and add tropical motifs using vibrant nail art pens or decals. This playful and lively design will instantly put you in a vacation mood.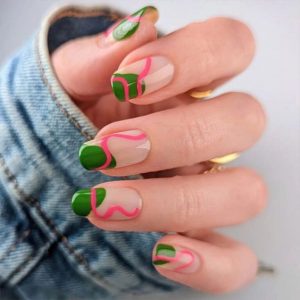 6. Delicate Florals
Embrace the beauty of summer flowers with delicate floral nail art. Opt for a light base color and adorn your oval-shaped nails with intricate floral patterns using fine brushes or stamping plates. This design is perfect for those who love a touch of femininity and elegance.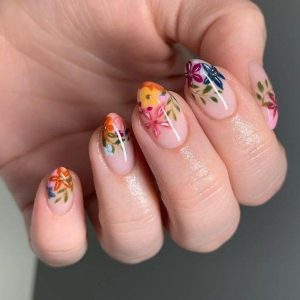 7. Beachy Vibes
Bring the beach to your nails with a beach-themed manicure. Create designs inspired by seashells, starfish, and waves to achieve a fun and summery look. Combine soft pastel colors like sandy beige and seafoam green to capture the calming and serene atmosphere of the seaside.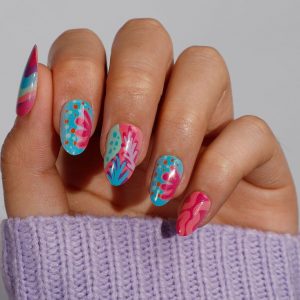 8. Geometric Chic
For a modern and edgy summer look, experiment with geometric patterns on your oval-shaped nails. Use bold colors like black, white, and vibrant neon shades to create striking designs. Whether it's abstract shapes or intricate lines, geometric nail art adds a touch of sophistication to your manicure.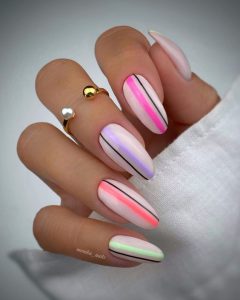 9. Pastel Dream
Embrace the soft and dreamy vibes of summer with pastel-colored nails. Choose a palette of light blues, pinks, purples, or greens for a fresh and whimsical look. Combine different pastel shades or add subtle glitter accents to create a charming and ethereal nail design.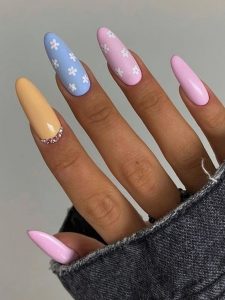 10. Metallic Magic
Make a bold statement with metallic nails that catch the light and shimmer in the summer sun. Opt for metallic shades like silver, gold, or rose gold for a glamorous and eye-catching manicure. You can go for a full metallic look or incorporate metallic accents into your oval-shaped nail design.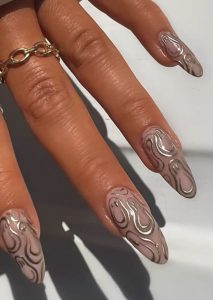 11. Gradient Elegance
Create a gradient effect on your oval-shaped nails for a subtle and elegant look. Choose colors that blend seamlessly together, such as shades of pink, purple, or blue. Use a sponge or a nail brush to achieve a smooth transition between colors and add a touch of sparkle or a floral accent for a graceful summer manicure.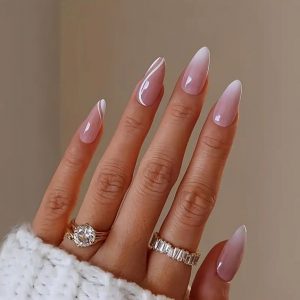 12. Textured Beauty
Add texture and dimension to your oval-shaped nails by incorporating unique finishes like matte, glossy, or textured top coats. Experiment with different textures such as sand, glitter, or velvet for a visually captivating and tactile nail design. This trendy and modern style will surely make your nails stand out.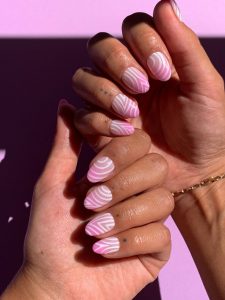 13. Negative Space Elegance
Negative space nail art creates a sophisticated and minimalist look. Leave certain areas of your oval-shaped nails unpainted to reveal the natural nail or create geometric cutouts. Play with contrasting colors or add delicate patterns for an artistic and chic manicure that embraces the concept of "less is more."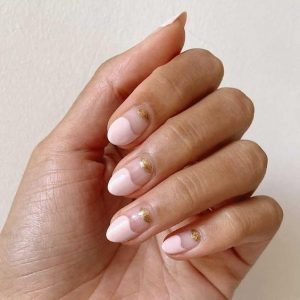 14. French Manicure Reinvented
Put a twist on the classic French manicure by incorporating unique colors and designs. Instead of the traditional white tips, experiment with pastel shades, metallic accents, or even vibrant neon colors. This modern interpretation of the French manicure will add a trendy and fashionable touch to your oval-shaped nails.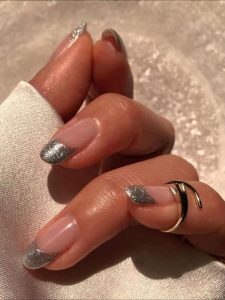 15. Statement Accents
Make a bold statement by adding eye-catching accents to your oval-shaped nails. Consider using rhinestones, studs, or charms to create a focal point on one or two nails. These embellishments can be combined with various colors and designs to add a touch of glamour and personality to your summer nails.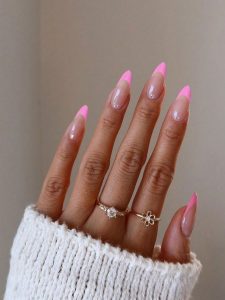 16. Mermaid Scales
Channel your inner mermaid with a mesmerizing nail design inspired by the mythical creatures of the sea. Use iridescent nail polishes or nail powders to create a scale-like effect on your oval-shaped nails. Choose shades of blue, green, or purple to capture the enchanting beauty of the ocean.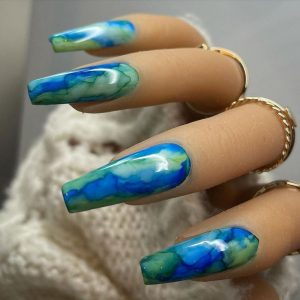 17. Fruit Fiesta
Embrace the fruity and vibrant vibes of summer by incorporating fruit-themed nail art into your oval-shaped nails. Paint your nails with bright colors like orange, yellow, or red, and add fun fruit designs such as watermelon slices, pineapples, or strawberries. This playful and refreshing nail design is perfect for summer parties or beach outings.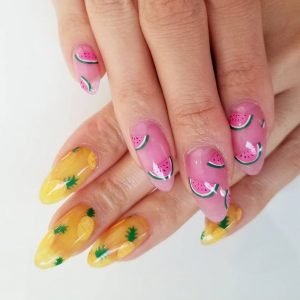 18. Boho Chic
Create a bohemian-inspired look with intricate patterns and earthy tones on your oval-shaped nails. Choose warm and natural colors like browns, oranges, or deep reds, and incorporate paisley prints, mandalas, or dreamcatcher designs. This free-spirited and artistic nail art will complement your summer boho outfits perfectly.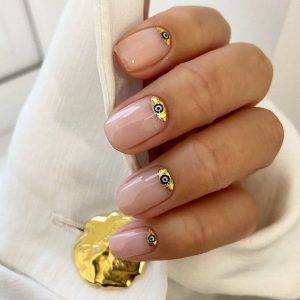 19. Glitter Glam
If you love all things sparkly, embrace the glamour of glitter on your oval-shaped nails. Choose a glittery nail polish or opt for loose glitter and create dazzling accents or full coverage on your nails. Experiment with different colors or go for a multi-dimensional look with holographic glitter. Get ready to shine and make a bold statement with your glittery summer nails.