Fashion
White Dress Summer 2023 – 21 Ideas
Are you ready to embrace the essence of summer with a timeless and elegant wardrobe staple? Look no further than a white dress. White dresses are a must-have for the summer season, exuding freshness, sophistication, and versatility. Whether you're attending a garden party, heading to the beach, or enjoying a casual outing, a white dress can effortlessly elevate your style. In this article, we present 21 stunning white dress ideas for Summer 2023, each with a unique description to inspire your fashion choices. Get ready to shine in the pure elegance of white!
Idea 1: Boho Chic
Capture the free-spirited vibe of summer with a boho chic white dress. Opt for a flowing maxi dress with lace or crochet details. The relaxed and breezy silhouette combined with delicate embellishments will give you an ethereal and romantic look, perfect for summer festivals or beachside getaways.
Idea 2: Classic A-Line
For a timeless and sophisticated look, choose a classic A-line white dress. This flattering silhouette cinches at the waist and flares out, creating a feminine and elegant style. Pair it with wedges or sandals for a casual day out or dress it up with heels and statement accessories for a more formal occasion.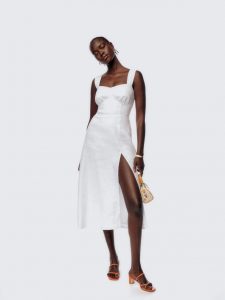 Idea 3: Minimalist Elegance
Embrace the beauty of simplicity with a minimalist white dress. Choose a clean and sleek design with clean lines and minimal embellishments. This minimalist approach allows the pure white color to take center stage, creating an effortlessly chic and modern look that is perfect for any summer occasion.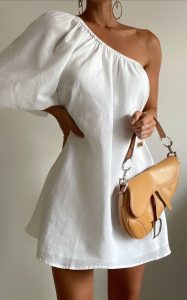 Idea 4: Romantic Lace
Indulge in the delicate allure of lace with a romantic white lace dress. The intricate patterns and textures of lace add a touch of femininity and charm to your summer ensemble. Opt for a fitted or flowing silhouette, depending on your preference, and embrace the enchanting beauty of lace.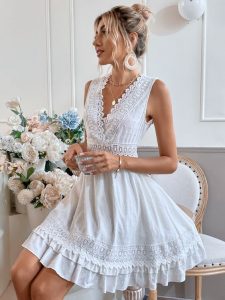 Idea 5: Floral Embroidery
Add a touch of whimsy and playfulness to your white dress with floral embroidery. Choose a white dress adorned with colorful floral embroidery for a vibrant and eye-catching look. The combination of the pristine white fabric and the lively floral motifs creates a captivating and joyful summer outfit.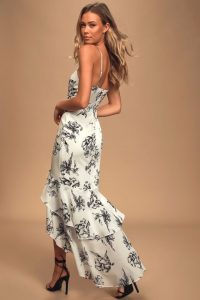 Idea 6: Off-Shoulder Delight
Show off your sun-kissed shoulders with an off-shoulder white dress. This trendy and feminine style adds a flirty and romantic touch to your summer look. Whether it's a mini dress or a flowing maxi, the off-shoulder design will keep you cool and stylish on hot summer days.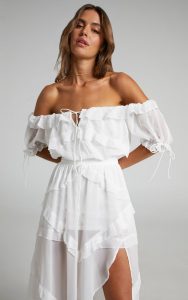 Idea 7: Ruffled Glamour
Make a statement with a white dress featuring ruffles. The cascading layers of ruffles add movement, volume, and a touch of drama to your outfit. Whether the ruffles are delicately placed along the neckline, sleeves, or hemline, they will create a dynamic and glamorous look that is sure to turn heads.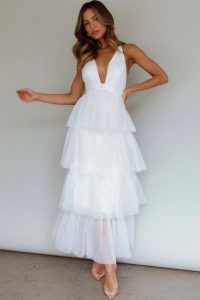 Idea 8: Wrap Magic
Flatter your figure and create a stylish silhouette with a wrap white dress. The wrap design cinches at the waist, accentuating your curves and providing a comfortable fit. Opt for a wrap dress with a V-neckline for a flattering and elongating effect, and let the white color enhance your summer glow.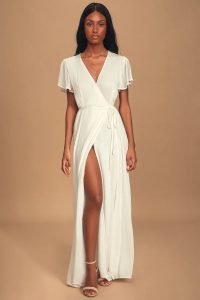 Idea 9: Sheer Sophistication
Elevate your summer style with a white dress featuring sheer details. Sheer fabrics such as chiffon or organza add an ethereal and sophisticated touch to your outfit. Whether it's sheer sleeves, panels, or overlays, these translucent elements will give your white dress a hint of allure and elegance.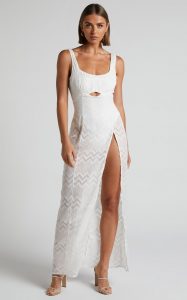 Idea 10: Tiered Dream
Create a dreamy and whimsical look with a tiered white dress. The tiered design adds volume and movement, transforming your dress into a work of art. Whether the tiers are soft and flowy or structured and defined, they will add depth and visual interest to your summer ensemble.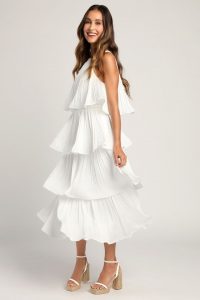 Idea 11: Statement Sleeves
Make a bold fashion statement with a white dress featuring statement sleeves. From puffed sleeves to bell sleeves, exaggerated sleeves are a popular trend for Summer 2023. The voluminous sleeves add drama and flair to your white dress, making it a standout piece for any occasion.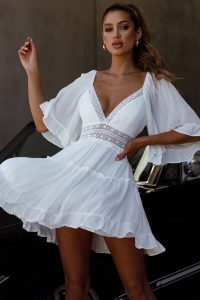 Idea 12: Monochrome Magic
Create an effortlessly chic and sophisticated look with a monochrome white dress. Opt for a white dress with tonal embellishments, such as embroidery, beading, or appliques, in shades of white or cream. This monochromatic approach adds depth and dimension to your outfit while maintaining the overall elegant and cohesive look.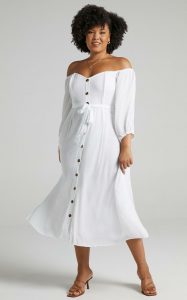 Idea 13: High-Low Hemline
Add a touch of modernity and playfulness to your white dress with a high-low hemline. This asymmetrical hemline creates a dynamic and visually interesting silhouette. Whether it's a shorter front hem with a longer back or vice versa, the high-low hemline will add a contemporary twist to your summer ensemble.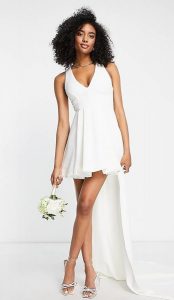 Idea 14: Cutout Chic
Stay on-trend with a white dress featuring cutout details. Cutouts can be strategically placed at the waist, back, or neckline, adding a hint of allure and modernity to your outfit. These peek-a-boo details create a balance between sophistication and edginess, making your white dress a fashion-forward choice for Summer 2023.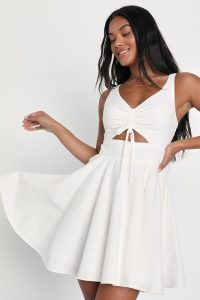 Idea 15: Embellished Glam
Sparkle and shine in a white dress adorned with embellishments. Whether it's sequins, beads, or crystals, embellishments add a touch of glamour and opulence to your summer look. Choose a white dress with strategically placed embellishments to highlight your best features and create a dazzling effect.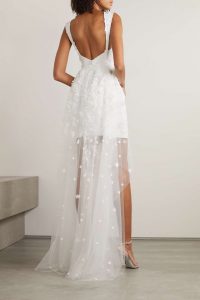 Idea 16: Pleated Perfection
Opt for a white dress with pleats for a sophisticated and polished look. Pleats add texture, movement, and visual interest to your outfit. Whether they are soft and flowing or sharp and structured, pleats create a refined and elegant style that is perfect for summer events or special occasions.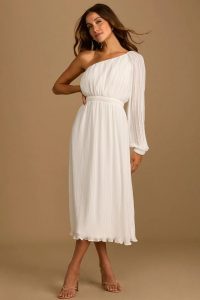 Idea 17: Bohemian Vibes
Channel your inner bohemian spirit with a bohemian-inspired white dress. Look for loose and flowing silhouettes, intricate embroidery, and tassel details. This carefree and laid-back style exudes a sense of freedom and adventure, making it an ideal choice for beach vacations or music festivals.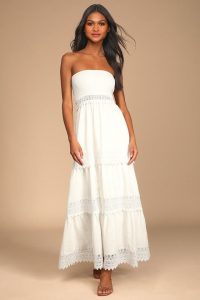 Idea 18: Shirt Dress Chic
Stay cool and stylish in a white shirt dress. This versatile and effortlessly chic style is perfect for both casual and semi-formal summer occasions. Choose a crisp white shirt dress with a defined waist or opt for an oversized and relaxed fit for a more laid-back look.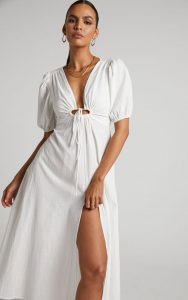 Idea 19: Crochet Wonder
Embrace the art of crochet with a white crochet dress. Crochet details add a touch of vintage charm and bohemian flair to your summer outfit. Whether it's a fully crocheted dress or subtle crochet accents, the intricate patterns and textures will create a captivating and romantic look.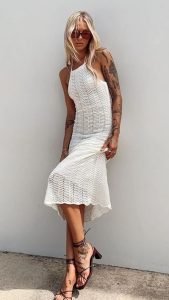 Idea 20: One-Shoulder Elegance
Make a stylish statement with a one-shoulder white dress. This asymmetrical neckline adds a touch of sophistication and allure to your outfit. Whether it's a fitted sheath dress or a flowy maxi, the one-shoulder design will create a visually striking and elegant look for summer.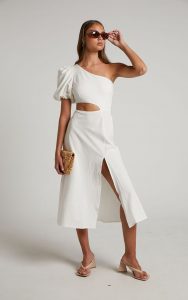 Idea 21: Polka Dot Delight
Add a playful and retro touch to your white dress with polka dots. Polka dots are a timeless pattern that exudes a sense of fun and whimsy. Choose a white dress with black or colored polka dots for a classic yet modern look that is perfect for summer picnics or garden parties.