Hairstyle
15 Gorgeous Afro Ponytail Ideas for a Stunning Look
Afro ponytails are a versatile and stylish hairstyle that celebrates the beauty of natural hair. Whether you're attending a formal event or just looking to switch up your everyday look, an afro ponytail can elevate your style and make a statement. In this article, we present 15 amazing afro ponytail ideas, each accompanied by a detailed description to inspire you to rock this chic and trendy hairstyle.
High Bubble Afro Ponytail
Achieve a fun and playful look by creating multiple bubble sections in your afro ponytail. Start high on your head and secure each section with a clear elastic band, creating a visually striking and voluminous ponytail.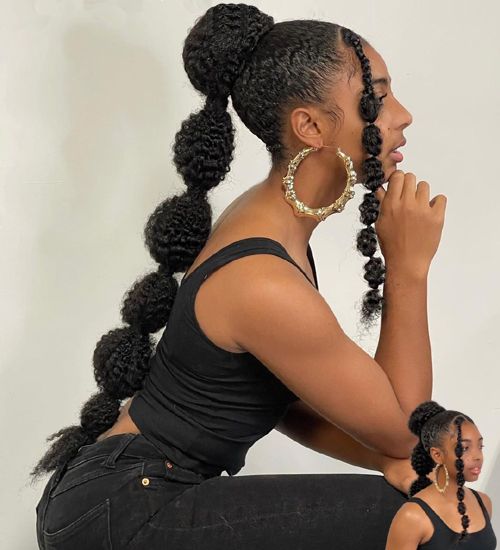 Braided Crown Afro Ponytail
Combine two classic hairstyles by incorporating a braided crown into your afro ponytail. Start by creating a cornrow braid around your head and gather the remaining hair into a high ponytail, allowing the afro texture to shine.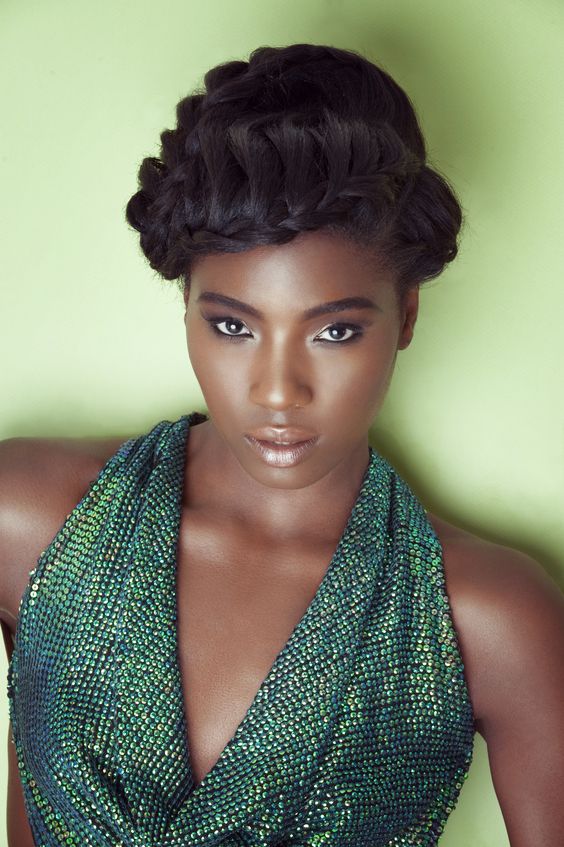 Side-Swept Afro Ponytail
For a sleek and sophisticated look, gather your afro hair into a low ponytail on one side. Smooth the hair down and secure it with a hair tie, allowing a few strands to frame your face for an elegant touch.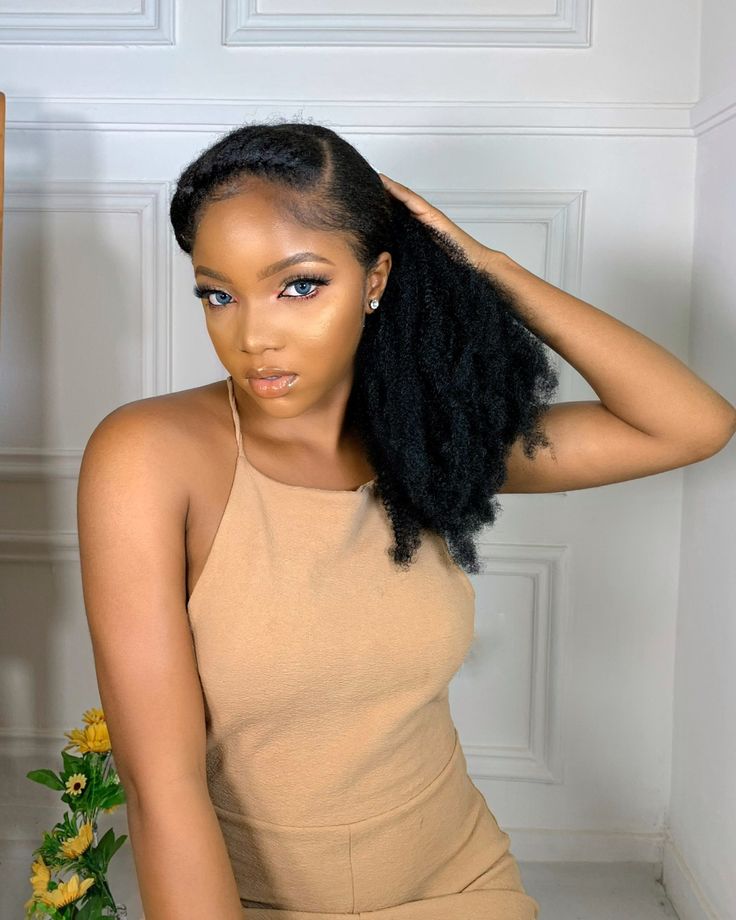 Half-Up Half-Down Afro Ponytail
Combine the best of both worlds by styling a half-up half-down afro ponytail. Gather the top half of your hair into a high ponytail while leaving the rest of your hair down, showcasing the voluminous beauty of your natural hair.
Curly Bangs Afro Ponytail
Add a retro vibe to your afro ponytail by incorporating curly bangs. Create a sleek high ponytail and leave a section of hair at the front to form curly bangs, framing your face and adding a touch of flair.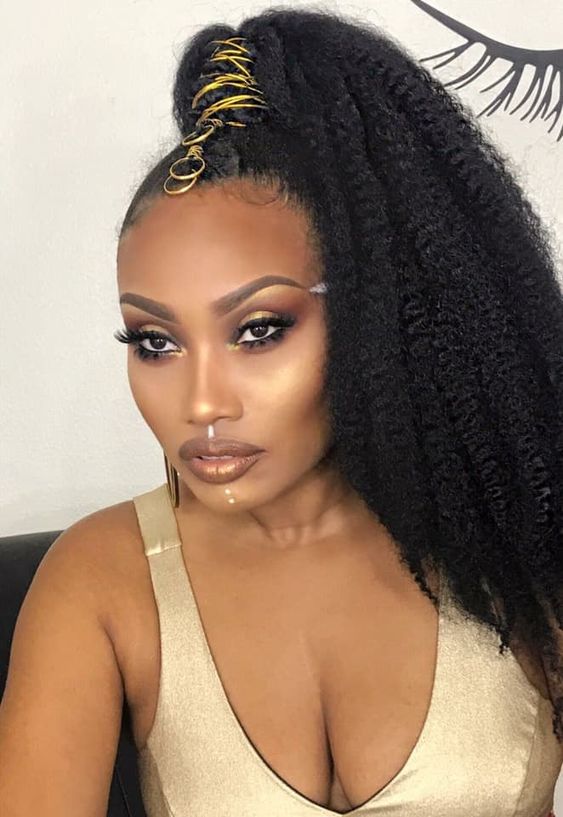 Wrapped Afro Ponytail
Wrap a section of your afro ponytail with a colorful or patterned scarf for a bohemian-inspired look. This accessory not only adds visual interest but also protects your hair from friction and enhances the overall style.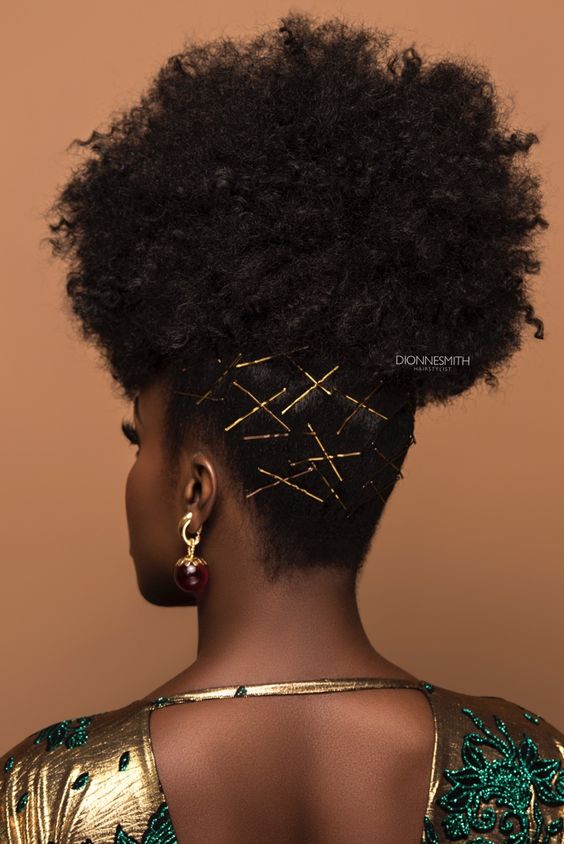 Jumbo Braided Afro Ponytail
Make a statement with a jumbo braided afro ponytail. Create large, chunky cornrows and gather the remaining hair into a voluminous ponytail, showcasing the beauty of both braids and afro-textured hair.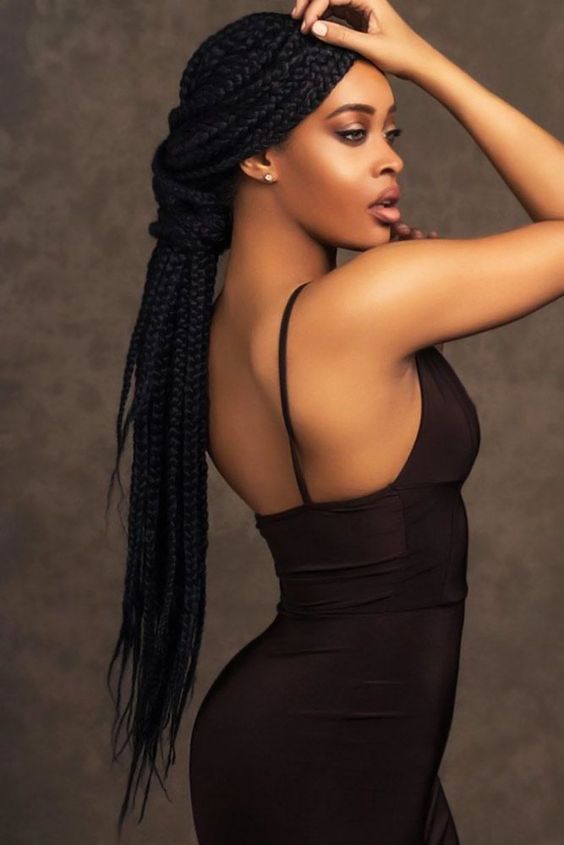 Double Afro Ponytail
Double the fun with this creative hairstyle. Divide your hair into two sections, creating two afro ponytails at different heights. This style adds volume and creates a playful and trendy look.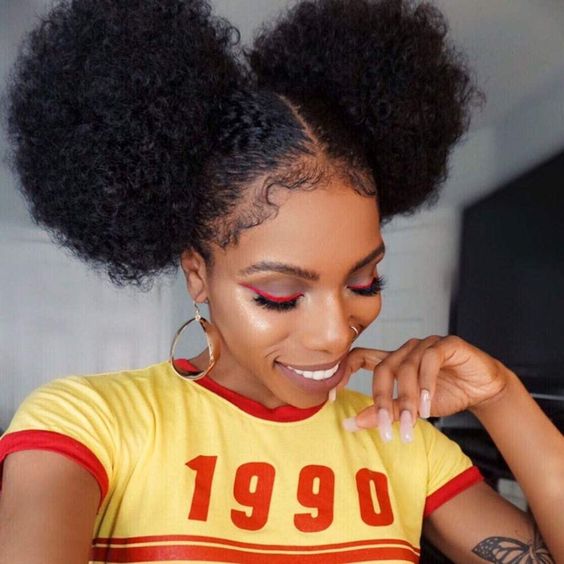 Wrapped Braid Afro Ponytail
Elevate your afro ponytail with wrapped braids. Start by braiding small sections of hair and then wrap them around the base of your ponytail, creating a visually stunning and textured effect.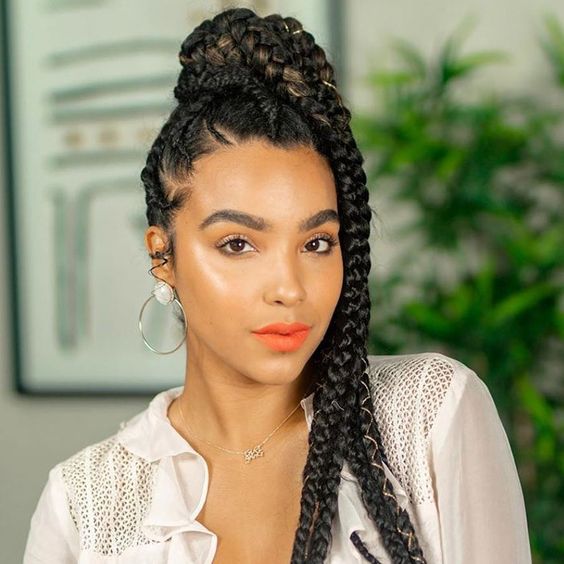 Sleek Low Afro Ponytail
Opt for a chic and polished look with a sleek low afro ponytail. Gather your hair at the nape of your neck, ensuring a smooth and sleek finish. This style is perfect for both casual and formal occasions.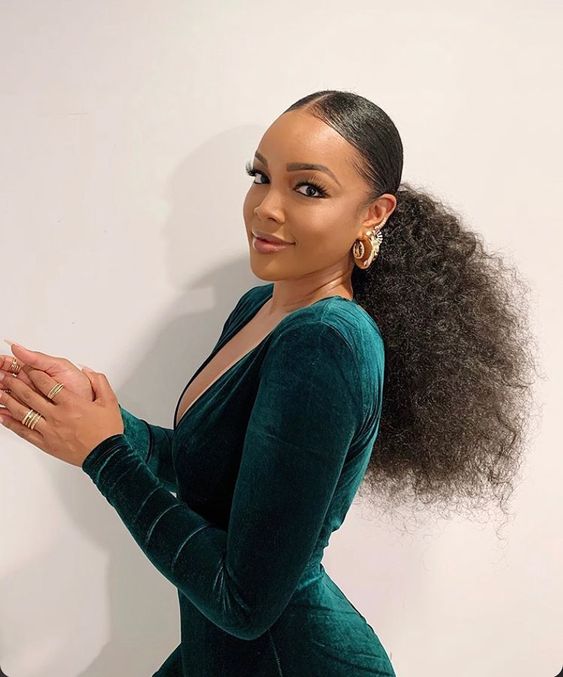 Fishtail Braid Afro Ponytail
Combine the elegance of a fishtail braid with the beauty of an afro ponytail. Create a fishtail braid with a small section of hair and gather the remaining hair into a ponytail, showcasing the intricate braiding detail.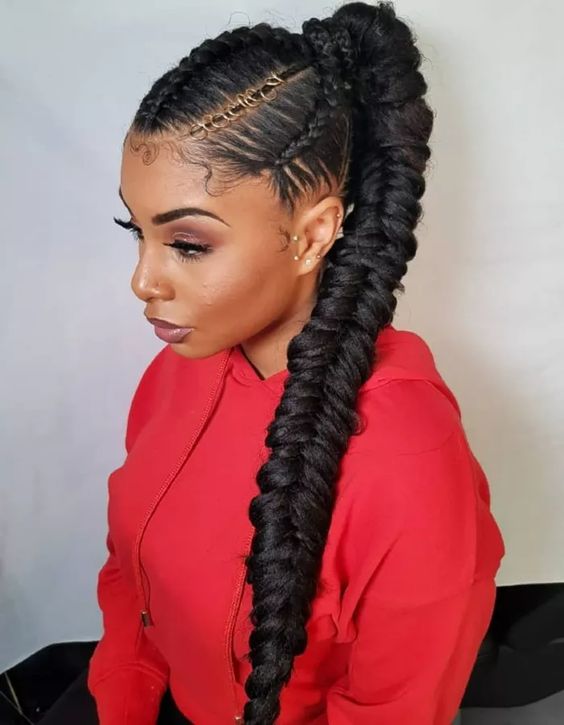 Afro Puff Ponytail
Keep it simple and stylish with an afro puff ponytail. Gather your hair into a high ponytail and fluff it out for a voluminous and carefree look that showcases the natural texture of your hair.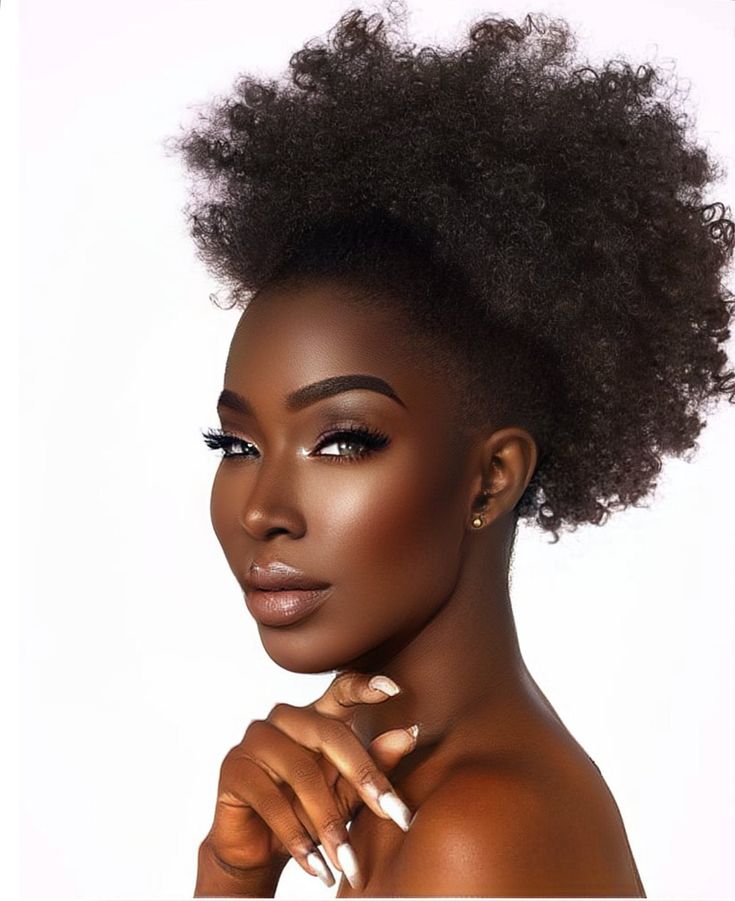 Mohawk Afro Ponytail
Make a bold statement with a mohawk-inspired afro ponytail. Create cornrows on both sides of your head, leaving the center section for your ponytail. This edgy style celebrates your individuality and confidence.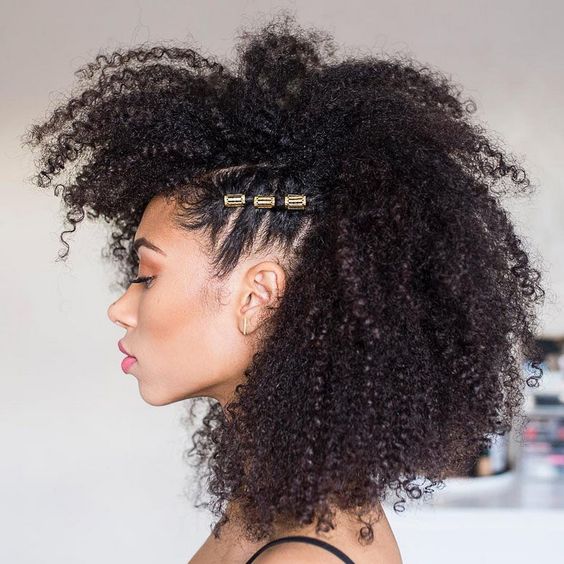 Twisted Afro Ponytail
Add a twist, quite literally, to your afro ponytail. Start by sectioning your hair into multiple small sections and twist each section before gathering them into a ponytail. This style adds texture and visual interest.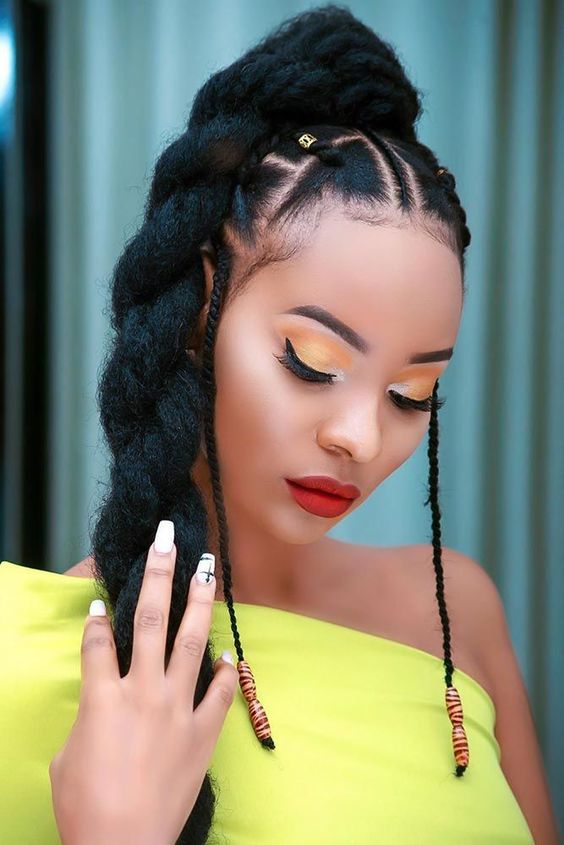 Zigzag Parting Afro Ponytail
Create a unique and eye-catching look by parting your afro hair in a zigzag pattern. Secure your hair into a ponytail, allowing the zigzag parting to add a touch of uniqueness and creativity to your hairstyle.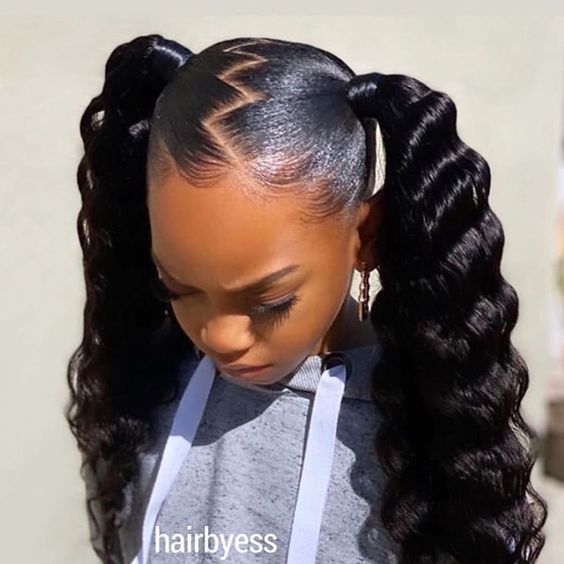 Save Pin