Hairstyle
Timeless Meets Trendy: The Ultimate Guide to Vintage Haircuts for 2024
The charm of vintage never fades; it evolves. As we welcome 2024, the revival of classic styles intertwined with modern twists is more than a trend—it's a narrative of self-expression and homage to the timeless beauty of the past. This article, tailored for the fashion-forward woman between 25 and 55 years old, unravels the allure of vintage haircuts 2024. Each carefully selected image is a chapter in our story, showcasing not just a hairstyle, but a piece of art that resonates with the sophistication and elegance of eras gone by.
The Golden Nostalgia: Retro Waves with a Modern Flair
This look is a captivating blend of retro and contemporary. The short curly hair is kissed with a golden blonde hue, reminiscent of the classic Hollywood waves yet texturized for today's woman. It's a style that exudes cute elegance and is perfect for those who wish to pair a vintage touch with with bangs that softly curtain the face.
Styling Tip: To achieve this look, use a small-barrel curling iron and a light hold hairspray to maintain the waves. Complement the hairstyle with gold-toned accessories to enhance the vintage feel.

The Platinum Bob: Chic and Effortlessly Elegant
Here we have a short hair bob cut that radiates sophistication. The blonde locks are styled into soft waves, creating a medium length look that's both chic and manageable. The side part adds a touch of '90s flair, making it a versatile choice for either a day at the office or a night on the town.
Styling Tip: Use a round brush while blow-drying to add volume and finish with a shine serum for a sleek, polished look.

The Minimalist Muse: Short, Bold, and Beautiful
This style is a testament to the power of simplicity. The short straight hair with a side part evokes the minimalist chic of the '90s—a look that's as striking now as it was then. It's an ideal match for the woman with a round face who embraces the beauty in understatement.
Styling Tip: Keep the hair smooth with a lightweight styling cream and tuck one side behind the ear for an asymmetric twist.

The Sleek Pixie: A Fusion of Edgy and Demure
The pixie cut has always been a statement of fearless style. This short hair straight rendition with long hair bangs to the side offers a bold yet unstyled look. It's a cut that suits a variety of face shapes and speaks to those who dare to be different.
Styling Tip: Apply a small amount of pomade for texture and pair with statement earrings to highlight the boldness of the cut.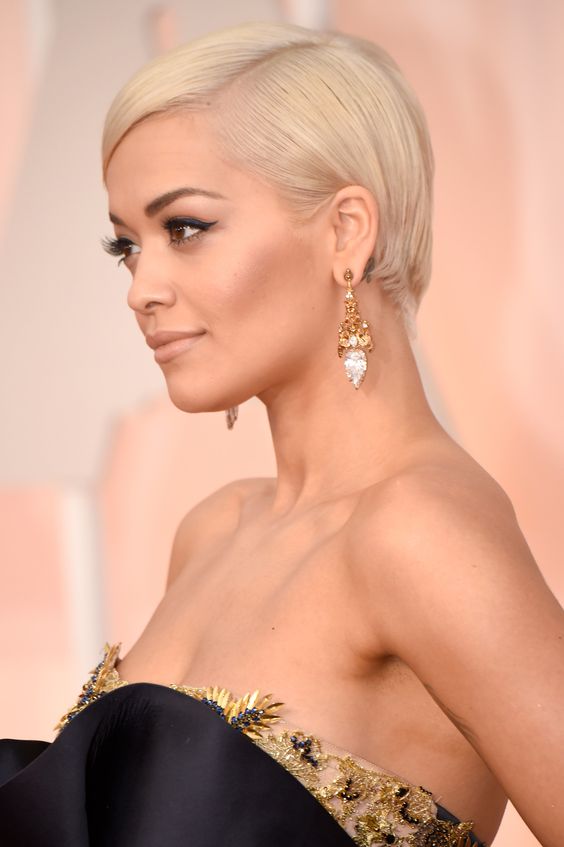 The Silver Screen Siren: Luxurious Waves and Bold Bangs
This hairstyle is a toast to the glamorous era of the silver screen. The long wavy locks flow like liquid silver, while the with bangs add a bold, modern edge to the look. The icy blonde shade is both retro and fiercely current, perfect for the woman who commands attention when she enters a room.
Styling Tip: Achieve these luxurious waves with large rollers or a wide-barrel curling iron. The key is to brush them out for that soft, movie-star glamour.

The Curly Pixie: Playful Curls with Vintage Charm
Here we have a delightful short curly haircut that exudes charm and charisma. The playful curls are reminiscent of a bygone era, yet they carry a cute and carefree spirit that's thoroughly modern. This style is perfect for those who love to blend vintage aesthetics with practicality and a hint of whimsy.
Styling Tip: Use a light curl cream to define the curls without weighing them down. This cut is all about embracing your hair's natural texture.

The Retro Rebel: Curly Bob with a Hint of Attitude
This medium length curly bob is a nod to the past with a distinctly modern attitude. The curls are styled to perfection, giving a vintage vibe that's still edgy and current. The amber-tinted glasses add an intellectual flair to the overall look, creating a style that's as smart as it is stylish.
Styling Tip: Opt for a salt spray to give your curls that "just back from the beach" look that's effortlessly chic.

The Modern Maverick: Edgy Crop with a Pop of Pastel
Defying conventions, this haircut blends short hair practicality with a burst of pastel creativity. It's a statement style that marries the daring buzz cut with playful braids and a splash of color, embodying the boldness of today's vintage enthusiasts.
Styling Tip: This style is perfect for showcasing your unique personality. Use temporary colors to change up the look as often as you like without commitment.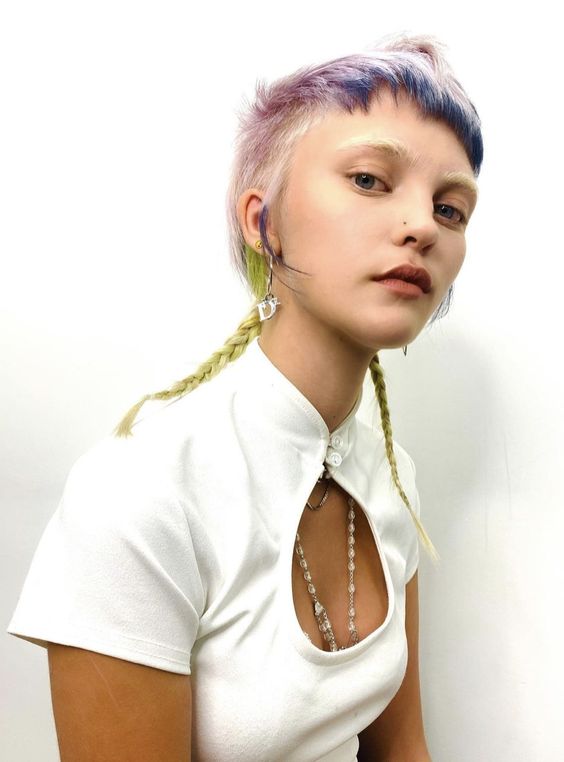 The Timeless Classic: Soft Layers and Subtle Elegance
This haircut is a perfect embodiment of classic vintage grace. The medium length hair is styled in soft layers that gently frame the face, offering a look that's both aesthetic and with bangs. The natural brunette tones give this style a warmth that is both retro and utterly current.
Styling Tip: To achieve this effortlessly elegant look, work with your hair's natural texture and use a light hairspray to maintain the shape throughout the day.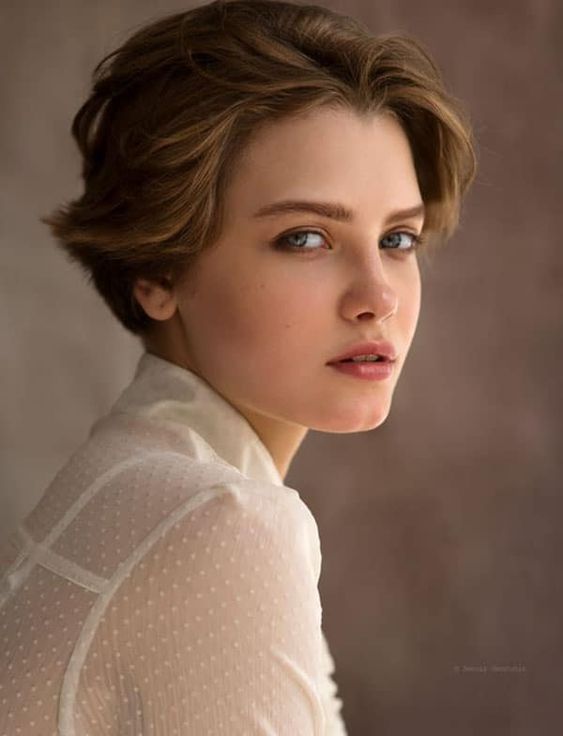 The Chic Contour: Modern Bob with Vintage Roots
This short hair cut speaks volumes with its precise lines and smooth contouring. A modern interpretation of the classic bob, it's a style that transcends time, perfect for those who appreciate vintage haircuts with a straight hair finish. The subtle with highlights technique adds depth and dimension to the black hair.
Styling Tip: A sleek blowout with a round brush will give this cut a polished look, while a dab of serum will add a glossy finish.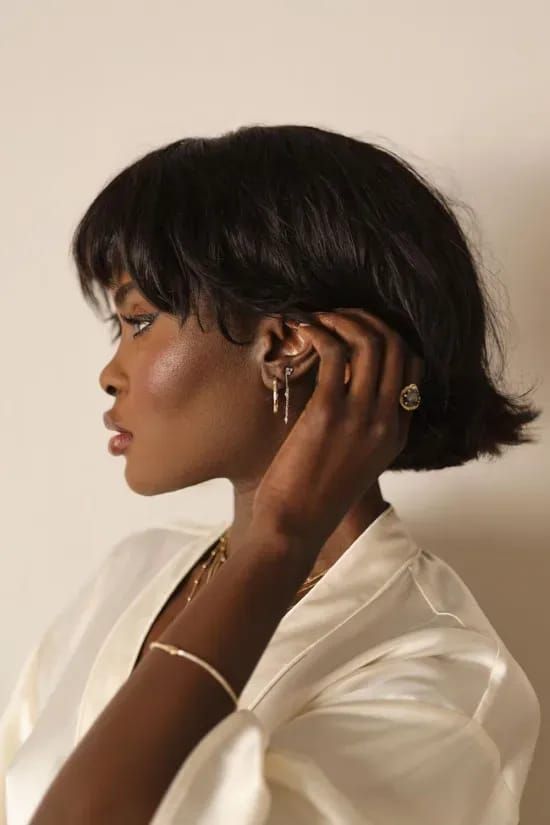 The Curly Confidence: Short, Spirited, and Full of Life
The short hair curly style captures the exuberance of the past with a contemporary edge. It's a look that's all about embracing natural texture and exuding confidence, with curls that bounce and with bangs that soften the facial features.
Styling Tip: Use a diffuser when drying to enhance the natural curls, and finish with a curl defining cream to keep them springy and voluminous.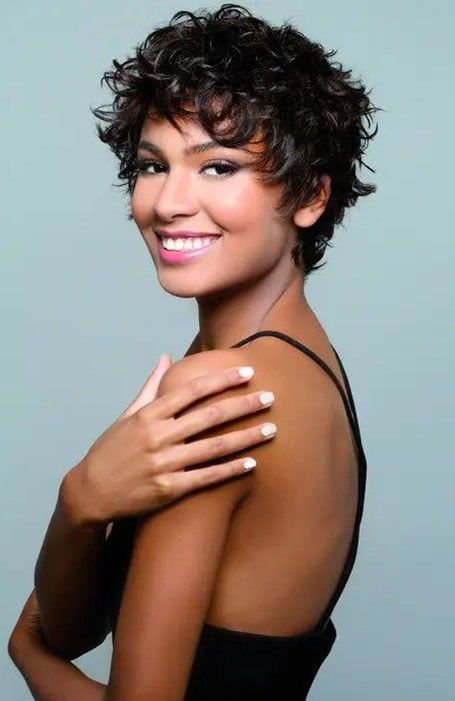 The Blonde Bombshell: Voluminous Curls with a Modern Twist
This hairstyle is a vibrant salute to the bold vintage looks of the 1950s. The short, voluminous curls are a modern spin on the classic bombshell, with wavy hair that's playful and full of personality. The platinum blonde shade adds a contemporary flair, making it a show-stopping choice for any occasion.
Styling Tip: Maintain these vivacious curls with a strong-hold mousse and a touch of hairspray to keep them in place all day long.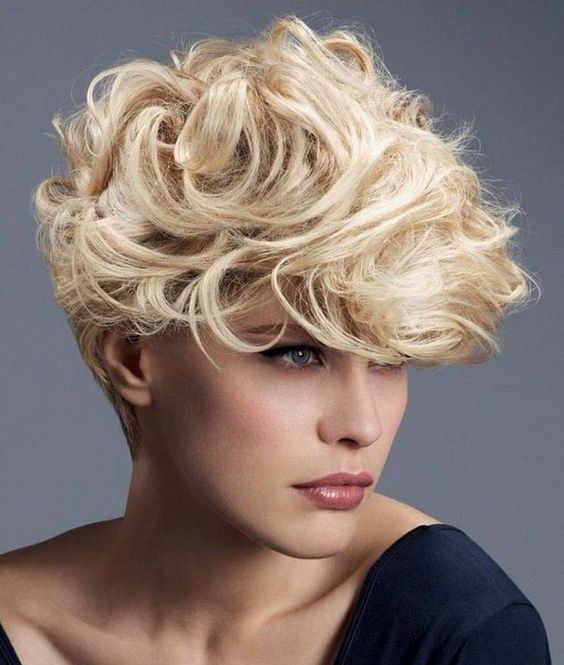 The Bohemian Rhapsody: Wistful Waves and a Touch of Whimsy
This style whispers tales of bohemian rhapsodies with its long wavy hair and carefree spirit. The muted lavender tones give a nod to the past while the with bangs and glasses frame the face in a way that's both nostalgic and novel.
Styling Tip: To achieve this dreamy look, use a wide-barrel curling iron on low heat to create loose waves, and finish with a texturizing spray for a lived-in feel.

The Modern Flapper: Bouncy Bob with a Contemporary Beat
Echoing the roaring '20s, this short hair bob with dynamic waves and a deep side part is all about motion and vitality. It's a classic vintage style reimagined for the modern woman who's both playful and poised.
Styling Tip: Enhance the bounce in this short hair wavy cut with a light mousse and diffuser, scrunching up the hair to keep the curls tight and vivacious.

The New Age Marilyn: Short, Sweet, and Full of Charm
With this short curly hairstyle, the spirit of Hollywood's golden age is reborn. The blonde curls are timeless, yet the cut's length adds a fresh, youthful twist that's perfect for the contemporary scene.
Styling Tip: Use a small-barrel curling iron to recreate these classic curls, and set with a flexible hairspray that allows for movement and grace.

The Pixie Dream: Minimalist Cut with Maximum Impact
This short straight pixie cut is a bold statement of simplicity and elegance. The with bangs approach offers a feminine touch to the otherwise edgy cut, making it versatile and effortlessly chic.
Styling Tip: Keep this pixie sleek and smooth with a light smoothing serum, and a quick pass of the flat iron for those who desire a straighter finish.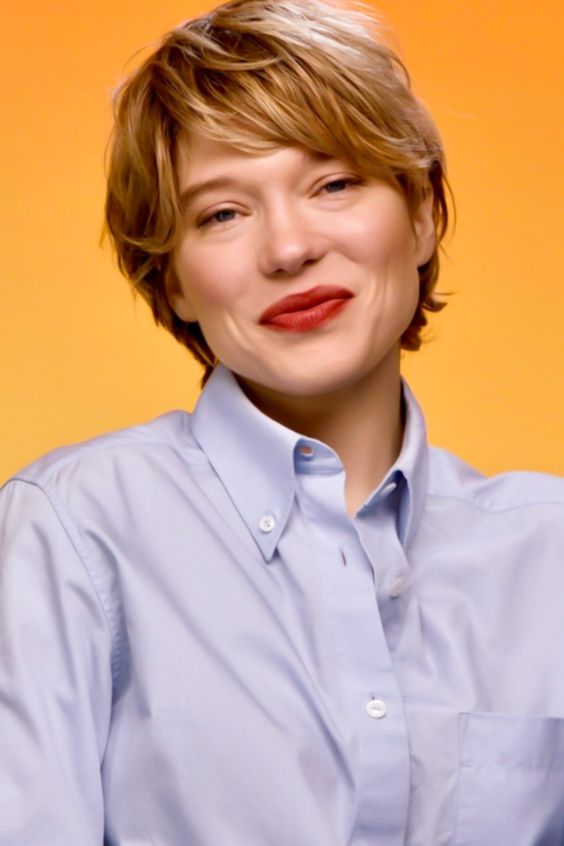 The Sophisticated Wisp: Effortless Elegance Meets Modern Day
The medium wavy hair of this style offers an effortless chic that is both retro and remarkably contemporary. With curtain bangs that gently sweep across the forehead, this look is ideal for the woman who values a soft, natural aesthetic that moves with grace and ease.
Styling Tip: Enhance the waves with a large barrel curling iron and a touch of hairspray to keep them in place, yet still touchably soft.

The Retro Voluminous: Bold Layers with Timeless Flair
This short hair wavy style is an ode to the voluminous looks of the past, with a modern twist that adds movement and life. It's a cut that makes a statement without saying a word, perfect for those who revel in their short hair with bangs and the freedom it brings.
Styling Tip: Use a volumizing product at the roots and blow-dry upside down to maximize lift and body.

The New Wave Blonde: Short and Chic with a Playful Edge
This cut is a playful take on the classic short styles of the past, with a contemporary blonde hue that's both bright and inviting. The curly hair is styled in a way that is carefree and whimsical, perfect for the woman who loves to express her vivacious personality through her hair.
Styling Tip: A light texturizing cream will help define the curls without weighing them down, allowing them to bounce freely throughout the day.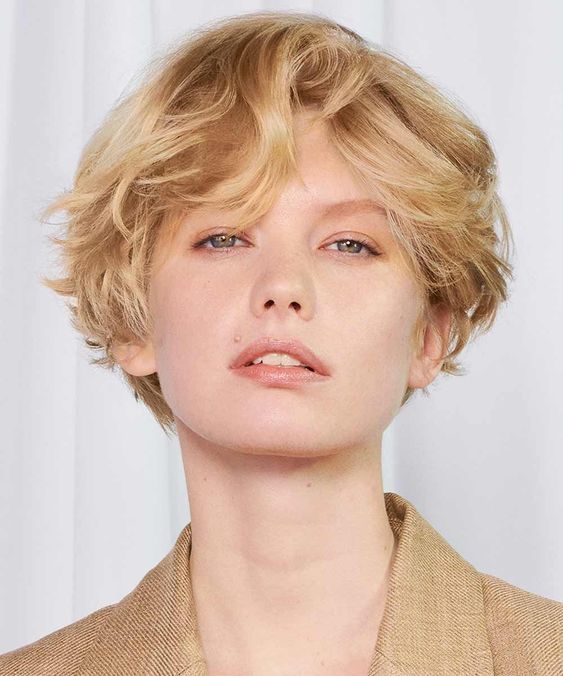 Save Pin