Nails
17 Creative Fall Nail Art Ideas for 2023
With the arrival of fall, it's time to showcase your style and creativity with stunning nail art designs inspired by the season. From warm earth tones to playful patterns, we've curated 17 original fall nail art ideas that will make your fingertips the center of attention. Each idea is accompanied by a description to help you envision the final look. Get ready to embrace the beauty of autumn with these trendy nail art designs for fall 2023.
Sweater Weather Knit
Mimic the cozy textures of your favorite fall sweater with this knit-inspired nail art. Incorporate intricate cable knit patterns and warm earthy colors to create a manicure that's as comforting as wrapping yourself in a soft sweater.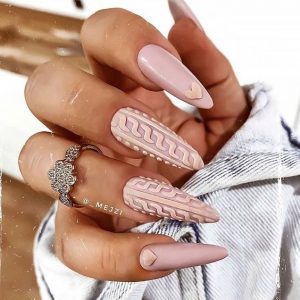 Moody Blooms
Contrast the vibrant colors of summer with moody floral designs for fall. Choose deep hues like burgundy, plum, and navy blue to create a captivating and dramatic manicure that embodies the spirit of the season.
Pumpkin Patch Delight
Celebrate the iconic symbol of fall with a pumpkin patch-inspired nail art design. Incorporate playful pumpkin motifs, fall foliage, and warm orange shades for a whimsical and festive manicure that captures the essence of autumn.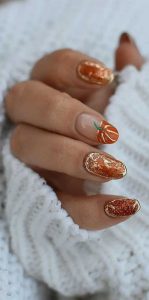 Falling Leaves
Capture the beauty of falling leaves with this intricate nail art design. Use a combination of warm reds, oranges, and yellows to create a mesmerizing gradient effect, reminiscent of the changing colors of autumn.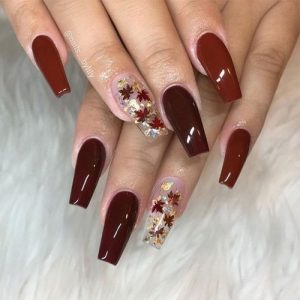 Plaid Perfection
Embrace the timeless pattern of plaid with this fall-inspired nail art. Incorporate classic plaid designs in warm fall colors like burgundy, mustard yellow, and forest green for a chic and sophisticated look.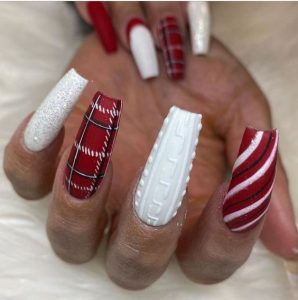 Abstract Autumn
Let your imagination run wild with abstract autumn nail art. Play with colors, shapes, and textures to create a unique and artistic design that reflects the vibrant and dynamic nature of the season.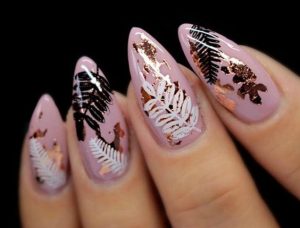 Harvest Harvest Harvest
Celebrate the abundance of the harvest season with this festive nail art. Incorporate playful motifs like cornucopias, apples, pumpkins, and other fall harvest elements for a fun and whimsical manicure.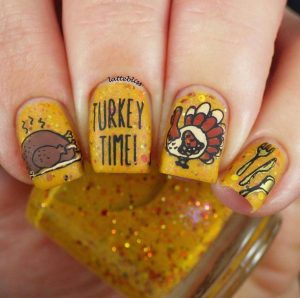 Metallic Magic
Add a touch of opulence to your nails with metallic nail art. Use shades like gold, bronze, and copper to create captivating designs inspired by falling leaves, harvest moons, or glistening autumn landscapes.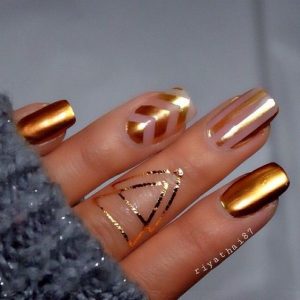 Autumn Ombré
Transition from the warmth of summer to the crispness of fall with a stunning ombré nail art design. Blend warm sunset hues like burnt orange, deep red, and golden yellow for a gradient that reflects the changing colors of the season.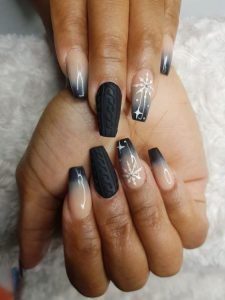 Cozy Plush Velvet
Create a luxurious and velvety texture on your nails with this plush velvet nail art design. Incorporate deep shades like burgundy, navy blue, or emerald green to mimic the rich textures of fall fabrics.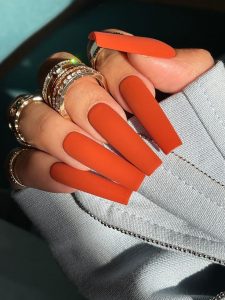 Woodland Whimsy
Bring the enchantment of the woodland to your fingertips with whimsical nail art. Incorporate cute forest creatures, mushrooms, leaves, and other elements inspired by nature for a playful and charming manicure.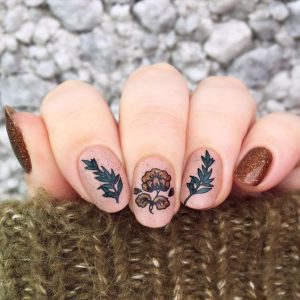 Autumn Nights
Capture the magic of autumn nights with this celestial-inspired nail art. Use deep blues, purples, and shimmering accents to create a starry night sky design that exudes elegance and mystery.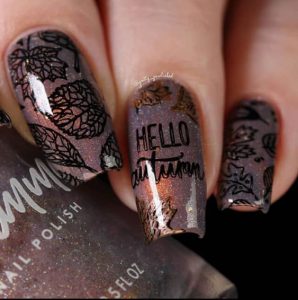 Pumpkin Spice French Tips
Put a seasonal twist on the classic French manicure with pumpkin spice-inspired tips. Choose warm orange shades and add delicate spice motifs for a subtle and stylish design that pays homage to everyone's favorite fall drink.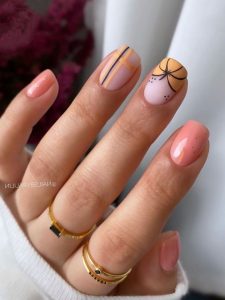 Harvest Moon Phases
Celebrate the phases of the harvest moon with a lunar-inspired nail art design. Incorporate crescent moons, stars, and celestial elements in shades of silver, gold, and navy blue for a celestial and magical manicure.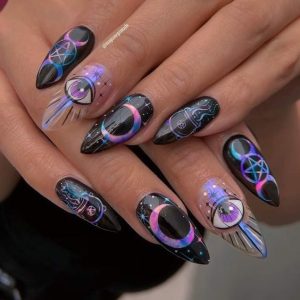 Autumnal Animal Prints
Add a touch of wildness to your nails with animal print designs in fall-inspired colors. Think leopard print in warm brown shades or snake print in rich earth tones for a bold and fashionable manicure.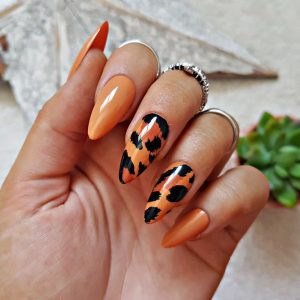 Festive Halloween
Embrace the spooky season with festive Halloween nail art. Incorporate iconic symbols like bats, spiders, ghosts, or pumpkins for a fun and spirited manicure that captures the Halloween spirit.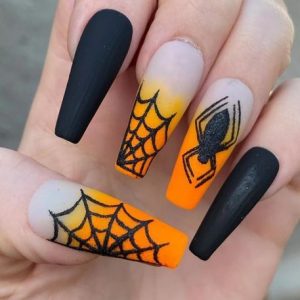 Cozy Coffee Cup
Wrap your nails in the warmth of a cozy coffee cup design. Incorporate cute coffee-related motifs like mugs, beans, or latte art for a charming and caffeinated manicure that celebrates the season's favorite beverage.