Nails
15 Stunning Fall Gel Nail Ideas for 2023
As the leaves start to change and the air becomes crisp, it's time to update your manicure with the latest fall gel nail trends. From rich jewel tones to intricate designs inspired by autumn motifs, we've curated 15 original and captivating fall gel nail ideas that will make your hands stand out. Each idea is accompanied by a description to help you visualize the final look. Get ready to embrace the beauty of the season with these trendy gel nail designs for fall 2023.
Burgundy Elegance
Embrace the timeless beauty of burgundy with this elegant gel nail design. The deep, rich shade exudes sophistication and pairs beautifully with gold accents. This manicure is perfect for those who want a classic and luxurious fall look.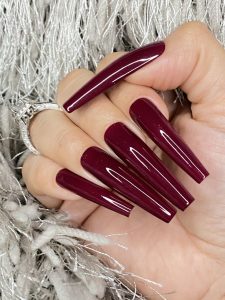 Golden Maple Leaves
Capture the essence of fall foliage with golden maple leaf designs on your gel nails. The intricate details and shimmering gold finish add a touch of glamour and warmth to your manicure, reminding you of the beauty of nature during the season.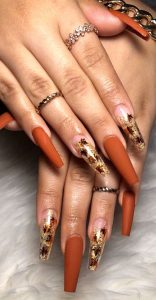 Moody Midnight Blue
Make a statement with moody midnight blue gel nails. This deep, captivating shade adds a touch of mystery and elegance to your manicure. Pair it with silver or gold accents for a glamorous touch.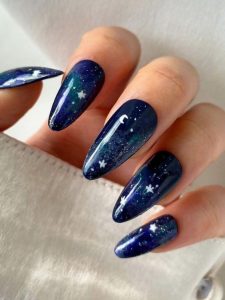 Pumpkin Spice Delight
Indulge in the iconic flavors of fall with a pumpkin spice-inspired gel nail design. Warm orange hues, sprinkled with hints of brown and gold, will transport you to cozy autumn days and add a touch of warmth to your fingertips.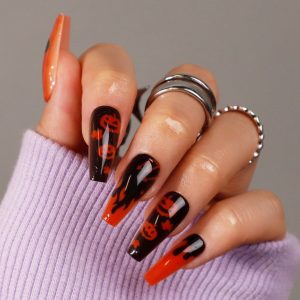 Rich Jewel Tones
Fall is the perfect time to embrace deep, luxurious jewel tones on your gel nails. Opt for shades like emerald green, sapphire blue, and amethyst purple to add a regal and sophisticated touch to your manicure.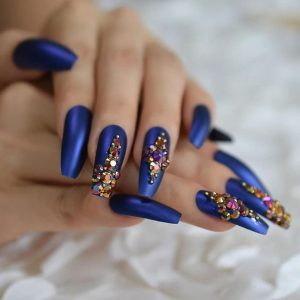 Metallic Copper Glam
Add a touch of opulence to your nails with a metallic copper gel manicure. The warm and lustrous finish of copper creates a stunning effect, reminiscent of falling leaves kissed by the autumn sun.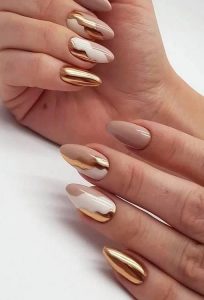 Autumn Plaid
Bring the timeless pattern of plaid to your gel nails with a fall-inspired twist. Incorporate warm hues like burnt orange, mustard yellow, and deep red in a plaid design for a cozy and fashionable manicure that reflects the spirit of the season.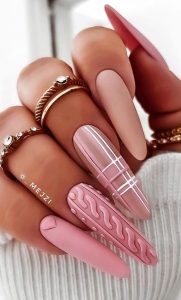 Earthy Neutral Tones
Embrace the beauty of earthy neutral tones with your fall gel nails. Shades like taupe, olive green, and warm beige create a serene and natural look that complements any autumn outfit.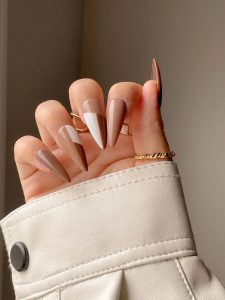 Falling Leaves
Put a creative twist on the classic French manicure by adding delicate falling leaves as tips. Choose autumnal colors like orange, yellow, and burgundy against a neutral base for a subtle yet eye-catching design.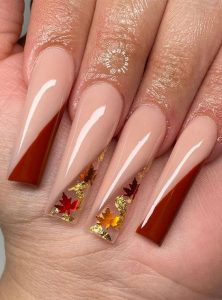 Geometric Fall Accents
Incorporate geometric accents into your gel nails for a modern and artistic fall look. Play with shapes like triangles, squares, and lines, using warm fall colors, to create a unique and edgy design.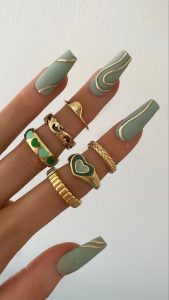 Cozy Cable Knit Texture
Create a cozy and comforting look with a cable knit texture design on your gel nails. This intricate and detailed pattern mimics the warmth of your favorite fall sweaters, adding a touch of hygge to your manicure.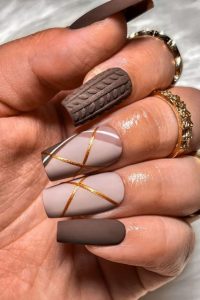 Matte Forest Green
Embrace the serenity of nature with a matte forest green gel manicure. This deep, muted shade reflects the rich hues of evergreen trees, bringing a sense of calmness and tranquility to your fingertips.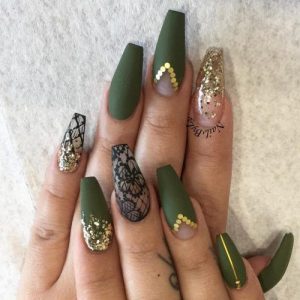 Metallic Fall Foliage
Recreate the mesmerizing colors of autumn leaves with a metallic fall foliage gel nail design. Use shades of bronze, copper, and gold to capture the beauty of leaves in their final moments before winter.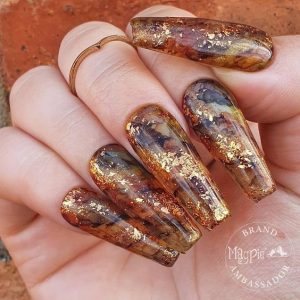 Delicate Acorn Accents
Celebrate the abundance of the season with delicate acorn accents on your gel nails. Incorporate tiny acorn designs or 3D embellishments for a charming and whimsical touch that embodies the essence of fall.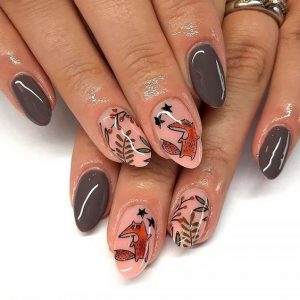 Harvest Moon Shimmer
Channel the enchantment of the harvest moon with a shimmering gel manicure. Choose iridescent or holographic nail polishes in warm shades like gold, orange, and purple to capture the magic of autumn nights.