Nails
Vibrant Summer Toe Nail Colors 2023: 25 Ideas
Summer is just around the corner, and it's time to give your toes some attention. Whether you're heading to the beach, attending pool parties, or simply enjoying the warm weather, having stylish and trendy nails can elevate your summer look. In this article, we'll explore the hottest summer toe nail colors in 2023, along with some statement-making nail art trends and essential nail care tips for the season. So let's dive in and get inspired!
1. Bright Neon Orange
Add a pop of vibrant orange to your toes for a bold and energetic look. This eye-catching shade is perfect for making a statement and stands out against a summer tan.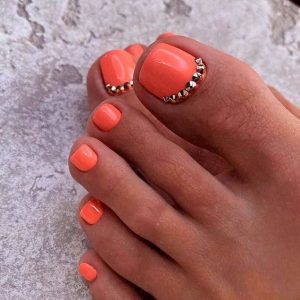 2. Pastel Lilac
Embrace soft and delicate vibes with a lovely pastel lilac shade on your nails. This color exudes femininity and pairs beautifully with flowy summer dresses and floral patterns.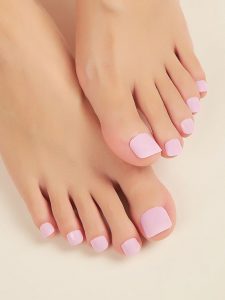 3. Metallic Rose Gold
Give your toes a touch of glamour with a stunning metallic rose gold color. This luxurious shade adds a sophisticated and trendy element to your summer look.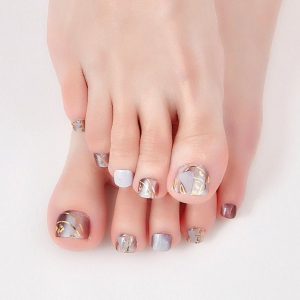 4. Tropical Turquoise
Transport yourself to a tropical paradise with a gorgeous turquoise shade reminiscent of clear blue waters. This vibrant color instantly adds a refreshing and beachy feel to your toes.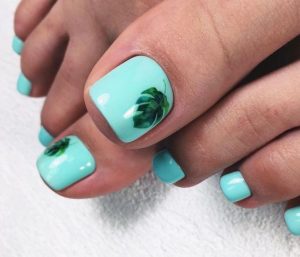 5. Vibrant Coral
Capture the essence of summer with a lively and vibrant coral hue on your toes. This color radiates warmth and pairs well with both casual and formal summer outfits.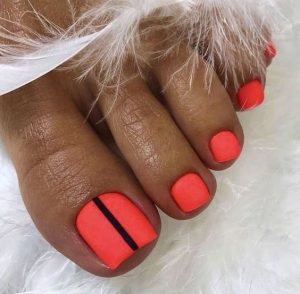 6. Nude with Glitter Accents
Create an elegant and sparkly look by combining a nude base with glitter accents on a few nails. This combination adds a touch of glamour and versatility to your summer nail style.
7. Sunny Yellow
Embrace the brightness of the sun with a cheerful and sunny yellow color on your toes. This vibrant shade brings joy and positivity to your overall look, perfect for sunny summer days.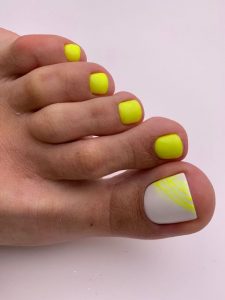 8. Pastel Mint Green
Keep it fresh and cool with a pastel mint green shade that exudes a calming vibe. This color is reminiscent of lush greenery and adds a touch of serenity to your summer toes.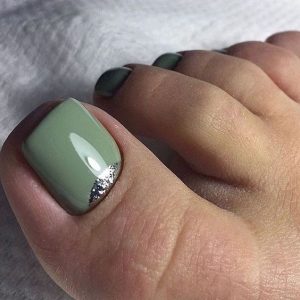 9. Metallic Silver
Shine bright like a summer star with a dazzling metallic silver polish on your nails. This reflective shade catches the light and creates a stunning and futuristic look for your toes.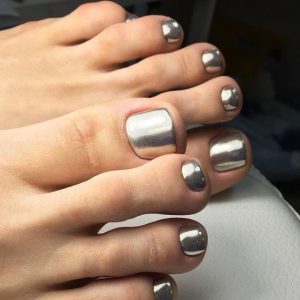 10. Beachy Sand Beige
Channel beach vibes with a warm and sandy beige shade that complements your summer tan. This versatile color works well with any outfit and adds a natural and relaxed touch to your toes.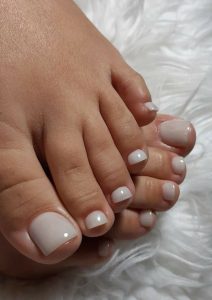 11. Neon Pink
Make a bold statement with a vibrant and attention-grabbing neon pink color on your toes. This high-energy shade is perfect for those who want to stand out and embrace their confident side.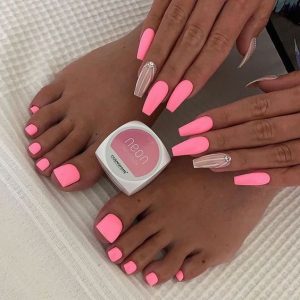 12. Pastel Peach
Achieve a soft and romantic look with a delicate pastel peach shade that adds a touch of sweetness. This color pairs beautifully with summer floral prints and pastel-colored outfits.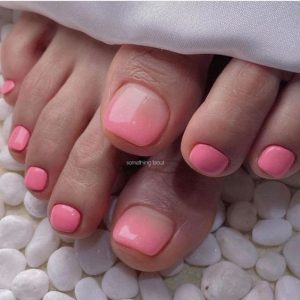 13. Metallic Bronze
Add a touch of sophistication and warmth with a rich metallic bronze shade on your nails. This color complements various skin tones and brings a luxurious and radiant element to your summer toes.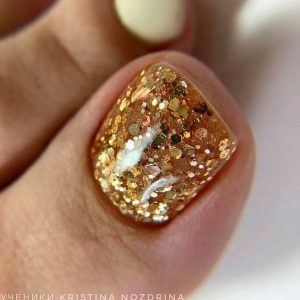 14. Black with White Polka Dots
Create a playful and retro-inspired look by painting your nails in a black shade and adding white polka dots. This design adds a fun and whimsical touch to your summer nails.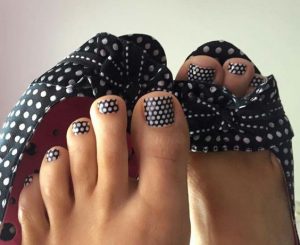 15. Cool Mint with Palm Tree Nail Art
Embrace a tropical theme by painting your nails in a cool mint shade and adding palm tree nail art. This design instantly transports you to a palm-fringed beach and adds a vacation-inspired feel to your toes.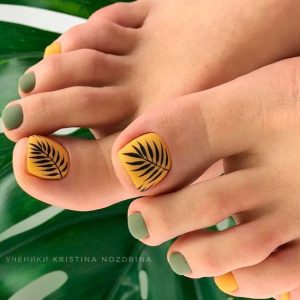 16. Soft Lavender with Floral Accent Nail
Achieve a romantic and feminine look by painting your nails in a soft lavender shade and adding a floral accent nail. This design evokes a sense of delicacy and elegance, perfect for summer weddings or garden parties.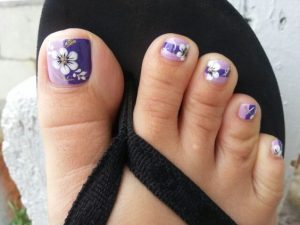 17. Sky Blue with Cloud Nail Art
Create a dreamy and whimsical look by painting your nails in a sky blue shade and adding cloud nail art. This design captures the essence of a clear summer sky and adds a touch of imagination to your toes.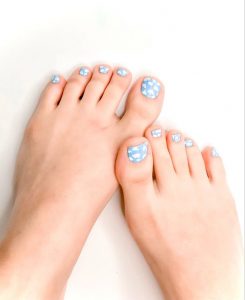 18. Coral Gradient
Opt for a gradient effect by blending different shades of coral on your nails. Start with a vibrant coral at the base and transition to a lighter shade towards the tips. This gradient creates a visually appealing and dynamic look.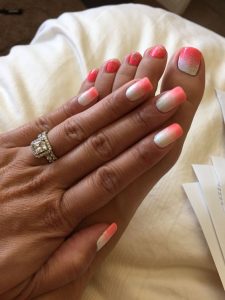 19. Sunny Sunflower Yellow
Embrace the beauty of sunflowers with a vibrant yellow shade reminiscent of these cheerful flowers. This color adds a touch of positivity and happiness to your summer toes.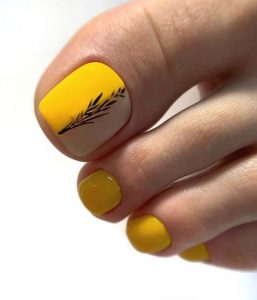 20. Watermelon Inspired
Pay homage to summer's favorite fruit by painting your nails in a watermelon-inspired design. Use shades of green, pink, and black to create the iconic watermelon pattern. This design is playful, refreshing, and perfect for summer gatherings.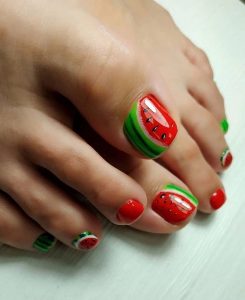 21. Tropical Sunset
Capture the breathtaking hues of a tropical sunset by painting your nails in a gradient of warm orange, pink, and purple shades. This color combination creates a mesmerizing and romantic look that reflects the beauty of summer evenings.
22. Ocean Blue with Mermaid Scales
Embrace your inner mermaid by painting your nails in a deep ocean blue shade and adding mermaid scale nail art. This design is both mystical and enchanting, allowing you to channel the allure of the sea.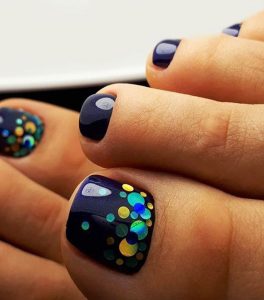 23. Vibrant Rainbow
Celebrate the vibrant colors of summer by painting each nail in a different shade of the rainbow. This playful and colorful design adds a cheerful and lively touch to your toes.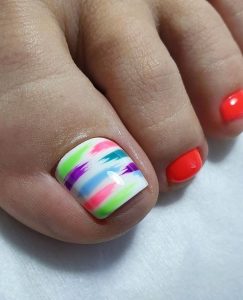 24. Tropical Fruit Inspired
Explore the world of tropical fruits by painting your nails in shades inspired by fruits like pineapple, mango, kiwi, and passion fruit. This design is fun, fruity, and perfectly captures the essence of summer.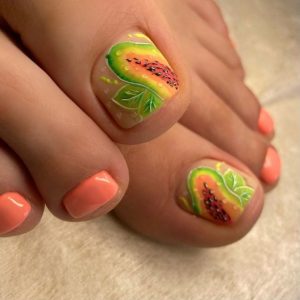 25. Monochrome Minimalist
For those who prefer a minimalist and understated look, opt for a monochrome color scheme. Choose a single color, such as white, black, or gray, and paint your nails for a sleek and sophisticated style.