Fashion
Summer Clothing Style 2023: 23 Ideas
Summer is a season of sunshine, warmth, and endless possibilities when it comes to fashion. As we embrace the year 2023, it's time to discover the hottest trends and fresh ideas for your summer clothing style. Whether you're planning a beach vacation, attending outdoor events, or simply enjoying the sunny days, this article will provide you with 23 exciting ideas to inspire your summer wardrobe. Get ready to make a statement and embrace the spirit of summer with these fashion-forward suggestions.
1. Breezy Maxi Dresses
Stay cool and stylish with flowing maxi dresses in vibrant colors or trendy prints. Opt for lightweight fabrics like chiffon or cotton for ultimate comfort during hot summer days. Maxi dresses are versatile and can be dressed up or down for various occasions.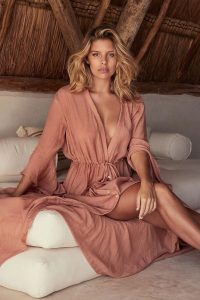 2. Denim Shorts and Crop Tops
Create a casual and laid-back look with a combination of denim shorts and crop tops. Choose high-waisted denim shorts for a flattering silhouette and pair them with crop tops in bold patterns or solid colors. This outfit is perfect for beach outings or picnics in the park.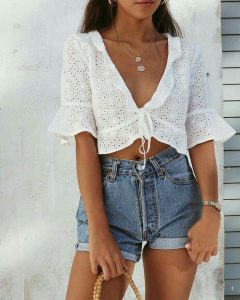 3. Off-Shoulder Tops
Show off your shoulders and embrace the romantic vibes of summer with off-shoulder tops. They come in various styles, from bohemian-inspired designs to structured and modern silhouettes. Match them with jeans, skirts, or shorts for an effortlessly chic look.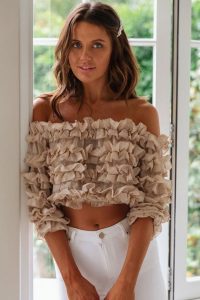 4. Flowy Wide-Leg Pants
Make a fashion statement with flowy wide-leg pants that offer both comfort and style. Choose lightweight fabrics like linen or chiffon and pair them with fitted tops or cropped blouses. This combination creates an elegant and sophisticated look for summer.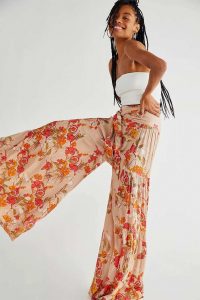 5. Wrap Dresses
Flatter your figure and add a touch of femininity with wrap dresses. These dresses cinch at the waist, creating an hourglass shape and offering a versatile style that can be worn during the day or dressed up for evening events. Opt for floral prints or bold solid colors for a vibrant summer look.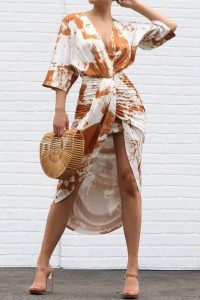 6. Straw Hats and Sun Hats
Stay protected from the sun while adding a fashionable accessory to your outfit with straw hats or sun hats. These hats not only provide shade but also elevate your summer style. Choose wide-brimmed hats for maximum sun protection and opt for natural colors or patterns that complement your outfits.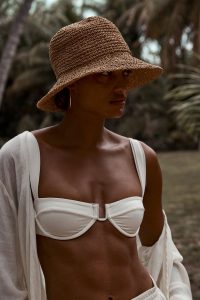 7. Romantic Ruffles
Add a touch of romance to your summer wardrobe with ruffled tops, skirts, or dresses. Ruffles create a playful and feminine look, adding movement and texture to your outfit. Choose pastel shades or floral prints for a dreamy and ethereal vibe.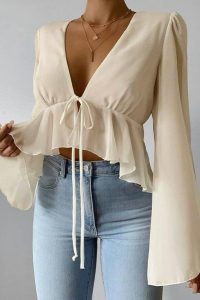 8. Linen Shirts and Shorts
Linen is a perfect fabric choice for summer, thanks to its breathability and lightweight nature. Opt for linen shirts and shorts in neutral tones like beige, white, or khaki. Linen outfits exude effortless elegance and are perfect for both casual and dressier occasions.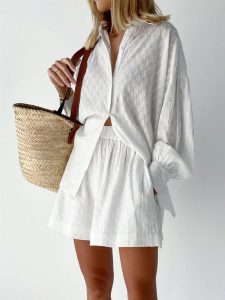 9. Bohemian-Inspired Maxi Skirts
Channel your inner boho-chic with flowy maxi skirts in bohemian prints and patterns. Pair them with simple tank tops or off-shoulder blouses for a relaxed and free-spirited summer look. Complete the outfit with sandals and layered accessories for a touch of bohemian flair.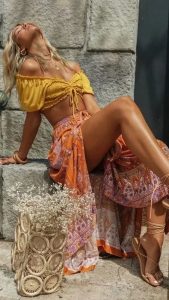 10. Button-Up Sundresses
Stay stylish and comfortable in button-up sundresses that are perfect for hot summer days. Choose lightweight fabrics like cotton or linen and opt for vibrant colors or playful prints. Button-up sundresses are versatile and can be dressed up with heels or dressed down with sandals for a casual and effortless look.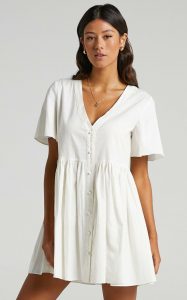 11. Statement Jumpsuits
Make a bold statement with trendy jumpsuits that offer both style and comfort. Opt for vibrant colors or eye-catching patterns to stand out from the crowd. Jumpsuits are a complete outfit on their own and can be accessorized with statement jewelry and a pair of stylish sandals.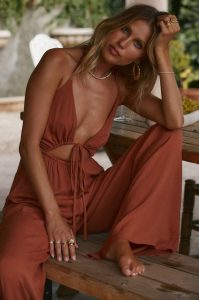 12. Tie-Dye Vibes
Embrace the retro vibes of tie-dye patterns for a fun and vibrant summer look. From tie-dye dresses to t-shirts and shorts, this trend adds a playful and nostalgic touch to your outfit. Mix and match different tie-dye colors for a unique and personalized style.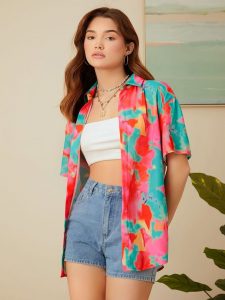 13. Midi Skirts and Crop Tops
Combine the elegance of midi skirts with the modern flair of crop tops. Midi skirts offer a sophisticated and versatile option for summer, while crop tops add a youthful and trendy element to the outfit. Choose complementary colors or prints for a well-coordinated look.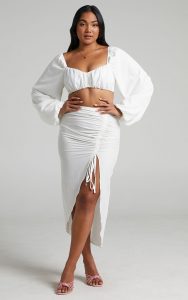 14. White-on-White
Create a fresh and clean summer look with an all-white ensemble. From white dresses to white pants and blouses, this monochromatic style exudes a chic and effortless vibe. Experiment with different textures and layering techniques to add dimension to your outfit.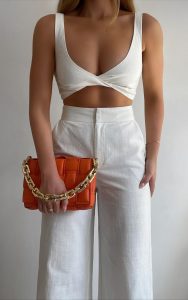 15. Polka Dot Perfection
Polka dots are a timeless pattern that adds a playful and retro touch to your summer wardrobe. Incorporate polka dots into your dresses, skirts, or blouses for a classic yet fun look. Choose contrasting colors or go for monochromatic polka dots for a stylish and chic appearance.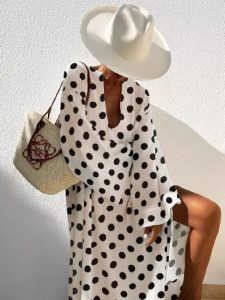 16. Athleisure-Inspired Outfits
Combine comfort and style with athleisure-inspired outfits. Pair leggings or bike shorts with oversized t-shirts or sweatshirts for a trendy and sporty look. Add sneakers and accessorize with a fanny pack or a baseball cap for a laid-back and effortlessly cool outfit.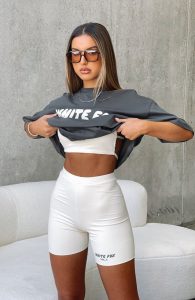 17. Sheer Fabrics
Stay cool and embrace a touch of sensuality with sheer fabrics. Choose tops or dresses with sheer panels or opt for a sheer cover-up over your swimwear. Sheer fabrics add a hint of allure and create an airy and light look for summer.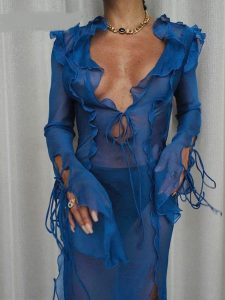 18. Printed Matching Sets
Make a fashion statement with printed matching sets that offer a coordinated and put-together look. Choose sets with bold prints like florals, stripes, or geometric patterns. This trend allows you to mix and match pieces and provides endless styling possibilities.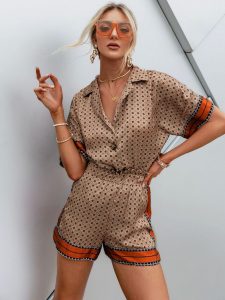 19. Statement Sleeves
Elevate your summer outfits with statement sleeves. Whether it's puff sleeves, bell sleeves, or ruffled sleeves, this trend adds a touch of drama and femininity to your look. Opt for lightweight fabrics that allow the sleeves to drape beautifully and create a stylish impact.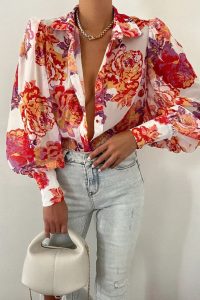 20. Neon Pop
Make a bold and vibrant statement with neon colors. From neon dresses to tops and accessories, this trend is perfect for those who want to stand out. Pair neon pieces with neutral tones to let the colors shine or go all-out with a head-to-toe neon look.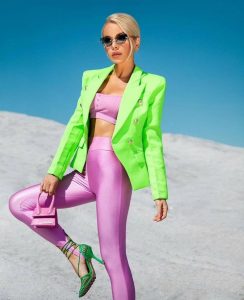 21. Gingham Glam
Embrace the classic charm of gingham patterns for a timeless summer look. From gingham dresses to tops and skirts, this print adds a touch of nostalgia and elegance. Choose oversized gingham checks or opt for smaller prints for a more subtle approach.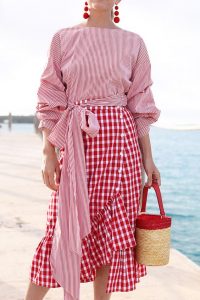 22. Tropical Prints
Bring the vacation vibes wherever you go with tropical prints. Think palm leaves, exotic flowers, and vibrant colors. Incorporate tropical prints into dresses and jumpsuits for a bold and tropical summer look. Pair them with straw accessories and sandals to complete the vacation-inspired ensemble.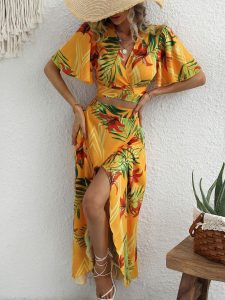 23. Colorful Accessories
Accessorize your summer outfits with colorful accessories to add a playful and vibrant touch. Opt for statement earrings, colorful scarves, bold sunglasses, or colorful handbags. These accessories can instantly elevate your look and add a pop of color to any outfit.