Hairstyle
Butterfly Haircut: 17 Long Hair Ideas
The butterfly haircut is not just for short hair; it can also beautifully enhance long hair. With its layered and voluminous style, the butterfly haircut adds movement and depth to your long locks. In this article, we'll explore 17 original butterfly haircut ideas specifically designed for long hair.
Idea 1: Layered Butterfly Haircut
The layered butterfly haircut is perfect for adding movement and dimension to long hair. Layers are strategically cut throughout the hair, creating a fluttery effect reminiscent of butterfly wings. This haircut works well for various hair textures and can be customized to suit your preferences.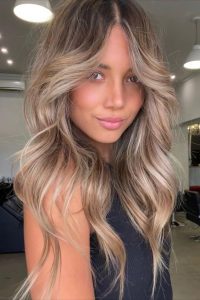 Idea 2: Voluminous Butterfly Waves
Enhance the natural texture of your long hair with voluminous butterfly waves. Use a curling iron or hot rollers to create loose, bouncy waves that give your hair a glamorous and romantic look. Finish with a texturizing spray to add extra volume and hold.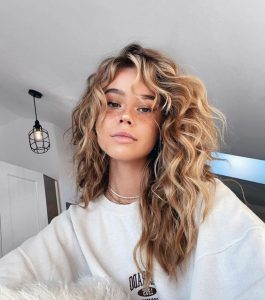 Idea 3: Butterfly Haircut with Face-Framing Layers
Frame your face beautifully with a butterfly haircut featuring face-framing layers. This style draws attention to your facial features while adding movement and softness to your long hair.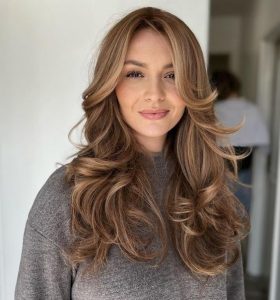 Idea 4: Textured Butterfly Lob
For a trendy and chic look, consider a textured butterfly lob. This haircut features a longer length, typically resting just above the shoulders, with layers that create texture and movement. It's a versatile option that can be styled in various ways.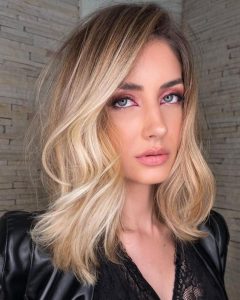 Idea 5: Butterfly Haircut with Bangs
Add a touch of elegance to your butterfly haircut by incorporating bangs. Opt for soft, wispy bangs or go for a bold statement with blunt bangs. Bangs can beautifully complement the butterfly shape and frame your face.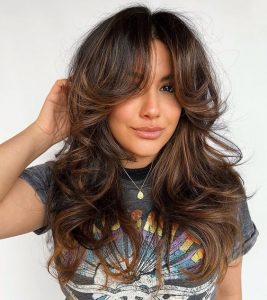 Idea 6: Romantic Butterfly Curls
Create a romantic and whimsical look with butterfly curls. Use a curling wand or hot rollers to create tight or loose curls throughout your long hair. This hairstyle exudes femininity and adds a touch of glamour to any occasion.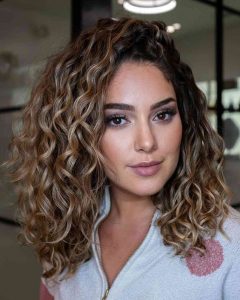 Idea 7: Sleek and Straight Butterfly Hair
Achieve a sleek and polished look with straight butterfly hair. Use a flat iron to straighten your locks, emphasizing the layers and creating a smooth and glossy finish. This hairstyle is perfect for those who prefer a more refined and sophisticated look.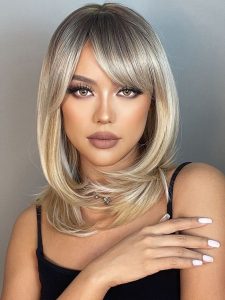 Idea 8: Half-Up Butterfly Hairstyle
Combine the butterfly haircut with a half-up hairstyle for a trendy and versatile look. Gather the top section of your hair and secure it with a hair tie or pins, leaving the rest of your hair flowing freely. This style showcases the butterfly layers while keeping your hair out of your face.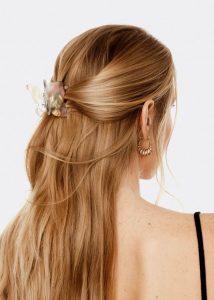 Idea 9: Butterfly Haircut with Balayage
Add dimension and depth to your butterfly haircut with balayage highlights. Balayage involves hand-painting highlights onto the hair, creating a natural and sun-kissed effect. Choose colors that complement your skin tone and enhance the layers of your butterfly haircut.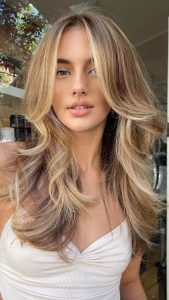 Idea 10: Braided Butterfly Updo
Elevate your butterfly haircut with an intricate braided updo. French braids, Dutch braids, or fishtail braids can beautifully accentuate the layers and create a stunning hairstyle for special occasions or formal events.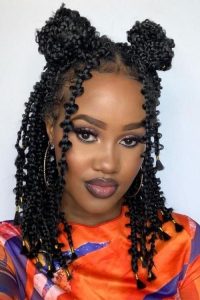 Idea 11: Butterfly Haircut with Side-Swept Fringe
Create a chic and stylish look with a butterfly haircut paired with a side-swept fringe. The side-swept fringe adds a touch of sophistication and frames your face elegantly, while the butterfly layers add movement and dimension to your long hair.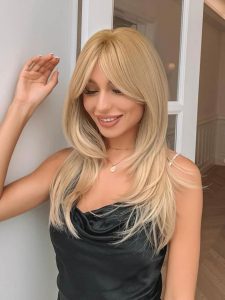 Idea 12: Boho-Inspired Butterfly Waves
Embrace a bohemian vibe with boho-inspired butterfly waves. Create loose and effortless waves using a curling wand or by braiding your hair overnight. This hairstyle is perfect for a relaxed and carefree look.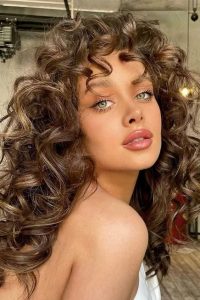 Idea 13: Butterfly Haircut with Highlights
Enhance the layers of your butterfly haircut with strategically placed highlights. Highlights add depth and dimension to your long hair, making the butterfly shape even more prominent. Consult with a professional colorist to find the right shade and placement for your highlights.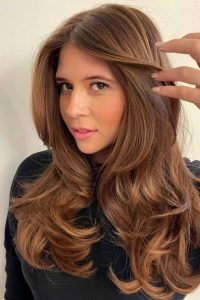 Idea 14: Messy Butterfly Bun
Effortlessly chic, a messy butterfly bun is a great option for a quick and stylish updo. Gather your hair into a high or low bun, allowing some layers to cascade down, creating a messy and textured look. Secure with bobby pins and leave a few face-framing strands loose for a soft and romantic touch.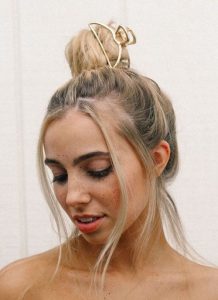 Idea 15: Butterfly Ponytail
Elevate your everyday ponytail with a butterfly twist. Gather your hair into a high or low ponytail and secure it with a hair tie. Take a small section of hair from the ponytail, wrap it around the hair tie, and secure it with a bobby pin. This simple yet stylish hairstyle showcases the layers of the butterfly haircut.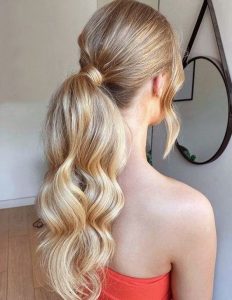 Idea 16: Butterfly Haircut with Feathered Ends
Create a light and airy look with a butterfly haircut featuring feathered ends. Feathering involves cutting the ends of the hair at an angle, giving them a soft and feather-like appearance. This technique adds movement and texture to your long hair.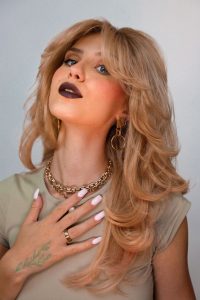 Idea 17: Elegant Updo with Butterfly Accents
For a glamorous and sophisticated hairstyle, opt for an elegant updo with butterfly accents. Style your long hair into a classic updo, such as a chignon or a French twist, and add butterfly-shaped hair accessories for a touch of whimsy and charm.