Nails
Fall Nails 2023: 19 Ideas for Autumn-inspired Nail Designs
As the leaves change colors and the air becomes crisp, it's time to update your nail game for fall. Fall nails are all about embracing the warm and rich hues of the season, incorporating elements like leaves, pumpkins, cozy sweaters, and more. In this article, we'll explore 19 original nail design ideas that capture the essence of fall for the year 2023.
Idea 1: Rustic Leaves
Capture the essence of fall foliage with rustic leaf nail designs. Paint delicate leaf patterns using warm shades of red, orange, and yellow. Add intricate details with metallic accents or a touch of glitter to make your nails truly stand out.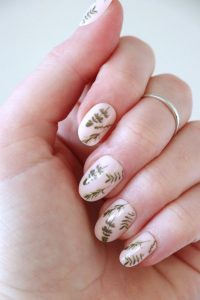 Idea 2: Pumpkin Spice Vibes
Embrace the iconic flavors of fall with pumpkin spice-inspired nails. Create a pumpkin-inspired base color and add spice accents with small details like cinnamon sticks, nutmeg, or pumpkin spice latte designs. These nails will bring cozy and warm vibes to your look.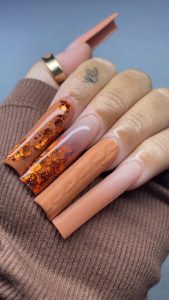 Idea 3: Cozy Sweater Nails
Emulate the coziness of fall sweaters with sweater-inspired nails. Use textured nail polish or nail wraps to mimic the look of cable-knit or chunky knit patterns. Choose fall-inspired colors like deep burgundy, mustard yellow, or forest green to complete the cozy aesthetic.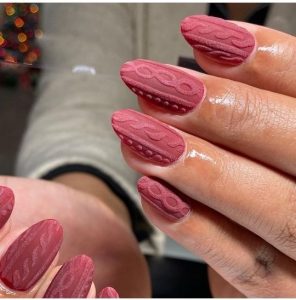 Idea 4: Harvest Sunset Gradient
Capture the breathtaking hues of a fall sunset with a gradient nail design. Blend warm shades of orange, yellow, and red to create a sunset-inspired ombre effect on your nails. Finish with a touch of gold or glitter to represent the glistening sun.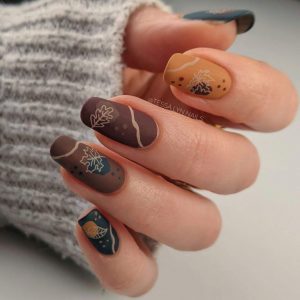 Idea 5: Plaid Perfection
Plaid is a classic fall pattern that never goes out of style. Create plaid-inspired nails by using thin nail art brushes or striping tape to paint intersecting lines in fall colors. Mix and match colors like deep red, forest green, and mustard yellow for a cozy and chic look.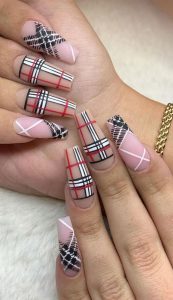 Idea 6: Fall Florals
Bring a touch of nature to your nails with fall floral designs. Paint intricate flowers like chrysanthemums, dahlias, or sunflowers using fall-inspired colors. Consider adding metallic accents or incorporating negative space for a modern twist on the traditional floral design.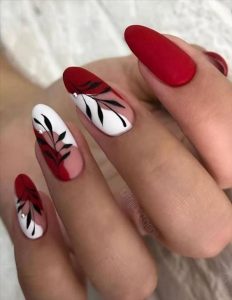 Idea 7: Apple Cider Inspired
Indulge in the comforting scent and flavors of apple cider with apple cider-inspired nails. Use shades of caramel, apple red, and cinnamon brown to create a gradient effect. Add apple or cinnamon stick accents to capture the essence of this beloved fall beverage.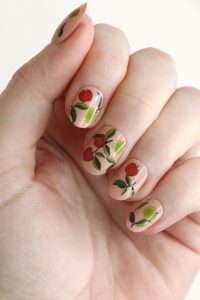 Idea 8: Moody Marble
Create a moody and artistic look with marble-inspired nails. Use deep, dark shades like black, navy, or deep purple as the base, and create marble-like veins using a thin nail art brush or a water marbling technique. The result is a sophisticated and edgy fall nail design.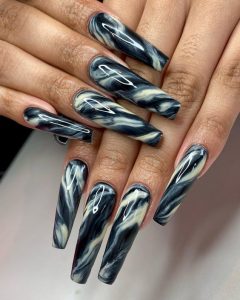 Idea 9: Metallic Accents
Add a touch of glamour to your fall nails with metallic accents. Incorporate gold, bronze, or copper tones into your nail design to create a luxurious and eye-catching look. Pair metallic accents with fall-inspired colors to enhance the overall design.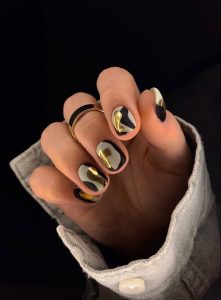 Idea 10: Pumpkin Patch Delight
Celebrate the season with pumpkin patch-inspired nails. Paint tiny pumpkins on a neutral or orange base, and add details like leaves, vines, or even adorable little scarecrows. These nails will bring a playful and festive touch to your fall look.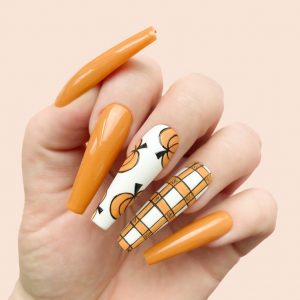 Idea 11: Spooky Spiderwebs
Get into the Halloween spirit with spooky spiderweb nails. Paint intricate spiderweb designs using black nail polish on a white or neutral base. Add tiny spiders or gemstones for a touch of extra creepiness. These nails are perfect for Halloween parties or a bold fall statement.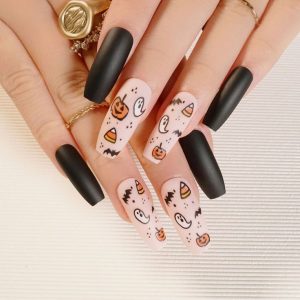 Idea 12: Falling Leaves French Tips
Give a twist to the classic French manicure by adding falling leaves to the tips. Paint a traditional French manicure with a neutral base and add small leaves in fall colors to the tip of each nail. This design elegantly combines the simplicity of a French manicure with the warmth of fall.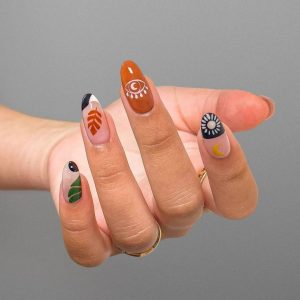 Idea 13: Autumn Ombré
Create a stunning ombré effect using fall-inspired colors. Choose shades like burnt orange, deep red, and chocolate brown and blend them seamlessly from the cuticle to the tip of your nails. This ombré design captures the transition of colors seen in nature during the fall season.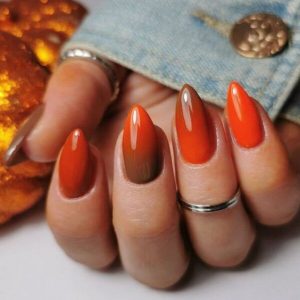 Idea 14: Fall Glitter Glam
Add some sparkle and glam to your fall nails with a glittery design. Apply glitter polish to the entire nail or create an accent nail with glitter for a bold statement. Choose fall colors like gold, copper, or burgundy for a festive touch.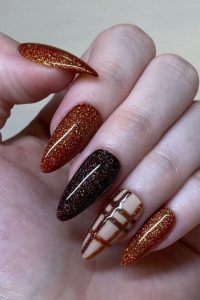 Idea 15: Gilded Nails
Elevate your fall nails with gilded accents. Paint your nails with a base color in a rich fall shade and add intricate gold or silver foil accents. This luxurious and elegant design will make your nails look like they are adorned with precious metals.
Idea 16: Sweater Weather Knit
Embrace the cozy feeling of sweater weather with knit-inspired nails. Use a fine nail art brush to paint intricate knit patterns on your nails. Choose fall colors like warm browns, deep greens, or creamy neutrals to mimic the look of your favorite fall sweater.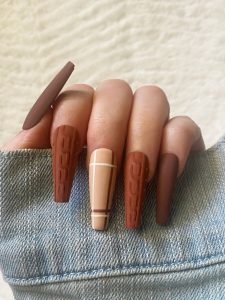 Idea 17: Woodland Creatures
Bring the enchantment of the woods to your nails with woodland creature-inspired designs. Paint adorable animals like owls, foxes, or deer using fall colors and intricate details. These whimsical nails will add a touch of nature and charm to your fall look.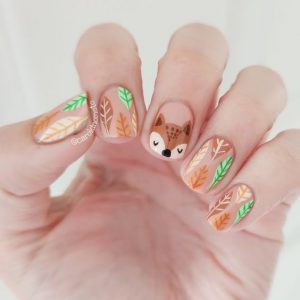 Idea 18: Cranberry Crush
Create a bold and vibrant look with cranberry-inspired nails. Use deep cranberry shades and add accents like cranberry slices or cranberry vine designs. These nails exude sophistication and capture the richness of the fall season.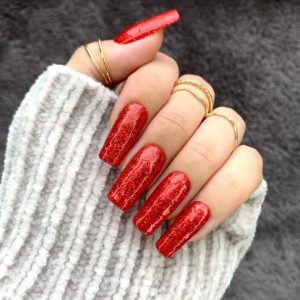 Idea 19: Harvest Moon Reflections
Capture the magic of a harvest moon with a celestial-inspired nail design. Paint a dark base color and add moon and star accents using metallic or shimmery polish. This design will make your nails twinkle and shine like a crisp autumn night.