Hairstyle
Embrace the Elegance: Curtain Bangs Hairstyles for 2024 – From Vintage Waves to Modern Chic
As we glide into 2024, curtain bangs continue to reign supreme in the world of hairstyling, offering a blend of retro charm and modern chic that's hard to resist. From the streets of New York to the laid-back vibes of California, curtain bangs are adorning the locks of women who desire a versatile and fashionable look. This article is your go-to guide for the latest curtain bangs hairstyles 2024, complete with styling tips and insights to keep you at the forefront of hair fashion. Whether you're attending a wedding, gearing up for school, or hitting the sports field, there's a curtain bang style just for you.
Effortlessly Tousled Waves with Blonde Curtain Bangs
These blonde curtain bangs fall effortlessly around the face, framing it with a softness that speaks to a relaxed yet stylish aesthetic. The tousled waves add a beachy texture, perfect for a medium-length hairstyle that's easy to manage and style. For an everyday look or a casual brunch, this hairstyle exudes a carefree vibe that's utterly captivating.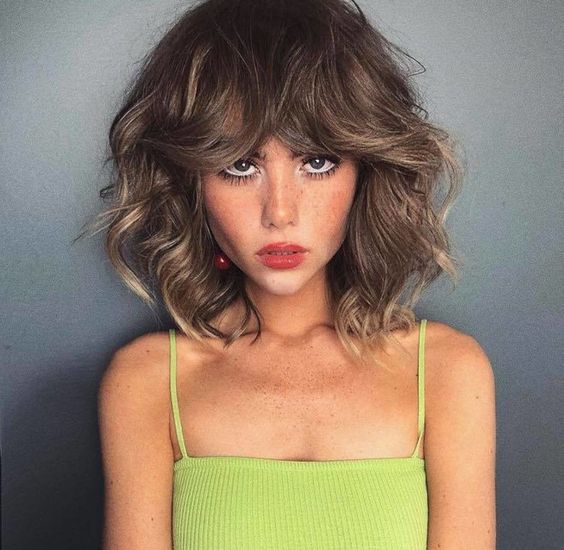 Sleek and Chic: Straight Hair with Curtain Bangs
A vision of sophistication, these long hair curtain bangs are the epitome of elegance when paired with straight hair. The sleekness of the strands complements the feathery bangs that gently curve around the cheeks, an ideal choice for a formal event or a professional setting. Keep it straight and unstyled for a minimalist charm or add a side part for an extra touch of finesse.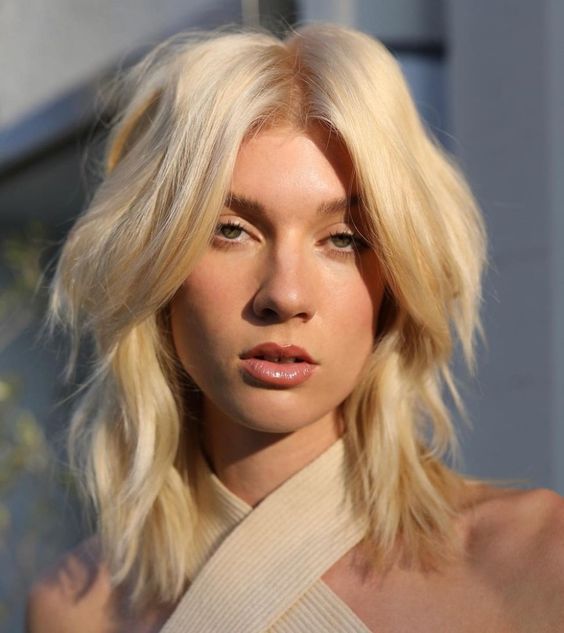 Golden Hour Glow: Layered Hair with Warm Highlights
Basking in the golden hour glow, this hairstyle features layers with curtain bangs, enriched with warm highlights. The layers add volume and dimension, making it a great option for those with fine hair. This sun-kissed look is perfect for a summer wedding or a day out in the city, offering a radiant vibe that's both youthful and timeless.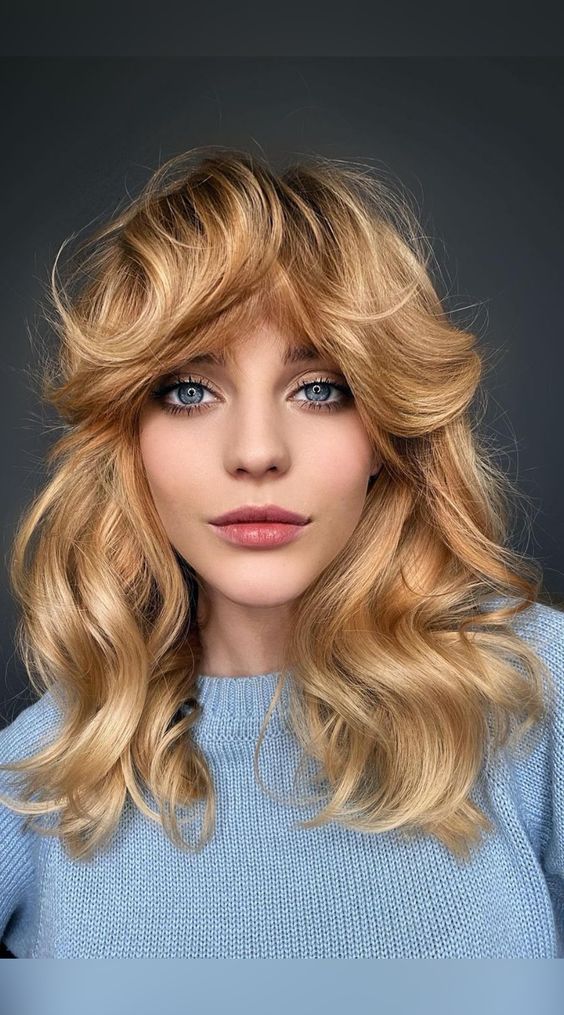 Curly Enchantment: Voluminous Curls with Soft Bangs
Curly hair with bangs can be magical, and this style is no exception. The voluminous curls boast a wild yet controlled appearance, framing the face with wispy bangs that soften the overall look. It's a stunning choice for those looking to add a dash of drama to their style, suitable for a night out or a festive occasion like prom.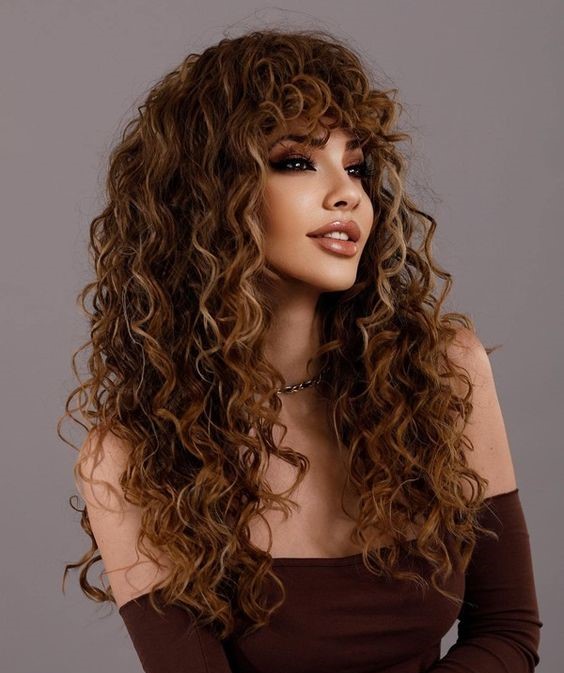 Sunset Hues: Vibrant Red with Layered Bangs
The vibrant red hair of this hairstyle is as captivating as a sunset, with layered hair with bangs offering a dynamic silhouette. The fiery shade is perfect for those who want to make a bold statement, while the bangs add a playful twist to the look. It's a head-turning style for the creative soul, ideal for an artsy event or when you just want to stand out from the crowd.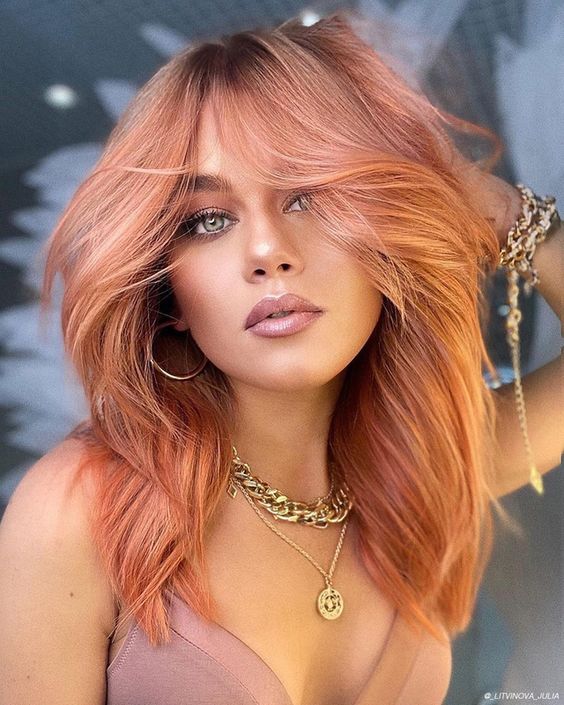 Bold Contrasts: Black and Blonde Balayage with Full Bangs
Daring and distinctive, the black and blonde balayage presents a striking contrast that's both edgy and elegant. The full curtain bangs blend seamlessly into the darker roots, creating a sense of depth and complexity. This style is a statement piece that's sure to turn heads, making it perfect for those who want to showcase their boldness. It's an excellent way to hide regrowth or to experiment with color without full commitment.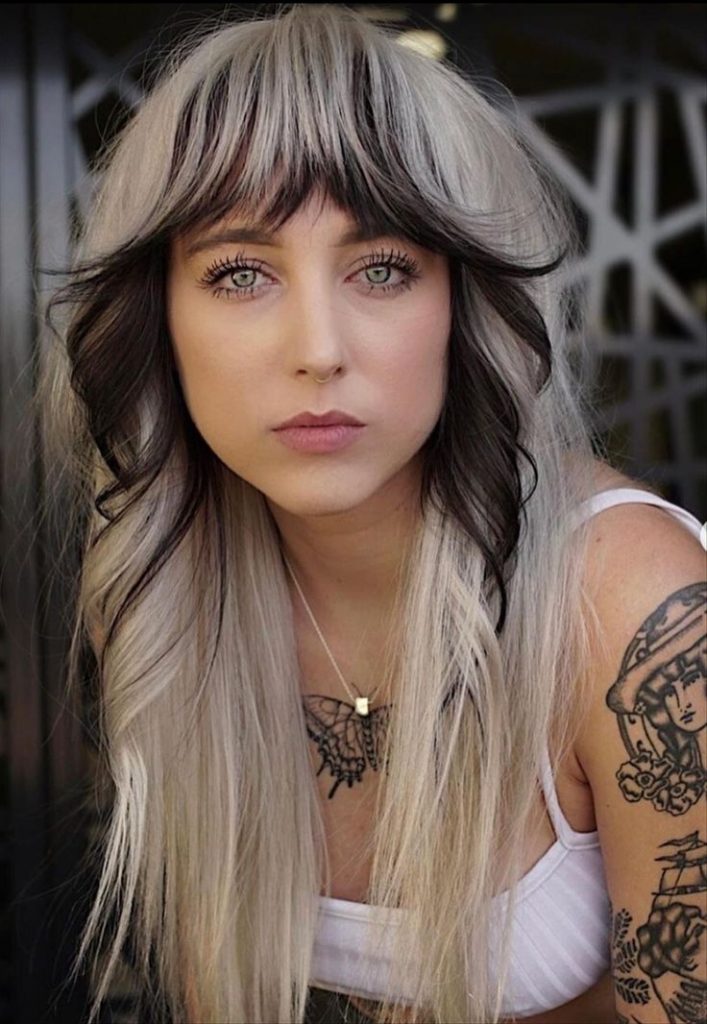 Soft Blonde Ambition: Mid-Length Bob with Feathered Bangs
The mid-length bob with feathered curtain bangs is a testament to understated elegance. The soft blonde hue enhances the texture, giving the hair a luminous quality that's highly desirable. This hairstyle is versatile enough for a wedding yet straightforward enough for school. It's a fantastic medium option for those who need a no heat approach to styling.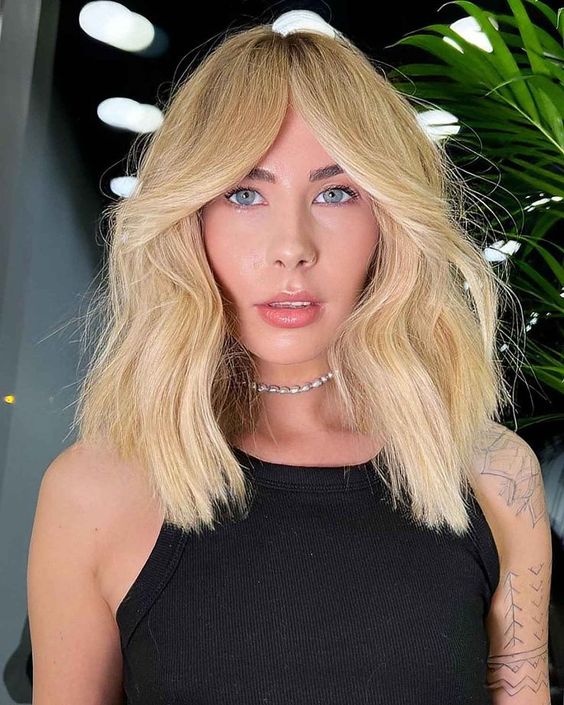 Natural Elegance: Wavy Black Hair with Curtain Bangs
Embrace the natural movement with this graceful style that features wavy black hair with curtain bangs. It's a look that's effortlessly chic and requires minimal styling, making it perfect for a half-up do or a full let-down. This style is a great match for those with a round face, enhancing features with its soft, framing waves.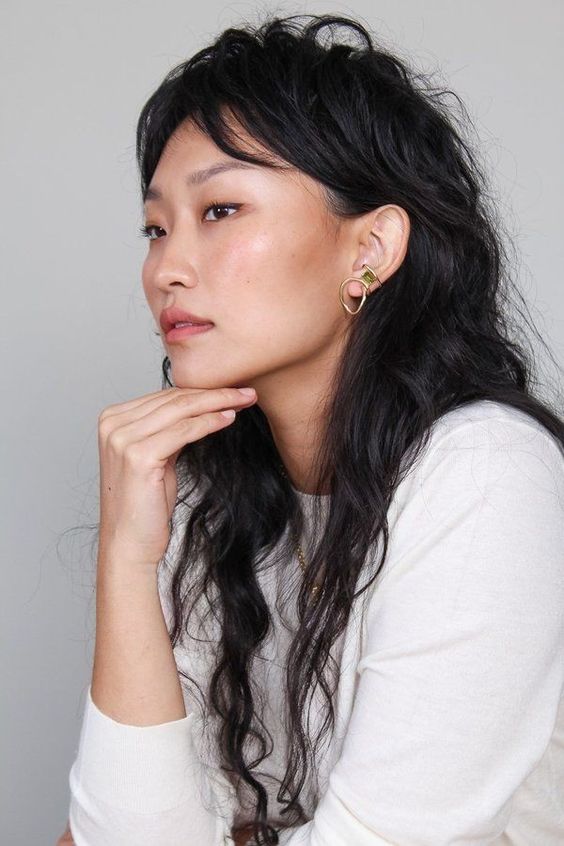 Modern Pixie: Short, Straight Hair with Textured Bangs
For the woman on the go, this modern pixie cut with textured curtain bangs is both stylish and convenient. The short hair offers a DIY ease of maintenance, while the bangs add a touch of femininity to the bold cut. This look is ideal for someone who loves a minimalist approach but still wants a hairstyle with personality.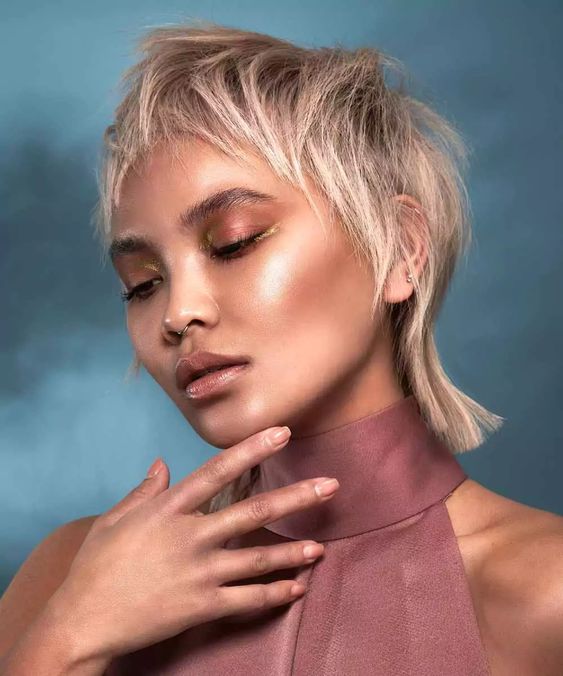 Lush Blonde Waves: Long Hair with Curtain Bangs
Lush and luxurious, these long blonde waves paired with curtain bangs are the epitome of glamour. This style is all about volume and movement, perfect for those with thick hair. It's a stunning choice for special events like prom, where making a grand entrance is part of the fun. The waves offer a Y2K nostalgia, while the bangs keep the look anchored in contemporary trends.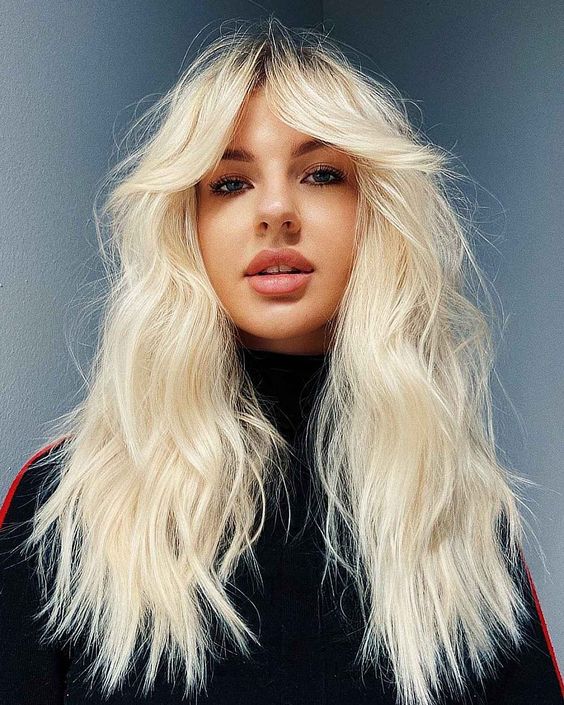 Rosy Waves: Long Hair with a Pink Glow
Immerse yourself in the romantic hues of rosy pink with these luscious waves. The long hair with a touch of pink is not just a hairstyle, it's a statement of soft power and feminine grace. This style is a perfect match for a wedding or prom, where you wish to add a pop of color while keeping it classy with curtain bangs.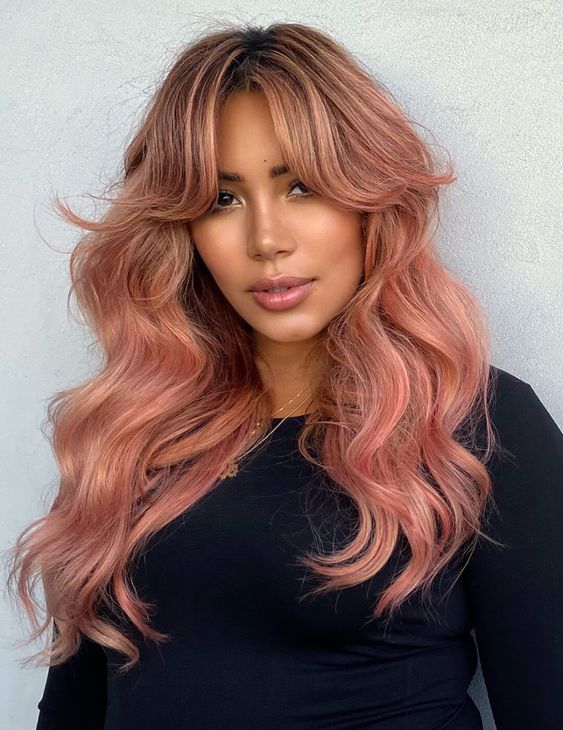 Sun-Kissed Beach Waves: Blonde Mid-Length Hair
Capture the essence of the ocean's breeze with these sun-kissed beach waves. The blonde mid-length hair is easy to style and perfect for a half-up look or fully down, swaying with every step. It's an ideal, aesthetic choice for a day out or a casual yet stylish school look.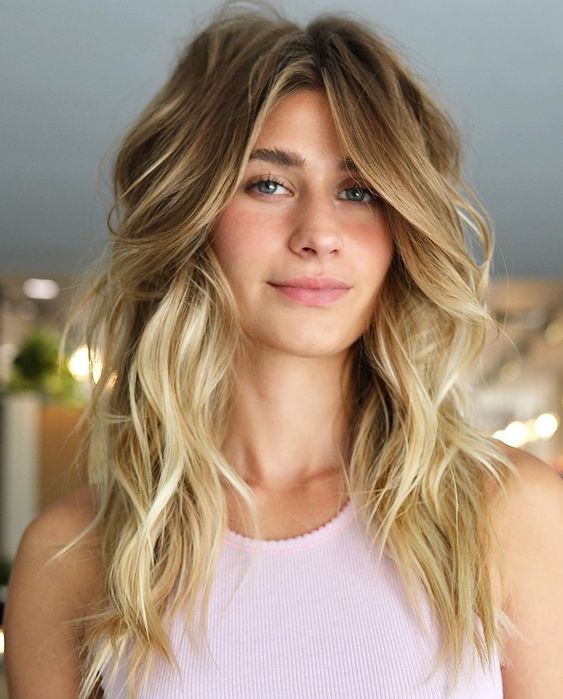 Electric Vibes: Straight Hair with Bold Highlights
Step into the future with this daring hairstyle featuring straight hair with bold electric blue and purple highlights. The curtain bangs frame the face beautifully, adding a softness to the striking colors. This hairstyle is perfect for those who love to express their individuality and embrace Y2K trends.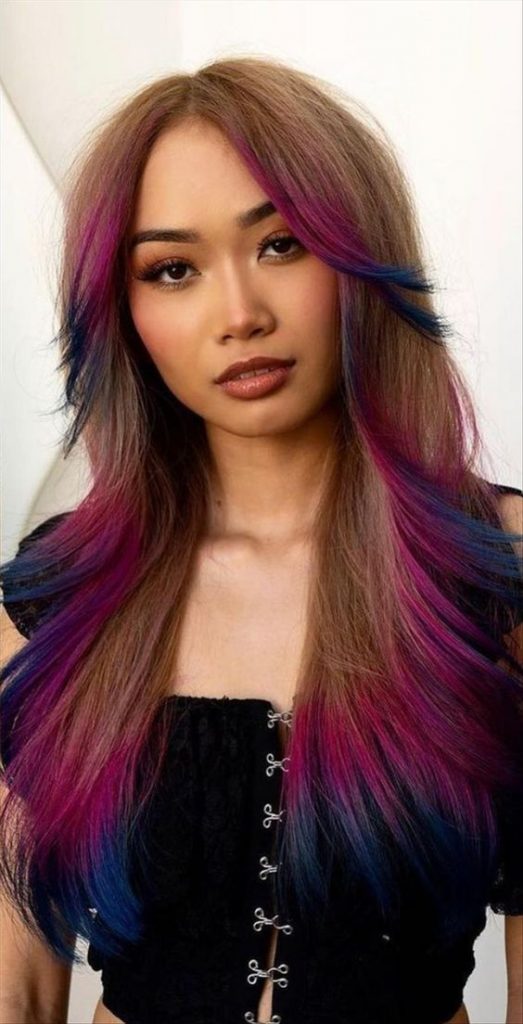 Natural Texture: Medium Length with Subtle Waves
Celebrate the natural texture with this effortlessly chic medium length hairstyle. The subtle waves and curtain bangs offer a DIY simplicity for styling at home. This look is versatile for both formal events and casual outings, providing a timeless elegance.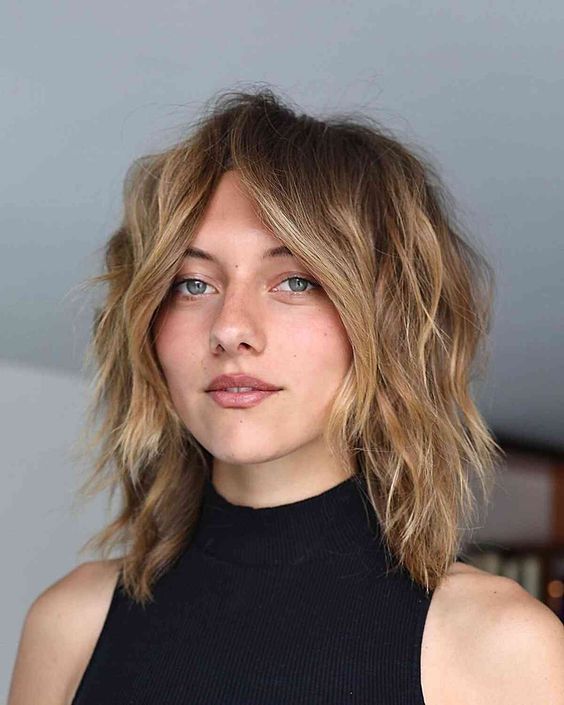 Fiery Flow: Long Wavy Red Hair
Ignite your style with this fiery red hairstyle that's bold and beautiful. The long, wavy locks paired with curtain bangs create a dynamic look that's perfect for those with thick hair looking for a change. This style is stunning for any occasion, from a simple day at the office to an exciting night out.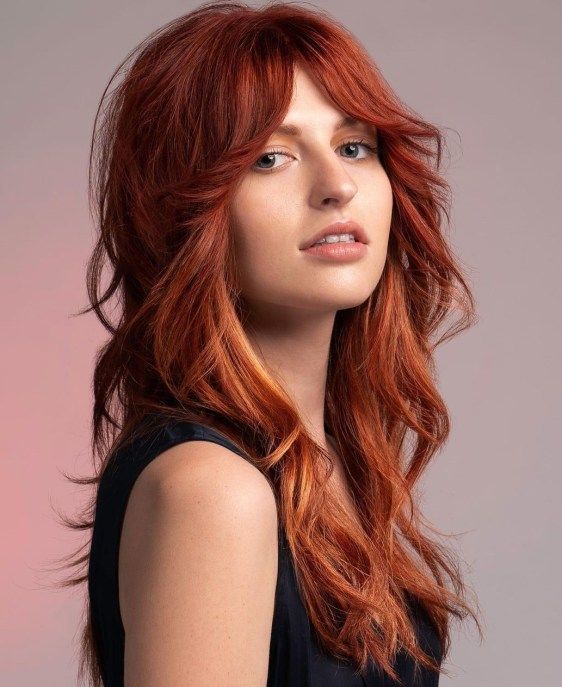 Edgy Textures: Platinum Waves with Disheveled Bangs
These platinum waves embody the free spirit of the rocker chic. The disheveled curtain bangs add an edge to the otherwise soft texture, making it an excellent choice for those with a bold sense of style. Whether you're hitting a concert or strutting downtown, this look screams confidence.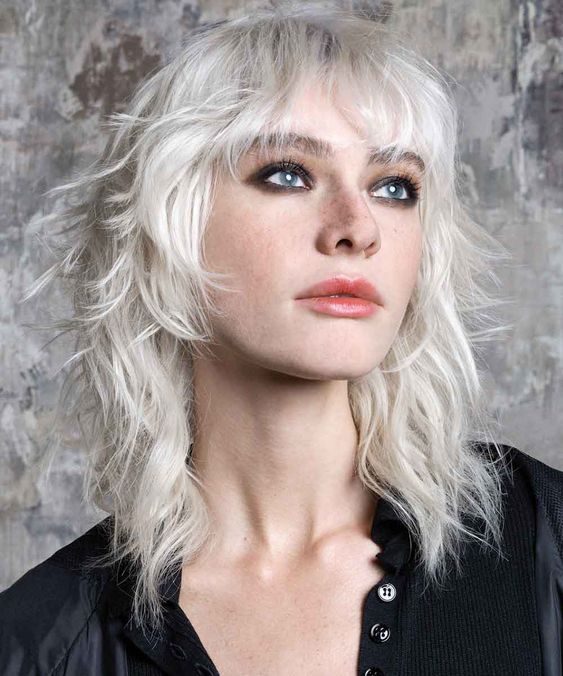 Mystical Gradients: Ashy Waves with Hidden Colors
Dive into a mystical realm with ashy waves that hide a secret palette of colors beneath. This style is for the dreamers and the creators, perfect for adding a touch of the extraordinary to everyday life. The curtain bangs merge seamlessly into the waves, offering a whimsical yet wearable look.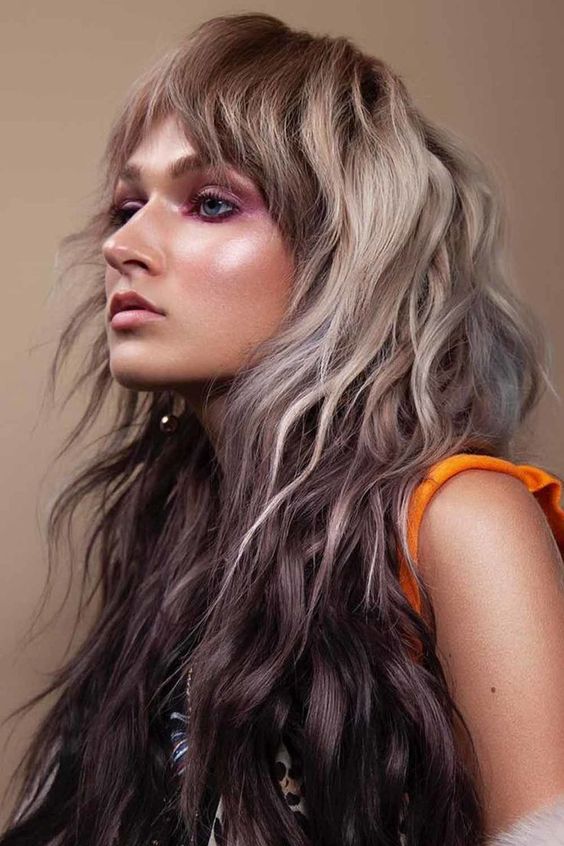 Vintage Vibes: Curly Bangs with Retro Flair
Embrace the nostalgia with this vintage-inspired style that features full, bouncy curls and curtain bangs that frame the face with a nod to the past. It's a playful and romantic style that fits perfectly into the aesthetic of a modern-day vintage lover.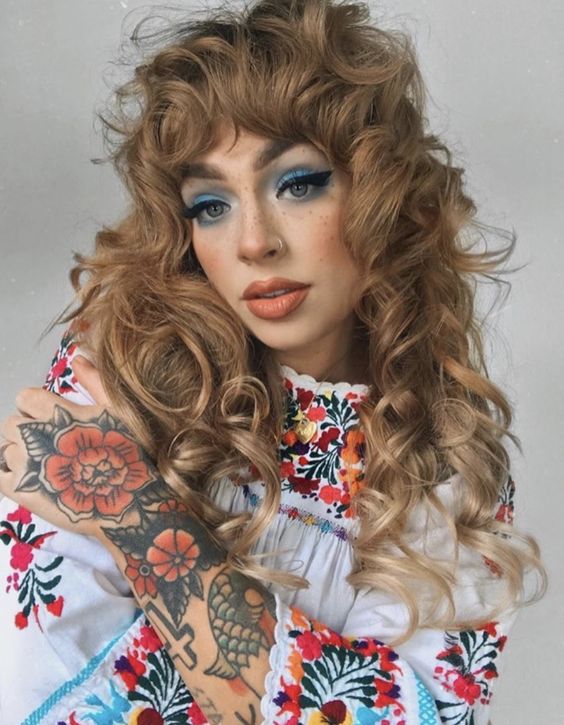 Boho Chic: Dark Textured Waves with Layered Bangs
For the boho soul, these dark textured waves with layered bangs offer a relaxed yet put-together look. It's a versatile style that can be dressed up or down, capturing the essence of bohemian elegance. Whether you're at a festival or a coffee shop, this style keeps you grounded yet chic.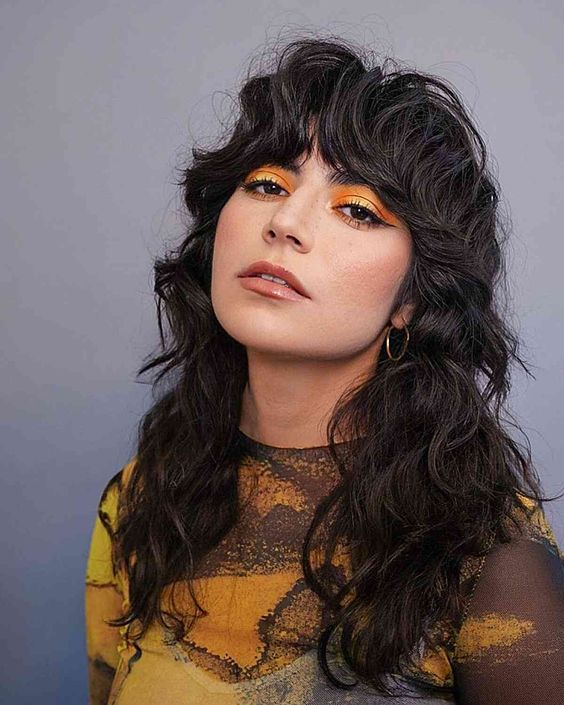 Curtain bangs are a beautiful way to add personality and flair to your hairstyle in 2024. Each of these looks offers a different way to wear the trend, proving its versatility and staying power. Whether you're going for a cute and aesthetic vibe or something more edgy and Y2K inspired, there's a curtain bang hairstyle for every occasion and mood. Try out these styles, share your experiences, and don't forget to leave a comment to let us know your favorite curtain bangs look!
Save Pin