Hairstyle
Embracing Elegance: Milkmaid Braid Hairstyles to Refresh Your Look in 2024
As we navigate through the trends of 2024, milkmaid braid hairstyles stand out with their timeless elegance and versatility. Whether you're someone with long hair looking for a classic twist or a short hair enthusiast eager to add a touch of romance to your look, the milkmaid braid has evolved to accommodate every length and texture. This article will explore the chic adaptability of milkmaid braids, offering styling inspiration for women aged 25 to 55 who are passionate about hairdressing and fashion. Prepare to be inspired by a collection of milkmaid braid hairstyles that are as practical as they are beautiful.
Classic Elegance for Long Hair
The quintessence of grace, this long hair style features a milkmaid braid that crowns the head like a halo of sophistication. Perfect for those with straight hair or wavy hair, it's a testament to the timeless beauty of braided hairstyles. The intricate weaving around the head gives the impression of a hairband made of hair, promising an aesthetic that's both regal and approachable. This style works wonders in accentuating the length and volume, ideal for women with a penchant for classic looks.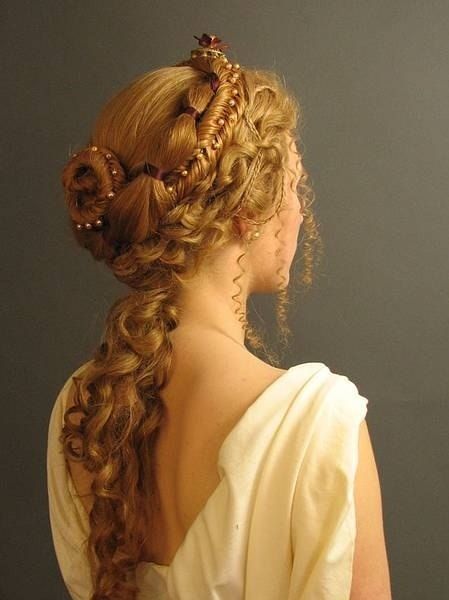 Bohemian Rhapsody for Medium Length
Dive into the boho-chic world with this medium length milkmaid braid that perfectly frames the face. The braid, casually draped across the crown, embodies a free-spirited aesthetic that's both alluring and practical. It's a match for those with curly hair or straight hair looking for a simple yet stylish diy approach to milkmaid braids. This look is also a charming option for those interested in how to style their locks with a side part to create a laid-back yet elegant vibe.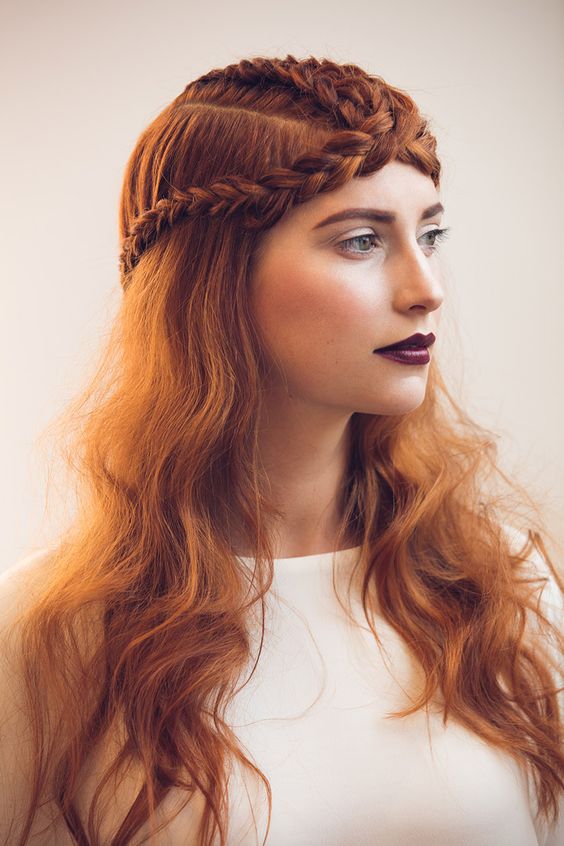 The Blonde Ambition
This hairstyle is a vibrant showcase for the blonde beauties out there. It's a creative twist on the traditional milkmaid braid, featuring a playful balance between braided sections and loose waves, making it a perfect choice for medium to long hair. This look is particularly flattering for those with a round face, as it adds height and volume on top, elongating the face beautifully. The braid's texture is rich and dimensional, hinting at a 90s influence with a modern flair.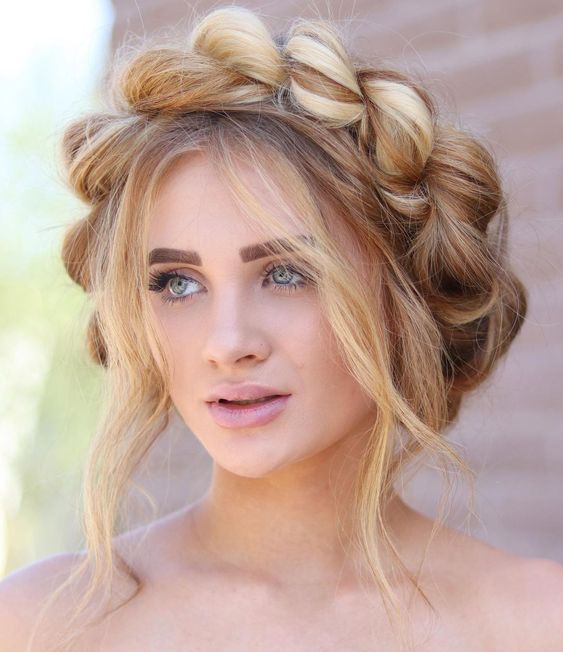 Redefined Sophistication
Here we have a milkmaid braid that's all about refined detail and elegance, suited for straight hair with a medium or long length. The braid, sleek and polished, sits atop the head like a crown, while a few strategically placed wispy bangs soften the overall look, offering a hint of mystery and romance. It's a stellar option for those seeking a sophisticated hairstyle with a touch of drama, ideal for a professional setting or a formal event.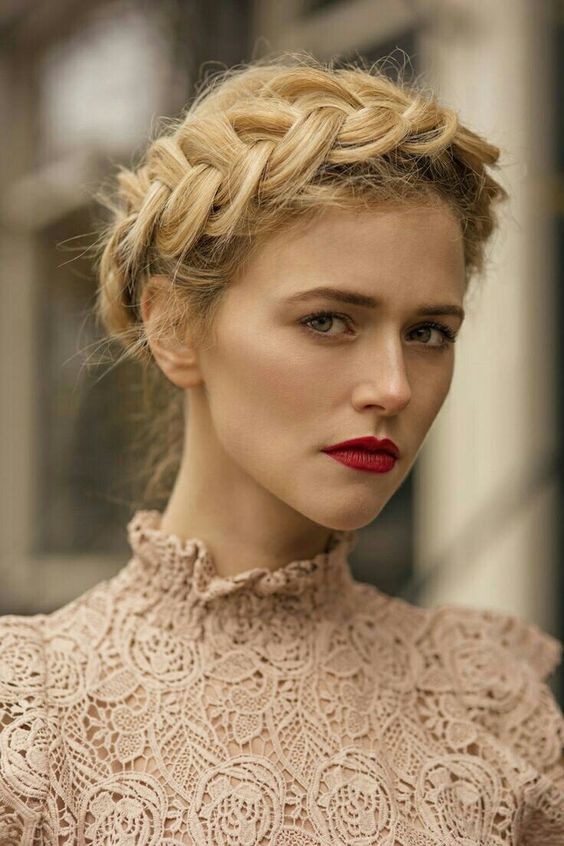 Rustic Charm for Short Hair
Even short hair can partake in the milkmaid braid trend with this rustic-inspired style. The braid wraps around the head, providing an earthy and charming aura that's perfect for any casual outing. It's a playful nod to the diy spirit, showcasing that with a little creativity, even short hair can enjoy the intricacies of braided styles. The subtle incorporation of flowers adds a whimsical touch, appealing to those who enjoy a natural, unstyled look with a dash of enchantment.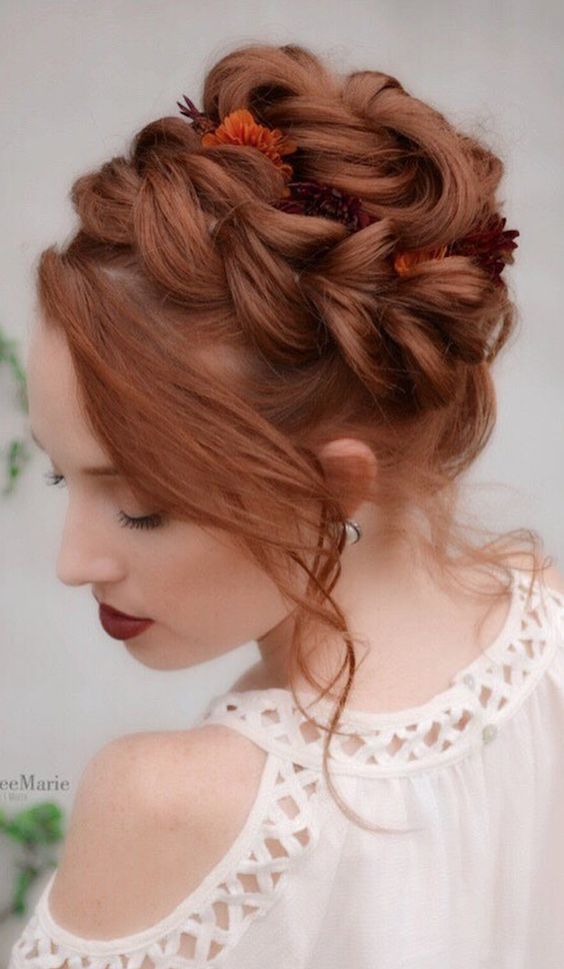 The Brunette Swirl
This sophisticated updo is a dance of braids that encircles the head, creating a luxurious and intricate pattern. Ideal for those with thick hair or brown hair, the hairstyle exudes elegance and is perfect for formal events or a professional setting. The seamless integration of different braid sizes adds depth and dimension, making it a stunning example of a medium to long hair milkmaid braid that's both traditional and contemporary.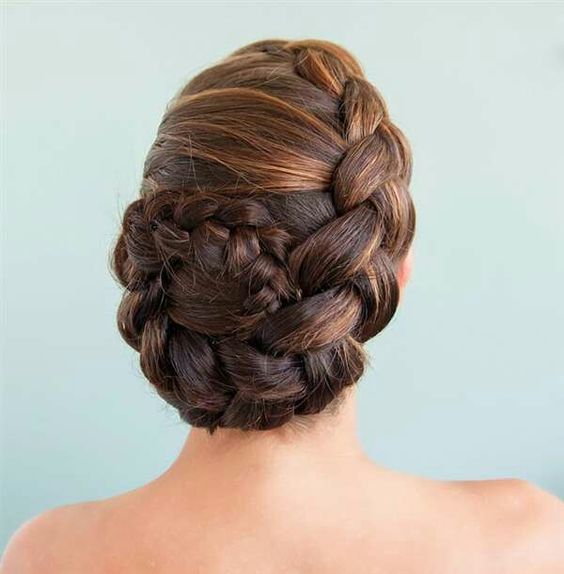 Blonde Simplicity
Here, we see a milkmaid braid that's the epitome of casual chic. The braid, draping across the crown, is a lovely complement to long hair straight or wavy hair, giving off an effortless beachy vibe. It's an ideal choice for those looking for a simple yet stylish hairstyle that can transition from day to night. The golden blonde hues shimmer in the light, adding a sun-kissed effect to the aesthetic.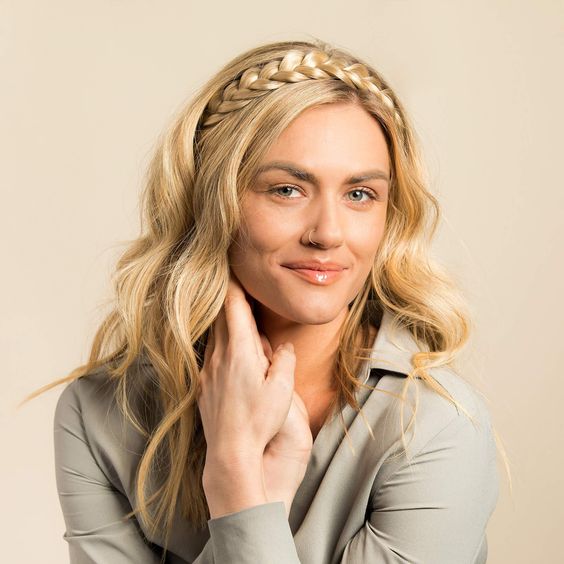 Celtic Red Braid
This style is a nod to the Celtic heritage, where braids are more than just a style—they're a piece of history. Perfect for those with red hair and medium to long length, this milkmaid braid is a work of art that frames the face with its intricate patterns. It's a bold statement that marries tradition with modern styling, resonating with those who have a flair for dramatic and historical hairstyles.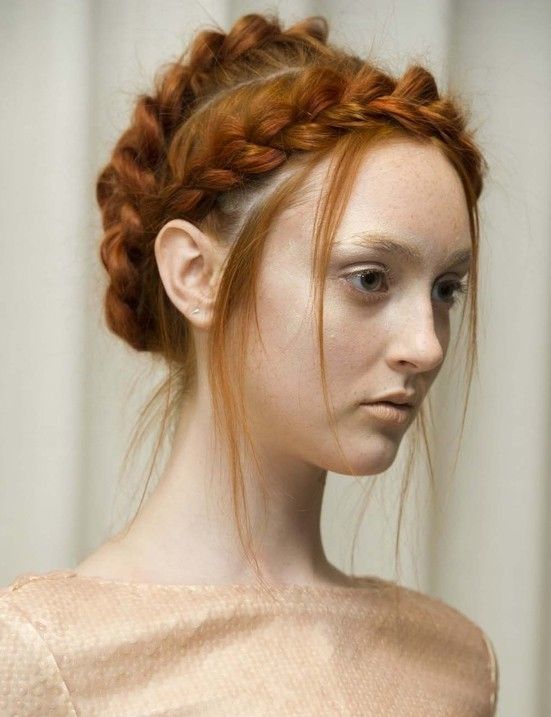 Rustic Elegance
The milkmaid braid gets a pastoral upgrade in this long hair style that intertwines nature with beauty. The addition of greenery weaves a story of whimsy and romance, making it perfect for a rustic wedding or an outdoor event. This hairstyle is particularly flattering for those with red hair or highlights, as it brings out the warm tones in the hair, creating a layered, multidimensional look.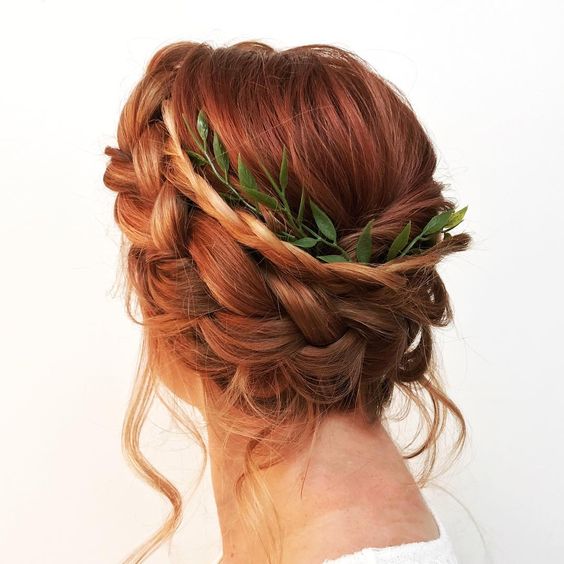 Sophisticated Side Braid
For those who prefer a subtler take on the milkmaid braid, this side part style is a blend of elegance and understatement. It works beautifully on medium with bangs or long hair curtain bangs, providing a modern twist to the classic braid. The braid elegantly sweeps along the side, adding a touch of class to any outfit and is perfect for those aiming for a refined yet simple hairstyle.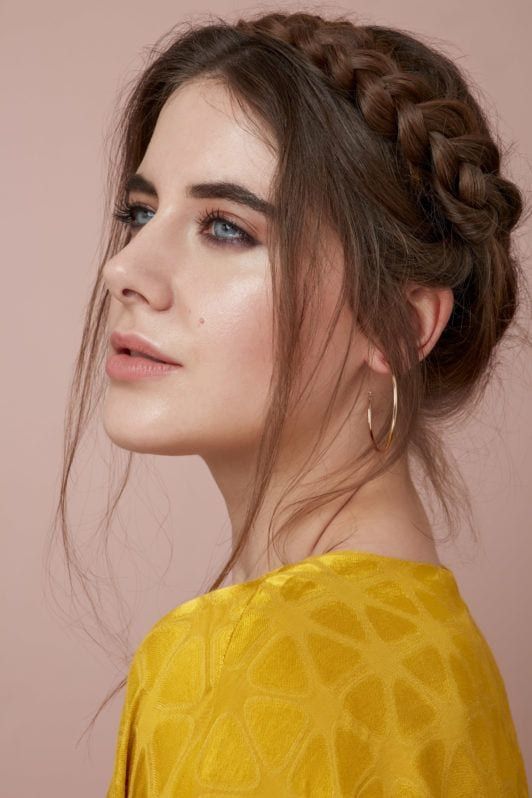 The Golden Weave
This updo showcases a luxurious blend of blonde and light brown hues, woven into a masterpiece fit for a modern-day queen. Perfect for medium to long hair, the braid wraps around the head, forming a lavish crown that's both stylish and secure. This hairstyle is a standout choice for those with thick hair, providing a tutorial at home for creating a regal look that's perfect for any high-end event.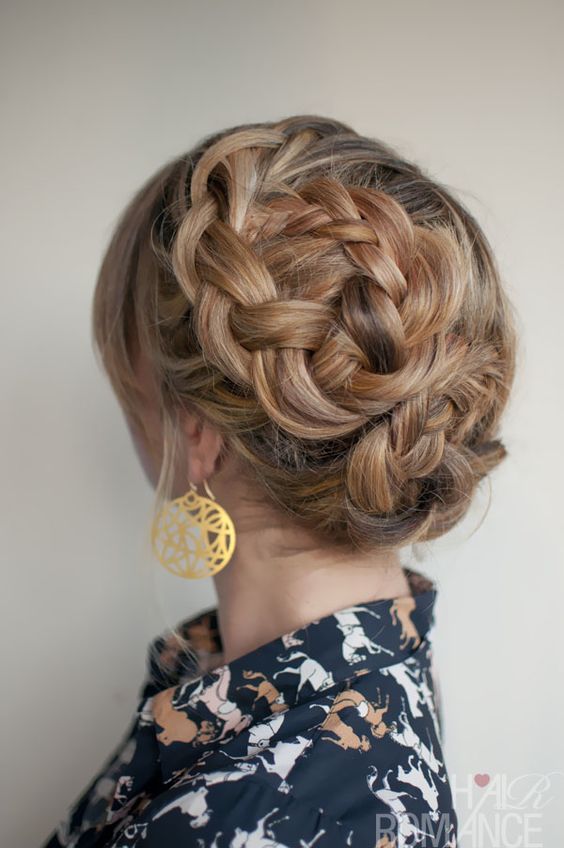 The Victorian Twist
Reminiscent of a bygone era, this milkmaid braid is a romantic homage to Victorian elegance. The brunette braids are sculpted into a low bun at the nape, with each twist and turn meticulously crafted to create a layered, textured look. It's an ideal hairstyle for those with fine hair looking for a way to add volume and intrigue to their hairstyles. This style is particularly well-suited for weddings or other formal occasions where classic beauty is celebrated.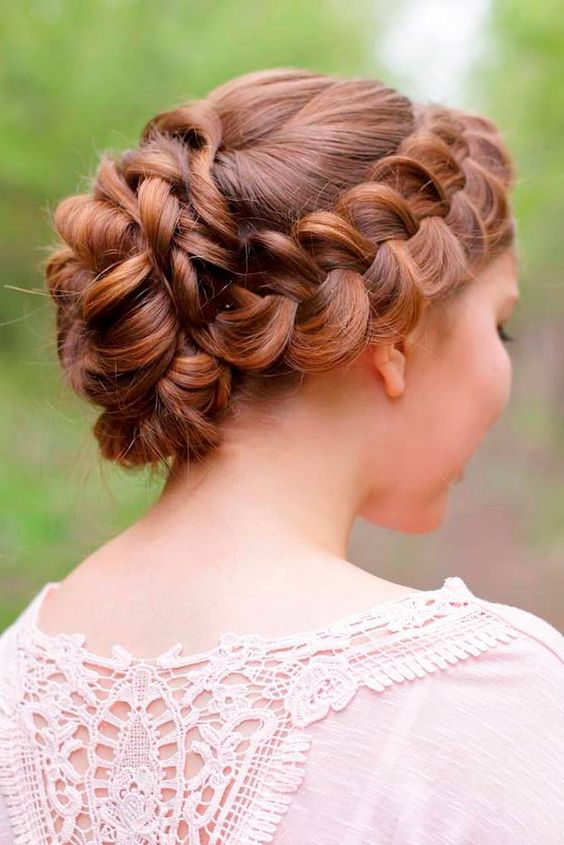 The Modern Muse
For the contemporary woman, this blonde milkmaid braid is the epitome of modern chic. The braid skims the hairline, serving as a natural headband that's both functional and fashionable. It's perfect for straight hair or wavy hair, and the side part adds a touch of asymmetry that's very 2024. Whether you're dressing up for a night out or looking for a polished, everyday style, this look is versatile and on-trend.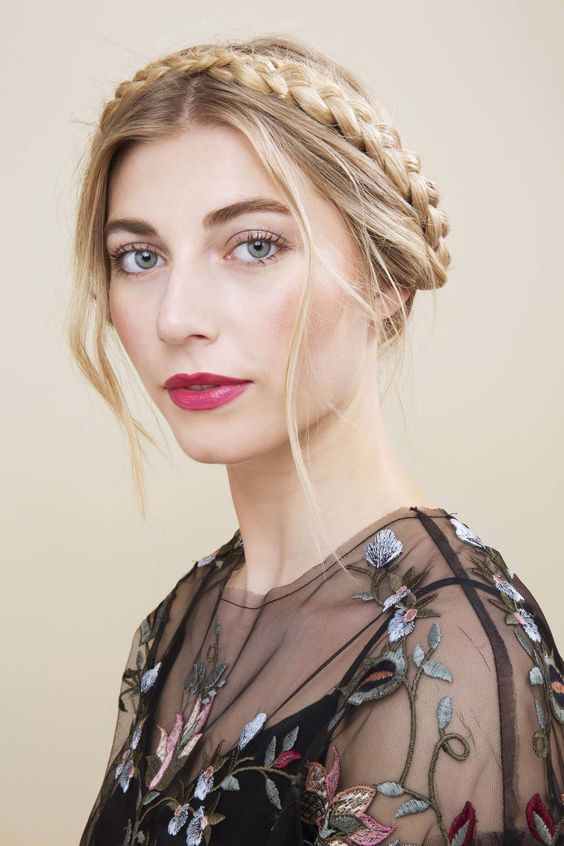 The Winter Floral
This hairstyle brings a touch of nature to the traditional milkmaid braid. Interspersed with delicate yellow flowers, the rich brown hair is styled into a full crown braid that exudes a whimsical, fairy-tale essence. It's a magical choice for short hair or medium length hair, ideal for outdoor events or a bohemian-themed party. The flowers add a pop of color and a diy charm that's undeniably enchanting.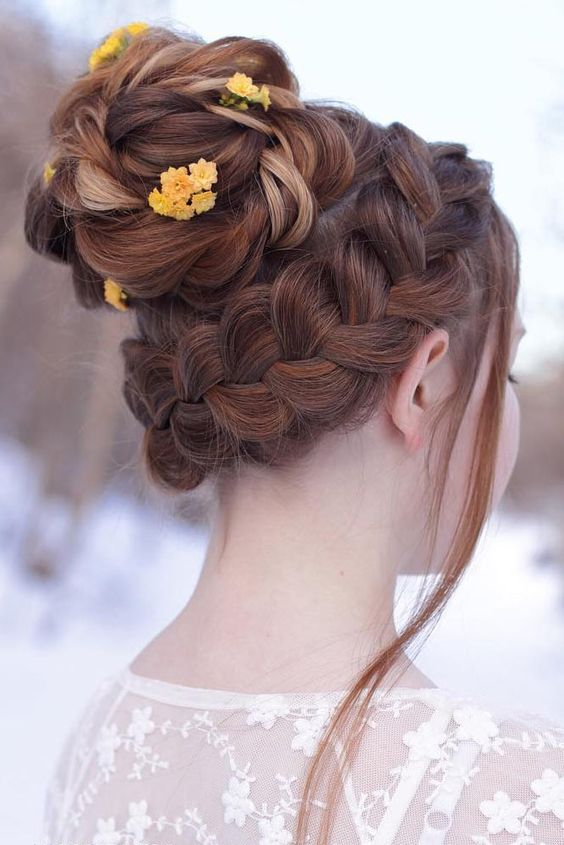 The Auburn Accent
Striking a balance between bold and understated, this long hair style with with curtain bangs integrates a braid into flowing red hair, creating a look that's both striking and subtle. The straight hair provides a smooth canvas for the braid, which doubles as a headband. This style is perfect for those with long hair straight who want to add an element of intrigue without committing to a full updo.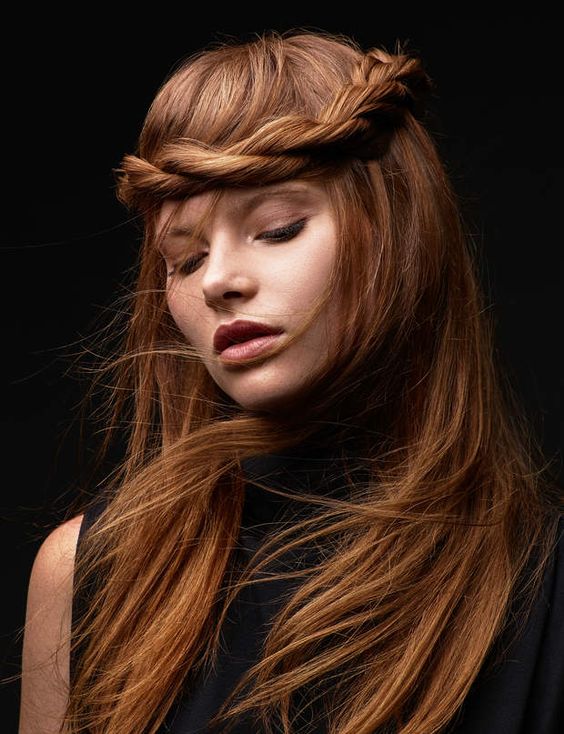 Milkmaid braids are a celebration of femininity and versatility, adapting seamlessly to various hair lengths and textures. We encourage you to experiment with these styles, whether you're going for a polished, professional look or a casual, bohemian vibe. Remember, fashion is about expressing your individuality, so take these ideas and make them your own. We'd love to hear your thoughts and see your interpretations of these milkmaid braid hairstyles for 2024, so please, leave a comment and share your experience with us.
Save Pin