Hairstyle
17 Edgy Grunge Pixie Haircut Ideas: Embrace the Raw and Rebellious Style!
Grunge fashion and hairstyles have a distinctive raw and rebellious aesthetic that resonates with those who crave an alternative and edgy look. The grunge pixie haircut combines the boldness of a pixie cut with the non-conformist spirit of grunge, resulting in a style that's all about self-expression. In this article, we present 17 unique and edgy grunge pixie haircut ideas, each accompanied by a detailed description. Get ready to embrace your inner rockstar and unleash your wild side!
The Choppy Grunge Pixie
This haircut features choppy layers and uneven edges for a deliberately disheveled appearance. The hair is tousled and textured, exuding a carefree and effortlessly cool vibe. It's a perfect choice for those who want a messy yet stylish look.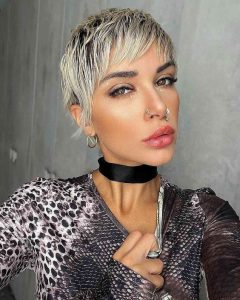 The Shaved Grunge Pixie
For an ultra-edgy style, opt for a grunge pixie with shaved sides or a shaved undercut. The contrast between the longer top and the shaved sections adds an element of rebellion and gives your haircut an unmistakable rock 'n' roll edge.
The Bleached Grunge Pixie
Make a statement with a grunge pixie haircut that's complemented by bleached or platinum blonde hair. The contrast between the bold color and the short, edgy cut creates a striking and attention-grabbing look.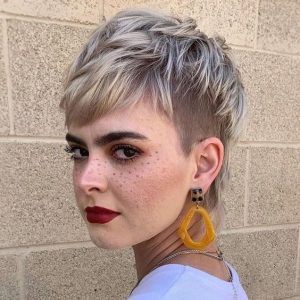 The Jagged Bangs
Add some attitude to your grunge pixie by incorporating jagged and uneven bangs. The choppy texture and asymmetrical shape give your haircut an effortlessly cool and rebellious appearance.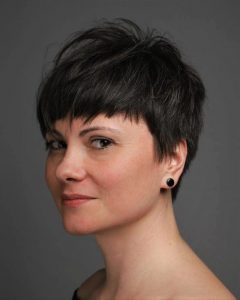 The Colored Grunge Pixie
Experiment with vibrant and unconventional hair colors to enhance the grunge aesthetic. Whether it's a bold red, a vivid blue, or a neon green, the colorful hues add a unique and eye-catching element to your pixie haircut.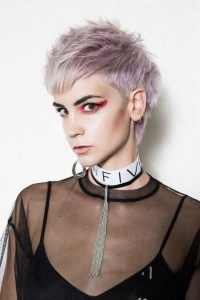 The Textured Mohawk Pixie
Combine the edginess of a mohawk with the versatility of a pixie cut. Keep the sides short and textured, while leaving the center section longer and styled upwards for a rock-inspired look that demands attention.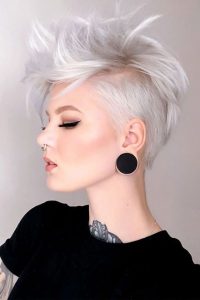 The Grunge Pixie with Undercut
Enhance the edginess of your grunge pixie with an undercut. Shave one side or the back of your head, while keeping the remaining hair longer and styled in a messy, tousled manner. This style is perfect for those who want a rebellious and unconventional look.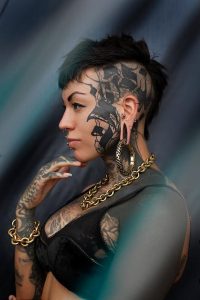 The Faux Hawk Grunge Pixie
Create a faux hawk effect with your grunge pixie haircut by styling the center section upwards while leaving the sides shorter. This style exudes a punk-rock vibe and is guaranteed to make a statement.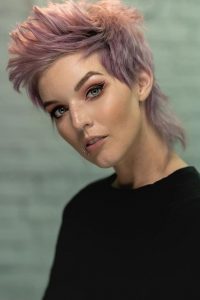 The Grunge Pixie with Deep Side Part
Incorporate a deep side part into your grunge pixie for a touch of sophistication combined with an edgy twist. The deep part adds asymmetry and creates a visually striking hairstyle that showcases your individuality.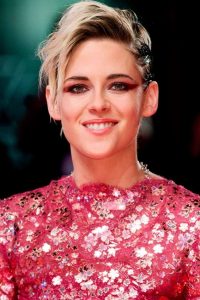 The Messy Grunge Pixie
Embrace the "bedhead" look with a messy grunge pixie. This style is all about tousled and disheveled texture, emphasizing the carefree and effortless grunge aesthetic. Use a texturizing product to enhance the messy look and create a wild and untamed hairstyle.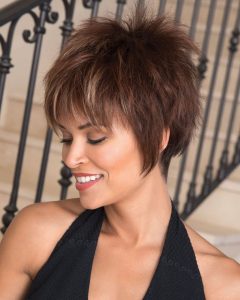 The Grunge Pixie with Long Side Bangs
Add a touch of femininity to your grunge pixie haircut with long side bangs. The contrast between the shorter back and sides and the longer front creates a dynamic and versatile style that can be worn sleek or tousled.
The Grunge Pixie with Face-Framing Layers
Frame your face with layers in your grunge pixie haircut to add softness and dimension. The layered sections delicately frame your features, creating a flattering and alluring hairstyle with a hint of rebellion.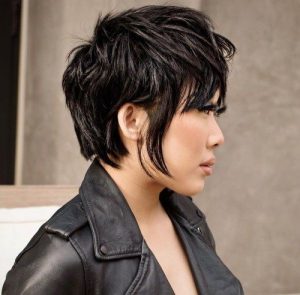 The Textured Grunge Pixie with Headband
Accessorize your grunge pixie with a headband for a touch of bohemian charm. Whether it's a fabric band, a leather strap, or a metal chain, the headband adds a unique and stylish element to your haircut, channeling the spirit of grunge.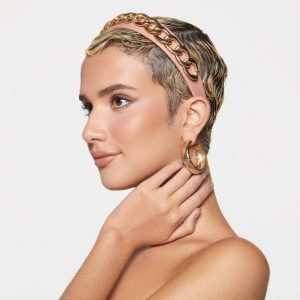 The Grunge Pixie with Spiky Texture
Create a punk-inspired grunge pixie by styling your hair into spiky texture. Use a strong-hold styling product to spike the hair on top, adding an edgy and fierce element to your overall look.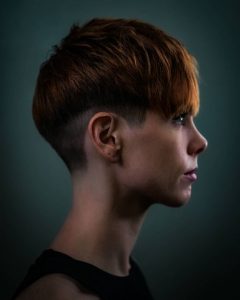 The Grunge Pixie with Messy Braids
Combine grunge with a touch of boho by incorporating messy braids into your pixie haircut. Braid small sections of your hair and leave them slightly undone for an effortlessly cool and textured hairstyle.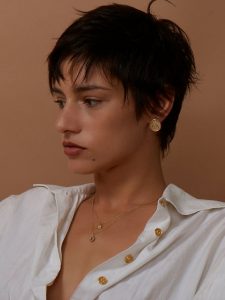 The Grunge Pixie with Geometric Undercut
Take your undercut to the next level by incorporating geometric designs. Shave intricate shapes or patterns into the undercut section, adding a bold and artistic element to your grunge-inspired hairstyle.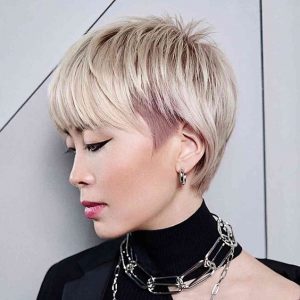 The Grunge Pixie with Dark Roots
Play with contrasting colors by embracing dark roots in your grunge pixie haircut. Allow your natural hair color or dark roots to peek through the lighter shade, adding depth and a touch of rebellion to your hairstyle.