Hairstyle
15 Chic French Pixie Haircut Ideas: Embrace Effortless Elegance!
The French pixie haircut is a timeless and effortlessly chic hairstyle that exudes sophistication and style. With its cropped length and tailored edges, the French pixie is the epitome of understated elegance. In this article, we present 15 exquisite ideas for French pixie haircuts, each accompanied by a detailed description. Whether you're looking to revamp your current style or considering a bold change, these ideas will inspire you to embrace the allure of French beauty and finesse.
Classic French Pixie
This iconic French pixie cut features short, evenly trimmed hair all around. It exudes an air of sophistication and simplicity, making it a versatile option for any occasion. Effortlessly elegant, this timeless style enhances your facial features and highlights your natural beauty.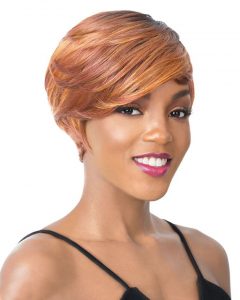 Textured French Pixie
For a modern twist on the classic French pixie, opt for a textured variation. The hair is slightly layered and tousled, creating a soft and natural look. This style adds movement and dimension, giving you an effortlessly chic vibe.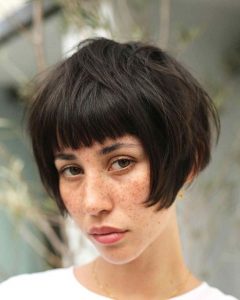 Side-Swept Fringe
Add a touch of romance to your French pixie by incorporating a side-swept fringe. The fringe softly frames your face, enhancing your features and adding a feminine allure to the overall look. It's a versatile style that complements various face shapes.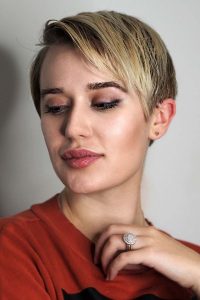 Edgy French Pixie
If you're looking for a bold and edgy French pixie, consider incorporating shaved or undercut sections. This adds an element of modernity and attitude to the classic cut. Play with asymmetry or geometric designs for a truly unique and daring style.
Pixie with Longer Bangs
For a playful and flirtatious look, opt for a French pixie with longer, face-framing bangs. The longer bangs create a sense of movement and add softness to the overall structure. This style beautifully highlights your eyes and adds a touch of whimsy.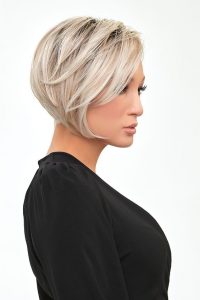 French Pixie with Side Part
Create a polished and refined appearance with a French pixie featuring a deep side part. The precise parting adds a touch of sophistication and balances the overall structure of the cut. It's an excellent choice for those seeking an elegant and tailored look.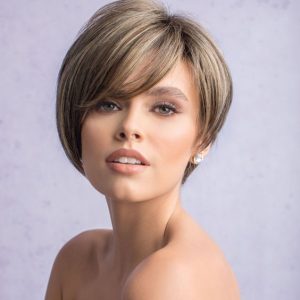 Curly French Pixie
Embrace your natural curls with a curly French pixie. This style pairs the cropped length with beautifully defined curls, creating a harmonious balance between structure and texture. It's a fabulous choice for those with curly hair who want to enhance their natural beauty.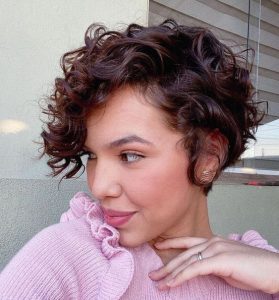 Wispy French Pixie
The wispy French pixie haircut adds a delicate and ethereal touch to your overall look. The hair is feathered and lightly textured, creating a soft and romantic appearance. It's an ideal choice for those seeking a feminine and dreamy style.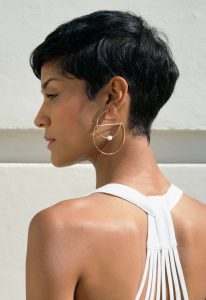 French Pixie with Headband
Enhance the elegance of your French pixie by accessorizing with a headband. Opt for a chic fabric headband, a jeweled piece, or a classic silk scarf to elevate your style. The headband adds a touch of sophistication and completes the French-inspired look.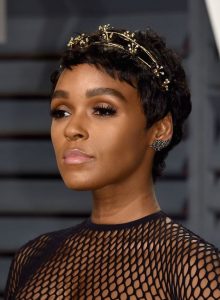 French Pixie with Layers
Add dimension and movement to your French pixie haircut by incorporating subtle layers. The layers create texture and volume, giving your hair a playful and lively appearance. This style works well for those who want to add depth to their hair while maintaining a refined look.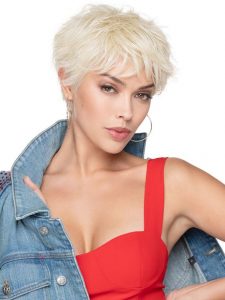 French Pixie with Tapered Nape
For a sleek and sophisticated look, consider a French pixie with a tapered nape. The back of the hair is gradually tapered, creating a clean and polished finish. This style adds structure and showcases the precision of the cut.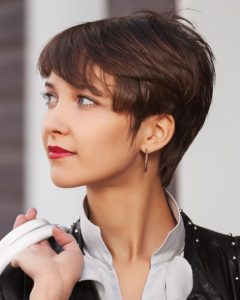 French Pixie with Highlights
Elevate your French pixie haircut with strategically placed highlights. Whether you opt for subtle caramel tones or bold platinum accents, highlights add depth and dimension to the cut, enhancing its overall beauty and elegance.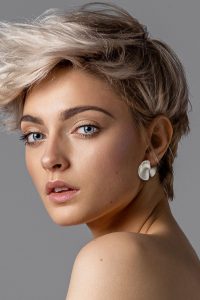 French Pixie with Side-Swept Layers
Create a sense of movement and elegance by incorporating side-swept layers into your French pixie. The layers are delicately styled to sweep across the forehead, giving the haircut a graceful and sophisticated touch.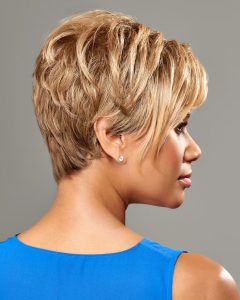 Messy French Pixie
For a relaxed and effortless French pixie look, embrace the messy style. Scrunch your hair with a texturizing product to create a tousled appearance, adding a hint of nonchalant charm. This style exudes a carefree and laid-back French flair.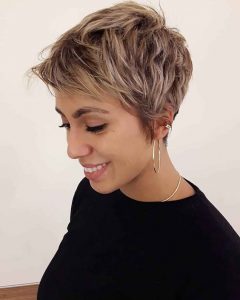 French Pixie with Faux Hawk
For those seeking a bold and daring French pixie, consider a faux hawk variation. The hair at the center is styled upwards, creating a trendy and edgy look. This style is perfect for individuals who want to make a fashion-forward statement.