Hairstyle
Embrace the Braid: 2024's Chic Dutch Braid Hairstyles for Every Occasion
As the new year rolls in, so do the new trends, and 2024 is proving to be a year where dutch braid hairstyles take center stage. Whether it's a day at the office, a workout session, or a casual day out, there's a dutch braid hairstyle that's just right. Let's unravel the braids of 2024, and why they're not just a style statement, but a reflection of personality and functionality.
Elegant Side-Parted Dutch Braid with Soft Makeup and Bold Lips
The side-parted dutch braid in this image is a masterpiece of understated elegance. The braid starts with a side part, hugging the scalp in a neat and controlled manner before cascading into a flowing braid that speaks of both professionalism and grace. It's a perfect choice for women with straight hair, looking for a simple yet sophisticated hairstyle for a day at work or a fun night out. The soft makeup palette used complements the hairstyle, while the bold lip color adds a touch of drama, making this style cute and easy to pair with a business casual outfit or an evening dress.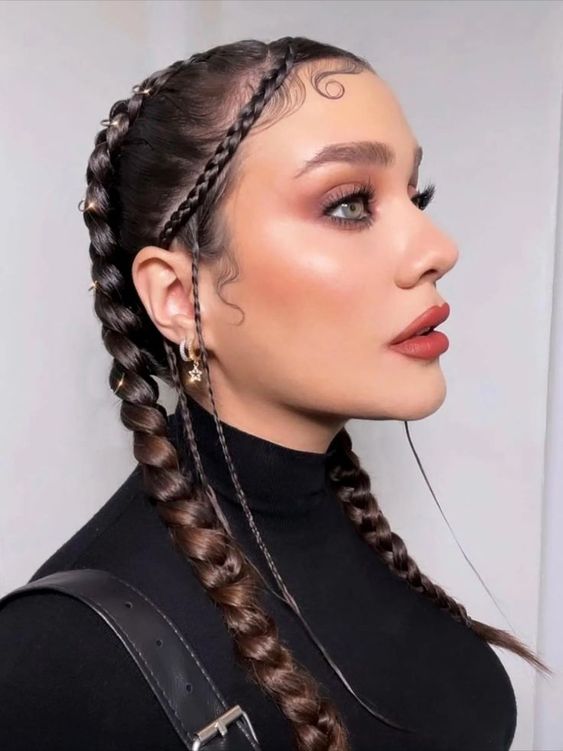 Avant-Garde Dutch Braid with Beads and Undercut
This hairstyle is a bold declaration of individuality. Featuring an intricate dutch braid that is both cool and athletic, it's adorned with beads, adding an aesthetic touch to the otherwise straight hair. This could be a go-to for those with long hair looking to add a bit of edge to their style. It's a double take-worthy look for someone who loves to stand out in the crowd. It's not just a hairstyle; it's wearable art.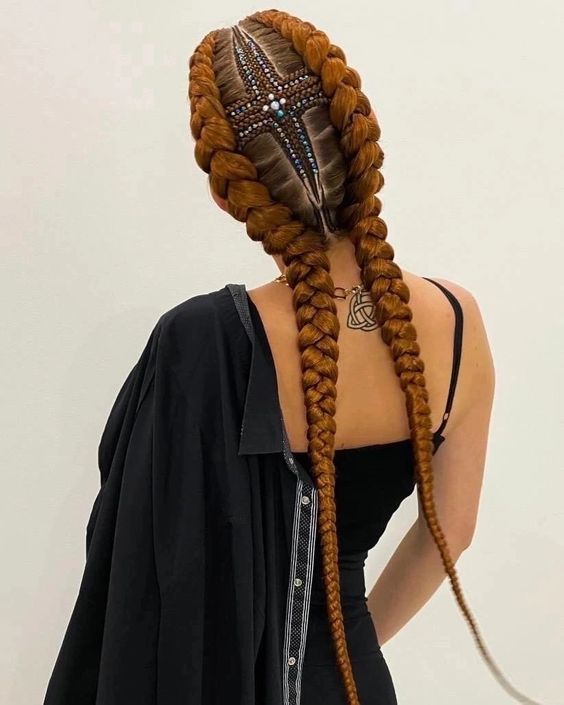 Dramatic Double Dutch Braid with a Reptilian Twist
Here we see a dramatic interpretation of the double dutch braid, intertwined with a bold accessory that's not for the faint-hearted. This hairstyle could be the talk of a cool, themed party or a fun photo shoot. It's a long hair style that shows how dutch braids can be incorporated into more daring looks.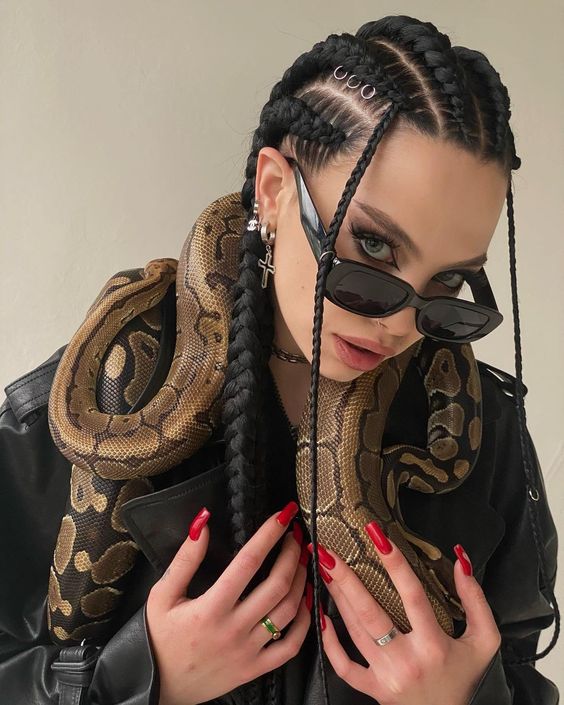 Youthful Half-Up Dutch Braid for a Day at School
Perfect for kids or those with a youthful spirit, this half-up dutch braid is as cute as it is practical. It's an ideal style for school or a day out with friends. The braid adds a touch of sophistication to the otherwise simple and straight hair, making it a versatile option for everyday wear.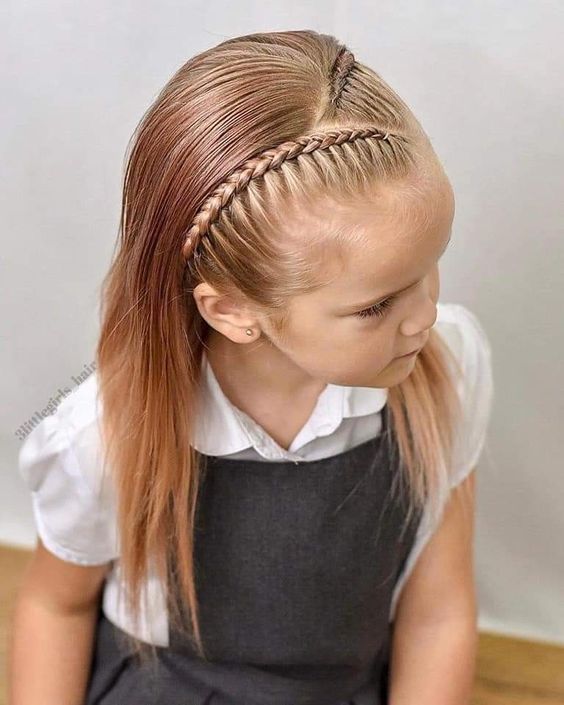 Glamorous Dutch Braid Updo with High-Shine Makeup
The dutch braid updo shown here is the epitome of glamour. This style could be the centerpiece of a formal event or a fancy dinner. Paired with high-shine makeup, it's an ensemble that's bound to turn heads. The double braid adds volume and texture, making it a suitable style for those with medium to long hair. It's a statement that celebrates the fusion of classic braiding with modern trends.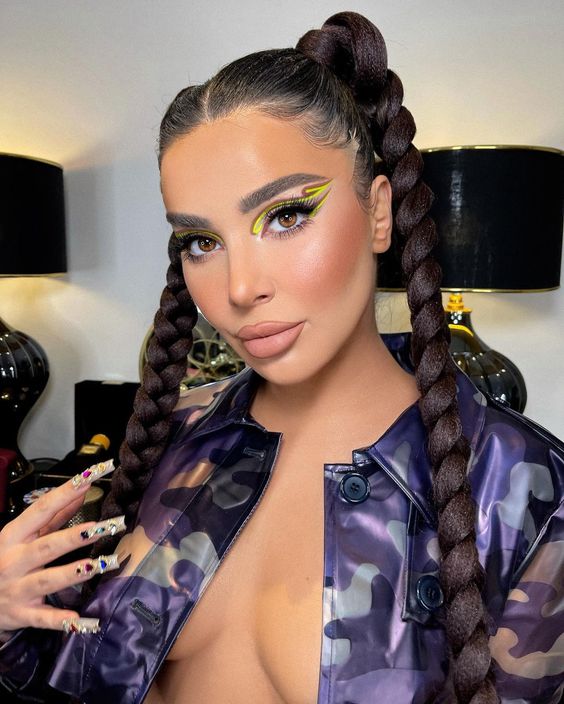 Sophisticated Sleek Dutch Braid with Luminous Eye Makeup
This sleek dutch braid presents a polished and sophisticated air, perfect for the woman who appreciates a simple yet elegant aesthetic. The long hair is pulled back into a tight braid, showcasing the wearer's facial features while the luminous eye makeup adds depth and intrigue. This hairstyle can transition seamlessly from a day at the office to an evening soiree, making it a versatile option for those with a straight hair texture.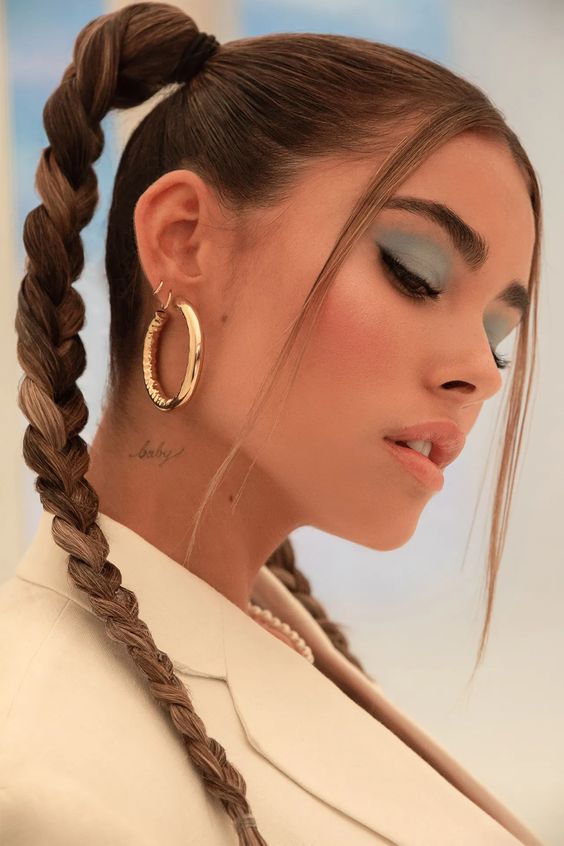 Charming Two-Braid Hairstyle for the Playful Spirit
Here's a delightful take on the dutch braid for the playful at heart. This two-braid hairstyle is adorable and ideal for kids or those sporting a cute, youthful look. The braids frame the face beautifully, making it a practical choice for school or a casual weekend outing. It's a testament to how simple and fun dutch braids can be for people of all ages.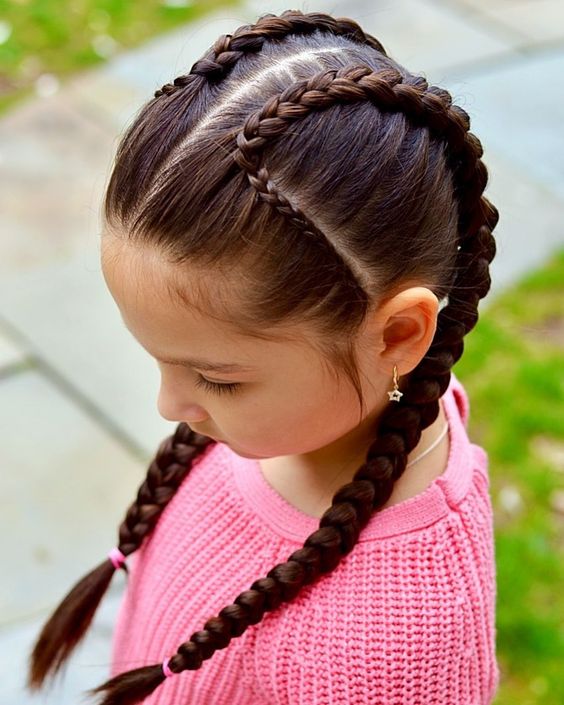 Regal Dutch Braid with Golden Accents for an Opulent Look
The intricate weaving of this dutch braid, embellished with golden accents, exudes opulence and a regal vibe. It's a statement hairstyle that's both cool and athletic, making it a perfect choice for someone looking to add a bit of luxury to their athletic or performance wear. This look could complement an evening outfit, adding a touch of majesty to the overall ensemble.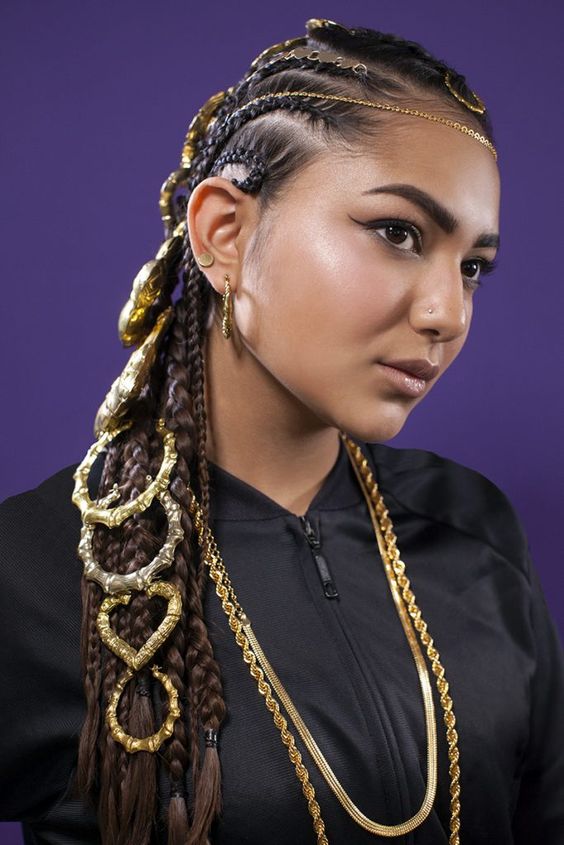 Vibrant Double Dutch Braids with Colorful Extensions
These double dutch braids infused with colorful extensions are a celebration of color and creativity. Perfect for those with a bold personality, this hairstyle is both fun and athletic, a great match for festivals or creative events. It showcases how dutch braids can be playful and experimental, pushing the boundaries of traditional hairstyles.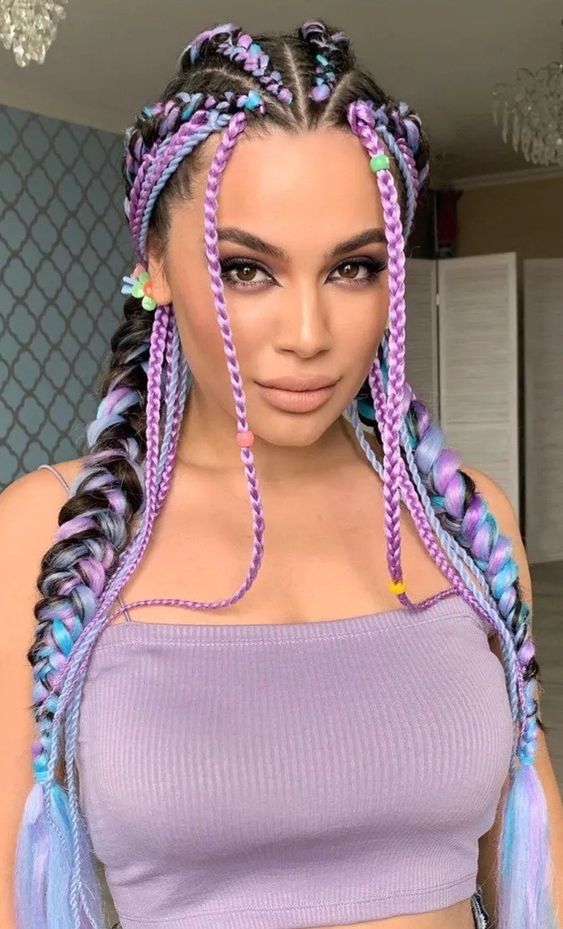 Elegant Dutch Crown Braid for a Fairy Tale Appearance
This dutch crown braid creates a fairy tale-like aura, ideal for special occasions like weddings or formal gatherings. The braid circles the head, creating an elegant crown, while the bun atop adds a touch of sophistication. It's a cute and simple style that transforms the wearer into a vision of grace, perfect for those who prefer their dutch braids with a dash of enchantment.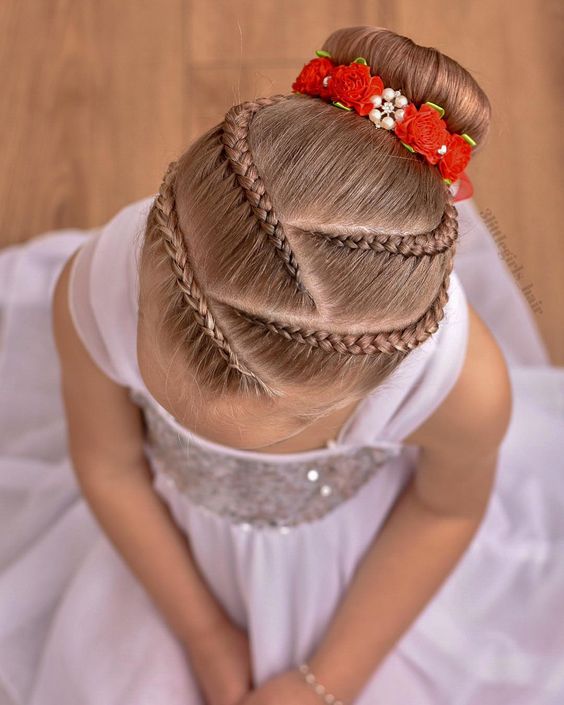 Triple Threat: Bold Dutch Braids for the Modern Athlete
Embracing the spirit of athleticism and strength, this hairstyle showcases three robust dutch braids that are both cool and athletic. The braids' neatness and precision speak to a disciplined and confident personality, perfect for women who enjoy sports or intense workouts. This fun and double braid look proves that you can be both serious about your fitness and your fashion.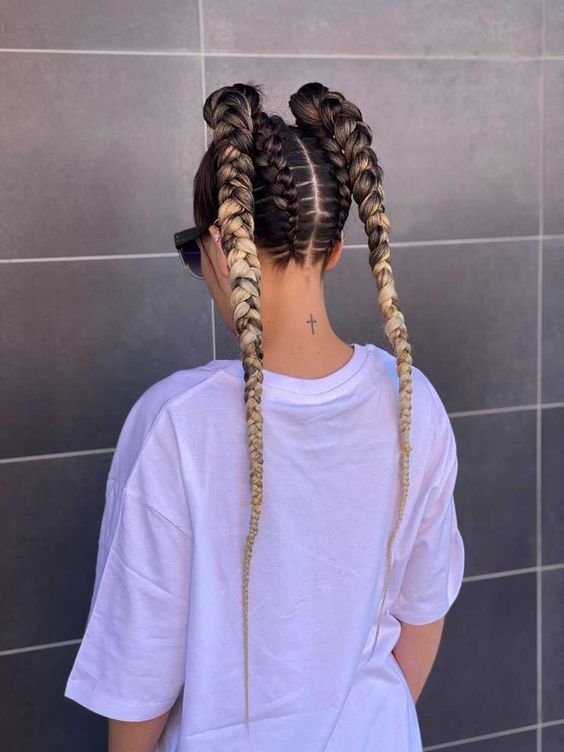 Understated Elegance: Dutch Braid Crown for a Professional Edge
This image captures a dutch braid that crowns the head, offering an elegant twist on the classic braid. This look is ideal for professionals who desire a hairstyle that is both stylish and sophisticated, without being overly ornate. It's a simple, easy style that can be a go-to for everyday work attire, adding a polished touch to any business outfit.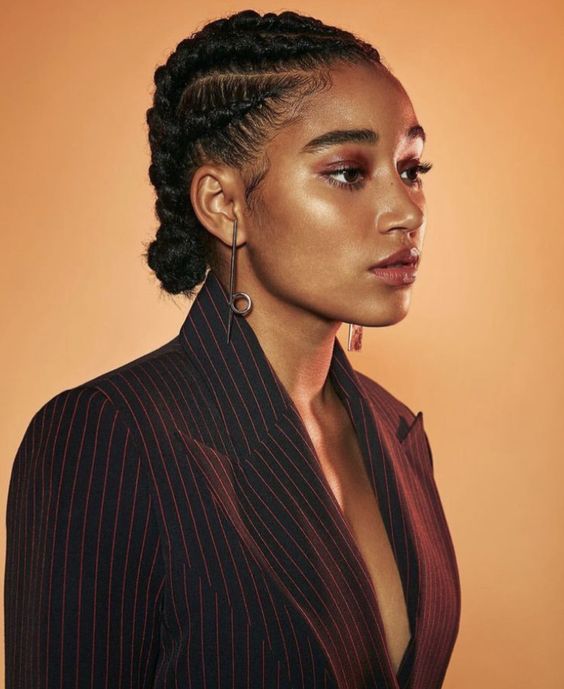 Half-Up Dutch Braid: Casual Chic for Curly Hair
The half-up dutch braid in this photograph is a beautiful demonstration of how braids can enhance curly hair. This style is cute and fun, yet easy enough to do as a tutorial at home. It's a look that can add flair to a casual day out or bring a touch of laid-back elegance to a more formal event, showcasing the wearer's vibrant personality and love for playful styles.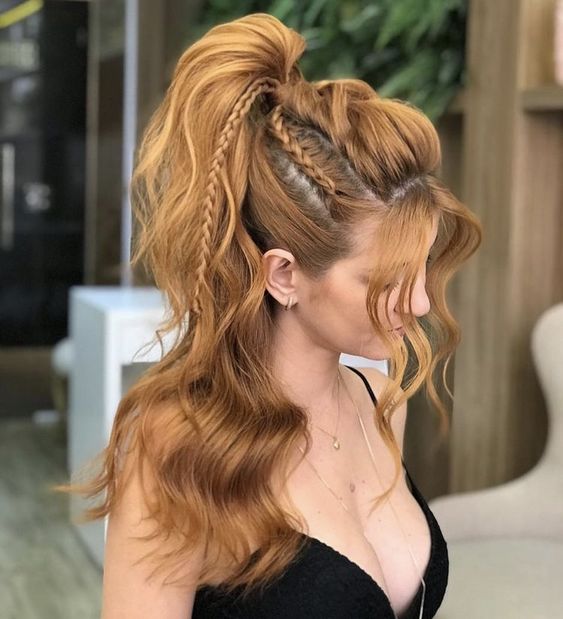 Subtle Side Dutch Braid: A Soft Twist for Natural Textures
Here we see a dutch braid styled to the side, embracing the natural texture of curly hair. It's a simple and easy look that adds a subtle twist to an otherwise unstyled appearance, perfect for those days when you want a hint of sophistication without too much effort. This hairstyle could be a fun choice for a relaxed brunch or a creative meeting.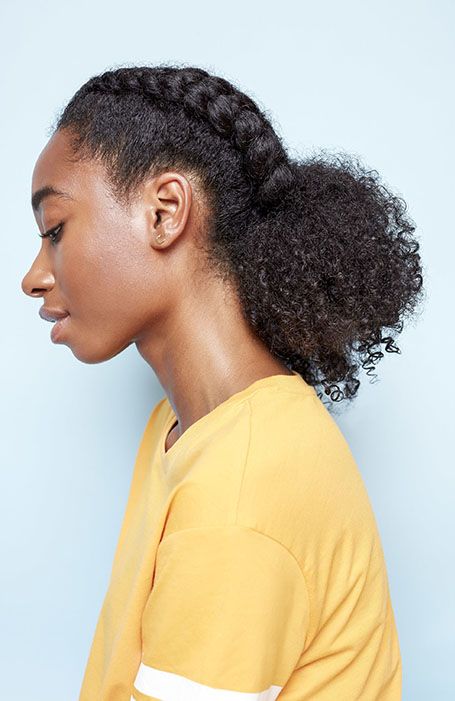 Sculpted Dutch Braid Updo: An Artistic Expression
The sculpted dutch braid updo in this image is a true work of art. It takes the dutch braid to new heights, literally and figuratively, creating a look that's both dramatic and aesthetic. This style might require a tutorial to master, but the end result is a breathtaking hairstyle that could be the centerpiece of a formal event or a high-fashion photoshoot.