Hairstyle
The Resurgence of the Wolf Cut: A Trend to Watch in 2024
As we edge closer to 2024, the fashion world is buzzing with anticipation for the latest hair trends that promise to redefine personal style. At the forefront of this stylish revolution stands the wolf cut—a bold, versatile hairstyle that's capturing the hearts of fashion enthusiasts and trendsetters alike. This contemporary take on the classic shag cut, with its effortless blend of textures and lengths, offers a fresh and exciting way to express one's individuality.
Embracing the Edge: A Blonde Take on the Wolf Cut
Channeling the spirit of the rock scene, this blonde wolf cut is a statement of boldness and confidence. The layers are choppy and textured, giving the hair volume and movement that seem to defy gravity. This particular style leans towards a medium length, falling just at the shoulders, making it versatile for various face shapes, including those with a round face. The color itself is a warm blonde, with subtle highlights that enhance the texture. It's a cut that could be rocked at a concert or styled up for an upscale event, proving that wolf cut hairstyles 2024 aren't just for the street but the salon as well.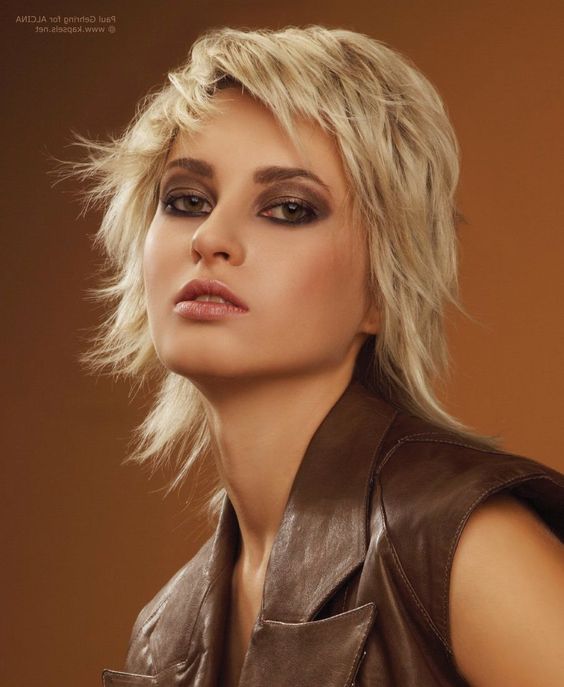 A Splash of Color: Green-Toned Wolf Cut with Attitude
For those who embrace a short aesthetic and aren't afraid to incorporate a pop of color, this green-toned wolf cut is a blend of punk rock and modern chic. The short hair is cut in a way that allows for some length at the top, giving room to play with texture and styling. It's a perfect choice for those looking for a hairstyle that's edgy, yet manageable for school or day-to-day activities. The green hue adds a layer of boldness to the overall look, a nod to the anime influences that are becoming increasingly popular.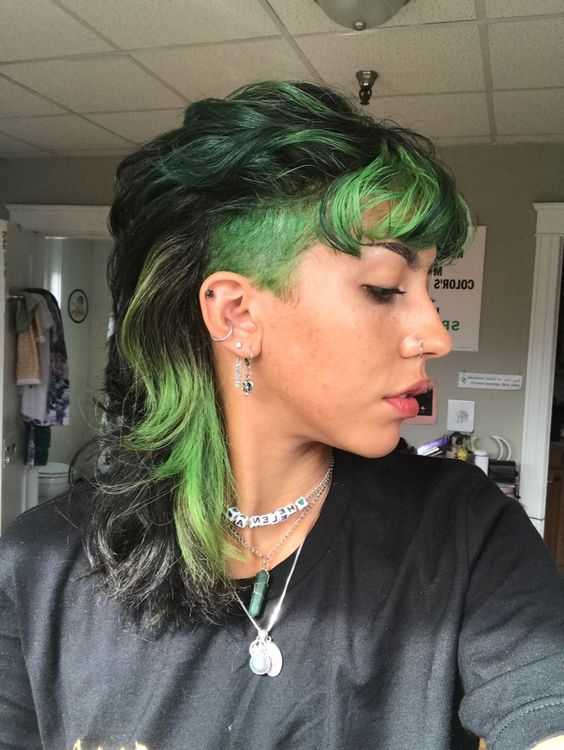 The Subtle Wild: Soft Blonde Wolf Cut
This image showcases a long wolf cut that's both wild and subdued. The blonde locks cascade in gentle waves, perfectly embodying the long wavy trend. It's cut to frame the face, with wispy bangs that soften the features, making it ideal for women with a round face. The length gives a nod to the long hair trend while maintaining a sense of the untamed spirit of the wolf cut. This style is perfect for those who want to dip their toes into the trend without going full throttle.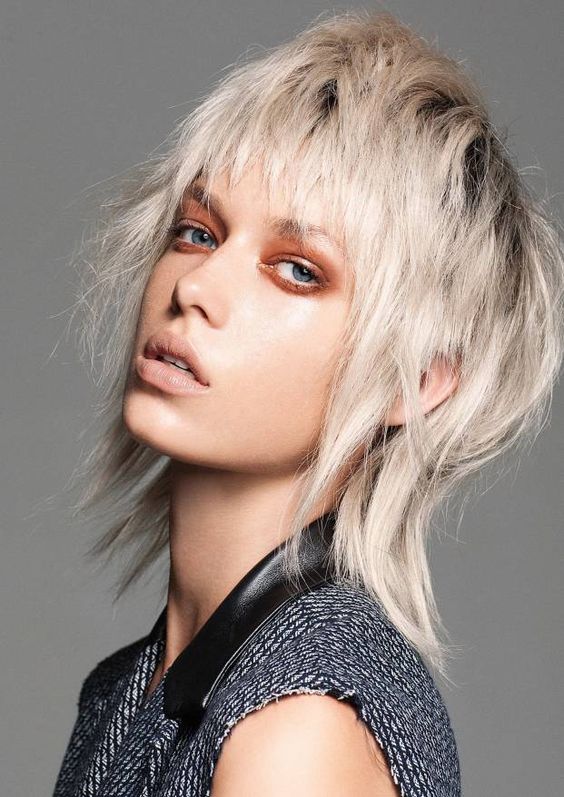 Short and Chic: Blue Wolf Cut for a Modern Look
Here's a twist on the wolf cut for those with a love for short hair with bangs. The black hair is dyed a deep blue, making a statement that's both sophisticated and daring. This style is perfect for the woman who wants to maintain a level of professionalism while also showcasing her individuality. The cut is layered and textured, giving it a volume that's both stylish and functional. This look can be dressed up or down, fitting seamlessly into a workplace or a night out.
Pink Perfection: The Wolf Cut That's Cute and Edgy
For the fashion-forward individual, this pink wolf cut is the epitome of cute and edgy. The medium curly texture provides an air of softness to the sharp lines of the cut, and the pastel pink offers a sweet contrast to the wild nature of the style. It's a medium length cut that's playful yet polished, making it suitable for a variety of occasions, from casual outings to more formal events. The cut is also versatile enough to style with bangs or swept to the side for a side part look.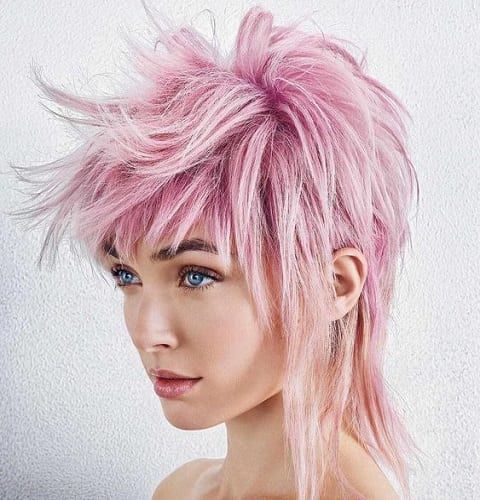 The Classic Revival: Timeless Brunette Wolf Cut
This style pays homage to the timeless beauty of a brunette wolf cut. The model's chocolate locks are cut in a medium length with with bangs that gracefully frame the face. The cut is styled with a side part, giving it a classic yet contemporary look. The fullness at the crown transitions into sleek, straightened lengths, a perfect blend of straight hair unstyled with an aesthetic touch. It's a versatile cut that can be worn up or down and is flattering for a round face.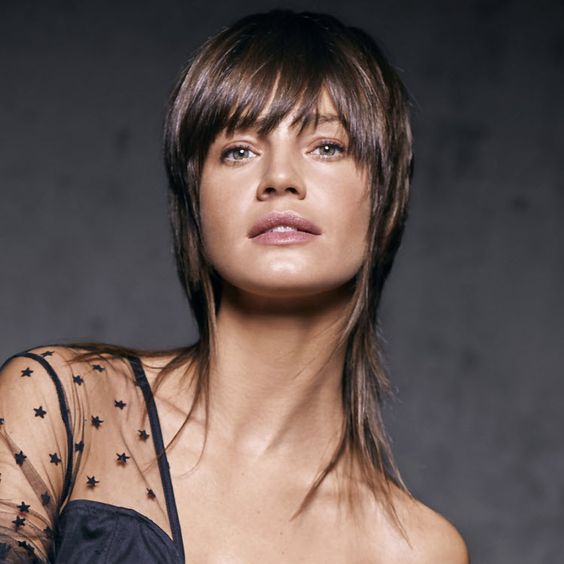 The Modern Muse: Platinum Wolf Cut with a Punk Edge
This image captures a short hair with bangs wolf cut dyed in a striking platinum hue. It's a high-fashion take on the trend, boasting straight hair with a bit of an unstyled, tousled look, projecting an aesthetic straight out of a modern art piece. The short length makes it a practical choice that's both cute and edgy, suitable for the urban woman who's always on the move.
The Artistic Flair: Multicolored Wolf Cut for the Bold
Art meets fashion with this bold, multicolored wolf cut. The vibrant streaks of green, red, and yellow interspersed through brown hair are reminiscent of a painter's palette. It's a short aesthetic that's bound to turn heads, with medium curly layers that add volume and life. This cut celebrates the joy of self-expression and could be a fantastic conversation starter at any creative gathering or casual outing.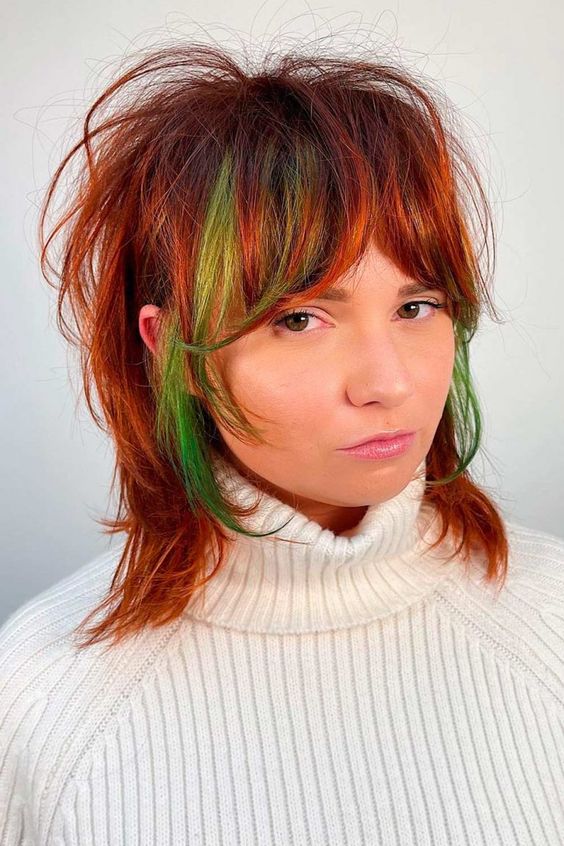 The Rockstar Vibe: Blonde Shaggy Wolf Cut
This image screams rock 'n' roll with its messy blonde layers and long hair straight style that's got a shaggy twist. The model sports a wolf cut with with curtain bangs, giving her a wild, unstyled look that's effortlessly cool. The long hair with bangs offers a feminine touch to the otherwise grunge-inspired style, perfect for those who channel a tomboy vibe with a hint of glamour.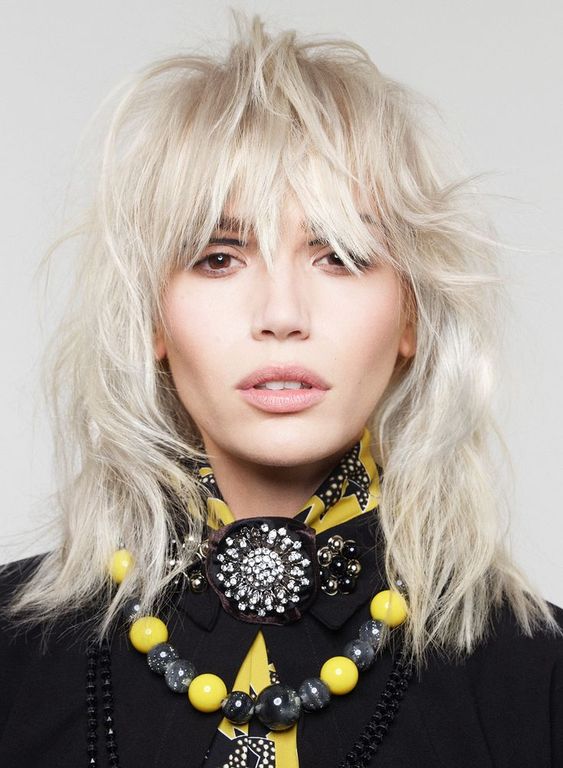 The Sophisticated Cut: Sleek and Chic Wolf Cut
Last but not least, this short hair wolf cut is the epitome of chic sophistication. The black hair is cut in a sleek, layered fashion, with a length that grazes the jawline, perfectly suited for a round face. The straight strands and medium with bangs offer a modern look that can be styled for the office or a sophisticated night out.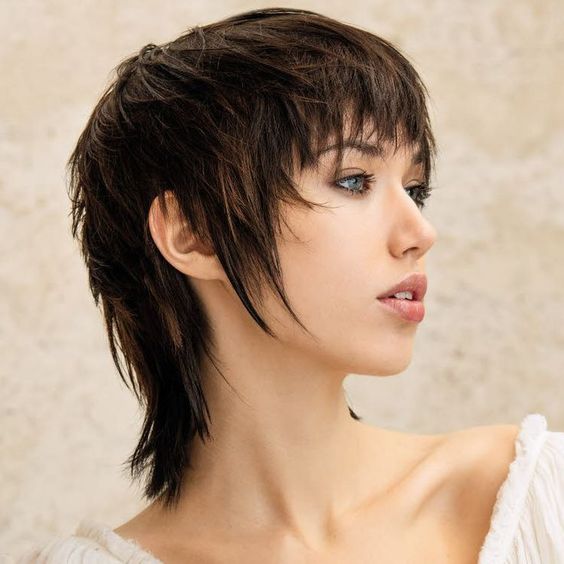 The Effortless Cool: Tousled Blonde Wolf Cut
The tousled blonde wolf cut is a testament to the timeless allure of short hair with bangs. This laid-back look with its feathered edges and a hint of wave embodies a carefree attitude while staying neatly with wispy bangs. It's a fantastic choice for those who seek a medium length style that's as easy to manage as it is stylish.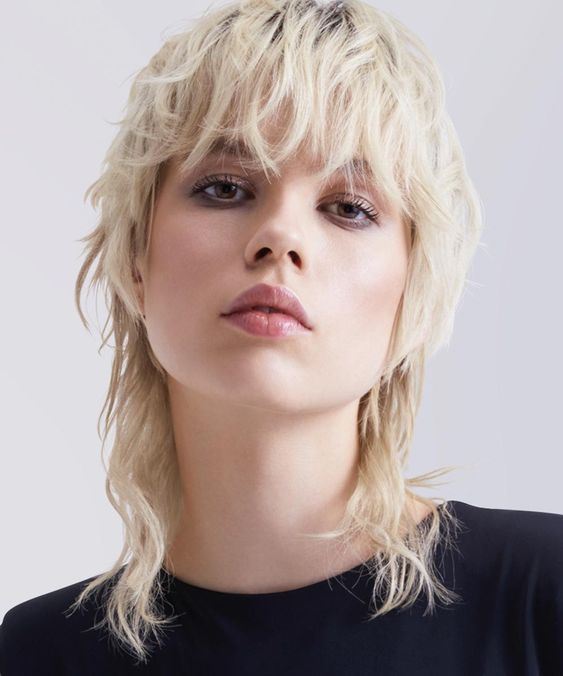 The Punk Revival: Edgy Brown Wolf Cut
Embrace your inner punk with this edgy brown wolf cut. The medium straight locks are layered to perfection, creating a medium 360 silhouette that's voluminous and full of movement. Styled with a side part, this look is ideal for those aiming for a short aesthetic with a tomboy flair.

The Wild Flame: Curly Red Wolf Cut
Setting the stage ablaze, this curly red wolf cut is a fierce statement. It's a beautiful example of how long curly hair can be shaped into a free-spirited and wild style. The curls add a natural bounce and medium curly texture, which can be enhanced with the right styling techniques.

The Sophisticated Rebel: Grey Wolf Cut with a Hint of Purple
This short hair curly wolf cut in shades of grey with hints of purple strikes the perfect balance between rebellion and sophistication. The natural grey tones are highlighted with subtle purple, giving a modern twist to the straight hair unstyled look. This medium with bangs cut is a nod to the Korean wolf cut trends that have taken the fashion world by storm.

The Pastel Dream: Soft Lilac Wolf Cut
Lastly, this soft lilac wolf cut is the epitome of a dreamy aesthetic. The medium length cut is styled with with curtain bangs and a side part, making it an enchanting choice for those with a love for pastel colors. The straight hair in this look is a canvas for the lilac hue, creating a cute and stylish vibe.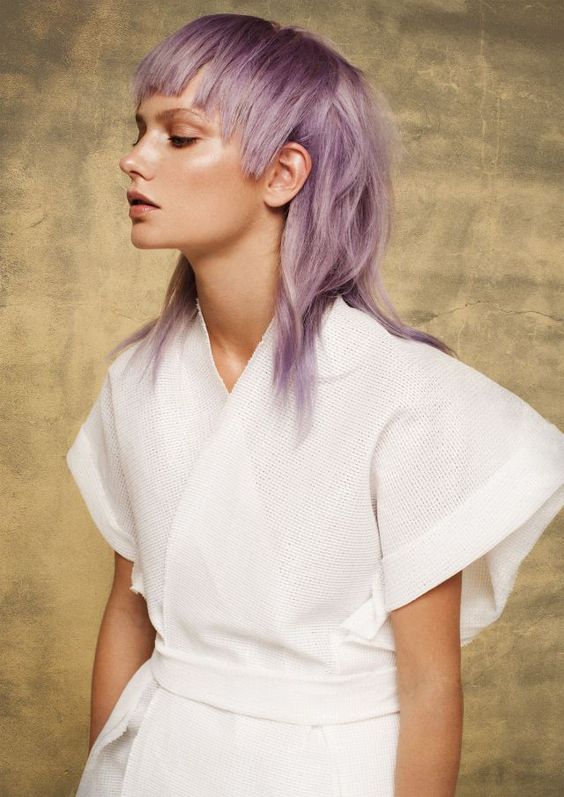 The wolf cut, a hybrid hairstyle that combines elements of the classic shag with the modern mullet, is making a fierce comeback. As we look towards 2024, the wolf cut is evolving, proving to be as versatile as it is stylish. It's no longer just a throwback trend but a forward-thinking choice for those looking to make a statement with their hair.
From the blonde highlights of a layered shag to the daring blue of a short hair style, the wolf cut is adaptable to all hair types and colors, including curly hair, straight hair, and everything in between. Whether you're seeking a medium straight look that's easy to manage or a long curly style that flows with grace, there's a wolf cut to match your aesthetic.
Save Pin