Nails
Summer French Nails 2023: 19 Ideas
Summer is just around the corner, and it's time to update your nail game with some fresh and trendy designs. When it comes to timeless elegance and versatility, French nails always make a statement. They are the epitome of sophistication and can effortlessly complement any outfit or occasion. Whether you're heading to a beach party, a summer wedding, or simply want to add a touch of glamour to your everyday look, French nails are the perfect choice. In this article, we'll explore 19 exciting ideas for summer French nails in 2023, as well as provide tips on achieving salon-worthy results at home.
Bright and vibrant French tips
Replace the traditional white tip with bold and vivid colors like coral, turquoise, or sunflower yellow.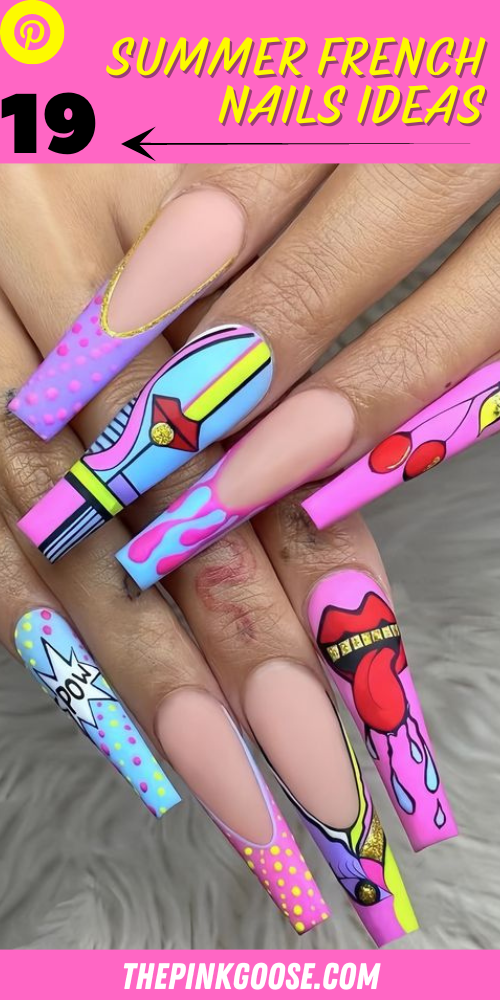 Pastel French nails
Embrace the soft and dreamy vibes of summer with pastel shades like lavender, mint green, or baby blue for your French tips.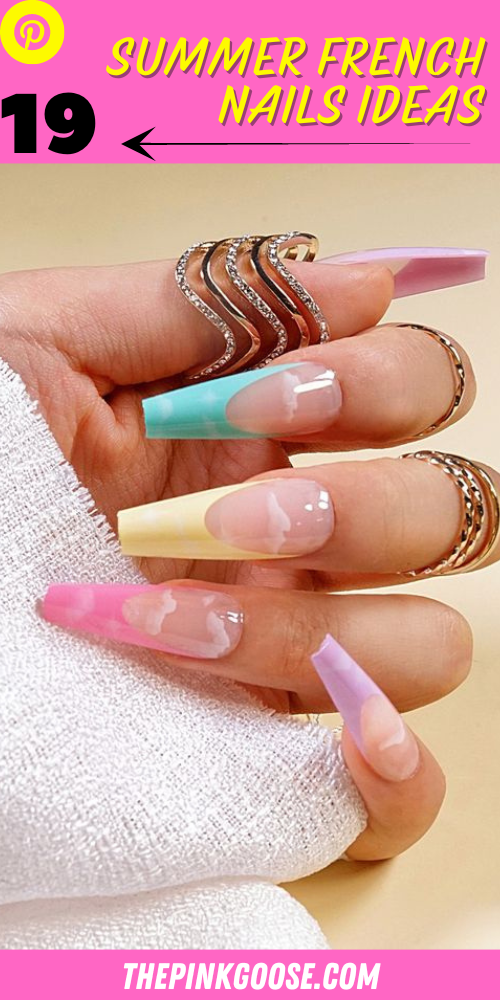 Ombre French nails
Blend two complementary shades seamlessly to create a stunning gradient effect on your French tips.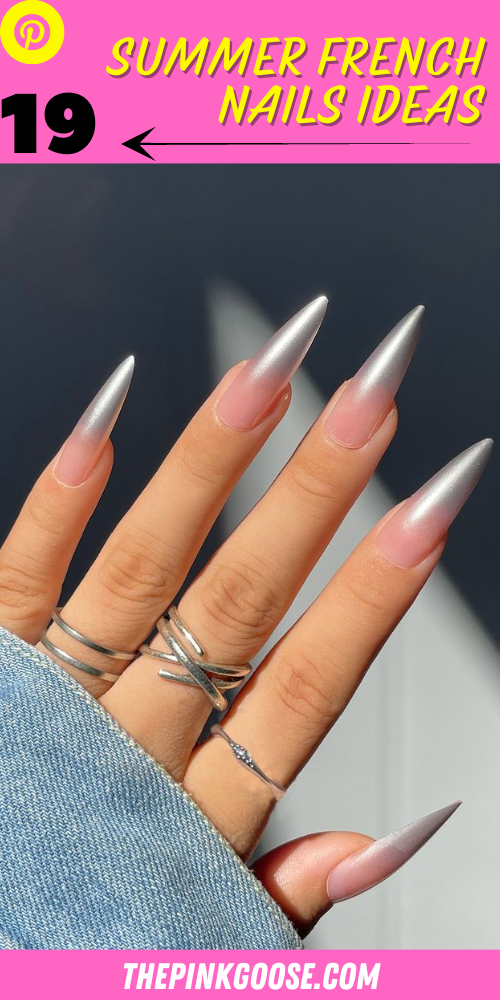 Floral French nails
Adorn your French tips with delicate floral patterns, incorporating summer blooms like daisies, sunflowers, or tropical flowers.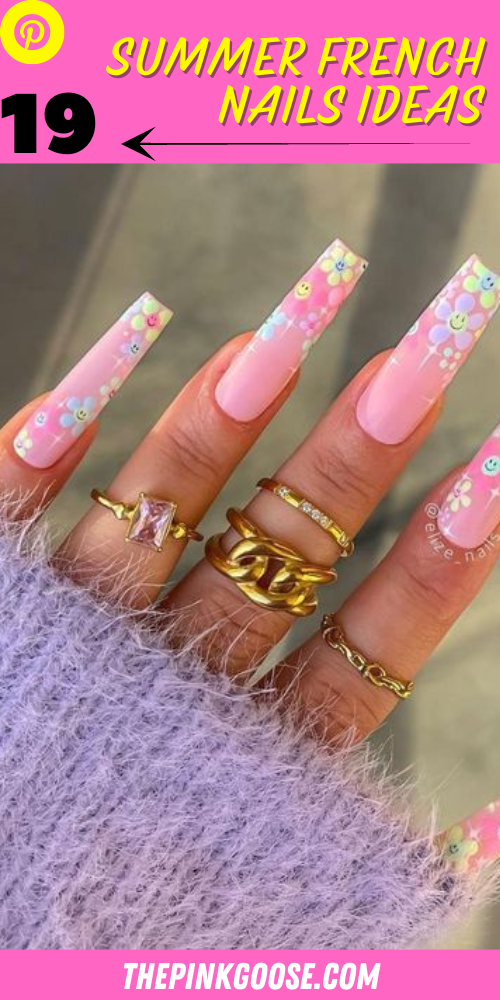 Geometric French nails
Experiment with geometric shapes and lines to add a contemporary touch to your French nails.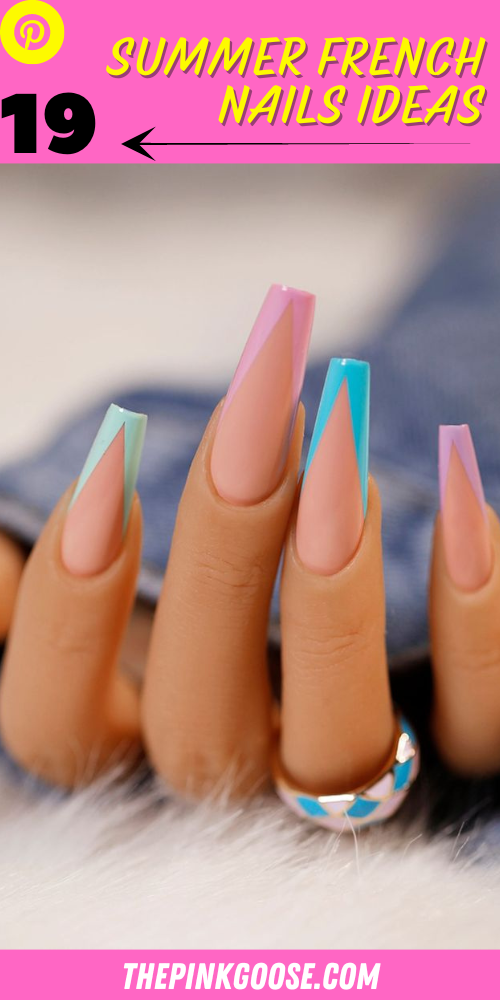 Minimalist French nails
Embrace simplicity by opting for a minimalist approach with clean lines and understated elegance for your French tips.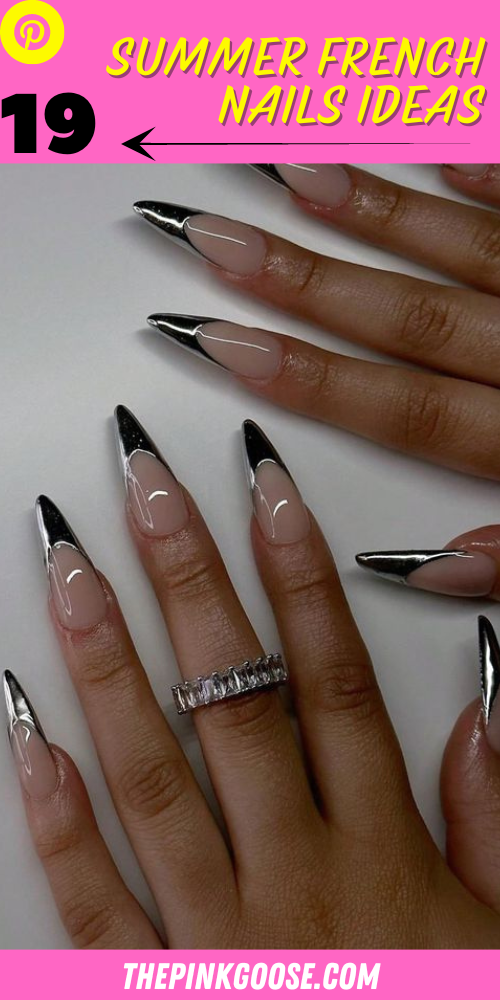 Neon French nails
Make a bold statement by using vibrant neon colors for your French tips, perfect for summer parties and festivals.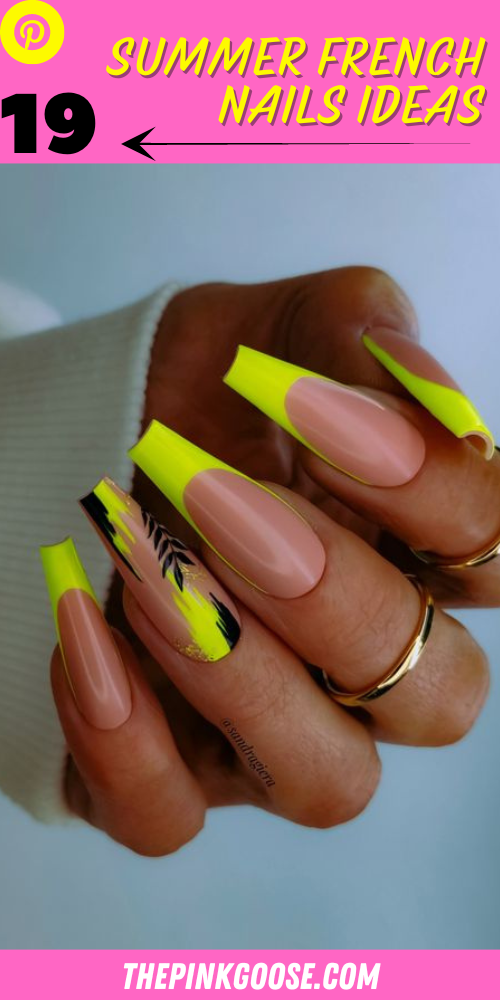 Glittery French nails
Add some sparkle and glam to your French tips with glitter accents or a fully glittered tip for an eye-catching look.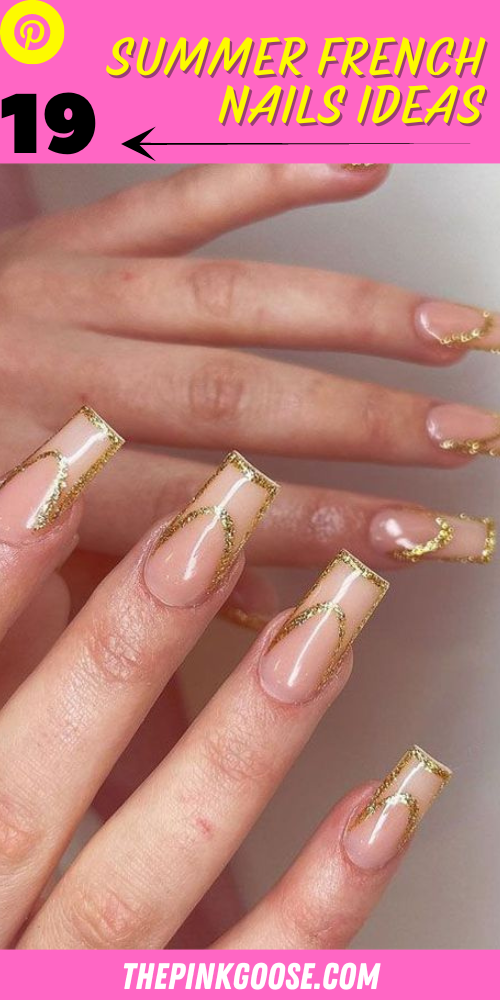 French nails with gem accents
Elevate your French nails by incorporating small gemstones or rhinestones along the tip or as accents on specific nails.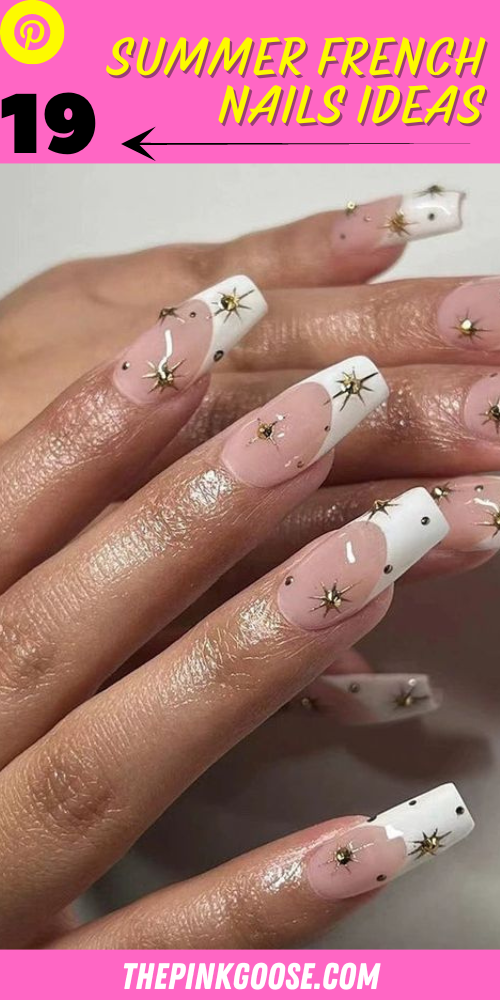 French nails with negative space
Embrace the trendy negative space design by leaving portions of your nails bare, creating a unique and modern French nail look.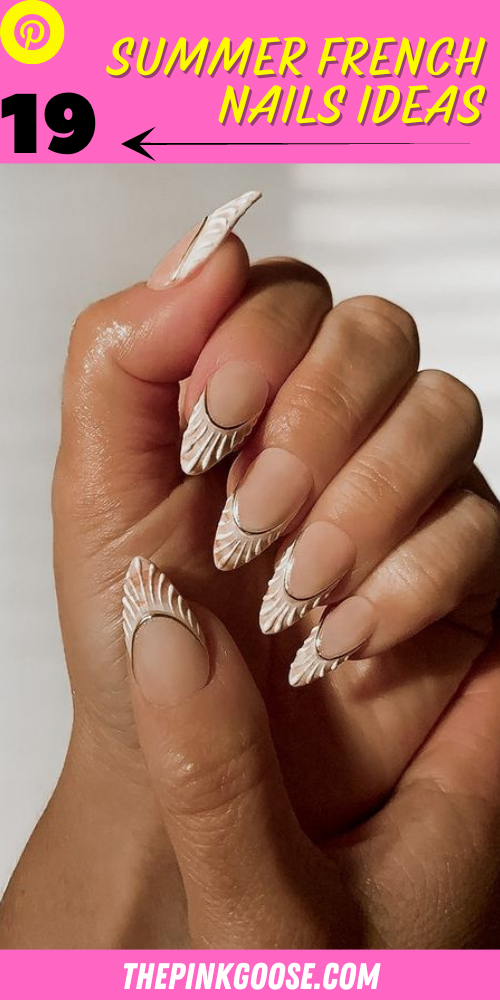 French nails with metallic details
Add a touch of luxury to your French nails by incorporating metallic elements, such as gold or silver foil, into the design.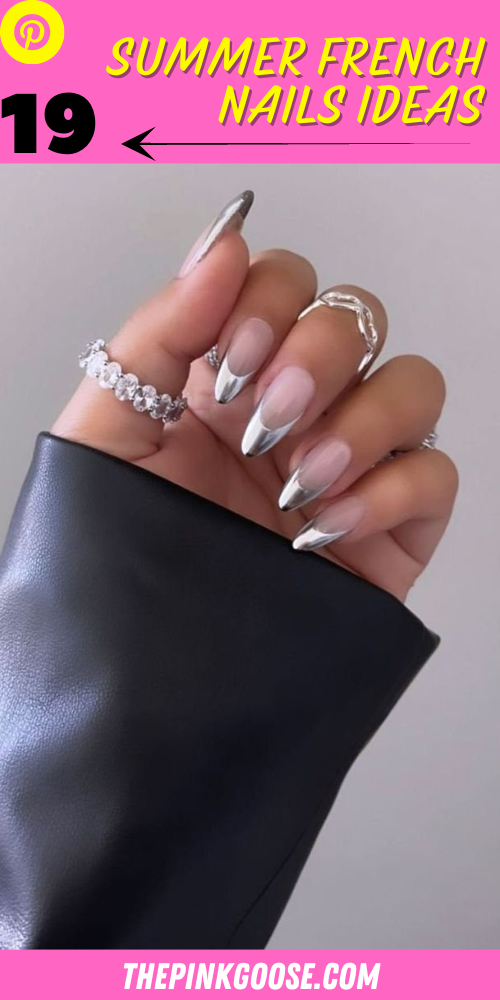 French nails with holographic effects
Create an ethereal and mesmerizing look by using holographic nail polishes or powders for your French tips.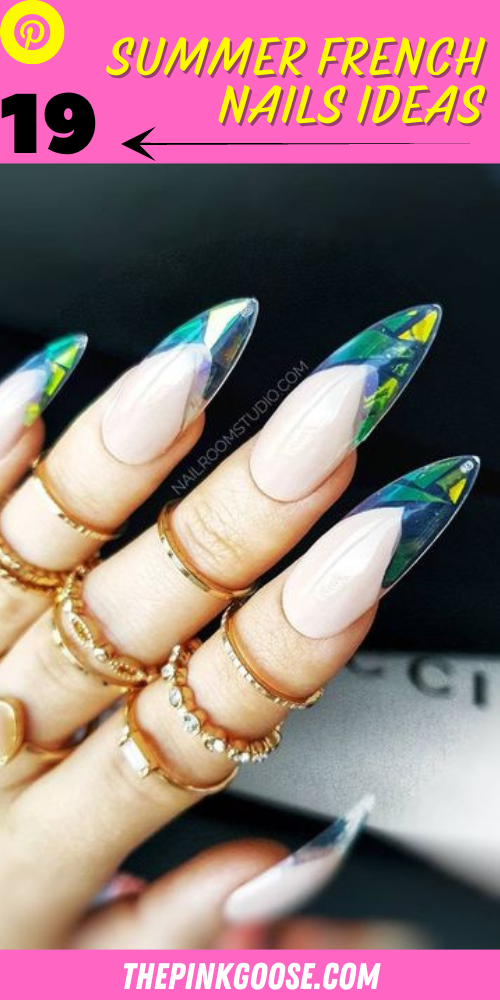 French nails with abstract patterns
Unleash your creativity by painting abstract patterns, such as swirls, splatters, or geometric shapes, on your French tips.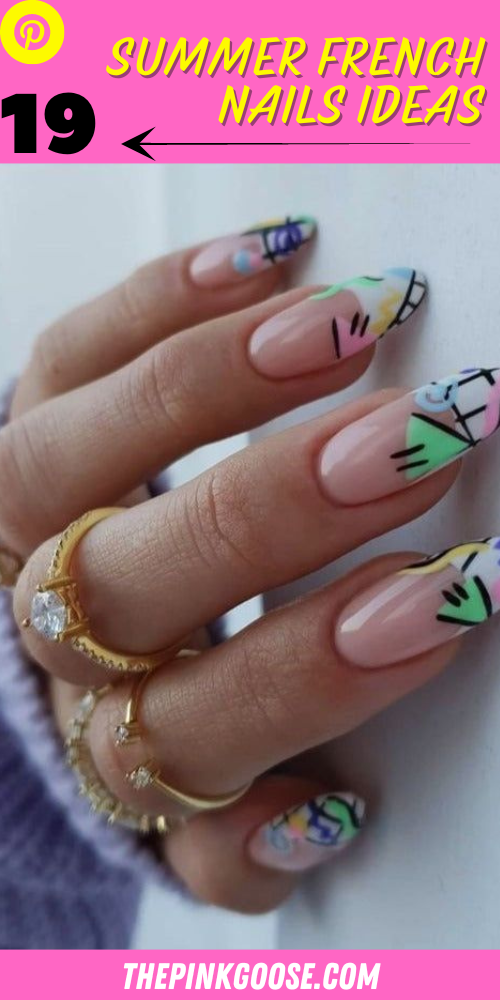 French nails with tropical motifs
Embrace the summer vibes with tropical-inspired designs, like palm trees, pineapples, or flamingos, on your French tips.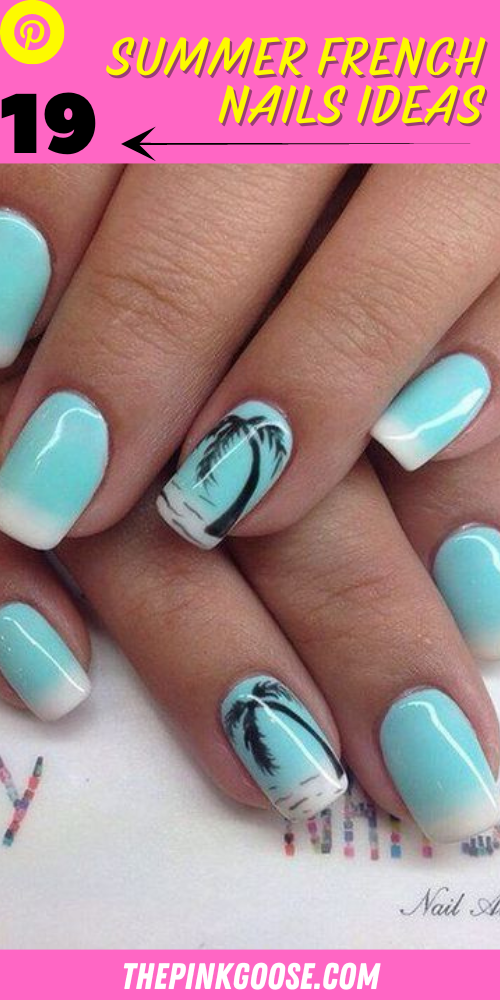 French nails with beach-inspired designs
Bring the beach to your fingertips by incorporating seashells, starfish, or waves into your French nail design.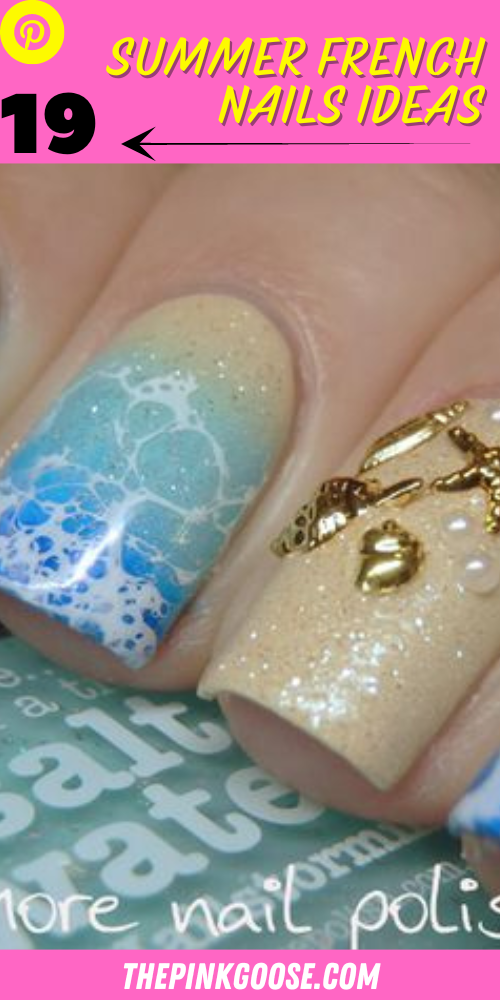 French nails with watercolor effects
Achieve a soft and dreamy look by creating a watercolor effect on your French tips using pastel shades and a thin brush.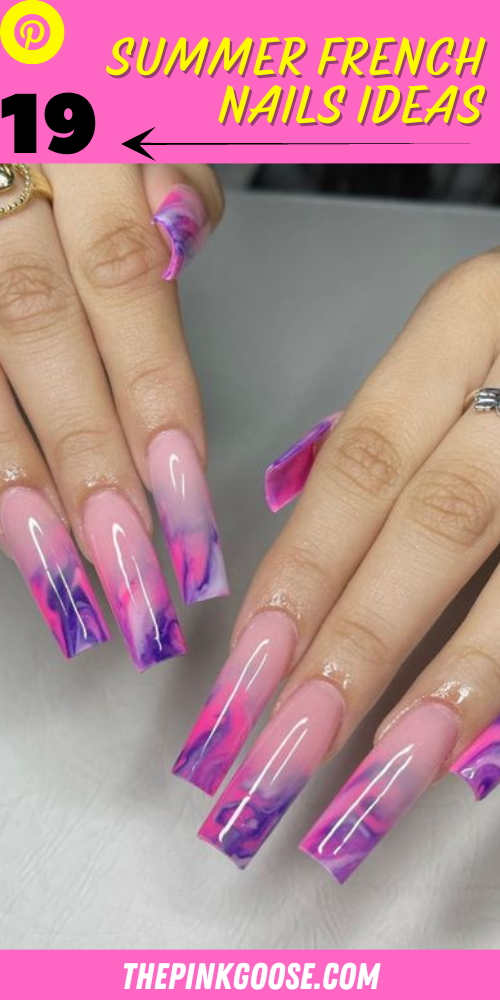 French nails with marble patterns
Mimic the elegant and unique patterns of marble by incorporating marble-inspired designs into your French nail look.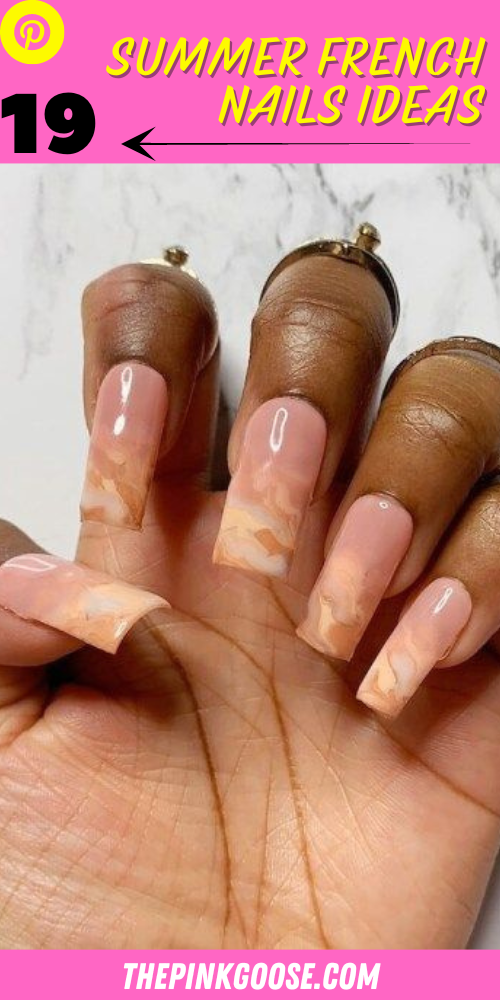 French nails with gradient glitter
Create a mesmerizing effect by blending glitter in different shades or colors along the French tip, creating a gradient effect.
French nails with accent nail art
Select one nail on each hand and create a unique design with intricate nail art, such as floral motifs, geometric patterns, or intricate swirls.