Hairstyle
Red Hot Trends: Embracing the Bold and Beautiful Red Hair Colors of 2024
As we embrace the new year, the vibrant world of hair color ushers in fresh trends that promise to enliven our aesthetics with their allure. Red hair color 2024 is not merely a shade but an expression, delivering a spectrum from fiery ginger to deep wine hues.
The Ruby Cascade
Imagine a waterfall of silken threads, a ruby cascade that captures the light with every movement. This long, wavy hairstyle blends dark tones with vibrant cherry highlights, creating a luxurious and dynamic look. It's perfect for those with a round face, adding length and drawing attention with its luscious waves. Styling tip: Use a curling wand to define your waves and a shine serum to enhance the color's vibrancy.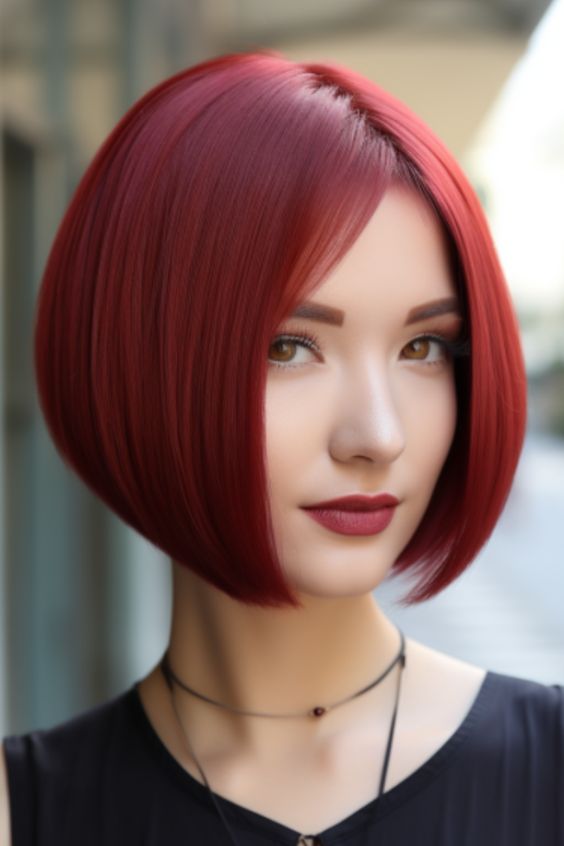 The Copper Whisper
Copper whispers in the ear of elegance with a hairstyle that speaks volumes of understated grace. Here, the medium length plays host to a soft, wavy texture, embodying the aesthetic of a serene autumn afternoon. Light copper tones are interwoven with dark brown undercurrents, ideal for those looking for a subtle yet captivating transformation. This style is versatile, perfect for both a professional environment and a casual outing.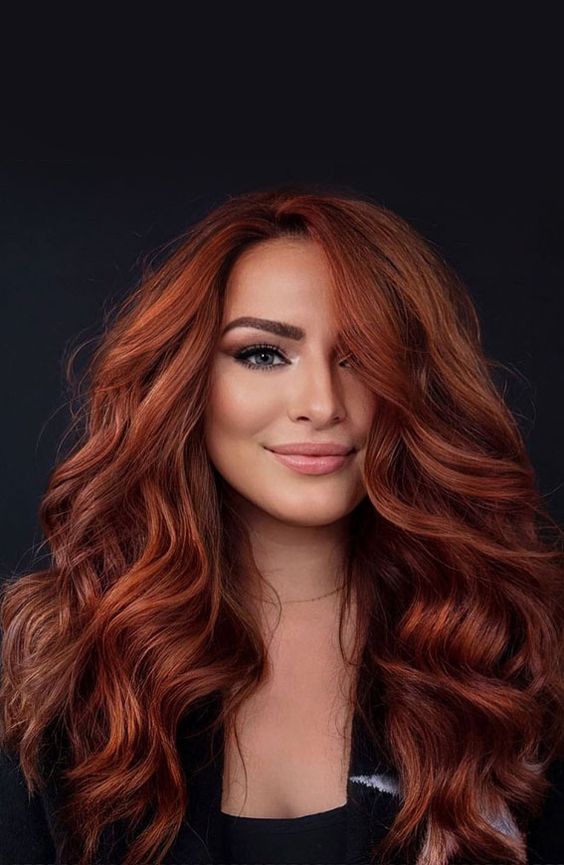 The Burgundy Tide
As the tide turns, so does the inclination towards deeper, more mysterious shades. This burgundy mane is a testament to that, with its rich dark wine undertones and a hint of black cherry. The long, curly locks are a bold statement, synonymous with a woman who's not afraid to let her hair down. This color works beautifully on curly hair, enhancing the depth and dimension of each curl.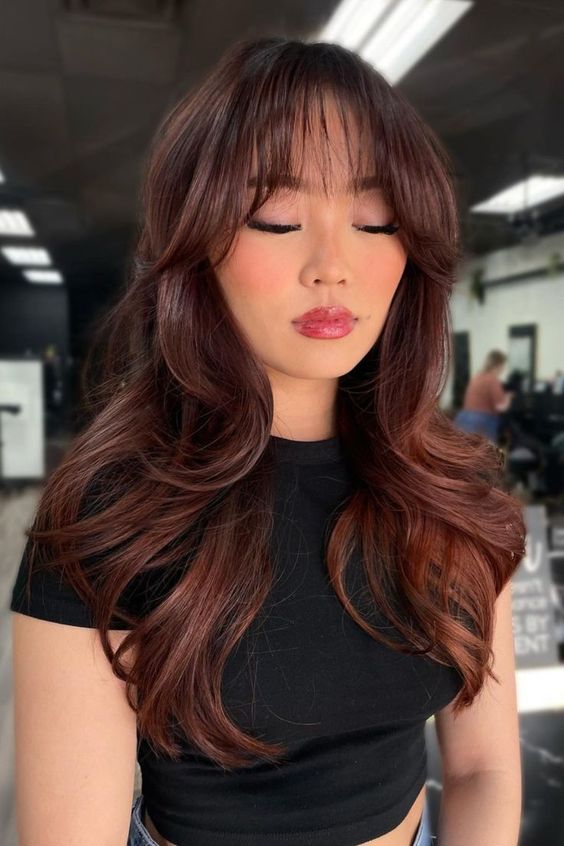 The Cranberry Bob
The classic bob is reimagined with a vibrant cranberry twist. This short hair with bangs cut brings forth an energetic and youthful vibe, punctuated by a bright red that's both bold and playful. This look is ideal for those with a straight hair texture, looking for a striking change that's both chic and easy to maintain. It's a nod to the 90s trends making a comeback, tailored for the modern woman.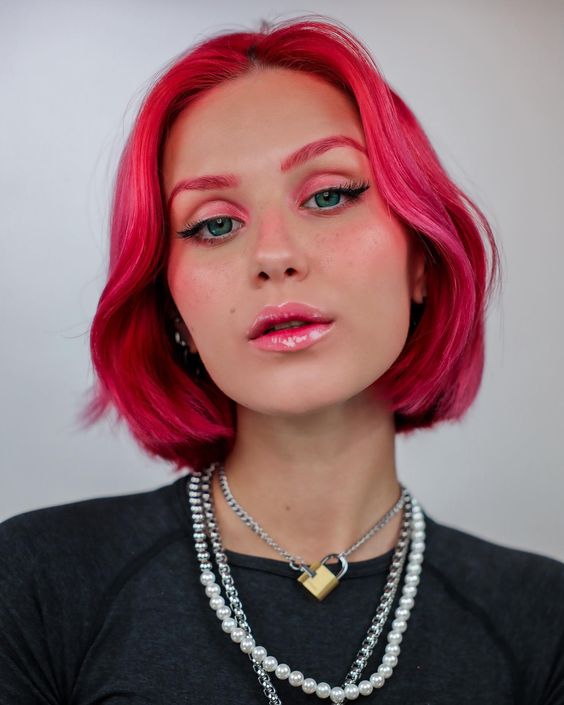 The Dark Copper Waves
Embracing the ebb and flow of color, these dark copper waves are for the woman who carries the warmth of summer into the cooler months. With each medium strand, the light plays off the dark and light interplay of shades, perfect for someone with a layered cut looking for a color that's as multi-faceted as they are. The waves add body and texture, making this style a perfect match for those with fine hair looking to add volume.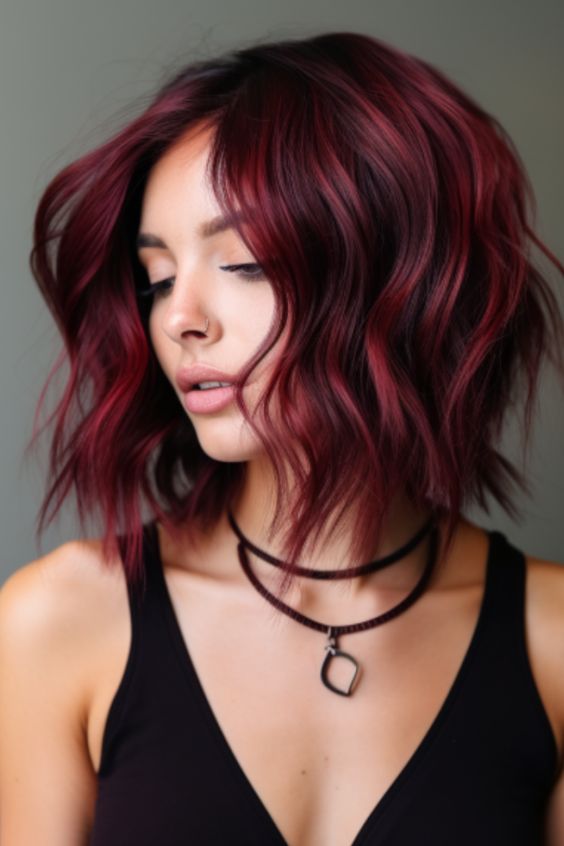 The Fiery Ombre
The fiery ombre is an embodiment of passion and transition, perfect for those who love a long hair straight look but yearn for a hint of playfulness. The transition from a deep, dark brown to a vibrant orange at the tips suggests a fire burning with creative fervor. This style is perfect for the dynamic woman who is all about making a statement. For styling, consider long hair curtain bangs to frame the face and add a soft, feminine touch.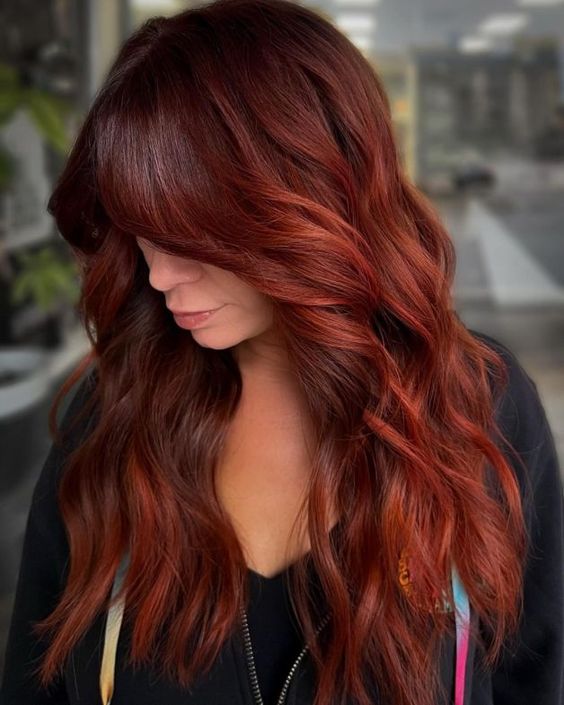 The Velvet Wine
Velvet wine tones are all about depth and richness. This style, with its undulating wavy hair, is reminiscent of a beautiful, vintage tapestry. It's a look that suits those with a flair for the aesthetic and a taste for luxury. The deep burgundy is both regal and inviting, making it a perfect choice for medium to thick hair. It's a hairstyle that doesn't just speak—it sings.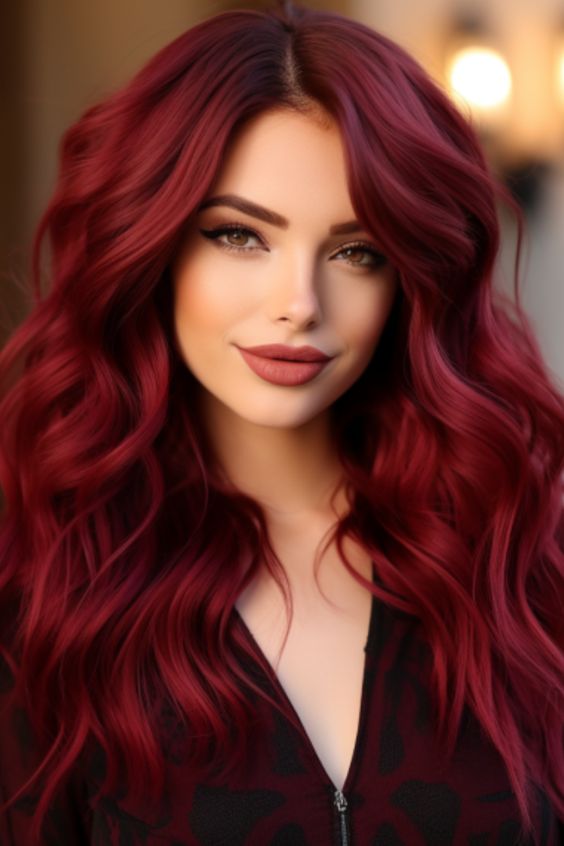 The Bold Contrast
Here's a look that's as bold as it is beautiful—a striking contrast of a bright fuchsia streak running through a dark wine base. This is a style that's not for the faint of heart, ideal for women who embrace their individuality and aren't afraid to show it. It's a statement piece, a conversation starter, a bold move in the world of red hair.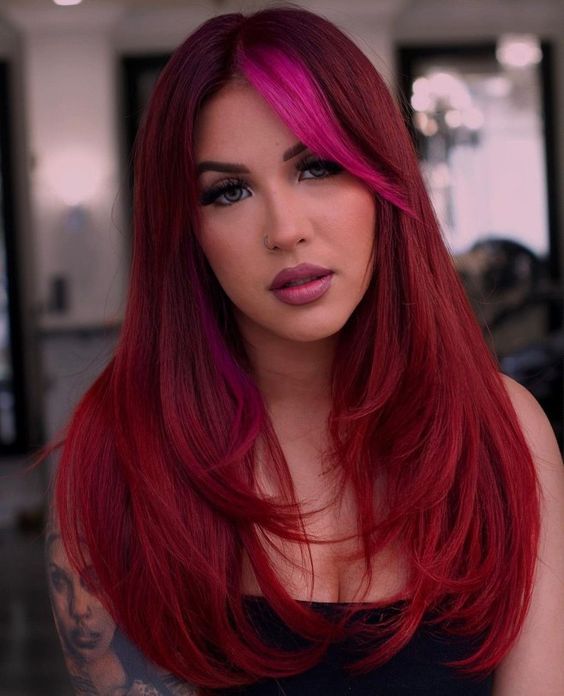 The Ginger Wave
Soft, sultry, and reminiscent of a ginger ale fizzing in the summer sun, this hairstyle is for those who prefer a more natural red hair look. It's a medium length style that plays well with wavy hair, giving off an effortless vibe. The color is rich yet subtle, perfect for someone with a Korean fashion sense that marries simplicity with sophistication.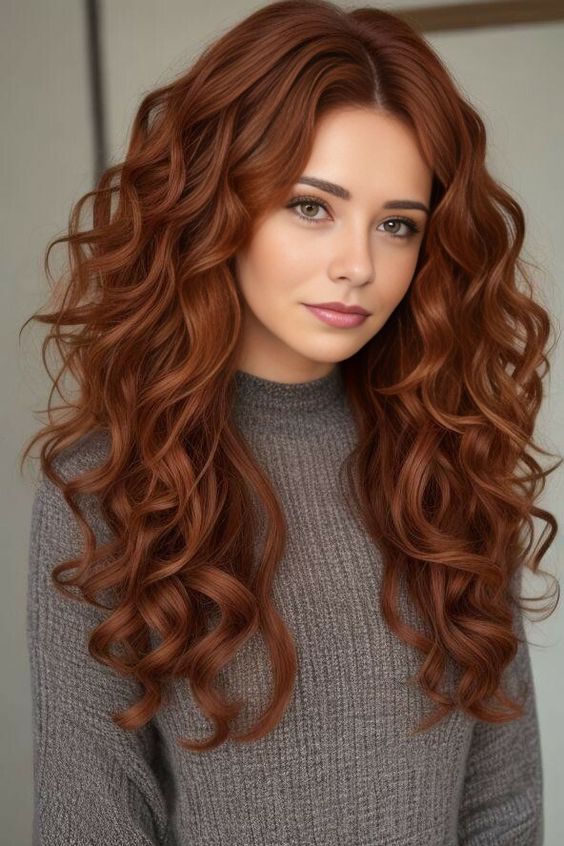 The Red Velvet Bob
The red velvet bob is a daring cut for the modern woman. It's a short hair straight look that's sleek, polished, and powerful. The bright red hue is vibrant and commands attention, yet the style remains understated in its elegance. This is the perfect short hair style for someone who values precision and boldness in their look, with a straight cut that's as sharp as their wit.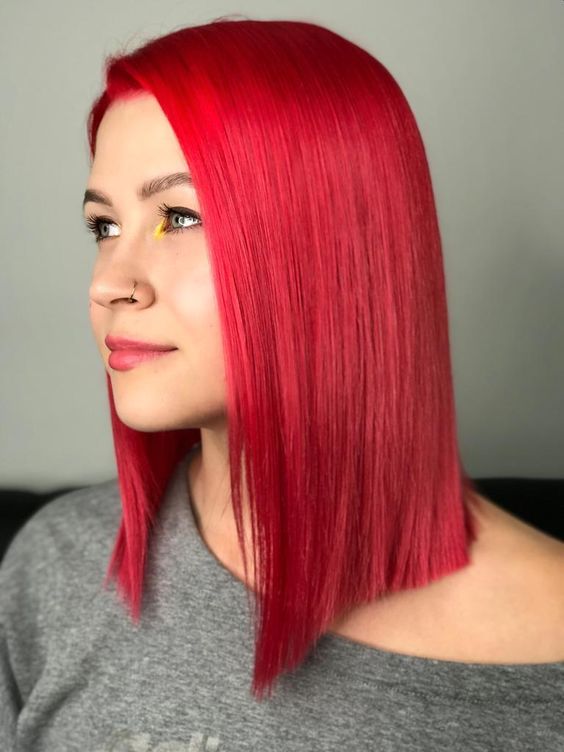 The Sunset Balayage
Here we see a stunning sunset balayage that seems to capture the fleeting beauty of dusk. Dark roots melt into a mélange of burgundy and fire-like red hues, offering a look that's both natural and dramatic. It's perfect for those with a shoulder length style, and it adds an extra dimension to wavy hair. This color blend is a work of art, reminiscent of the sky's warm glow as the sun dips below the horizon.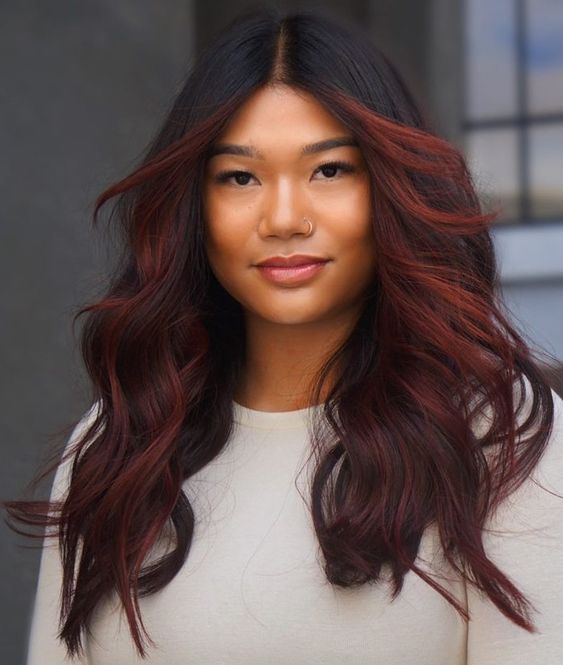 The Deep Violet Shimmer
A deep violet shimmer runs through these luxurious locks, creating a color that's as rich as a fine wine. This hair color is perfect for making a sophisticated and bold statement, with a hint of mystery. The long, wavy style adds softness and romance, suggesting a dark aesthetic that's both modern and timeless. This is the ideal choice for those wanting to channel a dark copper vibe with a twist of violet sophistication.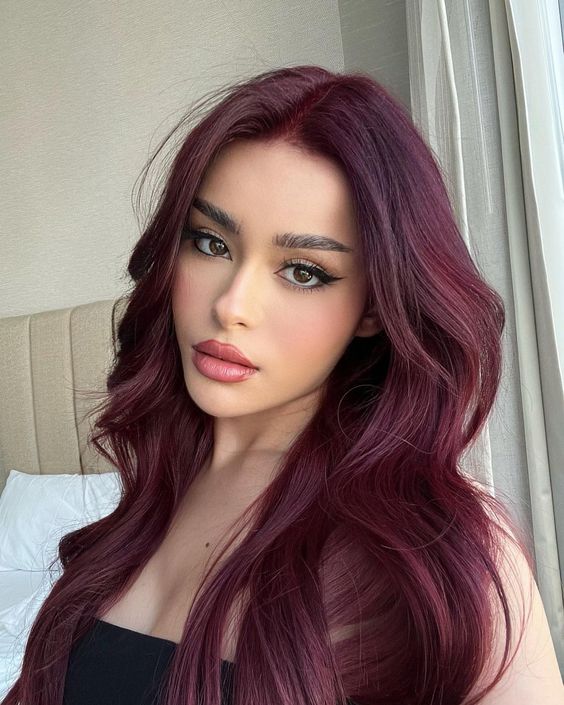 The Soft Ginger Glow
The soft ginger glow seen here is a testament to the subtlety of red hair's versatility. It's a light, coppery hue that radiates warmth and charm, perfect for a short hair style with a fresh, straight hair unstyled look. This color is a great way to add a touch of natural beauty and softness to your style, ideal for those with a round face seeking a gentle, yet striking change.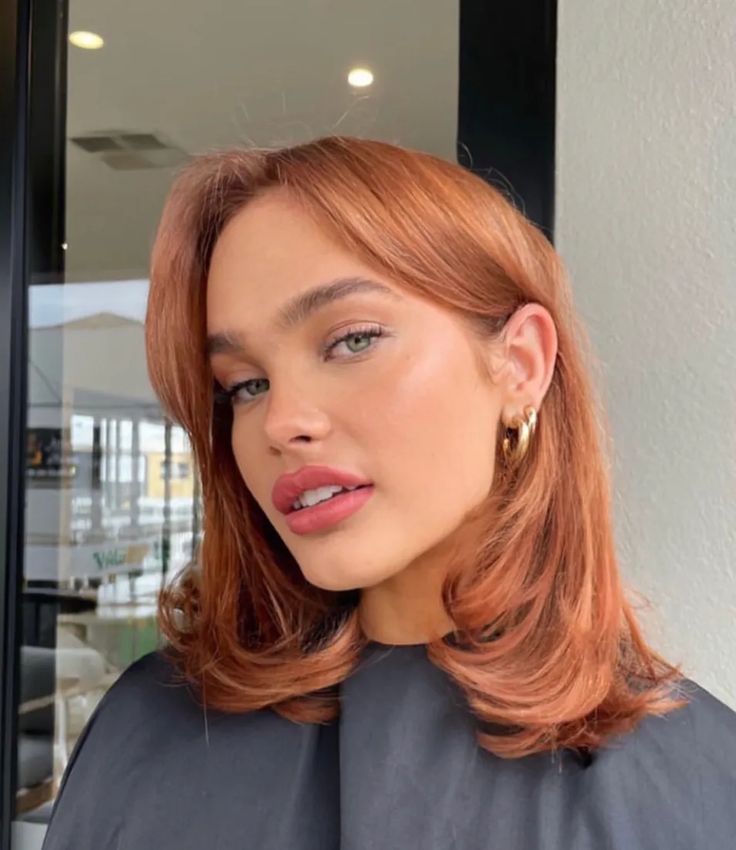 The Fiery Copper Cascade
The fiery copper cascade is a bold choice that echoes the natural red of autumn leaves. The straight hair with a side part complements the strong color with a sleek and modern cut. This shade is especially striking on women with a fair complexion, as it brings a warm and inviting contrast. It's a color that's both beautiful and bold, suitable for those ready to make a statement.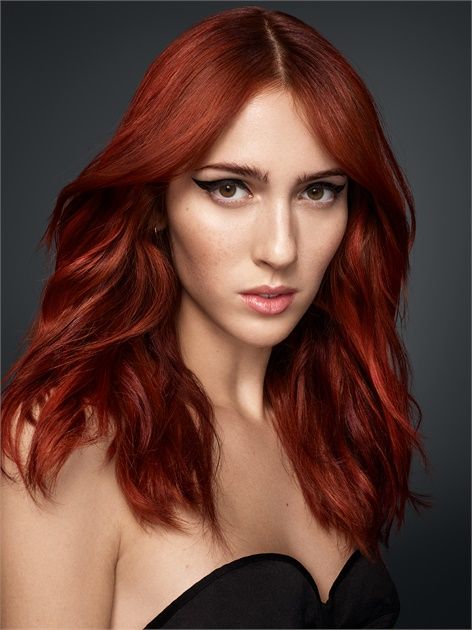 The Burgundy Dream
Lastly, we have the burgundy dream, a deep and alluring shade that's rich with dark wine undertones. It's a sophisticated choice for long hair with bangs, offering an air of enigma and charm. The color is intense and full of depth, ideal for those looking to make a powerful and lasting impression. It's a hue that perfectly balances aesthetic appeal with a bold, modern attitude.
Wrapping Up
The colors we choose to wear in our hair say a lot about who we are and how we see the world. As we've explored the various shades of red that are poised to take 2024 by storm, it's clear that there's a shade and style for every personality, every mood, and every aspiration. From deep wines to bright oranges, the red hair palette is as varied as it is stunning. We hope this guide inspires you to find the hue that best expresses your inner fire. Share your thoughts and your own red hair color 2024 journey in the comments below. Your story could be the spark that inspires others to embrace the red revolution.
Save Pin