Nails
Acrylic Nail Designs 2024: A Glimpse into the Future of Nail Art
Welcome to our exploration of the freshest wave in nail artistry—acrylic nail designs 2024. This year, creativity meets class, with designs that speak to every woman's unique style. Whether you're a fan of the ever-classic short square nails or the bold long stiletto —there's something for everyone. Our handpicked selection caters to women across the U.S., aged 25 to 55, who have a flair for fashion and a love for modern hairdressing trends. So, get ready to dive into the chic, the bold, and the breathtaking designs that are setting the pace for 2024.
Blue and White Floral Elegance
This exquisite design is a true reflection of sophisticated artistry. The nails are shaped into a long almond silhouette, creating a canvas for the intricate blue and white floral pattern that adorns the tips. It's a pattern reminiscent of fine porcelain, each flower's petal painted with precision. The nude base color allows the design to stand out, while the high gloss finish gives it a luxurious sheen. Perfect for summer, these nails would pair beautifully with a flowing white sundress or add a pop of elegance to a casual denim look.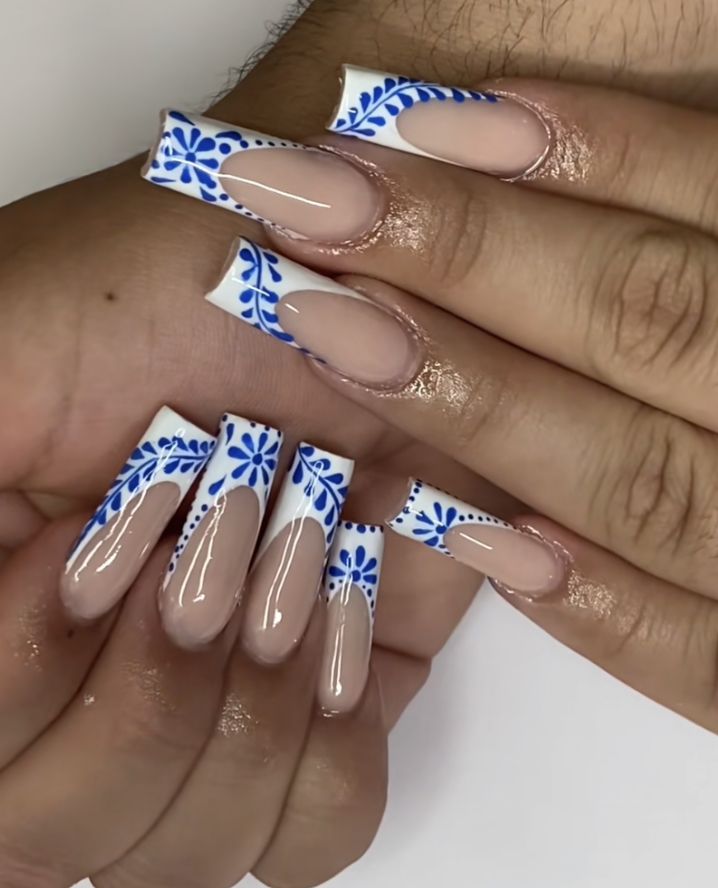 Turquoise Sparkle with Daisy Accents
As if kissed by the mermaid's touch, these long, shimmering turquoise nails boast a glittery base that catches the light with every move. Accentuated with cute white daisies, this design screams cute and for summer. The almond-shaped nails are playful yet practical, and the floral accents add a delightful twist. Imagine these nails wrapped around a cool glass of lemonade or clutching a straw sun hat on a sunny beach day.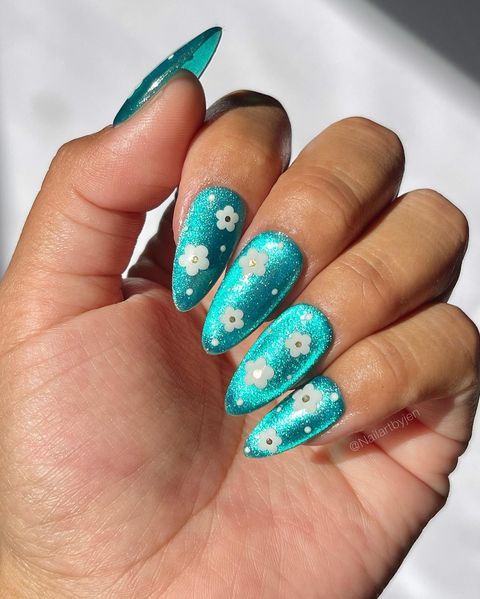 Autumnal Luxe with 3D Embellishments
Here's a trendy and long acrylic nail design that's almost a hand-held ode to autumn. With an array of warm tones and 3D embellishments that include tiny leaves and flowers, it's like carrying a piece of fall's essence on your fingertips. These coffin nails could easily be a favorite for a Halloween look or a November wedding. Their medium length ensures they are both stunning and functional, bridging the gap between bold expression and everyday wear.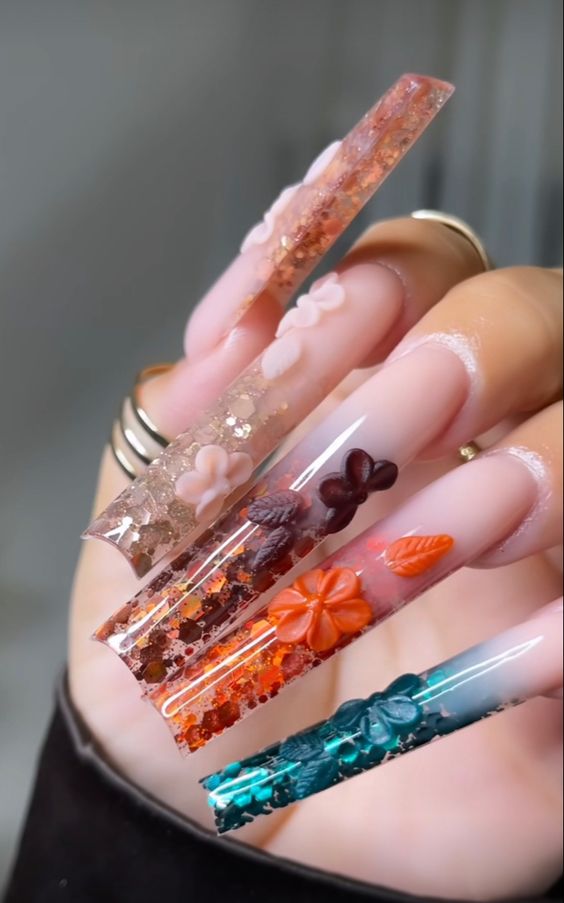 Modern Swirls on Almond Acrylics
For those who adore simple yet stylish nails, this design offers short almond nails in a matte finish, enhanced with swirly lines of green that provide a modern, abstract feel. This look could easily be dubbed one of the best choices for the creative professional. It's not overly dramatic, allowing for versatility with various outfits—pair it with a sharp blazer for work or a soft, flowing top for weekend brunches.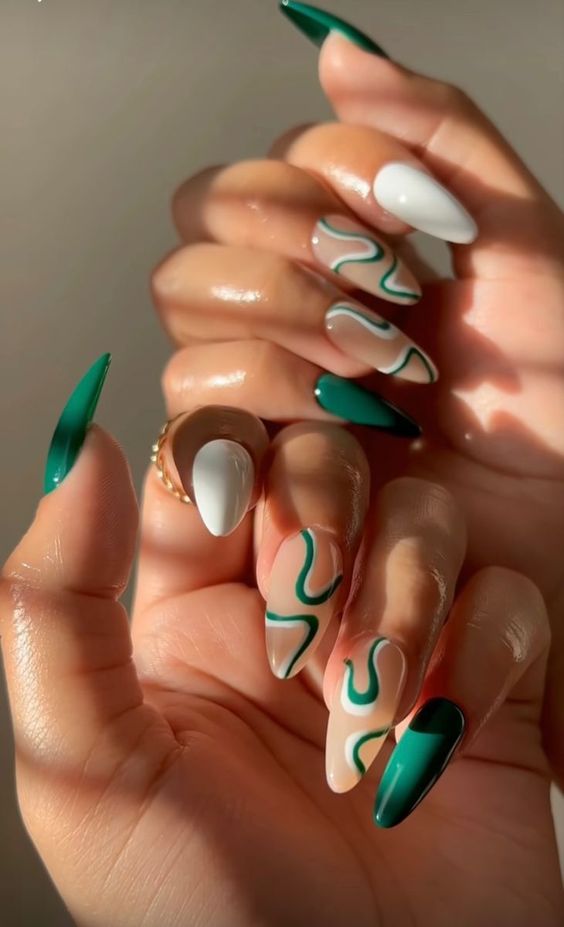 Bold Florals on Long Square Acrylics
Diving into acrylic nail designs 2024, the year is all about making a statement with vibrant colors and intricate patterns. The first design to capture this trend features long square acrylic nails painted in a luscious red base. Adorned with white floral accents, these nails blend a traditional feminine motif with a bold color choice, making them perfect for summer escapades or adding a pop of color to any outfit. The long length of the nails serves as an excellent canvas for the delicate flower design, while the square tip provides a modern edge that's both trendy and best suited for those looking to stand out.
Heartfelt Expressions in Pink and White
When it comes to cute and simple designs that still make a heart-fluttering impact, look no further than these long almond nails. Featuring a soft pink base transitioning into a crisp white tip, each nail is graced with adorable little hearts in various shades of pink. This design is a lovely choice for someone embracing their softer side while still expressing a passion for fashion. These almond shaped nails are perfect for those who prefer a more elongated, feminine look, and the playful hearts suggest a flirtatious vibe ideal for a pink-themed party or a romantic date night.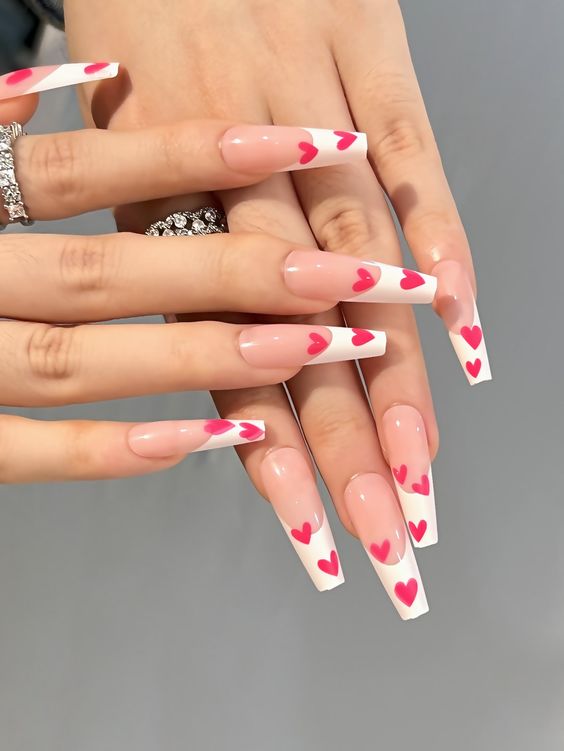 Chic Caramel Swirls on Medium Square Acrylics
If your style leans towards the sophisticated side, these medium square acrylic nails are a testament to the chic elegance that can be achieved with acrylics. Swirls of caramel and cream create a marbled effect, reminiscent of luxurious Italian lattes or rich, swirled chocolates. The long nails offer a bold canvas for the swirling designs, and the medium square cut ensures they remain functional without sacrificing style. This nail design speaks to the individual who appreciates the finer things in life and pairs well with a structured handbag and a well-tailored blazer, embodying the very essence of understated luxury.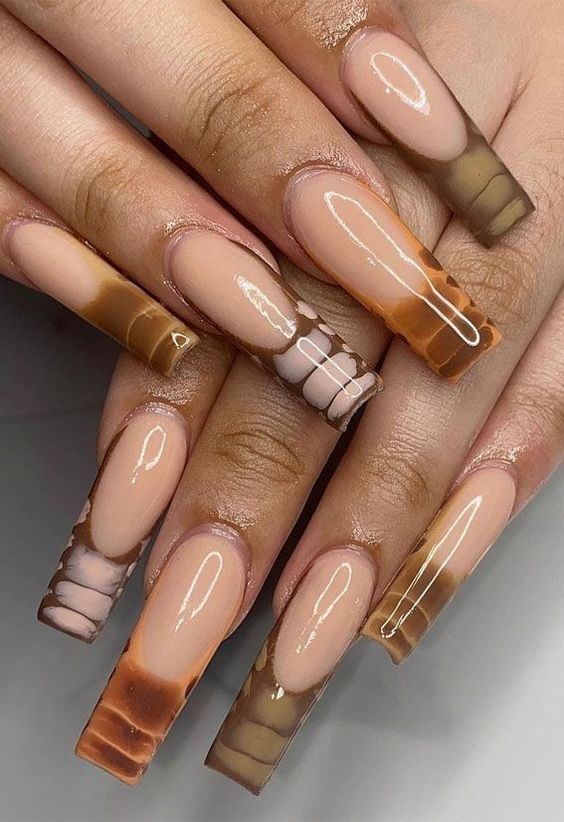 Spring Blossom Ombre on Stiletto Acrylics
Springtime is eternally captured in these vivid stiletto acrylic nails. Starting with a sunny yellow at the base, the colors melt into a Barbie pink, creating a delightful ombre effect reminiscent of the first blush of spring flowers. Embellished with sparkly floral rhinestones, these nails are the perfect combination of cute and glamorous. The stiletto shape adds an edgy contrast to the sweetness of the design, making them a fantastic choice for those who dabble in the baddie aesthetic but want to keep it light and festive for the season.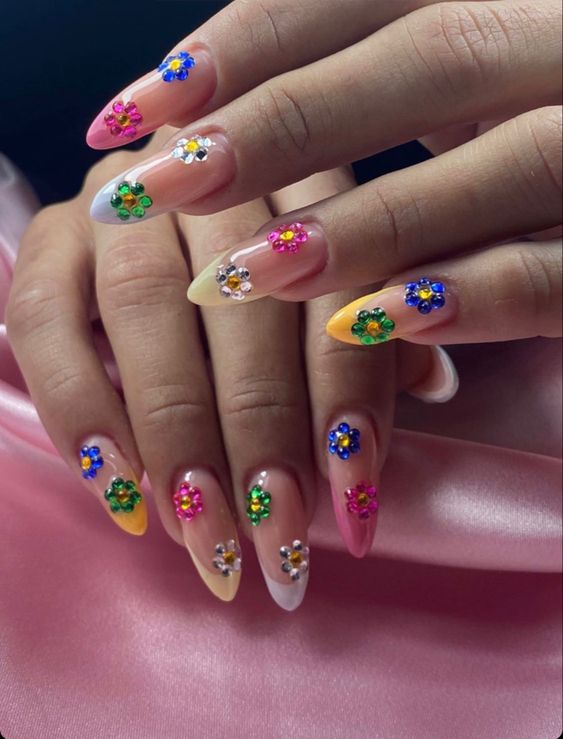 Whimsical Florals in Pastel Hues
As we embrace the softness of the spring palette, these long and whimsical acrylic nails present a garden of pastel florals. This design features a mix of pink, lavender, and muted yellow flowers, each petal raised slightly to give a 3D effect that's both cute and sophisticated. Perfect for a spring look or for those seeking a simple yet enchanting design.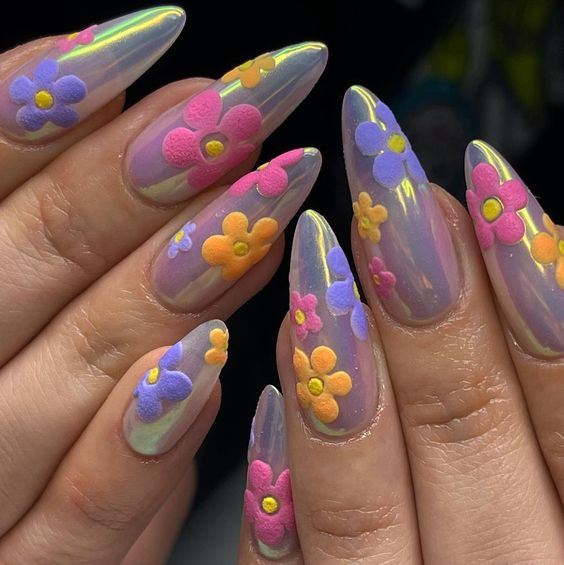 Olive Abstract with Metallic Accents
Medium square nails become a canvas for abstract art in this olive and metallic design. The bold use of green polish paired with gold lines creates a modern look that's both edgy and elegant. These nails could be the best accessory for an autumnal wardrobe or a stylish Halloween costume.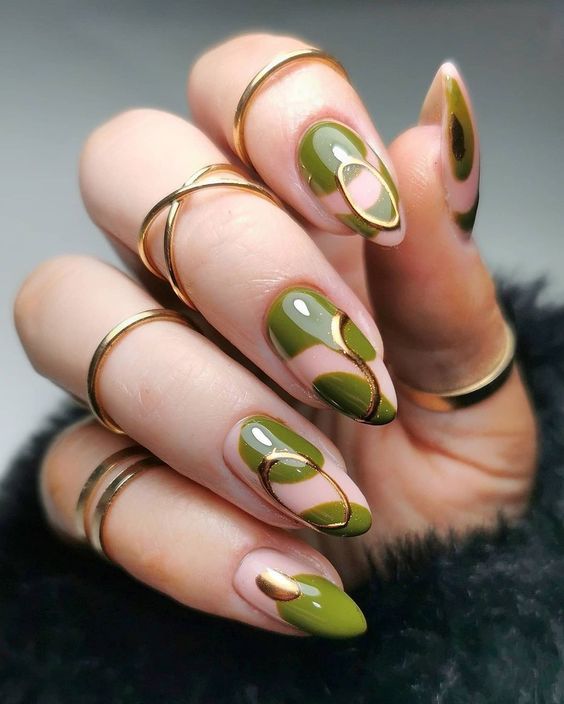 Strawberry Fields Forever
Nothing says summer quite like fresh strawberries. These short square nails boast a clear base with adorable strawberry decals, offering a cute and playful vibe. The Barbie pink tips add a nostalgic touch, perfect for those sunny day picnics or a casual beach outing.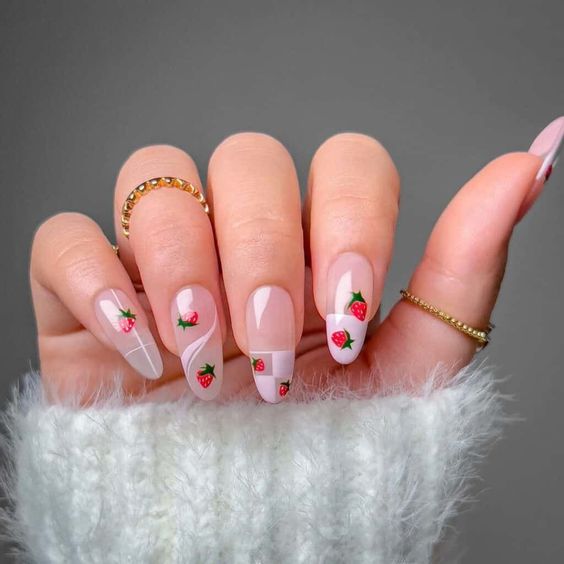 Cherry Blossoms in the Sun
Radiating with a vibrant red, these long almond acrylic nails capture the essence of summer fruitiness with a cherry-themed design. The crystal clear base interspersed with red cherries provides a tantalizing look that's both trendy and timeless. Adorned with occasional crystals, these nails are sure to sparkle under the summer sun.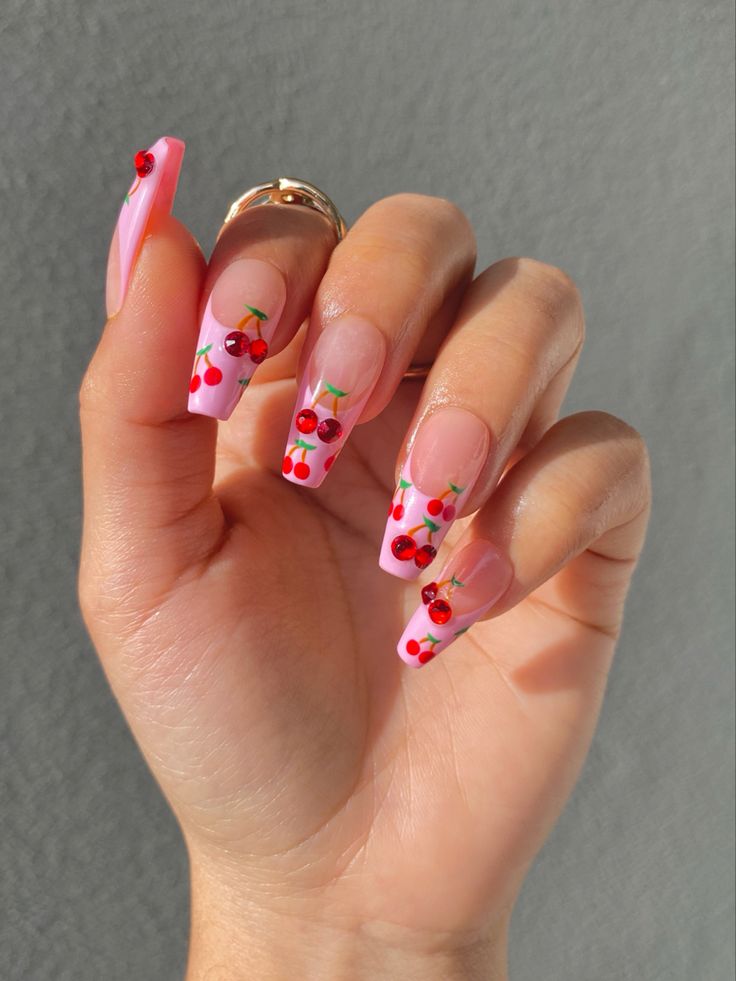 Modern Elegance with a Twist
Starting with a design that combines simplicity with modern artistry, this set exemplifies elegance. The nails boast a long square silhouette, providing a clean and structured look. A neutral pink base encapsulates a sense of sophistication, while the abstract white patterns offer a contemporary edge. This design is perfect for those who appreciate simple yet noticeable nail art.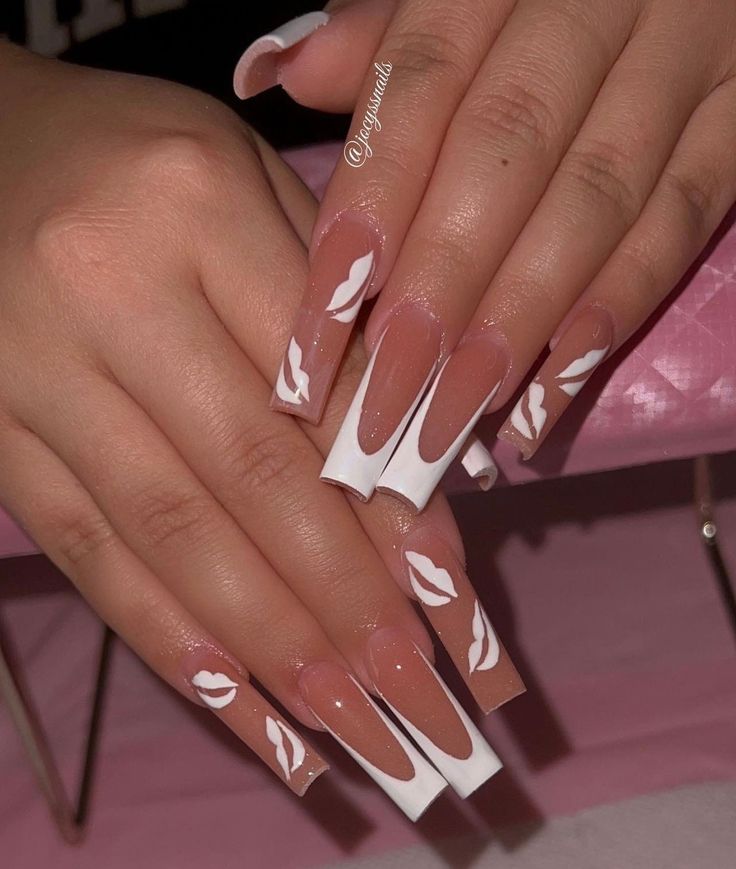 Floral Fantasy: A Touch of Spring
Next, we delve into a floral masterpiece perfect for summer vibes or a cute daytime ensemble. These long acrylic nails extend into a classic square shape, providing ample space for the art. Each nail is a canvas displaying vibrant flowers reminiscent of a sun-drenched meadow. Small gold studs add a hint of luxury, making this design one of the best for those who love detailed work.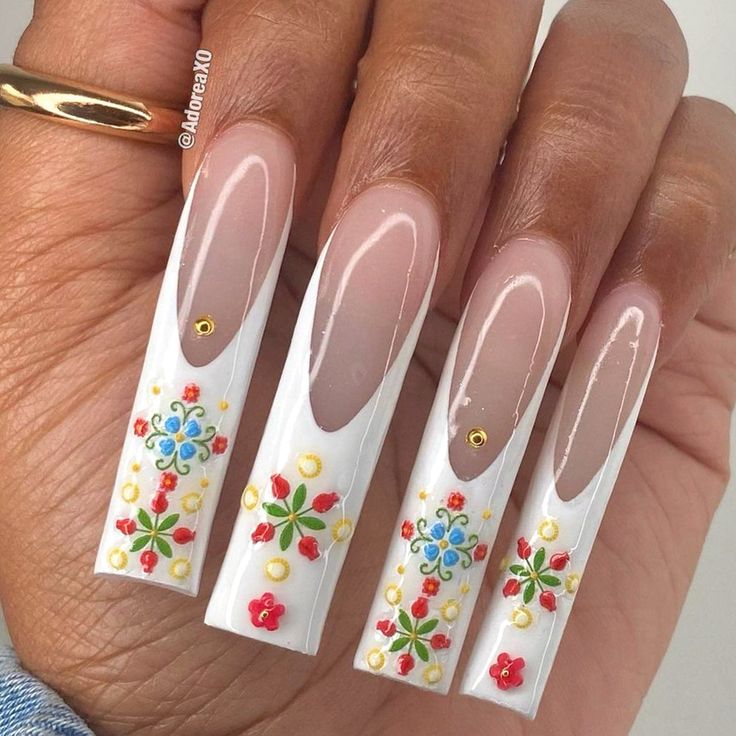 Textured Beauty: Embossed and Embellished
For lovers of dark and trendy designs, this set takes a bolder approach. Featuring a medium square shape, the nails are adorned with an embossed floral pattern in a sumptuous dark red. Each nail is further enhanced with sparkling rhinestones, creating a multidimensional and tactile experience. This design is a perfect fit for a baddie short nail look that doesn't compromise on drama.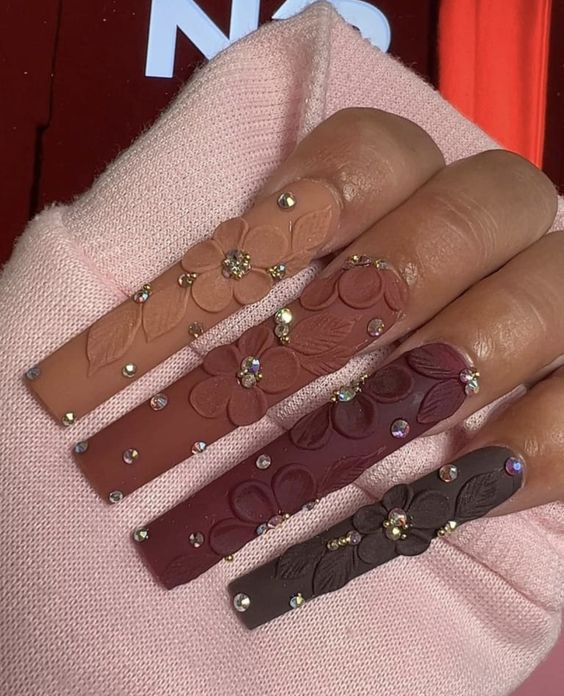 Abstract Artistry: Fluid Lines and Chocolate Hues
Incorporating long nails with a unique twist, this look uses fluid lines in varying shades of brown, creating an almost hypnotic effect. The long almond shape offers a sleek and feminine canvas for the abstract art, which could easily be a staple for those seeking a trendy, non-traditional style. It's a bold statement piece that could befit any Halloween costume or an avant-garde event.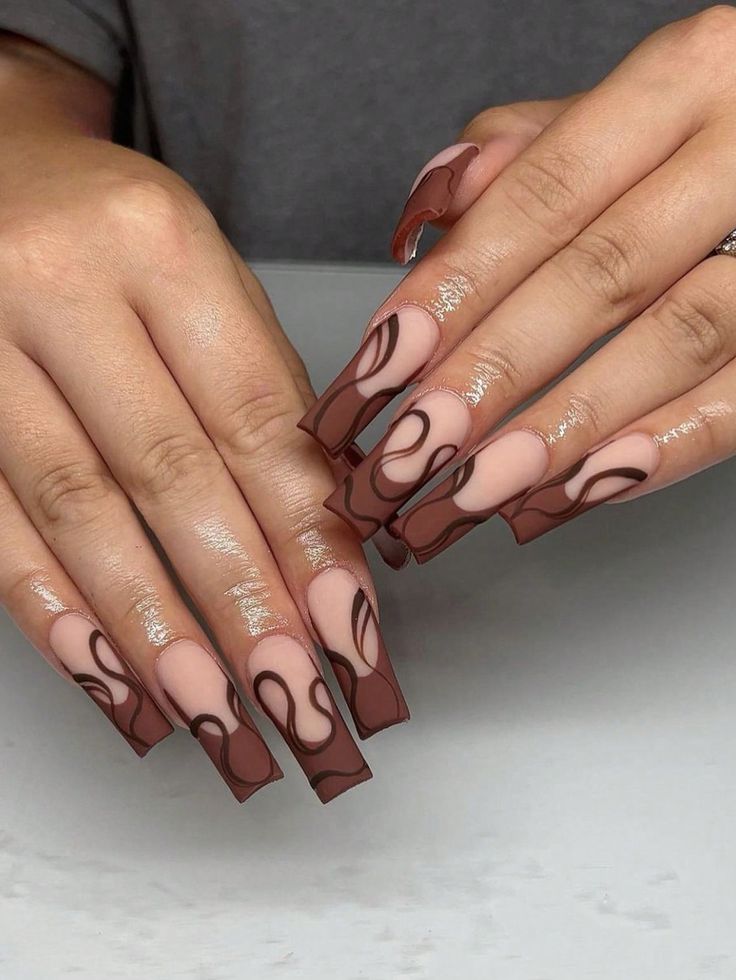 The Enigmatic Allure of Stiletto Nails
Delving into the world of sophisticated acrylic nail designs 2024, the first design to capture our attention features an alluring stiletto shape that embodies both edginess and elegance. The nails are painted in an ombre transition of earthy green tones that speak of forest canopies and mossy undertones, paired with a golden trim that adds an element of luxe. This design is not just a statement – it's a narrative of bold fashion choices, perfectly suited for the woman who is unafraid to express her individuality and daring nature.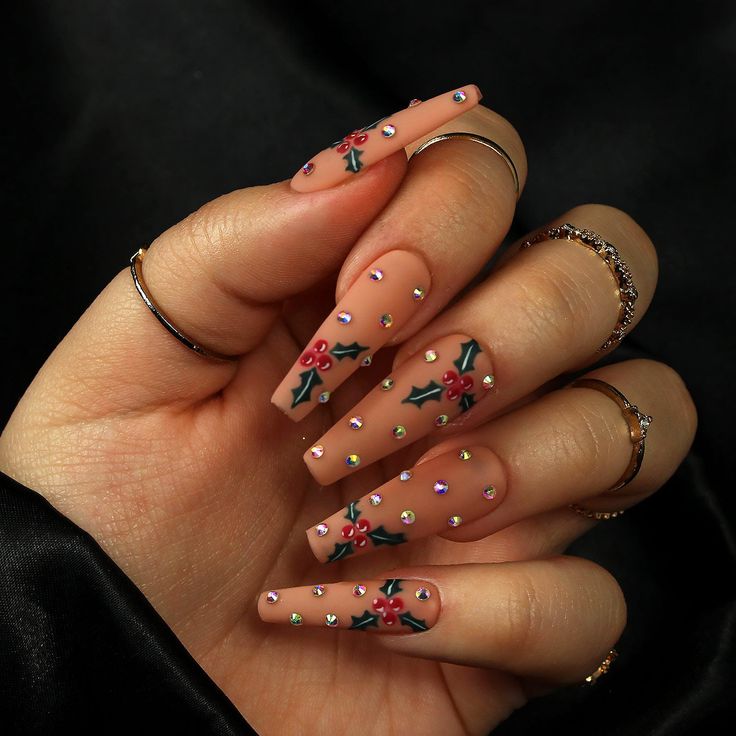 Save Pin