Nails
The Elegance of Simplicity: Natural Nail Designs 2024
The beauty industry is constantly evolving, with nail art being no exception. As we move into 2024, the trend is veering towards more natural nail designs that celebrate simplicity and elegance. Here, we delve into some of the most captivating natural nail designs for the coming year, each telling its own story of texture, color, and creativity.
Gel on Almond Shape with Heartfelt Accents
Embracing the almond shape, this nail design is a testament to the understated charm of natural nails. The nude base color stands as a canvas for the delicate hearts adorned with a gold outline, adding just the right amount of whimsy. These cute accents bring life to the simplicity, making it a perfect match for those who love a touch of romance in their style.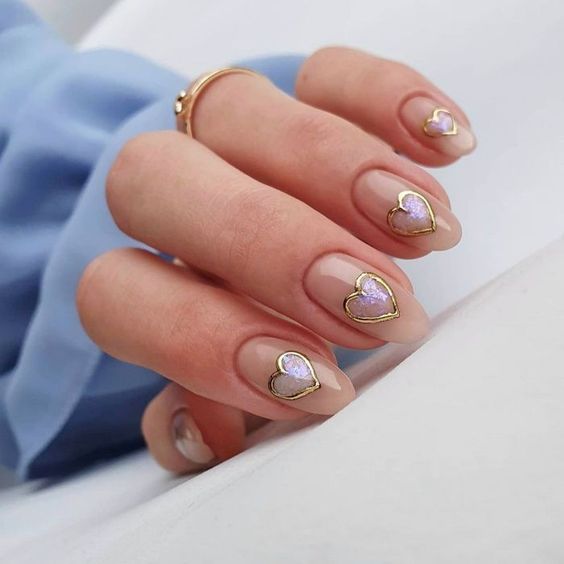 Artistic Flair with Gold Foil Bees
Simple doesn't have to mean bland, and this nail design is anything but. The creamy white base provides a backdrop for beautifully hand-drawn botanical illustrations. The real star, however, is the gold foil accents in the shape of bees, adding a luxurious yet understated vibe. This design is a summer whisper that seamlessly blends into the fall, making it versatile for any season.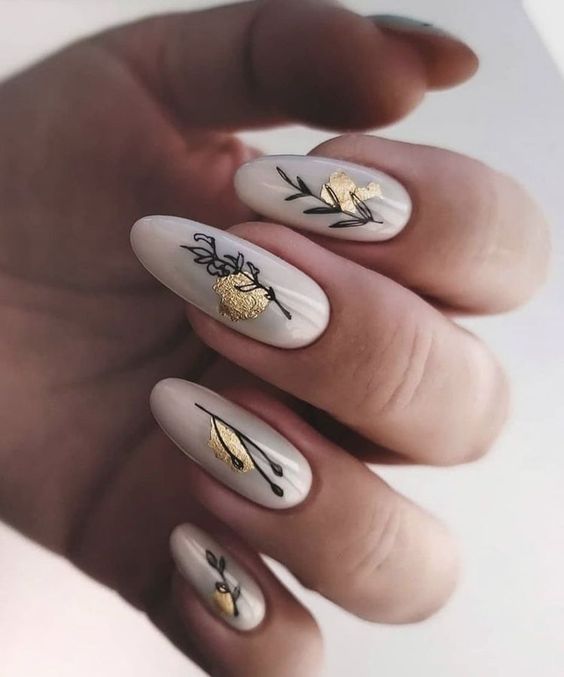 Gel Classy Meets Minimalist Art
Long, slender, and absolutely chic, these nails embrace the long nail trend with grace. The use of builder gel on a neutral palette creates a flawless foundation for minimalist line art and gold leaf touches. It's a gel classy design that is as easy on the eyes as it is sophisticated, showing that natural nails can indeed be show-stoppers.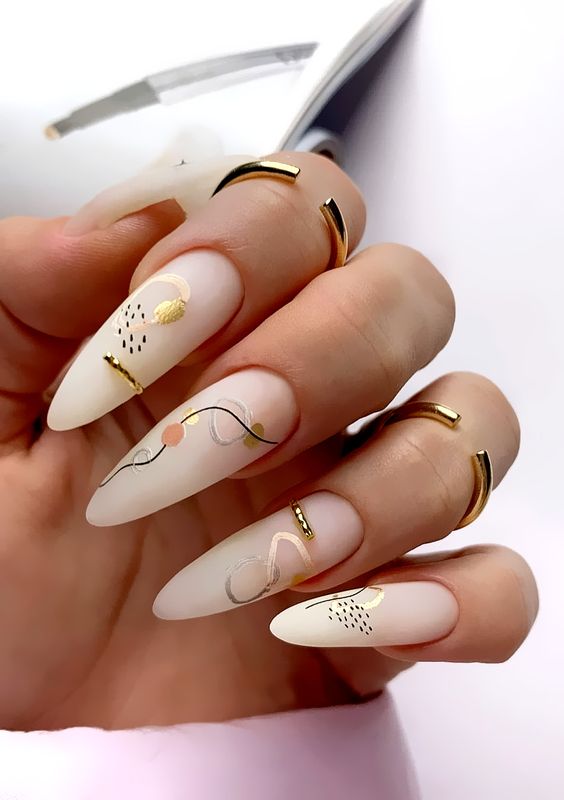 Blue Skies and Clouds for a Short Summer Dream
Invoking the clear blue of short summer skies, this design combines blue and simple pink to create a dreamy aesthetic. A single nail features delicate cloud art that suggests a day spent lounging in the sun. This design would be a hit for those seeking cute short nails that tell a story of summer serenity with an easy vibe.
Autumn-Inspired Whimsy
As the leaves turn and pumpkin spice lattes become the drink of choice, the autumn-inspired nail design captures the heart of fall. This design features a mix of burnt orange, deep plum, and soft cream, with speckles resembling the first leaf fall. Each nail is a canvas with an abstract leaf motif adorned with gold foil accents, creating a rich tapestry of autumn hues. The almond shape of the nails adds a touch of sophistication, making this style a perfect companion to your favorite chunky sweater and booties. The use of gel polish ensures durability and a glossy finish that lasts through every fall festivity.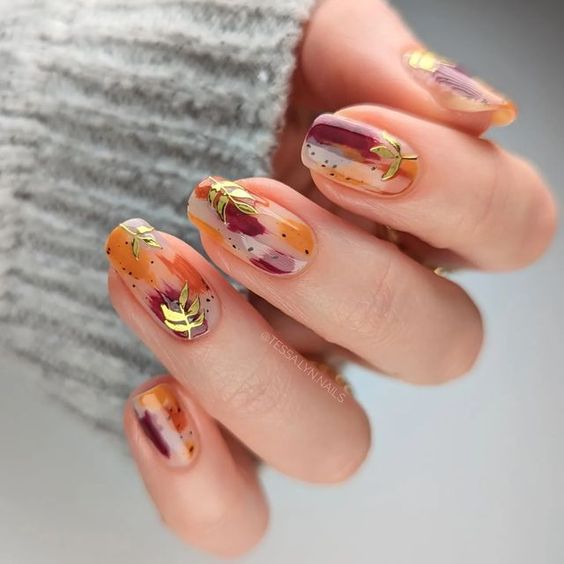 Blooming Chic
Spring whispers into life with this blooming chic design, where each nail boasts a delicate hand-painted daisy, reminiscent of a sun-kissed garden. The soft pink base evokes the freshness of spring mornings, while the white and yellow accents provide a simple yet charming appeal. The short length and round shape make this design not only cute but also practical for everyday wear, from running errands to typing away at your desk. Pair these with a floral dress or a pastel blazer for the ultimate springtime ensemble.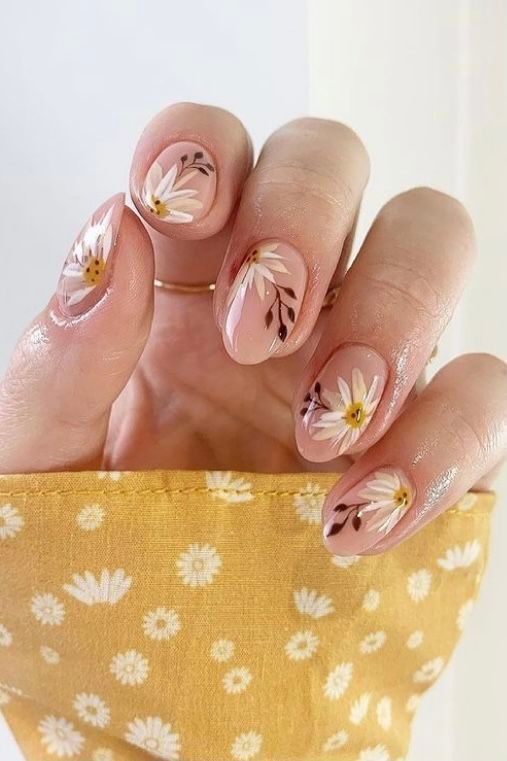 Neon Accents for Every Season
Who says neon is only for summer? This bold yet understated design proves that a splash of neon can brighten any day, no matter the season. The nude base is classic, but the sharp stiletto shape takes it up a notch, offering an edgy contrast to the softness of the natural hue. Neon yellow tips and minimalist stripes provide a pop of color that is both trendy and sophisticated. The gel art design is an easy way to add flair to a simple outfit, making it ideal for a casual brunch or a night out with friends.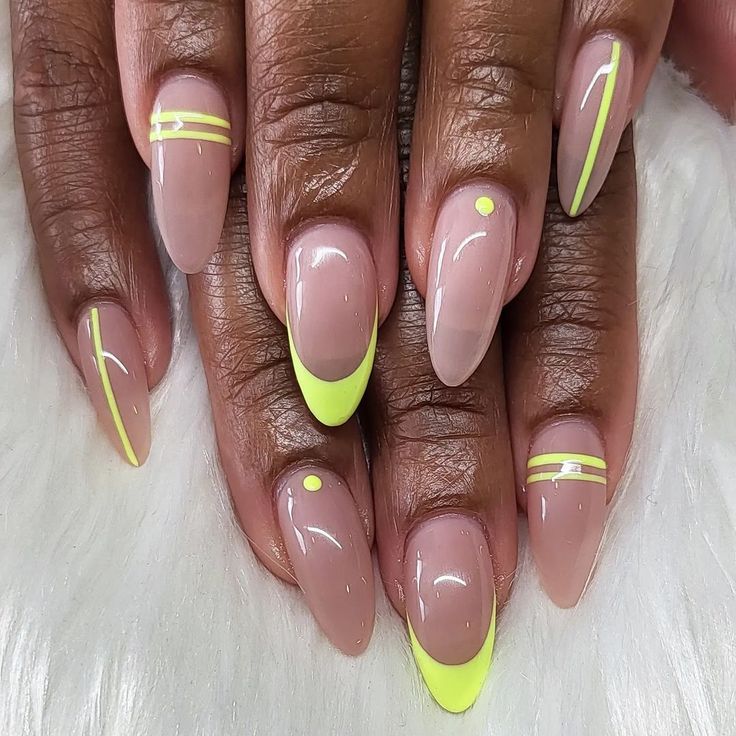 Elegant Earth Tones
Elegant earth tones have always been a staple in natural nail designs, and 2024 is no exception. This look combines a muted green with a rich copper foil, creating an understated yet glamorous feel. The nails alternate between glossy green, translucent with foil, and a classic French tip with a metallic twist. The variety of textures and finishes offer a multi-dimensional look that catches the light with every movement. The medium length and coffin shape are a nod to contemporary styles, offering a balanced look that works beautifully with a cashmere turtleneck or an elegant sheath dress.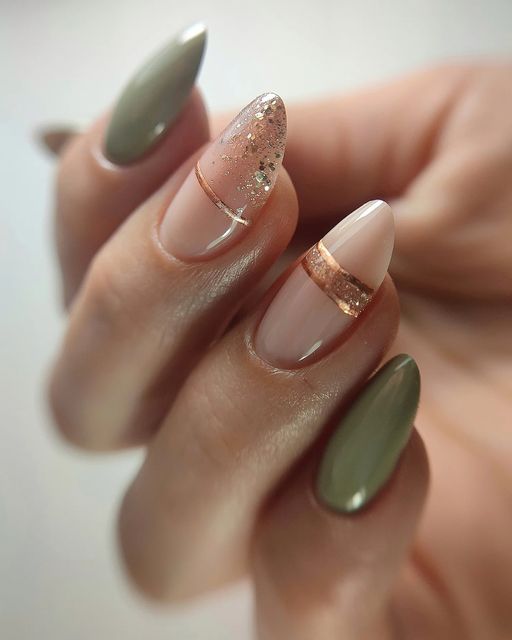 Gel on Waves of Warmth
This design is a perfect representation of natural nail designs 2024, incorporating warm, earthy tones that create a soft, rippling effect across a transparent gel base. The waves of orange, yellow, and white mimic the nostalgic hues of autumn, making it a sophisticated choice for those who favor short fall designs. It's a simple yet stylish look that captures the essence of the year's trend: unassuming elegance that doesn't overshadow the natural beauty of the nails.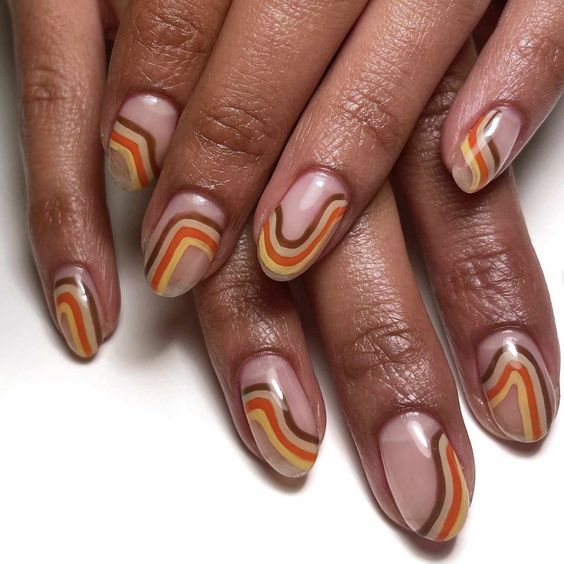 Golden Hearts of Affection
Cute and whimsical, this cute short nail design showcases delicate golden hearts dispersed on a clear gel overlay, evoking the tender beginnings of summer love. It's a cute simple approach that brings out an understated charm, perfect for those easy short designs suited for school or a casual day out. The use of gold flecks adds a touch of luxury without compromising the gel simple theme of the year.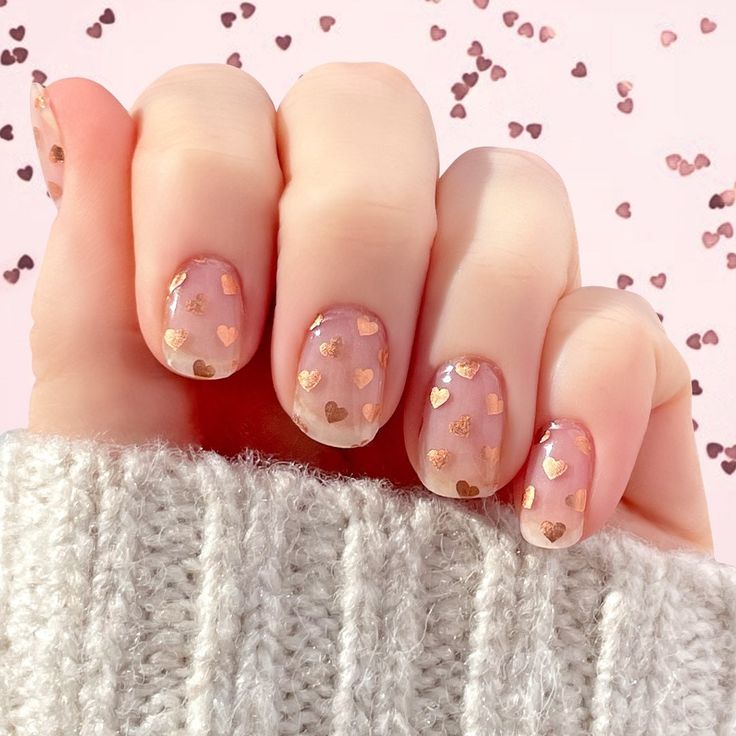 Pearlescent Heart Frames
For those who adore a bit of drama while still maintaining a natural feel, these almond shape nails are a match made in heaven. Outlined hearts paired with petite pearls create a cute, gel classy look that's versatile for any occasion. Whether it's a regular school day or a special event, this style elevates the natural nail with grace and sophistication.
Autumn Floral Whisper
Embrace the spirit of autumn with this beautifully crafted design that features a bouquet of fall flowers embedded into a builder gel on base. The intricate florals, painted in shades of red and orange, are reminiscent of a serene autumn landscape. It's an easy, enchanting style that brings the outdoor beauty to your fingertips, making it a perfect choice for those who prefer a natural yet long-lasting design.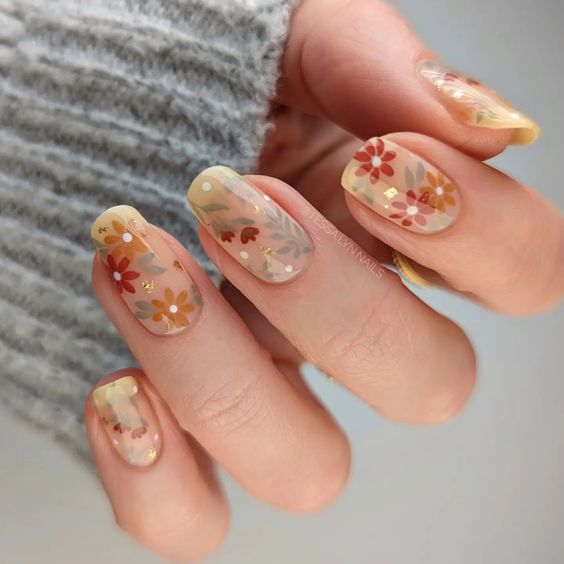 Geometric Elegance with a Touch of Gold
Natural nail designs in 2024 are embracing geometric patterns with a touch of luxury. The 'Geometric Elegance with a Touch of Gold' design features nails painted in muted shades of navy blue and nude. Each nail is a canvas showcasing a different geometric interpretation, separated by thin, meticulously painted gold lines. This design strikes a beautiful balance between short and simple while incorporating gel art ideas that are both cute and easy to adore. The look is completed without the need for acrylics, instead relying on a steady hand and the precision of gel on techniques.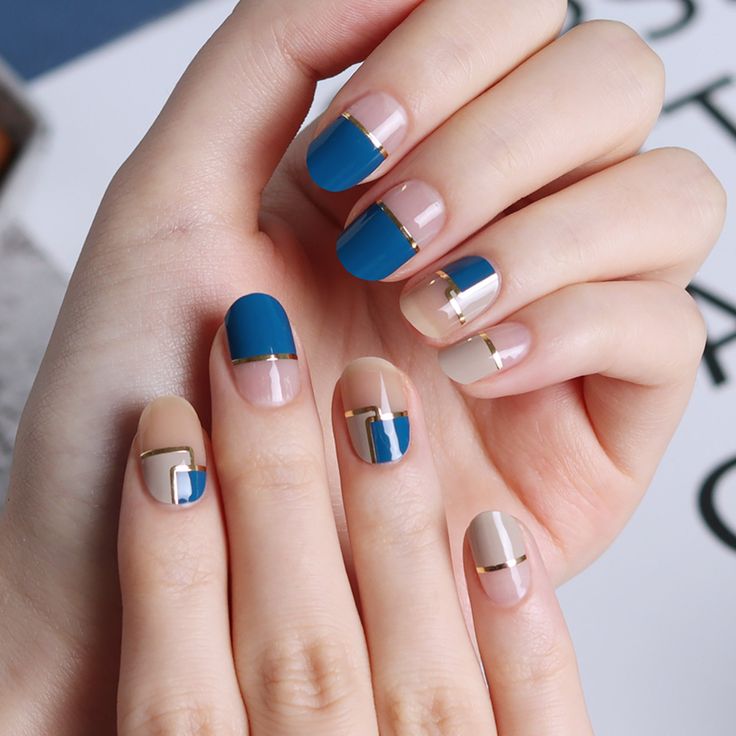 Bee-inspired Motifs on Almond-Shaped Nails
As we drift into the warmer seasons, summer-inspired natural nail designs bloom with creativity. The 'Bee-inspired Motifs on Almond-Shaped Nails' design is a charming nod to nature's own artists. Each almond shape nail is coated with a sheer, milky base, and adorned with delicate, hand-painted bees and golden floral accents, evoking a cute simple yet whimsical feel. These nails are perfect for those who desire a touch of playfulness in their natural nail designs 2024, embodying both spring and summer vibes.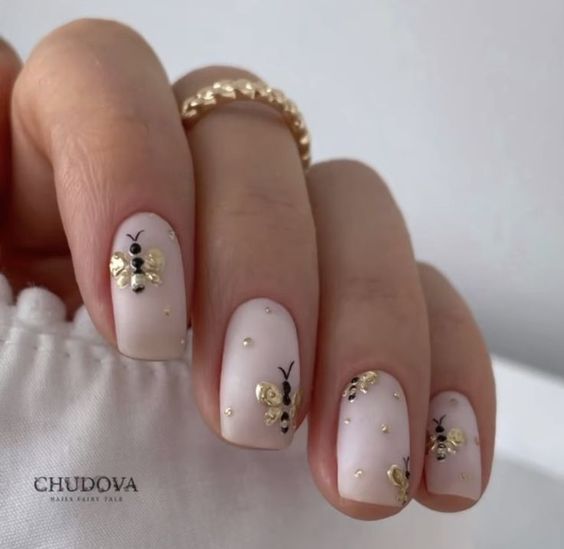 Abstract Gold Lines on Nude Base
Sophistication meets modern art in the 'Abstract Gold Lines on Nude Base' design. This particular style showcases the timeless appeal of a nude base complemented by abstract patterns in gold foil. The lines meander across the nails in various thicknesses, creating an elegant contrast that's both gel classy and incredibly versatile. Suitable for a casual day for school or a night out, these nails represent the epitome of natural nail designs 2024.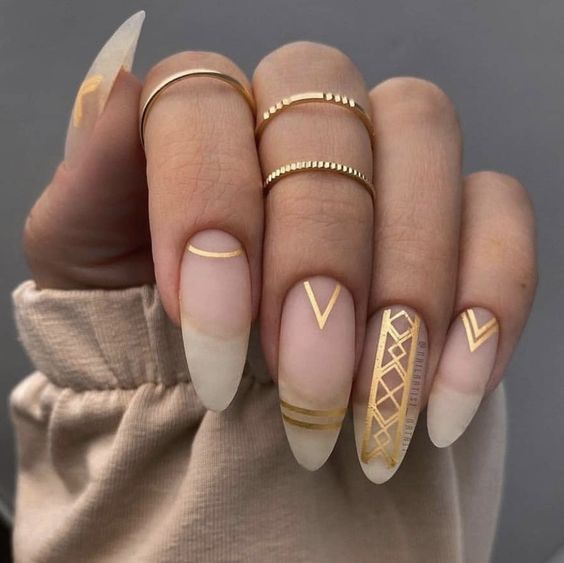 Autumn Florals and Gold Flakes
As the leaves begin to change, so do our nail preferences. The 'Autumn Florals and Gold Flakes' design is a quintessential representation of fall nail art. Bold orange hues blend seamlessly with transparent nails filled with pressed flower designs and gold leaf pieces. This design combines the love for autumn aesthetics with the ongoing trend of encapsulated nail art. It's a perfect fit for those looking for cute short or short fall nail designs that reflect the golden warmth of the season.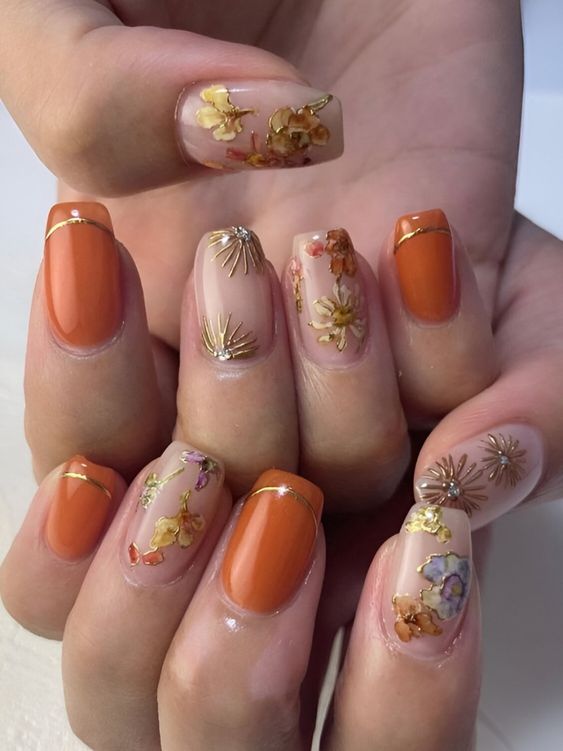 Floral Whispers on Sheer Pink
With spring comes the revival of florals, and this cute simple design offers a breath of fresh air. The sheer pink base, evoking the warmth of summer, is adorned with delicate white flowers and green foliage. This subtle nod to nature's beauty is perfect for those who enjoy short summer nail styles without going over the top. Each flower seems to tell its own story, inviting a sense of calm and beauty. Whether you're crafting an inspo short look for school or a laid-back weekend, these gel polish nail designs on a short nail are an ode to femininity and the simple pleasures of life.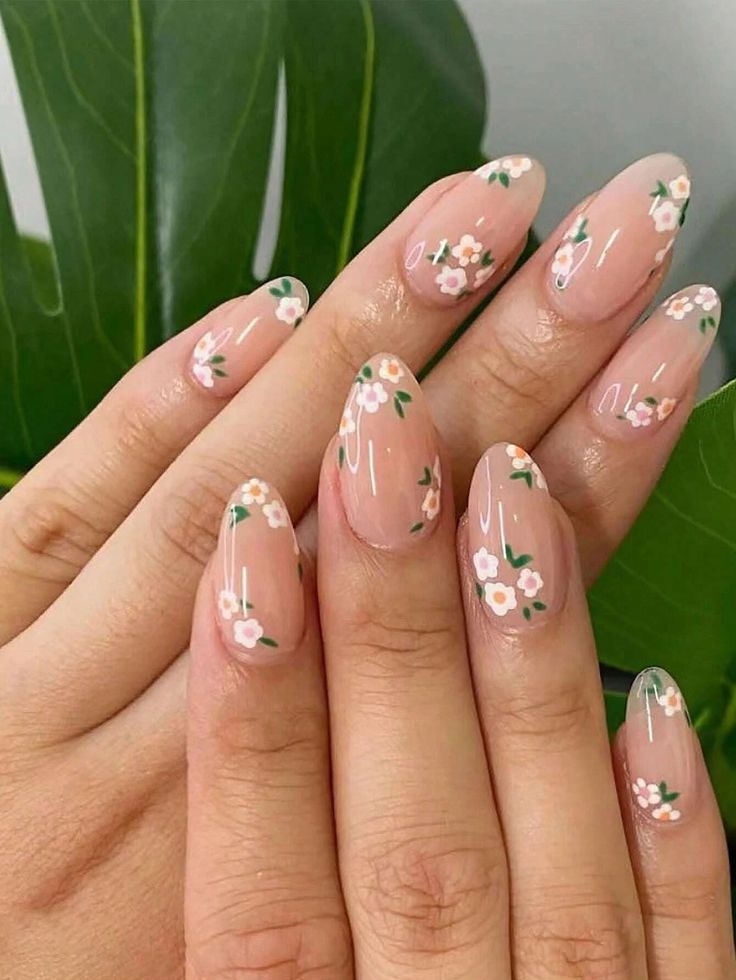 Save Pin