Nails
New Summer Nail Designs 2023: 23 Ideas for Trendy and Vibrant Nails
Are you ready to step up your nail game and embrace the sunny vibes of summer? Look no further! Summer 2023 brings a wave of exciting new nail trends that will elevate your style and make a statement. From vibrant colors to playful patterns, there's something for everyone. In this article, we will explore 23 fabulous nail design ideas that are perfect for the summer season.
Tropical Paradise
Create a tropical-themed nail design with palm tree silhouettes, exotic flowers, and vibrant sunset colors like orange, pink, and yellow. Add some glitter accents to mimic the sparkling ocean waves.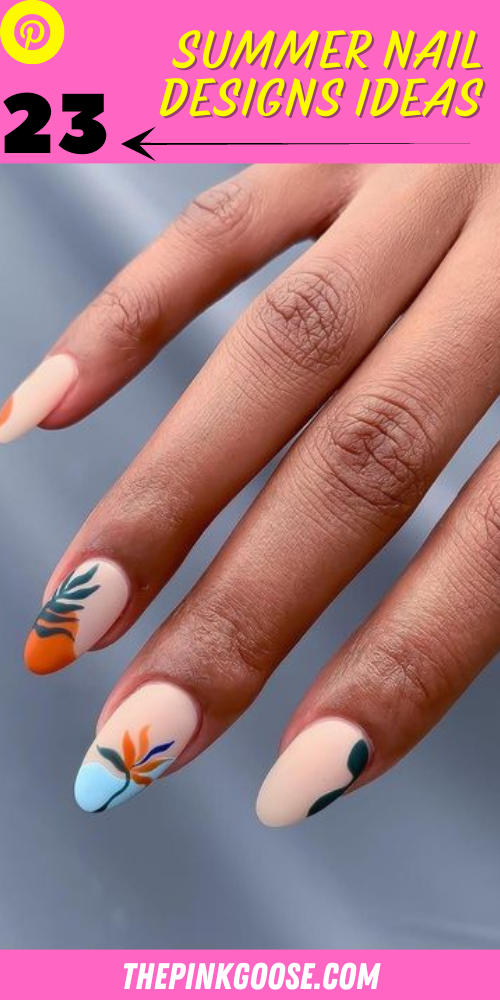 Watermelon Delight
Get inspired by everyone's favorite summer fruit with a watermelon nail design. Paint your nails with a green base color, add red and white stripes, and top it off with tiny black seeds for a refreshing and playful look.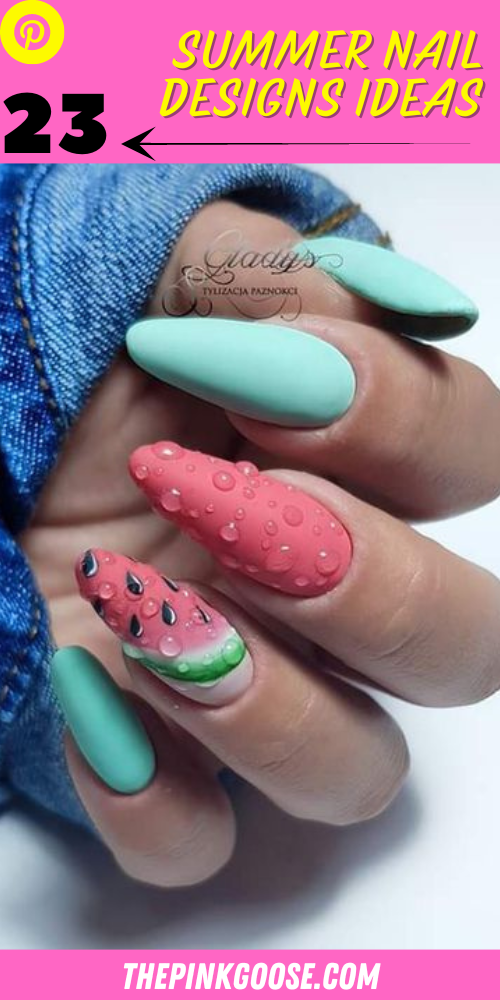 Beach Vibes
Capture the essence of the beach with a nail design featuring seashells, starfish, and beach umbrellas. Use shades of blue and sandy beige to recreate the serene coastal atmosphere.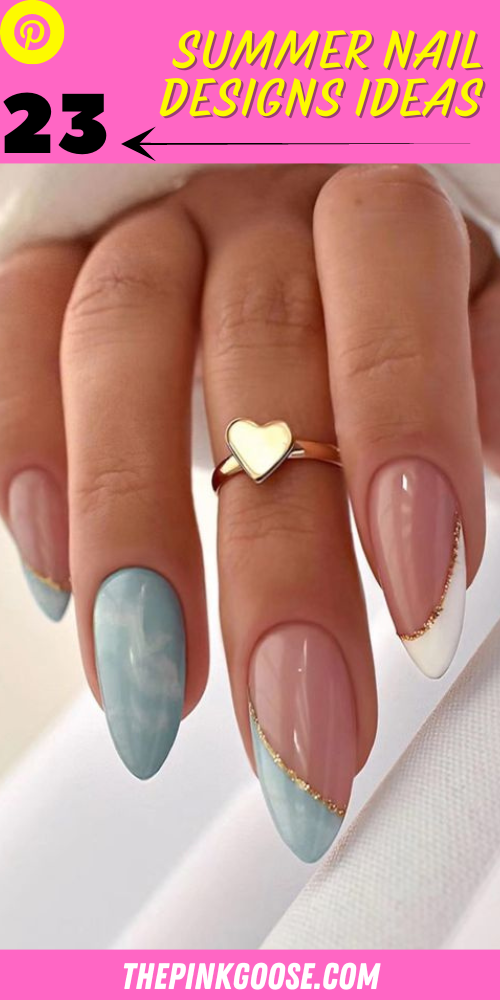 Neon Splash
Embrace the vibrant energy of summer with a neon nail design. Choose bold colors like electric pink, neon green, and bright orange. Experiment with geometric patterns, abstract shapes, or simple neon gradients for a bold and eye-catching look.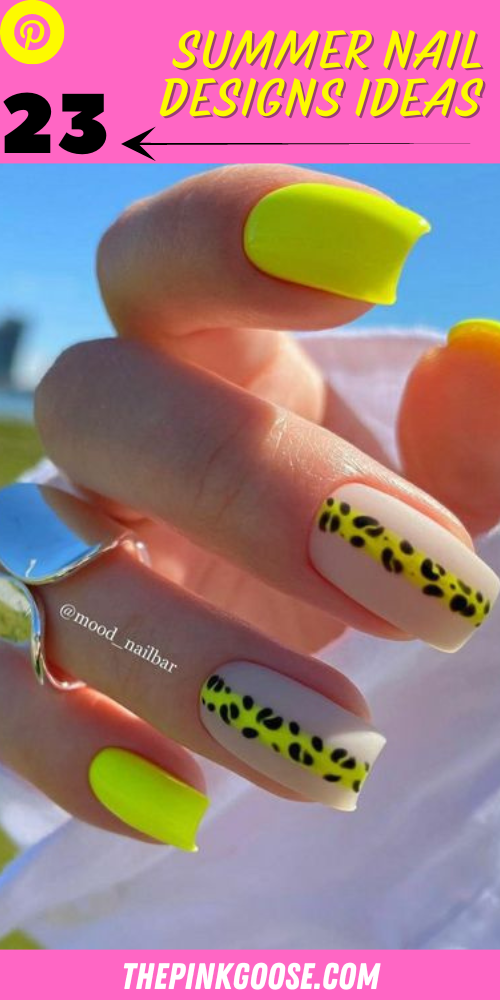 Pastel Dream
Create a soft and dreamy nail design with a pastel color palette. Use delicate shades of lavender, baby blue, mint green, and blush pink. Add some floral or lace accents for an extra touch of femininity.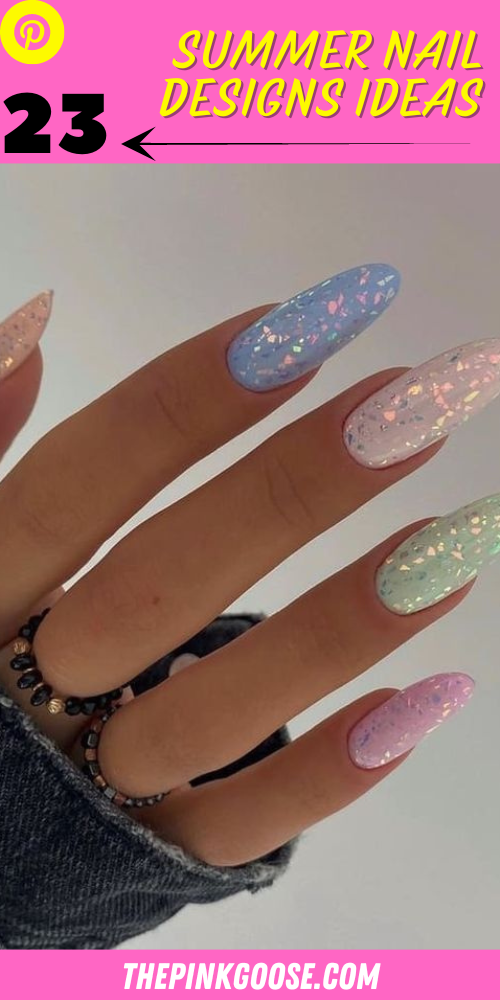 Nautical Charm
Embrace the classic nautical theme with a navy blue and white striped nail design. Accentuate it with cute anchor or sailboat motifs for a stylish and maritime-inspired look.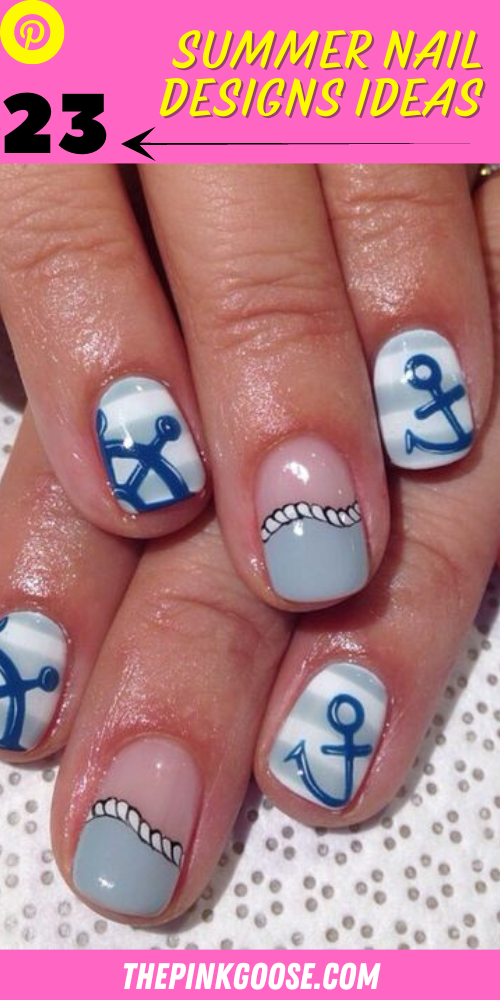 Fruit Basket
Paint your nails with colorful fruit designs like strawberries, lemons, and oranges. The bright and juicy colors will add a playful and refreshing touch to your summer nails.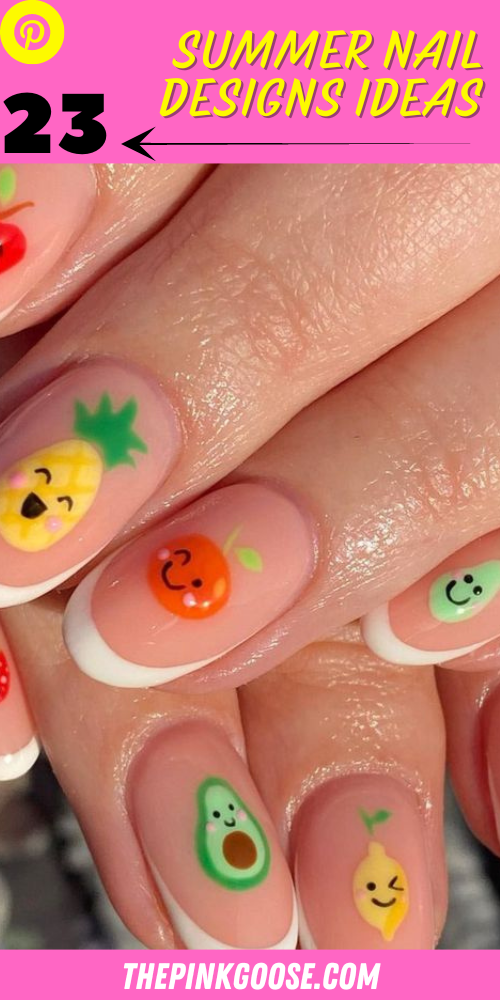 Tie-Dye Delight
Embrace the psychedelic vibes of tie-dye with a vibrant and colorful nail design. Use different shades of pink, blue, yellow, and purple to create a mesmerizing and unique pattern on each nail.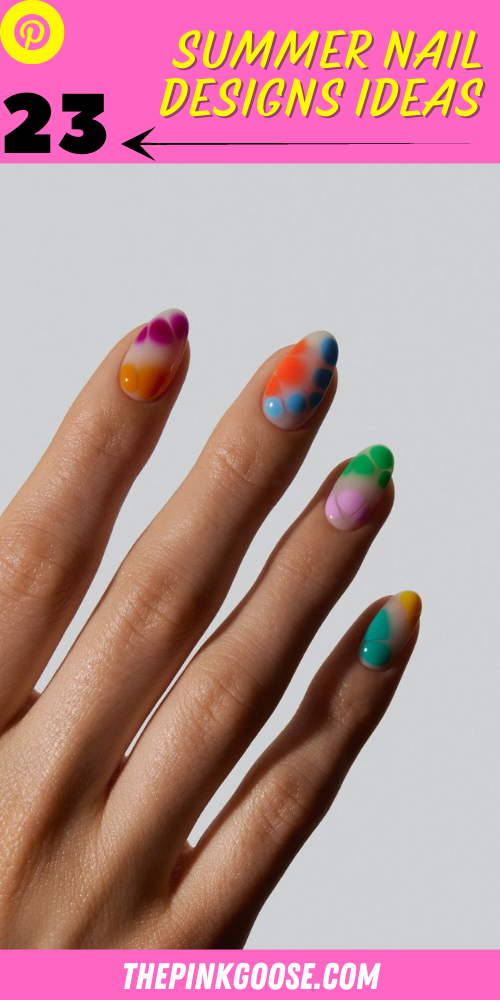 Mermaid Magic
Dive into a magical underwater world with a mermaid-themed nail design. Use iridescent nail polish, shimmering scales, and pearl accents to create a mystical and enchanting look.
Floral Fantasy
Embrace the beauty of summer flowers with a floral nail design. Paint delicate blooms like roses, daisies, or sunflowers on your nails. Choose a pastel or vibrant color palette, depending on your preference.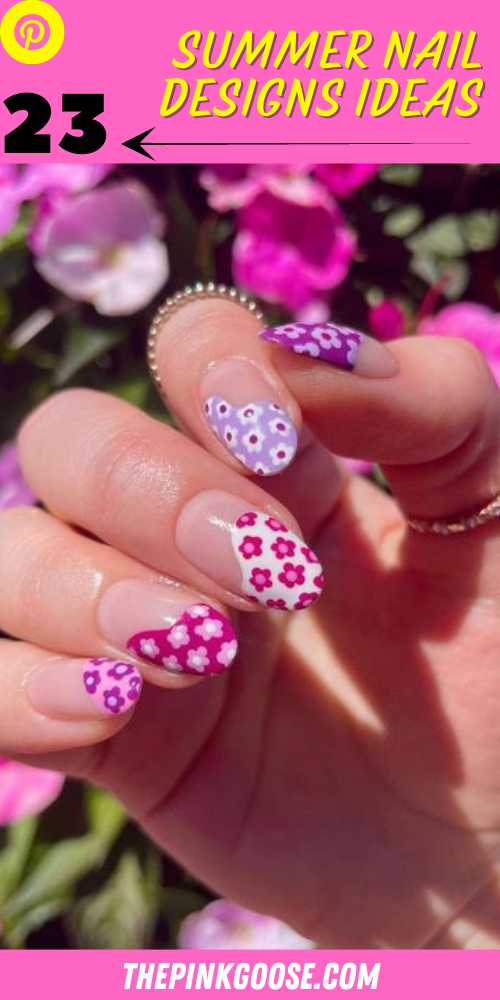 Sunset Ombre
Recreate the mesmerizing colors of a summer sunset with an ombre nail design. Blend shades of pink, orange, and purple together to mimic the fading hues of the evening sky.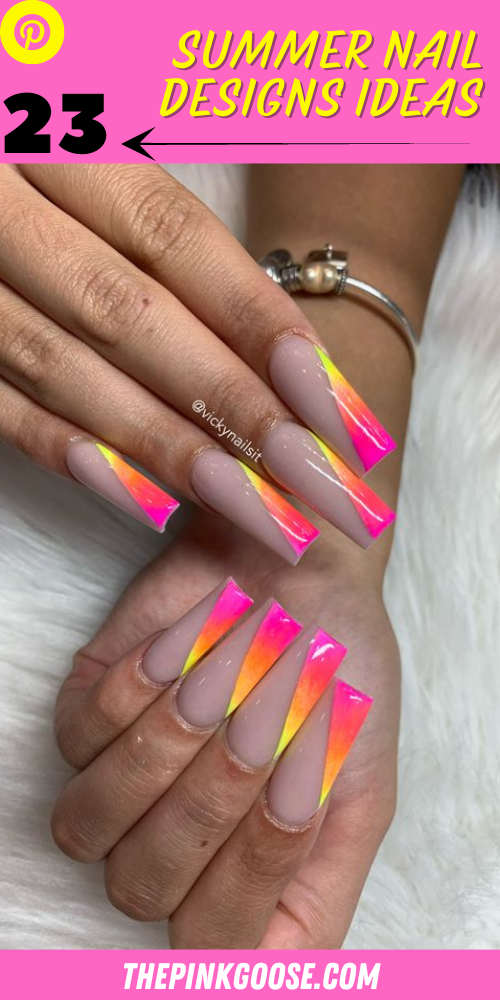 Ice Cream Delight
Get inspired by everyone's favorite summer treat with an ice cream-themed nail design. Paint each nail with different flavors and add cute toppings like sprinkles or whipped cream for a fun and sweet look.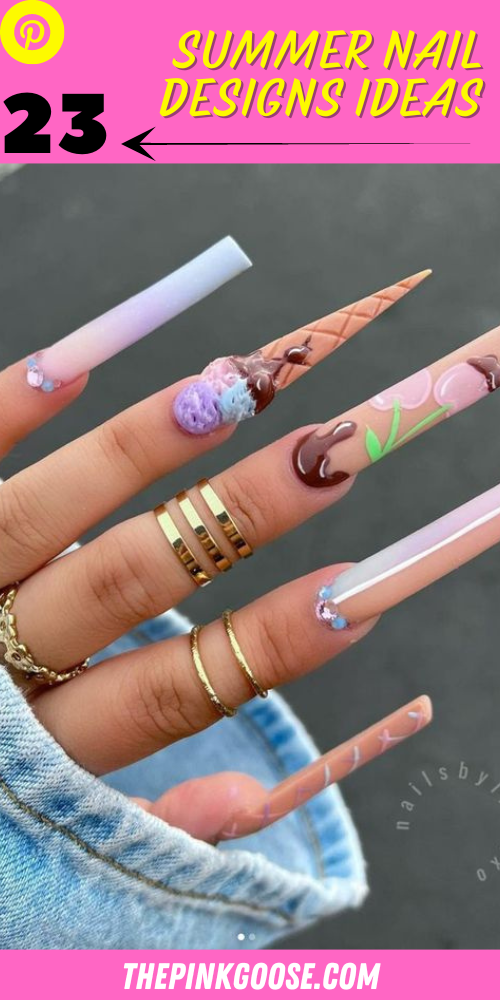 Tribal Chic
Channel bohemian vibes with a tribal-inspired nail design. Use bold geometric patterns, tribal symbols, and earthy colors like burnt orange, deep red, and warm brown for a trendy and artistic look.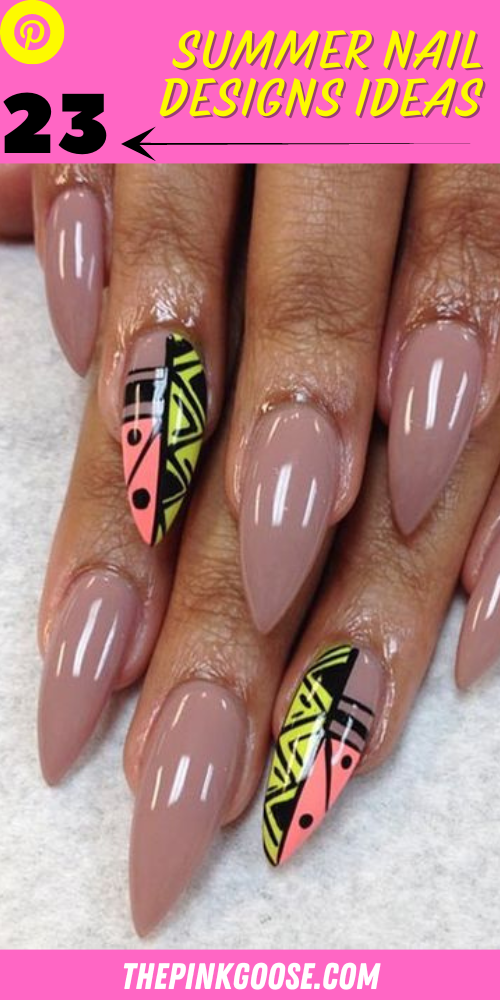 Flamingo Fever
Embrace the whimsy of flamingos with a flamingo-themed nail design. Paint pink flamingo silhouettes on a pastel background and add tropical foliage accents for a playful and summery look.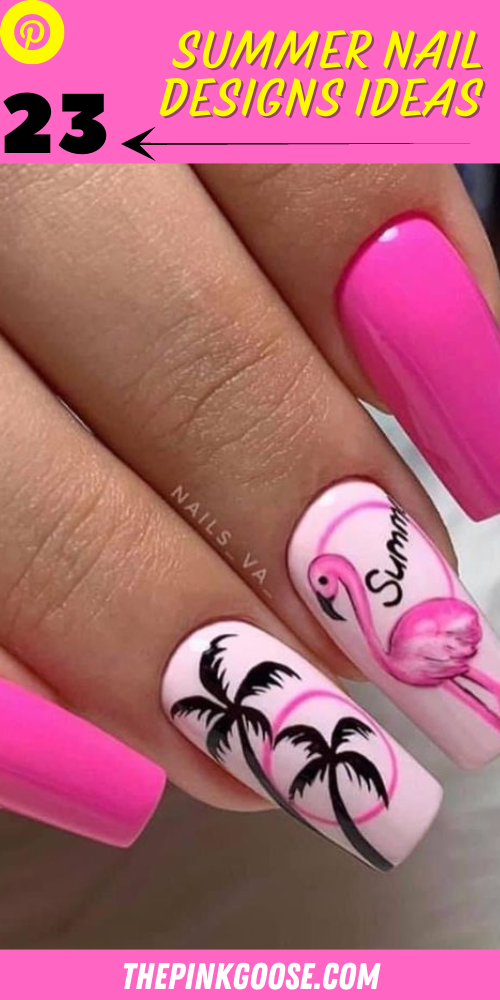 Sunflower Power
Create a sunny and cheerful nail design with sunflower motifs. Paint your nails with a vibrant yellow base color and add sunflower decals or hand-painted designs for a cheerful and summery vibe.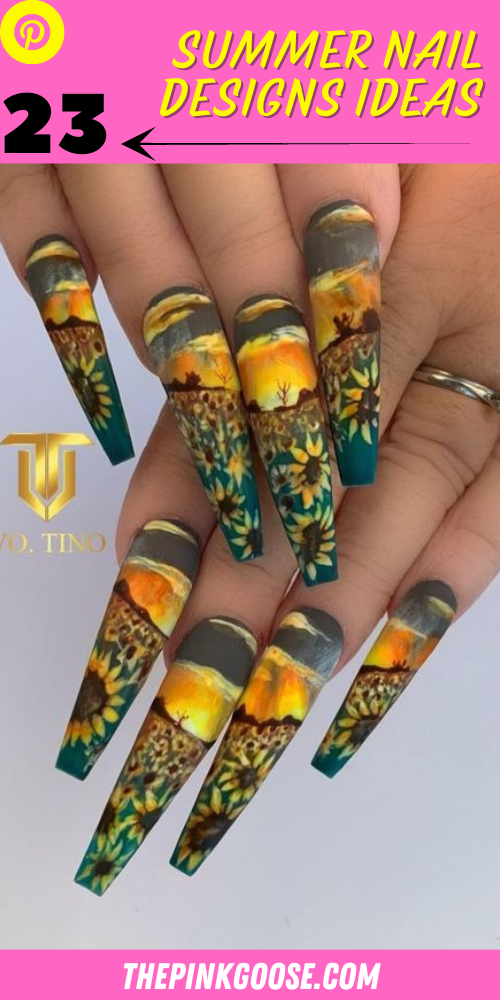 Citrus Squeeze
Get inspired by zesty citrus fruits with a citrus-themed nail design. Use shades of orange, yellow, and lime green to create a citrus fruit pattern on your nails. Add some leaves and slices for an extra touch of freshness.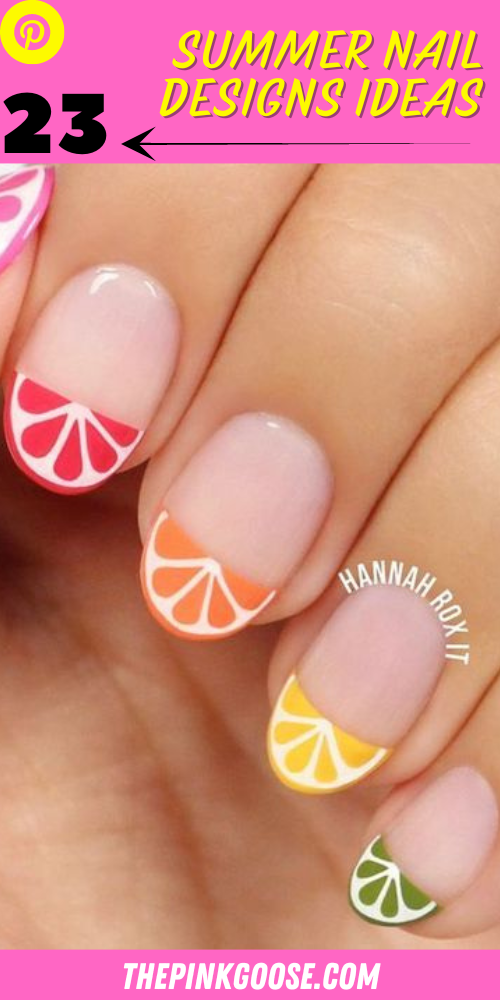 Palm Leaf Paradise
Paint your nails with tropical palm leaf designs in shades of green. Add some gold or silver accents to make the design pop and give it a glamorous twist.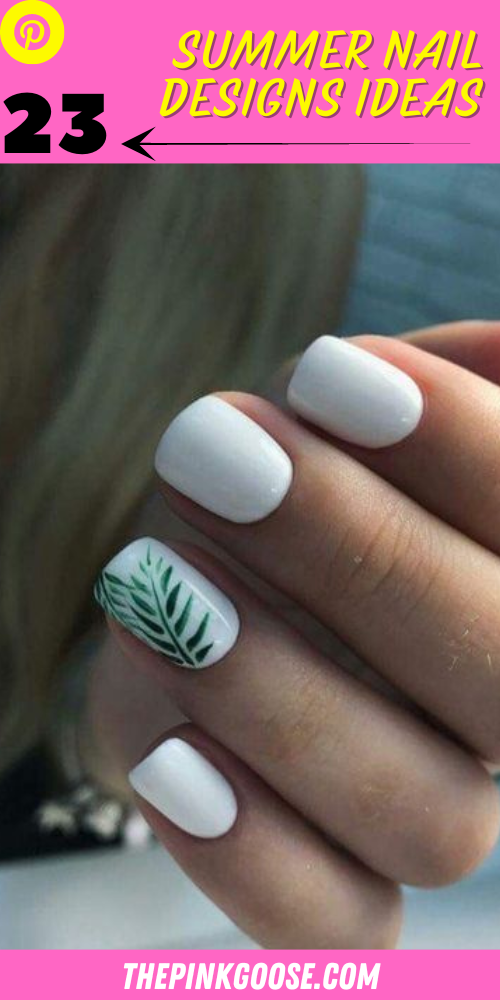 Butterfly Bliss
Embrace the delicate beauty of butterflies with a butterfly-themed nail design. Use vibrant colors and intricate patterns to create realistic or abstract butterfly designs on your nails.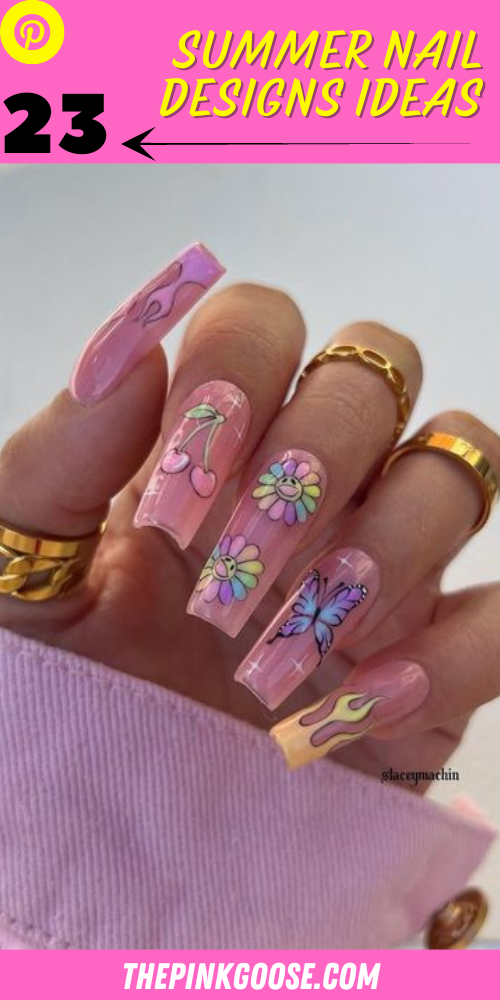 Rainbow Rhapsody
Celebrate the colorful spirit of summer with a rainbow-themed nail design. Paint each nail with a different color of the rainbow or create a gradient effect across all your nails for a cheerful and vibrant look.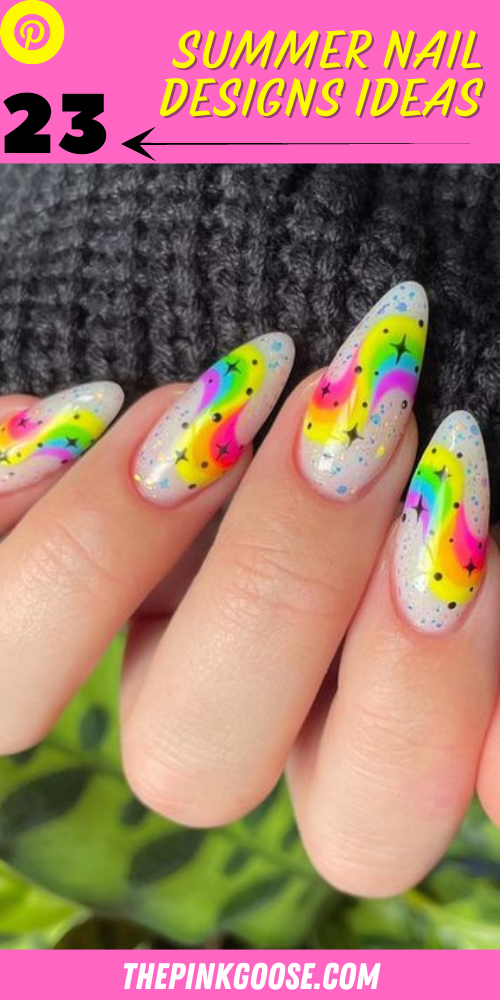 Polka Dot Party
Embrace the retro charm of polka dots with a polka dot nail design. Use contrasting colors like black and white, or pastels for a softer look. Play with different dot sizes and arrangements for a fun and whimsical design.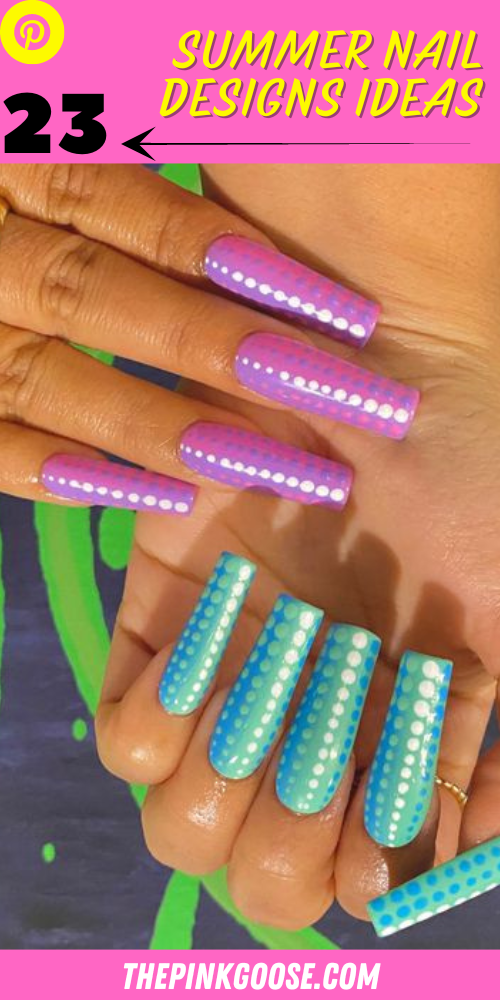 Pineapple Paradise
Get tropical vibes with a pineapple-themed nail design. Paint your nails with a yellow base color and add pineapple patterns or decals. You can even add a touch of glitter for some extra sparkle.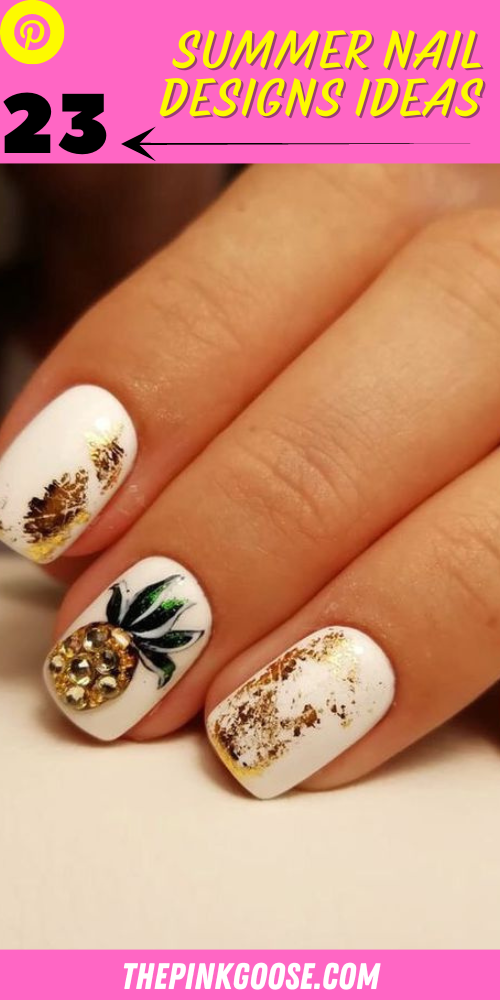 Geometric Elegance
Create a sleek and modern nail design with geometric shapes. Use clean lines, negative space, and bold colors for a sophisticated and trendy look.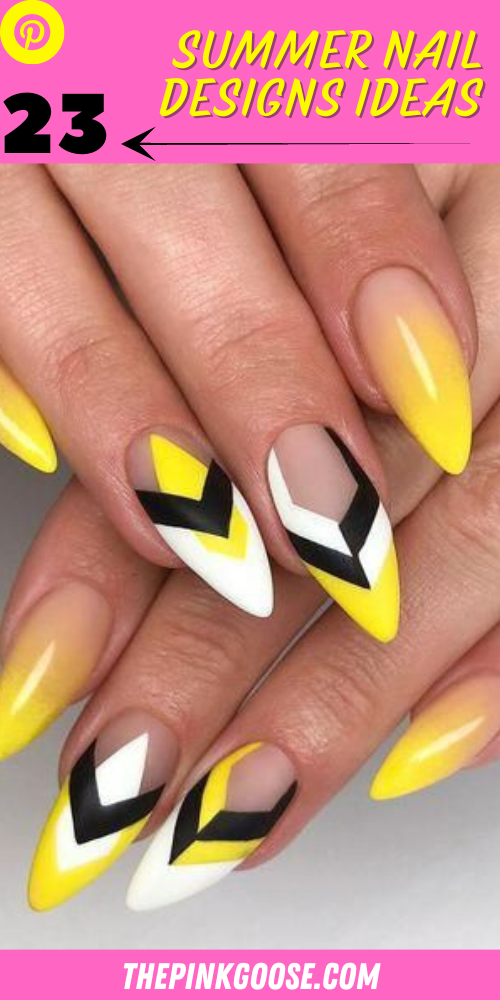 Summer Garden
Paint your nails with a variety of colorful flowers and lush foliage for a vibrant and blooming summer garden nail design. Use a combination of hand-painted designs, decals, and accent stones to add dimension and texture.