Nails
19 Spooky and Stylish Halloween Nail Ideas for 2023
Halloween is the perfect time to showcase your creativity and get into the spooky spirit with themed nail art. From cute and fun to dark and eerie, there are endless possibilities for Halloween nails. In this article, we present 19 spooktacular Halloween nail ideas for 2023 that will add an extra touch of festive flair to your Halloween look.
1. Wicked Witch Nails:
Channel your inner witch with black nails and green accents, complete with tiny witch hats and broomsticks.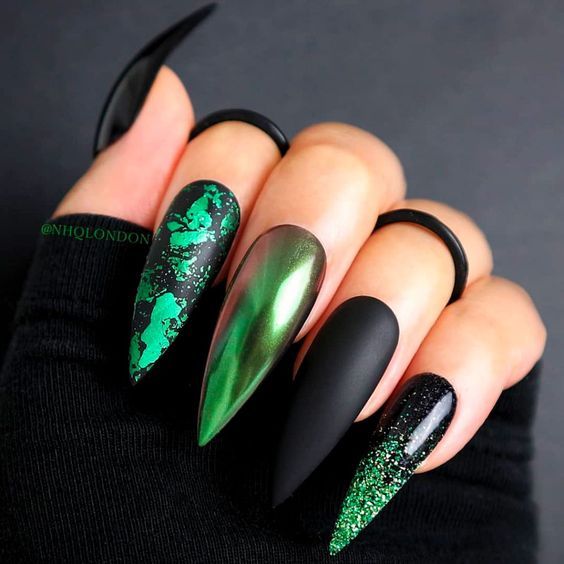 2. Pumpkin Patch Nails:
Celebrate the season with adorable pumpkin-themed nails featuring pumpkins, jack-o'-lanterns, and fall leaves.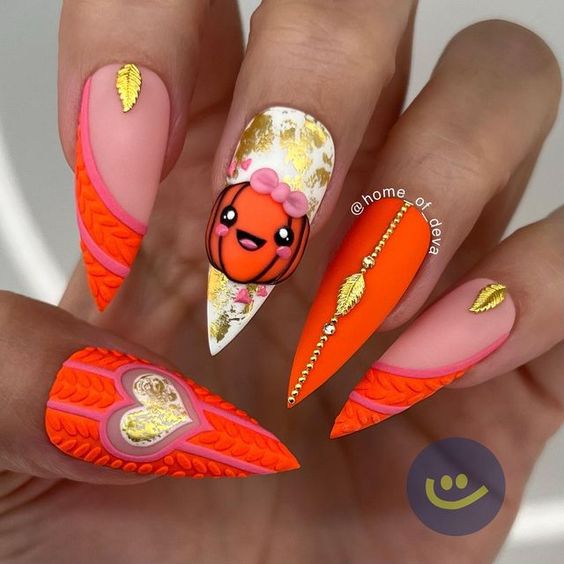 3. Haunted House Nails:
Capture the spooky essence of Halloween with nails featuring haunted houses, ghosts, and bats against a dark, eerie backdrop.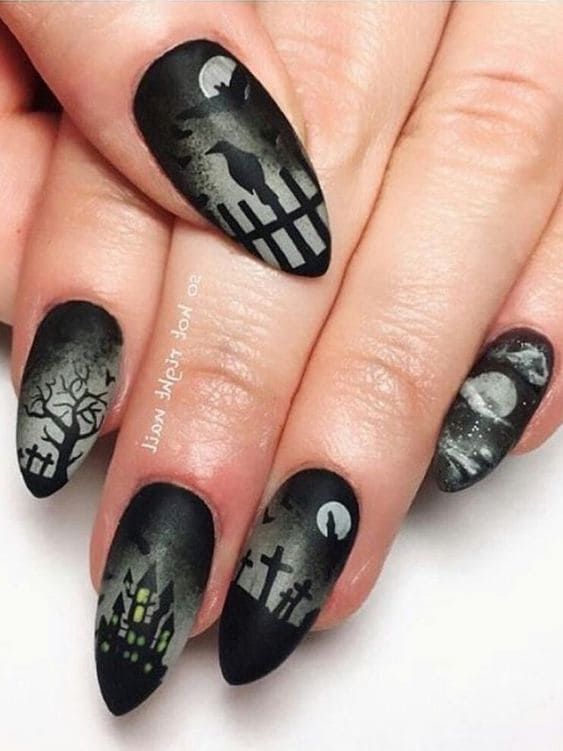 4. Mummy Wrap Nails:
Wrap your nails like a mummy with white nail polish and strategically placed black lines for a creepy yet stylish look.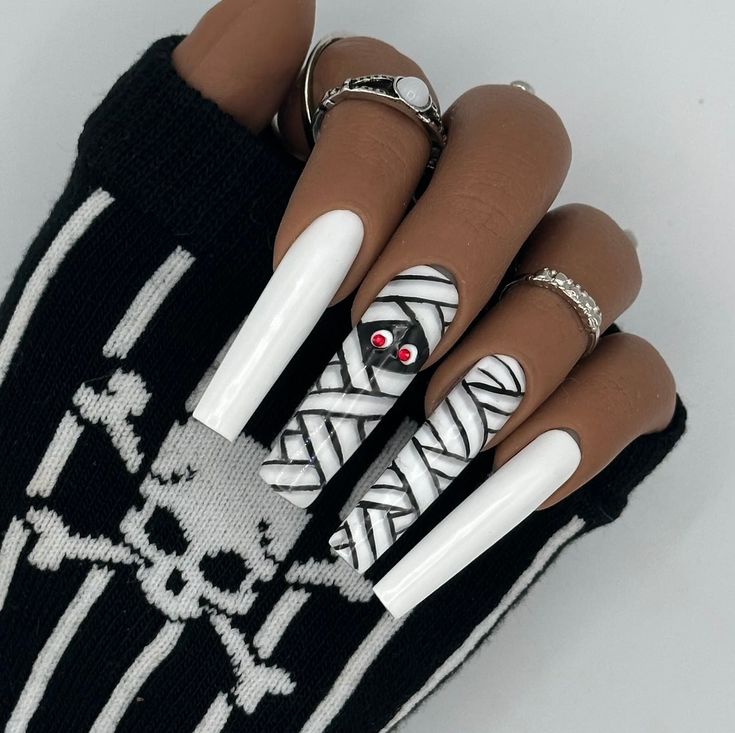 5. Blood Drip Nails:
Create a gruesome effect with nails that appear to be dripping with blood using red nail polish and black accents.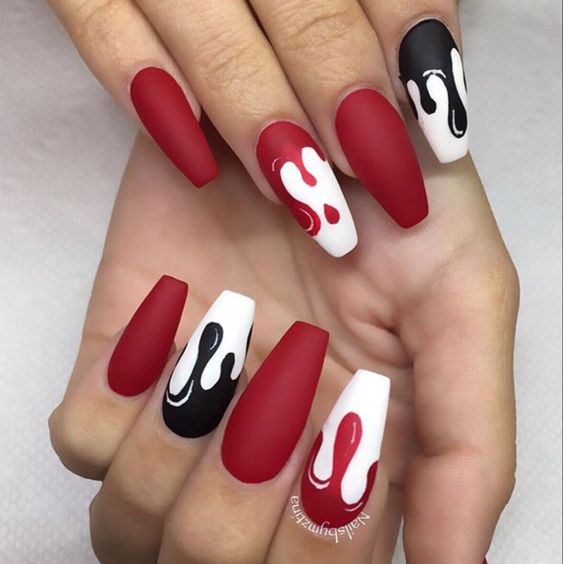 6. Frankenstein Nails:
Nail Frankenstein's monster with green nails, bolts, and stitches for a classic Halloween look.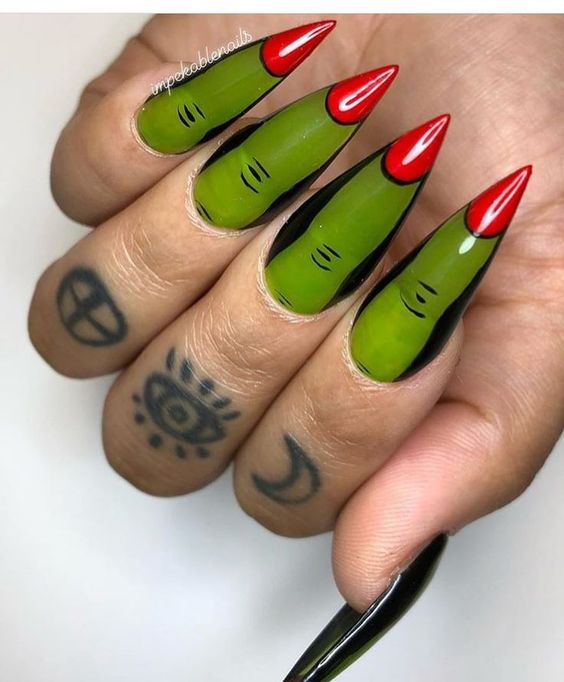 7. Skeleton Nails:
Show off your skeletal style with white nails adorned with black skeleton designs for a spooky touch.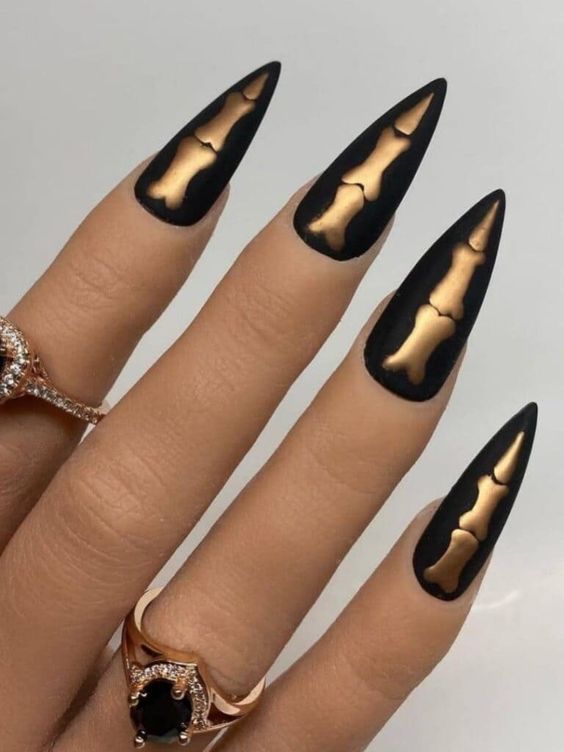 8. Candy Corn Nails:
Celebrate the sweet side of Halloween with candy corn-inspired nails featuring orange, yellow, and white stripes.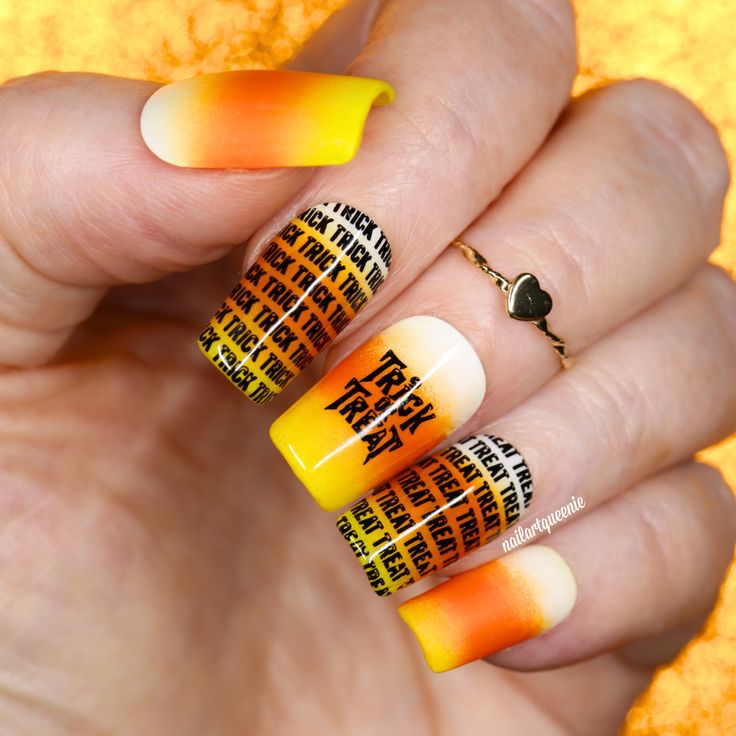 9. Spider Web Nails:
Spin a web of intrigue with black nails featuring delicate white spider web patterns.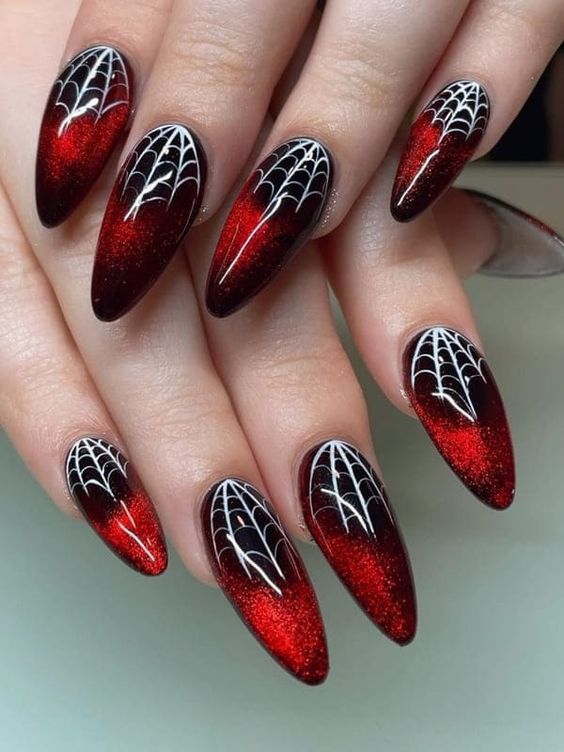 10. Zombie Apocalypse Nails:
Get zombie-fied with grayish-green nails and gory details like blood splatters and wounds.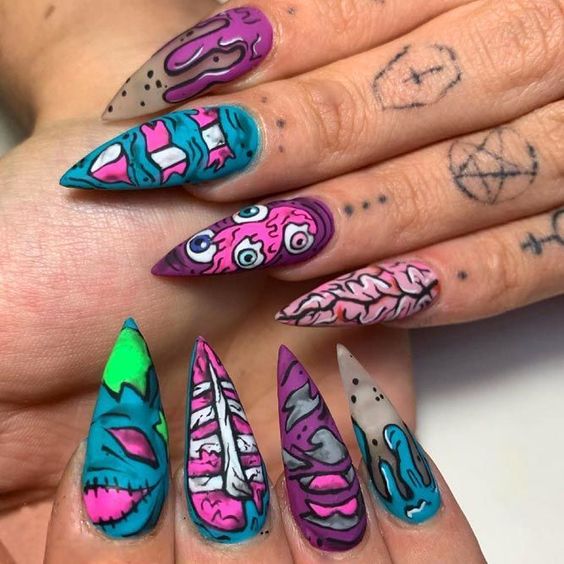 11. Vampire Nails:
Add a touch of vampire elegance with deep red nails and tiny fangs for a subtle nod to Dracula.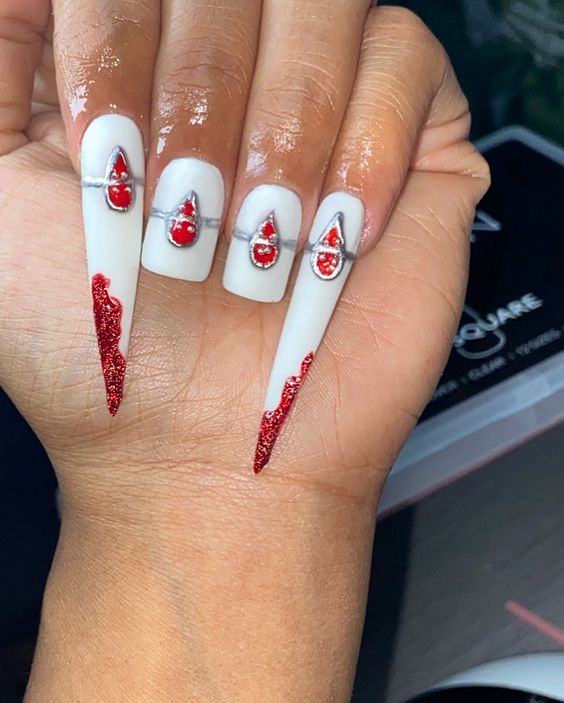 12. Creepy Clown Nails:
Create a creepy clown vibe with colorful nails, red noses, and exaggerated smiles.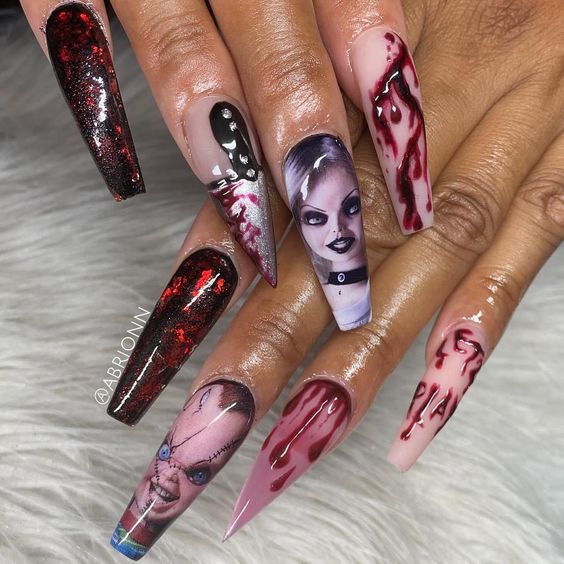 13. Cauldron Nails:
Brew up some magic with cauldron-themed nails featuring bubbling potions and eerie ingredients.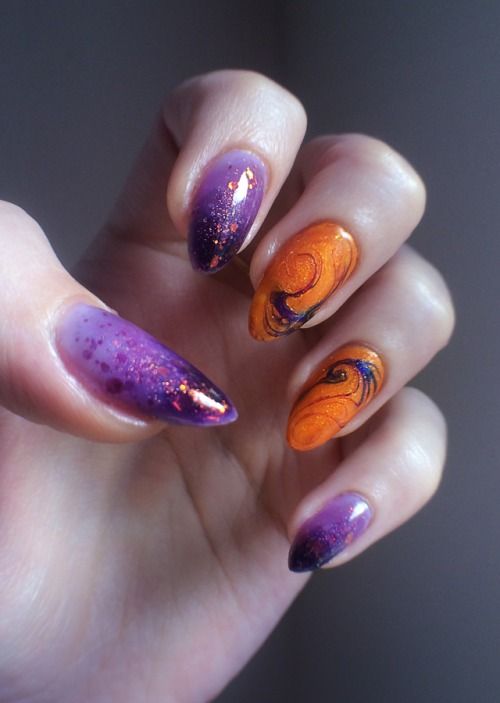 14. Ouija Board Nails:
Channel the supernatural with Ouija board-inspired nails complete with mystic symbols.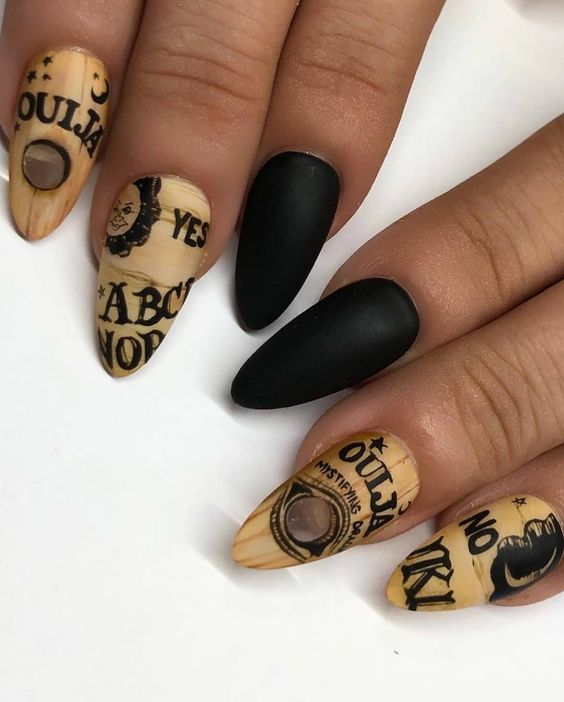 15. Ghostly Glow Nails:
Nail a ghostly appearance with glow-in-the-dark nail polish that illuminates in the dark.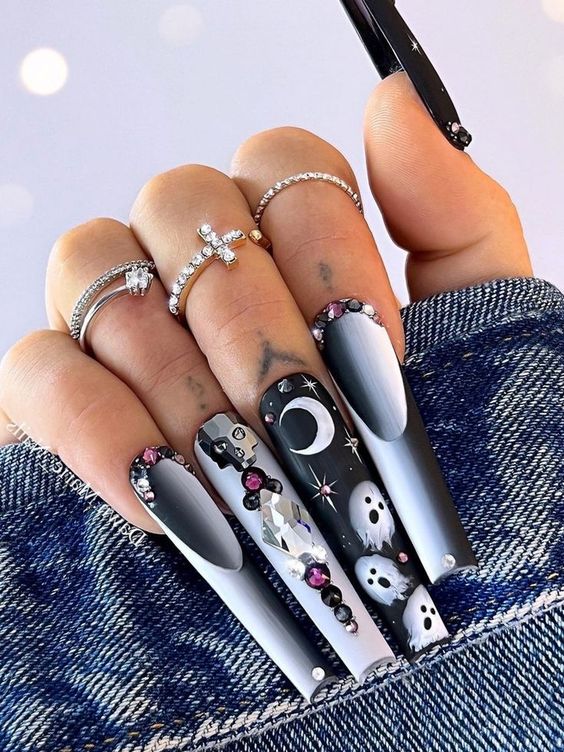 16. Wicked Cat Nails:
Celebrate black cats with feline-inspired nails featuring cat silhouettes and piercing green eyes.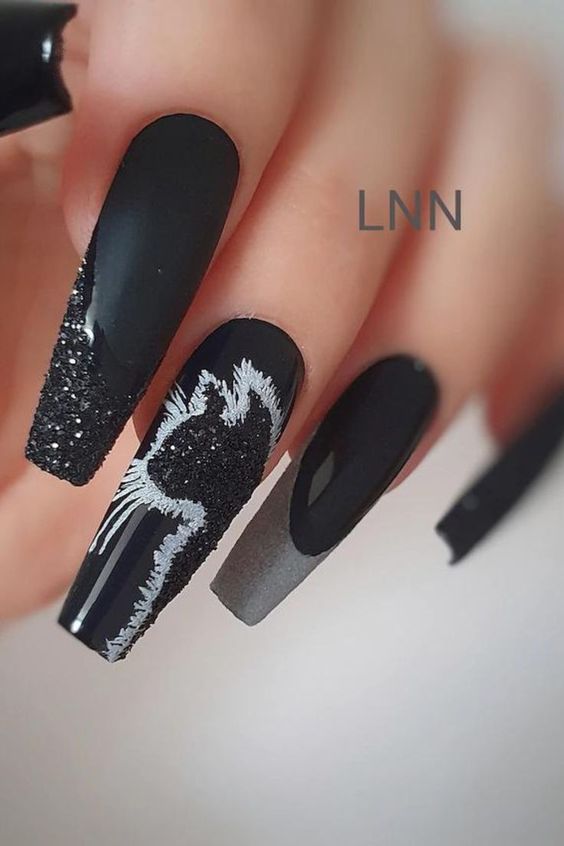 17. Eyeball Manicure:
Give everyone the creeps with nails adorned with realistic eyeball designs for an eerie effect.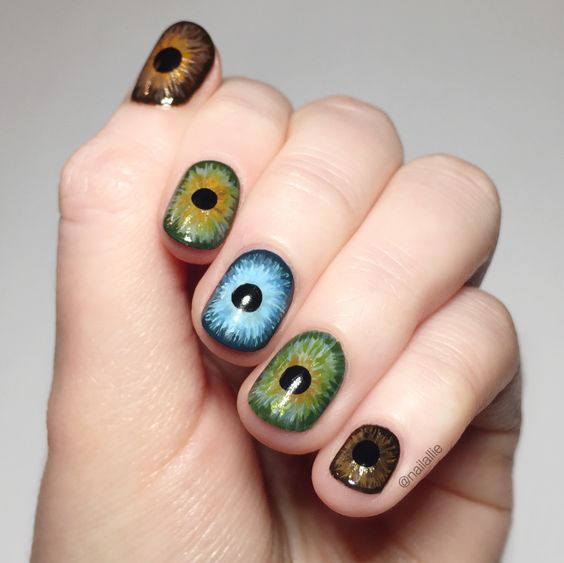 18. Cemetery Scene Nails:
Capture the essence of a spooky graveyard with tombstone and skeleton hand designs on your nails.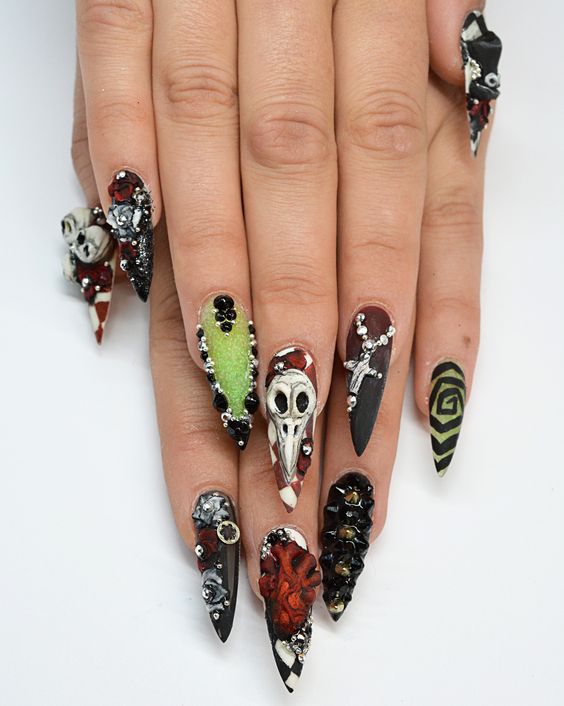 19. Bloody Vampire Nails:
Create a dramatic and gory look with red nails featuring bite marks and blood splatters.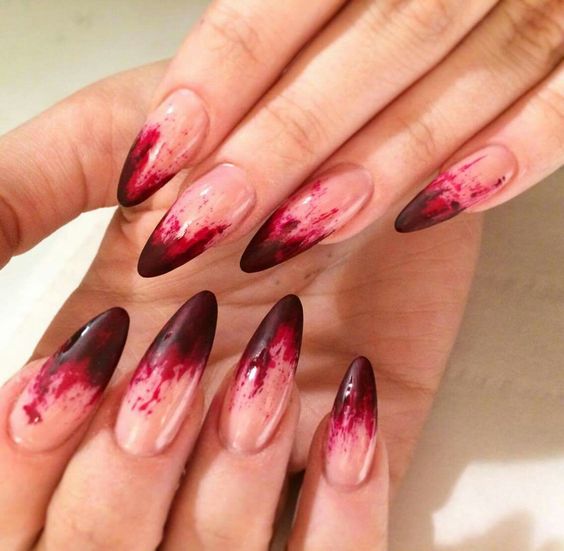 Save Pin